Ward 3 candidates express support for LGBTQ issues at Stonewall Dems forum
Eight of nine in hotly contested race participate in virtual debate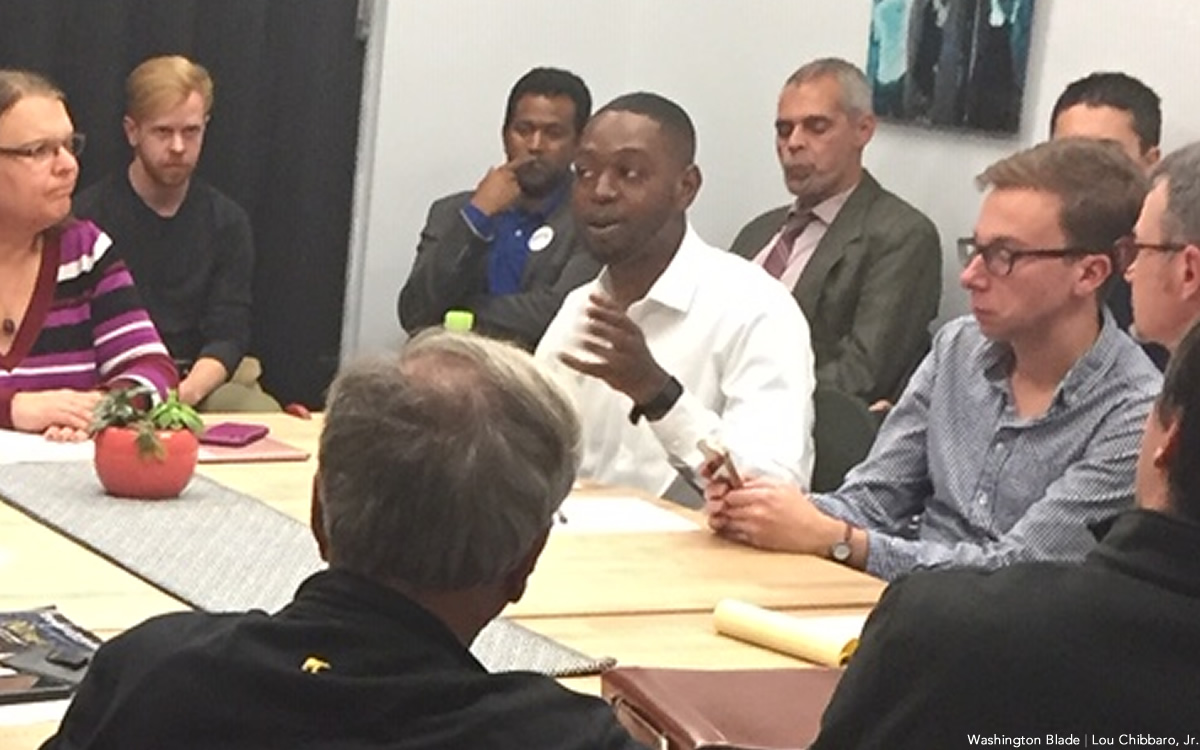 Eight of the nine candidates running in the city's June 21 Democratic primary for the Ward 3 D.C. Council seat being vacated by longtime LGBTQ supportive incumbent Mary Cheh expressed strong support on a wide range of LGBTQ issues at an April 25 virtual candidates' forum organized by the Capital Stonewall Democrats, the city's largest local LGBTQ political group.
The 90-minute forum, which was co-sponsored by the D.C. Democratic State Committee, touched on topics ranging from anti-LGBTQ violence, especially hate crimes targeting transgender women of color; efforts to address homelessness faced by LGBTQ youth and seniors; the overall impact of D.C.'s high cost of living on the LGBTQ community; and whether LGBTQ-related curricula should be put in place in the city's public schools.
Kurt Vorndran, a longtime D.C. gay Democratic activist and one of the Capital Stonewall Democrats' former presidents, and Elizabeth Callanan Mitchel, a member of the D.C. Democratic State Committee, served as co-moderators of the forum.
The candidates participating in the forum, all of whom have been Ward 3 civic activists, included:
• Eric Goulet, longtime D.C. Council staff official and city budget director under former Mayor Vincent Gray;
• Ben Bergmann, former teacher, attorney, and ANC commissioner in the Palisades and Spring Valley neighborhoods;
• Matt Frumin, attorney, former Cheh campaign official, and ANC commissioner;
• Deirdre Brown, Realtor, small business owner, and former ANC commissioner;
• Henry Cohen, 18-year-old high school senior and longtime youth political activist who would become the Council's youngest ever member if elected
• Tricia Duncan, former chemical industry researcher turned real estate company official and president of the Palisades Community Association
• Beau Finley, attorney, union leader, ANC commissioner, and Democratic campaign consultant who worked on the campaigns to help elect gay College Park Mayor Patrick Wojahn and transgender Virginia House of Delegates member Danica Roem;
• Phil Thomas, Ward 3 community activist, chair of the Ward 3 Democratic Committee, and former director of the D.C. Office of Clean City under Mayor Muriel Bowser.
Monte Monash, CEO of the D.C. public affairs and communications consulting firm Monash Advisory Group and longtime Ward 3 community activist, was the only one of the Ward 3 D.C. Council Candidates who did not attend the LGBTQ candidates' forum.
In keeping with D.C.'s long history of having mostly LGBTQ supportive candidates who run for public office, each of the eight Ward 3 candidates participating in the form appeared to agree with each other on their proposals for policies in support of the city's LGBTQ community. None of them criticized or disagreed with each other during the discussions and several praised their fellow candidates for being knowledgeable and enthusiastic in their advocacy for LGBTQ rights.
At the conclusion of the forum, when Capital Stonewall Democrats President Jatarious Frazier asked each of the candidates if LGBTQ people were working on their respective campaigns as volunteers or paid staffers, each of them raised their hands to give a "yes" answer to that question.
Frazier said the April 25 forum was the first of five candidate forums the LGBTQ group would be holding between April 25 and May 11. The next forum, scheduled for Thursday, April 28, was to be for D.C.'s U.S. Congressional Delegate seat and for the so-called shadow U.S. Representative seat.
On May 2, Capital Stonewall Democrats is scheduled to hold its forum for Democratic candidates running for D.C. Mayor and D.C. Attorney General. On May 4, the group will hold its forum for Democrats running for D.C. Council in Ward 1 and Ward 5, where an openly gay candidate is running in each of those two races.The last of the series of forums, scheduled for May 11, will be for Democrats running for D.C. Council Chair and the At-Large D.C. Council seat.
Frazier said that due to concerns over the COVID pandemic, the group decided to hold each of the forums virtually.
He said the organization's voting members will receive an electronic ballot to cast their votes on which candidates Capital Stonewall Democrats should endorse beginning on May 1 and will have until May 15 to cast their ballots electronically. He said the group would announce its endorsements on May 17.
Similar to its practice in past elections for many years, a 60 percent majority vote will be needed in order for a candidate to win the organization's endorsement, Frazier said. He said that if no candidate receives a 60 percent majority vote after two rounds of voting, no endorsement will be made for that particular race in the June 21 primary. Frazier said under club rules, an endorsement for a race where no endorsement was made in the primary can be made later for the November general election.
The April 25 forum, which was recorded on video in its Zoom broadcast, can accessed for viewing here: https://fb.watch/cEfNwZkAtF/
A Washington Blade transcript of the closing statements delivered by the eight candidates participating in the April 25 forum can be read below:
Deirdre Brown
Thank you so much. I just want to thank you all for having us here. On my website you can read about my LGBTQ+ policy positions. I will mainly in my work on the Council make sure we reduce the number of LGBTQ+ homeless youth by providing temporary housing and wrap around services. I will advocate for support policies to protect and empower transgender sex workers. We didn't get a chance to talk about that tonight. And of course, I support the Equality Act and an end to workplace discrimination. I view LGBTQ+ rights as similar to the other rights that are for other marginalized communities, including undocumented immigrants as well as of course people of color. And we all need to work together to make sure that our community is safe for everyone. Thank you.
Matthew 'Matt' Frumin
So, I work on a whole lot of issues and honestly LGBTQ issues have not been at the top of the list of the things that I work on. I get educated on these issues in part from my children, in part from watching the world and in part from things like this. And this has been educational to me. I've been stunned by a number of the different things that have been raised here. And I would really want to be a partner to work on these issues with this group and with others in the community. I want to learn. I want to work with you, and I want to address these critical things that are out there. And all I can say is I offer myself as a partner to do and learn with you going forward. So, thank you very much.
Beau Finley
Thank you, Capital Stonewall Democrats, for hosting and thank you to my fellow candidates for a great discussion. You know, I got into this campaign because I care about one thing. And that is dignity. We need to treat each other with dignity and respect. And we need to make sure our policies take into account the dignity of each person. And so, I'm not perfect. I don't know everything. I've got a lot of proposals, a lot of ideas. But I'm not going to be right all the time and I appreciate partnering with you and learning and moving forward together. I think together, we can make a much stronger, much more just District. And I look forward to working with you as a Council member. My website is BeauFinley.com. And it has a number of my policies up. I believe at least as of about a week and a half or two weeks ago I was still the only candidate with an LGBTQ platform. So, thank you all for a wonderful evening.
Phil Thomas
Thank you, Capital Stonewall, and thank you Elizabeth and Kurt as Ward 3 Dems came strong today as both of you are on the Executive Committee. And as someone who has worked with the LGBTQ community as director at the Mayor's Office of LGBTQ as well as Check It Enterprises. I would say I will continue to be a partner as the next Ward 3 Council member, as a bridge builder and as someone who continues in working in the neighborhood…I know nothing can be accomplished alone so I ask you to go to my website at PhilforWard3.com, and I thank you for having me today.
Ben Bergmann
Thank you, Elizabeth. Thank you, Kurt. Thank you, Stonewall Democrats, for hosting. I think the thing that this whole forum focused on is how can we make a city that is inclusive, that is just, that is fair, that is beautiful, that is a loving place? And that means making the city affordable. That means making sure the city government works properly. One of the reasons why I'm running and one of the reasons I jumped in this race is that I think that we have a true crisis of epic proportions along one of the policy fronts. But one of the big problems is because we have a Council that is afraid to hold people accountable…They don't want to ask hard questions. And that is on so many issues. And we need independent people to hold people accountable. That's why I'm running. Please go to BenGergmann.com. You can read my policy plans. Go at the end of the week – we're planning a relaunch of some stuff. But go now and go a few days from now as well. Thank you so much.
Eric Goulet
Well, I thank you. It's just been a fantastic forum. We have all eight of us here. We're strong Democrats who have been Democrats who have fought against the Trump administration and the hate that's been there. And anyone of us would be a great advocate for the LGBTQ population here in the District and would fight hard against any hate that tried to get into this city. So, I think it's great to sit on a panel with so many great people that we have today.
The one issue I just want to conclude with at this moment that we didn't have time to speak about at the forum. So, in lieu of a traditional closing statement I'd like to just quickly mention employment. Because I think that is one of the biggest issues a Council member can tackle. For we see a gap, particularly with our transgender community still, even after efforts to try to close that gap. So, I'd like to work very closely with the Department of Employment Services to set up a training program where we make sure we connect residents – our transgender community, the LGBTQ community to jobs here in the city. And that involves having training programs that are culturally appropriate. And then making sure we have a list of available residents who want jobs. And then when employers come in — to help educate employers who may not understand the community. And to connect those employers to the residents who need jobs here in the District. Because the unemployment gap for our LGBTQ+ community, particularly the transgender community is still large here in the city and we need to do more about it. And I think that's something a Council member can really get done here in the District.
Tricia Duncan
Thank you for a great forum tonight. I feel like this is one of our best ones that we've had with the unique issues that the LGBTQ community faces. As your Council member, I would be a willing partner. I was very impressed with the advocacy that you have done on behalf of your community. I've been a lifelong Democrat. And a lot of my heart with the Democratic Party when I joined was that the government had a role in helping the marginalized. And that is my philosophy of government. So, you hear all these stories and specifics, and we need to get to work. We need to do better. And as your Council member I'll do that. Thank you very much.
Henry Cohen
So, I'd like to make a closing statement to tell you about somebody very close to me. In preparation for this I've been speaking with LGBTQ students at my school because I know that myself specifically had the opportunity to speak with those students. One person who is a very close friend of mine is a trans woman. Her name is Eliana and she asked me to talk about her [inaudible]. So, I'm going to tell you a little about Eliana's experience living in D.C. She loves having the opportunity to live in this city more than anything in the world. If you talk to her about it, her eyes light up the second anybody asks her what she thinks of D.C. But she's scared because there is a lot going on.
There is a lot of anti-LGBTQ rhetoric going on. And nationally, there are a lot of anti-LGBTQ laws being passed. And for her to have to see that growing up – she's only a year younger than me. Somebody growing up at almost 18, it's a terrifying thing. And we should make sure that as a city that we're stopping that from happening. That we're making sure that we are an accepting place for anybody, no matter who they are, no matter what their gender, race, sexuality – any of that. We need to make sure that people like Eliana can stay in the city that they love and feel safe in the city that they love. To do that we have to radically reform our systems in order to better represent LGBTQ people.
Gay couple assaulted on D.C. street by attackers shouting 'monkeypox faggots'
Police list Aug. 7 incident in Shaw as suspected hate crime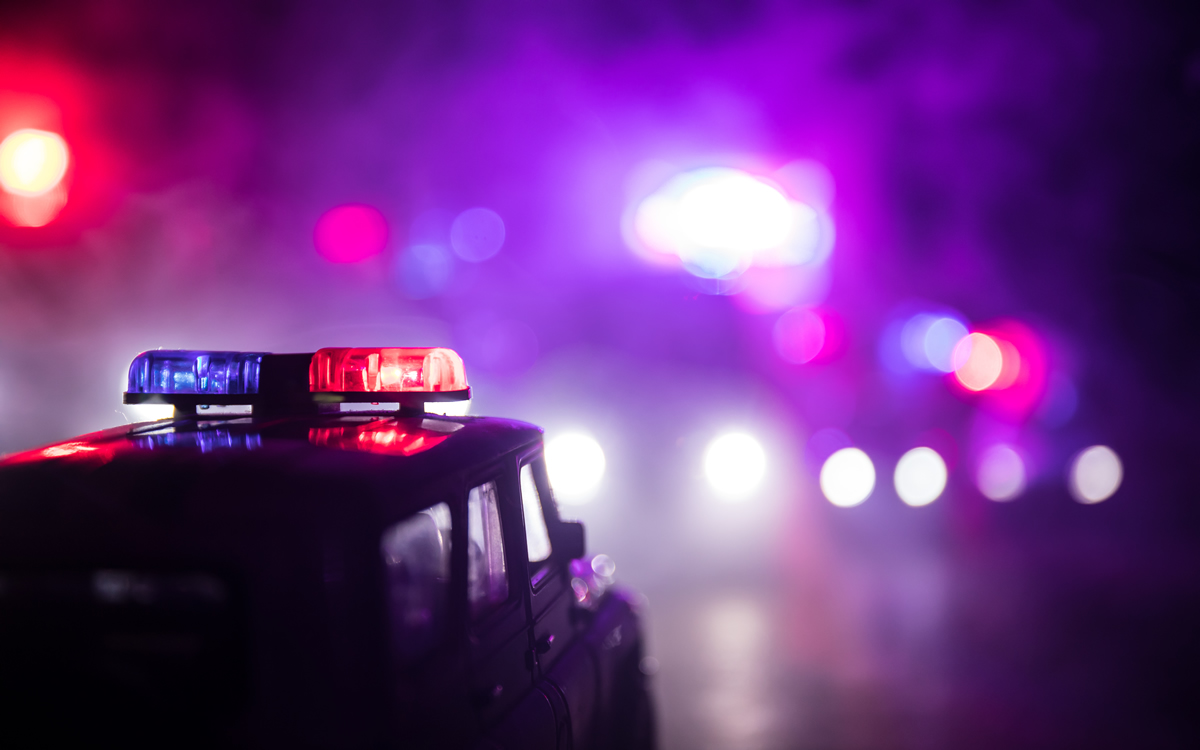 Two young men appearing in their late teens shouted the words "monkeypox faggots" at a gay male couple walking along 7th Street, N.W. in the city's Shaw neighborhood on Sunday, Aug. 7, before punching the two men in the face and head in an incident that D.C. police have called a suspected hate crime.
The gay men were treated and released at Howard University Hospital for head and facial bruises, with one of the two receiving stitches for a deep cut on his upper lip, according to one of the victims who spoke to the Washington Blade.
The victim, an Alexandria resident who asked that he and his partner, a D.C. resident, not be identified by name, said the attackers were part of a group of four or five young men appearing to be between 17 and 19 years old and two young women accompanying them. He said the group crossed paths with the gay couple around 5:40 p.m. in front of a store on the 1700 block of 7th Street, N.W., as the couple was walking to a nearby bus stop on Rhode Island Avenue.
The victim who spoke to the Blade said a nearby witness called D.C. police, who arrived within a few minutes as the two attackers and the other young men with them fled the scene. He said although an ambulance arrived on the scene, one of the police officers drove the couple to nearby Howard University Hospital, where they spent about six hours in the emergency room.
The couple had spent part of that 90+ degree day at the city's Banneker Pool and later stopped at the Kiki gay bar on U Street, N.W. before taking what the victim who spoke to the Blade said was a leisurely walk from Kiki via 7th Street on their way to the bus stop, where they planned to take the bus to his boyfriend's Northeast D.C. house.
As the couple walked south on 7th Street about a block from their destination on Rhode Island Avenue they crossed paths with the group of teenagers in front of a store that a D.C. police report says was at 1731 7th St., N.W.
"They were about 17 to 19 years old," the victim who spoke to the Blade said. "And one of them started saying stuff like, hey, look at these monkeypox faggots and some not so nice stuff like that," he said.
"We turned around to walk away and one of them came up behind me and got my attention and then sucker punched me and then hit me again and then hit my boyfriend in the face," the victim said. "And another person hit him in the face as well," he said. "And then someone across the street called the cops. And then the cops came, and they scattered off."
To the couple's surprise, the two young women remained on the scene and apologized for the actions by the guys they were with.
"So, I said something like thanks for the apology, but this is the kind of people you hang out with," the victim recounted. "And one of them said their dad was gay, and they kind of walked away before the cops got there," he said. "It was nice of them to apologize I guess for the other people."
The D.C. police report lists the incident as having two offenses, a simple assault against the two men and a misdemeanor destruction of property related to the destruction of a pair of sunglasses worn by one of the two men that were damaged in the assault against him.
The report also lists the incident as a suspected "Sexual orientation – Anti-Gay" hate crime.
As in all incidents of violent crime, D.C. police call on members of the public to contact the police with information about an incident like this to call police at 202-727-9099 or text a tip to the department's TEXT TIP LINE at 50411.
Lesbian activist assaulted with barstool at D.C. lounge
Police say victim's claim of anti-gay hate crime under investigation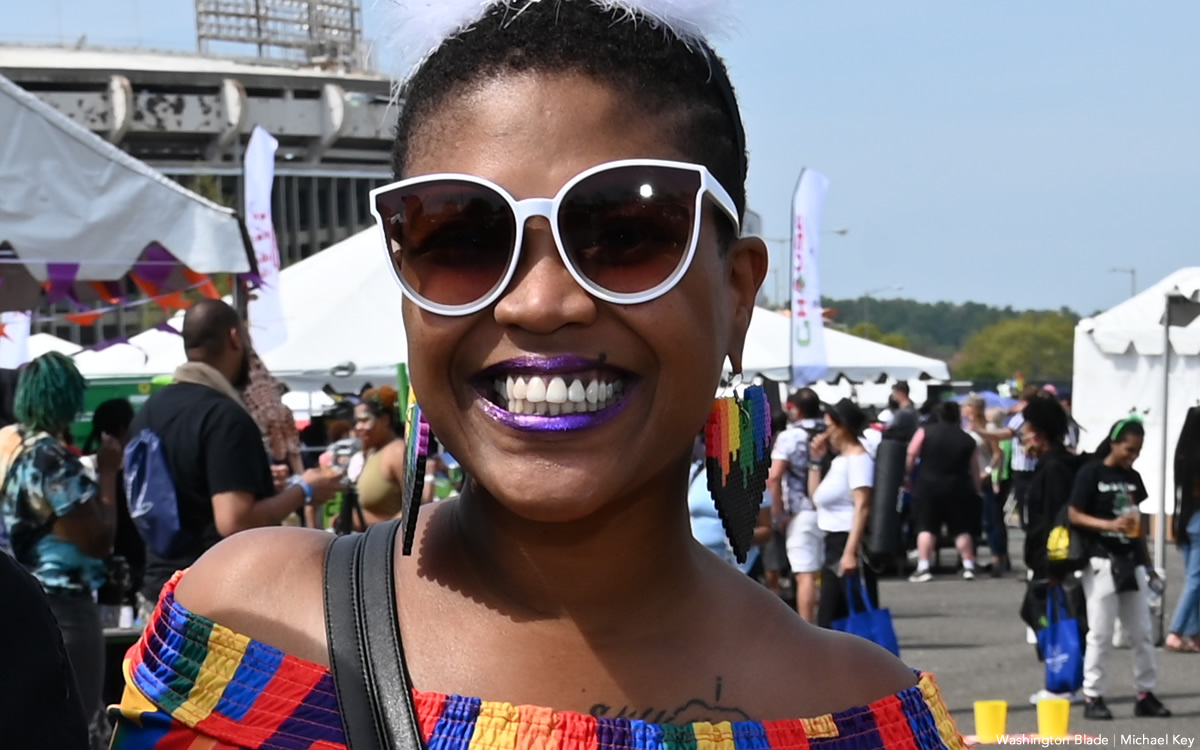 D.C. police say they are actively investigating an Aug. 3 incident in which lesbian activist and Ward 8 community leader Aiyi'nah Ford says she was hit three times in the head with the metal legs of a barstool swung by a man yelling anti-gay names at her.
A police report says the incident took place at the Player's Lounge, a restaurant and bar at 2737 Martin Luther King Jr. Ave., S.E., in the city's Congress Heights neighborhood shortly before and after midnight on Aug. 3 and 4.
Ford, who witnesses say was covered in blood when she stepped outside the restaurant after other patrons intervened, was taken by ambulance to George Washington University Hospital for treatment of a head and scalp injury that required multiple stitches.
Ford and an employee at Player's Lounge said the man who allegedly committed the assault is a regular customer at the restaurant but is known to people only by his nickname of Black. A police spokesperson said that as of Monday no arrest had been made in the case but that it remains under "active investigation" by a detective with the department's Seventh District in Southeast.
A police report obtained by the Blade lists the incident as an assault with a dangerous weapon, but it does not classify the incident as a hate crime.
"There is no indication at this time that this incident was motivated by hate/bias," said D.C. police spokesperson Alaina Gertz in response to a question by the Blade about the police report. "Should further interviews with the complainant reveal information that suggests that this should be a hate crime, the report can be amended with the new information," Gertz said.
"Anyone who has knowledge of this incident should take no action but call police at 202-727-9099 or text your tip to the Department's TEXT TIP LINE at 50411," Gertz said in an email message. "The Metropolitan Police Department currently offers a reward of up to $10,000 to anyone who provides information that leads to the arrest and conviction of the person or persons responsible for a violent crime committed in the District of Columbia," she said.
Ford told the Blade she believes she made it clear to the police officers who spoke with her at the scene of the incident that the man who assaulted her called her anti-gay names, including "dyke bitch." In a video of herself talking about the incident that she posted on Facebook Ford refers to the assault against her as a "gay-bashing."
The police report says officers arrived on the scene while Ford was being treated by paramedics with the D.C. Fire and Emergency Medical Services Department.
"Victim 1 stated that she was talking to a friend of hers at the location when another person who frequents the location interjected himself and began to curse at Victim 1," the police reports states. "The verbal altercation escalated, and Victim 1 stated Suspect 1 began to assault her with a bar stool," the police report continues. "Other patrons at the bar broke up the altercation and Suspect 1 fled," according to the report.
It adds, "Witness 1 corroborated Victim 1's story and stated that Suspect 1 frequents the area but doesn't know his name, only his nickname."
Ford told the Blade the incident began while she and three or four Player's Lounge customers were engaged in a conversation about local community issues, including the city's violence interruption program. Ford said that, among other things, she expressed her strongly held opinion that the violence interruption program was not working and was a "joke."
It was around that time, she said, that the man who assaulted her approached the group and interjected himself into the conversation and indicated that he was interested in possibly becoming one of the violence interrupter program volunteers or participants. Ford said the man, who appeared to be over six feet tall, began referring to women as "bitches" and hurled other curse words.
"So, we're all going like, what?" Ford said of her and the others' reaction to the man's comments. At that point, most of those she was speaking with left the restaurant because it was close to its 11 p.m. closing time.
"And I'm like, who are you talking to?" Ford said she recalls asking the man. According to Ford, he responded by repeatedly reciting the words "dyke bitch" in a hostile way.
"At that point I immediately knew he was talking to me because I'm the only openly lesbian person in that space that frequents there regularly and who was in that room," Ford told the Blade.
She said she questioned the man's motives, including whether he could become a violence interrupter, and the two began to argue back and forth until, according to Ford, he walked up to her and stood almost shoulder to shoulder next to her.
"He continues to call me all kinds of homophobic slurs," Ford said. "He calls me all kinds of bitches and continues to encourage the bar staff to get me to shut up before he shoots me and whatever else he will do to bring my death," Ford said.
"Before I know it, he has picked up this barstool and hit me in the head," said Ford. "He takes a second barstool and proceeds to hit me again," she said, adding that he hit her a third time in the head with one of the barstools, each time with the metal legs of the stool.
Ford said she has learned that the man who assaulted her has told people she spit on him, which he considered to be an assault by her against him. Ford called that allegation a lie, saying she absolutely did not spit on the man.
When the Blade contacted Player's Lounge for comment, a man who answered the phone arranged for Teresa "Auntie" Smith, one of the longtime employees who was present at the time of the incident, to speak with the Blade. Smith said while she was getting ready to close the restaurant she saw and heard what sounded like a heated argument between Ford and the man known as Black, but she said she was busy doing something in another part of the room and did not see the assault take place.
But she said both Ford and Black, whom she has known for a long time from their role as regular customers, were each saying "very mean things" that she had not heard either of them say before. Among other things, she said she heard Ford say to Black that he engaged in "oral sex with other men."
When asked about Smith's claim that she raised the issue of oral sex with Black, Ford said, "Yes, after he called me a dyke bitch I most certainly did." Ford added, "It sounds like she's saying that I deserved to be hit with a barstool. Nothing a woman says to a man that is yelling and encroaching on her personal space justifies hitting her in the head three times with a weapon," Ford said.
"We at Players had a very sad incident on Wednesday night," the restaurant said in an Aug. 5 post on its Facebook page about the assault case. "We are mostly family here and we look out for each other. We are so sorry for what happened and hope she will be ok," the message says. "We are still trying to sort out the details of what happened, but we know that no one here would support gay bashing or any type of violence."
Phil Pannell, a longtime D.C. LGBTQ rights and Ward 8 community activist, said he has organized LGBTQ community events at Player's Lounge, saying it has the reputation of being an LGBTQ-friendly establishment for many years. He told the Blade that he was surprised upon learning of the assault against Ford because he was unaware of that type of incident ever having occurred at Player's Lounge.
Ford, among other things, serves as executive director of the Future Foundation, a Ward 8-based community organization that provides services to local teenagers and their families. The organization's website says one of its programs, called LGBTQ+ You, has provided a "safe space" drop-in facility for LGBTQ youth living in the city's east of the Anacostia River neighborhoods.
SMYAL announces new executive director
Erin Whelan to start Sept. 1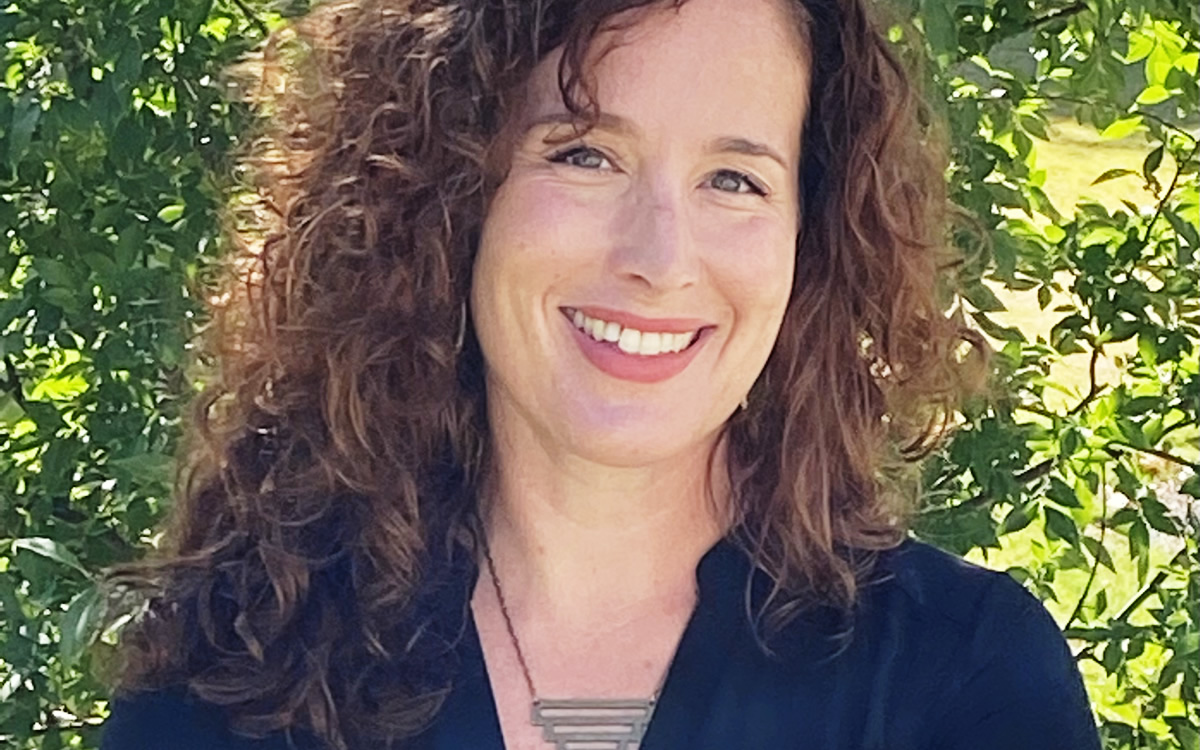 SMYAL on Thursday announced Erin Whelan will become the organization's new executive director on Sept. 1.
SMYAL's mission is to support and empower LGBTQ youth ages 6-24.
A press release that announces Whelan's appointment notes the organization over the last five years has grown "exponentially." Its services include affirming programs, housing support, leadership training and mental health services, designed to help LGBTQ youth develop advocacy skills and an educated, welcoming community.   
Whelan most recently served as the director of housing and homeless services at LifeWorks, an Austin, Texas,-based nonprofit that provides youth with housing and services. She has worked in nonprofit management for almost 20 years, and SMYAL's press release highlighted her commitment to antiracism, equity and the LGBTQ community.
"Erin Whelan is a compassionate and strong leader who I am confident is the right person to lead SMYAL," board chair Rob Cogorno said. "I could not be more proud of the tremendous growth in services for our LGBTQ youth and of the SMYAL staff's hard work that made that growth possible. Erin's extensive experience in service to youth in need and her passion for that work will help guide SMYAL in continuing its excellent work in this challenging time for LGBTQ youth in our region and across the country."
Whelan in the press release shared her enthusiasm for stepping into leadership with this driving purpose.
"I am beyond excited and honored to join SMYAL as the new executive director. My work has been committed to understanding and seeing the world through the lens of the most marginalized youth and young adults and being a fierce advocate for LGBTQ youth," Whelan said. "I believe all LGBTQ youth deserve an opportunity to build a life they love and a chance to feel celebrated and affirmed for exactly who they are and strive to be. From the moment I stepped into the SMYAL community, it felt like exactly where I wanted to be. SMYAL creates a community for queer and trans youth where they can feel radically accepted and safe to step into their true selves."