Federal court overturns ruling that demanded asylum seeker prove he's gay
Peter Udo fled Nigeria
A three-judge panel of the 9th U.S. Circuit Court of Appeals unanimously ruled against an immigration judge's finding that denied an asylum bid by a Nigerian man who says he is gay.
The court documents filed by Peter Udo asserted a fear of persecution or torture in Nigeria based on his status as a gay man and the harm he suffered after being discovered having sex with his boyfriend in a hotel.
According to Reuters, the U.S. Board of Immigration Appeals had affirmed an immigration judge's ruling that Udo's asylum bid was frivolous because he deliberately fabricated a key element of his application and failed to establish that he is gay.
Udo initially gave an asylum officer the name of a hotel that did not exist, later saying that he was afraid to identify the actual hotel, according to court filings.
But the location of the hotel is at best ancillary to Udo's claims, the 9th Circuit said, "and is certainly not a material element."
Udo fled Nigeria after being beaten and detained by Nigerian authorities filing a claim for political asylum in part based on the 2014 Nigerian law that criminalizes homosexuality, same-sex marriage and same-sex relationships.
The 9th Circuit returned the case Wednesday to the U.S. Board of Immigration Appeals to reconsider Udo's case.
Doctor, transgender spouse indicted for passing information to Russia
Jamie Lee Henry first active-duty Army officer to come out as trans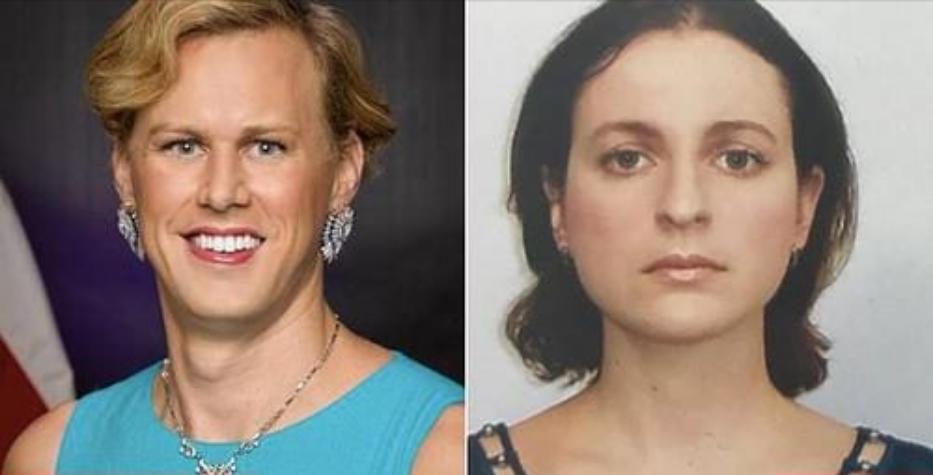 A federal grand jury on Wednesday handed down an indictment of a Johns Hopkins anesthesiologist and her spouse, a doctor and major in the U.S. Army, with conspiracy and for the disclosure of individually identifiable health information related to their efforts to assist Russia in connection with the conflict in Ukraine.
The office of the U.S. Attorney for the District of Maryland in a press release stated Anna Gabrielian, 36, and her spouse, Jamie Lee Henry, 39, both of Rockville, Md., both of whom had secret clearances, were attempting to provide medical information about members of the military to the Russian government.
Gabrielian and Henry met with an individual they believed to be associated with the Russian government, but who was, in fact, an Federal Bureau of Investigation Undercover Agent.
Court documents indicate Gabrielian told the FBI agent posing as a Russian operative that she had previously reached out to the Russian Embassy by email and phone, offering Russia her and her spouses' assistance.
According to the U.S. Attorney's office, Gabrielian told the FBI agent that, although Henry knew of Gabrielian's interaction with the Russian Embassy, she never mentioned Henry's name to the Russian Embassy.
In the narrative released by the U.S. Attorney's office, on Aug. 17, 2022, Gabrielian met with the FBI at a hotel in Baltimore. During that meeting, Gabrielian told the FBI she was motivated by patriotism toward Russia to provide any assistance she could to Russia, even if it meant being fired or going to jail.
She proposed potential cover stories for her meeting with the "Russians" and stressed the need for "plausible deniability" in the event she was confronted by American authorities. Gabrielian also told the FBI that, as a military officer, Henry was currently a more important source for Russia than she was, because they had more helpful information, including how the U.S. military establishes an army hospital in war conditions and information about previous training provided by the U.S. military to Ukrainian military personnel. 
Henry identifies as a "transgender military physician" on their Twitter account.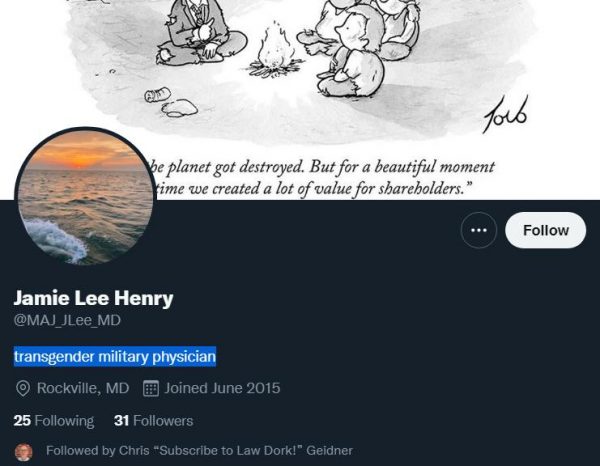 Henry received public attention in 2015 after becoming the first known active-duty Army officer to come out as trans.
Henry was at one point a member of SPARTA, the nation's largest nonprofit representing actively-serving trans U.S. servicemembers. A spokesperson for SPARTA, in an emailed statement commenting on the announcement of the arrest and indictment of Henry and their spouse told the Washington Blade:
"Transgender people are as diverse as the societies to which they belong. One's gender identity neither increases nor decreases a propensity towards alleged criminal activity."
As stated in the indictment, Gabrielian is an anesthesiologist and worked at Medical Institution 1 in Baltimore.
Henry, a major in the U.S. Army who held a secret-level security clearance, is Gabrielian's spouse and a doctor. During the time of the alleged conspiracy, Henry worked as a staff internist stationed at Fort Bragg, the home of the Army's XVIII Airborne Corps, headquarters of the U.S. Army Special Operations Command and the Womack Army Medical Center.
Gabrielian was scheduled to have initial appearance at 11:30 a.m. on Thursday in U.S. District Court in Baltimore before U.S. Magistrate Judge Brendan A. Hurson. Henry is also expected to have an initial appearance today, although a time has not yet been set.
Full statement from SPARTA:
"SPARTA, a non-profit advocacy organization representing transgender Service members in the United States, is saddened to learn of the arrest and indictment of Jamie Lee Henry, an officer in the U.S. Army and a medical doctor.
SPARTA has long advocated for the inclusion and total equity for transgender persons throughout the United States uniformed services. Today, thousands are serving honorably and authentically at home stations worldwide.
The actions alleged in the indictment do not reflect Henry's identity as transgender. Their alleged actions are those of an individual and should not be taken as a representation of transgender people broadly or transgender members of the military specifically.
All people in the United States are entitled to the same rights, including due process and the presumption of innocence in this case. SPARTA does not condone any actions alleged in the indictment and expects the process to play out fairly and equitably as it would for anyone accused of a crime."
Federal judge rules insurance companies can refuse to cover PrEP
Braidwood Management challenged Affordable Care Act provision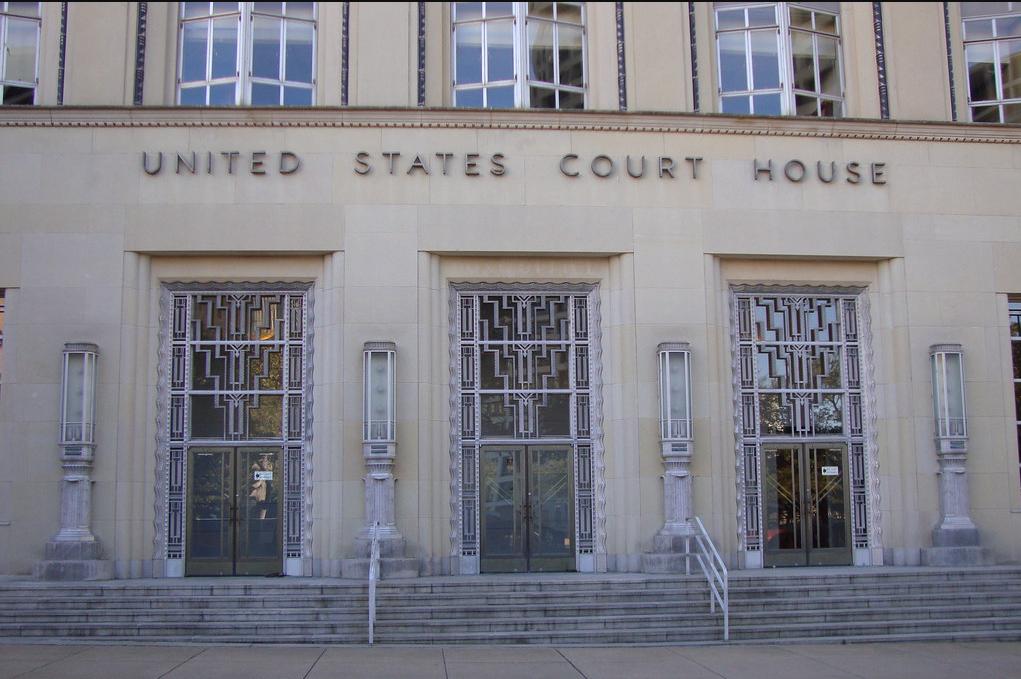 A federal judge on Wednesday ruled against a federal mandate that requires employer provided health plans to cover PrEP, a drug used for the prevention of HIV.
The mandate, a provision of the Affordable Care Act, violates tenets of the federal Religious Freedom Restoration Act, according to U.S. District Judge Reed O'Connor of the U.S. District Court for the Northern District of Texas.
Insurance plans were required to cover PrEP following a 2019 recommendation from the Department of Health and Human Services for the drug to be prescribed for high-risk patients for the prevention of HIV infection.
Braidwood Management challenged the ACA's provision the grounds that covering PrEP would conflict with its religious convictions as the medication "facilitates and encourages homosexual behavior, intravenous drug use and sexual activity outside of marriage between one man and one woman."
O'Connor ruled in favor of Braidwood Management in a separate case last year challenging the 1964 Civil Rights Act's anti-bias protections for sexual orientation and gender identity, deciding Braidwood had the right to discriminate under the Religious Freedom Restoration Act and the First Amendment.
Representing the company in both cases was former Texas Solicitor General Jonathan Mitchell, a vocal opponent of LGBTQ rights who is credited as the architect of Senate Bill 8, which provides a right of action allowing private citizens to sue those who obtain an abortion.
One of the more conservative judges in one of the most conservative federal district courts, O'Connor ruled in 2018 that the entire ACA was unconstitutional, which the U.S. Supreme Court subsequently overturned in 2021.
Carl Schmid, executive director of the HIV+Hepatitis Policy Institute, told Roll Call he expects Wednesday's ruling will be appealed. "Preventive services covered by private insurance plans without cost-sharing, such as HIV testing, hepatitis B and C testing, and PrEP, are all critical and well-established public health preventive services that must continue," he said.
PrEP reduces by roughly 99 percent the risk of contracting HIV. It has been labeled an "essential medicine" by the World Health Organization.
*********************
U.S. appeals court upholds Washington state's conversion therapy ban
"Being LGBTQ is not a mental health disorder. Trying to change such a fundamental aspect of a person's identity is profoundly dangerous"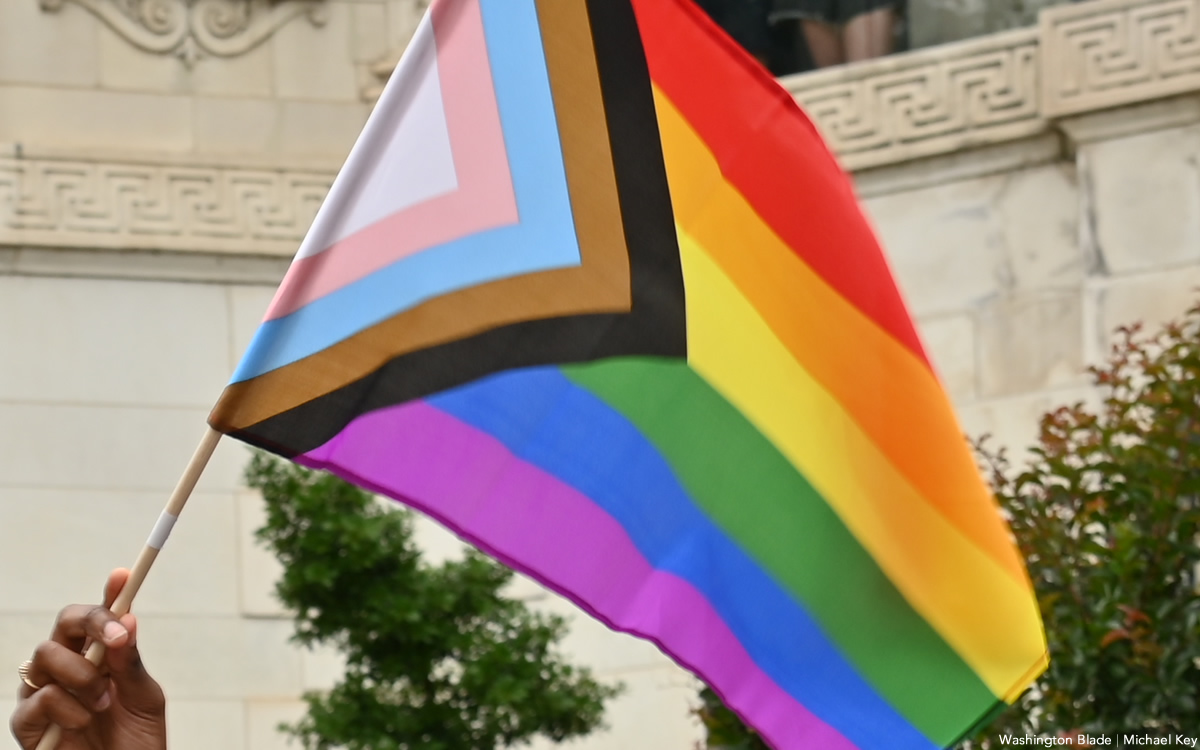 A three-judge panel of the Ninth Circuit unanimously affirmed that Washington state's law protecting minors from conversion therapy is constitutional and may be enforced.
In its ruling the ninth circuit wrote: "In relying on the body of evidence before it as well as the medical recommendations of expert organizations, the Washington Legislature rationally acted by amending its regulatory scheme for licensed health care providers to add 'performing conversion therapy on a patient under age eighteen' to the list of unprofessional conduct for the health professions."
Washington prohibited licensed mental health professionals from subjecting minors to conversion therapy in 2018, as more than 20 other states have also done.
In a lawsuit filed last year in the U.S. District Court of the Western District of Washington, a family therapist is claiming that a law banning the practice of applying conversion therapy techniques on minors and signed by Democratic Governor Jay Inslee in 2018 is a violation of his First and Fourteenth Amendment rights.
Brian Tingley, who is represented by the Scottsdale, Arizona-based anti-LGBTQ Alliance Defending Freedom, (ADF), identifies himself as a "Christian licensed marriage and family therapist" and alleges in the court filings that the provided definition of "conversion therapy" is "vague, content-biased, and biased against one perspective or point of view."
Represented by the National Center for Lesbian Rights (NCLR), Equal Rights Washington intervened in the case to help the Washington Attorney General defend the law.
"We are thrilled by today's decision, which ensures that Washington's lifesaving law can continue to be enforced and that LGBTQ children in Washington will not be subjected to these discredited practices, which have been rejected as unsafe by every major medical organization in this country," said Shannon Minter, NCLR legal director. Minter argued on behalf of intervenor Equal Rights Washington before the federal district court in Tacoma last year.
"Laws like Washington's are critical to protecting minors and parents from being harmed by unethical therapists who falsely claim to be able to prevent a child from being gay or transgender," said Mathew Shurka, co-founder of Born Perfect, NCLR's campaign to end conversion therapy. "As a survivor of more than five years of conversion therapy, I know firsthand how damaging these practices are to young people and their families. The medical community has rejected these practices because they are harmful, ineffective, and unnecessary. Being LGBTQ is not a mental health disorder. Trying to change such a fundamental aspect of a person's identity is not only impossible, it is profoundly dangerous and causes serious, lasting harm."
In September 2021, a federal district court rejected Tingley's challenge and upheld Washington's law. The court relied on Pickup v. Brown, a 2014 decision in which the Ninth Circuit rejected a similar challenge to a virtually identical California law. The court rejected Tingley's argument that the U.S. Supreme Court had implicitly overruled Pickup in its 2018 decision in National Institute of Family & Life Advocates v. Becerra, which struck down California laws regulating pregnancy clinics.
In today's decision, the Ninth Circuit held that its prior ruling in Pickup is correct and that laws barring conversion therapy regulate professional conduct, not speech. The court held that the Washington legislature "acted rationally when it decided to protect the physical and psychological well-being of its minors by preventing state-licensed health care providers from practicing conversion therapy on them." The Ninth Circuit noted that Washington legislators also "relied on the fact that '[e]very major medical and mental health organization' has uniformly rejected aversive and non-aversive conversion therapy as unsafe and inefficacious."
Two of the judges – Kim Wardlaw and Ronald Gould – also held that Washington's law is valid for the additional reason that states have a long tradition of regulating health care providers to protect public health and safety.
Judge Mark Bennett declined to join that part of the opinion, stating that it was unnecessary since the court's prior holding in Pickup was binding.
Since California enacted the first statewide law protecting minors from conversion therapy in 2011, 20 other states and more than 100 municipalities have enacted similar laws. These laws have been upheld by the Ninth and Third Circuits and by federal district courts in Maryland, Florida, and Illinois.
The sole exception is a split decision in 2020 by a three-judge panel of the Eleventh Circuit in Otto v. Boca Raton, which reversed a federal district court opinion upholding two Florida municipal ordinances that protected minors from conversion therapy. The Eleventh Circuit declined to rehear the case en banc earlier this year, despite strong dissenting opinions noting that the panel's decision improperly disregarded the district court's factual findings and misapplied First Amendment law.