Bowser, gay D.C. Council candidates trail opponents in GLAA ratings
Robert White leads incumbent mayor in scorecard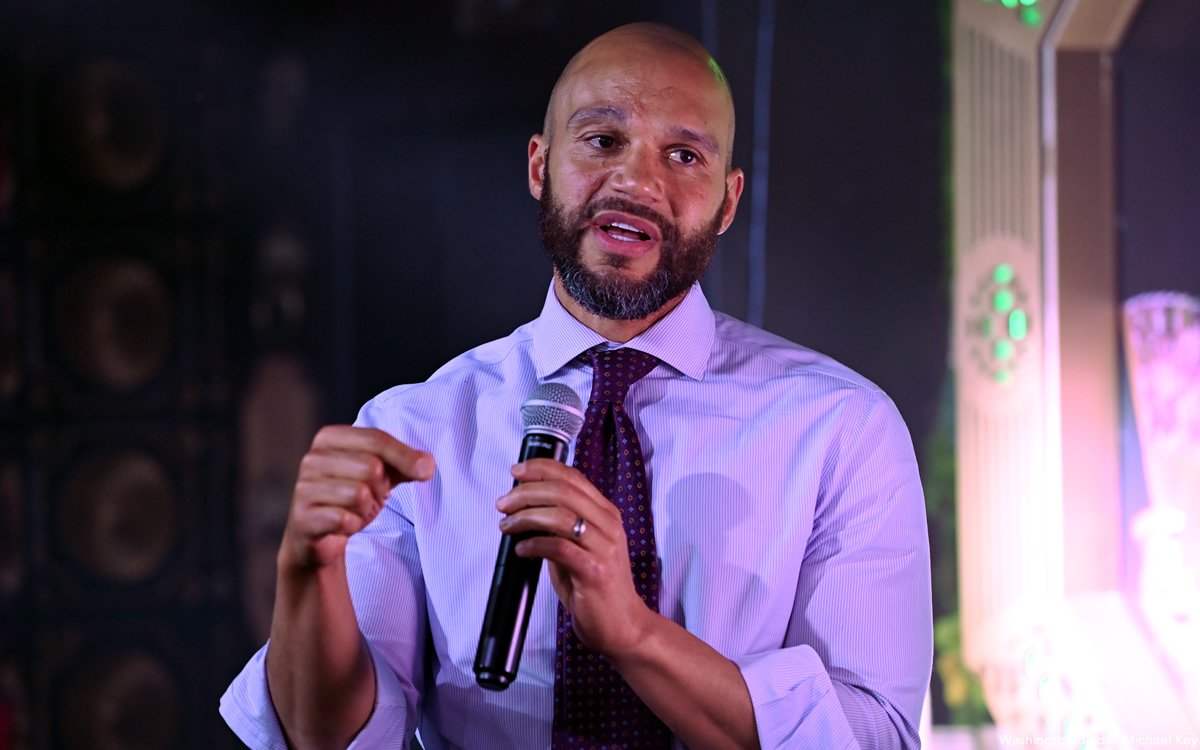 The D.C. Gay and Lesbian Activists Alliance on May 10 released its rating scores for candidates running for D.C. Mayor, D.C. Attorney General, and D.C. Council in the city's June 21 Democratic primary as it has in D.C. elections since the early 1970s.
In a development that may come as a surprise to some observers, Mayor Muriel Bowser and the two gay candidates running for seats on the D.C. Council received lower ratings than one or more of their opponents.
Bowser received a +6 rating out of a highest possible rating score of +10 compared to her lead opponent, at-large D.C. Councilmember Robert White, who received a +9 GLAA rating. Ward 8 D.C. Councilmember Trayon White, who's also running for mayor, received a "0" GLAA rating for not returning a GLAA candidate questionnaire. The remaining mayoral contender, James Butler, received a +3 rating.
GLAA, a nonpartisan LGBTQ advocacy group, issues its ratings on a scale ranging from -10, the lowest possible score, to +10, the highest possible score. It bases its ratings on candidates' responses to a 10-question GLAA questionnaire that covers a wide range of both LGBTQ and non-LGBTQ specific issues. The questionnaire also asks candidates to provide a detailed account of their past record on LGBTQ specific issues.
Candidates that do not return the questionnaire receive an automatic rating of "0."
Gay former D.C. police officer Salah Czapary, who's running for the Ward 1 Council seat and who has been endorsed by the Washington Post, came in third place in the GLAA ratings for the three-candidate race in Ward 1. He received a +4 GLAA rating compared to the +9.5 rating for incumbent Ward 1 Councilmember Brianne Nadeau and the +6 rating received by challenger Sabel Harris.
Gay D.C. Board of Education member Zachary Parker, who's running for the Ward 5 Council seat, came in second place for the GLAA ratings in the seven-candidate Ward 5 race with a +6.5 GLAA rating. Community activist Faith Gibson Hubbard came in first for GLAA's Ward 5 ratings with a score of +7.5. Candidates Gordon Fletcher, Gary Johnson, Kathy Henderson, and Art Lloyd each received a "0" rating for failing to return the GLAA questionnaire.
GLAA announced it has declined to rate the Ward 5 candidate with the highest name recognition – former at-large and former Ward 5 Councilmember Vincent Orange "due to his 2016 resignation from the D.C. Council for a conflict of interest."
GLAA adopted a policy of not rating candidates found to have what it considers ethics related violations in 2020 when it similarly declined to rate former Ward 2 D.C. Councilmember Jack Evans, who also resigned over ethics issues.
In the race for D.C. Council Chair, GLAA awarded a rating of +8.5 to Democrat Erin Palmer, the only challenger in the primary to incumbent Council Chair Phil Mendelson, who received a +6 GLAA rating.
For the at-large D.C. Council race, incumbent Councilmember Anita Bonds came in second place with a +6 rating behind challenger Lisa Gore, who received a 8.5 rating. Of the two remaining challengers, Nate Fleming received a +5.5 rating and Dexter Williams received a +4.5 rating.
In the three-candidate D.C. Attorney General's race in which incumbent Attorney General Karl Racine is not running for re-election, attorney Bruce Spiva received a +6.5 rating compared to attorney challengers Brian Schwalb, who received a +6, and Ryan Jones, who received a +2.5.
In a statement accompanying its ratings for each of the candidates GLAA explains the rationale for its individual ratings, pointing out that some of the candidates – including Bowser and the two gay candidates – lost points for disagreeing with GLAA's positions on both LGBTQ and non-LGBTQ specific issues.
Those issues are outlined in a nine-page document GLAA released with its rating scores called "Leave No One Behind: 2022 D.C. LGBTQ Election Guide." The document expresses strong support for a number of controversial issues that political observers say will play a role in D.C. voters' decisions on which candidates to support for mayor and D.C. Council.
Among the issues for which GLAA supports and asks in its questionnaire whether the candidates support are "full decriminalization of sex work for adults;" repeal of the subminimum wage for tipped workers; removal of criminal penalties for drug possession for personal use; and a call to "divest" from the D.C. Metropolitan Police Department funds that should be invested in "vital programs, including anti-poverty, violence prevention, and crisis intervention" programs.
The GLAA policy document also calls for providing "sufficient affordable housing units for all households earning less than 30 percent of the Area Median Income (AMI);" expanding access to the city's housing voucher programs for LGBTQ people in need; and additional funding for the D.C. Office of Human Rights to end its backlog of discrimination cases.
In the statement accompanying its rating for gay candidate Czapary, GLAA says he supports the GLAA policy statement on most issues but lost points for opposing cuts in the D.C. police budget and for not providing enough details about his past record on LGBTQ issues. "GLAA values him running for office as an out member of the LGBTQ+ community," the statement says.
GLAA said Parker, the Ward 5 Council gay candidate, also supports GLAA's policy positions on most issues and his responses to the questionnaire "have an average level of detail." The group said he too didn't provide sufficient detail on how his past work "impacts LGBTQ+ people" but that GLAA "appreciates him coming out as gay while running for office."
In a "President's Message" accompanying GLAA's detailed policy statement and election guide, GLAA President Tyrone Hanley appears to raise broader non-LGBTQ political issues that GLAA, the nation's longest continuously running LGBTQ organization, has not addressed in the past.
"Sadly, these simple truths go ignored as the District government continues to neglect individuals and families struggling to get by in a wealthy city, demolish homeless encampments, blame city challenges on housing voucher holders, and stuff residents in decaying jails," Hanley states in his message.
"Our election guide outlines key priorities for addressing the need of LGBTQ residents while focusing on racial and economic justice," he says, "including housing, workers' rights, health, and policing and incarceration." Hanley adds, "Our priorities reflect feedback from community partners and the work being done across D.C. to make it a better place for everyone."
Longtime D.C. LGBTQ Democratic activist Peter Rosenstein, who is supporting Mayor Bowser's re-election, expressed the sentiment of some local LGBTQ activists who disagree with GLAA's expanded policy positions.
"GLAA has issued candidate ratings for 2022 based on criteria which the president of the organization explained in a statement," Rosenstein said. "Sadly, based on that statement, the entire focus of the organization has changed," he said. "Clearly, a revered organization once representing the entire LGBTQ+ community, no longer exists."
Asked to respond to concerns raised by Rosenstein and others who say GLAA has expanded its agenda too far beyond LGBTQ related issues, Hanley said in a short statement that GLAA has put on the table multiple issues that should never have been taken off in the first place.
"We at GLAA want to uplift everyone in our community, including drug users, sex workers, the poor and homeless, and those who are currently and formerly incarcerated," he said. "They are our people, and we will fight for them. We are learning and building from the successes and failures of the past," he said, adding, "we want to build a new world where all of us are free and happy living as we truly are."
The GLAA ratings for each of the candidates, its statement explaining the ratings for each of the candidate, and the candidates GLAA questionnaire responses can be accessed at glaa.org.
Judge postpones ruling on whether Casa Ruby should be dissolved
Request by Corado for gag order to stop 'one sided' information denied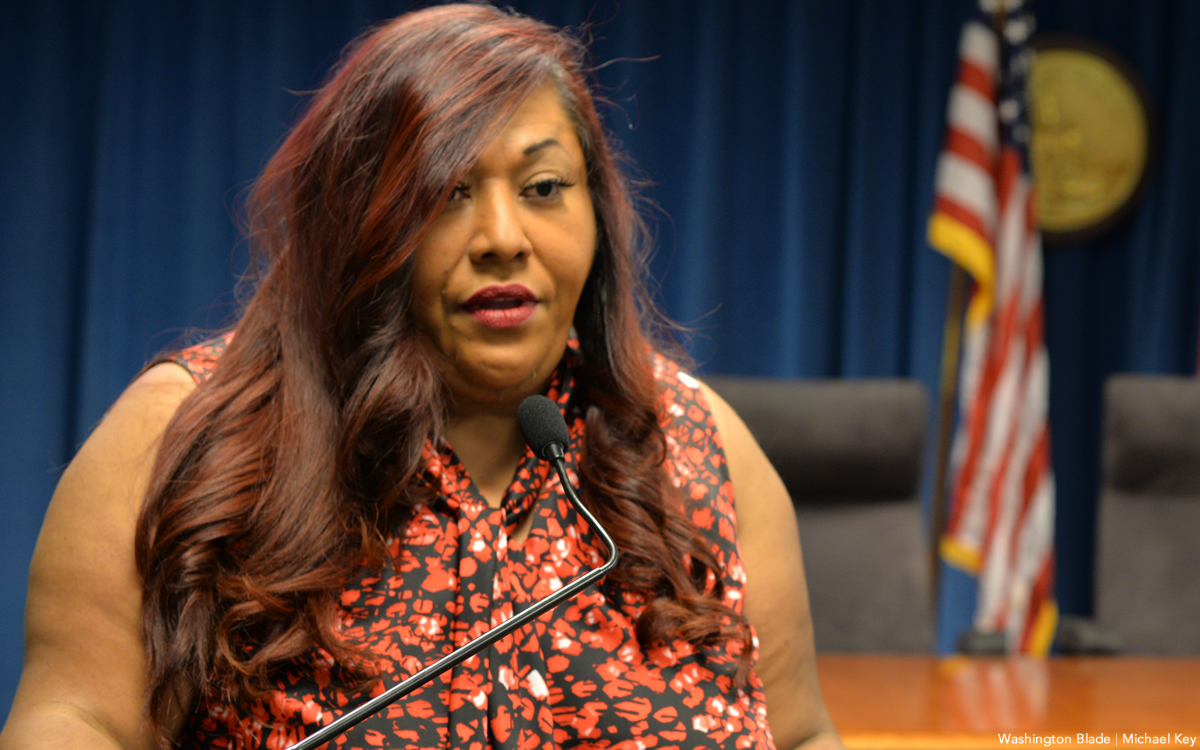 A D.C. Superior Court judge on Thursday said she was not ready to issue a ruling on whether the LGBTQ community services center Casa Ruby should be dissolved as recommended two and a half weeks earlier by a court-appointed receiver that took control of Casa Ruby's operations.
Judge Danya A. Dayson stated at a Sept. 29 court status hearing that the Office of the D.C. Attorney General, which filed civil charges against Casa Ruby and its founder and former executive director Ruby Corado in July, needed more time to complete its investigation into Casa Ruby's operations.
"We think it may be premature to immediately commence proceedings for dissolution while our investigation is still pending," Cara Spencer, an official with the Office of the Attorney General, told the judge. "We're still gathering information. We still intend to shortly serve discovery so we can bring it to a resolution promptly," she said.
The AG's office filed a civil complaint against Casa Ruby and Corado on July 29 alleging that the LGBTQ group had violated the city's Nonprofit Corporations Act for the past several years. The complaint says improper actions by Corado, including the unaccounted-for expenditure of funds and a failure by the Casa Ruby Board of Directors to provide oversight led to a financial crisis.
The complaint notes that Casa Ruby employees were not getting paid and over $1 million was owed to landlords in back rent for at least three buildings Casa Ruby used for its offices and to provide emergency housing for homeless LGBTQ youth.
With Corado spending most of the past year in El Salvador, according to Casa Ruby employees, the employees and managers struggling to keep its operations going said they were forced to shut down all operations in late July.
Corado, who attended the Sept. 29 status hearing through a phone hookup, said she had yet to retain a lawyer due to a "shortage of funds." She told Dayson she expects to finally retain an attorney but said she had not received a copy of the receiver's report that recommended Casa Ruby be dissolved. One of the attorneys with the AG's office told Dayson the office sent a copy of the report to four email addresses it had for Corado and Casa Ruby.
At the judge's request, one of the AG office officials sent another copy of the report to Corado during the hearing to an email address that the judge asked Corado to provide.
Dayson on Aug. 12, at the recommendation of the AG's office, appointed the Wanda Alston Foundation, a D.C. organization that provides housing for homeless LGBTQ youth, as the Casa Ruby receiver. One day earlier, Dayson approved the AG office's request that Casa Ruby be placed under receivership.
On Aug. 3, also at the request of the AG's office, the judge issued an order that all of Casa Ruby's bank accounts and financial assets, which had been under the sole control of Corado, be frozen. Dayson lifted that freeze after the Alston Foundation assumed control of Casa Ruby under the receivership.
As she had at the Aug. 11 court hearing, Corado stated in the Sept. 29 hearing that Casa Ruby's financial problems were caused by the D.C. government withholding as much as $600,000 in grant funds for services Casa Ruby had provided.
Officials with the D.C. Department of Human Services, which initially approved the grants, have said some of the grant funds were withdrawn or cancelled because Casa Ruby failed to comply with the terms of the grants. In some cases, the officials said, required financial reports were not filed to substantiate how the funds were spent.
Corado also asked Dayson at the Sept. 29 hearing to order the receiver and officials with the AG's office stop releasing "one-sided" information that she said was falsely placing her and Casa Ruby in a negative light through reports in the press.
"The story that has been painted is that Casa Ruby left the clients in the cold," Corado said. "That is not accurate."
When asked by Dayson what she wanted the court to do, Corado said, among other things, she did not want the receiver to be allowed to disclose information about what happened in the court proceedings that Corado said was being reported by the press inaccurately.
She said highly negative publicity resulting from the release of information from the previous court hearing resulted in her receiving death threats and damage to the engine of her vehicle in an act of vandalism that cost $1,700 to repair.
Dayson said Corado appeared to be seeking a gag order to prohibit the receiver or the AG's office from discussing or releasing information that was part of the public record. Saying there were insufficient grounds for such an order, Dayson announced she was denying a request to seal court records or issue a gag order against the receiver.
The judge ruled in favor of a request by the AG office attorney to file an amended complaint for the case, directing them to file the amended complaint by Nov. 28. Court records show that Dayson directed the parties to return to court for scheduling hearings on Oct. 28 and Jan. 6.
Whitman-Walker wins $280,000 grant to support LGBTQ immigrants
Providing legal resources for migrants facing persecution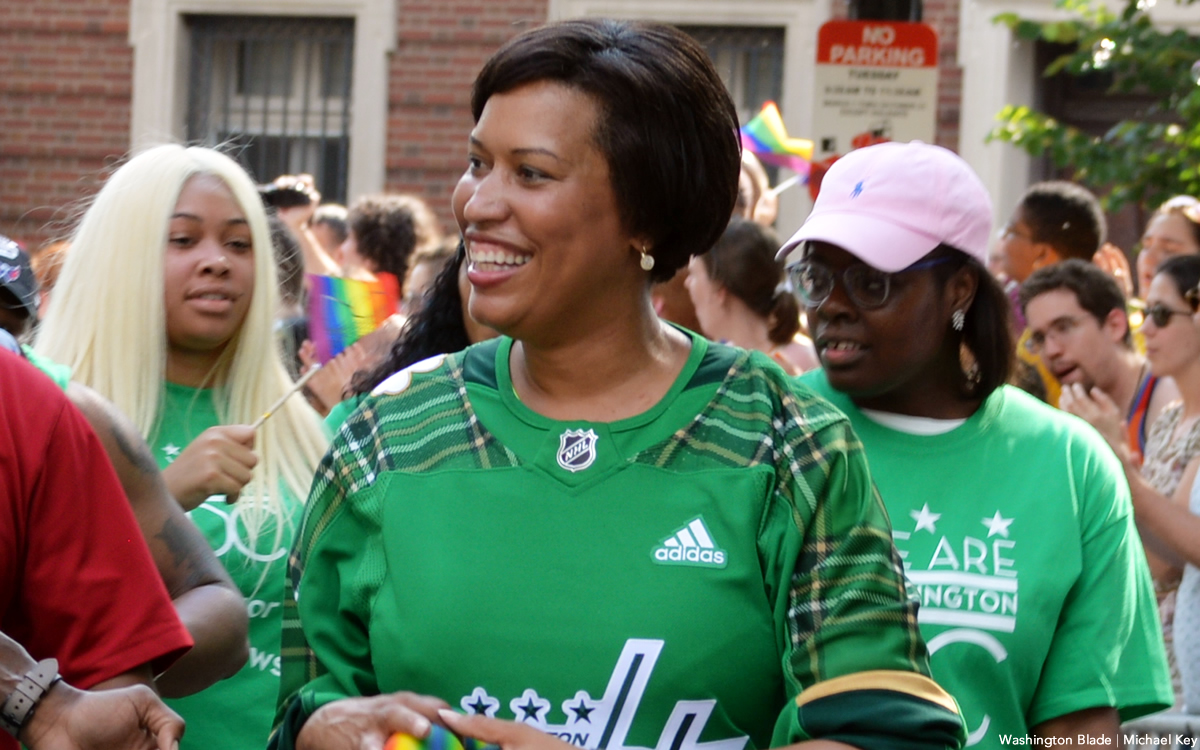 Whitman-Walker Health, which provides medical as well as legal services for the D.C.-area LGBTQ community, was among 25 community-based organizations to receive a grant from the D.C. government earlier this month to provide legal support for immigrants.
Amy Nelson, director of Whitman-Walker's legal department, said the $280,000 grant it received from the city for 2023 marked the fifth year in a row that the city has supported its work in providing legal support for LGBTQ immigrants arriving in D.C. from countries in Latin America as well as Asia, Africa, and Europe.
"We help people file for U.S. asylum on grounds of HIV, sexual orientation, and gender identity," Nelson said. "Most of our cases now are trans women from Central America," Nelson told the Blade. "But we also have people from Cameroon, Russia, and Jamaica."
She said Whitman-Walker currently has about 150 open cases, including cases handled by outside attorneys working on a pro bono basis.
Nelson said Whitman-Walker's legal team has provided legal advice to some of the migrants arriving by bus to D.C. that the governors of Texas and Arizona have sent in recent months. But she said most of those arriving by bus from the two states plan to leave D.C. for other parts of the country.
A Sept. 16 statement released by the office of D.C. Mayor Muriel Bowser says the mayor's fiscal year 2023 budget allocated a total of $3.5 million for grants from the city's Immigrant Justice Legal Service (IJLS) grant program to 25 local organizations, including Whitman-Walker.
"Over the years, the IJLS program has not only benefited DC's immigrant residents, it has also helped us advance our DC values and strengthened the capacity of legal services providers and pro bono attorneys," Bowser said in the statement.
"Having a lawyer can make the difference between having legal status and living in the shadows, and I am incredibly grateful for the community organizations who have worked with us to make the IJLS program a success," she said.
Bowser pledges continued support for LGBTQ community if re-elected
Mayor addresses local LGBTQ Democratic group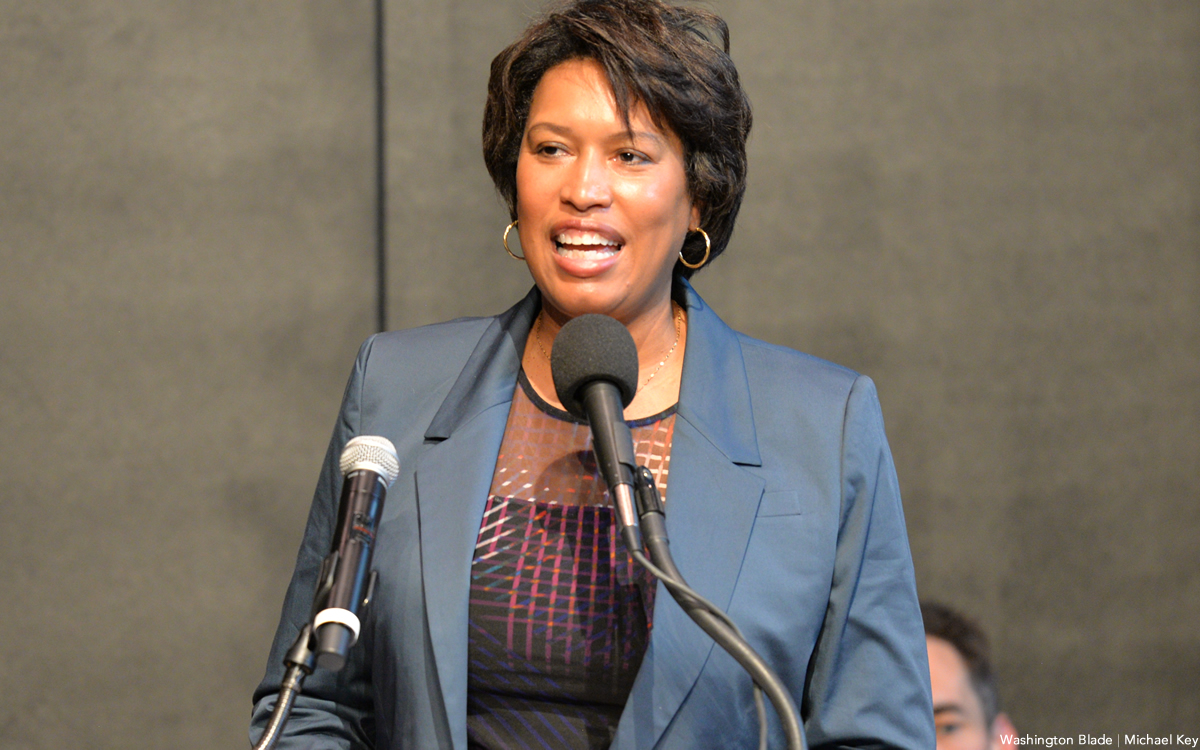 D.C. Mayor Muriel Bowser reflected on her record of support for the LGBTQ community and pledged to continue that support if elected to a third term as mayor during an appearance Monday night before the Capital Stonewall Democrats, the city's largest local LGBTQ political group.
The mayor's appearance at the virtual Zoom meeting took place a little over four months after Capital Stonewall Democrats endorsed her opponent, D.C. Council member Robert White, over Bowser in the June Democratic mayoral primary. The group later endorsed the mayor in the November general election after she won the primary to capture the Democratic nomination.
In a city with Democratic voters outnumbering Republicans and members of two other small parties by a lopsided margin, Bowser is considered the strong favorite to emerge as the winner in the Nov. 8 general election.
"I'm thrilled to be here and thrilled to be your Democratic nominee for mayor," she told members of Capital Stonewall Democrats, which used to be known as the Gertrude Stein Democratic Club.
"We spent many months, the better part of a year, going across all eight wards talking to people about their priorities for Washington, D.C., and what the next four years are really about," she said. "And I am proud of the eight years almost now that I've served as mayor and the things that we've accomplished. And more than that, I've kept my word about how we would pursue D.C.'s values and our goal to make our city a more inclusive city," she said.
"I'm also very proud of the work that I've done with the LGBTQ community, not only as mayor but through my tenure of service in D.C. government, which now is a little over 15 years," she said, referring to her tenure as a D.C. Council member before being elected mayor.
"In working with our trusted organizations, all of my agency directors, all the way through the people I have appointed to serve in our LGBTQ office," she said. "We've been very focused on making sure that D.C. works for LGBTQ residents."
The mayor added, "We continue to have a focus, for example, on making sure we're protecting our trans community from violence. But more than that, creating jobs and job training opportunities inside and outside the government."
After delivering opening remarks the mayor answered a wide range of questions that had been submitted by members of the group and presented by the group's president, Jatarious Frazier. Among them was a question on whether the city will partner with another organization for services for LGBTQ youth, especially trans youth of color, after the recent shutdown of the LGBTQ community services center Casa Ruby.
"I think we have some work to do to replace the work that Casa Ruby was doing," the mayor said. "And I'm quite frankly sad about that," she said, adding, "We like when some work is done in the nonprofit community. And we will be looking for trusted partners to help us replace that work."