Alexander-Reid, Pendarvis honored as 'legendary elders'
National Black Justice Coalition to recognize prominent activists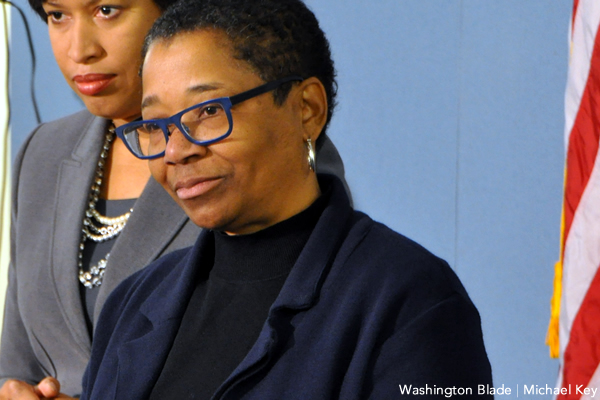 Longtime D.C. LGBTQ advocates Sheila Alexander-Reid and Rayceen Pendarvis are among nine prominent activists from across the country named as recipients of the second annual Legendary Elders Wisdom Award by the National Black Justice Coalition, the D.C.-based LGBTQ advocacy group.
"The National Black Justice Coalition is proud to present the 2nd annual Legendary Elders Wisdom Awards and Tea commemorating National LGBTQ+ Elders Day on Monday, May 16, 2022, at 1 p.m. EST," the group announced in a statement.
"This signature event is an opportunity for our community to honor iconic, Black LGBTQ+/SG women and femme elders and celebrate the process of aging while sharing the wisdom accrued by our elders through a virtual event," the statement says. "This year, we honor Black women and femmes who have blazed trails in the arts and creative fields," it says.
Alexander-Reid served for six and a half years as director of D.C. Mayor Muriel Bowser's Office of LGBTQ Affairs before taking on a new job last year as the senior vice president of business development for BiasSync, a Los Angeles-based company that provides online support and resources to address the issue of workplace bias.
In her earlier involvement as an LGBTQ community leader, Alexander-Reid was the founder and executive director Women in the Life Association, for which she served as publisher and national distributor of Women in the Life magazine, which focused on issues of interest to Black lesbians. She later founded and hosted Inside Out, a D.C. LGBTQ radio program.
Pendarvis, a longtime D.C.-based LGBTQ activist and event moderator, became best known as host of "The Ask Rayceen Show," an online program that features a wide range of guests, including local artists, musicians, and authors as well as public officials and LGBTQ activists. The show ran on a monthly basis from 2012 until last year, when the D.C. Council voted unanimously to approve a ceremonial resolution honoring Pendarvis' work on the show and her many other endeavors.
"The Council of the District of Columbia recognizes, honors and celebrates Rayceen Pendarvis, emcee, entertainer, social media personality and activist, for exemplary service and contributions to the District of Columbia and its residents, and the LGBTQIA+ community, on the occasion of the final season of The Ask Rayceen Show," the resolution states.
The other Legendary Elders Wisdom Award recipients named by the National Black Justice Coalition include Ann Allen Shockley, author, editor; Anita Cornwell, author of writings in the lesbian publication "The Ladder" and author of the 1983 book "Black Lesbian in White America;" Cheryl Clark, poet, essayist, educator and Black feminist activist; Jewelle Gomez, author, poet, critic and playwright; Andrea Jenkins, president of the Minneapolis City Council, writer, poet, performer and oral history archivist; Barbara Smith, writer of essays, reviews and short stories and founding member of Kitchen Table: Women of Color Press and Linda Villarosa, journalist, author, editor, novelist and educator.
Additional information about NBJC's Wisdom Awards can be accessed here:
Pride Run returns after two-year hiatus
1,500 participants to join 10th annual event on June 10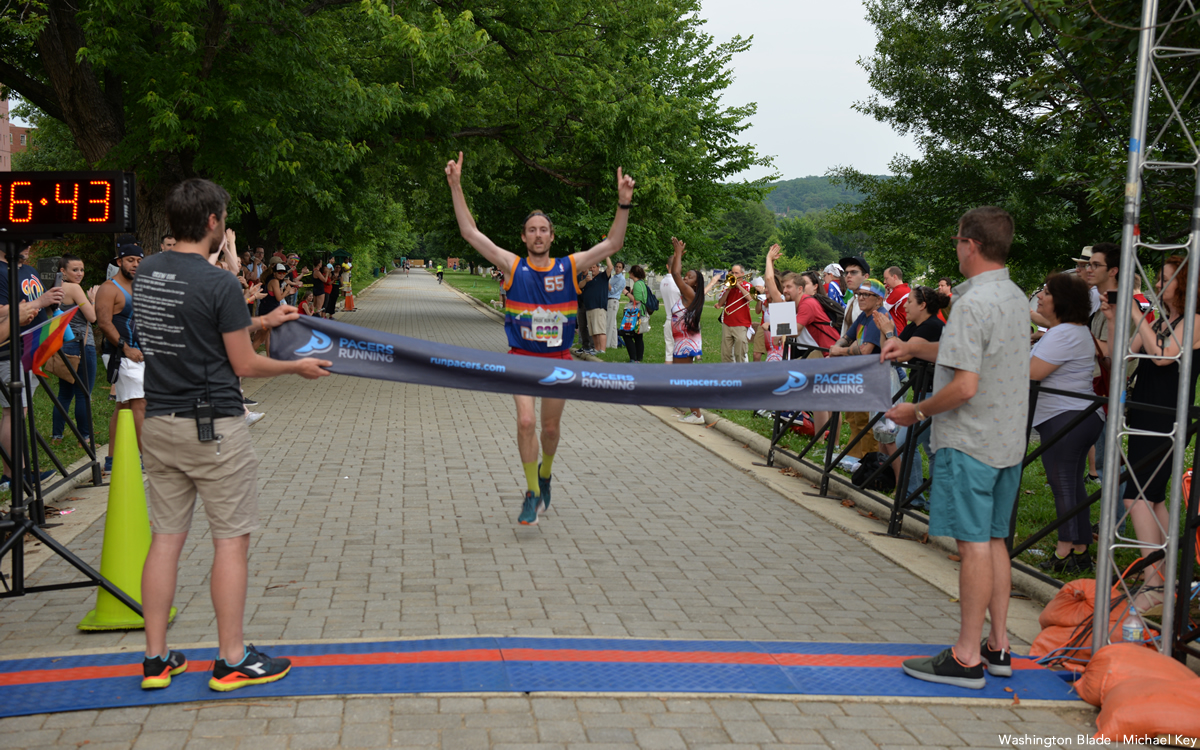 After a two-year pandemic hiatus that saw the Pride Run go mostly virtual, the DC Front Runners Pride Run 5K is elated to once again welcome nearly 1,500 runners, walkers, volunteers, and spectators back to the Historic Congressional Cemetery for their Tenth Anniversary Race on Friday, June 10.
As an official Capital Pride Partner Event, the Pride Run 5K kicks off Capital Pride weekend with a bang. Well perhaps more of a "On your mark, get set, GO!"
Join us as we run, walk, skip, shantay, and sashay on a course that starts near the cemetery's "Gay Corner" where many LGBTQ rights activists, such as Leonard Matlovich, are interred. The race then winds along the Anacostia Riverwalk Trail to finish where you started.
Gates open at 5 p.m. for packet pickup with the race beginning at 7 p.m. The post-race party includes beer and hard seltzer provided by DC Brau along with a DJ playing music until 9 p.m. Be sure to check out the return of the DCFR dance troupe performing to a hyped-up crowd.
Race proceeds benefit the following local LGBTQ and youth-supporting organizations via the Pride Run Foundation: Ainsley's Angels (National Capital Region), Casa Ruby, Team DC Student-Athlete Scholarship, SMYAL, The Wanda Alston Foundation, The Blade Foundation, and Teens Run DC. You can help support these amazing charities by registering for the race or donate directly at DCPrideRun.com.
A special thanks to the presenting sponsors, Capital One Café, Choice Hotels, KNEAD Hospitality + Design, Shake Shack, and Wegmans Food Market to the premier sponsors DC Brau, Pacers Running, and Wilkinson Barker Knauer, LLP, and our elite sponsors, AHF Healthcare Centers, Avalon Bay Communities, Casey Trees, Endorphin Fitness, and Starbucks, and of course our special partner the Historic Congressional Cemetery. Last, but not least, a big thank you to all individual donors who contribute via the race website directly to our incredible charity partners. Together, we proudly celebrate who we are in a festive, safe, and inclusive event.
Mattachine Society of D.C. donates documents to William & Mary
New LGBTQ archive established at Swem Library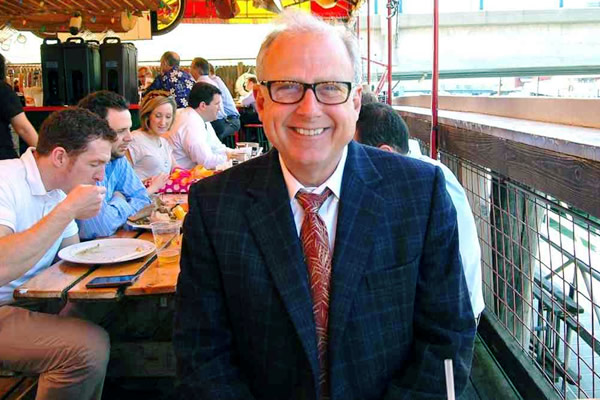 The Mattachine Society of Washington, D.C., the group that collects historic documents related to the federal government's discrimination against and persecution of LGBTQ people in past years, announced this week that it is donating all its documents to a newly created Archive of American LGBTQ Political and Legal History at the College of William & Mary.
The Williamsburg, Va., based college announced last week that its new LGBTQ archive is being established at its Swem Library in memory of the renowned gay historian John Boswell, who was a 1969 Bachelor of Arts graduate in history at the College of William & Mary.
"There are many fabulous collections of LGBTQ historical materials in libraries across the country, but this archive will have a unique focus on the political and legal architecture of the movement," said Carrie Cooper, dean of University Libraries at William and Mary.
"Our motto 'Archive Activism' brings us to this decision to donate all of our collection to William and Mary, for the benefit of historians, researchers, and students nationwide," said Charles Francis, co-founder of the reestablished Mattachine Society of Washington, D.C. The group was originally founded by D.C. LGBTQ rights pioneer Frank Kameny in the early 1960s as D.C.'s first politically active LGBTQ organization.
"This exciting new archive will collect materials that illuminate the history of LGBTQ Americans' struggle to secure their rights through the political process and legal systems of the nation," according to LGBTQ rights advocate and former William & Mary Rector Jeff Trammell.
Trammell is donating to the new archive material collected from his tenure as the first openly gay board chair of a major public university, a statement released by William & Mary says. It says Trammell's donation is the second donation after the Mattachine Society of Washington, D.C., which made the first of what is expected to be many more LGBTQ-related documents to be donated to the new archive.
The Mattachine donation includes "original, declassified documents obtained by meticulous research into sources such as the Library of Congress, the National Archives and Records Administration, numerous presidential library archives, and public and university libraries, to name just a few, according to attorney Pate Felts, the other Mattachine co-founder.
Capital Stonewall Democrats backs Robert White over Bowser
LGBTQ group endorses Erin Palmer over incumbent Mendelson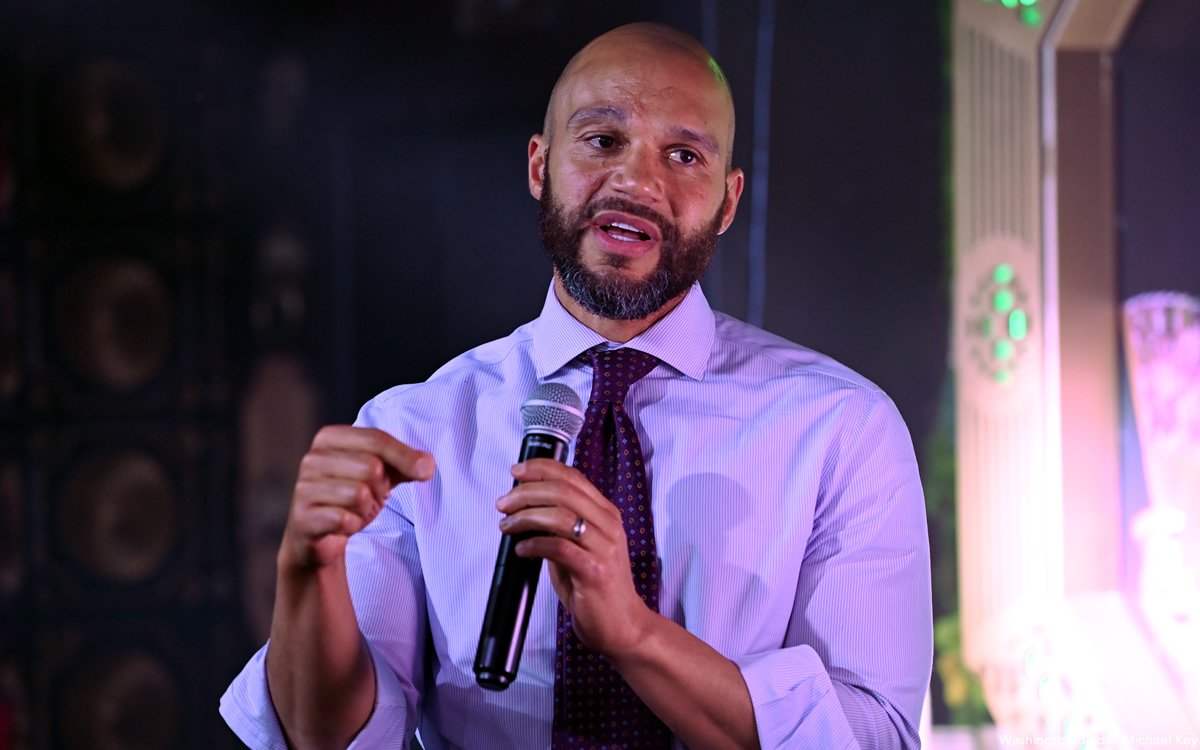 The Capital Stonewall Democrats, the city's largest local LGBTQ political group, announced on May 17 that it has selected D.C. Council member Robert White (D-At-Large) over incumbent Mayor Muriel Bowser and political newcomer Erin Palmer over D.C. Council Chair Phil Mendelson as its endorsed candidates in the city's June 21 Democratic primary.
With Bowser and Mendelson as well as White having longstanding records of support for LGBTQ rights and Palmer expressing strong support for the LGBTQ community, local observers say the LGBTQ Democratic group's 163 voting members appear to have based their endorsement decisions on other pressing issues facing the city rather than only LGBTQ specific issues.
In other races, Capital Stonewall Democrats, formerly known as the Gertrude Stein Democratic Club, which was founded in 1976, voted to endorse incumbent Ward 1 Council member Brianne Nadeau over gay former D.C. police officer Salah Czapary and community activist Sabel Harris who are running against Nadeau.
In the Ward 5 Council race, the group has endorsed gay D.C. Board of Education member Zachary Parker in a five-candidate contest for the seat being vacated by incumbent Council member Kenyan McDuffie, who ran unsuccessfully for the office of D.C. Attorney General.
The group has also endorsed Council member Charles Allen (D-Ward 6), who is running unopposed in the primary; D.C. Congressional Del. Eleanor Holmes Norton (D), who's favored to win re-election against two lesser-known opponents; and D.C. shadow U.S. Rep. Oye Owolewa, who's also favored over a lesser known opponent.
Capital Stonewall Democrats announced it did not make an endorsement in the Ward 3 and At-Large D.C. Council races and in the D.C. Attorney General race because no candidate received a required 60 percent of the vote under the group's longstanding rules for endorsements.
By not endorsing in the At-Large race, the group passed over incumbent At-Large Council member Anita Bonds, a longtime supporter of LGBTQ issues. Bonds is being challenged by Advisory Neighborhood Commissioner Lisa Gore, former D.C. shadow House member Nate Fleming, and former D.C. Council staffer Dexter Williams.
In the hotly contested Ward 3 Council race, nine candidates are competing for the seat being vacated by incumbent Mary Cheh, another longtime LGBTQ rights supporter.
In the race for attorney general, three prominent local attorneys — Brian Schwalb, Ryan Jones, and Bruce Spiva — are competing for the AG position being vacated by incumbent Karl Racine, who chose not to run for re-election.
Capital Stonewall Democrats' endorsements follow a series of five LGBTQ candidate forums the group held virtually in which most of the candidates running in the various races attended.
In the group's mayoral form, Bowser was the only one of the four mayoral contenders that did not attend. Her supporters said she had a conflicting event organized by gay Democratic activist Kurt Vorndran that prevented her from attending the Stonewall event.
Those who attended the mayoral forum were Robert White, D.C. Council member and mayoral candidate Trayon White (D-Ward 8), and former attorney and community activist James Butler.
A detailed vote tally released by Capital Stonewall Democrats shows the vote count for each of the endorsed candidates as well as candidates in the races for which the group did not make an endorsement.
In the mayoral race, Robert White received 120 votes, or 74.5 percent. Bowser came in second place with 37 votes or 23.0 percent; Trayon White received just two votes or 1.2 percent, with Butler receiving just 1 vote at 0.6 percent. One vote was cast for no endorsement.
In the D.C. Council Chair race, Palmer received 89 votes or 60.1 percent, just surpassing the 60 percent threshold needed for an endorsement. Mendelson received 48 votes or 32.4 percent. Eleven votes were cast for no endorsement.
In the Ward 1 Council race, Nadeau received 100 votes or 69.4 percent compared to gay candidate Czapary, who came in second place with 23 votes or 16.0 percent. Candidate Sabel Harris came in third place with 9 votes or 6.3 percent, with a no endorsement selection receiving 12 votes or 8.3 percent.
In the Ward 5 contest, gay school board member Parker received 91 votes or 64.5 percent. Candidate Faith Hubbard came in second with 31 votes or 22.0 percent. The remaining candidates received fewer than 10 votes each, including former At-Large and former Ward 5 Council member Vincent Orange, who received 5 votes or 3.5 percent.
"Since Capital Stonewall Democrats has only 221 members, and only 163 bothered to vote, this is clearly not representative of the LGBTQ+ community in the District," said gay Democratic activist Peter Rosenstein, who is supporting Bowser for mayor.
But longtime D.C. LGBTQ rights advocate A. Billy S. Jones-Hennin is among the local activists who view the Capital Stonewall Democrats' endorsement of lesser-known challengers – most of whom have progressive, left-leaning views – as a reflection of changes in the demographics of the LGBTQ community and the Stonewall group's members.
"At the forefront for voters is who they feel can address core problems like crime, open drug transactions, and increased homeless populations," Jones-Hennin told the Blade. "Just asking voters for support based on their support of the LGBTQ+ community in the past does not cut it," he said. "We are multi-faceted voters looking for new, more progressive and aggressive leadership."
The Capital Stonewall Democrats list of endorsements as well as races with no endorsement can be viewed below:
• Mayor: Robert White, with 74.5% of the round one vote
• DC Attorney General: No Endorsement
• DC Council Chair: Erin Palmer, with 60.1% of the round one vote
• Ward 1 Council: Brianne K. Nadeau, with 69.4% of the round one vote
• Ward 3 Council: No Endorsement
• Ward 5 Council: Zachary Parker, with 64.5% of the round one vote
• Ward 6 Council: Charles Allen, with 83.2% of the round one vote
• At-Large Council: No Endorsement
• Delegate to U.S. House of Representatives: Eleanor Holmes Norton, with 69.7% of the round one vote
• U.S. Representative: Oye Owolewa, with 66.1% of the round one vote