WNBA players back petition for White House to 'prioritize' Brittney Griner's release
Phoenix Mercury center detained in Russia in February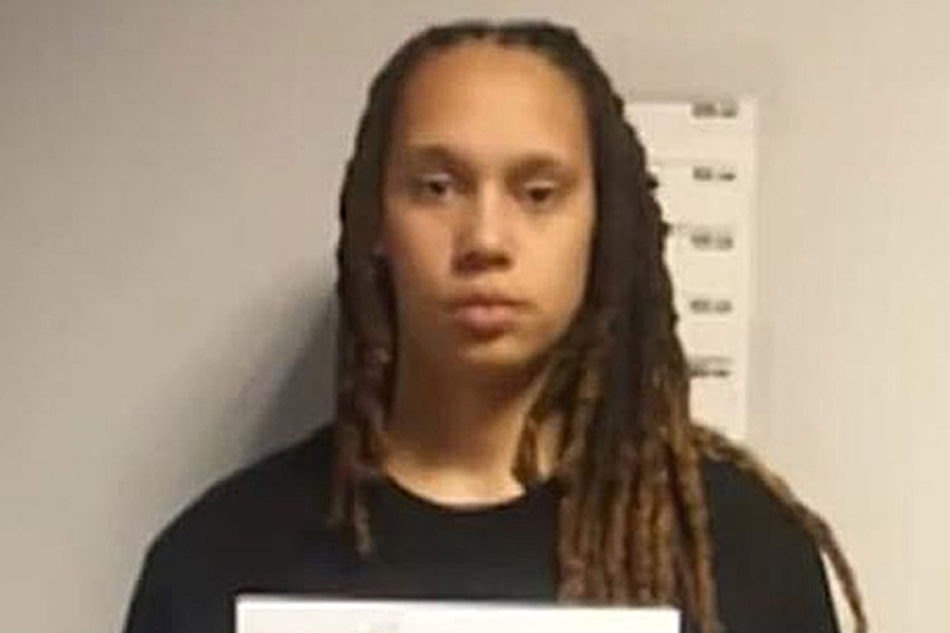 The Women's National Basketball Players Association has endorsed a petition that urges the Biden administration to "prioritize" WNBA star Brittney Griner's release.
"It is imperative that the U.S. government immediately address this human rights issue and do whatever is necessary to return Brittney home quickly and safely," reads the Change.org petition that Tamryn Spruill, a freelance journalist and author, created.
"The WNBPA and its members proudly join Tamryn Spruill, the creator of this petition, in demanding that lawmakers prioritize Griner's return," it continues. "White House and Biden adminsitration, we ask that you take action today—doing whatever is necessary—to bring Brittney Griner home swiftly and safely."
More than 135,000 people have signed the petition.
Spruill on Saturday in a tweet said the WNBPA, a union that represents WNBA players, partnered with them and Change.org "in demanding that our elected officials work urgently to gain BG's swift and safe release."
A new phase in the Brittney Griner/Change.org petition is underway! @TheWNBPA has partnered with me and @Change in demanding that our elected officials work urgently to gain BG's swift and safe release.

Details here:https://t.co/AHtb1DYcSI#WeAreBG

— Tamryn Spruill (@tamrynspruill) May 14, 2022
Griner — a center for the Phoenix Mercury and a two-time Olympic gold medalist who is a lesbian and married to her wife — was taken into custody at Moscow's Sheremetyevo Airport in February. Russian officials said customs inspectors found hashish oil in her luggage.
The State Department earlier this month determined Russia "wrongfully detained" Griner. A Russian court on Friday extended her detention for another month.
"The Russian system wrongfully detained Ms. Griner," then-White House Press Secretary Jen Psaki told reporters on Friday during her last White House briefing. "We take our responsibility to assist U.S. citizens seriously. And we will continue to press for fair and transparent treatment for all U.S. citizens when they are subject to legal processes overseas."

"Now, because the State Department recategorized her as wrongfully detained, it means that our Special Presidential Envoy for Hostage Affairs — it's quite a title but a well-deserved one — is going to be overseeing this case and leading the effort," added Psaki. "Because it's a deliberative process and we know from experience of bringing other Americans home, we're just not going to detail what those efforts look like at this point in time."
Griner faces up to 10 years in prison.
Country's first nonbinary state lawmaker participates in Gaza ceasefire hunger strike
Oklahoma state Rep. Mauree Turner is Muslim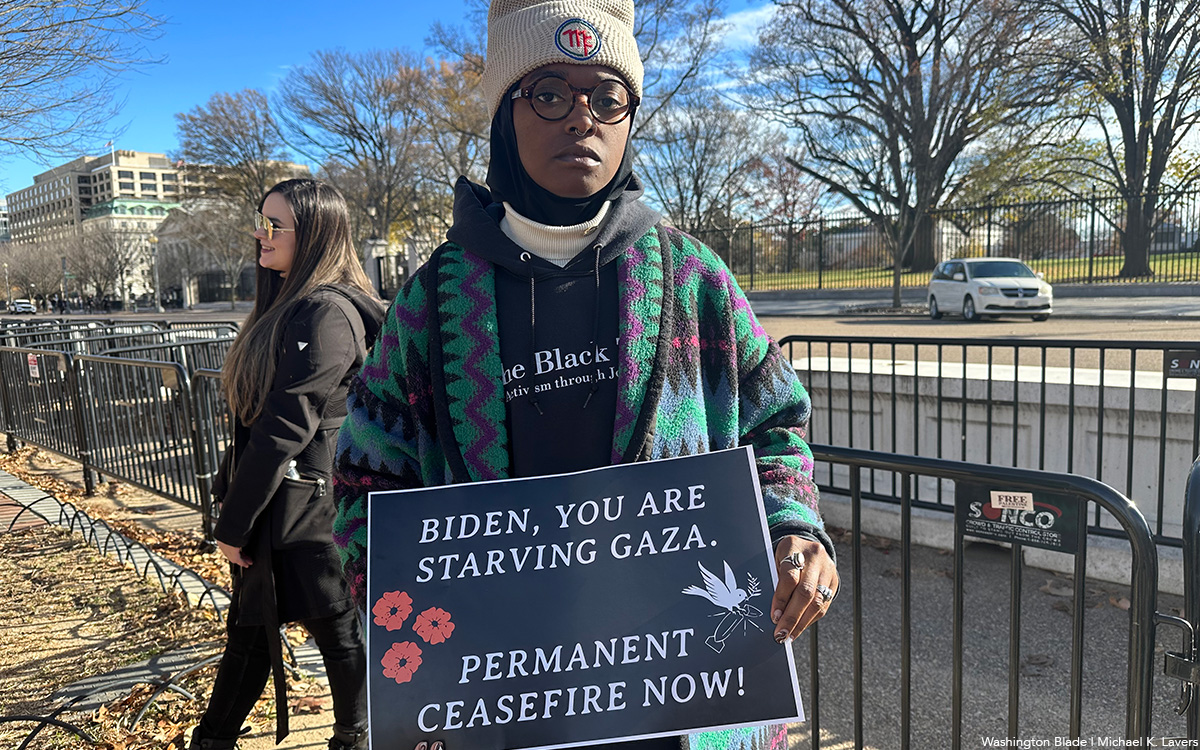 The country's first nonbinary state lawmaker last week participated in a hunger strike for a permanent ceasefire in the Gaza Strip that took place in front of the White House.
Oklahoma state Rep. Mauree Turner took part in the 5-day action alongside actress Cynthia Nixon, Virginia state Del. Sam Rasoul, Delaware state Rep. Madinah Wilson-Anton, New York State Assemblymember Zohran Mamdani, Michigan state Rep. Abraham Aiyash, former New York Congressional candidate Rana Abdelhamid, Muslim Girl.com Founder Amani Al-Khatahtbeh, Adalah Justice Project Director of Strategy and Communications Sumaya Awad and Linda Sarsour. The U.S. Campaign for Palestinian Rights, Jewish Voice for Peace, Democratic Socialists of America, IfNotNowMovement, Dream Defenders, the Institute for Middle East Understanding and the American-Arab Anti-Discrimination Committee are the organizations that either participated in the hunger strike or endorsed it.
"This is the place where you should be," Turner told the Washington Blade on Nov. 30 while they were standing in front of the White House.
Turner is from Ardmore, Okla., and has been a member of the Oklahoma House of Representatives since 2021. They are the first Muslim person elected to the Oklahoma Legislature.
"Oklahoma is no stranger to genocide, displacement, uprooting communities — beautiful, vibrant, vulnerable communities — just because they could," said Turner, referring to the treatment of Native Americans in what became Oklahoma during the 1800s and early 1900s. "Specifically as a Muslim and as an Oklahoman it is my duty to be here."
The hunger strike took place nearly two months after Hamas, which the U.S. has designated a terrorist organization, launched a surprise attack against communities in southern Israel from Gaza.
The Israeli government has said roughly 1,200 people have been killed, including at least 260 people who Hamas militants murdered at an all-night music festival in a kibbutz near the border between Israel and Gaza. The Israeli government also says more than 5,000 people have been injured in the country since the war began and Hamas militants kidnapped more than 200 others.
Yarden Roman-Gat, whose gay brother, Gili Roman, spoke with the Washington Blade on Oct. 30 in D.C., is one of the 105 people who Hamas released during a truce with Israel that began on Nov. 24 and ended on Dec. 1.
The Hamas-controlled Gaza Health Ministry says more than 15,000 people have died in the enclave since the war began. Israel after Oct. 7 cut electricity and water to Gaza and stopped most food and fuel shipments.
"It's absolutely wild to think about what is happening to the Palestinian people in Gaza and in the West Bank," said Turner.
Turner noted the war began two days before Indigenous Peoples' Day.
"By October the 10th, when the world was really seeing what was happening in Gaza," they said. "So many people who had celebrated specifically Indigenous Peoples' Day had also sided with the Israeli government over the indigenous people of the land."
'The death of civilians is absolutely horrible'
Turner in response to the Blade's question about the Israelis who militants killed on Oct. 7 emphatically said "the death of civilians is absolutely horrible." Turner added they "cannot stress enough that when we back people into a corner, we don't know what will happen."
"The truth of the matter is our governments, our governmental officials do not have to put people in a corner," said Turner.
Turner was particularly critical of the Israeli government's actions in Gaza after Oct. 7.
"I don't think there's any place where a government has the power to shut off right water, food, healthcare supplies, things like that," they said. "It's just in doing so against a population that has 2 million people … that's not anyone looking for equitability or justice. That is genocide against its people."
Turner noted Republican Oklahoma Gov. Kevin Stitt continues to publicly support Israeli Prime Minister Benjamin Netanyahu. Turner told the Blade "when we oppress people over decades and decades … we cannot, we don't get to cherry pick" or "we don't get to tone police or however they are fighting back to be heard, to be, to live for vibrant lives."
"We cannot tell oppressed people how to hurt out loud," they said, specifically referring to Palestinian people. "We can create governments that care for people from a community standpoint who are thinking creatively about how we provide aid and support and we can ask our elected officials (members Congress, President Joe Biden, state and local officials) to teach truth. We can ask them to continuously make sure that we are providing the best care and understanding of the situations at hand. We can ask them to do a ceasefire to stop sending aid to the Israeli government and emboldening their military forces."
US announces additional sanctions for Ugandan officials
Anti-Homosexuality Act signed on May 29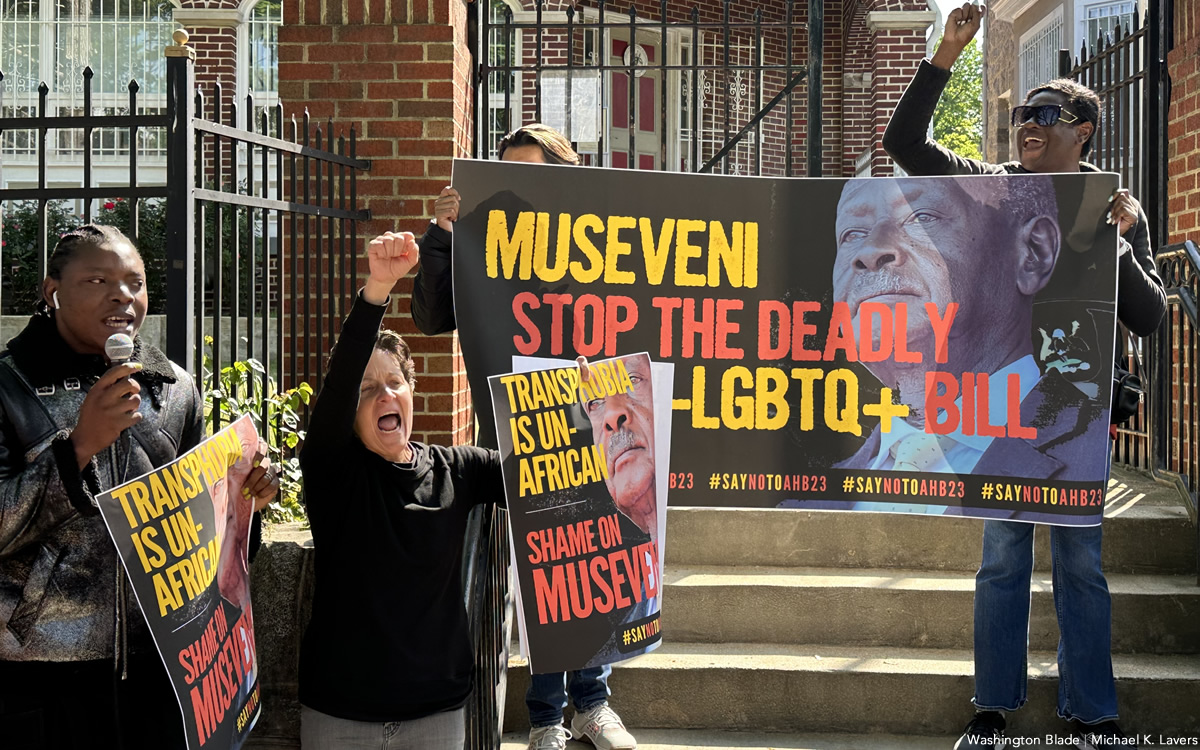 Secretary of State Antony Blinken on Monday announced sanctions against current and former Ugandan officials who committed human rights abuses against LGBTQ people and other groups.
"After Uganda's flawed 2021 presidential elections, I announced a visa restriction policy targeting those believed to be responsible for, or complicit in, undermining the democratic process in Uganda," said Blinken in a statement. "At that time, I implored the government of Uganda to significantly improve its record and hold accountable those responsible for flawed electoral processes, violence and intimidation."
Blinken announced "the expansion of the visa restriction policy to include current or former Ugandan officials or others who are believed to be responsible for, or complicit in, undermining the democratic process in Uganda or for policies or actions aimed at repressing members of marginalized or vulnerable populations."
"These groups include, but are not limited to, environmental activists, human rights defenders, journalists, LGBTQI+ persons and civil society organizers," he said. "The immediate family members of such persons may also be subject to these restrictions."  
Blinken added the U.S. "stands by the Ugandan people and remains committed to working together to advance democracy, human rights, public health and mutual prosperity."
"I once again strongly encourage the government of Uganda to make concerted efforts to uphold democracy and to respect and protect human rights so that we may sustain the decades-long partnership between our countries that has benefited Americans and Ugandans alike," he said.
Ugandan President Yoweri Museveni on May 29 signed the Anti-Homosexuality Act, which contains a death penalty provision for "aggravated homosexuality." The State Department a few weeks later announced visa restrictions against unnamed Ugandan officials.
The Biden-Harris administration in October said it plans to remove Uganda from a program that allows sub-Saharan African countries to trade duty-free with the U.S. The White House has also issued a business advisory for Uganda in response to the Anti-Homosexuality Act.
Queen Latifah among Kennedy Center honorees welcomed to White House
Becomes first woman in hip-hop to receive the award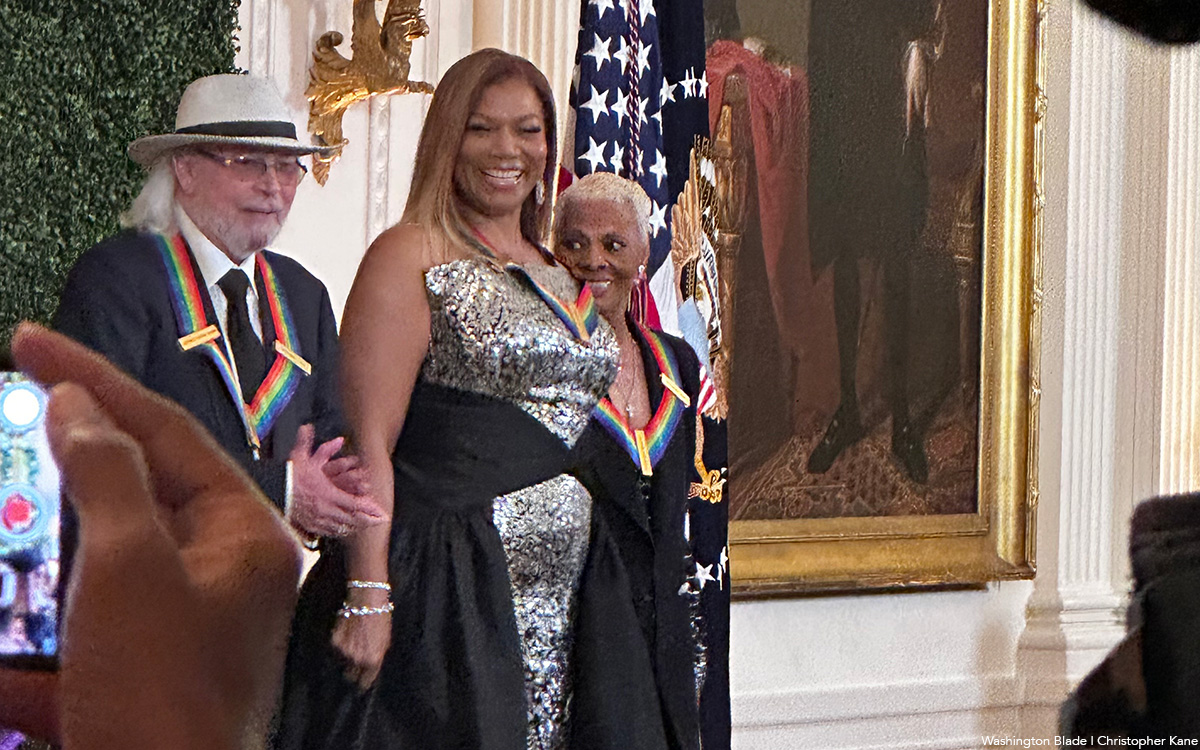 Rapper, actor, and singer Queen Latifah was among the honorees who were welcomed to the White House for a reception in the East Room on Sunday prior to the Kennedy Center Honors show, where she joined the latest class of inductees alongside singer Dionne Warwick, comedian Billy Crystal, Bee Gees member Barry Gibb, and opera star Renée Fleming.
"It's a wonderful tradition at the White House to recognize the President and Mrs. Kennedy's love of the arts and the culture in America — love that endures 60 years after his death, tragically," President Joe Biden said in prepared remarks. "The anniversary was marked last month."
The honor is "not just based on the length of the career or the scope of work or the height of fame but because of their unique place in the conscience and the very soul of our dynamic and diverse nation," the president said. "You're an incredible group."
After decades of speculation about her sexuality, Latifah publicly acknowledged her partner Eboni Nichols and son Rebel for the first time during an acceptance speech at the BET Awards in 2021.
She is also the recipient of a Grammy Award, a Primetime Emmy Award, a Golden Globe Award, three Screen Actors Guild Awards, and two NAACP Image Awards. Latifah was also nominated for an Academy Award in 2003 for her performance in "Chicago."
Calling her "a natural storyteller," Biden noted that Latifah released her first album at age 19. "In the studio, she rapped about everything from the pain of losing her brother to the abuse of power, respect for Black women to the respect that Black women deserve, and how infinite love is the only hope for unity."
 
"She's also a skillful storyteller onscreen," the president said, "The first woman in hip-hop to earn an Oscar nomination, which she did for her role in 'Chicago'" and also "the first hip-hop artist with a star on the Hollywood Walk of Fame." 
 
Biden also celebrated Latifah's honorary degree in 2011 "from Delaware State University, my HBCU" and her other contributions "from serving as a mentor for young women of color to building housing in her hometown of Newark."
"Tonight, Queen Latifah," the president said, "you become the first female hip-hop artist to receive a Kennedy Honor, lifting — and fitting because it's a tribute to the 50th anniversary of hip-hop." The award serves as proof, he said, "that anything is possible when we discover our own voice, write our own story, and share it with the world."