Biden announces Karine Jean-Pierre as White House Press Secretary
Her place in history is marked by her elevation as the first both Black and Lesbian White House Press Secretary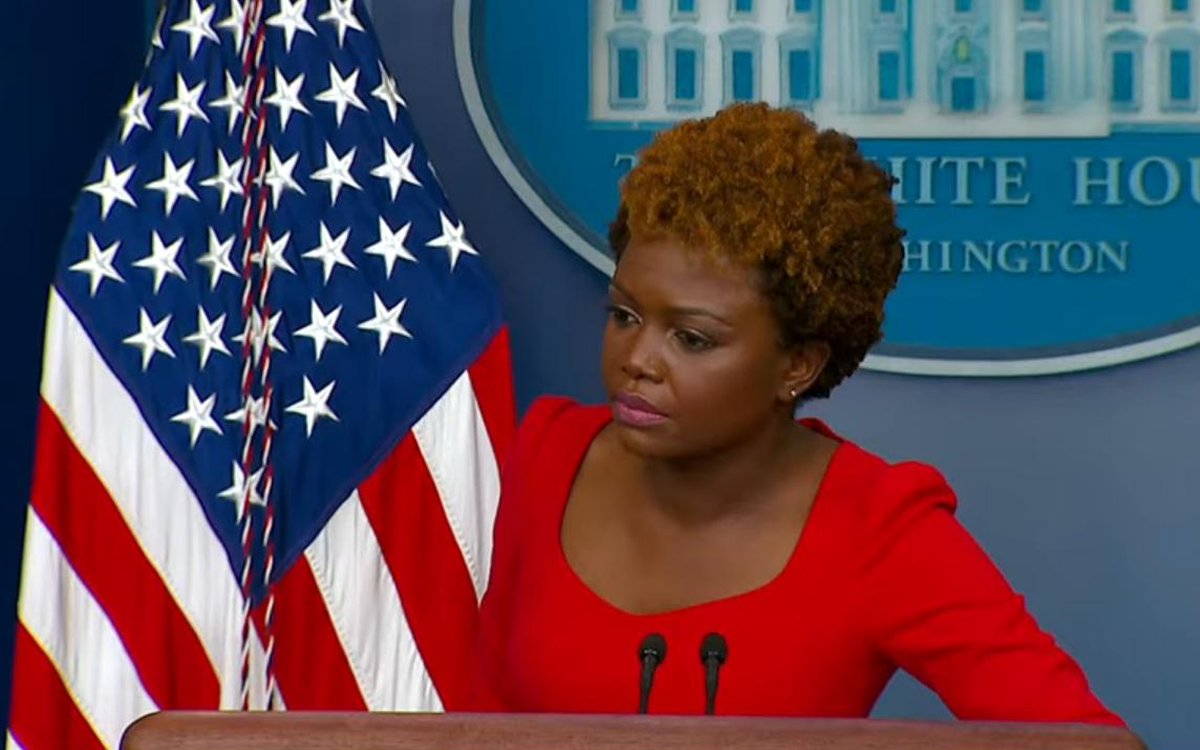 The White House announced Thursday that Karine Jean-Pierre has been promoted to be Assistant to the President and White House Press Secretary. Jean-Pierre will replace current Press Secretary Jen Psaki, who will depart from the White House on May 13.
"I am proud to announce that Karine Jean-Pierre will serve as the next White House Press Secretary, President Biden said in the statement released Thursday.
"Karine not only brings the experience, talent and integrity needed for this difficult job, but she will continue to lead the way in communicating about the work of the Biden-Harris Administration on behalf of the American people. Jill and I have known and respected Karine a long time and she will be a strong voice speaking for me and this Administration.
"Jen Psaki has set the standard for returning decency, respect and decorum to the White House Briefing Room. I want to say thank you to Jen for raising the bar, communicating directly and truthfully to the American people, and keeping her sense of humor while doing so. I thank Jen her service to the country, and wish her the very best as she moves forward."
Jean-Pierre was named to her first role in the Biden Administration as Deputy White House press secretary under Psaki in November of 2020.
Although Jean-Pierre is not the first Black woman to hold the position as Deputy White House press secretary, that honor belonging to former President George H.W. Bush's Deputy White House Press Secretary, Judy A. Smith in 1991, and not the first openly gay person to brief the press, Eric Schultz served as Deputy White House Press Secretary during the Obama Administration in 2014; Jean-Pierre's place in history, however, is cemented as a result of her being the first both Black and Lesbian Deputy Press Secretary.
Now her place in history is marked by her elevation as the first both Black and Lesbian White House Press Secretary.
The daughter of immigrant parents from Haiti, Jean-Pierre was born in Martinique and later raised in Queens, a borough of New York City. A longtime activist and communications specialist, she has a Master's in Public Affairs conferred on her by New York's Columbia University School of International and Public Affairs, where she taught as an adjunct professor and lecturer in international and public affairs since 2014.
During the first term of President Barack Obama she served as the regional political director for the White House Office of Political Affairs.
Speaking with the Advocate magazine in June of 2011 Jean-Pierre reflected on her tenure working for the Obama Administration as an openly LGBT staffer.
"What's been wonderful is that I was not the only; I was one of many. President Obama didn't hire LGBT staffers, he hired experienced individuals who happen to be LGBT," she says. "Serving and working for President Obama where you can be openly gay has been an amazing honor. It felt incredible to be a part of an administration that prioritizes LGBT issues."
In 2016 after her White House stint, Jean-Pierre served as a Senior Advisor and National Spokesperson for Washington D.C. based MoveOn, a progressive non-profit public policy advocacy group and political action committee. Her primary portfolio at the non-profit was addressing President Trump's rhetoric and platform of hate, violence, racism, immigrant-bashing, and women-bashing.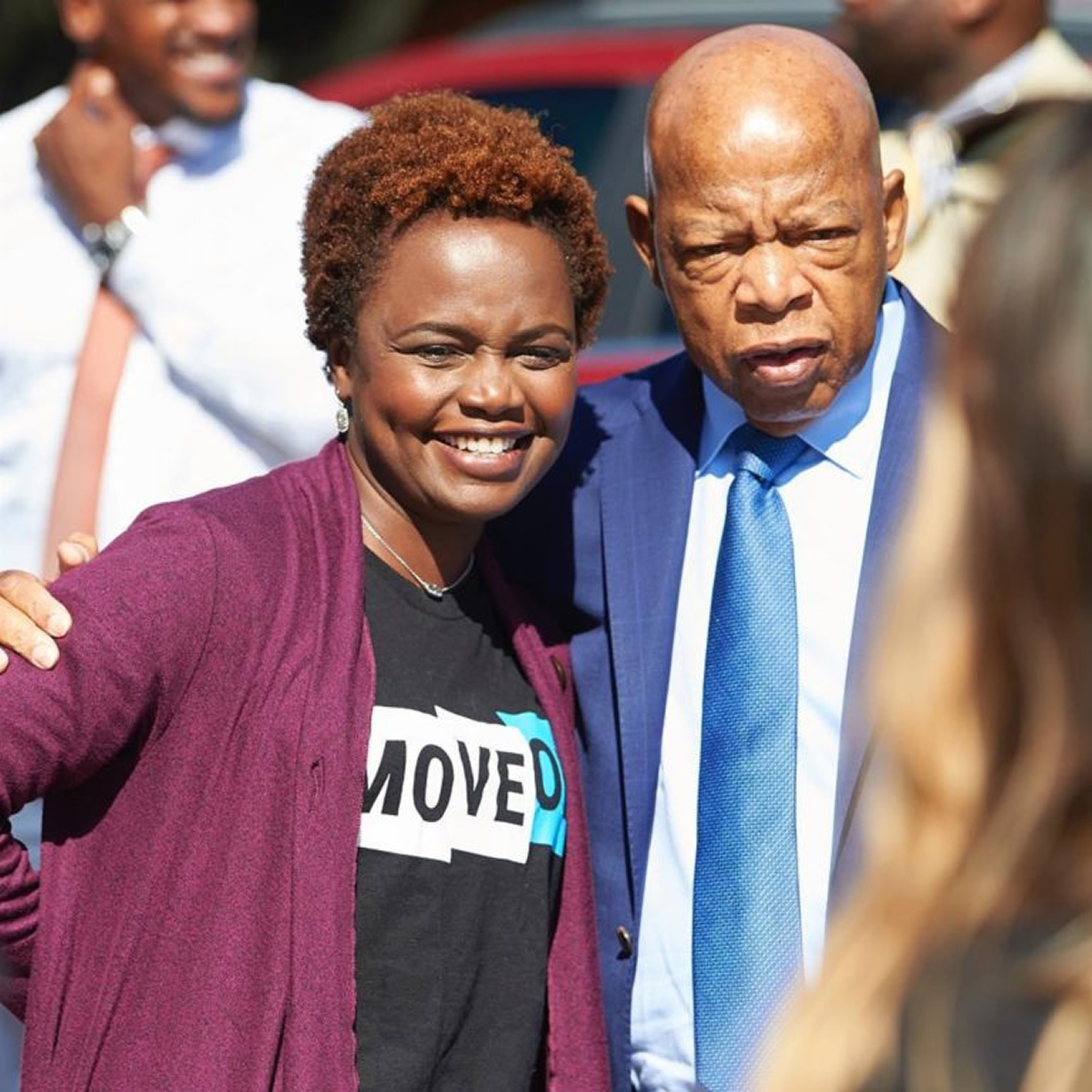 She also served as the deputy campaign manager for former Democratic Maryland Governor Martin O'Malley's 2016 campaign run for the Oval Office.
Jean-Pierre received national recognition after a June 1, 2019 incident during the MoveOn Big Ideas Forum she was moderating in San Francisco, when 24 year-old Aidan Cook, a member of the animal right activist organization Direct Action Everywhere (DxE), rushed the stage grabbing the microphone out of then California U.S. Senator Kamala Harris's hand. The Senator was a candidate for the 2020 Democratic presidential nomination at the time of the incident.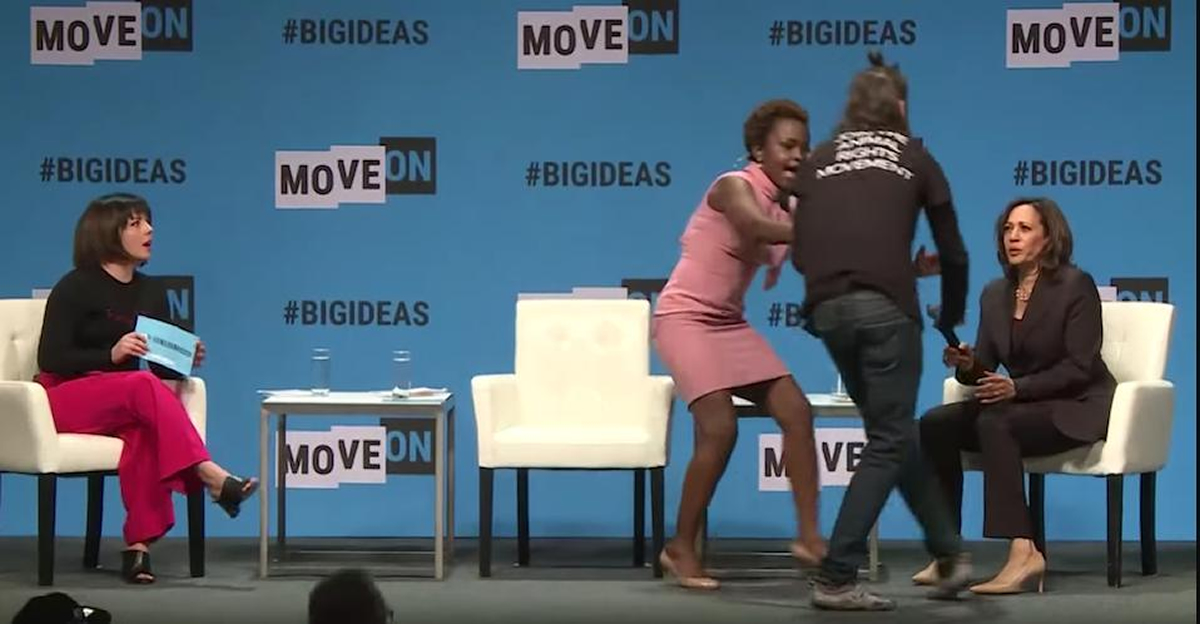 Jean-Pierre, who had jumped in between Cook and the Senator after he took the microphone kept the activist away from Harris until security arrived and removed him. At the time of the incident, Harris, like most other candidates in early stages of the primary process, didn't have a U.S. Secret Service detail for protection.
Jean-Pierre joined the Biden-Harris campaign in May of 2020 and then accepted the position of Chief of Staff to Senator Harris in August. Speaking with NBC News journalist Tim Fitzsimons; "The sun was setting and the lights got much more prominent," she said, referring to late June 2015, when she watched the White House lit in rainbow colors to mark the historic Supreme Court Obergefell v. Hodges ruling that legalized same-sex marriage nationwide. "People had signs and people were crying, and there was just so much joy."
"I remember thinking how proud I was of this administration, that I had worked for that," Jean-Pierre, said. "It really brought together, in that one moment, how important LGBTQ rights were and how much that administration fought for our rights."
She told NBC News at the time, if elected, Biden and Harris would "continue the work that Joe Biden and Obama did" by supporting LGBTQ rights and "continuing to put forth policy that protects the community."
Jean-Pierre, her partner, CNN correspondent Suzanne Malveaux, and their daughter reside in Washington D.C.
GLAAD President and CEO Sarah Kate Ellis responded to the announcement on Twitter writing:
"Karine Jean-Pierre is a brilliant communicator and person of tremendous intelligence, humor and poise, skills that will serve her and our country well in her new role. There are few jobs more visible or more important to our democracy than to share information with the White House press corps and answer their questions. To have an out queer person of color speak for the President of the United States says everything about Karine's talent and heart, and recognizes that LGBTQ people can belong, contribute and succeed in every room. Our whole community looks forward to seeing Karine deliver for our nation and represent every LGBTQ person with pride."
Biden administration uses IDAHOBiT to highlight LGBTQ rights support
WHO on May 17, 1990, declassified homosexuality as mental disorder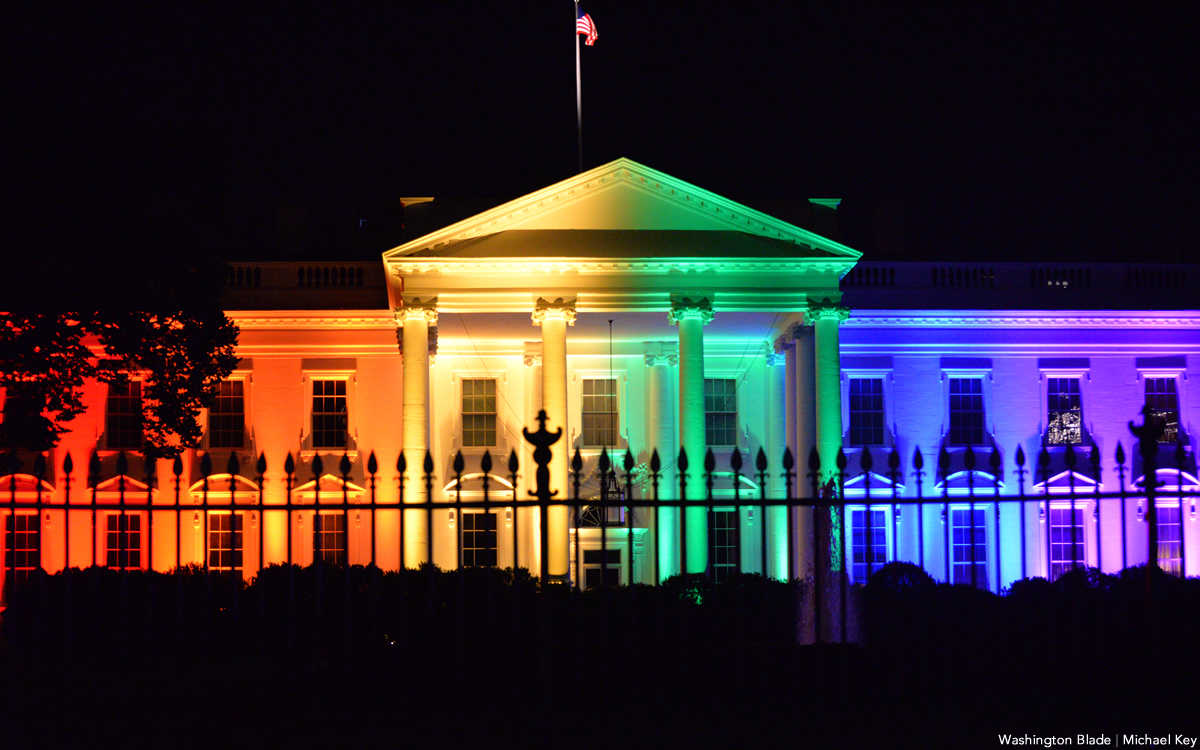 The Biden administration on Tuesday publicly acknowledged the International Day Against Homophobia, Biphobia and Transphobia.
"Jill and I stand in support and solidarity with lesbian, gay, bisexual, transgender, queer and intersex (LGBTQI+) people in the United States and around the world," said President Biden in a statement the White House released. "We join with Americans across the country to reaffirm our commitment to the ongoing work of upholding human dignity for all people and advancing equality globally."
Biden in his statement noted there "has been much progress" since the World Health Organization on May 17, 1990, declassified homosexuality as a mental disorder. Biden also highlighted "we continue to witness disturbing setbacks and rising hate and violence targeting LGBTQI+ people in the United States and around the world."
"This is wrong," he said. "LGBTQI+ people are entitled to all the rights, opportunities, and protections that belong to every human on this planet. LGBTQI+ people are an essential part of families and communities—teachers, first responders, public officials, doctors, lawyers, front-line workers and friends who enrich and strengthen every single country." 

"And make no mistake: Hateful legislative attacks against members of our own LGBTQI+ community cannot be tolerated in America or anywhere else," added Biden. "They spur discrimination and can stoke violence. And they are rooted in the same ignorance and intolerance that we see around the world. Hate is hate—and all of us have a responsibility to speak out against hate wherever we find it."
Secretary of State Antony Blinken on Tuesday issued his own IDAHOBiT statement.
"The United States affirms today, on the International Day Against Homophobia, Biphobia, Interphobia and Transphobia (IDAHOBIT), that the human rights of lesbian, gay, bisexual, transgender, queer and intersex (LGBTQI+) persons are the same human rights to which all persons are entitled," said Blinken. "As enshrined in Article 1 of the Universal Declaration of Human Rights, '[a]ll human beings are born free and equal in dignity and rights.'"
Bliken further noted that "too many LGBTQI+ persons live under the shadow of discrimination, violence and fear."
"Global data makes clear that the dehumanization of LGBTQI+ persons is systemic, pervasive, and often violent," he said. "Homophobia, biphobia, interphobia and transphobia are deeply entrenched in societies across the world, including here in the United States. Countless persons are at extreme risk for being themselves."
Biden shortly after he took office in 2021 issued a memorandum that committed the U.S. to promoting LGBTQ rights abroad.
The administration last June appointed Jessica Stern as the special U.S. envoy for the promotion of LGBTQ rights abroad.
The U.S. Senate earlier this year in a bipartisan vote confirmed Chantale Wong, the U.S. director of the Asian Development Bank, as the first openly lesbian American ambassador. The State Department on April 11 began to issue passports with "X" gender markers.
The State Department on April 28 released a report that details the federal government's implementation of Biden's foreign policy memo.
"We remain committed to ending this intolerance. Everyone deserves to live with respect, dignity, and safety," said Blinken in his IDAHOBiT statement. "The United States affirms that all LGBTQI+ individuals, couples, and their families are valid and valuable."
Biden in his statement also referred to the report.
"By openly reporting on our own progress, the United States hopes to inspire other governments to take similar action to address the needs of their LGBTQI+ communities," he said.

"To the LGBTQI+ community, my administration sees you," added Biden. "We stand with you. And we will continue to defend human rights and dignity, at home and around the world."
Spanish Prime Minister Pedro Sánchez, Cuban President Miguel Díaz-Canel and Council of Europe Human Rights Commissioner Dunja Mijatović are among the other world leaders who have publicly acknowledged IDAHOBiT.
Victor Madrigal-Borloz, the independent U.N. expert on LGBTQ rights, and other U.N. human rights experts in a statement they released on Monday highlighted the plight of LGBTQ people who have been forcibly displaced from their homes.
"With the number of forcibly displaced persons continuing to rise, States, businesses and humanitarian and civil society organizations must invest in developing human rights-based policies and programs that take into full account the intersectional dimensions of forced displacement and sexual orientation and gender identity, fostering stronger collaboration and coordination among all actors responsible for the protection of displaced LGBT individuals," reads the statement.
Advocacy groups around the world also commemorated IDAHOBiT.
"Today I want to thank my incredible team of Insight public organization who still works for LGBTQI+ people in Ukraine, saving life's (sic) of our community during the war," tweeted Olena Shevchenko, chair of Insight, a Ukrainian LGBTQ rights group. "We are here for equality."
Today I want to thank my incredible team of Insight public organization, who still works for LGBTQI + people in Ukraine, saving life's of our community during the war!#IDAHOBIT2022 We are here for equality pic.twitter.com/wOMholwaOv

— Olena Shevchenko (@InsightOlena) May 17, 2022
Sexual Minorities Uganda in a tweet said IDAHOBiT "is a significant day for the LGBTIQ+ community because it serves as a reminder of the ongoing violence and prejudice that our communities face."
"The struggle for equality still continues," added SMUG.
The 17th of May (IDAHOBIT) is a significant day for the LGBTIQ+ community because it serves as a reminder of the ongoing violence and prejudice that our communities face. The struggle for equality still continues. 🌈
Happy IDAHOBIT22 #ourbodies #ourlives #ourrights pic.twitter.com/h5moRos4VH

— Sexual Minorities Uganda | SMUG (@SMUG2004) May 17, 2022
Pride House Tokyo in Japan also acknowledged IDAHOBiT.
May 17th is the International Day Against Homophobia, Transphobia & Biphobia (IDAHOTB or "YES to Diversity Day" in Japan). 32 years ago in 1990, the World Health Organization removed "homosexuality" from the list of mental disorders & finally stopped being considered a disease. pic.twitter.com/rQK6pn65b5

— Pride House Tokyo(プライドハウス東京)🏳️‍🌈 (@PrideHouseTokyo) May 17, 2022
WNBA players back petition for White House to 'prioritize' Brittney Griner's release
Phoenix Mercury center detained in Russia in February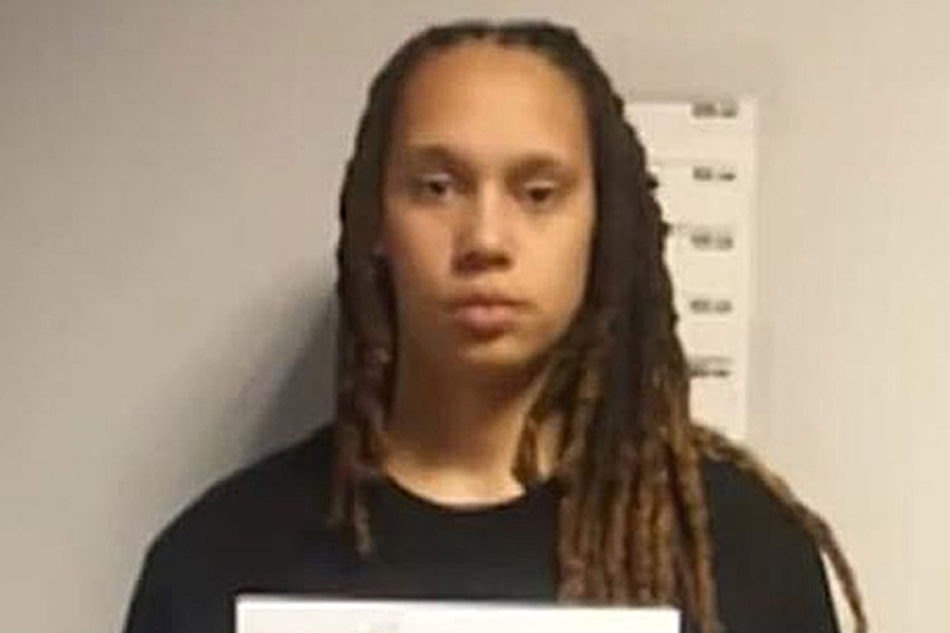 The Women's National Basketball Players Association has endorsed a petition that urges the Biden administration to "prioritize" WNBA star Brittney Griner's release.
"It is imperative that the U.S. government immediately address this human rights issue and do whatever is necessary to return Brittney home quickly and safely," reads the Change.org petition that Tamryn Spruill, a freelance journalist and author, created.
"The WNBPA and its members proudly join Tamryn Spruill, the creator of this petition, in demanding that lawmakers prioritize Griner's return," it continues. "White House and Biden adminsitration, we ask that you take action today—doing whatever is necessary—to bring Brittney Griner home swiftly and safely."
More than 135,000 people have signed the petition.
Spruill on Saturday in a tweet said the WNBPA, a union that represents WNBA players, partnered with them and Change.org "in demanding that our elected officials work urgently to gain BG's swift and safe release."
A new phase in the Brittney Griner/Change.org petition is underway! @TheWNBPA has partnered with me and @Change in demanding that our elected officials work urgently to gain BG's swift and safe release.

Details here:https://t.co/AHtb1DYcSI#WeAreBG

— Tamryn Spruill (@tamrynspruill) May 14, 2022
Griner — a center for the Phoenix Mercury and a two-time Olympic gold medalist who is a lesbian and married to her wife — was taken into custody at Moscow's Sheremetyevo Airport in February. Russian officials said customs inspectors found hashish oil in her luggage.
The State Department earlier this month determined Russia "wrongfully detained" Griner. A Russian court on Friday extended her detention for another month.
"The Russian system wrongfully detained Ms. Griner," then-White House Press Secretary Jen Psaki told reporters on Friday during her last White House briefing. "We take our responsibility to assist U.S. citizens seriously. And we will continue to press for fair and transparent treatment for all U.S. citizens when they are subject to legal processes overseas."

"Now, because the State Department recategorized her as wrongfully detained, it means that our Special Presidential Envoy for Hostage Affairs — it's quite a title but a well-deserved one — is going to be overseeing this case and leading the effort," added Psaki. "Because it's a deliberative process and we know from experience of bringing other Americans home, we're just not going to detail what those efforts look like at this point in time."
Griner faces up to 10 years in prison.
Deputy White House press secretary criticizes Fla. 'Don't Say Gay' law at Victory Fund brunch
Karine Jean-Pierre among speakers at D.C. event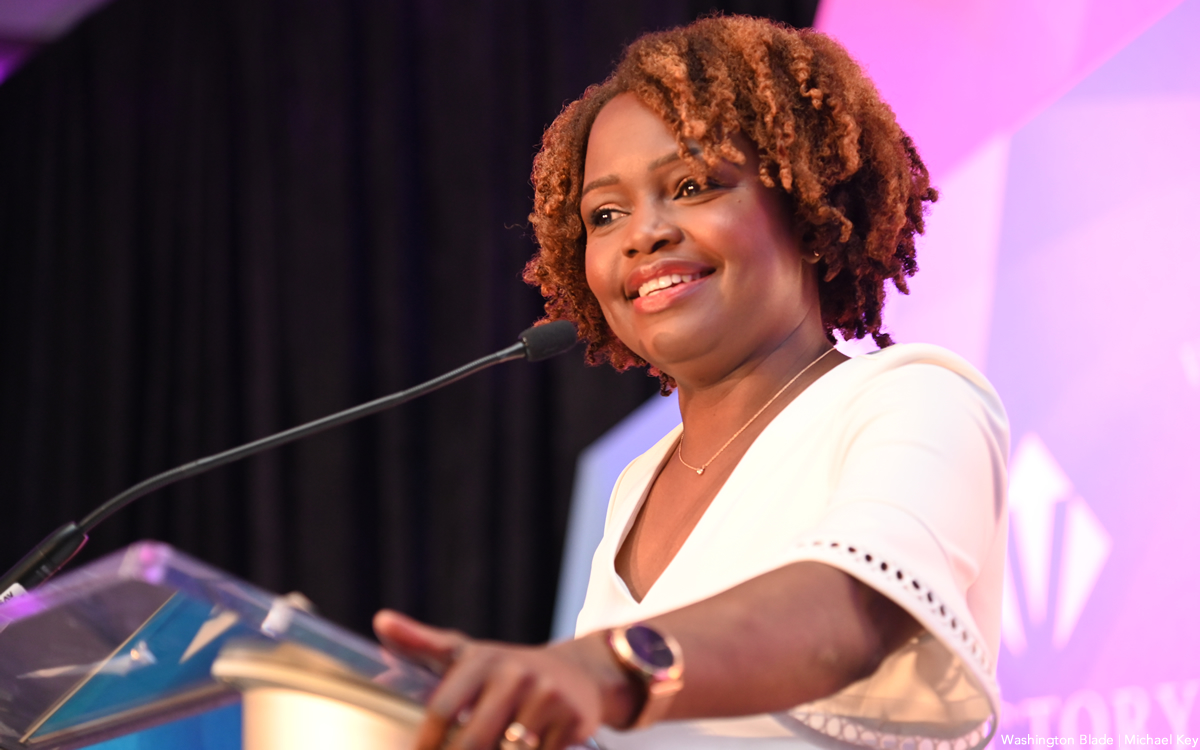 Deputy White House Press Secretary Karine Jean-Pierre on Sunday criticized Florida's "Don't Say Gay" law and the dozens of anti-LGBTQ bills that are currently before lawmakers across the country.
"I am a proud gay Black immigrant," said Jean-Pierre during her speech at the LGBTQ Victory Fund's National Champagne Brunch that took place at the Grand Hyatt in downtown D.C. "Basically, I am Ted Cruz and Ron DeSantis' worst nightmare."
Jean-Pierre noted Robert Thollander, a teacher from Orlando, Fla., who said parents targeted him after he acknowledged his husband, when she criticized his state's "Don't Say Gay" law that Republican Gov. Ron DeSantis signed on March 28.
A federal lawsuit has been filed against the law, but Jean-Pierre said the "Don't Say Gay" bill has become the template for similar measures that have been filed in states across the country.
"Anti-LGBTQ politicians are trying to legislate us out of existence," said Jean-Pierre.
Florida state Sen. Shevrin Jones, who is the Sunshine State's first openly gay state senator, also spoke at the event alongside Massachusetts Attorney General Maura Healey, Delaware state Sen. Sarah McBride and Arizona state Rep. Daniel Hernández. Virginia state Del. Danica Roem, Maryland state Reps. Gabriel Acevero and Luke Clippinger, Maryland congressional candidate Heather Mizeur, Fairfax County (Va.) School Board member Karl Frisch and Pennsylvania state Rep. Brian Sims are among those who attended the brunch.