Jerusalem Pride organizers receive death threats
Israeli police on Wednesday arrested 21-year-old man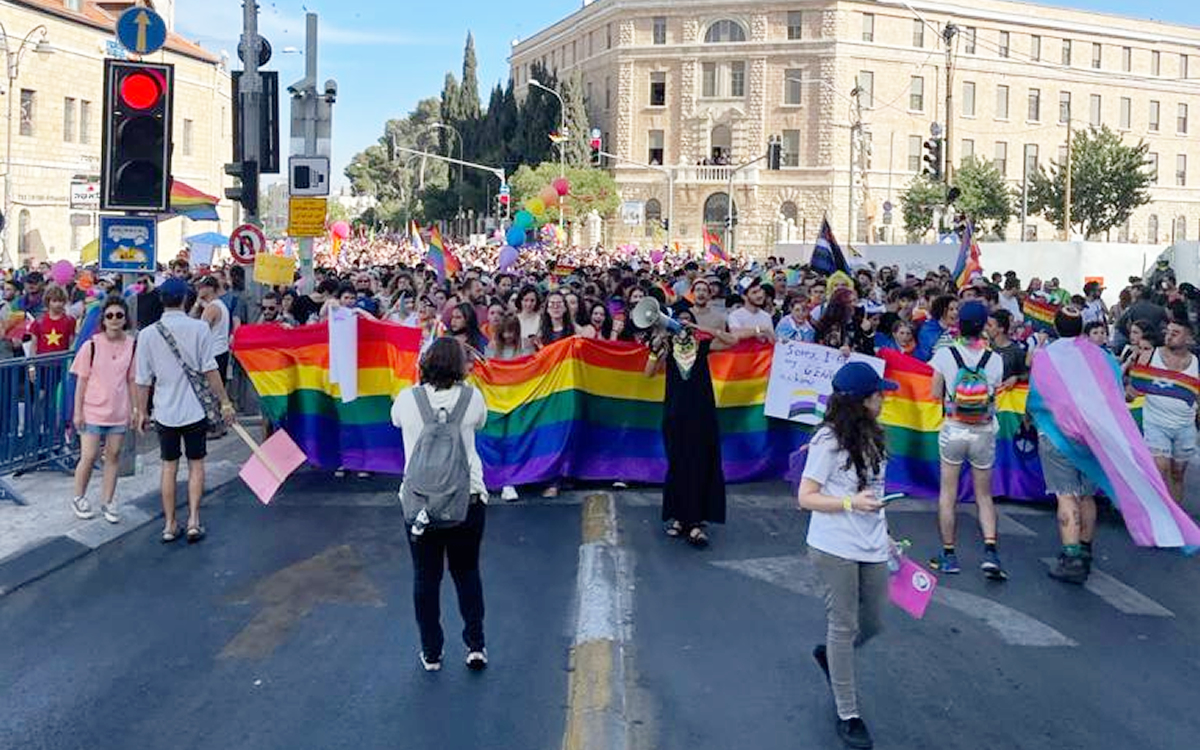 Israeli police on Wednesday arrested a man in connection with death threats made against organizers of Jerusalem's Pride parade.
The Times of Israel reported the 21-year-old man allegedly sent a message to Jerusalem Open House for Pride and Tolerance Community Director Emuna Klein Barnoy and two Israeli lawmakers in which he described Jerusalem as "the Holy City" and said "we will not allow the Pride parade to take place in Jerusalem."
The threat also referenced Shira Banki, the 16-year-old teenager who was stabbed to death during a Jerusalem Pride march in 2015.
An ultra-Orthodox man who stabbed Banki and five others during the march had just been released from prison after serving a 10-year sentence in connection with the stabbing of three people during a Jerusalem Pride march in 2005. The man is currently serving a life sentence in an Israeli prison.
Israeli media reports note the threat that Barnoy and the two lawmakers received on Wednesday came from an Instagram account that included the name of the man who killed Banki.
The Jerusalem Pride parade will take place on Thursday with more than 2,400 police officers deployed along the route. The Times of Israel reported the man who allegedly threatened organizers was expected to have appeared in a Jerusalem court on the same day.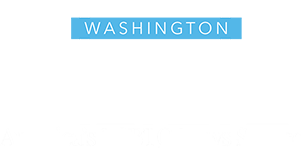 Hamas releases gay Israeli man's sister
Militants kidnapped Yarden Roman-Gat on Oct. 7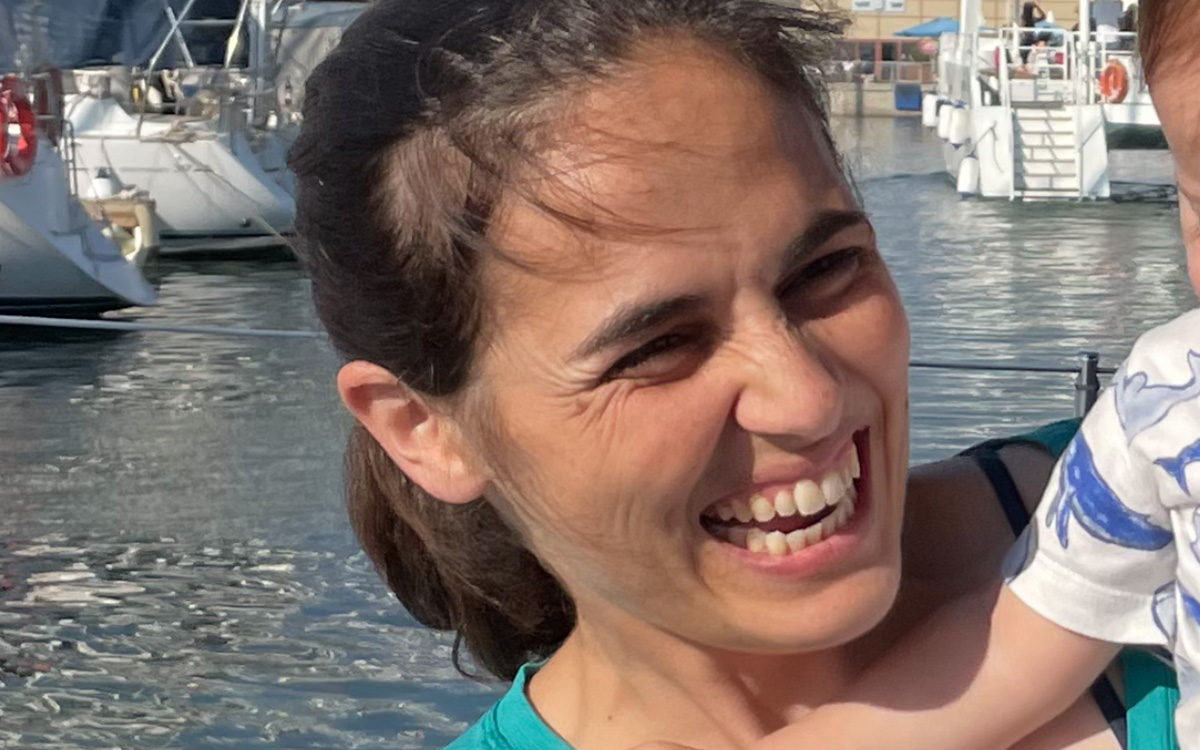 Hamas on Wednesday released a gay Israeli man's sister who had been held hostage in the Gaza Strip since Oct. 7.
Media reports indicate Yarden Roman-Gat is one of 12 Israelis and four Thai nationals who the militant group released.
Roman-Gat, a physical therapist who works with elderly people and those with physical and mental health issues, and her family had just returned to Israel after a vacation in South Africa when they decided to spend the Simchat Torah holiday with Gat's parents in Be'eri, a kibbutz that is near the border between Israel and Gaza. They were in their home on Oct. 7 when Hamas launched its surprise attack.
Media reports indicate four militants placed Roman-Gat, Gat, their 3-year-old daughter and two other Be'eri residents into a car. One of them had reportedly been placed into the trunk.
Roman-Gat and Gat jumped out of the car with their daughter as it approached Gaza. Roman-Gat's brother, Gili Roman, a teacher and member of the Nemos LGBTQ+ Swimming Club who lives in Tel Aviv, on Oct. 30 told the Washington Blade that the militants began to run after them. He said they were shooting at them when his sister handed her daughter to her husband because he was able to run faster. 
Gat hid with his daughter for 18 hours before they reached Israeli soldiers in Be'eri. He told Roman he last saw his wife hiding behind a tree to protect herself from the militants who were shooting at her.
"For us it's like a Holocaust story," Roman told the Blade. "It's a horror story, the worst horror story that you can imagine."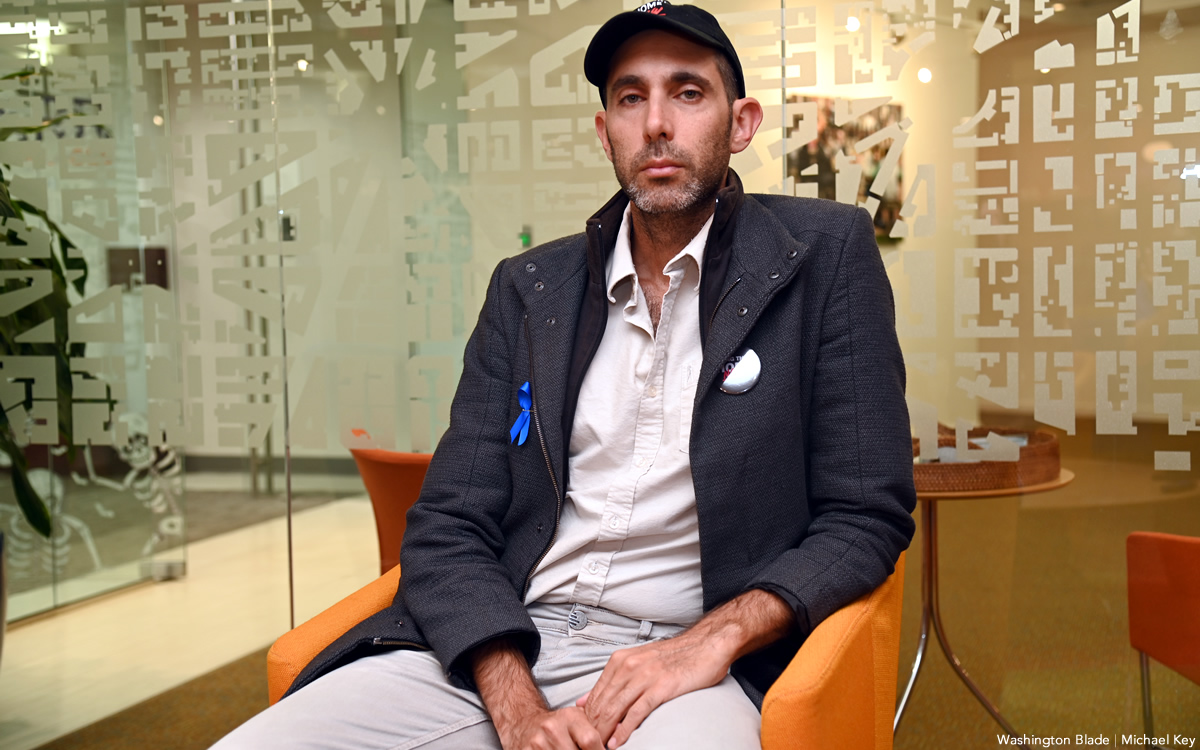 More than 1,400 Israelis have been killed since the war began. This figure includes at least 260 people who Hamas militants murdered at an all-night music festival in Re'im, a kibbutz that is a few miles away from Be'eri. Thousands of other Israelis have been injured and Roman-Gat is among the 240 people who militants from Hamas and other Muslim terrorist groups kidnapped.
The Hamas-controlled Gaza Health Ministry says Israeli airstrikes have killed more than 13,000 people and injured thousands of others in the enclave.
A truce between Israel and Hamas that allowed for the release of hostages in exchange for the release of Palestinians in Israeli prisons took effect on Friday.
The Associated Press notes roughly 160 hostages remain in Gaza. The truce that the U.S., Egypt and Qatar brokered was extended two days on Monday, but is slated to expire tonight.  
'This wedding is both defiance and pride'
IDF reservist married partner in Ein Yahav on Nov. 22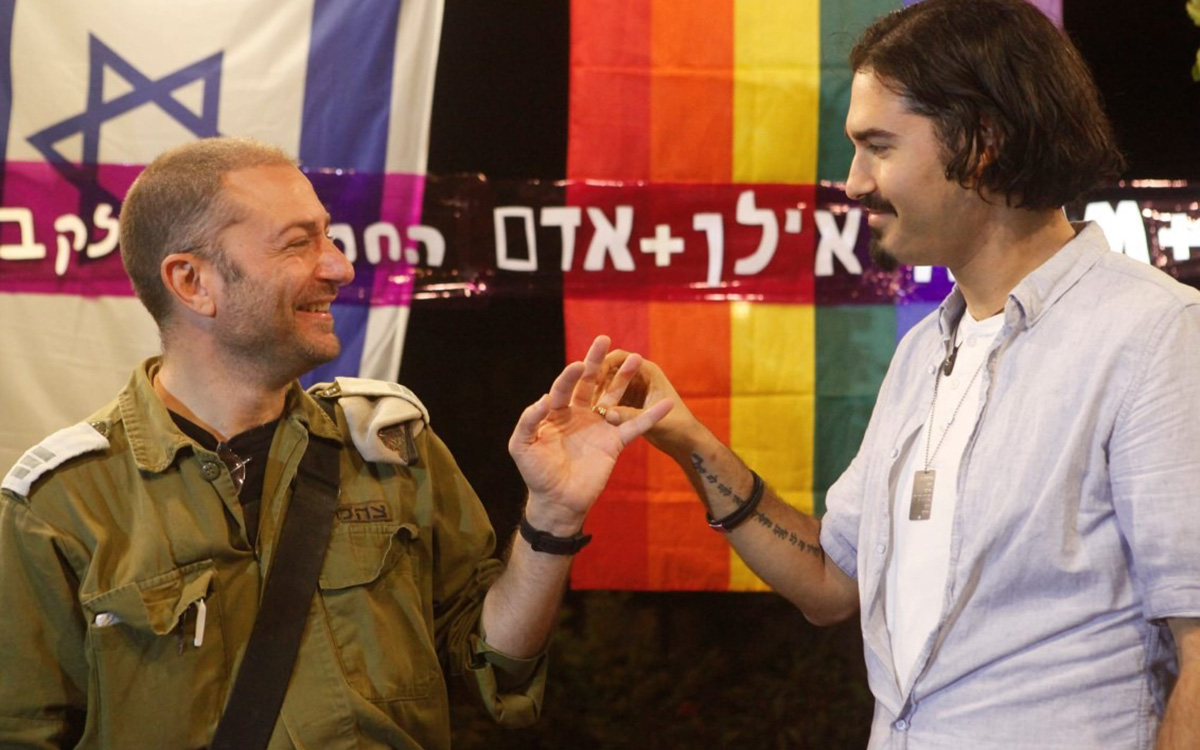 WDG is the Washington Blade's media partner in Israel. This article ran on WDG's website on Nov. 23.
Among dozens of reservists who became a family, with a spontaneous canopy at the B&B in Ein Yahav and refreshments donated with much love from Eilat businesses and residents, Adam Din and Ilan Cohen held their wedding ceremony Nov. 22.
"We did this wedding because it is important to us that the world knows that there is love even in the middle of the war and that we can celebrate love as well through it all," said the couple.
Adam and Ilan's wedding was scheduled to take place about two weeks ago on the beach between Ashdod and Nitzanim. The invitations were already prepared, but the terrible massacre on Oct. 7, and the war that broke out in its wake, postponed all their plans.
Ilan was immediately drafted into the reserves in the Gaza Division, leaving Adam alone at home. Nati Harosh, the couple's best friend who was supposed to be the groomsman at the wedding, was also drafted into the reserves as a Givati Brigade fighter.
"We were supposed to get married on the beach," says Adam, "The war postponed the wedding, and also took Nati."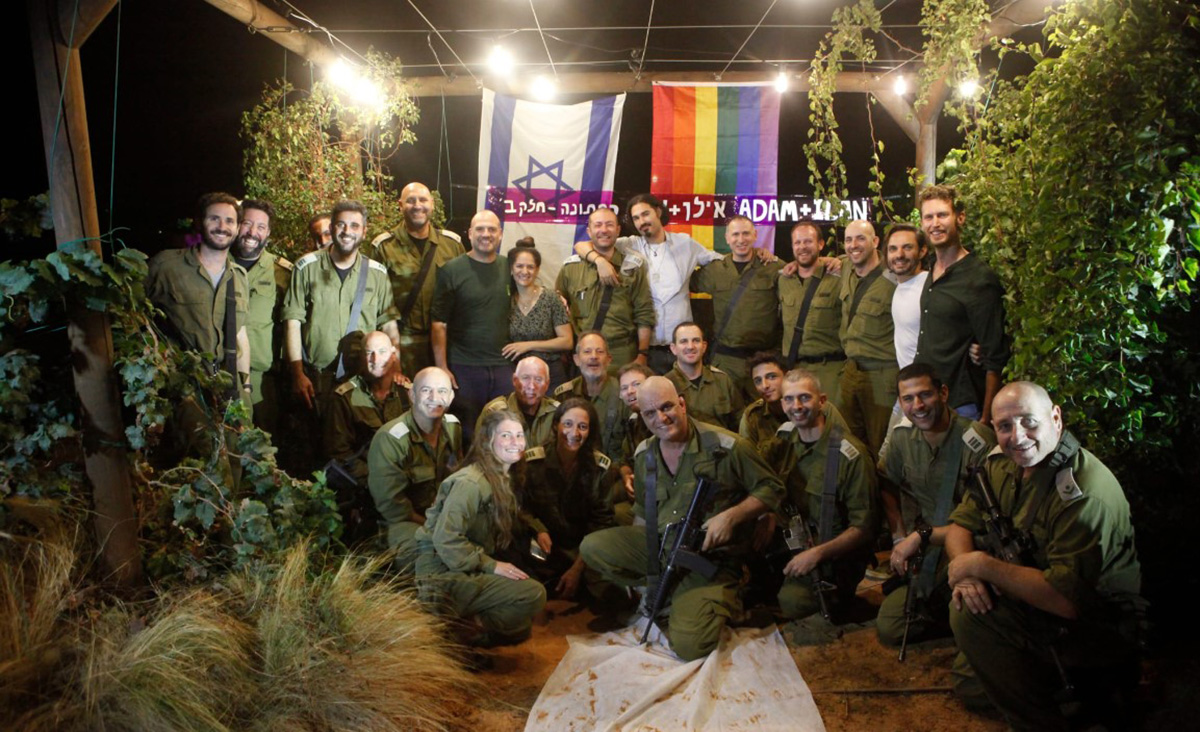 Adam and Ilan met a year and eight months ago.
"We met on Tinder, not for a serious purpose," says Adam. "After we met, Ilan introduced me to a group of travelers from the gay community and we used to go on trips together. Over time we got to know each other more and more and in an organic and natural way we became together. It never had an official date."
The short acquaintance was very significant for both of them.
"I was in the closet in front of the family before I met Ilan, and also childfree. And getting to know Ilan changed me completely," says Adam. "I came out in front of my family and introduced them to Ilan, and I also decided that I wanted us to become parents together. My life changed thanks to him and we are really a family."
The first friend Adam introduced to Ilan was Nati.
"Nati is a friend of mine from the time I lived in Jerusalem during my internship. We met through mutual friends and became very close friends. Nati was a giving person, like the meaning of his name Nathaniel. One of those people who were untouched by the cruelty of the world. Always ready to help. Doesn't hold a grudge even when he is treated badly, and I would get angry for him and he wouldn't get angry," says Adam.
"Nati's move from Jerusalem to Ramat Gan was one of the reasons that led us to move there as well, and since then we have been at each other's house a lot on Shabbat," he adds. "Nati came from a religious family, and he is liberal and open and loves every person regardless of who they are. And it was very clear and natural to me that he would be the one to accompany me on this significant occasion of mine. In the Utah wedding we held in Zoom, Nati was my witness, and we planned for him to be the groomsman in the wedding party."
An April Fool's prank that turned into a marriage proposal
Adam proposed to Ilan a few months ago.
"On April 1, we repeated one of our significant dates at the Saker Garden in Jerusalem," says Adam, "Then Ilan knelt down as if he was going to propose to me and took out a Kinder egg. Kind of an April Fool's prank. He thought it was funny. So I decided to get back at him and a few months later I also gave him a Kinder egg, only my Kinder egg had a ring in it."
Three months ago, the two were married in a Utah wedding on Zoom in order to receive recognition as a couple who married abroad, with Nati accompanying them as a witness. They planned to hold the party itself at the beach between Ashdod and Nitzanim, at the exact place where Adam proposed to Ilan. About two months ago they returned to the place, found the perfect location for the wedding and we set a date.
But as mentioned, the events of Oct. 7 postponed the plans, and Ilan was drafted into the reserves.
"During his reserve service, Ilan saw horrible and terrible sights," says Adam, "[It is] a horror that has no name, that gives him nightmares and scars his heart and soul. But when he comes home he comes to his shelter and his safe environment. Here he can get away for a moment from the horror outside. With the announcement of Nati's death, the bereavement burst into our house, into our safe place."
The two found out about Nati's death through a news website.
One evening at the beginning of November, when Ilan was at home for a short break, a message about the death of a Givati Brigade soldier in Gaza popped up on his phone.
"He fell silent and went to the side," Adam recalled. "His face went blank, the way it went blank when he remembered the terrible things he saw there. I asked him what he saw. He didn't want to show me and started crying. I asked him again what happened and then he told me that Nati died. I didn't believe him and then he showed me the news. I looked and couldn't believe what I was reading. I saw Nati's photo in the article and I said, 'What idiots, they accidentally put a photo of Nati. What a mistake.'"
"I quickly called Nati to tell him to ask for the photo to be taken down so his family wouldn't see it, but he didn't answer," he added. "Since then I send him WhatsApps all the time. Yesterday I sent him a selfie of us and wrote to him: Tomorrow I'm getting married, you're invited."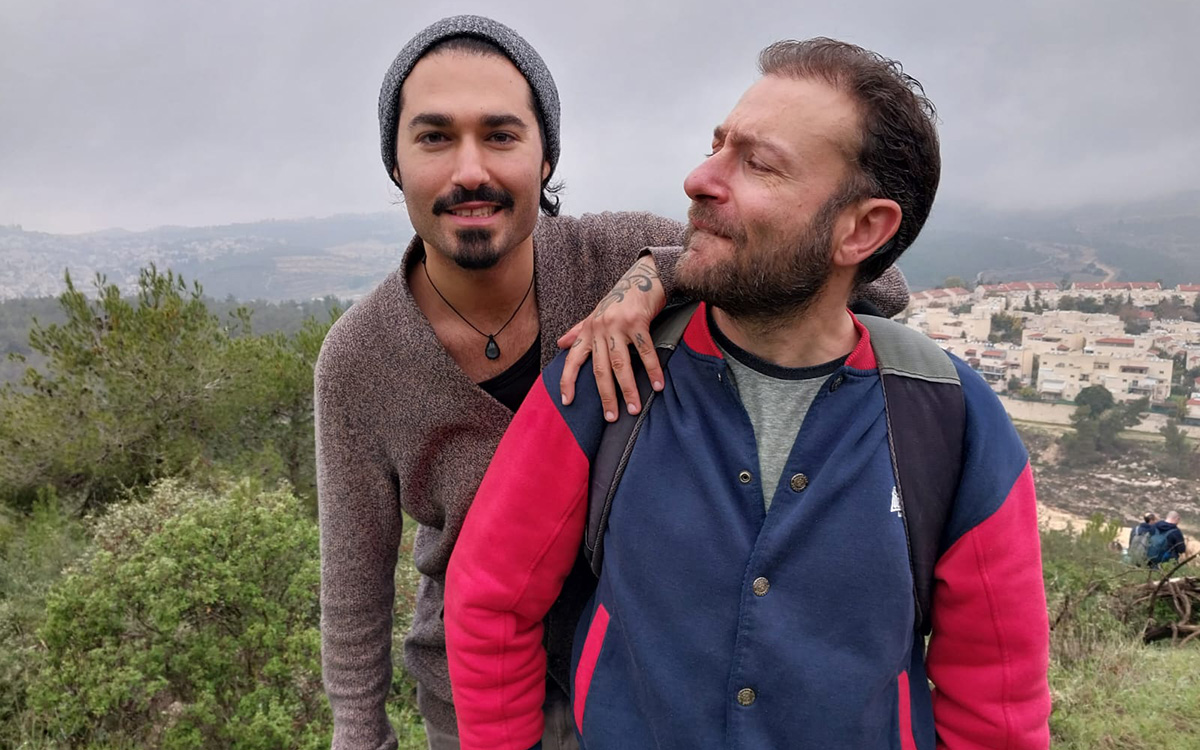 Many people will have to die for there to be equality
After Nati was killed, the two felt that the wedding was becoming more urgent. Ilan told the story of the wedding to his friends in the reserve battalion, and also told them about Nati, who was killed in the war.
"He told them that the wedding is now more urgent than ever, and that it is precisely now in this war that love should be celebrated, and his friends suggested that the wedding be held in the unit. Two days ago he came to me and asked: What are you doing on Wednesday? And I answered him that I was working. Then he asked me, do you want to get married? I told him yes and asked him if he was coming back from the reserves, and he told me: No. We will do it in the battalion."
WDG: Did you felt complete with the choice?
ADAM: Ilan and his colleagues have been together for over a month. When I talk to him I hear them, and I hear him talking about them, they really became family. So although the wedding is spontaneous without my friends and family being able to come, it is being held with his family, who are actually the army and the friends from the reserves. And Nati will be there in spirit too. He died among soldiers, so we will feel his love among other soldiers who will be happy with us"
WDG: How does it feel to have a "military wedding"?
ADAM: This is not the wedding I expected, but I always told Ilan that I would marry him even inside a volcano. Everywhere. At the same time, this wedding has a lot of mixed emotions. This period is full of sadness and disappointment. The LGBTQ community is an equal partner in the national effort and the war, and its men and women do not receive equal status when they return home.
We could get married like everyone else but we have to do it in a crooked way with Zoom, and in no way, LGBTQ people are literally dead to protect us but no one counts them.
Ilan has been in service for a month and a half, and yet he had to find crooked ways to get married, feeling that he is worth less than other people, who don't even join the army.
So for me this wedding is both defiance and pride. And this is the ambivalence. We feel a part and we sacrifice the most precious, and yet we don't deserve to be married like everyone else and we are in a less good position. And yet we continue and get married in the middle of the war."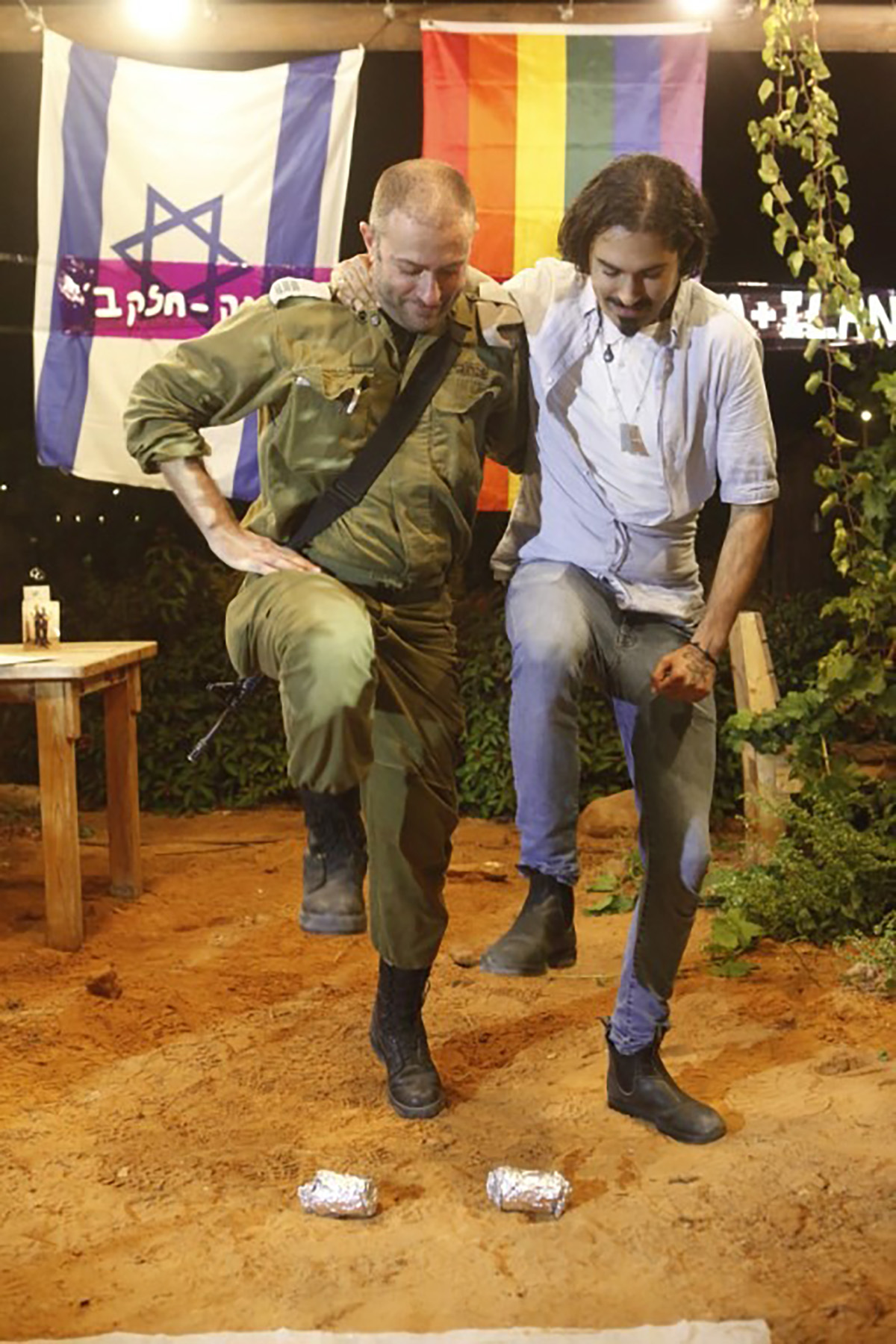 WDG: Do you think that following this period, which highlights the gap between what we give to the state and what we receive, a change will come?
ADAM: For Sagi Golan's law, Sagi had to die. Part of his mate is dead too, I guess. I do believe that we will have equal rights, I believe that many people will have to die for it.
WDG: What is it like to live when your partner is so far from home for such a long period of time?
ADAM: Since that terrible Saturday when he was called I have been sleeping on the sofa. I can't sleep in bed without him. There are long periods when he is without reception on the phone and I am constantly refreshing the pages of the news sites, to see if anything has happened. And when he returns home afterwards there is a tremendous feeling of momentary relief and an opportunity to be together for a bit. Even though as a volunteer in the LGBTQ help line, even when he goes out to retire from the reserves, he takes a shift and volunteers remotely."
The couple and WDG would like to thank WILLOW – Zimmer in Arava, for volunteering to host the ceremony.
סיקור מלחמת חמאס נגד ישראל
אמריקאים להט"ב קראו לגנות ארגון טרור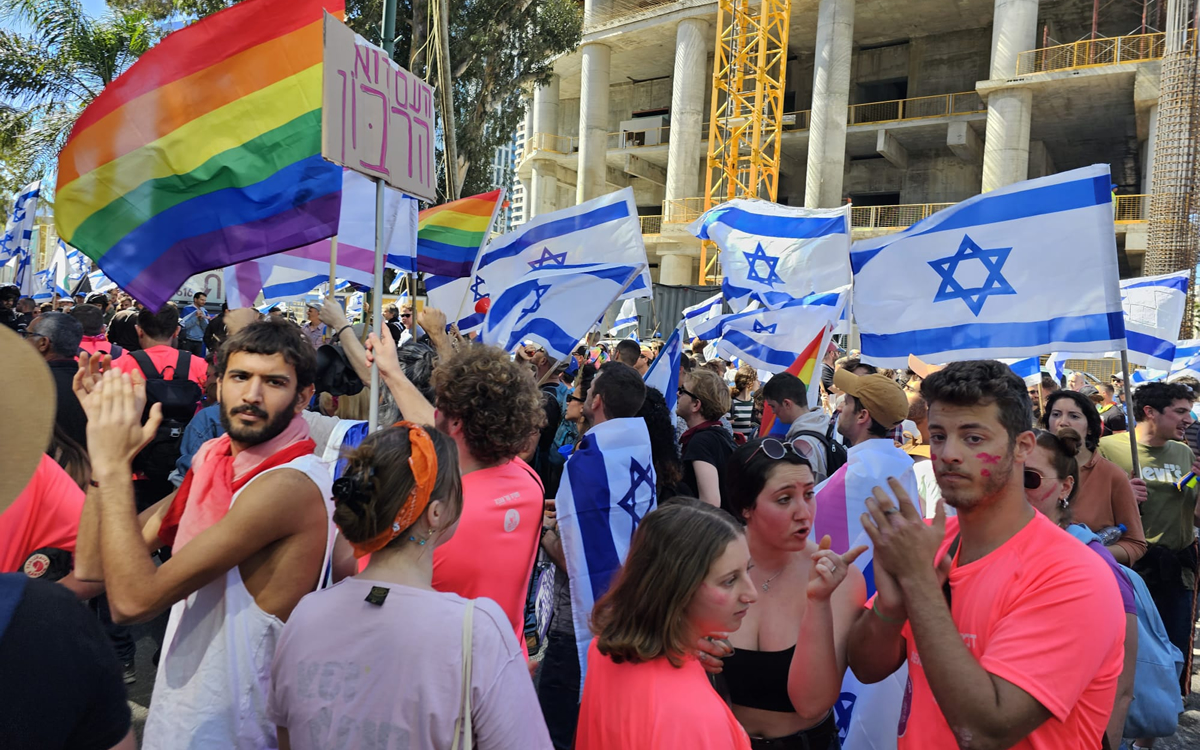 ובשיתוף Washington Blade, שותף המדיה של WDG בארה"ב
בעקבות מתקפת הטרור על ישראל בשבת השחורה של השביעי באוקטובר, יצאו חמישה ארגונים להט"בים אמריקאים בעצומה הקוראת לכלל ארגוני הלהט"ב האמריקאים לתמוך בישראל.
העצומה, שפורסמה ביום שישי האחרון, קוראת ללהט"ב אמריקאים לגנות את המתקפה הרצחנית שביצע חמאס נגד ישראל ואזרחיה.
מאחורי הקמפיין, הנושא את הכותרת "להט"ב אמריקאים מתאחדים נגד טרור חמאס" עומדים חמישה ארגונים – ארגון A Wider Bridge הפועל לקידום הקשר בין הקהילה היהודית לקהילה הלהט"בית, ארגון One Community מאריזונה, ארגון SAVE מדרום פלורידה, ארגון Equality California וארגון Garden State Equality מניו ג'רסי.
"באוקטובר 7, 2023, ארגון הטרור חמאס פתח במתקפה על מדינת ישראל והעם היהודי", נכתב בעצומה, "מתקפה זו הביאה לרציחתם באכזריות של למעלה מ-1,400 ישראלים – כולל ניצולי שואה וילדים, חטיפתם ולקיחתם כבני ערובה של לפחות 200 נוספים, ולמותם הטראגי של אינספור פלסטינים חפים מפשע שחמאס מנעה את פינויים.
אנטישמיות, הומופוביה וטרנספוביה הולכות יחד. כאמריקאים להט"בים ובעלי ברית, אנחנו יודעים מה זה כשקיצוניים אלימים מנסים להרוג אותנו בגלל מי שאנחנו ומי שאנחנו אוהבים. יתרה מכך, אנו יודעים היטב מה זה שאנשים שסמכנו עליהם שישמיעו קול של אומץ ומוסר שותקים לנוכח ההרס שלנו. חיפשנו את ליבנו בשבועות האחרונים כאשר מלמולים של "זה מסובך", נשמעו מסביבנו כאזעקה מוכרת מדי. למרבה הכאב, אפילו ראינו כאלה שמאשימים את היהודים באלימות שהם סבלו.
לא נשתוק.
רצח של חפים מפשע לעולם אינו מוצדק. למרות שאנו מכירים בכך שאנשים בעלי רצון טוב עשויים לחלוק על ממשלת ישראל הנבחרת, איננו נקראים לפתור את סוגיית האוטונומיה – למרות שאנו תומכים בה הן עבור ישראלים והן עבור פלסטינים. זה הכרחי לחלוטין שכלהט"בים וכאמריקאים בעלי ברית, נגנה באופן חד משמעי את ההתקפות האכזריות של חמאס.
אנו מבקשים מכם להצטרף אל אבלנו על כל החיים התמימים שאבדו, ועל בני הערובה שעדיין מוחזקים. ומבקשים מכם להצטרף אלינו לקריאה כי למדינת ישראל יש זכות קיום וכי לעם היהודי מגיעה מולדת שבה יוכל לחיות בחופשיות; ושאין עוד לנצל את העם הפלסטיני ומגיע לו שלטון עצמי לגיטימי באומה שלו.
להטב"קים ובני בריתם האמריקאים יודעים שכל קבוצה המוקדשת לשנאה היא איום קיומי על כל האנשים המודחים לשוליים. עמדו איתנו בצד הנכון של ההיסטוריה היום. עמדו איתנו למען צדק, הוגנות ושוויון לכל האנשים".