Canadian teen arrested for threatening mass shooting at Fla. Pride event
West Palm Beach police say suspect has showed no remorse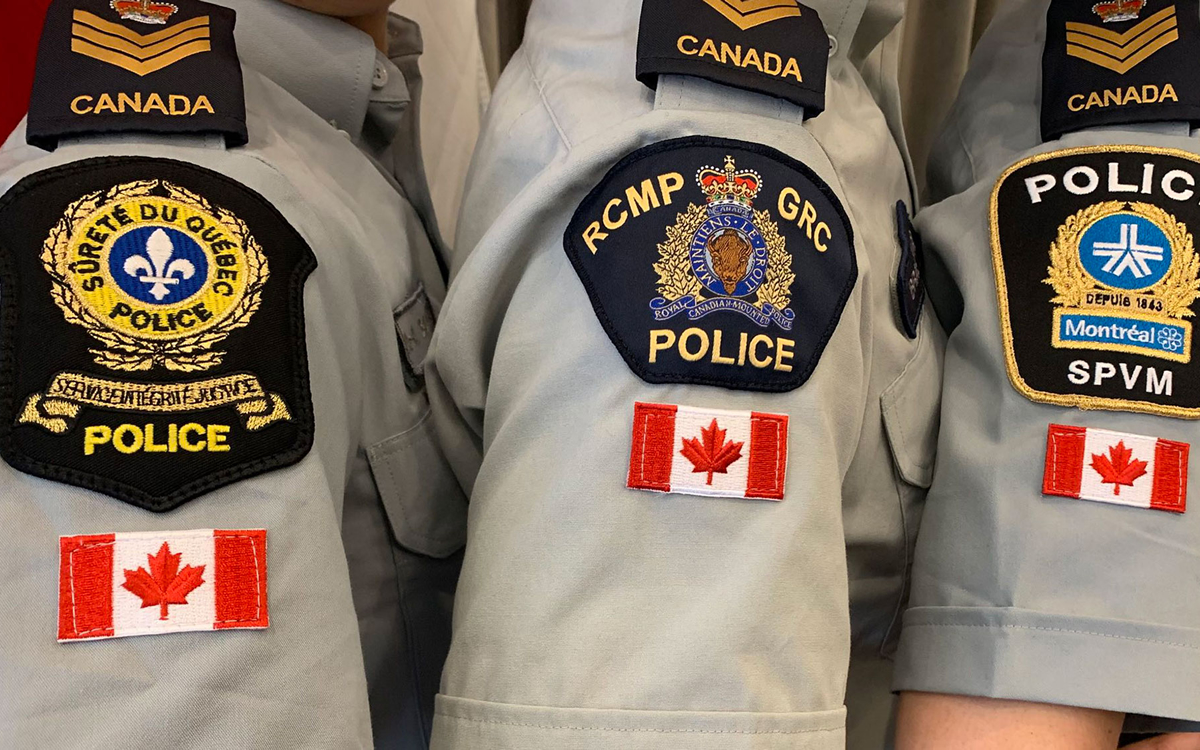 A 17-year-old male adolescent was arrested by Canadian law enforcement after he threatened to commit a mass shooting at a Pride event in West Palm Beach, Fla.
A report was received on Sunday by the Miami Police Department that a video was online posted to the video chat platform Omegle where the teenaged suspect was seen waving a gun in the video, making anti-LGBTQ comments, and he additionally claimed to be living in Palm Beach County, where he said he was going to commit the mass shooting that day at the Pride on the Block 2022 event.
After a joint investigation by Miami Police Department, which had notified the West Palm Beach Police Department; the assistance of the FBI, New York Police Department, Toronto Police Service and Peel Regional Police was enlisted to locate and arrest the suspect.
A spokesperson for the Royal Canadian Mounted Police acknowledged that the suspect was arrested Monday and that the weapon seen in the video was recovered. He was charged with threatening to commit a mass shooting and charges including written or electronic threats to kill, do bodily injury, or conduct a mass shooting or an act of terrorism. Charges are also pending in Florida.
ABC News affiliate WPBF reported that West Palm Beach Police Department Deputy Chief Rick Morris said during the press conference that the suspect knew the area well and most likely had other areas in mind for other attacks, but was not in West Palm Beach at the time of the arrest.
"People were very scared. The Pulse nightclub shooting is still very much in people's minds especially in our gay community, which is tragic. We want the LGBTQ community to know we stand behind them," Morris said.
In regard to the suspect Morris noted; "I can say through his statement that there's no remorse."
West Palm Beach police had uniformed and plainclothes officers along with SWAT team members at the Pride on the Block event on Sunday, which was delayed a day due to severe weather WPBF 25 reported.
"We did ramp (our enforcement) up in addition to the operational plan that we already had in place but I can't go into the details or the specifics," said Mike Jachles, public information officer for the West Palm Beach Police Department.
He continued, "These were hate-filled threats targeted at a 'gay event' in Palm Beach County and the West Palm Beach Police Department is committed to ensuring the safety of our residents, visitors and anyone who comes to our city."
He is in custody in Canada currently awaiting extradition to Palm Beach County.
Newly introduced Florida bill could destroy LGBTQ nonprofits
It would establish "biological" pronouns as official state policy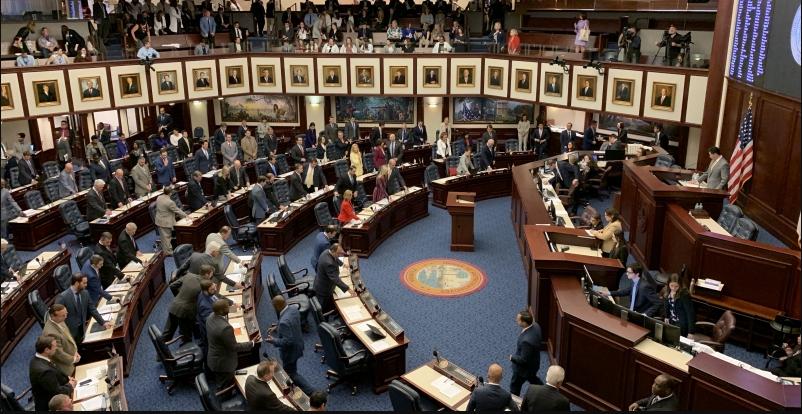 By Erin Reed | A new bill just introduced in Florida aims to expand "Don't Say Gay Or Trans" provisions to a broad range of workplaces. Targeting government employees, contractors, and nonprofits, the bill sets forth restrictions and bans on policies relating to pronouns, gender identity, and sexuality.
Specifically, it would prohibit state and local government employees as well as any contractors engaged with the government from changing their pronouns or honorifics if they do not match their assigned sex at birth. It would also bar them from instructing on gender identity or sexuality, similar to "Don't Say Gay Or Trans" laws already active in the state education system. The legislation would establish "biological" pronouns as official state policy.
The bill also would establish protections for what it calls "deeply held biology-based beliefs." It may even prevent all nonprofits in the state from mandating any "training, instruction, or other activity on sexual orientation, gender identity, or gender expression," a clause that could destroy LGBTQ+ nonprofits across Florida.
The bill, HB599, was introduced by Representative Ryan Chamberlin, a Republican. The bill is split into two sections, with the first section applying to government employees and contractors, which it defines as "an individual, partnership, corporation, or business entity" that "enters or attempts to enter into a contract for services" with any state, county, municipality, or special district of Florida.
These definitions encompass a huge number of businesses, such as stadiums, convention centers, major hospitals, insurance agencies, and more. For these businesses, as well as for all government workers, the bill would declare that it is the state's policy that "a person's sex is an immutable biological trait and that it is false to ascribe to a person a pronoun that does not correspond to such person's sex." It then would bar covered employees from sharing pronouns that "do not correspond to that person's sex," effectively banning social transition at work for these employees.
See the provisions barring pronouns, honorifics, and more here: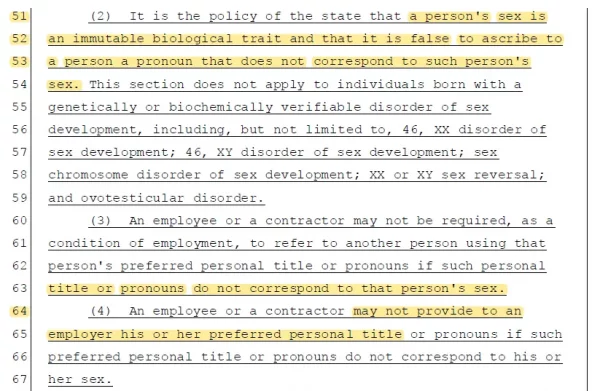 The bill also would enshrine a new phrase into law: protections for employees "deeply held religious or biology-based beliefs." The phrase "deeply held religious beliefs" has longstanding precedent in constitutional law and is used to overturn laws judged to be violating someone's freedom of religion.
Deeply held "biology-based" beliefs, however, are not something that has ever been a part of any law. It would appear that this line is meant to provide religious-based protections to people who assert that their misgendering of transgender people and using transgender people's old names is part of their "biology-based" rights.
The bill is not limited in its application to government employees and contractors, however. A separate section of the bill would apply to "nonprofit organizations or an employer who receives funding from the state." In the most broad reading of this section, separating "nonprofit organizations" from "employers who receive funding from the state," it would bar all such organizations from mandating "training, instruction, or other activity on sexual orientation, gender identity, or gender expression."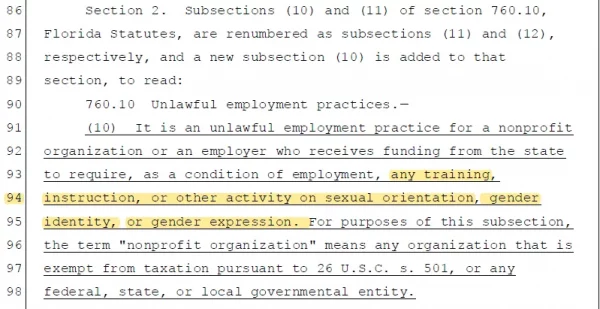 Provisions in HB 599
This provision is severe in its potential impact. Virtually every LGBTQ+ organization would be radically affected by it and would likely have to shut down. It would be nearly impossible for an LGBTQ+ organization to run without providing instruction, training, and "other activity" around gender identity or sexuality. It would be a blatant power grab by the state targeting organizations critical to the government and would further drive LGBTQ+ activism and organizing underground in the state. If enforced broadly, this section could have a similar impact to laws in Russia designed to shut down LGBTQ+ organizations there.
This section would have impacts far beyond LGBTQ+ organizations as well. The provisions would apply to "any organization that is exempt from taxation" including "s. 501" organizations. This would include, for instance, 501c4s, which are crucial during election cycles and could be used to target left-leaning organizations running election ads. Many of these organizations have LGBTQ+ employees and provide instruction and accommodations for their employees, which would be barred by the state if this gets passed into law.
It could also have impacts on medical organizations that do business with state and local governments. Planned Parenthood, a 501c3, heavily provides care for LGBTQ+ people, and such a law could be used to target the organization statewide. Likewise, many state hospital systems that do business with the government often must educate employees and patients on HIV and AIDs, which is impossible to divorce from LGBTQ+ issues. Community health clinics would, similarly, have to contend with these provisions.
'Don't say gay' for nonprofits: @RyanDChamberlin files bill that would restrict LGBTQ nonprofits receiving state funding

Reporting by @JacobOgleshttps://t.co/oaAfC0gTuz#FlaPol

— Florida Politics (@Fla_Pol) November 21, 2023
Brandon J. Wolf, the National Press Secretary for the Human Rights Campaign said to the Blade in a statement Tuesday: "This Florida bill is a hateful, anti-LGBTQ+ monstrosity. It is dangerous, unconstitutional, and we know it's just the start of politicians' attacks on our community this legislative session. We're prepared to fight back."
This legislation represents an early move in what promises to be a challenging year for anti-LGBTQ+ legislation in 2024. Historically, Florida has often been the breeding ground for new laws aimed at the LGBTQ+ community. This bill might well serve as a precursor to the next "model policy" that could be replicated in multiple states, and bears close watching.
****************************************************************************
Erin Reed is a transgender woman (she/her pronouns) and researcher who tracks anti-LGBTQ+ legislation around the world and helps people become better advocates for their queer family, friends, colleagues, and community. Reed also is a social media consultant and public speaker.
Follow her on Twitter (Link)
Website here: https://www.erininthemorning.com/
******************************************************************************************
The preceding article was first published at Erin In The Morning and is republished with permission.
National LGBTQ Task Force executive director mourns Israeli, Palestinian war victims
Kierra Johnson led moment of silence at organization's Miami Beach gala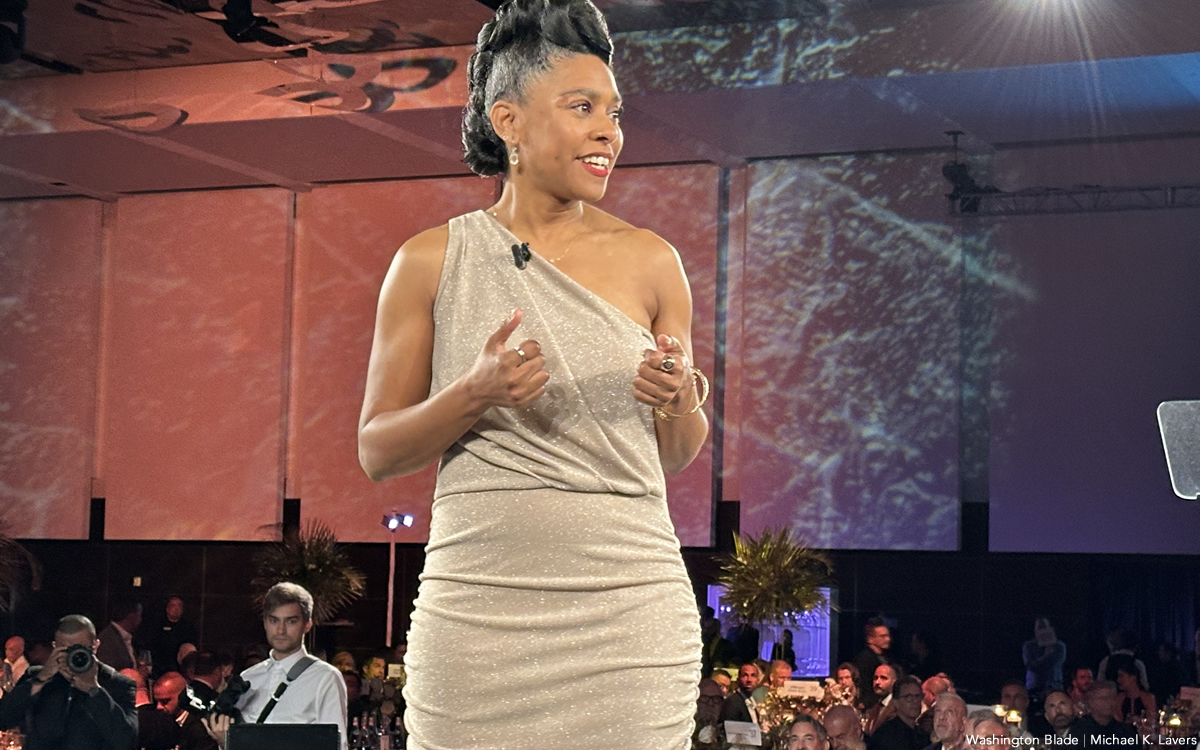 MIAMI BEACH, Fla. — The executive director of the National LGBTQ Task Force on Saturday paid tribute to the civilians killed during the war between Israel and Hamas.
"Witnessing reports of Israel and Palestine are weighing on my soul," said Kierra Johnson during her speech at the Task Force's 50th anniversary gala that took place at the Miami Beach Convention Center. "My heart is with communities in the region who have suffered the pain of terrorism and violence and may continue to do so."
Johnson added that while she does "not have many answers about the conflict, I do know many people I love, many members of the Task Force family and many in this room are deeply impacted."
"The Task Force condemns terrorism, violence and harm against civilians," she said.
Johnson also led a moment of silence for the "lives shattered and lost in the terror attack by Hamas in Israel and for all those impacted who continue to suffer."
Hamas, which the U.S. and Israel have designated a terrorist organization, on Oct. 6 launched a surprise attack against communities in southern Israel from the Gaza Strip.
More than 1,300 Israelis have been killed since the war began. This figure includes at least 260 people who Hamas militants murdered at an all-night music festival in Re'im, a kibbutz that is near the border between Israel and Gaza. The Israel Defense Forces on its website also says more than 3,200 Israelis have been injured and Hamas militants kidnapped at least 150 others.
Hamas rockets have reached Beersheba, Tel Aviv, Jerusalem, Ben Gurion Airport and other locations throughout central and southern Israel.
Palestinian officials say Israeli airstrikes have killed more than 2,000 people in Gaza and injured thousands of others in the enclave.
The Israeli government's decision to cut electricity, water and food and fuel shipments to Gaza has made the humanitarian crisis in the territory even worse. (National Security Advisor Jake Sullivan on Sunday said Israeli officials have told him they have restored water to southern Gaza.) The IDF has also told the 1.1 million people who live in northern Gaza to evacuate to the southern part of the enclave ahead of an expected ground incursion.
A Wider Bridge — a U.S.-based organization that seeks to build "a movement of LGBTQ people and allies with a strong interest in and commitment to supporting Israel and its LGBTQ communities" — in 2016 organized a reception at the Task Force's annual Creating Change conference with two Israeli activists who worked for Jerusalem Open House for Pride and Tolerance. Hundreds of protesters with signs that expressed opposition to "pinkwashing," which they described as the promotion of Israel's LGBTQ rights record in an attempt to deflect attention away from its policies toward the Palestinians, and "no pride in apartheid" disrupted the event and forced its cancellation.
"I want to make this crystal clear: The National LGBTQ Task Force wholeheartedly condemns anti-Semitism and anti-Semitic statements made at any Task Force event, including our Creating Change Conference," said then-Executive Director Rea Carey in a statement after the protest. "It is unacceptable."
AP Psychology course will remain unchanged in Fla.
Education Commissioner Manny Diaz, Jr., abruptly changed course last week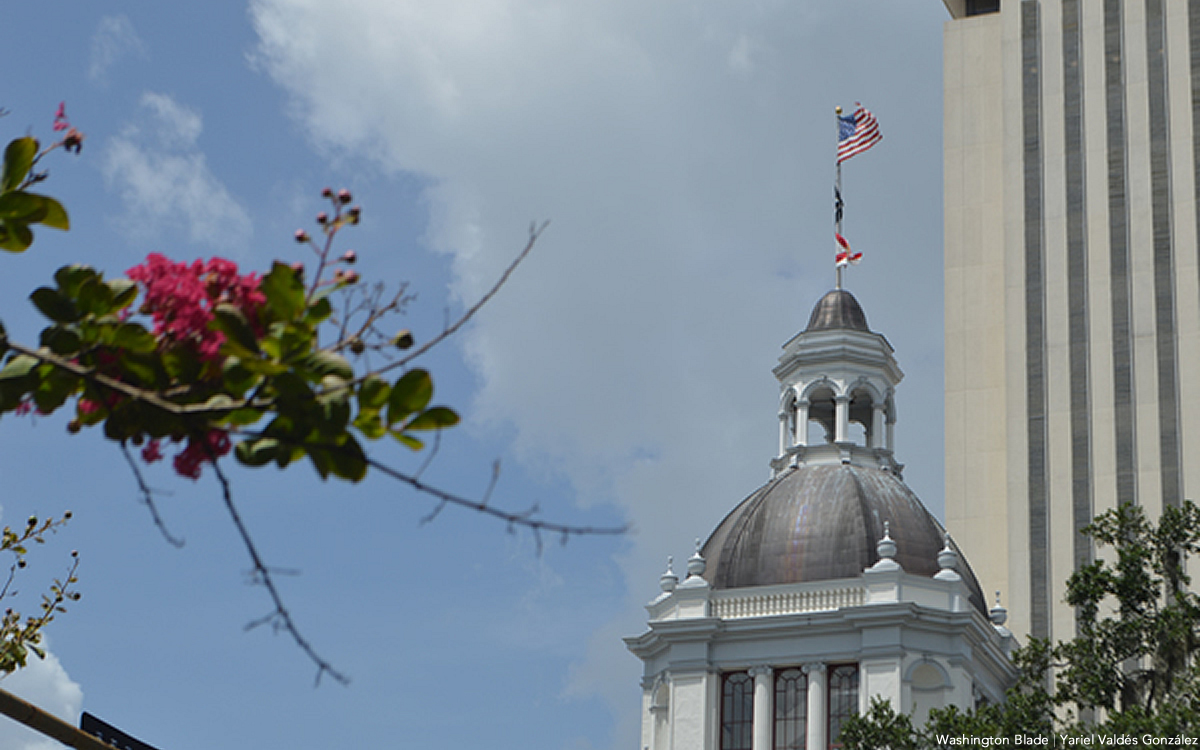 In an abrupt reversal, Florida Education Commissioner Manny Diaz, Jr., sent a letter to the state's Superintendent's Association late Friday reversing Thursday's notice that the Advanced Placement psychology course curriculum must be scrubbed of its gender and human sexuality unit in order to continue being taught in Florida classrooms.
In his letter to the state superintendents, Diaz said the state believed the psychology course could be taught "in its entirety."
Charged by critics as censorship of course content, the Florida Department of Education initially maintained that teaching the AP course's lessons on sexual orientation and gender identity, are topics forbidden by the state's new laws known colloquially as the "Stop Woke Act" and "Don't Say Gay" signed by Gov. Ron DeSantis earlier this year.
In a statement after Diaz's actions on Thursday barring the AP course, the College Board, the non-profit organization that oversees the AP Program, SAT Suite and other programs for public and private high school students seeking to attend college, issued a statement that read: "We are sad to have learned that today the Florida Department of Education has effectively banned AP Psychology in the state by instructing Florida superintendents that teaching foundational content on sexual orientation and gender identity is illegal under state law." 
The College Board then instructed Florida's high schools to not offer the course unless it was taught to students in full.
The Associated Press reported the College Board refused to modify the psychology course to comply with Florida's new legislation. The course asks students to describe how sex and gender influence a person's development — topics that have been part of the curriculum since it launched 30 years ago.
In standing firm against pressure from Florida officials, the College Board has acknowledged missteps in the way it handled the African American studies curriculum.
"We have learned from our mistakes in the recent rollout of AP African American Studies and know that we must be clear from the outset where we stand," the non-profit said.
After the Florida Department of Education's reversal, the College Board said it hoped teachers now will be able "to teach the full course, including content on gender and sexual orientation, without fear of punishment in the upcoming school year."
In response to the decision by Diaz to allow high school Advanced Placement Psychology to be taught "in its entirety," Arthur C. Evans Jr., PhD, CEO of the American Psychological Association said in a statement:
"The Florida Department of Education has done the right thing by agreeing that Advanced Placement Psychology may be taught 'in its entirety,' without censoring information on sexual orientation and gender identity. This decision puts students and science ahead of politics. Florida students have been taught AP Psychology in an age and developmentally appropriate way for the last 25 years and we are pleased that will continue."