Thousands turn out for D.C. Pride parade
Contingents reflect full diversity of LGBTQ community and allies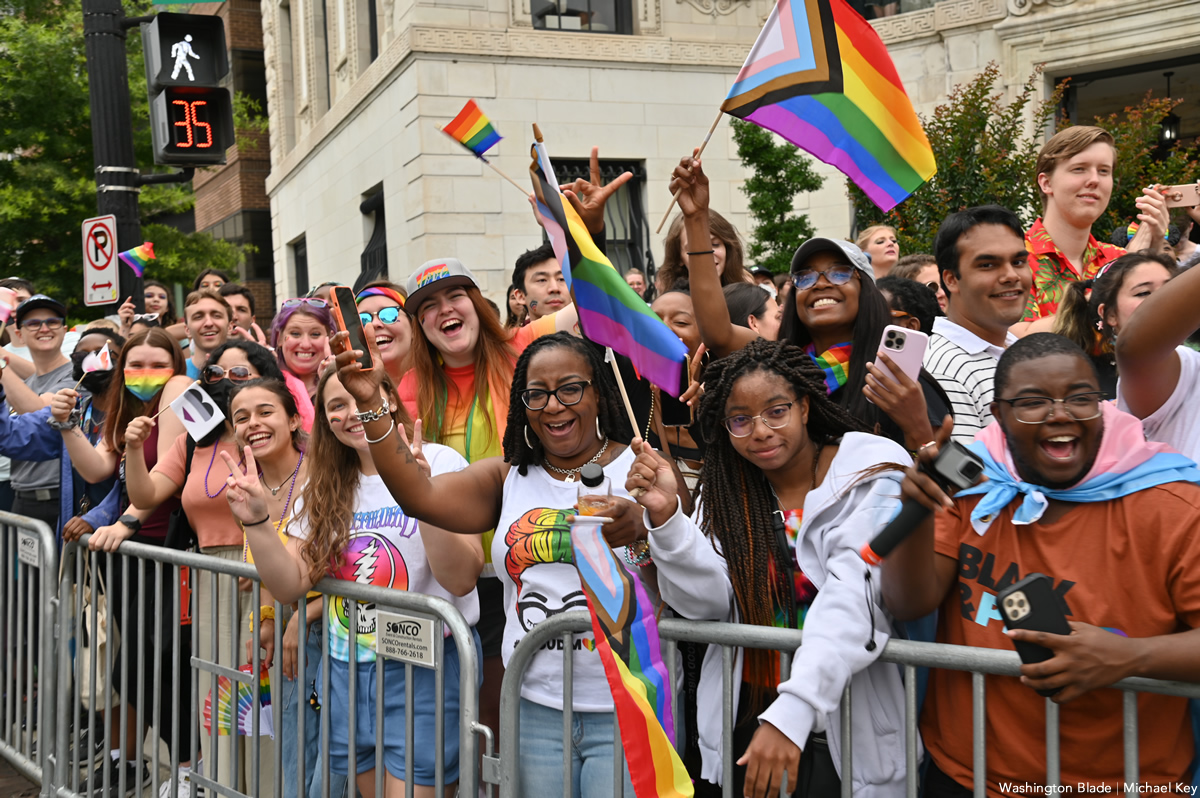 At the intersection of 17th and P streets, N.W., the sidewalks were jam-packed with people – adults and many children – on Saturday waving small rainbow flags and cheering as a large contingent of LGBTQ parents and their children walked past the crowd.
They were members of the group Rainbow Families who were among the more than 200 contingents that joined D.C.'s Capital Pride Parade on June 11. Some of the children in the contingent jumped up and down waving small, hand-held rainbow flags under the watchful eyes of their moms and dads.
The Rainbow Families contingent and the PFLAG DC LGBTQ parents contingent marched past the bustling 17th and P intersection, turning onto P Street en route to Dupont Circle about an hour after about a dozen women on motorcycles rode by as part of the LGBTQ Outriders Women's Motorcycle Club contingent.
The Outriders were the first of the parade contingents to arrive at the 17th and P location. Historically, lesbian motorcyclists, including the famous Dykes on Bikes in past years, have been given the honor of being the very first contingent in D.C.'s Capital Pride Parade as well as in Pride parades in other cities.
Immediately after the Outriders group came a contingent of gay leather clad men riding on their own motorcycles, drawing cheers from the crowd of onlookers.
In the more than three hours that followed, a wide range of other contingents marched, rode in small vehicles, or rode on large floats along the parade route that began at 14th and T Streets, N.W., traveled south along 14th Street to Road Island and Massachusetts Avenues to the 17th and P location before traveling around Dupont Circle to the parade's end point at 22nd and P Street, N.W.
Among the varied contingents were employees and directors of several D.C. government agencies and departments, including the Department of Health, the Department of Human Services, and the D.C. Department of Fire and Emergency Medical Services, one of whose employees drove by in a large, bright red fire truck.
Many of the contingents represented some of the nation's most prominent corporations providing both business and customer services. Among them was Marriott International, Inc., the mega hotel chain that acted as the Capital Pride Parade's lead sponsor.
Others included Amazon, Macy's, MGM National Harbor, Mastercard and VISA, McDonald's Restaurants, GEICO auto insurance, Verizon, Walmart, PNC Bank, Dollar Tree & Family Dollar Stores, and United Airlines among many others.
Capital Pride Alliance, the group that organizes D.C.'s Pride events, including the parade, has come under criticism from some activists, who say Pride parades and festivals in D.C. and other cities have become dominated by corporations and other businesses. Ryan Bos, the Capital Pride Alliance executive director, has said corporate sponsors, which have been longtime supporters of LGBTQ equality, have made it possible for nonprofit groups like Capital Pride to pay for large events like parades and street festivals.
The crowds lining the streets along the Capital Pride Parade route cheered loudly as many of the corporate contingents walked and rode on floats past them. According to Bos, the corporate parade contingents consist almost entirely of LGBTQ employees and managers at the various corporations. Many of them waved rainbow flags and blew kisses at the crowd as they marched in the parade.
This year's D.C. Pride parade had a large number of international contingents, including staff and supporters of the embassies of Canada, Great Brittan, Ireland, Switzerland, and the Scandinavian nations. Also joining the parade was a large contingent of the European Union Delegation to the United States.
Bet Mishpachah, the local D.C.-area LGBTQ synagogue, and the LGBTQ Catholic group Dignity Washington were among the faith-based groups and churches that joined the parade. Others providing parade contingents included the Washington National Cathedral, Church of the Holy Comforter, Church of the Pilgrims, United Methodist Churches of the National Capital Area, and the group Churches United in Pride.
With the parade taking place less than two weeks before D.C.'s June 21 primary election, several of the candidates running for mayor, D.C. Council, and D.C. Attorney General marched in the parade with contingents of various sizes.
D.C. Mayor Muriel Bowser (D), who is running for re-election to a third term, appeared to have the largest of the candidate contingents, with about 100 mostly LGBTQ supporters marching behind her wearing bright green 'Bowser' T-shirts behind the banner of the Mayor's Office of LGBTQ Affairs.
D.C. Council member Robert White (D-At-Large), who is among three candidates challenging Bowser in the June 21 Democratic primary, marched in the parade with a contingent of about 50 or more supporters. Also joining the parade with smaller contingents were the other two mayoral candidates, D.C. Council member Trayon White (D-Ward 8) and community activist James Butler.
Among the other candidates joining the parade with sizable contingents were Salah Czapary, the gay former D.C. police officer running for the Ward 1 D.C. Council seat, and gay D.C. school board president Zachary Parker, who is one of seven candidates running for the Ward 5 D.C. Council seat.
Other candidates who had contingents in the parade were D.C. Council Chair Phil Mendelson (D-At-Large) and challenger Erin Palmer, D.C. Council member Charles Allen (D-Ward 6), At-Large Council member Anita Bonds and her primary challengers Lisa Gore and Nate Fleming, At-Large Council member Elissa Silverman (I-At-Large), and D.C. Democratic Attorney General candidate Bruce Spiva.
D.C. Attorney General Karl Racine, who is not running for re-election, was among the D.C. public officials who marched in the parade.
Two Republican candidates, Giuseppe Niosi, who's running for an At-Large Council seat, and David Krucoff, who's running for the Ward 3 Council seat, marched in the parade. Both are running unopposed in the primary.
Rooftop Pool Party postponed
Capital Pride Alliance moves official event to June 22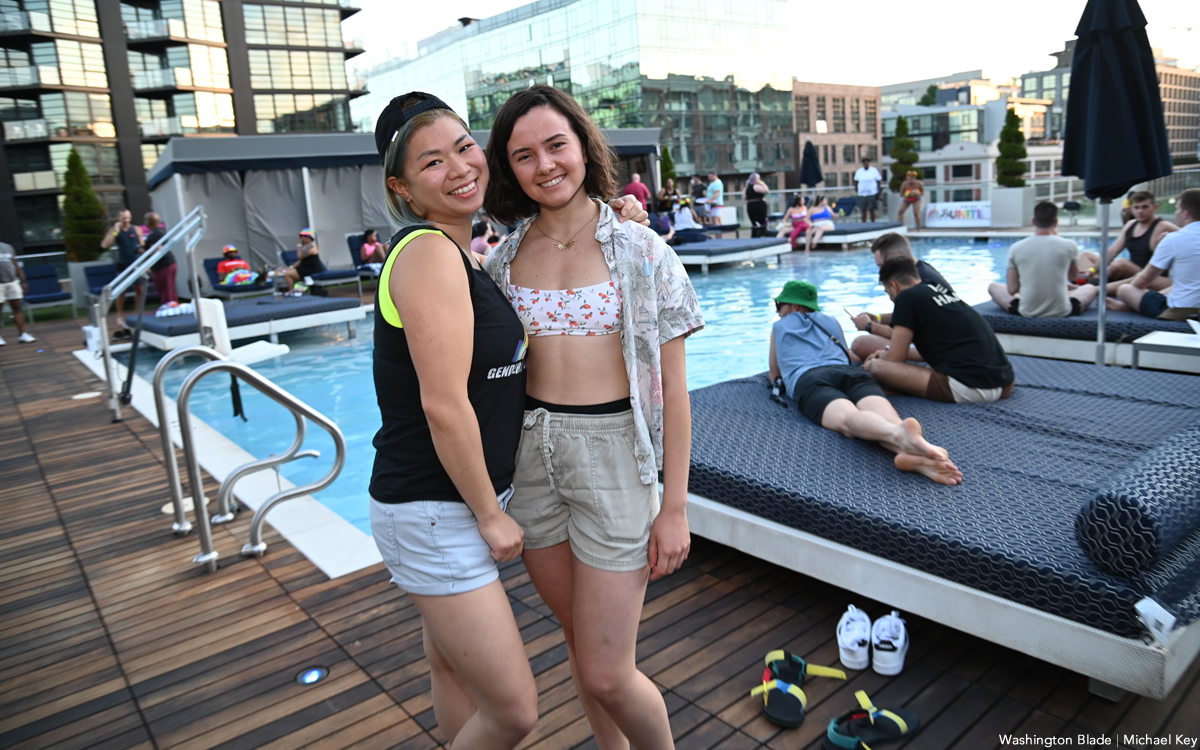 The Capital Pride Rooftop Pool Party, originally scheduled to begin at 8 p.m. tonight, has been postponed until Thursday, June 22, according to a statement released by the Capital Pride Alliance on Instagram. This action comes amid an international climate event created by the Canadian wildfire that has resulted locally in poor air quality and a haze around the region.
The Capital Pride Alliance Instagram account posted, "As with all concerns regarding health and safety issues, the Capital Pride Alliance will closely monitor the air quality situation resulting from Canadian wildfire smoke and take necessary precautions in consultation with our partners in the DC government."
"What does this mean for the pool party?" a question one private Instagram account user posed in the comment section.
"Important Update:" A representative of the Capital Pride Alliance responded through the group's official Instagram account. "Tonight's Capital Pride RoofTop Pool Party at VIDA The Yards is being postponed until Thursday, June 22 at 8:00 pm, due to the current air-quality situation resulting from the Canadian wildfires smoke. Please note that this postponement only applies to today's event."
The Capital Pride Alliance has yet to cancel or postpone any further events.
The White House earlier today rescheduled a large outdoor Pride reception planned for this evening to Saturday.
White House postpones Pride event due to wildfire smoke
Thousands expected for celebration bumped to Saturday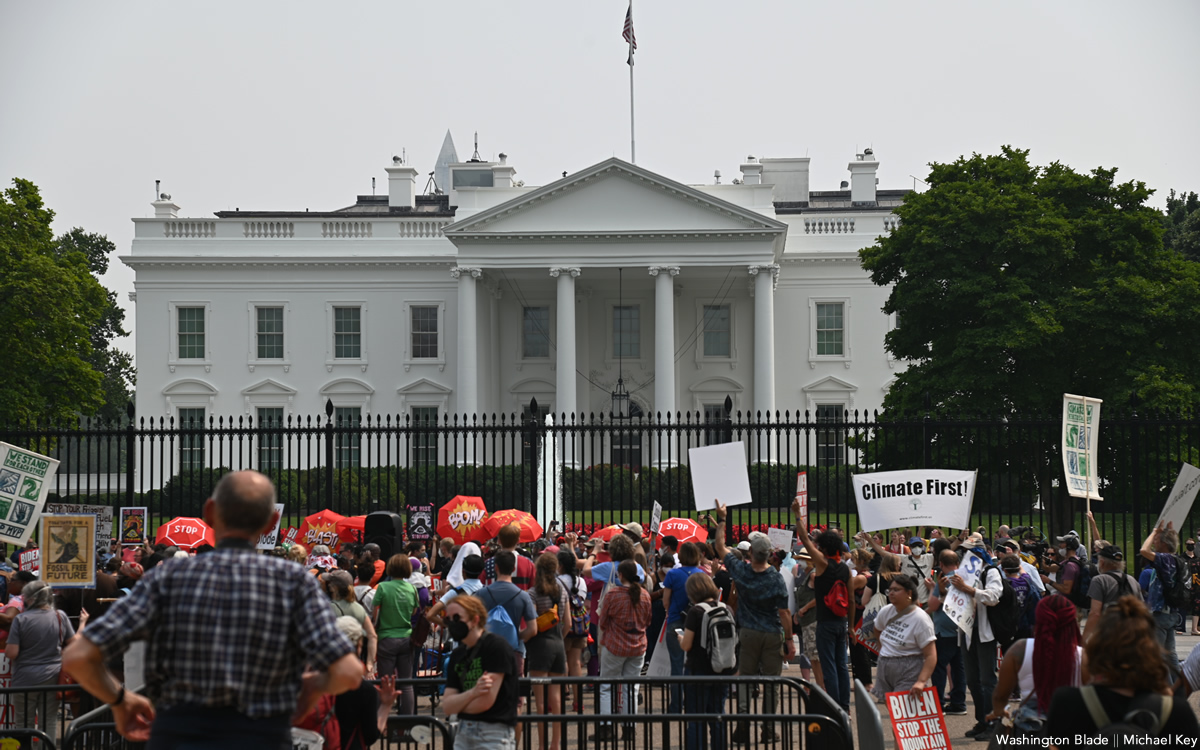 The White House announced Thursday that a Pride event scheduled for this evening has been postponed to Saturday due to the lingering Canadian wildfire smoke.
The smoke has enveloped D.C. in a dangerous haze that triggered a "purple alert" on Thursday, considered worse than a "red alert."
The event, expected to draw thousands of invited LGBTQ advocates and supporters to D.C., has been rescheduled for 1 p.m. on Saturday on the South Lawn of the White House, the same day as D.C.'s Capital Pride Parade, which kicks off at 3 p.m., and Pride on the Pier celebration, which starts at 2 p.m.
D.C. Pride officials monitoring Canadian wildfire smoke conditions
Whitman-Walker advises caution if attending outdoor events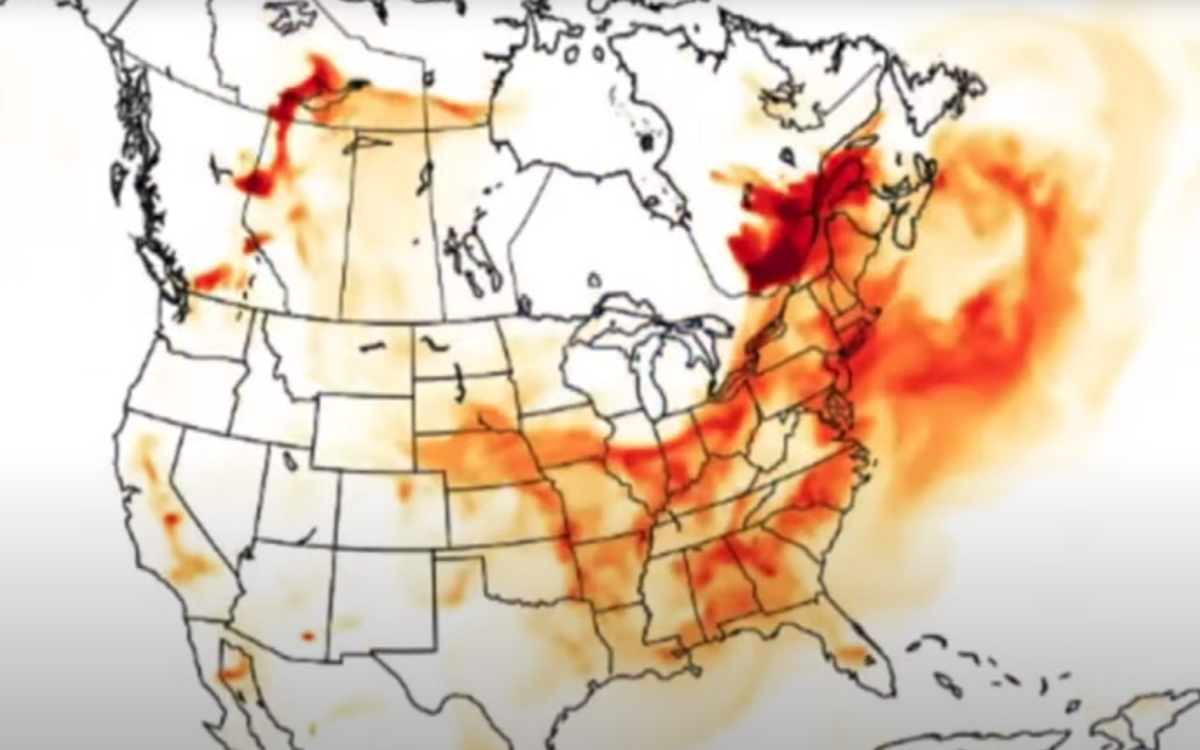 Organizers of D.C.'s Capital Pride parade scheduled for Saturday, June 10, and the Capital Pride Festival scheduled for Sunday, June 11, which were expected to draw hundreds of thousands of spectators and participants, are monitoring the air quality situation following the Code Red hazardous alert issued by city officials on Wednesday and Thursday.
D.C. officials issued the alerts after massive smoke clouds caused by dozens of Canadian wildfires moved into the mid-Atlantic region, including the D.C. metropolitan area, on Wednesday and were expected to remain in the area at least through Thursday and possibly Friday.
"As with all concerns regarding health and safety issues, the Capital Pride Alliance will monitor the air quality situation resulting from Canadian wildfire smoke and take necessary precautions in consultation with our partners in the D.C. government," said Ryan Bos, executive director of the Capital Pride Alliance, which organizes D.C.'s annual Pride parade, festival, and other Pride events.
"Any updates or changes will be posted on our website and social media," Bos told the Washington Blade.
Local and national meteorologists said late Wednesday that it was uncertain whether atmospheric conditions would push the smoke clouds away from the D.C. area by Saturday and Sunday. But they said with rain not expected to come to the region until Monday, the poor air quality could last through the weekend.
In response to an inquiry from the Blade, Dr. Sara Henn, the Chief Health Officer at D.C.'s Whitman-Walker Health, urged those planning to attend the weekend Pride events to "keep an eye on the Air Quality Index (AQI)," which provides the status of the air quality.
"If it is orange or red or purple you may want to modify your plans," Henn said. She was referring to the AQI score of orange, which is considered potentially harmful to people in risk groups such as the elderly, pregnant women, and people with lung or heart conditions.
The "red" AQI reading is considered to be unhealthy for most or all people regardless of the state of their health. A "purple" AQI reading is considered dangerous for everyone.
"A lot will depend on the wind and how it changes over the next couple of days," Henn said. "Even healthy regular runners should reduce their outdoor activities on red air quality days and if the air quality is purple people really should stay indoors and events should be rescheduled, if possible," Henn said.
Henn said those spending time outdoors on code red days should use the KN95 face masks that were considered protective against the COVID virus during the pandemic years.
"Wear them when you are outside to help protect yourself against the air pollution and take them off indoors," Henn said.
Among those scheduled to participate in the Capital Pride Parade is D.C. Mayor Muriel Bowser.
The mayor's office released a statement on Wednesday reminding city residents that the Metropolitan Washington Council of Governments and the D.C. Department of Energy and Environment issued a "Code Red" air quality alert for Wednesday, June 7, and Thursday, June 8.
"Smoke from Canadian wildfires is causing unhealthy air quality in the Washington, D.C. area and the northeast United States, and this problem is likely to continue through Friday," the mayor's statement says.
D.C. Health and DOEE recommend that residents pay attention to local air quality reports and the U.S. Air Quality Index at airnow.gov," the statement says.
More information on air quality can be found here.