Pizza Hut's Book It! program attacked over kids drag book
Big Wig by Jonathan Hillman is about a magic wig and a child who dresses in drag to compete in a neighborhood costume competition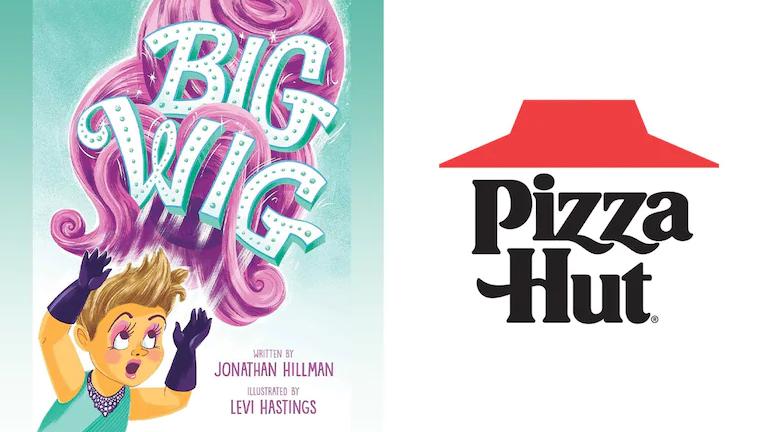 In a city known as the birthplace of Elvis Presley, it is also headquarters to a leading national anti-LGBTQ+ group,  The American Family Association, (AFA) listed by the Southern Poverty Law Center as a 'Hate' group for its lies and propaganda about LGBTQ+ rights and expression, pornography, and abortion.
One 'division' of the AFA is the notorious One Million Moms headed by AFA's Monica Cole who this past week sent out a newsletter attacking the Pizza Hut BOOK IT! Program, that encourages reading for grades PreK-6 young people, which for LGBTQ+ Pride Month this year featured a book titled Big Wig.
Big Wig by Jonathan Hillman is about a magic wig and a child who dresses in drag to compete in a neighborhood costume competition.
Cole, echoing earlier attacks by some right-wing conservatives on Twitter earlier this month as reported by Newsweek, wrote in her newsletter:
Pizza, Hut, the once kid-friendly family restaurant, is saturated in absolute filth, exploiting America's children to be "groomed" by wokeness. Pizza Hut is now promoting a book about drag kids for its "Book It!" reading incentive program to indoctrinate children into transgenderism and homosexuality.
It has been added this month for Gay Pride Month. The book is geared towards children in pre-kindergarten up to third grade. Obviously, the goal is to normalize the LGBTQ lifestyle and indoctrinate young children.
The "Book It!" website features the book Big Wig, which is described as a "wonderful, read-aloud book that "celebrates the universal childhood experience of dressing up and the confidence that comes with putting on a costume."
The description of Big Wig states, "In the spirit of Julián Is a Mermaid, this irrepressible picture book celebrates drag kids, individuality, and self-confidence from the perspective of a fabulous wig!"
The goal is to "groom" the next generation. It is disgusting what is being done in our culture against children. Evidently, Pizza Hut and other woke companies are seeing how much conservatives will, or in this case, will not put up with regarding their LGBTQ agenda.
It is outrageous that a family restaurant is marketing and normalizing gender dysphoria to young children. If you eat at Pizza Hut, you are also supporting child exploitation, which this corporation apparently contributes to and endorses.
The corporation of YUM! Brands owns Pizza Hut, as well as KFC, Taco Bell, and The Habit Burger Grill. 1MM, let us urge Pizza Hut to no longer promote Drag Queen storybooks such as Big Wig in their "Book It!" incentive reading programs.
There are plenty of other reading programs for children to participate in that do not encourage kids to read books about other kids' sexuality. Families also have numerous other pizza restaurants available to choose from besides Pizza Hut.
TAKE ACTION: Sign our petition urging Pizza Hut to no longer promote Drag Queen storybooks such as Big Wig in their "Book It!" incentive reading programs.
The right-wing anti-LGBTQ+ outrage over the Pride-themed book for kids is the latest in a series of assaults by conservatives on the ability to inform and sensitise young persons about the LGBTQ+ community.
In March of this year Florida Republican Governor Ron DeSantis signed that state's 'Don't Say Gay bill', into law which dictates that public school teachers may not instruct on sexual orientation or gender identity in grades kindergarten through third grade.
"Pizza Hut has gone full woke, now we must make them full broke," said Brigitte Gabriel, founder of anti-Muslim advocacy group Act for America.
Pizza Hut has gone full woke, now we must make them full broke.

— Brigitte Gabriel (@ACTBrigitte) June 3, 2022
Conservative political commentator and author Nick Adams tweeted, "Boycott Pizza Hut, order from Papa John's instead. Better ingredients. Better pizza. No wokeness."
Papa John's has and always will be better than Pizza Hut.

Pizza Hut has gone woke, now they must go broke.

— Nick Adams (@NickAdamsinUSA) June 3, 2022
Since 1984, the Pizza Hut BOOK IT! Program has been dedicated to encouraging reading in schools nationwide and is partnered with Every Child a Reader, the Center for the Book in the Library of Congress, Lucasfilm, Ltd., and book publishers such as HarperCollins Children's Books.