In viral protest, graduates hand Pride flags to school president
University students outraged over 'Employee Lifestyle Expectations'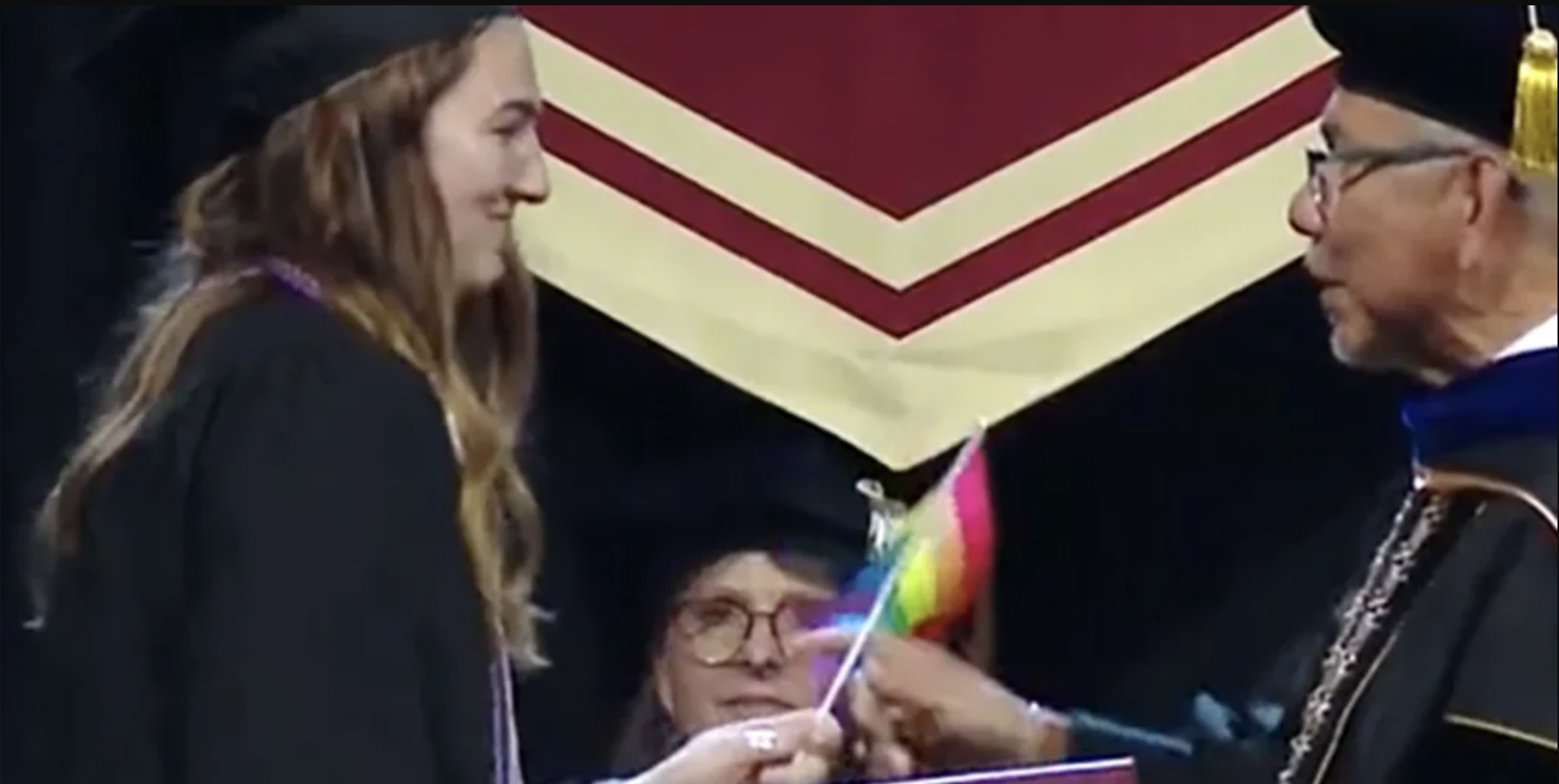 On TikTok, the video of graduating students handing rainbow Pride flags to the school's interim president went viral. In this video, graduating seniors at Seattle Pacific University gave the president Pride flags rather than shake his hand, as part of a student protest against the school's anti-LGBTQ policies.
The short video, posted by the account @engaygetheculture, obtained more than 3 million views in two days.
Seattle Pacific University is a religious educational institution affiliated with the Free Methodist Church and "reserves the right to prefer employees or prospective employees on the basis of religion," according to its website.
According to the "Employee Lifestyle Expectations" webpage, university employees are expected not to engage sexual behaviors "inconsistent with the University's understanding of Biblical standards," including "same-sex sexual activity."
The school policy outraged university students. Associate Students of Seattle Pacific (ASSP) accordingly organized the student protest, including the recorded action in the graduation ceremony. As stated by ASSP representative Chloe Guillot, about 40 to 50 graduate students handed rainbow Pride flags to the interim president Pete Menjares as they walked on stage.
The protest against this school policy has lasted for years. The SPU Faculty Senate has suggested the school remove the "Employee Lifestyle Expectation" policy, but that was rejected by the school board.
ASSP is asking the school board to disclose each member's voting status. The student organization is also asking those who voted for the school policy to resign from their positions by July; otherwise ASSP may file a lawsuit against the school board of trustees, by pointing out that the board didn't act in the best interest of the school.
ASSP is currently raising funds for the potential lawsuit. Until June 16, the GoFundMe has raised more than $30,000, with 280 donations in total and one anonymous donation of $10,000.
Starting three weeks ago, ASSP also organized a sit-in outside Menjares' office, which marked a total of 500 hours this Tuesday. The organized sit-in would continue until July 1.
More ASSP protest-related information can be found here.
U.S. Supreme Court ruling allows Biden administration to end MPP
Trump-era policy placed LGBTQ asylum seekers at increased risk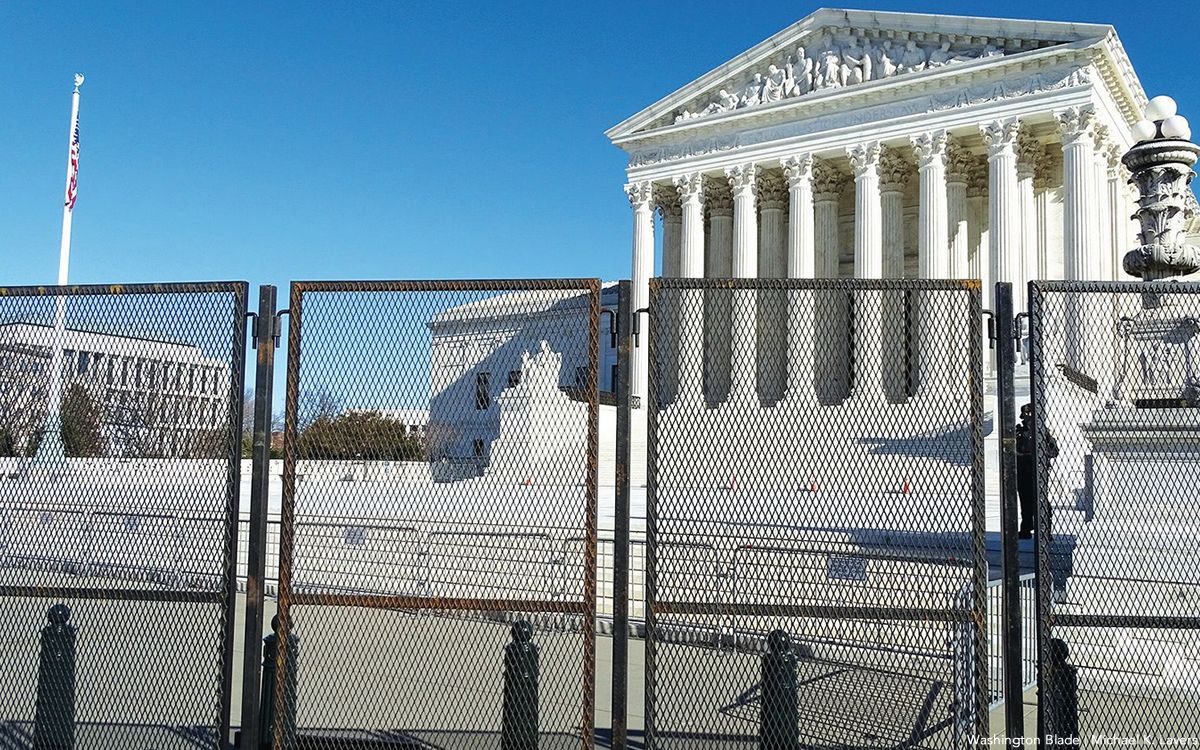 The U.S. Supreme Court on Thursday in a 5-4 ruling said the Biden administration can end a policy that forced asylum seekers to pursue their cases in Mexico.
The previous White House's Migrant Protection Protocols program, which became known as the "Remain in Mexico" policy, took effect in 2019.
The Biden administration suspended MPP enrollment shortly after it took office in January 2021. The program was to have ended six months later, but a federal judge in Texas ordered MPP's reinstatement after the state and Missouri filed suit against the Biden administration.
Thursday's ruling sends the Texas and Missouri case back to lower courts.
"As Secretary Mayorkas concluded in October 2021 after a thorough review, the prior administration's Migrant Protection Protocols (MPP) has endemic flaws, imposes unjustifiable human costs and pulls resources and personnel away from other priority efforts to secure our border," said the Department of Homeland Security in a statement. "We welcome the Supreme Court's decision affirming that the Secretary has the discretionary authority to terminate the program, and we will continue our efforts to terminate the program as soon as legally permissible."
U.S. Sen. Alex Padilla (D-Calif.) also welcomed the ruling.
"Today's Supreme Court decision correctly acknowledges the Biden administration's authority to end the unlawful and cruel 'Remain in Mexico' program," he said in a statement. "For more than three years, this horrifying policy has denied asylum seekers their right to due process and subjected them to crimes like rape, kidnapping and torture in northern Mexican border cities while they await their court hearings."
Advocates sharply criticized MPP, in part, because it made LGBTQ and intersex asylum seekers who were forced to live in Tijuana, Ciudad Juárez, Reynosa, Matamoros and other Mexican border cities even more vulnerable to violence and persecution based on their sexual orientation and gender identity.
[email protected] Coalition President Bamby Salcedo on Thursday told the Washington Blade the Supreme Court ruling "will certainly impact our community in a positive way."
"We know that people who have to remain in Mexico to wait continue to be victims of violence," said Salcedo. "This is definitely a step in the right direction and we're grateful that this happened in this way."
Emilio Vicente, communications and policy director of Familia: TQLM, an organization that advocates on behalf of transgender and gender non-conforming immigrants, echoed Salcedo.
"We're glad to finally have some good news from the Supreme Court after horrible rulings on abortions, climate change, Native American rights," said Vicente. "Ending 'Remain in Mexico' will allow LGBTQ+ asylum seekers who face increased discrimination and abuse during the journey to the U.S., to be able to seek asylum here."
Abdiel Echevarría-Cabán is a South Texas-based immigration attorney and human rights law and policy expert who the LGBTQ+ Bar in 2021 recognized as one of its 40 best LGBTQ lawyers who are under 40.
He told the Blade on Thursday the Supreme Court ruling is "a victory we must celebrate." Echevarría-Cabán also said MPP placed LGBTQ and intersex asylum seekers at increased risk.
"Refugees in general, but especially LGBT refugees, are extremely vulnerable to other type of harms such as kidnappings by cartel members, extortion, physical and psychological abuses from Mexican law enforcement authorities and third parties given the high levels of discrimination for LGBT refugees in Mexico," said Echevarría-Cabán.
The Supreme Court issued its ruling a day after the Justice Department filed charges against four people in connection with the deaths of 53 migrants who were found in the back of a tractor trailer truck in San Antonio.
The Biden administration in April announced its plans to terminate Title 42, a Centers for Disease Control and Prevention rule that closed the Southern border to most asylum seekers and migrants because of the pandemic. Title 42 was to have ended on May 23, but a federal judge ruled against the White House.
"This decision isn't the end of the fight for ensuring that people seeking asylum get asylum but it's an important step in protecting vulnerable people," Vicente told the Blade after Thursday's ruling. "President Biden must follow through on his commitment to end MPP and protect all asylum seekers."
Salcedo noted to the Blade the "system, as it is, particularly when it comes to trans women, needs to be completely changed so that we can be at a better place as a community." Padilla in his statement urged the Biden administration "to do everything in its power to swiftly end 'Remain in Mexico' once and for all."
"Misguided and inhumane Trump-era policies like 'Remain in Mexico' and Title 42 have only decimated an already broken immigration system," he said. "We must keep working to restore the lawful processing of asylum seekers at the border, in keeping with America's most deeply held values as a nation of immigrants."
The Department of Homeland Security in its statement notes Title 42 remains in place.
"The department also continues to enforce our immigration laws at the border and administer consequences for those who enter unlawfully, and will continue the court-mandated enforcement of the Centers for Disease Control and Prevention's Title 42 public health order," it reads.
Kamala Harris hosts Pride month reception
Upwards of 200 people attended Naval Observatory event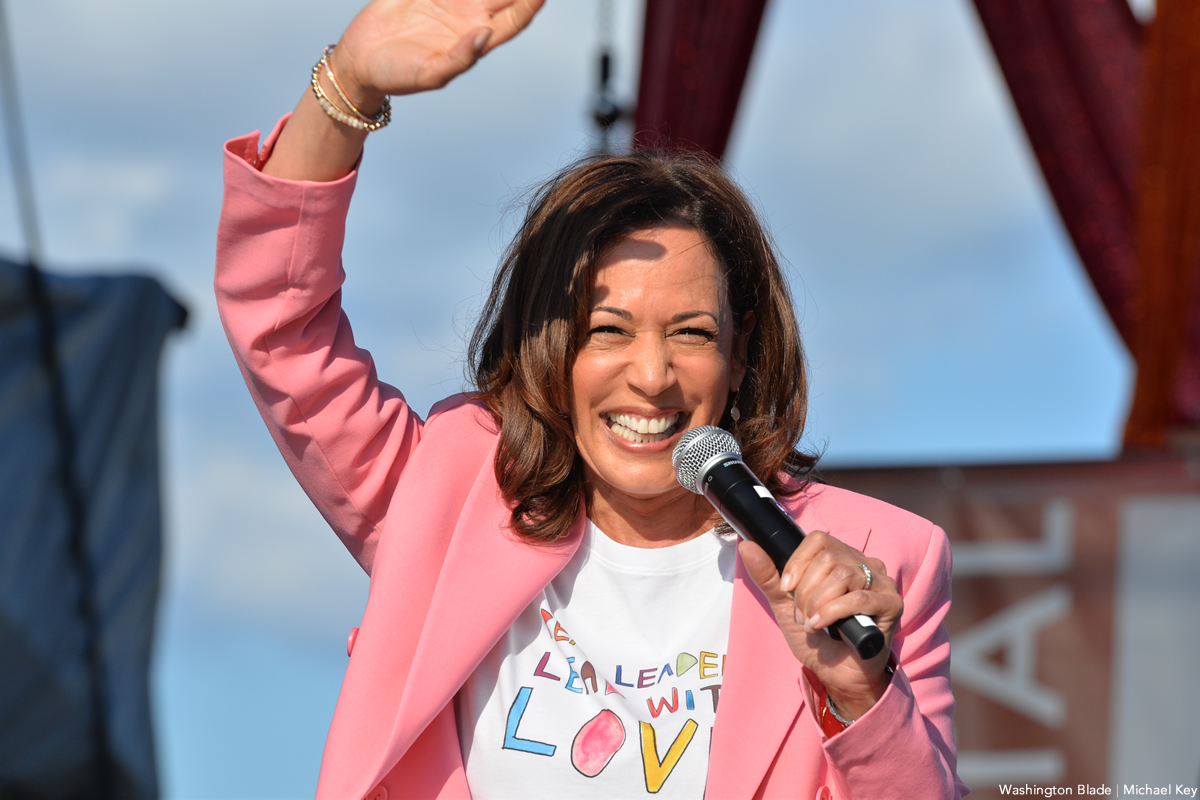 Vice President Kamala Harris helped bring Pride Month to a close Tuesday at her residence with a celebration for high-profile members of the LGBTQ community, recognizing successes achieved but also urging continued movement.
"When we celebrate Pride, it's because we understand not only the strength of what we have accomplished, and the fight for equality, but we [also] understand the fragility of these gains, and so we know what we must do to be vigilant and maintain [those rights]," Harris said.
The Advocate reported in coverage of the event the Pride celebration was the first ever to take place at the vice president's residence, but that's incorrect.
President Biden as vice president hosted a Pride event with LGBTQ leaders in 2014. Harris also said during the event her understanding was it was a first for a sitting vice president.
An estimated 200 attendees were present for the event at the Naval Observatory in D.C., which serves as the vice president's official residence. Guests at the party mingled by the pool and partook of drinks served on a spinning wheel placed just outside.
High-profile officials from the Biden administration who were present included Transportation Secretary Pete Buttigieg and Interior Secretary Deb Haaland. Neither delivered remarks. Also at the event was "RuPaul's Drag Race" star Shangela, who addressed the crowd.
Kris Perry and Sandy Stier, who were among in plaintiffs in the litigation against California's Proposition 8, were also present at the event. Harris married the couple in 2013 as soon as the U.S. Supreme Court issued a ruling restoring marriage equality to the state.
Perry and Stier spoke before the crowd and urged them to continue to stand strong in the aftermath of the Supreme Court's recent decision overturning Roe v. Wade.
Ketanji Brown Jackson sworn in as first Black woman Supreme Court justice
Roe v. Wade struck down last Friday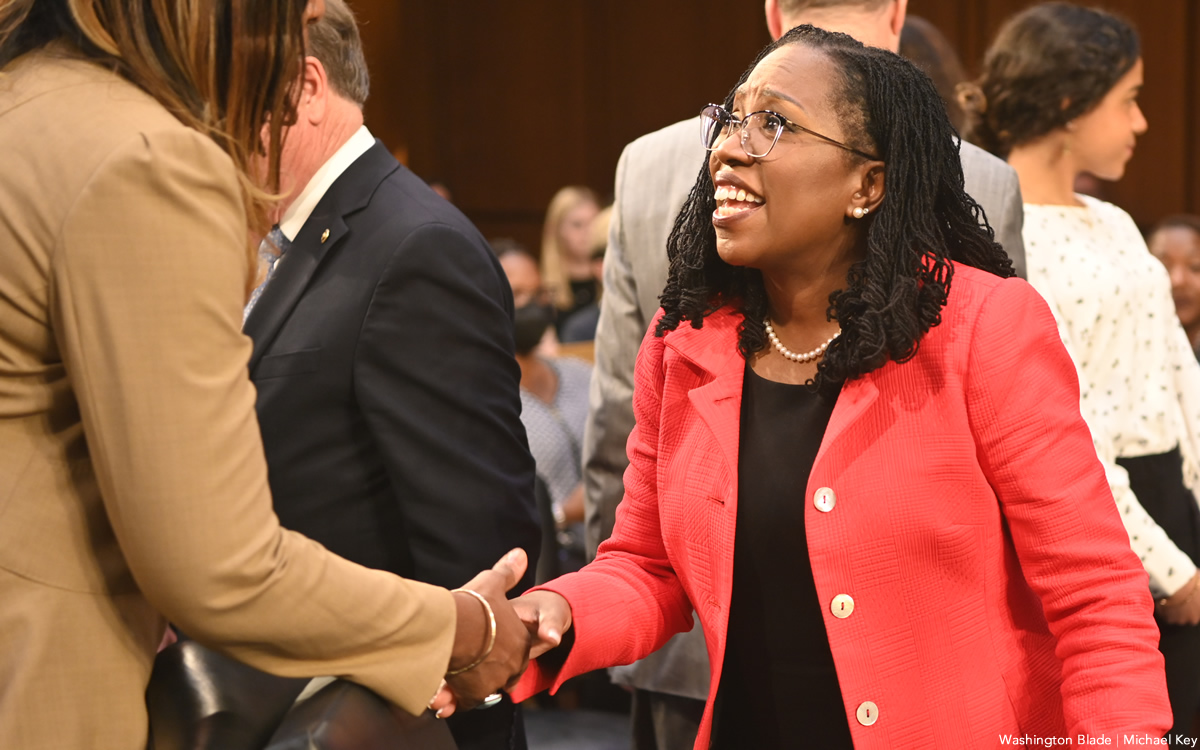 Ketanji Brown Jackson was sworn in Thursday as the newest member of the U.S. Supreme Court, representing a welcome change on the bench for progressives who are still outraged after the decision last week overturning the right to abortion found in Roe v. Wade.
Jackson, who's now the first Black woman to serve on the high court, has replaced Justice Stephen Breyer, a Clinton appointee who is retiring upon the end of the Supreme Court's term. Breyer announced his forthcoming departure months ago as progressives urged him to stop to ensure a replacement appointed a Democratic president and confirmed by a Democratic Senate.
The briefing swearing-in was conducted by Chief Justice John Roberts, who administered the oath of office for Brown before a small gathering of Jackson's family, including her two daughters, according to a report in the New York Times.
GLAAD CEO Sarah Kate Ellis said in a statement the beginning of Jackson's tenure on the Supreme Court "will bring long-needed representation to the Supreme Court at a critical juncture in our nation's history, and after the court's disastrous term dismantling personal liberty."
"It bears repeating the obvious that women, people of color and LGBTQ people are Americans deserving of equal protection under law," Ellis said. "Justice Jackson will be a visible and inspiring presence on a court currently dominated by extremists, reminding all that America should always be moving forward to expand freedom."