Istanbul once again bans Pride march
Organizers sharply criticized authorities' decision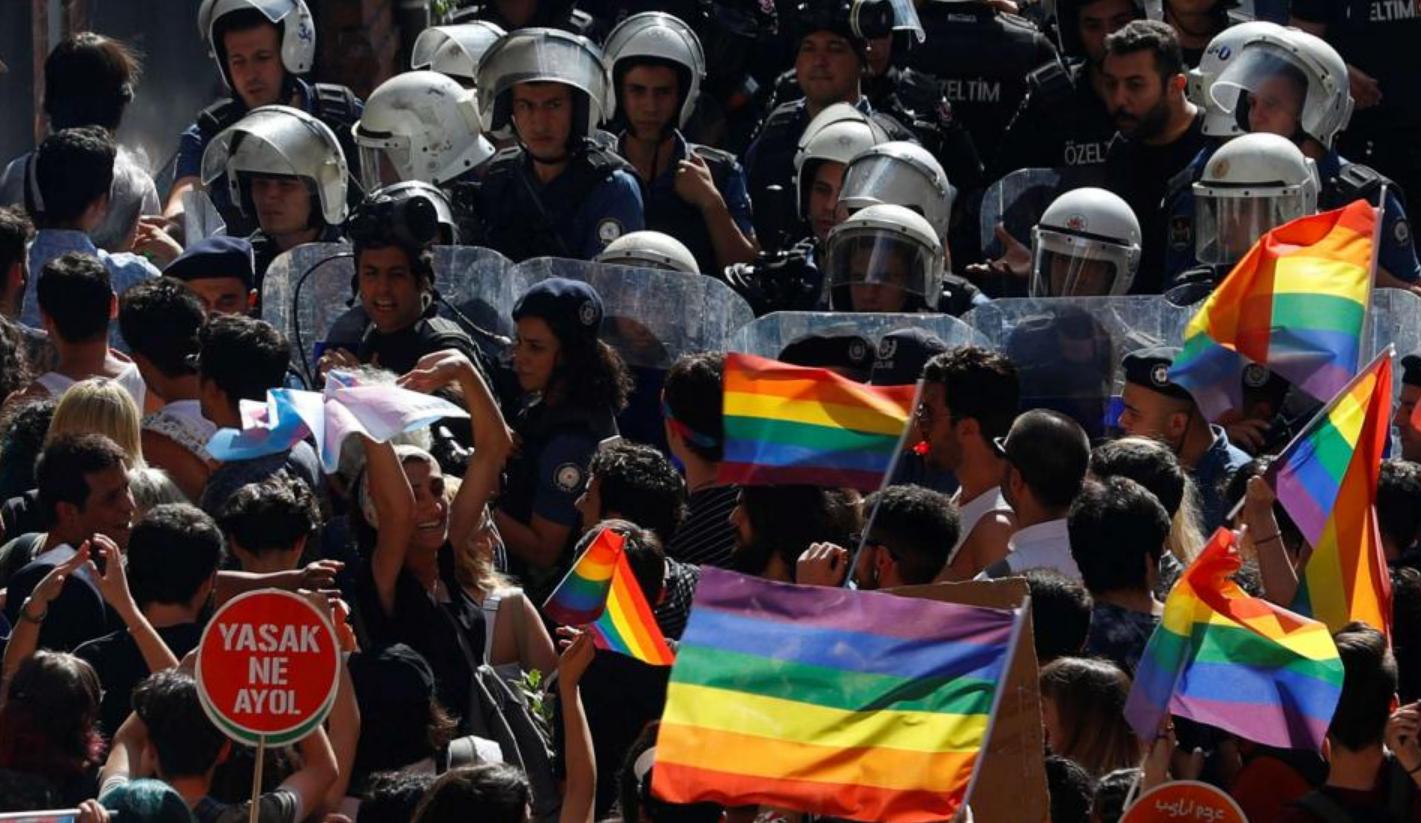 The Beyoğlu and Kadıköy District governors' offices which oversee the mega metropolitan area of this ancient city located on both banks of the Bosporus connecting the Black Sea to the Sea of Marmara have once again banned the city's Pride march.
The governors' offices announced a ban on all gatherings in both districts, where Pride week events have traditionally been held, on Monday, the Diken news site reported, citing the Turkish Law on Demonstrations and Public Meetings.
"We have obtained information that between 21 June 2022 (Tuesday) and 23 June 2022 (Thursday) gatherings, press releases, marches, distribution of leaflets, etc are planned to be held within the scope of the 30th 'Istanbul LGBTI+ Pride Week,'" the governor's statement said.
"All events are banned in all open and closed areas for seven days."
Had the Pride week march and accompanying festivities been allowed to take place, it would have marked the 30th anniversary of Pride in the megacity. Istanbul's Pride Parades, which attracted up to 100,000 people from across the region, have been banned since 2014, with officials citing security reasons for the ban.
In the past years since the ban first was enacted, Turkish police and LGBTQ activists had clashed with police units firing tear-gas pellets at the crowd along with physically violent arrests.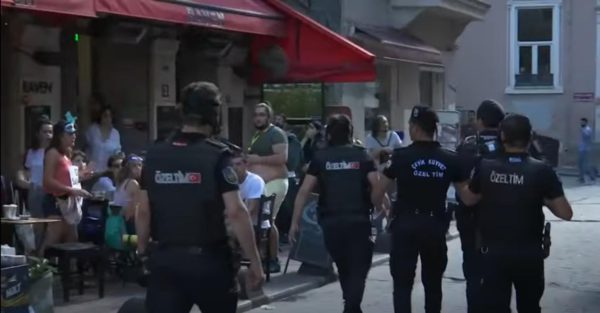 Ahval, an independent Turkish media outlet, reported Monday that Turkey's LGBTQ groups accused the government of President Recep Tayyip Erdoğan of waging a "hate campaign" against them, encouraging violence against a vulnerable community.
Turkey has ranked second worst country in the EU for LGBTQ people, scoring only above Azerbaijan, according the 2022 "Rainbow Europe" ranking compiled by Brussels-based ILGA-Europe.
Less than a week ago in Ankara, Turkish police officers carrying clear-plastic riot shields, wielding batons and deploying pepper powder balls as well as tear gas violently broke up a Pride Parade organized by Middle East Technical University students on their campus.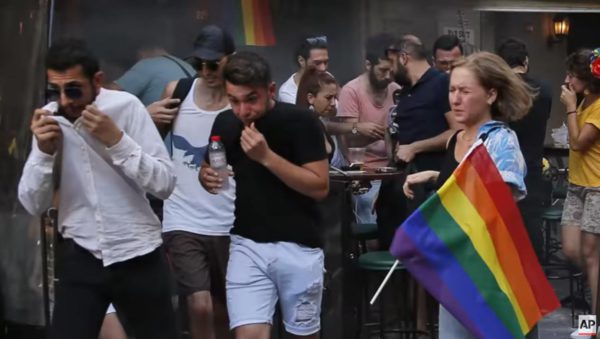 PinkNewsUK reported the Istanbul LGBTQ+ Pride Week Committee issued a statement shortly after the announcement, saying that the decision was "illegal" and that they would use "our rights [to] make the necessary objections".
"Today, with the start of Istanbul 30th LGBTI+ Pride Week, police inspected the venues where the events would take place, under the guise of 'general control,'" the group said. "The law enforcement officers tried to put pressure on the venues by asking for documents such as tax plates."
"We would like to thank our entire network of lawyers and venues that have supported us. We won't give up, we are not afraid!"
More than 10K participate in anti-LGBTQ rights march in Turkey
Organizers called for protection of children from 'LGBTQ terrorist propaganda agenda'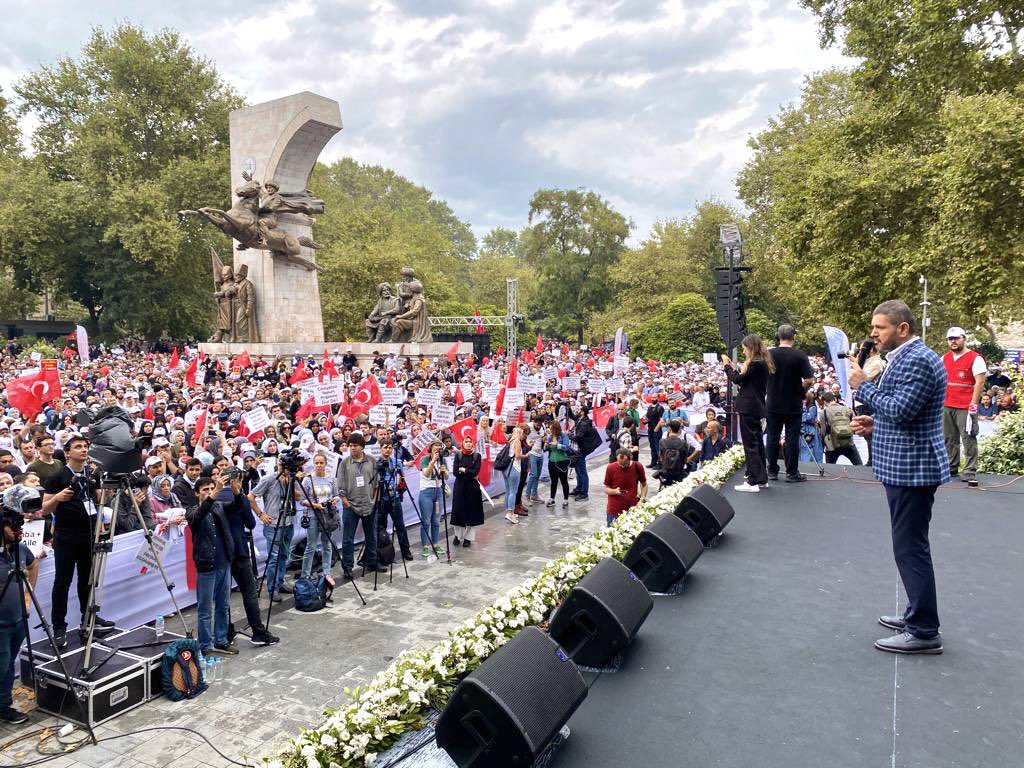 Despite heavy downpours mixed with light rain showers, more than 10,000 anti-LGBTQ protestors gathered in this ancient city and principal seaport of Turkey on Sunday, protesting what organizers said was to protect their children from the "LGBTQ terrorist propaganda agenda."
Billed as the "Great Family Walk" lead organizer Kürşat Mican, speaking to the crowds gathered, demanded that the Turkish government ban all LGBTQ activities and shut down all LGBTQ organizations. The organizers were also demanding that Turkey's parliament ban what they called LGBTQ "evil," which they claimed pervades Netflix, social media, arts and sports in the country.
Gathering at Saraçhane Park, protestors carried signs with the slogan "protect your family and generation," the speakers, in addition to Mican, told the crowd that they were taking action to combat the "LGBT lobby," which they alleged "has become a global problem."
In a tweet Monday, Mican wrote (translated from Turkish): "The fact that tens of thousands of people from all walks of life came together to put a stop to #LGBTdayatması (#LGBTimposition) and draw attention to the danger is an indication of how much our 'Necip Nation' values (a reference to Necip Fazil Kisakürek, Turkish poet, novelist, playwright, and Islamist ideologue) his family and generation. No lobby can bring this strong will to its knees, biiznillah! (Will of Allah.)
Aile olmazsa, millet olmaz!#LGBTdayatması 'na dur demek için her görüşten onbinlerce insanın bir araya gelerek tehlikeye dikkat çekmesi 'Necip Milletimizin' ailesine ve nesline ne kadar değer verdiğinin göstergesidir. Bu güçlü iradeye hiçbir lobi diz çöktüremez biiznillah!🇹🇷 pic.twitter.com/PbTqUCaRmL

— Kürşat MİCAN (@kursatmican) September 19, 2022
The anti-LGBTQ rights were organized by Mican, Ersin Çelik and non-governmental organizations. The march, in which 150 NGOs participated, had a great impact organizers claimed.
Ersin Çelik, a writer for a conservative, Islamist Turkish daily newspaper, Yeni Şafak, has been fighting against LGBTQ rights and making efforts to what he has said on his social media accounts is to "protect young people and children from this trap," called for the march on his social media account.
Mican and other organizers had also circulated a video prior to Sunday's rally that showed clips from previously LGBTQ Pride parades, which was then also broadcast as a public service announcement by Turkish state media, prompting an angered response from the country's LGBTQ advocacy groups and activists.
Others who supported the rally included a popular female Turkish writer known by her pseudonym of Tahteşşuûr who tweeted: "LGBT looking for children to recruit! God damn you. #LGBTdayatması (#LGBTimposition.)"
Saraçhane Parkı #LGBTdayatması'na karşı dolup taşıyor. pic.twitter.com/6gpw2TNnNO

— Özlem Doğan (@ozlemdogan_) September 18, 2022
This year, hundreds of LGBTQ people, allies, and supporters took to the streets of Istanbul this past June in defiance of the Turkish government's ongoing 2014 ban of LGBTQ Pride parades and Pride Month festivities. Protestors violently clashed repeatedly with police and security forces in various neighborhoods located around the Bol Ahenk Sokak and other sections of the central downtown areas.
Government security forces arrested more than 373 people and the largest Turkish LGBTQ activist group, the Ankara-based Kaos GL, documented the arrests and clashes which occurred prior to the 5 p.m. planned parade kick-off in a series of Twitter posts.
Turkish Media Independent Media/News Outlet Ahval has reported that Turkey's LGBTQ groups accuse the government of President Recep Tayyip Erdoğan of waging a "hate campaign" against them, encouraging violence against a vulnerable community.
Turkey has ranked second worst country in the European Union for LGBTQ people, scoring only above Azerbaijan, according the 2022 "Rainbow Europe" ranking compiled by Brussels-based ILGA-Europe.
EuroPride begins in Serbia amid far-right protests
Country's president on Tuesday announced march is banned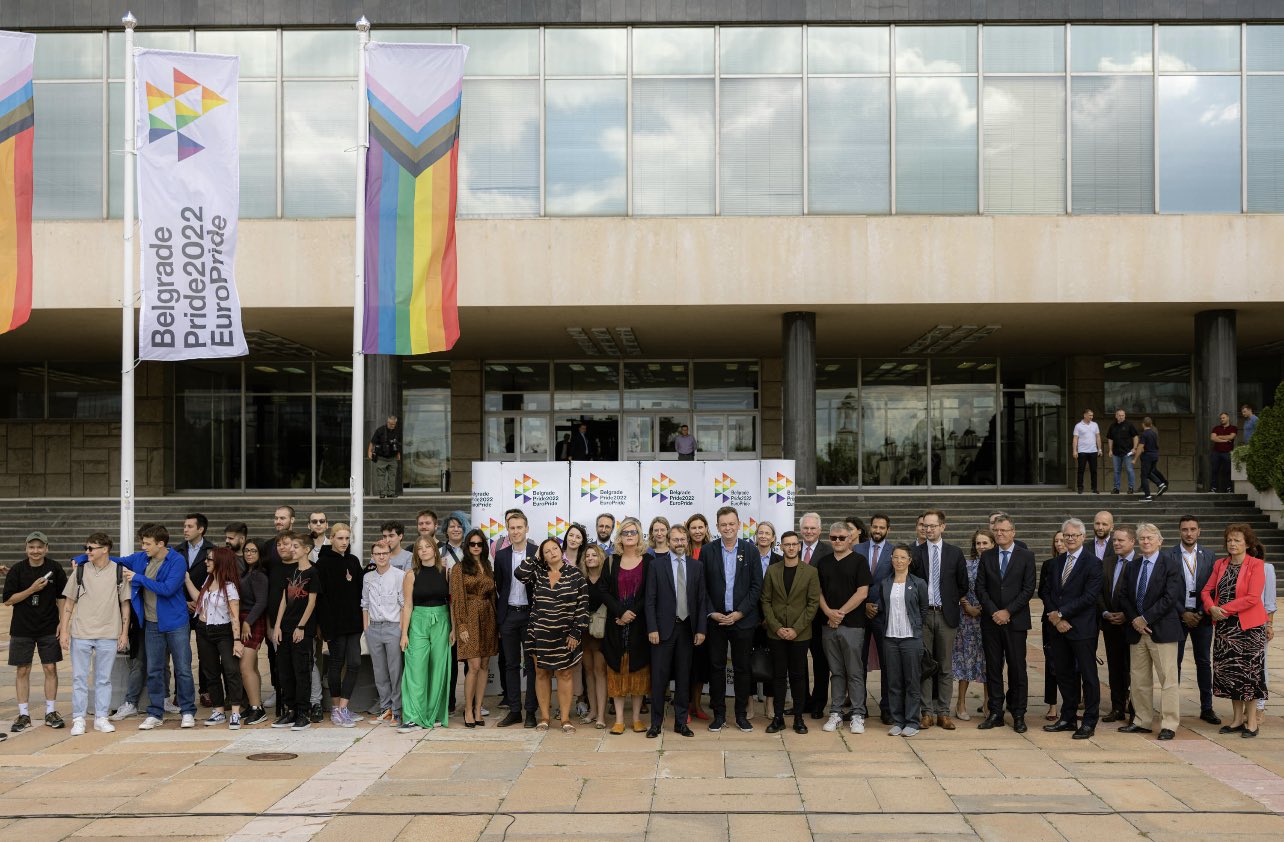 Officials from EuroPride and Belgrade Pride commemorated the start of EuroPride 2022 in the Serbian capital with a ceremonial flag raising Monday as the event gets underway this week.
Concerns however, have been raised over safety for attendees and participants in the wake of massive anti-LGBTQ demonstrations and the government of Serbia issuing a ban.
During a routine Saturday press conference two weeks ago, Serbian President Aleksandar Vucic announced that the international EuroPride event scheduled to be held from Sept. 12-18 was cancelled.
In his remarks the Serbian leader told reporters that his government had come under intense pressure from far right-wing groups and the leadership of the Serbian Orthodox Church to cancel the event. Vucic acknowledged that LGBTQ rights and people in the Balkan nation were under siege and threatened. However he deflected on the issue, "It is not a question of whether [those pressures] are stronger," he said. "It's just that at some point you can't achieve everything, and that's it."
Undaunted, EuroPride and Belgrade Pride defiantly announced that the event would go on as scheduled.
"President Vucic cannot cancel someone else's event. EuroPride is not cancelled, and will not be cancelled," European Pride Organizers Association President Kristine Garina said.
"During the bidding process for EuroPride 2022, (the) prime minister of Serbia, Ana Brnabic promised the full support of the Serbian government for EuroPride in Belgrade, and we expect that promise to be honored," she added.
The kick-off was also attended by U.S. Ambassador to Serbia Christopher R. Hill who tweeted:
"Gratified to see a safe, secure start to #EuroPride2022. Congratulations @BelgradePride, @CDREurope, and the entire team of organizers behind @EuroPride. Looking forward to a week of great events with safety, security, and basic freedoms guaranteed for all."
Gratified to see a safe, secure start to #EuroPride2022. Congratulations to @BelgradePride, @CDREurope, and the entire team of organizers behind @EuroPride. Looking forward to a week of great events with safety, security, and basic freedoms guaranteed for all. pic.twitter.com/H3JtUK6xEA

— Ambassador Christopher R. Hill (@usambserbia) September 12, 2022
On Sunday, several thousands of protesters took to the streets of Belgrade, many carrying huge Serbian and Russian flags, chanting pro-Russia, pro-Vladimir Putin and anti-LGBTQ slogans and marching to Belgrade's St. Sava cathedral for prayers.
Serbian Orthodox Church Patriarch Porfirije led clerics and faithful in a prayer "for the sanctity of marriage and family" that accused "invisible forces" of imposing "ungodly and unnatural unions as a substitute for marriage and family."
Radio Free Europe/Liberty reported that Brnabic, who is openly lesbian and was a participant in a 2017 Pride event in Belgrade, declined to intervene to support holding the EuroPride events in light of the ban decreed by Vucic.
She responded angrily on Monday to a local newspaper editor who accused Brnabic of selling out the LGBTQ community to become a "Progressive," a reference to Vucic's Serbian Progressive Party, which she joined after becoming prime minister as an independent five years ago.
Brnabic accused the editor and other "enlightened elites" of cubbyholing gay people as incapable of holding diverse political views.
"[To them] if you're gay, you can only be gay, period. It's the only thing that defines you," Brnabic tweeted. "You are not the prime minister — but LGBT."
The translation of the tweet below reads: "The essence of discrimination that the "enlightened elite" neither sees nor cares about. If you're gay, you can just be gay, period. It's the only thing that defines you. You are not the prime minister — but LGBT. You are not a member of SNS — but LGBT. And they don't see a single problem with it, they think it's something smart."
Суштина дискриминације коју нити види "просвећена елита" нити их то интересује. Ако си геј, можеш да будеш само геј и тачка. То је једино што те дефинише. Ниси премијер – него ЛГБТ. Ниси члан СНС – него ЛГБТ. И не виде ни један проблем у томе, већ мисле да је то нешто паметно. 🤔 pic.twitter.com/DbEN1xMLGk

— Ana Brnabic (@anabrnabic) September 12, 2022
There has been violence at previous Pride events being held in the Serbian capital city, most notably on Oct. 10, 2010, when anti-LGBTQ and ultra nationalist anti-government protesters fought with about 5,000 armed Serbian police resulting in 78 police officers and 17 civilians that were injured some seriously and more than 100 arrests and detentions.
The violence also severely damaged the car-park building of the ruling pro-European Democratic Party in an act of arson, the state television building and the headquarters of other political parties were also damaged.
The rioting came as Serbia was seeking admittance as a European Union member state.
A spokesperson for the ILGA-Europe said that since 2014 Pride events were held in Belgrade under mostly peaceful conditions, but there is extreme pushback from the ultra-nationalist groups and especially those groups aligned with the Orthodox Church.
On Tuesday, the European Union's Office of the Commissioner for Human Rights, Dunja Mijatović, issued a statement regarding Serbia's stance on EuroPride and the ban by Vucic:
"It is highly regrettable that the Serbian authorities have decided to ban the EuroPride march scheduled for Sept. 17. Weeks of uncertainty concerning the holding of this march have sent a wrong message to the public and made space for hateful rhetoric and more threats against LGBTI people, including from religious leaders," said Mijatović.
"Instead of bowing to threats and hate by banning the EuroPride march, the Serbian authorities have the responsibility to ensure that everyone in society can exercise their right to enjoy the same freedoms and is equal in dignity." Mijatović noted continuing:
"As I have stressed in my conversations with the Serbian authorities at the highest level over the past two weeks, the fact that EuroPride takes place in Serbia this week is also of great significance for the south-eastern European region, where much still needs to be done to combat discrimination and hate against LGBTI people. Hosting EuroPride sends the signal that the march toward equality is in progress. It is positive that Pride marches have taken place peacefully in recent years in Belgrade, Sarajevo, Tirana, Podgorica and Skopje and I call on the Serbian authorities to be on the right side of history by enabling a peaceful and safe EuroPride march next Saturday."
Transgender man attacked during Pride event in Germany dies
Malte C. defended two women from harassment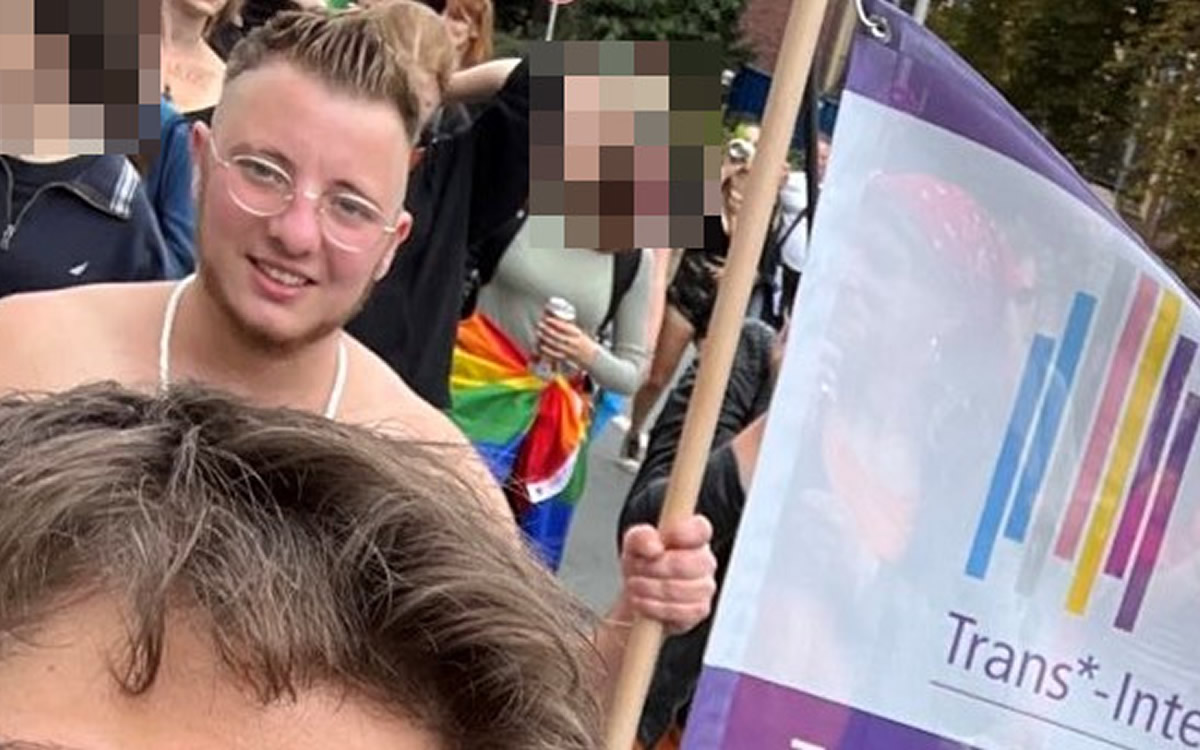 A transgender man who was attacked at a Pride event in Germany last weekend has died.
Deutsche Welle reported Malte C. on Aug. 27 was defending two women at a Pride event in Münster, a city in western Germany, from a man who was harassing them. The man then began to punch Malte C. Deutsche Welle reported Malte C. fell to the ground and lost consciousness.
Trans*-Inter*-Münster, a local advocacy group who said Malte C. was one of its members, in a Facebook post said he suffered a cerebral hemorrhage and had been in a coma at a hospital. 
Malte C. died on Friday.
Deutsche Welle reported police have detained the man suspected of attacking Malte C.
"We are shocked and saddened," said Trans*-Inter*Münster in its Facebook post.
The Lesbian and Gay Association in Germany (Lesben- und Schwulenverbandes in Deutschland in German) also condemned the murder.
"This misanthropic attack is an anti-queer hate crime that makes us angry and saddened," said Andre Lehmann, a member of the Lesbian and Gay Association in Germany's national board of directors, in a statement. "We call on the investigating authorities to immediately name and classify this act as an anti-LGBTI hate crime."
"The attack was not triggered by the young man's efforts to mediate, as stated in a joint press release by the Münster police and public prosecutor's office today, but by the deeply inhumane attitude of the perpetrator," added Lehmann. "This act shows once again how much we need action plans against transphobia and homophobia."
Sven Lehmann, the German government's queer commissioner, is among those who also expressed outrage over Malte C's murder.
"Malte died after a hate attack at CSD (Christopher Street Day) Münster. I am stunned and sad ," tweeted Sven Lehmann. "My condolences and deepest sympathies go out to his family and friends. Violence against queer people is a threat we all need to confront."
Nach einer Hassattacke beim CSD Münster ist #Malte verstorben. Ich bin fassungslos + traurig. Mein Beileid + tiefes Mitgefühl gilt seinen Angehörigen + Freund*innen. Gewalt gegen queere Menschen ist eine Bedrohung, der wir alle uns entgegen stellen müssen.https://t.co/J5JEWYAelQ

— Sven Lehmann (er/he) (@svenlehmann) September 2, 2022