Stonewall National Monument Visitor Center set to open in 2024
"The opening of the Stonewall National Monument Visitor Center is a remarkable moment in the history of Stonewall"
Pride Live, a social advocacy and community engagement organization for the LGBTQ+ community, announced plans this week to open the Stonewall National Monument Visitor Center (SNMVC).
When open, this will be the first LGBTQ+ visitor center within the National Park Service (NPS), system of parks and monuments. According to organizers, the center marks a landmark achievement and leap forward in American history. The SNMVC is scheduled to open in the summer of 2024 and will occupy nearly 3,700 square feet at 51 Christopher Street, between Waverly Place and 7th Avenue South in New York City.
Pride Live also noted that with support from Google, the groundbreaking ceremony will be livestreamed at YouTube.com/c/pridelive at 10:30AM ET on June 24.
When the Stonewall Rebellion took place on June 28, 1969, the Stonewall Inn was made up of two locations – 53 Christopher Street, where the current Stonewall Inn bar is located today, and 51 Christopher Street.
Located at 51 Christopher Street, the future home of the SNMVC will reunite the historic Stonewall Inn and commemorate the events of the Stonewall Rebellion in their authentic locations.
"The opening of the Stonewall National Monument Visitor Center is a remarkable moment in the history of Stonewall," said Ann Marie Gothard, President of the Pride Live Board of Directors. "We honor all those who came before us, most especially the queer people fighting for equality at the Stonewall Rebellion. The designation as a National Monument and the opening of this visitor center will memorialize their important legacy in the gay rights movement, and we hope will inspire future generations to continue fighting for LGBTQ+ equality."
In a press release, PrideLive noted: "With a mission to preserve, advance and celebrate the legacy of the Stonewall Rebellion and the Stonewall National Monument, the SNMVC will serve as a beacon for generations to come, providing the unique opportunity to visit the very site where history was made and where the fight for LGBTQ+ equality visibly shifted with new waves of activism. The SNMVC will offer an immersive experience welcoming all people to explore and experience LGBTQ+ history and culture through in-person and virtual tours, lecture series, exhibitions and visual arts displays. In addition, the SNMVC will serve as home base for the dedicated National Park Service Rangers, who are responsible for the preservation of the Stonewall National Monument."
"The designation of Stonewall as a National Monument is an important step in memorializing an invaluable historical landmark that represents courage, hope and triumph for the LGBTQ community," said Secretary of the Interior Deb Haaland. "As President Biden declared in Title VII, 'every person should be treated with respect and dignity and should be able to live without fear,' and the Stonewall National Monument Visitor Center will serve as a place where the LGBTQ community can safely gather to celebrate and commemorate its hard-fought history."
"The new Stonewall National Monument Visitor Center will serve as an important memorial for the Stonewall Uprising, an iconic and pivotal moment in the essential effort to fully realize America's founding ideal that we are all created equal," said U.S. Senator Chuck Schumer. "I'm proud New York will be home to the first LGBTQ+ visitor center within the National Park Service, honoring the LGBTQ+ community and their history. As a proud parent of a LGBTQ+ person, I won't stop fighting against the unprecedented and unjust discrimination the LGBTQ+ community continues to face today."
Founding supporters of the SNMVC include Google – the first corporate partner to sign on, The Kors Le Pere Foundation, JPMorgan Chase & Co., AARP, Target, David Yurman, Amazon, National Football League, Ellen DeGeneres and Portia de Rossi, Lana and Lilly Wachowski, United Therapeutics, New York Yankees and global activist and ally Josephine Skriver, who made the inaugural donation to the campaign.
"It's vital to create safe and inclusive spaces for the LGBTQ community, and we are proud to support the opening of the Stonewall National Monument Visitor Center, a space that will memorialize the legacy of Stonewall," said William Floyd, Senior Director of Public Policy at Google. "This groundbreaking is a significant moment in LGBTQ history, and we are thrilled to share this remarkable occasion with a global audience through our YouTube livestream."
Designated by President Barack Obama on June 24, 2016, the Stonewall National Monument includes the 0.19-acre formerly known as Christopher Park and the surrounding streets including Christopher Street adjacent to the park. The Stonewall National Monument is the first U.S. national monument dedicated to LGBTQ+ rights and history.
The journey in recognizing LGBTQ+ history as American history was aided by entrepreneur, philanthropist and LGBTQ+ activist Tim Gill.
In 2014, the Gill Foundation recognized a glaring omission of historic LGBTQ sites in the nation's official records, and the organization made a grant to the National Park Service to commission a first-of-its-kind LGBTQ Theme Study, published in 2016. A separate advocacy campaign to designate the Stonewall National Monument was spearheaded by the National Parks Conservation Association, which worked with elected officials, NPS, historians and community stakeholders, culminating in 2016.
"The Stonewall National Monument provides the LGBTQ+ community with a physical representation of the struggle for justice and equal treatment under the law and in our society," said Assemblymember Deborah J. Glick. "This place allows for interpretation of the long path that our community has been on and is a way to teach all Americans about who we are. I was proud to be part of the effort to create this monument and am elated to see the groundbreaking of the Stonewall National Monument Visitor Center, which will truly make LGBTQ+ history a part of what draws people to New York City and give weight to our historical record."
"I was proud to champion the effort to designate the first-ever national monument to LGBTQ+ history at the historic site of the Stonewall Uprising in New York City," said Congressman Jerrold Nadler. "The opening of the Stonewall National Monument Visitor Center will allow Americans to learn about these critical events in our history. Now more than ever, it is essential that we recognize the events at Stonewall that launched the modern LGBTQ+ civil rights movement here and worldwide. Since President Obama designated the monument, millions of Americans have had the chance to learn about these historic events. This new visitor center will honor the legacy of the brave members of the LGBTQ+ community who fought for their civil rights and support those who continue the fight for full equality today."
The Stonewall National Monument Visitor Center will be funded by donations from the community and allies. To support this historic effort, please visit www.stonewallvisitorcenter.org or text REBEL to 243725.
For more information, visit www.stonewallvisitorcenter.org
U.S. Supreme Court ruling allows Biden administration to end MPP
Trump-era policy placed LGBTQ asylum seekers at increased risk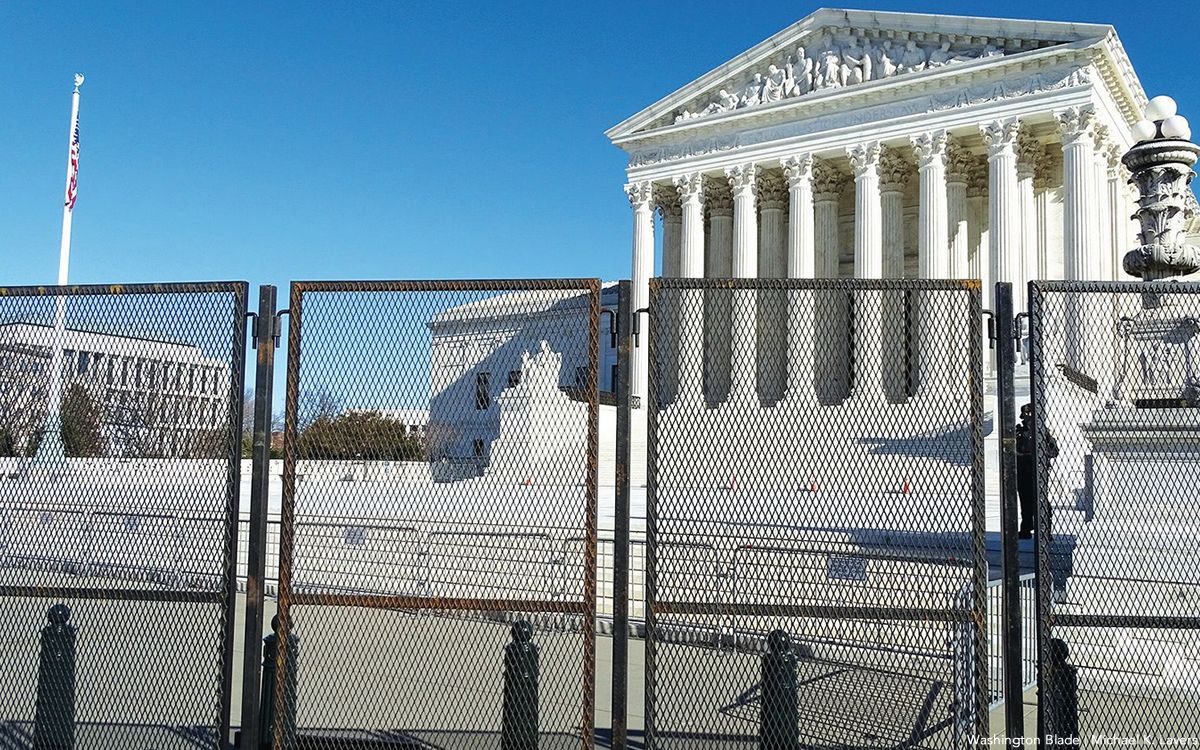 The U.S. Supreme Court on Thursday in a 5-4 ruling said the Biden administration can end a policy that forced asylum seekers to pursue their cases in Mexico.
The previous White House's Migrant Protection Protocols program, which became known as the "Remain in Mexico" policy, took effect in 2019.
The Biden administration suspended MPP enrollment shortly after it took office in January 2021. The program was to have ended six months later, but a federal judge in Texas ordered MPP's reinstatement after the state and Missouri filed suit against the Biden administration.
Thursday's ruling sends the Texas and Missouri case back to lower courts.
"As Secretary Mayorkas concluded in October 2021 after a thorough review, the prior administration's Migrant Protection Protocols (MPP) has endemic flaws, imposes unjustifiable human costs and pulls resources and personnel away from other priority efforts to secure our border," said the Department of Homeland Security in a statement. "We welcome the Supreme Court's decision affirming that the Secretary has the discretionary authority to terminate the program, and we will continue our efforts to terminate the program as soon as legally permissible."
U.S. Sen. Alex Padilla (D-Calif.) also welcomed the ruling.
"Today's Supreme Court decision correctly acknowledges the Biden administration's authority to end the unlawful and cruel 'Remain in Mexico' program," he said in a statement. "For more than three years, this horrifying policy has denied asylum seekers their right to due process and subjected them to crimes like rape, kidnapping and torture in northern Mexican border cities while they await their court hearings."
Advocates sharply criticized MPP, in part, because it made LGBTQ and intersex asylum seekers who were forced to live in Tijuana, Ciudad Juárez, Reynosa, Matamoros and other Mexican border cities even more vulnerable to violence and persecution based on their sexual orientation and gender identity.
[email protected] Coalition President Bamby Salcedo on Thursday told the Washington Blade the Supreme Court ruling "will certainly impact our community in a positive way."
"We know that people who have to remain in Mexico to wait continue to be victims of violence," said Salcedo. "This is definitely a step in the right direction and we're grateful that this happened in this way."
Emilio Vicente, communications and policy director of Familia: TQLM, an organization that advocates on behalf of transgender and gender non-conforming immigrants, echoed Salcedo.
"We're glad to finally have some good news from the Supreme Court after horrible rulings on abortions, climate change, Native American rights," said Vicente. "Ending 'Remain in Mexico' will allow LGBTQ+ asylum seekers who face increased discrimination and abuse during the journey to the U.S., to be able to seek asylum here."
Abdiel Echevarría-Cabán is a South Texas-based immigration attorney and human rights law and policy expert who the LGBTQ+ Bar in 2021 recognized as one of its 40 best LGBTQ lawyers who are under 40.
He told the Blade on Thursday the Supreme Court ruling is "a victory we must celebrate." Echevarría-Cabán also said MPP placed LGBTQ and intersex asylum seekers at increased risk.
"Refugees in general, but especially LGBT refugees, are extremely vulnerable to other type of harms such as kidnappings by cartel members, extortion, physical and psychological abuses from Mexican law enforcement authorities and third parties given the high levels of discrimination for LGBT refugees in Mexico," said Echevarría-Cabán.
The Supreme Court issued its ruling a day after the Justice Department filed charges against four people in connection with the deaths of 53 migrants who were found in the back of a tractor trailer truck in San Antonio.
The Biden administration in April announced its plans to terminate Title 42, a Centers for Disease Control and Prevention rule that closed the Southern border to most asylum seekers and migrants because of the pandemic. Title 42 was to have ended on May 23, but a federal judge ruled against the White House.
"This decision isn't the end of the fight for ensuring that people seeking asylum get asylum but it's an important step in protecting vulnerable people," Vicente told the Blade after Thursday's ruling. "President Biden must follow through on his commitment to end MPP and protect all asylum seekers."
Salcedo noted to the Blade the "system, as it is, particularly when it comes to trans women, needs to be completely changed so that we can be at a better place as a community." Padilla in his statement urged the Biden administration "to do everything in its power to swiftly end 'Remain in Mexico' once and for all."
"Misguided and inhumane Trump-era policies like 'Remain in Mexico' and Title 42 have only decimated an already broken immigration system," he said. "We must keep working to restore the lawful processing of asylum seekers at the border, in keeping with America's most deeply held values as a nation of immigrants."
The Department of Homeland Security in its statement notes Title 42 remains in place.
"The department also continues to enforce our immigration laws at the border and administer consequences for those who enter unlawfully, and will continue the court-mandated enforcement of the Centers for Disease Control and Prevention's Title 42 public health order," it reads.
Kamala Harris hosts Pride month reception
Upwards of 200 people attended Naval Observatory event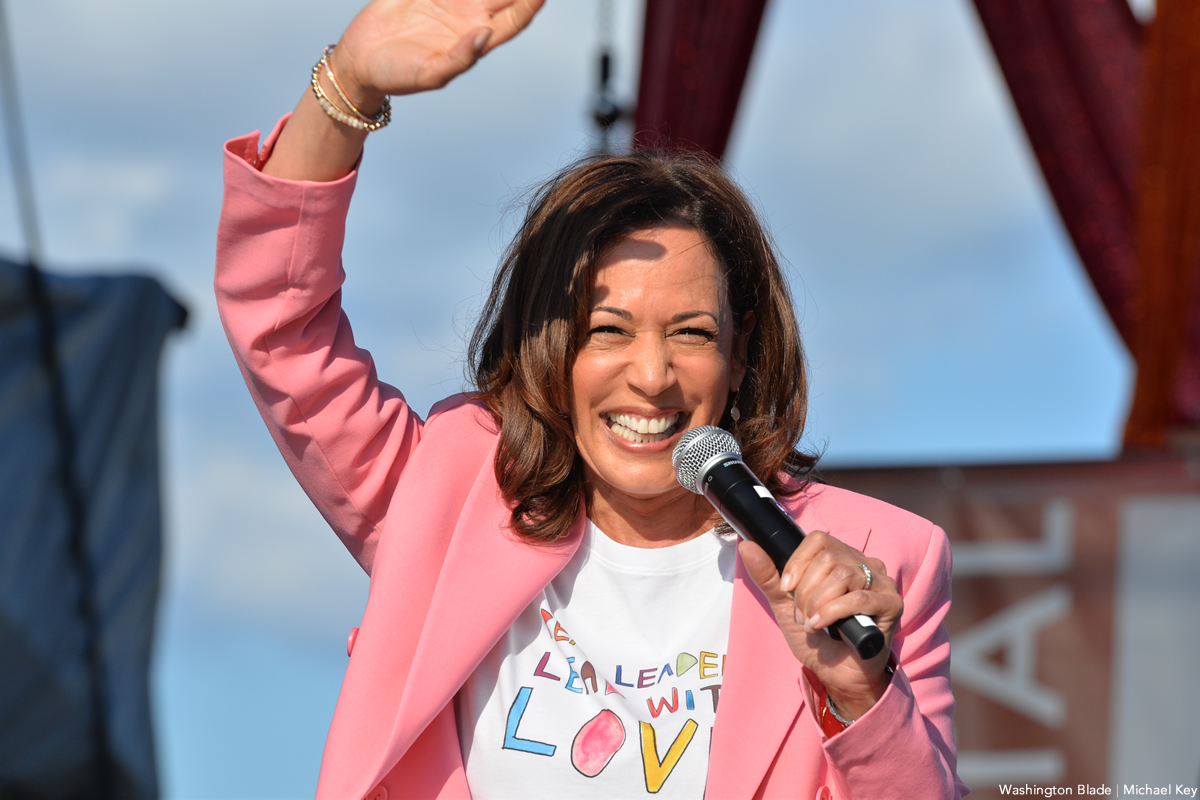 Vice President Kamala Harris helped bring Pride Month to a close Tuesday at her residence with a celebration for high-profile members of the LGBTQ community, recognizing successes achieved but also urging continued movement.
"When we celebrate Pride, it's because we understand not only the strength of what we have accomplished, and the fight for equality, but we [also] understand the fragility of these gains, and so we know what we must do to be vigilant and maintain [those rights]," Harris said.
The Advocate reported in coverage of the event the Pride celebration was the first ever to take place at the vice president's residence, but that's incorrect.
President Biden as vice president hosted a Pride event with LGBTQ leaders in 2014. Harris also said during the event her understanding was it was a first for a sitting vice president.
An estimated 200 attendees were present for the event at the Naval Observatory in D.C., which serves as the vice president's official residence. Guests at the party mingled by the pool and partook of drinks served on a spinning wheel placed just outside.
High-profile officials from the Biden administration who were present included Transportation Secretary Pete Buttigieg and Interior Secretary Deb Haaland. Neither delivered remarks. Also at the event was "RuPaul's Drag Race" star Shangela, who addressed the crowd.
Kris Perry and Sandy Stier, who were among in plaintiffs in the litigation against California's Proposition 8, were also present at the event. Harris married the couple in 2013 as soon as the U.S. Supreme Court issued a ruling restoring marriage equality to the state.
Perry and Stier spoke before the crowd and urged them to continue to stand strong in the aftermath of the Supreme Court's recent decision overturning Roe v. Wade.
Ketanji Brown Jackson sworn in as first Black woman Supreme Court justice
Roe v. Wade struck down last Friday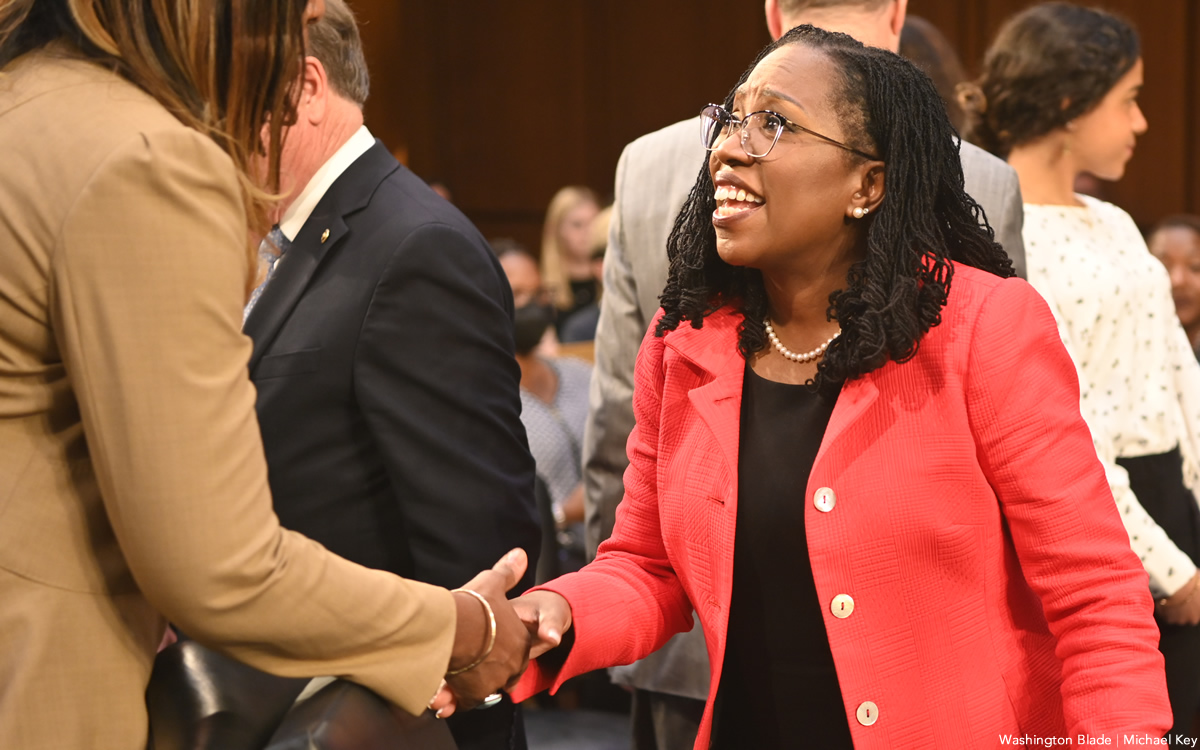 Ketanji Brown Jackson was sworn in Thursday as the newest member of the U.S. Supreme Court, representing a welcome change on the bench for progressives who are still outraged after the decision last week overturning the right to abortion found in Roe v. Wade.
Jackson, who's now the first Black woman to serve on the high court, has replaced Justice Stephen Breyer, a Clinton appointee who is retiring upon the end of the Supreme Court's term. Breyer announced his forthcoming departure months ago as progressives urged him to stop to ensure a replacement appointed a Democratic president and confirmed by a Democratic Senate.
The briefing swearing-in was conducted by Chief Justice John Roberts, who administered the oath of office for Brown before a small gathering of Jackson's family, including her two daughters, according to a report in the New York Times.
GLAAD CEO Sarah Kate Ellis said in a statement the beginning of Jackson's tenure on the Supreme Court "will bring long-needed representation to the Supreme Court at a critical juncture in our nation's history, and after the court's disastrous term dismantling personal liberty."
"It bears repeating the obvious that women, people of color and LGBTQ people are Americans deserving of equal protection under law," Ellis said. "Justice Jackson will be a visible and inspiring presence on a court currently dominated by extremists, reminding all that America should always be moving forward to expand freedom."