Biden administration proposes expanded LGBTQ student protections
Education Secretary Miguel Cardona made announcement on Thursday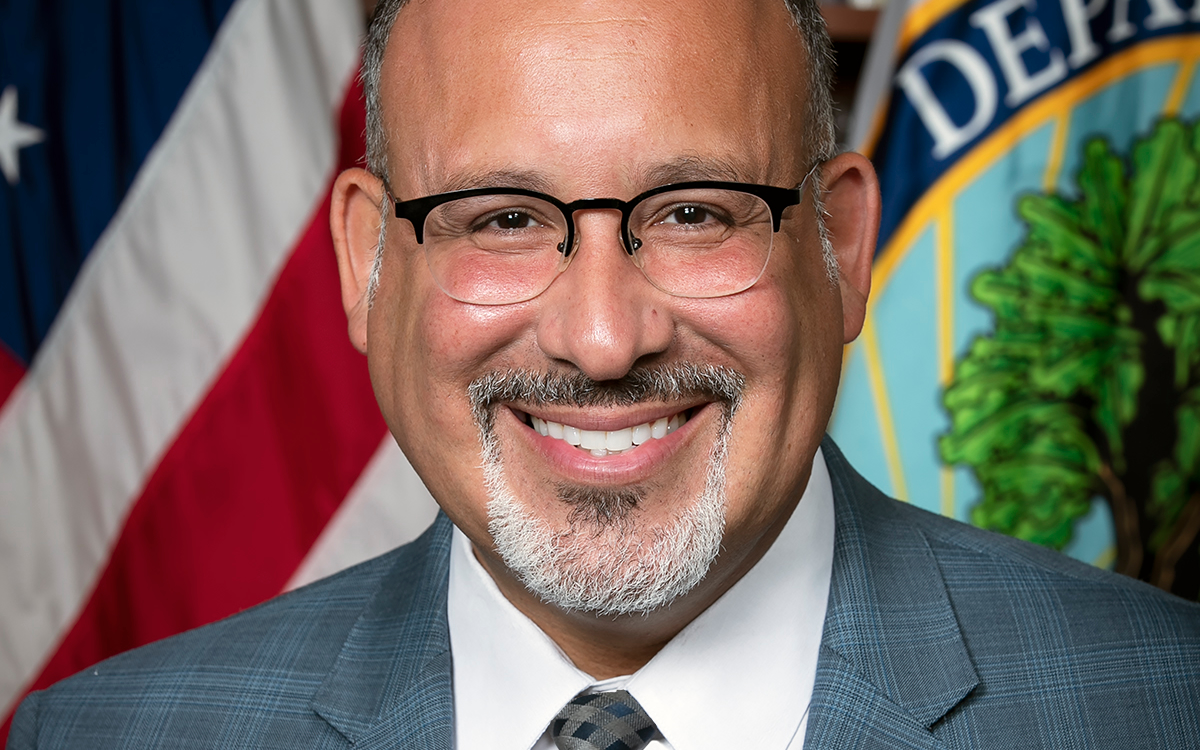 The Biden administration announced that it is proposing overhauling provisions of rules and guidance expanding Title IX protections for LGBTQ students, a dramatic overhaul of campus sexual assault rules, and bolstering rules governing colleges' responsibilities in addressing sexual misconduct.
In making the announcement for the proposed changes on Thursday, Education Secretary Miguel Cardona said, "As we celebrate the 50th anniversary of this landmark law, our proposed changes will allow us to continue that progress and ensure all our nation's students — no matter where they live, who they are, or whom they love — can learn, grow, and thrive in school."
In the previous Trump administration, then-Education Secretary Betsy DeVos had issued a controversial new policy in May 2020 that created new rules mandating how schools and universities responded to complaints of sexual misconduct and bolstered the rights of the accused and narrowing the scope of cases colleges are required to investigate.
The Associated Press had reported under the new rules, the definition of sexual harassment is narrowed to include "unwelcome conduct determined by a reasonable person to be so severe, pervasive, and objectively offensive" that it denies a person access to a school's education programs or activity.
The rules received pushback from opponents including the National Women's Law Center.
"We refuse to go back to the days when rape and harassment in schools were ignored and swept under the rug," Fatima Goss Graves, the group's president and CEO told the Associated Press. "We won't let DeVos succeed in requiring schools to be complicit in harassment, turning Title IX from a law that protects all students into a law that protects abusers and harassers."
The proposed regulations would:
Clearly protect students and employees from all forms of sex discrimination.
Provide full protection from sex-based harassment.
Protect the right of parents and guardians to support their elementary and secondary school children.
Require schools to take prompt and effective action to end any sex discrimination in their education programs or activities – and to prevent its recurrence and remedy its effects.
Protect students and employees who are pregnant or have pregnancy-related conditions.
Require schools to respond promptly to all complaints of sex discrimination with a fair and reliable process that includes trained, unbiased decisionmakers to evaluate the evidence.
Require schools to provide supportive measures to students and employees affected by conduct that may constitute sex discrimination, including students who have brought complaints or been accused of sex-based harassment.
Protect LGBTQI+ students from discrimination based on sexual orientation, gender identity, and sex characteristics.
Clarify and confirm protection from retaliation for students, employees, and others who exercise their Title IX rights.
Improve the adaptability of the regulations' grievance procedure requirements so that all recipients can implement Title IX's promise of nondiscrimination fully and fairly in their educational environments.
Ensure that schools share their nondiscrimination policies with all students, employees, and other participants in their education programs or activities.
A press release from the Cardona's office, spelled out that the proposed regulations will advance Title IX's goal of ensuring that no person experiences sex discrimination, sex-based harassment, or sexual violence in education.
As the U.S. Supreme Court wrote in Bostock v. Clayton County, 140 S. Ct. 1731 (2020), it is "impossible to discriminate against a person" on the basis of sexual orientation or gender identity without "discriminating against that individual based on sex."
The regulations will require that all students receive appropriate supports in accessing all aspects of education. They will strengthen protections for LGBTQI+ students who face discrimination based on sexual orientation or gender identity. And they will require that school procedures for complaints of sex discrimination, including sexual violence and other sex-based harassment, are fair to all involved.
The new rules proposal is almost certain to be challenged by the right-wing and it is expected to lead to new legal fights over the rights of trans students in schools and universities, especially in sports."
As we mark #TitleIXAt50 today, here are six #TitleIX changes ED is proposing to ensure federally funded education programs & activities are free from ALL forms of sex discrimination: [🧵⬇️] pic.twitter.com/C9w4QAKEOj

— U.S. Department of Education (@usedgov) June 23, 2022
Kamala Harris hosts Pride month reception
Upwards of 200 people attended Naval Observatory event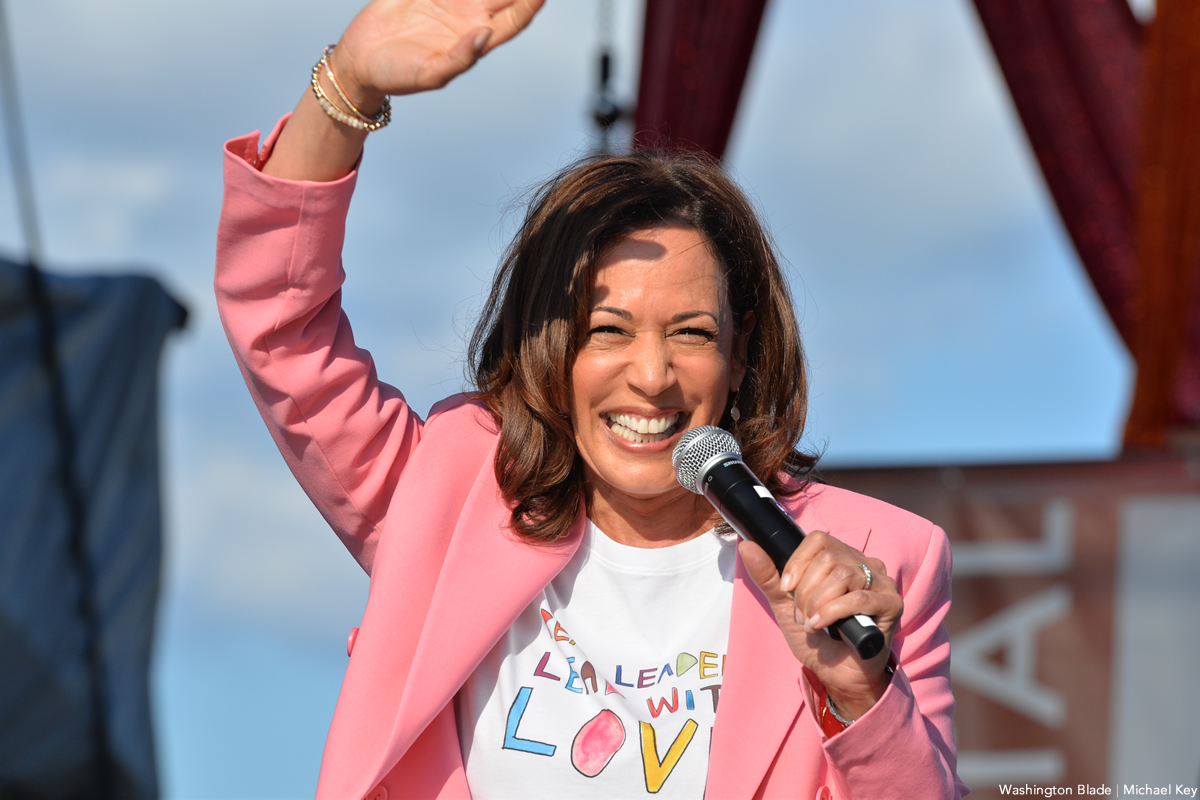 Vice President Kamala Harris helped bring Pride Month to a close Tuesday at her residence with a celebration for high-profile members of the LGBTQ community, recognizing successes achieved but also urging continued movement.
"When we celebrate Pride, it's because we understand not only the strength of what we have accomplished, and the fight for equality, but we [also] understand the fragility of these gains, and so we know what we must do to be vigilant and maintain [those rights]," Harris said.
The Advocate reported in coverage of the event the Pride celebration was the first ever to take place at the vice president's residence, but that's incorrect.
President Biden as vice president hosted a Pride event with LGBTQ leaders in 2014. Harris also said during the event her understanding was it was a first for a sitting vice president.
An estimated 200 attendees were present for the event at the Naval Observatory in D.C., which serves as the vice president's official residence. Guests at the party mingled by the pool and partook of drinks served on a spinning wheel placed just outside.
High-profile officials from the Biden administration who were present included Transportation Secretary Pete Buttigieg and Interior Secretary Deb Haaland. Neither delivered remarks. Also at the event was "RuPaul's Drag Race" star Shangela, who addressed the crowd.
Kris Perry and Sandy Stier, who were among in plaintiffs in the litigation against California's Proposition 8, were also present at the event. Harris married the couple in 2013 as soon as the U.S. Supreme Court issued a ruling restoring marriage equality to the state.
Perry and Stier spoke before the crowd and urged them to continue to stand strong in the aftermath of the Supreme Court's recent decision overturning Roe v. Wade.
Biden labels Supreme Court ruling on Roe v. Wade 'a sad day for court'
"Imagine, woman having to carry a child that's a consequence of incest, with no option" to terminate the pregnancy, Biden said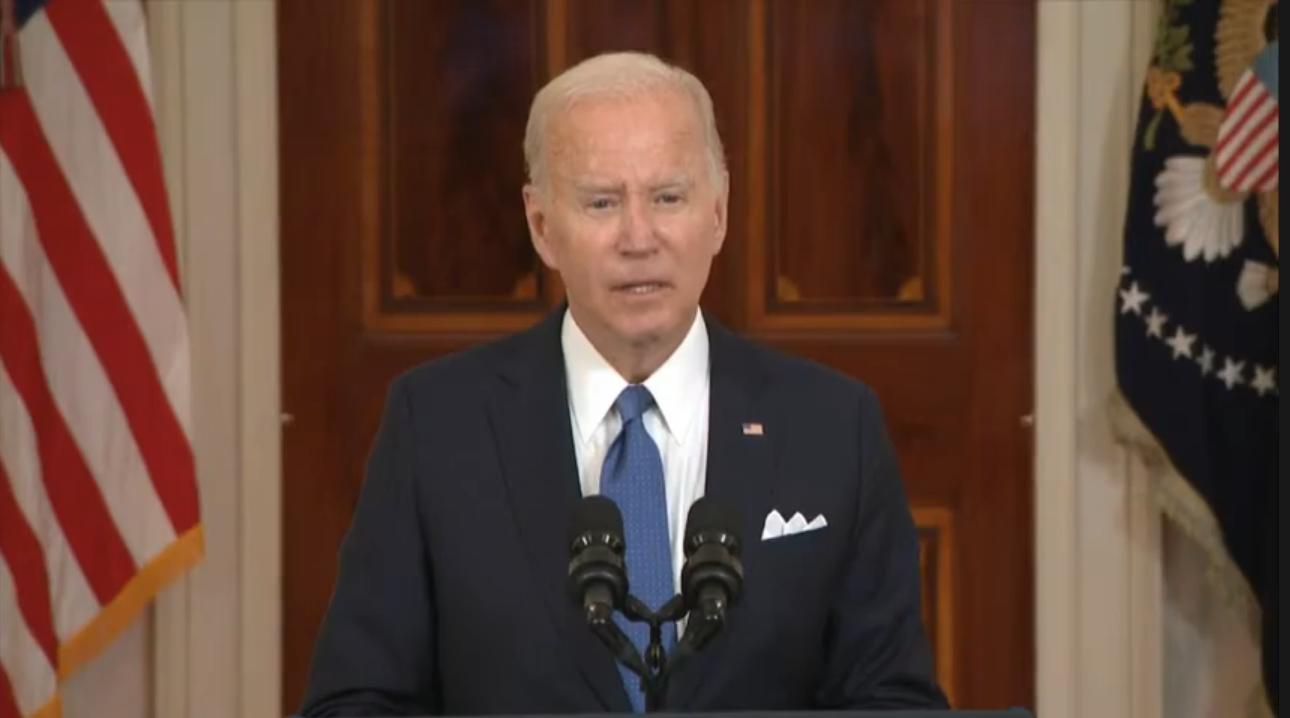 WASHINGTON – Just after the Supreme Court's conservative majority moved to overturn the constitutional right to abortion on Friday in a 6-3 ruling, President Joe Biden vowed to protect American women from prosecution for traveling to other states to terminate their pregnancies.
Thirteen states have made or will soon make abortion illegal, some without exceptions for rape and incest, following today's ruling. After a draft of that ruling was leaked in May, some state legislatures considered bills to prevent women from circumventing their restrictions on abortion.
"If any state or local official high or low tries to interfere with a woman exercising her basic right to travel, I will do everything in my power to fight that unamerican attack," Biden said.
Delivering his remarks from the Great Cross Hall of the White House, the President looked visibly upset, particularly when discussing the extreme abortion bans in some states that will now be allowed to go into effect.
"They are so extreme that women can be punished for protecting their health; that some women and girls will be forced to bear their rapists' child," Biden said. It was at this point that he appeared to go off-script to share his personal feelings on the ruling and its implications. "It just stuns me," he said. "Imagine, woman having to carry a child that's a consequence of incest, with no option" to terminate the pregnancy.
Biden called for those who share his anger and outrage – many who gathered on the steps of the Supreme Court in protest – to remain peaceful. He urged Americans to vote to give Democrats in Congress the majority that will be necessary for them to codify the constitutional right to abortion first established by the Supreme Court's 1973 ruling in Roe v. Wade and overturned today with the decision in Dobbs v. Jackson Women's Health.
Biden warned of the "dangerous path the court is taking us on," pointing to Justice Thomas's comments in the decision that "In future cases, we should reconsider all of this court's substantive due process precedents, including Griswold, Lawrence, and Obergefell."
Should the court revisit the precedents established by those cases, it could mean constitutional protections for the return of laws banning birth control, sodomy and same-sex marriage.
Biden noted Americans' constitutional right to abortion was affirmed in multiple decisions by the Supreme Court, endorsed by justices who were appointed by presidents from both parties.
"It was three justices named by one president, Donald Trump, who were the core of today's decision to upend the scales of justice and eliminate a fundamental right for women in this country," Biden said.
President Biden speaks on Supreme Court decision to overturn Roe v. Wade:
Full transcript:
REMARKS BY PRESIDENT BIDEN
ON THE SUPREME COURT DECISION
TO OVERTURN ROE V. WADE
Today is a — it's not hyperbole to suggest a very solemn moment. Today, the Supreme Court of the United States expressly took away a constitutional right from the American people that it had already recognized.

They didn't limit it. They simply took it away. That's never been done to a right so important to so many Americans.

But they did it. And it's a sad day for the Court and for the country.

Fifty years ago, Roe v. Wade was decided and has been the law of the land since then.

This landmark case protected a woman's right to choose, her right to make intensely personal decisions with her doctor, free from the inter- — from interference of politics.

It reaffirmed basic principles of equality — that women have the power to control their own destiny. And it reinforced the fundamental right of privacy — the right of each of us to choose how to live our lives.

Now, with Roe gone, let's be very clear: The health and life of women in this nation are now at risk.

As Chairman and Ranking Member of the Senate Judiciary Committee, as Vice President and now as President of the United States, I've studied this case carefully. I've overseen more Supreme Court confirmations than anyone today, where this case was always discussed.

I believe Roe v. Wade was the correct decision as a matter of constitutional law, an application of the fundamental right to privacy and liberty in matters of family and personal autonomy.

It was a decision on a complex matter that drew a careful balance between a woman's right to choose earlier in her pregnancy and the state's ability to regulate later in her pregnancy. A decision with broad national consensus that most Americans of faiths and backgrounds found acceptable and that had been the law of the land for most of the lifetime of Americans today.

And it was a constitutional principle upheld by justices appointed by Democrat and Republican Presidents alike.

Roe v. Wade was a 7 to 2 decision written by a justice appointed by a Republican President, Richard Nixon. In the five decades that followed Roe v. Wade, justices appointed by Republican Presidents — from Eisenhower, Nixon, Reagan, George W. [H.W.] Bush — were among the justices who voted to uphold the principles set forth in Roe v. Wade.

It was three justices named by one President — Donald Trump — who were the core of today's decision to upend the scales of justice and eliminate a fundamental right for women in this country.

Make no mistake: This decision is the culmination of a deliberate effort over decades to upset the balance of our law. It's a realization of an extreme ideology and a tragic error by the Supreme Court, in my view.

The Court has done what it has never done before: expressly take away a constitutional right that is so fundamental to so many Americans that had already been recognized.

The Court's decision to do so will have real and immediate consequences. State laws banning abortion are automatically taking effect today, jeopardizing the health of millions of women, some without exceptions.

So extreme that women could be punished for protecting their health.

So extreme that women and girls who are forced to bear their rapist's child — of the child of consequence.

It's a — it just — it just stuns me.

So extreme that doctors will be criminalized for fulfilling their duty to care.

Imagine having — a young woman having to ch- — carry the child of incest — as a consequence of incest. No option.

Too often the case that poor women are going to be hit the hardest. It's cruel.

In fact, the Court laid out state laws criminalizing abortion that go back to the 1800s as rationale — the Court literally taking America back 150 years.

This a sad day for the country, in my view, but it doesn't mean the fight is over.

Let me be very clear and unambiguous: The only way we can secure a woman's right to choose and the balance that existed is for Congress to restore the protections of Roe v. Wade as federal law.

No executive action from the President can do that. And if Congress, as it appears, lacks the vote — votes to do that now, voters need to make their voices heard.

This fall, we must elect more senators and representatives who will codify a woman's right to choose into federal law once again, elect more state leaders to protect this right at the local level.

We need to restore the protections of Roe as law of the land. We need to elect officials who will do that.

This fall, Roe is on the ballot. Personal freedoms are on the ballot. The right to privacy, liberty, equality, they're all on the ballot.

Until then, I will do all in my power to protect a woman's right in states where they will face the consequences of today's decision.

While the Court's decision casts a dark shadow over a large swath of the land, many states in this country still recognize a woman's right to choose.

So if a woman lives in a state that restricts abortion, the Supreme Court's decision does not prevent her from traveling from her home state to the state that allows it. It does not prevent a doctor in that state — in that state from treating her.

As the Attorney General has made clear, women must remain free to travel safely to another state to seek the care they need. And my administration will defend that bedrock right.

If any state or local official, high or low, tries to interfere with a woman's ex- — exercising her basic right to travel, I will do everything in my power to fight that deeply un-American attack.

My administration will also protect a woman's access to medications that are approved by the Food and Drug Administration — the FDA — like contraception, which is essential for preventative healthcare; mifepristone, which the FDA approved 20 years ago to safely end early pregnancies and is commonly used to treat miscarriages.

Some states are saying that they'll try to ban or severely restrict access to these medications.

But extremist governors and state legislators who are looking to block the mail or search a person's medicine cabinet or control a woman's actions by tracking data on her apps she uses are wrong and extreme and out of touch with the majority of Americans.

The American Medical Association and the American College of Obstetricians and Gynecologists wrote to me and Vice President Harris stressing that these laws are not based on — are not based on evidence and asking us to act to protect access to care. They say by limiting access to these medicines, maternal mortality will climb in America. That's what they say.

Today, I'm directing the Department of Health and Human Services to take steps to ensure that these critical medications are available to the fullest extent possible and that politicians cannot interfere in the decisions that should be made between a woman and her doctor. And my administration will remain vigilant as the implications of this decision play out.

I've warned about how this decision risks the broader right to privacy for everyone. That's because Roe recognized the fundamental right to privacy that has served as the basis for so many more rights that we have come to take — we've come to take for granted that are ingrained in the fabric of this country: the right to make the best decisions for your health; the right to use birth control — a married couple — in the privacy of their bedroom, for God's sake; the right to marry the person you love.

Now, Justice Thomas said as much today. He explicitly called to reconsider the right of marriage equality, the right of couples to make their choices on contraception. This is an extreme and dangerous path the Court is now taking us on.

Let me close with two points.

First, I call on everyone, no matter how deeply they care about this decision, to keep all protests peaceful. Peaceful, peaceful, peaceful. No intimidation. Violence is never acceptable. Threats and intimidation are not speech. We must stand against violence in any form regardless of your rationale.

Second, I know so many of us are frustrated and disillusioned that the Court has taken something away that's so fundamental. I know so many women are now going to face incredibly difficult situations. I hear you. I support you. I stand with you.

The consequences and the consensus of the American people — core principles of equality, liberty, dignity, and the stability of the rule of law — demand that Roe should not have been overturned.

With this decision, the conservative majority of the Supreme Court shows how extreme it is, how far removed they are from the majority of this country. They have made the United States an outlier among developed nations in the world. But this decision must not be the final word.

My administration will use all of its appropriate lawful powers. But Congress must act. And with your vote, you can act. You can have the final word. This is not over.

Thank you very much. I'll have more to say on this in weeks to come. Thank you.
Advocacy groups urge White House to do more to secure Brittney Griner's release
HRC, GLAAD among letter signatories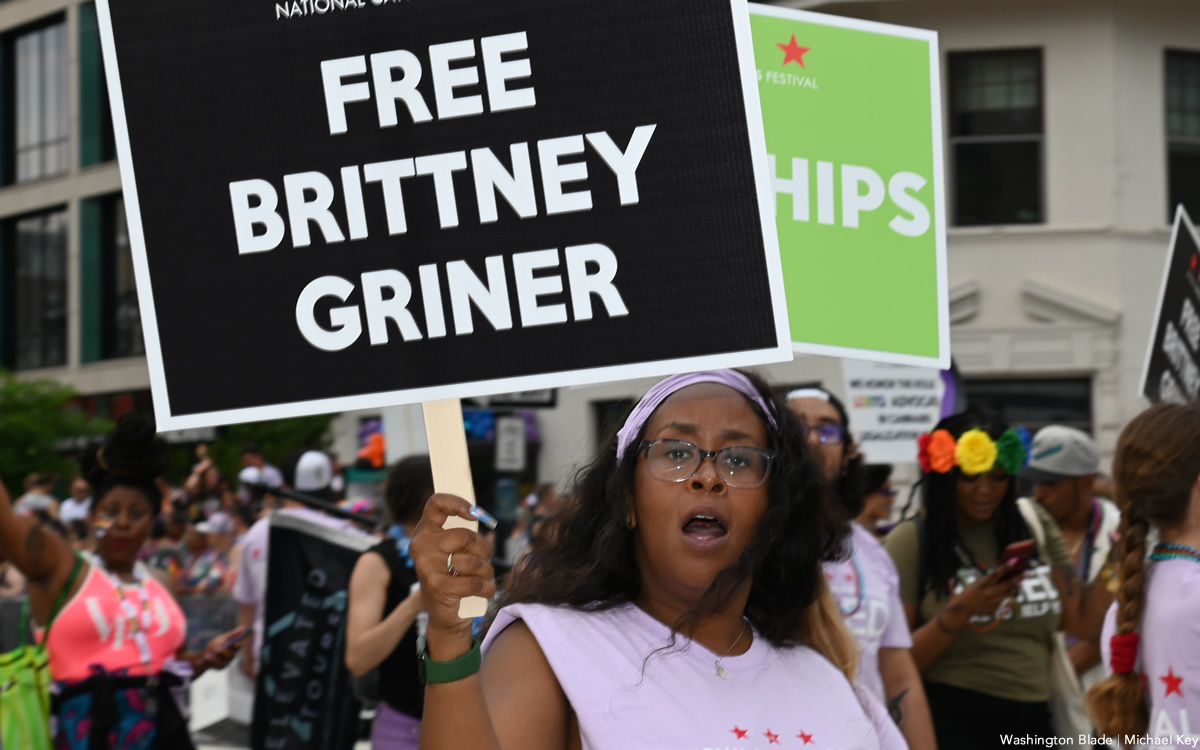 Dozens of advocacy groups on Wednesday in a letter they sent to President Joe Biden and Vice President Kamala Harris urged them to do more to secure the release of WNBA star Brittney Griner.
The Human Rights Campaign, the Council for Global Equality, Athlete Ally, GLAAD, GLBTQ Legal Advocates and Defenders, Lambda Legal, the National Black Justice Coalition, the National LGBTQ Task Force, Robert F. Kennedy Human Rights, the Billie Jean King Leadership Initiative and All Out Action Fund are among the groups that signed the letter.
Griner's agent, Lindsay Colas, coordinated the letter and worked with Democratic strategist Karen Finney, among others.
"We, the undersigned civil and human rights organizations, write to express our deep concern for Brittney Griner. We stand together in support of Brittney, now wrongfully detained in Russia for over 124 days," reads the letter. "An American hero, wife, daughter, sister, friend, teammate, anti-bullying advocate, Olympian, and WNBA superstar, Brittney continues to endure inhumane treatment, deprived of contact with her family."
"We join Brittney's family, friends, colleagues and loved ones in deep appreciation of your Administration's ongoing efforts to secure her freedom," it adds. "The U.S. government has acknowledged that Brittney is essentially a political pawn in classifying her as wrongfully detained. While these have been critically important measures, we now urge you to make a deal to get Brittney back home to America immediately and safely."
Officials at Moscow's Sheremetyevo Airport in February detained Brittney Griner — a center for the Phoenix Mercury and two-time Olympic gold medalist who is a lesbian and married to Cherelle Griner — after customs inspectors allegedly found hashish oil in her luggage. The State Department has determined that Russia "wrongfully detained" her.
Secretary of State Antony Blinken on May 14 spoke with Cherelle Griner.
Officials with the State Department's Office of the Special Presidential Envoy for Hostage Affairs and Bureau of Educational and Cultural Affairs on June 13 met with Brittney Griner's teammates to discuss her detention and efforts to secure her release. A Russian court the following day extended Brittney Griner's detention through at least July 2.
"We are determined to bring her home along with Paul (Whelan, an American citizen who is serving a 16-year prison sentence in Russia after a court convicted him of spying) and for that matter, any and every American who is being unjustly detained anywhere in the world," said Blinken on June 15 during a roundtable with this reporter and five other LGBTQ and intersex journalists. " "It's something that I am personally focused on, and I want to leave it at that because it is obviously an ongoing issue. But just know that this is a matter of intense focus for us."
Brittney Griner on June 18 was unable to speak with her wife on their fourth anniversary because the phone at the U.S. Embassy in Moscow that she called went unanswered. A State Department spokesperson later admitted a "logistical error" prevented Brittney Griner from speaking with Cherelle Griner.
"This month our nation honors America's diverse journey towards freedom, equality and justice for all with the observation of the Juneteenth federal holiday, the 50th anniversary of landmark Title IX legislation, and LGBTQ+ Pride. Brittney's intersectional identity embodies this celebration of America's strength and diversity," reads the letter. "As a celebrated world-class athlete, she also demonstrates the uniquely unifying power of sports. Brittney's ongoing detention threatens the sanctity of sport and the safety of all athletes traveling to compete internationally."
"President Biden and Vice President Harris, we urge you to make a deal to bring our teammate, wife, sister, hero, and friend Brittney Griner home swiftly and safely," it concludes.