Naval Academy midshipmen serve as Rainbow History Project interns
D.C. group says support symbolizes evolution of LGBTQ community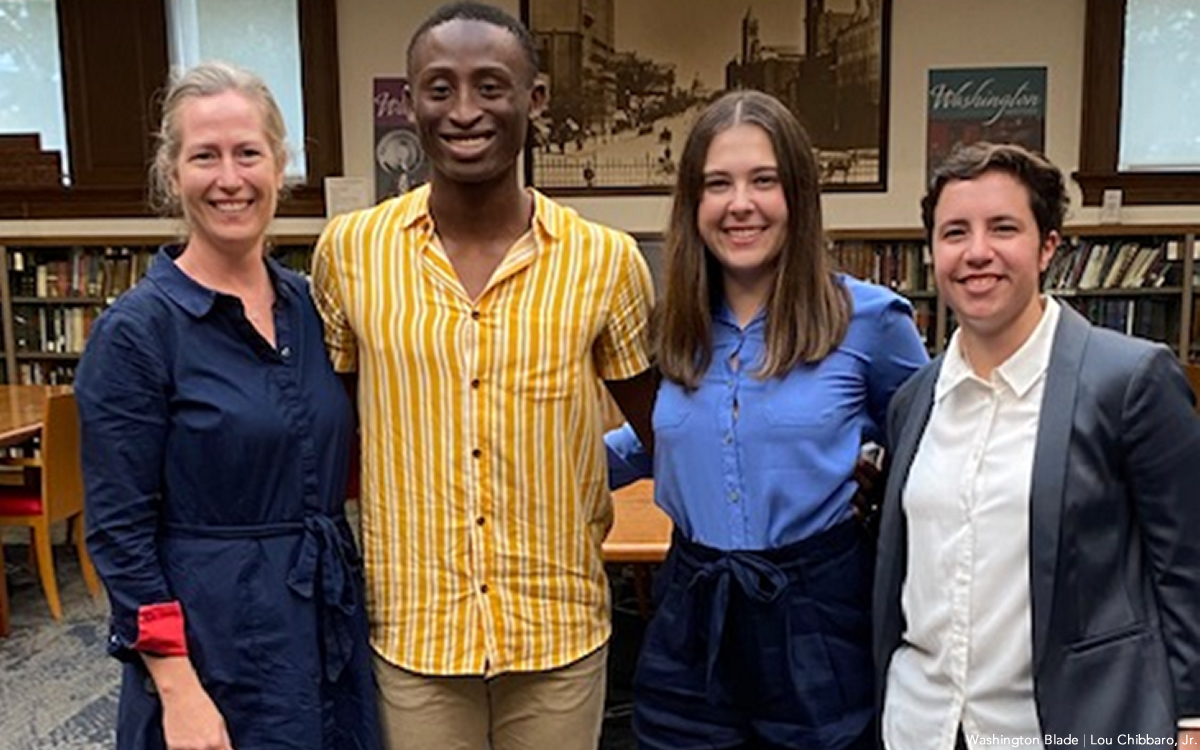 Vincent Slatt, director of archiving of D.C.'s Rainbow History Project, says he and other members of the group's board were pleasantly surprised in 2017 when a professor at the U.S. Naval Academy in Annapolis, Md., invited members of the group to speak to a class she taught on LGBTQ studies.
Slatt told the Washington Blade the presentation that he and other Rainbow History Project members gave went very well, and the group's interaction with the professor and the academy led to what he believes was an important step in the D.C. LGBTQ history group's evolution.
In May of this year, three Naval Academy midshipmen became student interns for the Rainbow History Project as part of a four-week program to process and organize several dozen boxes of documents donated by the D.C. LGBTQ youth advocacy group SMYAL. According to Slatt, the midshipmen did an excellent job of organizing the SMYAL documents by putting them in folders and new professional archival standard boxes.
"And they created what's called a finding aid to describe the collection," Slatt said, noting that a finding aid is used by researchers who access Rainbow History Project's collections in the way that people use a table of contents or an index to navigate a book.
In addition to working on the SMYAL documents, the Naval Academy interns – Midshipmen Brahmir Vick, Caroline Bilbray-Kohn, and Hannah Nunes – also conducted what Slatt says is another crucial component of Rainbow History Project's mission. They transcribed more than 25 audio recordings of oral history interviews of LGBTQ people from the D.C. metro area that make up another important part of Rainbow History Project's collections.
The three midshipmen in June completed their second year at the Naval Academy's four-year studies program from which they will graduate in 2024 as commissioned officers with a bachelor of science degree.
Each of them gave a presentation on the specific work they did as Rainbow History Project interns at a June 23 event hosted by the DC History Center located in the city's historic Carnegie Library building at 801 K St., N.W. 
Slatt points out that in yet another important part of Rainbow History Project's evolution since its founding in 2000, it entered a partnership with the DC History Center in 2008 in which the Center serves as a repository and physical host for the Rainbow History Project's entire archival collection.
Among other things, the collection includes documents and papers from LGBTQ organizations and activists as well as individual LGBTQ people who played some role in the evolution of the D.C. LGBTQ community. The collection, details of which can be accessed on the Rainbow History Project's website, also includes digitized audio recordings of the oral history interviews of LGBTQ people from the D.C. area.
The DC History Center, which was founded in 1894, describes itself on its website as a community-supported nonprofit organization that "collects, interprets, and shares the history of the nation's capital through research and scholarship, adult programs, youth education, and exhibits."
In an announcement on its website, the DC History Center called the June 23 event featuring the three Naval Academy students an important part of its work.
"For the second year in a row, DC History Center hosts students from the US Naval Academy for a crash course in DC LGBTQ+ history and archives, featuring the Rainbow History Project collections," the website message says.
The DC History Center has become the "perfect group" to store and provide access for researchers and the public to Rainbow History Project's archival collection "because they're dedicated to local Washington, D.C. history," Slatt told the Blade. "And we want all of our gay history to be part of Washington local history," he said.
Anne McDonough, deputy director of the DC History Center, told those attending the June 23 event that the Center has had an excellent working relationship with Rainbow History Project, which has helped the public and researchers gain access to the archival records of local LGBTQ history.
During their presentation at the June 23 event, the three midshipmen presented photographic slides of some of the LGBTQ people whose oral history interviews they transcribed. The three said they each obtained an important understanding and knowledge of the D.C.-area's LGBTQ history from listening to the oral history interviews.
The Rainbow History Project's archives can be accessed at rainbowhistory.org.
Judge postpones ruling on whether Casa Ruby should be dissolved
Request by Corado for gag order to stop 'one sided' information denied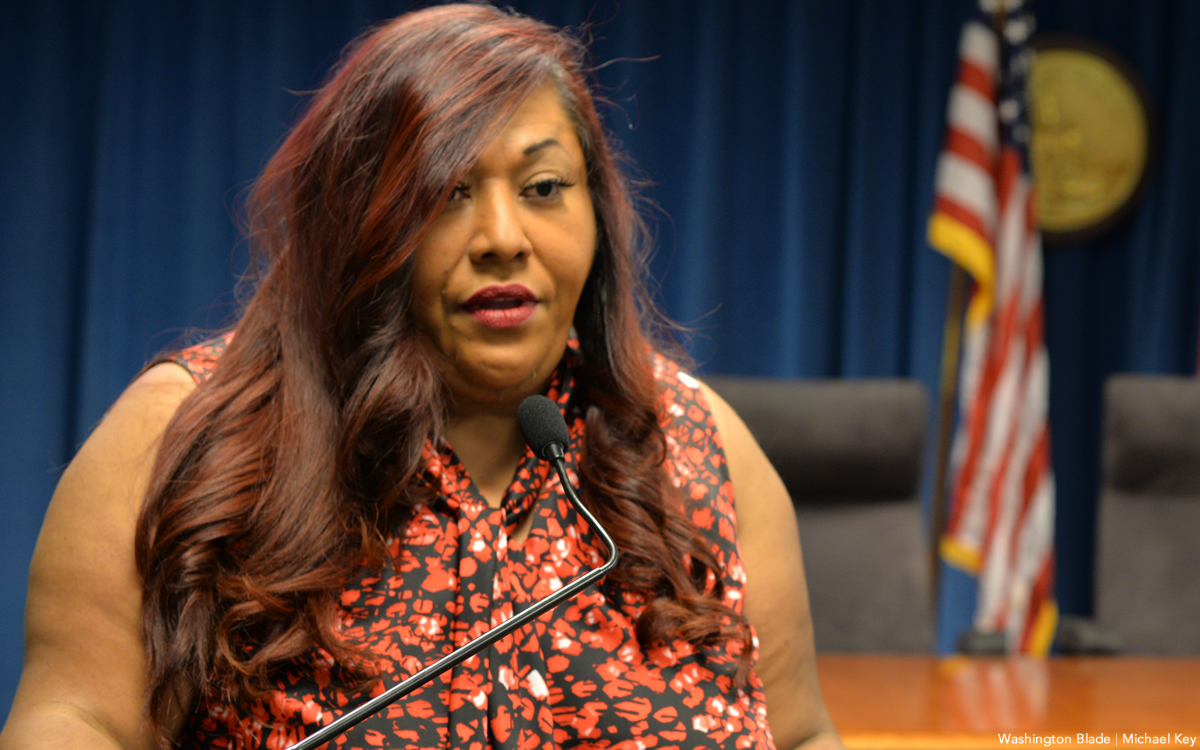 A D.C. Superior Court judge on Thursday said she was not ready to issue a ruling on whether the LGBTQ community services center Casa Ruby should be dissolved as recommended two and a half weeks earlier by a court-appointed receiver that took control of Casa Ruby's operations.
Judge Danya A. Dayson stated at a Sept. 29 court status hearing that the Office of the D.C. Attorney General, which filed civil charges against Casa Ruby and its founder and former executive director Ruby Corado in July, needed more time to complete its investigation into Casa Ruby's operations.
"We think it may be premature to immediately commence proceedings for dissolution while our investigation is still pending," Cara Spencer, an official with the Office of the Attorney General, told the judge. "We're still gathering information. We still intend to shortly serve discovery so we can bring it to a resolution promptly," she said.
The AG's office filed a civil complaint against Casa Ruby and Corado on July 29 alleging that the LGBTQ group had violated the city's Nonprofit Corporations Act for the past several years. The complaint says improper actions by Corado, including the unaccounted-for expenditure of funds and a failure by the Casa Ruby Board of Directors to provide oversight led to a financial crisis.
The complaint notes that Casa Ruby employees were not getting paid and over $1 million was owed to landlords in back rent for at least three buildings Casa Ruby used for its offices and to provide emergency housing for homeless LGBTQ youth.
With Corado spending most of the past year in El Salvador, according to Casa Ruby employees, the employees and managers struggling to keep its operations going said they were forced to shut down all operations in late July.
Corado, who attended the Sept. 29 status hearing through a phone hookup, said she had yet to retain a lawyer due to a "shortage of funds." She told Dayson she expects to finally retain an attorney but said she had not received a copy of the receiver's report that recommended Casa Ruby be dissolved. One of the attorneys with the AG's office told Dayson the office sent a copy of the report to four email addresses it had for Corado and Casa Ruby.
At the judge's request, one of the AG office officials sent another copy of the report to Corado during the hearing to an email address that the judge asked Corado to provide.
Dayson on Aug. 12, at the recommendation of the AG's office, appointed the Wanda Alston Foundation, a D.C. organization that provides housing for homeless LGBTQ youth, as the Casa Ruby receiver. One day earlier, Dayson approved the AG office's request that Casa Ruby be placed under receivership.
On Aug. 3, also at the request of the AG's office, the judge issued an order that all of Casa Ruby's bank accounts and financial assets, which had been under the sole control of Corado, be frozen. Dayson lifted that freeze after the Alston Foundation assumed control of Casa Ruby under the receivership.
As she had at the Aug. 11 court hearing, Corado stated in the Sept. 29 hearing that Casa Ruby's financial problems were caused by the D.C. government withholding as much as $600,000 in grant funds for services Casa Ruby had provided.
Officials with the D.C. Department of Human Services, which initially approved the grants, have said some of the grant funds were withdrawn or cancelled because Casa Ruby failed to comply with the terms of the grants. In some cases, the officials said, required financial reports were not filed to substantiate how the funds were spent.
Corado also asked Dayson at the Sept. 29 hearing to order the receiver and officials with the AG's office stop releasing "one-sided" information that she said was falsely placing her and Casa Ruby in a negative light through reports in the press.
"The story that has been painted is that Casa Ruby left the clients in the cold," Corado said. "That is not accurate."
When asked by Dayson what she wanted the court to do, Corado said, among other things, she did not want the receiver to be allowed to disclose information about what happened in the court proceedings that Corado said was being reported by the press inaccurately.
She said highly negative publicity resulting from the release of information from the previous court hearing resulted in her receiving death threats and damage to the engine of her vehicle in an act of vandalism that cost $1,700 to repair.
Dayson said Corado appeared to be seeking a gag order to prohibit the receiver or the AG's office from discussing or releasing information that was part of the public record. Saying there were insufficient grounds for such an order, Dayson announced she was denying a request to seal court records or issue a gag order against the receiver.
The judge ruled in favor of a request by the AG office attorney to file an amended complaint for the case, directing them to file the amended complaint by Nov. 28. Court records show that Dayson directed the parties to return to court for scheduling hearings on Oct. 28 and Jan. 6.
Whitman-Walker wins $280,000 grant to support LGBTQ immigrants
Providing legal resources for migrants facing persecution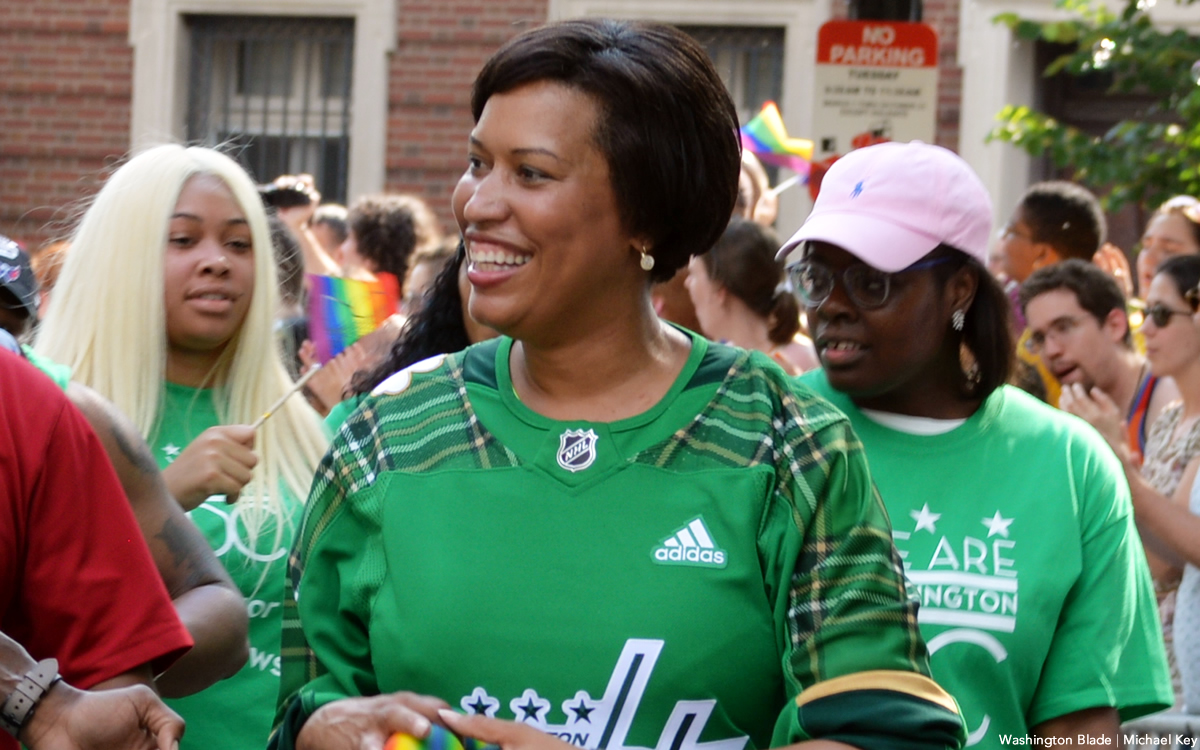 Whitman-Walker Health, which provides medical as well as legal services for the D.C.-area LGBTQ community, was among 25 community-based organizations to receive a grant from the D.C. government earlier this month to provide legal support for immigrants.
Amy Nelson, director of Whitman-Walker's legal department, said the $280,000 grant it received from the city for 2023 marked the fifth year in a row that the city has supported its work in providing legal support for LGBTQ immigrants arriving in D.C. from countries in Latin America as well as Asia, Africa, and Europe.
"We help people file for U.S. asylum on grounds of HIV, sexual orientation, and gender identity," Nelson said. "Most of our cases now are trans women from Central America," Nelson told the Blade. "But we also have people from Cameroon, Russia, and Jamaica."
She said Whitman-Walker currently has about 150 open cases, including cases handled by outside attorneys working on a pro bono basis.
Nelson said Whitman-Walker's legal team has provided legal advice to some of the migrants arriving by bus to D.C. that the governors of Texas and Arizona have sent in recent months. But she said most of those arriving by bus from the two states plan to leave D.C. for other parts of the country.
A Sept. 16 statement released by the office of D.C. Mayor Muriel Bowser says the mayor's fiscal year 2023 budget allocated a total of $3.5 million for grants from the city's Immigrant Justice Legal Service (IJLS) grant program to 25 local organizations, including Whitman-Walker.
"Over the years, the IJLS program has not only benefited DC's immigrant residents, it has also helped us advance our DC values and strengthened the capacity of legal services providers and pro bono attorneys," Bowser said in the statement.
"Having a lawyer can make the difference between having legal status and living in the shadows, and I am incredibly grateful for the community organizations who have worked with us to make the IJLS program a success," she said.
Bowser pledges continued support for LGBTQ community if re-elected
Mayor addresses local LGBTQ Democratic group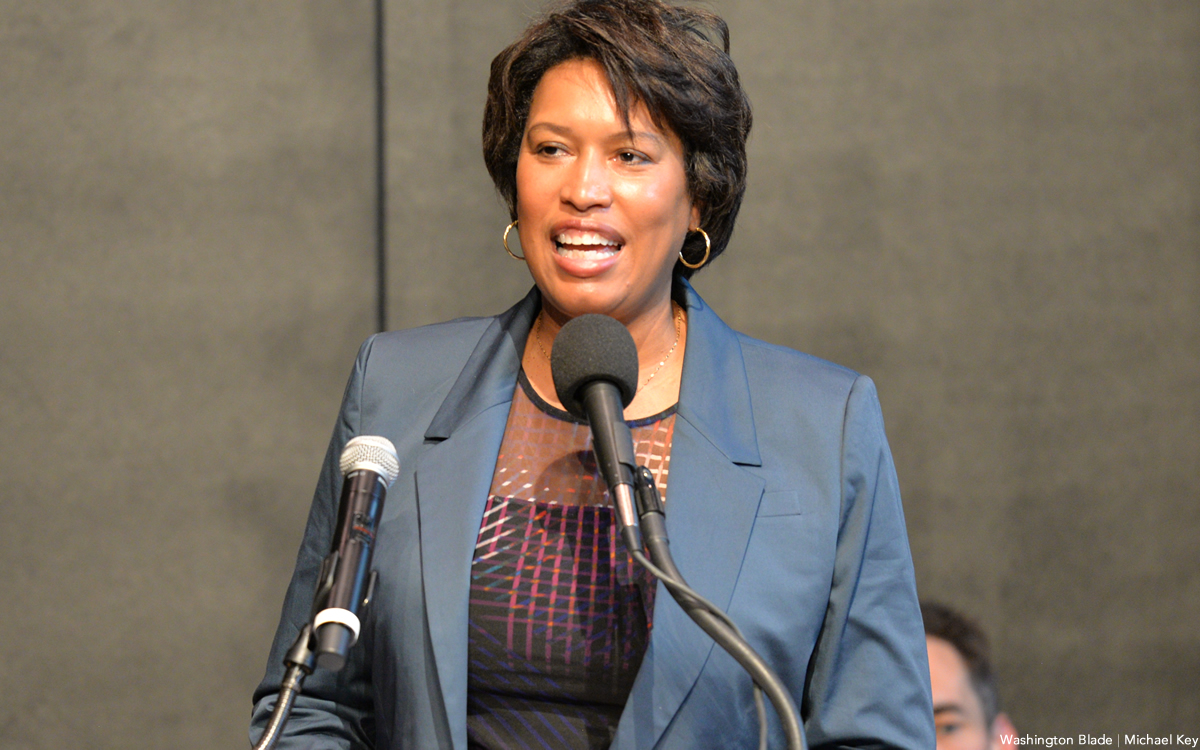 D.C. Mayor Muriel Bowser reflected on her record of support for the LGBTQ community and pledged to continue that support if elected to a third term as mayor during an appearance Monday night before the Capital Stonewall Democrats, the city's largest local LGBTQ political group.
The mayor's appearance at the virtual Zoom meeting took place a little over four months after Capital Stonewall Democrats endorsed her opponent, D.C. Council member Robert White, over Bowser in the June Democratic mayoral primary. The group later endorsed the mayor in the November general election after she won the primary to capture the Democratic nomination.
In a city with Democratic voters outnumbering Republicans and members of two other small parties by a lopsided margin, Bowser is considered the strong favorite to emerge as the winner in the Nov. 8 general election.
"I'm thrilled to be here and thrilled to be your Democratic nominee for mayor," she told members of Capital Stonewall Democrats, which used to be known as the Gertrude Stein Democratic Club.
"We spent many months, the better part of a year, going across all eight wards talking to people about their priorities for Washington, D.C., and what the next four years are really about," she said. "And I am proud of the eight years almost now that I've served as mayor and the things that we've accomplished. And more than that, I've kept my word about how we would pursue D.C.'s values and our goal to make our city a more inclusive city," she said.
"I'm also very proud of the work that I've done with the LGBTQ community, not only as mayor but through my tenure of service in D.C. government, which now is a little over 15 years," she said, referring to her tenure as a D.C. Council member before being elected mayor.
"In working with our trusted organizations, all of my agency directors, all the way through the people I have appointed to serve in our LGBTQ office," she said. "We've been very focused on making sure that D.C. works for LGBTQ residents."
The mayor added, "We continue to have a focus, for example, on making sure we're protecting our trans community from violence. But more than that, creating jobs and job training opportunities inside and outside the government."
After delivering opening remarks the mayor answered a wide range of questions that had been submitted by members of the group and presented by the group's president, Jatarious Frazier. Among them was a question on whether the city will partner with another organization for services for LGBTQ youth, especially trans youth of color, after the recent shutdown of the LGBTQ community services center Casa Ruby.
"I think we have some work to do to replace the work that Casa Ruby was doing," the mayor said. "And I'm quite frankly sad about that," she said, adding, "We like when some work is done in the nonprofit community. And we will be looking for trusted partners to help us replace that work."