Student protesters in Fairfax County call for inclusivity
FCPS youth activists rally, speak to urge implementation of coed Family Life Education classes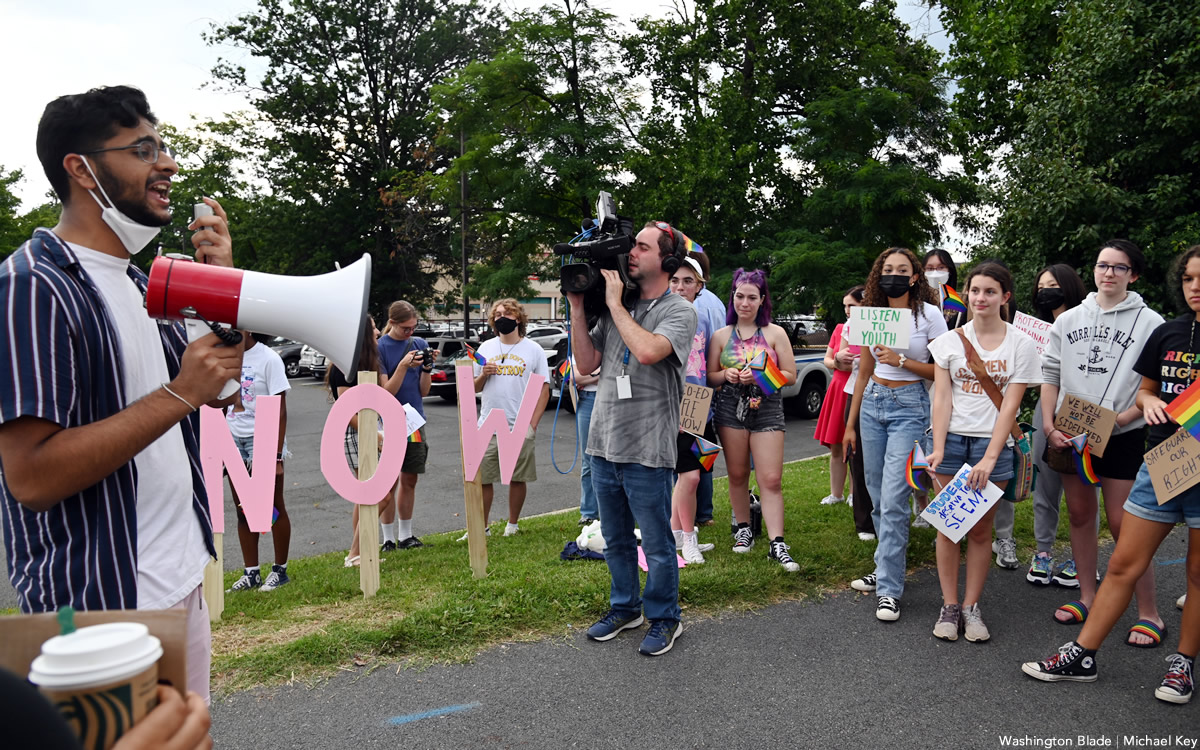 Student activists and community supporters of the Pride Liberation Project rallied outside of Luther Jackson Middle School in Falls Church, Va., on Thursday ahead of a Fairfax County School Board meeting.
A group of about 50 students, teachers, and supporters gathered on the sidewalk along Glebe Road holding signs and chanting to call for the Fairfax County Public Schools (FCPS) to adopt a gender neutral or "coed" Family Life Education (FLE) program for certain subjects in the curriculum. FLE is the sex education program in Fairfax County.
The activists assert that a coed FLE program would be beneficial to students, particularly for transgender and nonbinary students. Activists agreed with the recommendations of the FLE Curriculum Advisory Committee.
The Family Life Education Curriculum Advisory Committee (FLECAC) is comprised of members of the school board, representatives from the student body, representatives from the community and representatives from teachers and administrators in FCPS. FLECAC recommended that certain lessons be coed in its 2021-2022 Recommendations to the School Board report.
However, the Fairfax County School Board opted to postpone a vote on whether to introduce gender neutral FLE classes for certain subjects along with other changes to the curriculum proposed by the advisory committee at a work session in May.
"FLECAC recommended that we create gender neutral FLE unanimously," Aarayn Rawal, a student activist with the Pride Liberation Project told the crowd. "But this school board will not choose to ratify that. What they chose to do instead is to kick the can down the road because they are too scared of queer children having rights in our school system."
"We're trying to ensure that all people are represented in the way they want to be seen in schools: one of the places they spend time the most," said a student who identified herself as Natasha. "I think that we need coed FLE in order to promote equality and more importantly, equity among all students regardless of their gender, their sexual orientation, their race."
"Today we're fighting for the right for people to have bodily autonomy to make their own decisions about their own body," the student organizer of the protest Rivka Vizcardo-Lichter told the Blade. "But specifically with the school board we're fighting so that they adopt the FLE reforms that FLECAC has suggested, especially the one to adopt coed FLE into the curriculum. That is, that there is no gender separation within the classes. This is a step toward inclusivity for transgender and nonbinary students but moreover, if this was accepted, it would show that the board is willing to take a step further and — possibly in the future — broaden the FLE curriculum to include queer students. "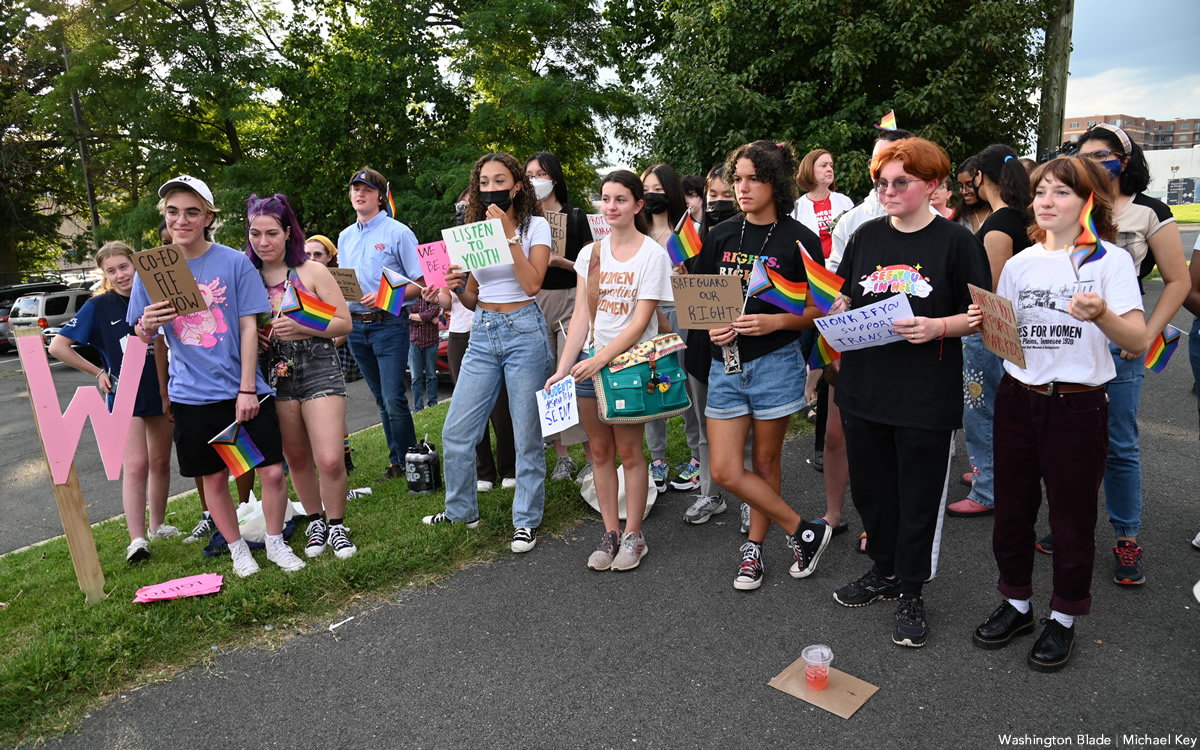 A smaller group of conservative adult demonstrators gathered on the sidewalk outside of the school board meeting. The group stood in front of a "Parents for Youngkin" yard sign and had a public address system with songs such as David Lee Roth's "Just a Gigolo" blaring out to the assembled crowds: many in the opposing crowd down the sidewalk being underage students. The group held aloft signs calling for the resignation of members of the Fairfax County School Board including gay member Karl Frisch.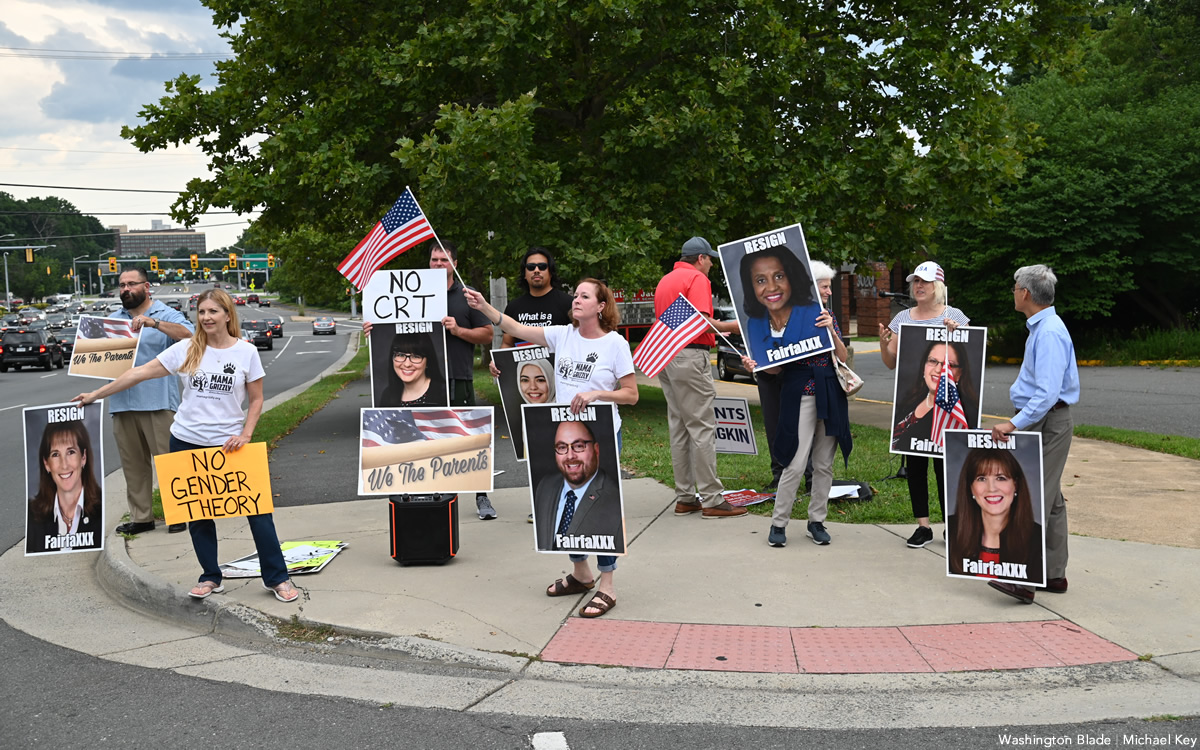 Following the protest outside, members of the Pride Liberation Project, Fairfax NAACP and FCPS Pride as well as adversaries from right-wing groups such as Mama Grizzly entered the auditorium of Luther Jackson Middle School to attend the Fairfax County School Board meeting.
Several speakers at the community participation segment of the meeting spoke in favor of gender neutral Family Life Education.
"The fact remains, queer students are struggling," rising FCPS senior Inaayah Kahn addressed the board. "We have been struggling. We are fighting for our right to be heard, to be represented, to be able to feel safe. Almost constantly, I have friends who get called slurs regularly, I have friends who keep forgiving casual homophobia because the person just 'didn't know better.' I shouldn't have to say this, but this shouldn't be happening."
"I have sat through countless FLE classes throughout my years in FCPS," Kahn continued. "We started out by being divided by gender: girls in one room, boys in the other, and there was a distinct lack of discussion of trans, nonbinary, and queer identities."
"Queer students are not seeing themselves represented in our curriculums," said Kahn. "Queer students are feeling dysphoric in these classrooms. And queer students need gender neutral FLE desperately."
"Your FLECAC committee has recommended coed FLE classes, yet they still have not been established," admonished Kahn. "Trans and non-binary students are living in a world that keeps growing more and more hostile toward their identities. And currently, the board is not helping them."
FCPS student and organizer of the Pride Liberation Project Vizcardo-Lichter was recognized to speak at the podium. "If you've heard of the Pride Liberation Project, you've probably heard this statistic about a million times," Vizcardo-Lichter said. "Fifty percent of students in FCPS are depressed. And, at this point, you are probably tired of hearing it but I'm here to tell you why it is essential that you don't ignore this."
Vixcardo-Lichter and other speakers referred to the Fairfax County government survey that found 50 percent of self-identified LGBTQ youth in Fairfax County Public Schools from the Fall semester of 2019 experienced depressive symptoms compared to 26 percent of their heterosexual classmates. Further, the survey found that 32 percent of self-reported LGBTQ students had contemplated suicide compared to 11 percent of their heterosexual peers.
"You have a choice: to continue to exclude queer students from their own FLE classes and further the statistic, or you can take a step toward inclusivity by adopting the reforms suggested by FLECAC," concluded Vizcardo-Lichter.
"If you implemented the reforms suggested by FLECAC, you'll be taking a small but meaningful step toward accepting queer students," rising senior Cathy Le said, addressing the board. "If not, the status quo of hate and fear directed toward the queer community will never change. I hope that the decision to do what's right is unanimous."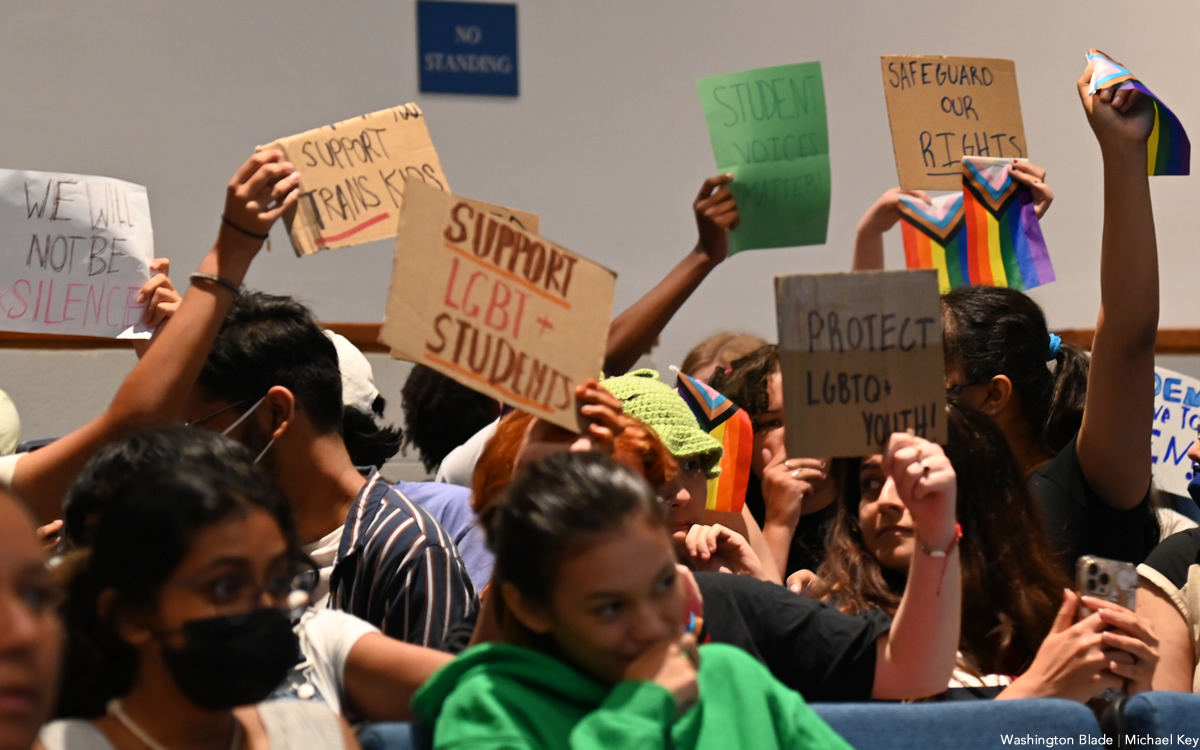 Not all speakers during the community participation segment of the school board meeting were in support of FLE, coed or otherwise.
Kathleen Mallard, wearing a 'Mama Grizzly' T-shirt, denounced the Family Life Education program for a number of unsubstantiated claims when she spoke before the school board.
"I was very concerned when my daughter in 12th grade, no 7th grade, was going to learn about beastiality," Mallard said at the podium. "You know, I didn't know. Fisting. Whatever. I didn't know what that was. So anyway, I joined this group."
Student activists picket Loudoun Co. School Board
Members of the Pride Liberation Project call for 'trans rights now'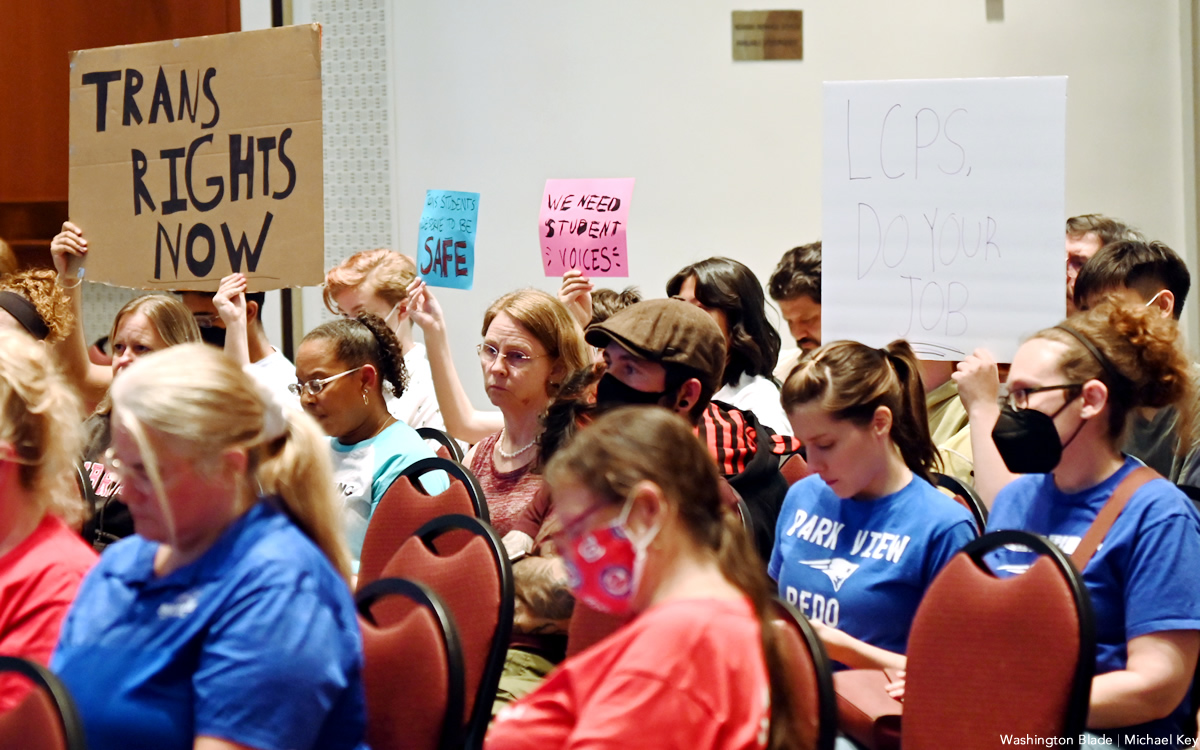 A group of student activists from the Pride Liberation Project picketed in front of the Loudoun County School Board meeting on Tuesday, Aug. 9 in Ashburn, Va. Members of the group chanted, "trans rights now" in front of the administrative building at the start of the session.
Loudoun County Public Schools student activist Daniel Tanedjaja told the Blade, "I am here in solidarity and support for our trans and gender non-conforming students here. In actuality, a lot of our trans and gender non-conforming kids at Loudoun County Schools don't know that there is a gender neutral bathroom option and I would like the school to make it more accessible to them."
Activists were seated during the community input portion of the school board meeting. Some of the protesters held up signs supporting trans rights during anti-LGBTQ public comments at the podium by conservative community activists.
The Pride Liberation Project is a Northern Virginia-based student-led organization that advocates for LGBTQ rights.
Va. students warn against 'don't say gay' policies
New law requires parental notification of 'sexually explicit content' in classroom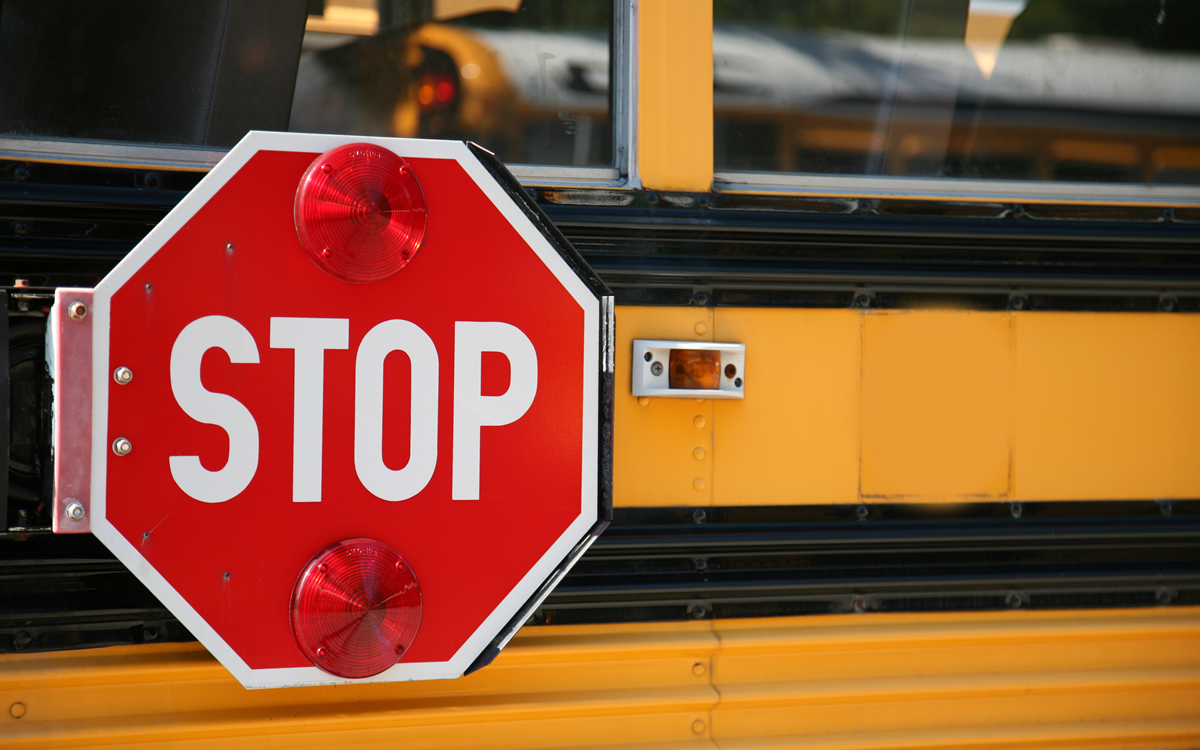 More than 600 students from across Virginia signed a letter from the Pride Liberation Project that calls for the Virginia Department of Education to clarify that teaching students about LGBTQ people and events is not "sexually explicit."
Senate Bill 656, which Republican Gov. Glenn Youngkin signed earlier this year, requires parents be notified when instructional materials contain "sexually explicit content" — without any input from students.
Current Virginia law defines "sexual conduct" as "masturbation, homosexuality, sexual intercourse, or physical contact in an act of apparent sexual stimulation or gratification."
Because SB 656 does not itself specify what constitutes "sexually explicit content," LGBTQ students and activists are concerned that the bill will rest on Virginia's pre-existing definition of sexual conduct.
In their full letter, signees argued that "In effect, SB 656 can potentially be interpreted to define all references to people in same-sex relationships as inherently sexual."
"Consequently, all references to LGBTQIA+ people in K-12 schools, including Supreme Court cases, historical events impacting LGBTQIA+ people, and discussions about queer authors, may be deemed as sexually explicit content under SB 656, effectively erasing LGBTQIA+ representation in our school curriculum," reads the Pride Liberation Project's press release.
Representation has been shown to positively increase academic performance, and LGBTQ youth already face exacerbated risks of suicide and mental health crisis. In Virginia specifically, the vast majority of LGBTQ students reported hearing anti-LGBTQ remarks at school, and 26 percent of LGBTQ students reported being "disciplined for public displays of affection (PDA) that did not result in similar action for non-LGBTQ students."
"Most of my LGBTQIA+ friends are already struggling with their mental health," said one Loudoun County student in the Pride Liberation Project press release. "I'm scared about the message these guidelines could send and losing the already limited affirming representation in my class."
Another student from Richmond said that they "didn't want to see their friends who are from homes that aren't accepting not see themselves reflected at school."
Va. lawmaker accused of destroying neighbors' property
State Del. Dave LaRock said Pride flags were meant to provoke him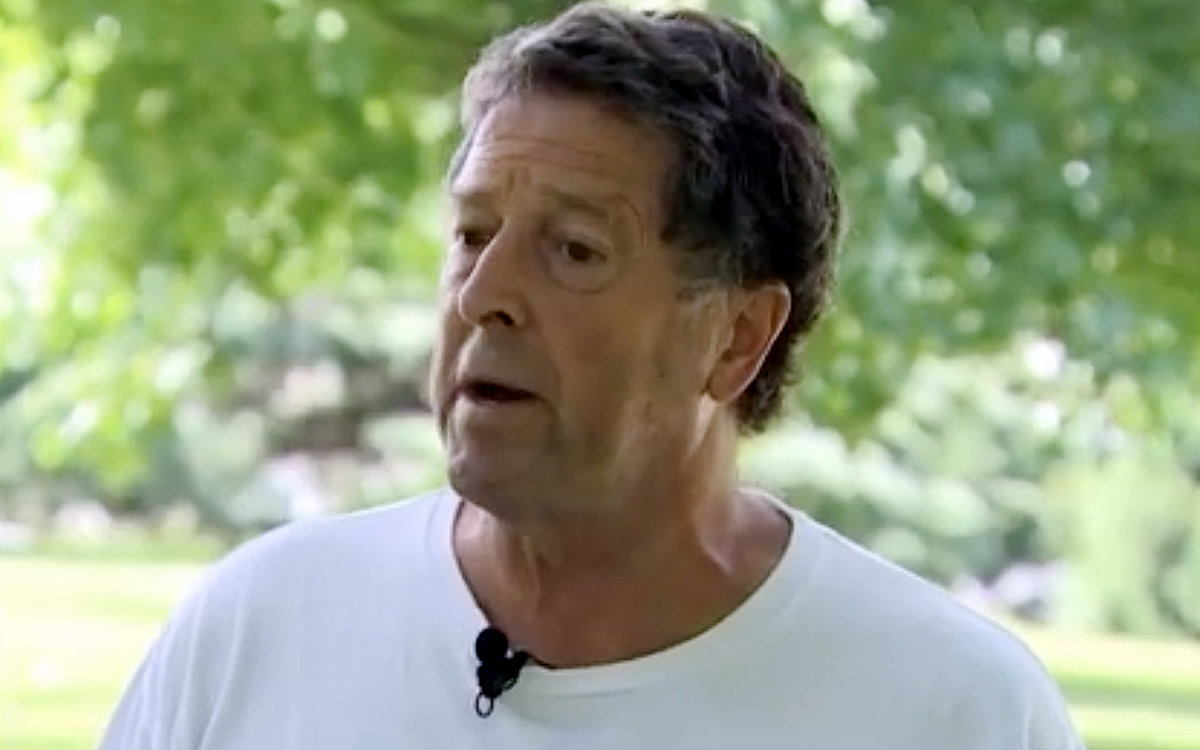 A Northern Virginia lawmaker is facing accusations of property destruction after removing signs and security camera posts installed by neighbors on shared property.
State Del. Dave LaRock (R-Loudoun County), who has represented the area since 2014, shares an easement road with his neighbors, Walter and Christina Curfman, that leads to his Hamilton home that is currently for sale. The couple has accused LaRock of criminally removing the posts and signs and breaking the cameras in the process.
Footage from the couple's property shows LaRock removing private property signs from the couple's fence and uprooting security camera posts from the ground before dropping them onto the couple's yard within the fenced area.
The Curfmans also placed atop their fence posts a number of Pride flags.
Representing Virginia's 33rd District that covers parts of Loudoun, Clarke and Frederick Counties, LaRock has established himself as a conservative member of the House's Republican Caucus. Alongside his support for conservative causes that include abortion rights restrictions, religious exemptions to COVID-19 vaccine mandates and the ability to pray in public schools, LaRock has historically expressed opposition to public Pride displays. 
In 2016, responding to a proposal from the Loudoun County supervisor to recognize June as Pride Month, he wrote that "while there may be instances where Pride is a good thing … having our Loudoun County government publicly proclaim to be proud of the lesbian, gay, bisexual, transgender (LGBT) movement is not such an instance."
Such a public proclamation of Pride, LaRock wrote at the time, "promotes homosexuality and gender confusion to people of all ages but ignores the real physical and psychological harms associated with those lifestyles and the harm of the sexually explicitly material used to promote, affirm and recruit young school-aged children to those lifestyles."
While LaRock did not remove the flags posted along the fence, LaRock believes that their presence was meant to provoke his ire.
"Maybe she just wants all our guests to know that they are supporters of the LGBT community," LaRock said in an interview with NBC4. "Or maybe [Curfman's] doing it because she thinks it bothers me."
The incident is not the first to occur along the easement road between the neighbors' homes.
Last year, court documents detail that LaRock had been found guilty in the Loudoun County General District Court of two counts of pulling down his neighbors' fence or leaving a gate open following incidents in October 2020. LaRock was later acquitted of the misdemeanor charges upon appeal to the Loudoun County Circuit Court, where Judge Daniel Bouton rejected the assertion that such incidents merited a criminal case.
LaRock's office did not respond to the Washington Blade's request for comment but told NBC4 that he will take the issue back to the courts as he plans to file a civil lawsuit to affirm actions and interpretation of what activities and uses are permissible within the easement area.