D.C.'s creative culinary scene thriving post-pandemic
The Wharf continues to expand and other highlights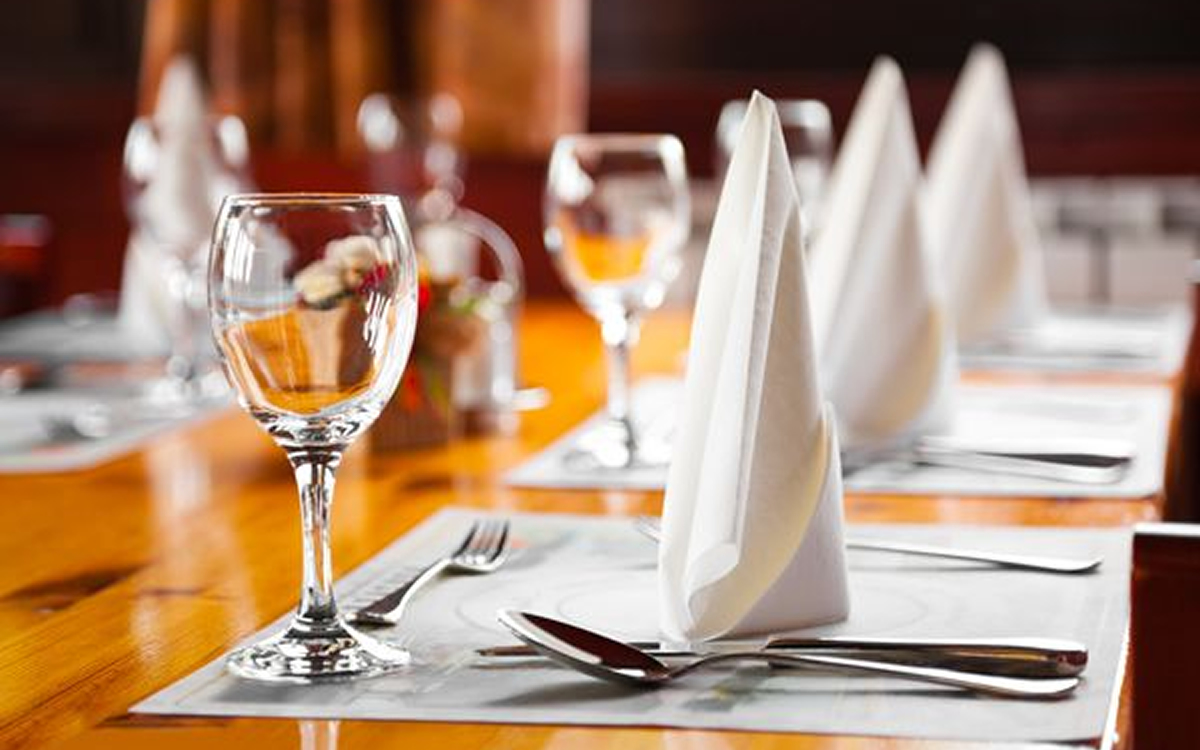 Colorful foliage, colorful openings: While the dining industry has struggled under the weight of the pandemic, staffing shortages, supply chain crises, inflation, and a spate of closings over the summer, the spirit of colorful creativity in the District hasn't slowed. This fall, we look forward to visiting brand-new ideas, creative concept changes, additional spots from beloved chefs, an ever-expanding Wharf, and more. Note that some of these restaurants have opened already, while others have planned opening dates through the rest of the year.
From the owner of Georgetown's tasting-menu Michelin-starred Reverie comes Bar Spero to the Capitol Crossing complex. Taking inspiration from San Sebastian, Spain, Bar Spero is named for its owner and chef Johnny Spero, with a dynamic energy, modern dishes, raw bar, and fiery grill that touches nearly all the dishes. Check out highlights like grilled imported Spanish turbot and lobster knuckle tossed right on the embers.
The little bakery that could is now opening its second brick-and-mortar shop just off 14th Street, N.W. The breakfast sandwich concept that began as a pop-up in May 2020 at HalfSmoke is now plating its celebrated breakfast sammies on toasted brioche butter rolls baked daily, as well as superfood bowls, toasts, and tots. On the liquid side, look to house-pressed juices, smoothies, and brunch cocktails.
Gordon Ramsay's Fish & Chips and Gordon Ramsay Hell's Kitchen
Michelin-starred and TV shouter Gordon Ramsay is anchoring himself twice over on the expanding Southwest Wharf with new locations of his Fish & Chips and Hell's Kitchen chains. Fish & Chips is Ramsay's take on the classic British pub grub, with cod dusted and deep-fried under a crust of custard powder batter. The massive 14,000-sqaure-foot Hell's Kitchen, with three other U.S. locations, takes cues from Ramsay's fiery TV show (and personality). The menu will include the British chef's signatures like Beef Wellington, the "HELL'S KITCHEN Burger," and Sticky Toffee Pudding. Don't miss cocktails like the Notes from Gordon (gin, green tea, peach), complete with a message from Chef Ramsay himself.
Le Mont Royal
French disco is back with a vengeance and a Canadian accent in Adams Morgan. With "the idea of a French wine dance party" in mind, the bar will specialize in "juicy" natural wines, grower Champagnes, and funky cocktails. Look out for offbeat plates like poutine with elevated add-on options like truffle, and a foie gras-ice cream-stuffed twinkie. The first floor will feature velvet banquettes for lounge seating; upstairs will include touches like a pool table, large-group seating, and plenty of space for dancing to enjoy the house collection of soul, funk, and disco vinyls.
14th Street mainstay Tico has closed its doors after eight years, making way for a new concept by the same owner, Michael Schlow. Schlow also operates sushi restaurant Nama and Italian restaurant Alta Strada. Nama Ko opened this week and offers a large cellar of Japanese whiskeys and sakes, plus a raw bar, full entrees, and its spectacular sushi selection with items like foie gras and golden eye snapper.
NoMa's sleek new hotel entrant, the Morrow, will house three dining options care of Michelin-starred chef Nicholas Stefanelli, who runs tasting-menu Masseria in nearby Union Market. The ground-floor French-inspired Le Clou is a chic, brasserie-style restaurant (with an adjoining lobby cocktail bar), while the energetic rooftop bar, Upstairs at The Morrow, pours elegant cocktails and offers wide city views. The sophisticated Vesper lounge, with craft cocktails and live music, will open in the winter.
Celeb fave Philippe Chow drops down I-95 from Manhattan to another new spot on the Wharf for Chef Chow's spin on fine-dining Chinese. Known for his modern and theatrical style, Chef Chow's brings a menu of lavish, Beijing-style dishes like glazed spare ribs and tableside-carved Peking duck. The restaurant features sweeping waterfront views of the Potomac.
Tigerella at Western Market
The creators of celebrated Mt. Pleasant morning Mecca Elle have opened Tigerella in Foggy Bottom's Western Market. This all-day locale begins with café-style coffee, toasts, and sandwiches, but the dining room adds shareable snacks, meat and cheeses, and Italian entrees. A happy hour will begin soon. Western Market will also soon welcome a fistful of new openings in the coming months, from Alitiko, a Greco-Middle Eastern concept, to ExPat, a sports betting bar, to Hippo Taco, an Asian-fusion concept.
Queer Wino's William Ferguson on a mission to queer wine
Educational website elevates stories of LGBTQ figures in the industry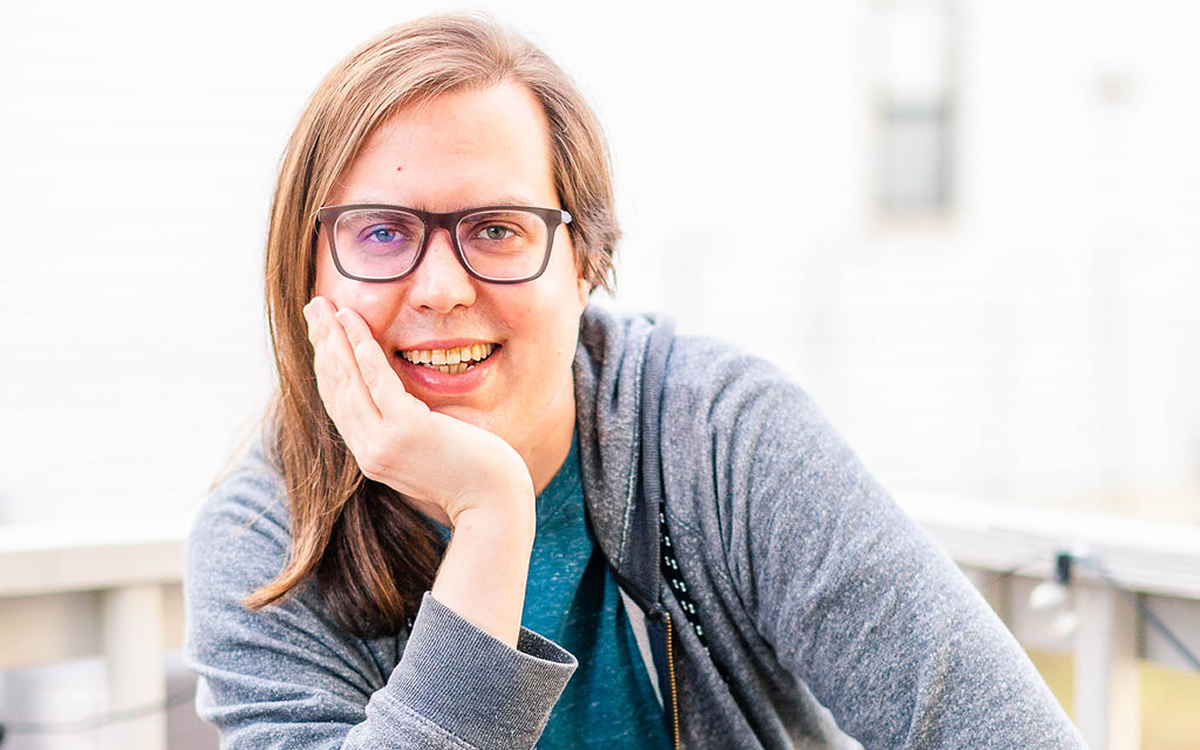 William Ferguson likes talking about wine. His mission: queering wine. Ferguson, who uses he/they pronouns, runs Queer Wino, a wine sales and education website.
When Ferguson began in the industry, he stood in the face of discrimination for his sexuality and gender identity. In search of support and community, he set out to forge his own path of visibility and leadership for LGBTQ people in wine. He now holds a Level II certification from the Wine & Spirit Education Trust (WSET), but formal certifications and education were only the beginning.
With Queer Wino, his aim is simple: to raise awareness of the unique issues LGBTQ people face in the wine industry and to raise their profile. When buying wine, he endeavors to focus on smaller producers, unknown regions, and wines made by anyone outside of cis, straight, white men.
Ferguson's work is neither pedantic nor esoteric. Breaking down barriers, he focuses on presenting the idea of wine – buying, tasting, pairing – approachable and enjoyable. His Instagram and TikTok feeds are full of thoughtful, candid posts about wine.
"The idea that only red wine can age is false, however, the whole story is complicated. Before I explain, let's set the record straight — or gayly aligned — and acknowledge that there are age-worthy white wines, rosés, and sparkling wines," reads one.
In another, Ferguson is strolling down a street in a simple white T-shirt. He posts an image with text that reads, "Red wine is more complex than white wine." In the caption he states, "Ummmm. No. Just no. It's not true. Both can be equally complex or simple."
"Wine and food is a great way to create a space for people to connect," he notes. "When people share food and wine it increases their feeling of connection and community. I just want this to be available to everyone, not just an elite few. So, I think what we can learn is that the magic of food and wine doesn't have to be only one type of experience," but an experience for all, he says.
Ferguson's most impactful work began in 2020, when he launched a series titled, "Pride in Wine," which highlights LGBTQ "wine nerds and professionals." Pride in Wine is a series of profiles of queer people involved in the wine industry. Thus far, the series has profiled wine educators, vineyard managers, wine label owners, and more. The series is available on his website.
Wine is his profession, but also his passion. He looks for inspiration from people "who love it, and take it seriously, but still have a sense of humor about it." As for other wine inspiration, he looks to the likes of writer Jancis Robinson and the activism of Justin Trabue, Darwin Acosta, and Elaine Chukan Brown.
"There are countless situations where I just can't tell if someone is taking me seriously or not because of how they may be perceiving me. Then there's job-based discrimination. In a way, you can't win. If you're closeted on the job to protect yourself and seem to avoid things, people will think you're lying, and if you're out they may just not hire you or fire you or discriminate. I've even had an employer say there was just something about me at some point before firing me. It just makes you think and wonder.
"A big part of visibility and representation is getting more people to see who you are authentically while doing what you love," he says. Whether that's debunking wine myths on Instagram or highlighting and elevating the stories of other LGBTQ people in the wine field, Ferguson is ensuring that there will always be space for queers in wine.
An expansive vision leads D.C.'s Elcielo to a Michelin star
A conversation with Pedro Mendoza, Colombian restaurant's ambassador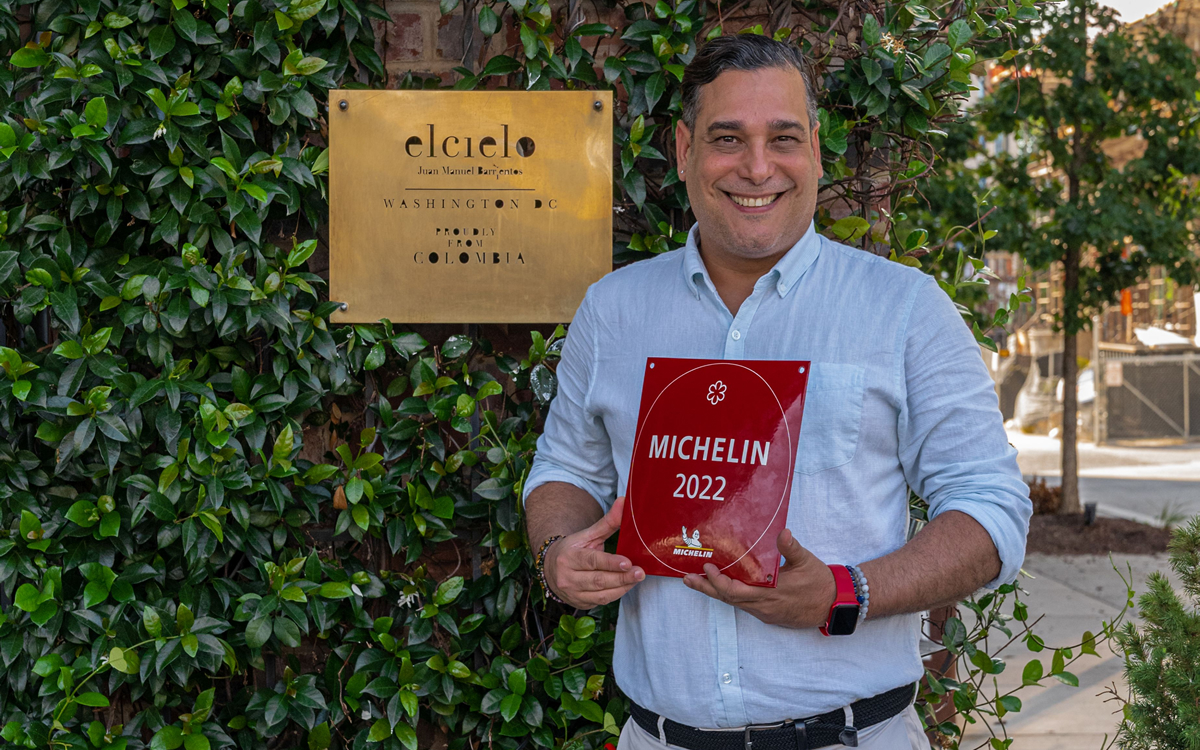 Behind the 22 courses of Elcielo, the Michelin-starred, transportive Colombian restaurant that anchors the far end of La Cosecha in Northeast is a jack-of-all-trades translator. He is Pedro Mendoza, officially the Corporate Communications Officer of the Elcielo group, but more of a charismatic conductor, ensuring that the restaurant hits all the right notes coming from the composer – JuanMa Barrientos, owner and head chef, with a dozen-plus restaurants and bars and a hotel.
Colombian-born Mendoza, a gay man, has worked with the Elcielo group since 2016 across its restaurants (Bogota, Medellin, Miami, and DC). He has been based in the D.C. outpost since its opening in 2021. While he works front of house many evenings at Elcielo, his day is filled with public relations and operational work for the other Elcielo spots and JuanMa's many other restaurants. He also works in outreach for the Elcielo Foundation, a nonprofit that supports victims of Colombia's civil war violence.
Mendoza has a long history in the culinary space. He has worked various events across Colombia, including the wine exposition Expovinos, the Bogotá Wine and Food Festival, and other performing arts, culture, and health fairs and festivals.
Through his writings and work, Mendoza connected with Barrientos, who had by then established himself in the lofty Medellin food scene. He had founded Elcielo, a multi-sensory restaurant using modern, avant-garde techniques enmeshed with Colombian flavors and ingredients. Elcielo was what may have been the first fine-dining restaurant in Medellin, a tasting menu influenced by the country's rich history but plated by JuanMa's international vision. "It's a fun luxury, not stuffy or rigid, it's a fluid luxury," says Mendoza.
When he moved to Elcielo full time in 2016, Mendoza was focused on producing editorial content and promoting the brand. In 2019, he moved to D.C. to open this local project, acting as everything from designer to waiter to press officer.
Mendoza also acts as ambassador of Colombia and Elcielo to D.C. and the world. "I am diplomatic and respectful, but also authentic and transparent," he says.
"As a gay man with 11 ethnic ancestors from four continents (my DNA test says so), I feel like a citizen of the world. My imprint is to do everything with passion and dedication."
Mendoza has seen plenty as an out Colombian who came of age during the terrors of its civil war. For that reason, working with the Foundation, which offers education and culinary training to wounded soldiers, ex-combatants, indigenous people, and other victims, is especially important.
"I love being a Colombian, succeeding in a market as demanding and cosmopolitan as D.C. is. Colombia is a special country whose inhabitants have suffered a lot from violence and the drug trade, which is a global problem, not just ours." He is as proud of his Colombian heritage, of its bounty of fruits and vegetables and biodiversity, as he is of his personal life. "I was a flight attendant, I sang opera in a professional choir, I served in the army of my country. I don't mind so much saying my sexual preference, because I think that belongs to people's privacy; however, I don't hide it, I show it with pride. If it is necessary to show myself as a 49-year-old gay man, I do."
After just a year in business, Elcielo in D.C. was awarded with one Michelin star: the very first Colombian restaurant to attain this achievement. Earlier this year, the Elcielo outpost in Miami was also awarded one star, as part of the Michelin Guide's first-ever selections for the Florida region. Michelin noted the expression of creativity and "serious culinary sorcery."
It's JuanMa's expansive vision, a reflection of Elcielo' s name (meaning "sky" or "heaven" in Spanish), "so we try to ensure that everyone is treated with special care," says Mendoza. This goes for the food, the customer, and the employee, Mendoza adds.
"Elcielo is a very inclusive company," says Mendoza. "I have had more diverse LGBTQ colleagues throughout the company: in administration, outreach, in the kitchen, and on the dining room floor, both in Colombia and in the U.S. I was able to start Elcielo DC from zero, and have now run communications and even visa logistics for other Colombian staff. This is an example of the company bringing opportunity to all types of people."
Wharf celebrates fifth anniversary on Oct. 12
Live music, sidewalk sales, food, and drink on Southwest waterfront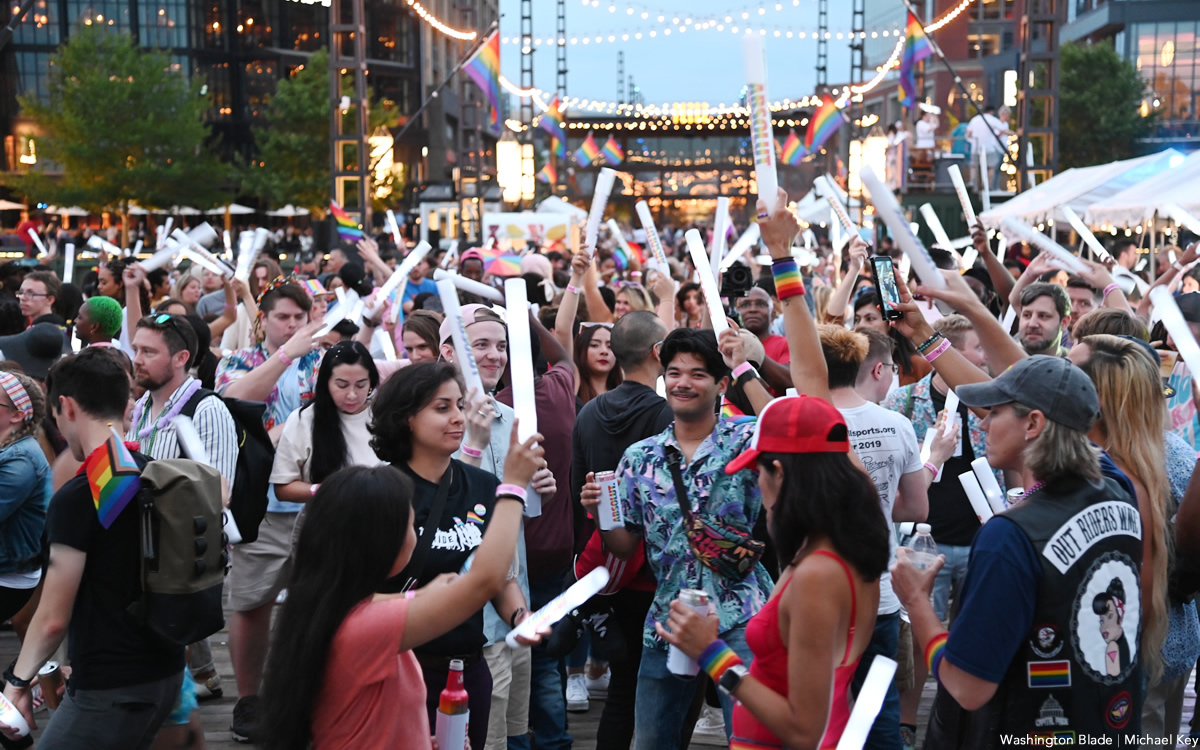 Five years in, the sweeping Wharf is only growing. On Oct. 12, the city's glittering renewal project that established the Southwest neighborhood as a waterfront destination, is celebrating a two-fold event: its fifth anniversary and the substantial near-completion of the entire development. With Phase 1 built out and Phase 2 tantalizingly close, this mile-long stretch along the Potomac River has come to life with restaurants, retailers, residences, hotels, shops, and businesses, surrounded by monumental views and a vibrant culture.
The celebration on Oct. 12 runs from 5-8 p.m., with activities, live music, sidewalk sales, outdoor vendors, and food and drink specials along the entire strip. Jarreau Williams will take the stage for live music on the Transit Pier floating stage, followed by The JoGo Project at 6:45 p.m. The event concludes with a fireworks finale just before 8 p.m. Meanwhile, an indoor ceremony kicks off at the new Pendry Hotel at 5:30 p.m., featuring remarks by Congresswoman Eleanor Holmes Norton and Mayor Muriel Bowser.
The Killers headline at The Anthem at 8 p.m. for that venue's fifth anniversary show.
Phase 1 of The Wharf opened in 2017, with more than two million square feet of residences, offices, hotels, shops, restaurants, and a marina. It also featured intentional public areas, including parks, promenades, piers, and docks. Phase 1 also saw the establishment of a new water taxi system, the Southwest Neighborhood Shuttle, and a new bike lane. Some of the city's most popular restaurants kicked off during Phase 1, like Del Mar, Grazie Grazie, ilili, Kaliwa, and Mi Vida.
Phase 2 will include a robust roster of chef-driven restaurant concepts, and 1.25 million square feet of development, including offices, hotels, restaurants, and shopping, in its own section of redeveloped waterfront. It will also include 225 boat slips and a 1.5-acre green space. New restaurants planned include:
• Flora Flora (655 Water St., S.W., 2nd Floor): Latin-influenced poolside restaurant combining the cuisines of Mexico, Peru, and Argentina.
• Gordon Ramsay Fish & Chips (665 Wharf St., S.W.): Michelin-starred chef Gordon Ramsay's British-themed counter offering elevated fish & chips.
• Gordon Ramsay Hell's Kitchen (652 Wharf St. SW): Ramsay's surf-and-turf restaurant, which pays tribute to his hit "Hell's Kitchen" TV show, with steak and seafood offerings, including its famous Beef Wellington and lobster risotto. Located in a two-story building directly on the water.
• Kinfolk Southern Kitchen (685 Wharf St., S.W.): Americana bourbon and barbecue restaurant featuring spirits and smoky flavors.
• Philippe by Philippe Chow (635 Wharf St.): Iconic New York City restaurant for almost two decades. Philippe Chow has become a staple with a world-renowned menu of Beijing-style dishes that has pioneered the way for elevated Chinese cuisine in the U.S.
• Slice of Match Box (664 Maine Ave SW): Wood-fired pizza eatery taking the best of regional brand Matchbox in a fast-casual setting with table service and a full bar.
At full build-out, the mixed-use neighborhood will feature more than 3.2 million square feet of development along a mile of Washington, stretching from the Municipal Fish Market at the north end to Fort McNair in the south. In total, the Wharf will have 300,000 square feet of retail space, featuring more than 85 restaurants and retail shops. And beyond the boats, there is also a free kayak and paddleboard launch.
This event kicks off The Wharf's "Season of Celebration," featuring nine months of community events and experiences commemorating the completion of The Wharf. This includes everything to a Dia de Los Muertos celebration, a holiday boat parade, Mardi Gras, and, of course, Pride on the Pier in June.