Elton John performs at White House
President, first lady honored British pop icon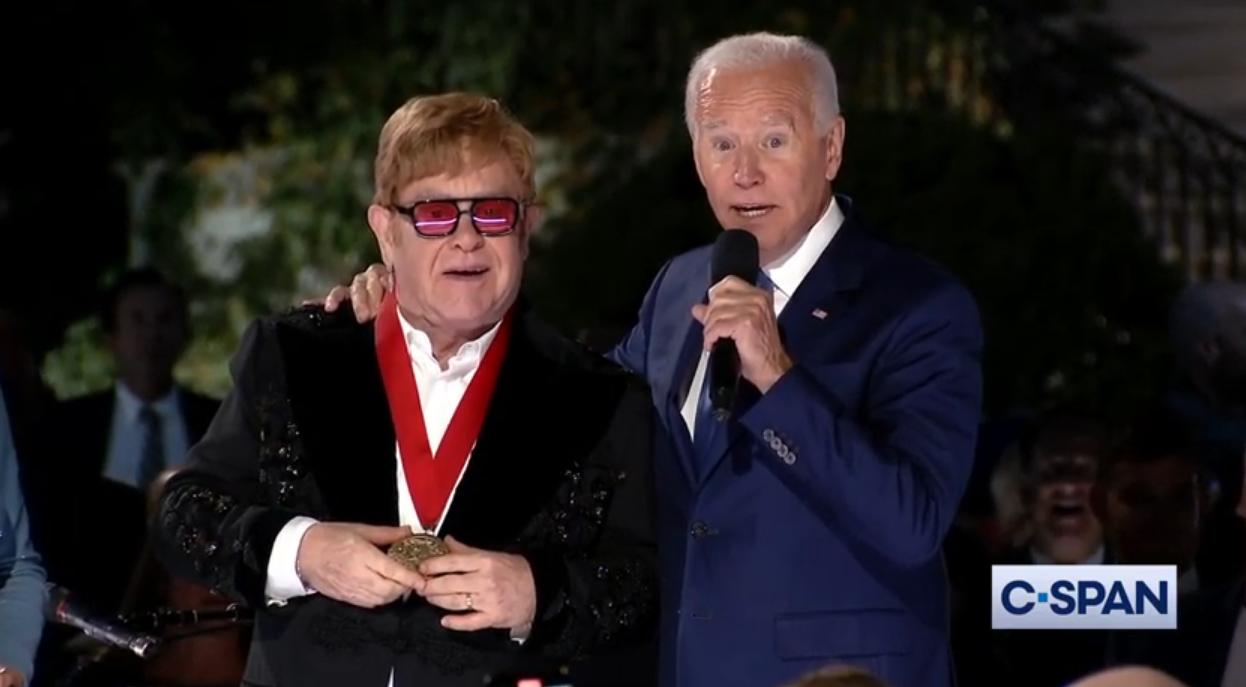 After a performance from a repertoire of the best known hits from his songbook in a special musical concert at the White House Friday evening, Elton John was called to the podium where, accompanied by the first lady Jill Biden, President Joe Biden surprised the iconic British singer-songwriter with an award.
The president presented John with the National Humanities Medal for his advocacy work in recognition of LGBTQ rights and tireless activism against the global HIV/AIDS crisis disease through his contributions in music and the arts.
The National Humanities Medal, inaugurated in 1997, honors individuals or groups whose work has deepened the nation's understanding of the humanities and broadened its citizens' engagement with history, literature, languages, philosophy and other humanities subjects.
A stunned John was moved to tears. After the president had the citation read by a military aide and hung the medal around the singer's neck, Biden told the audience gathered, "I think we surprised him" to which they cheered and applauded.
The medal's citation read in part that it was honoring John "for moving our souls with his powerful voice and one of the defining song books of all time. An enduring icon and advocate with absolute courage, who found purpose to challenge convention, shatter stigma and advance the simple truth — that everyone deserves to be treated with dignity and respect."
Visibly moved, the iconic musician and performer said: "I just said to the first lady, I'm never flabbergasted — but I'm flabbergasted and humbled and honored by this incredible award from the United States of America. I will treasure this so much — I will make me double my efforts to make sure this disease goes away. Your kindness — America's kindness to me as a musician is second to none, but in the war against AIDS and HIV it's even bigger and I can't thank you enough … I'm really emotional about this — thank you."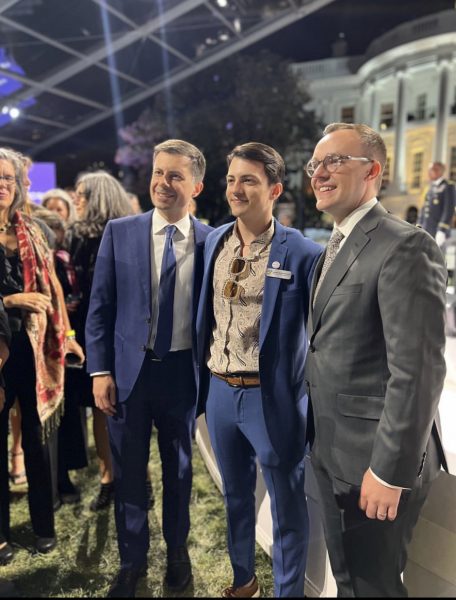 The special gathering held under a vaulted glass and aluminum "tent" on the South Lawn of the White House was attended by 2,000 guests including former first lady Laura Bush, House Speaker Nancy Pelosi (D-Calif.) and Transportation Secretary Pete Buttigieg, his husband Chasten, as well as teachers, nurses, LGBTQ advocates and military families, who the White House had dubbed "everyday history-makers."
During a pause in his performance earlier, the singer addressed Bush, praising her husband, former President George W. Bush's ongoing work on the Presidential Emergency Plan for AIDS Relief, which President Bush had initiated while in office and is credited with saving millions of lives across the African continent and helping to change the trajectory of the HIV/AIDS crisis globally.
"I want to say to the first lady, President Bush accelerated the whole thing with his PEPFAR bill. It was the most incredible thing," he said to Laura Bush.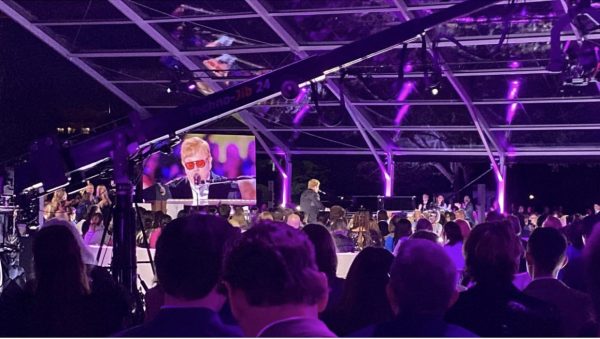 Biden awards Elton John with National Humanities Medal
Full text of the president and the first lady's remarks:
THE FIRST LADY:  Hello! Good evening. Thank you, Athen. It's leaders like you, those helping the next generation live authentically and find their voice, who make me so hopeful for our future.

And thank you to Paul Buccieri and A&E for helping us put this event together.

Isn't this incredible?    

First Lady Laura Bush is with us tonight. And, Laura, it's such an honor to welcome you and your family back to the White House. 

And finally, I want to say what a joy it is to be here with the man who has inspired, supported, and loved Sir Elton John for so many years: His husband, David. 

Few things have the power to bring us together like music. It can compel us to move as one on the dance floor, to sing along with strangers when we hear that familiar tune. It's a voice for the feelings we can't always define. 

When the piano plays, the strings swell, the drums beat in time with our hearts, we find joy or a balm for our sorrows or the harmonies that tell us we aren't alone. 

And in that spirit, as we celebrate Elton John's music, we also celebrate you — everyday history-makers. 

Many of you are my colleagues — fellow teachers, like Leah Michael Dillard. (Applause.)  Love the teachers! So, Leah has taught 7th grade English for 20 years. And, Leah, your students are better thinkers and more engaged citizens because of you. 

We also have first responders and healthcare heroes like — like Dr. Amber Pearson. Amber was the first person in her family to go to college. And it wasn't easy. She worked multiple jobs, took out loan, and when she finally reached her dream, she gave back to others, as an audiologist for veterans and their families, serving the women and men who serve us so well. 

And in this crowd are leaders of the beautiful, bold, and diverse future we are building together, like Javier Gomez, a student from Miami. When his governor passed a law targeting the LGBTQ community, he didn't sit back. 

Javier, you remind us of the power of one person who is willing to speak up for what is right, and that's what this night is all about. Coming together, using our voices, celebrating that, here in America, our differences are precious and our similarities infinite.

Elton once said, "Music has healing power. It has the ability to take people out of themselves for just a few hours."

We're here tonight to once again lose ourselves and be brought together — perhaps even healed — by the power of music. 

And now, I get to introduce another huge fan, who also happens to be the president of the United States and my husband, Joe Biden. 

THE PRESIDENT:  You had to stand for Jill, but you can sit for me. Please, all have a seat.  Please, have a seat.
Look, I — as my colleagues — many of whom from the Senate are still here, came tonight — they always used to kid me because I — I was quoting Irish poets on the floor of the Senate.
The think I did it because I'm Irish. That's not the reason; I did it because they're the best poets in the world.
One who we lost not too long ago, Seamus Heaney, once wrote, and I quote, "Once in a lifetime, the longed-for tidal wave of justice rises up, and hope and history rhyme."

Throughout this incre- — his incredible career, Sir Elton John has been that tidal wave — a tidal wave to help people rise up and make hope and history rhyme. Three hundred million records sold. Seventy-one billboard hits, nearly half in the top 10. Six Grammy Awards. Two Oscars. One Tony, among the multiple, multiple nominations across the board. Four thousand performances around the world. A singer, songwriter of our time, for all time.

On his final tour in Washington, Jill and I invited Elton to the White House to thank him on behalf of the American people.

So, like so many Americans, our family loves his music. His songs take us — take us back to a time, a place, a memory. Songs that make every day exceptional, help us connect and come alive. And songs that reflect the artist's gift, that sixth sense to imagine what no one else can, and then sing and play and dream until he sets that feeling free.

As Jill just mentioned, we're joined by so many people that it's — he's set free to be themselves, to be treated with the dignity and respect they deserve. 
Families and advocates in the fight against HIV/AIDS — a fight — a fight that he has led with sheer will, and fight for those lives lost and those lives that we can save.
Leaders standing up for equality of all people, no matter who you are or who you love.

Every day — every day Americans of every generation, of every background who know that life can be cruel and full of struggle, but it can also be full of joy and purpose.

And we're joined tonight by the U.K. Ambassador to the United States, Karen Pierce, during a difficult time. Karen, thank you. Thank you for being here, Karen.

Jill and I travelled to London to pay our respects to the Royal Family on the queen's passing.

Our hopes tonight — our hope is that Sir Elton John's music heals the sorrow, as it often has in the past.
Throughout his career, Elton found his voice — not only his voice, but his voice to help others and help them find their voice.

With his hope, he made history rhyme for countless people in our nation. That's what tonight is all about.

Elton often talked about how American music changed his life and how the different genres and sounds influenced his own music and imagination. It's clear Elton John's music has changed our lives.

To David and the boys, thank you for sharing your husband and dad with us tonight.  (Applause.)  And to Elton, on behalf of the American people, thank you — and I sincerely mean this — thank you for moving the soul of our nation. 
CBP Commissioner Chris Magnus resigns
The former Tucson, Ariz., police chief is openly gay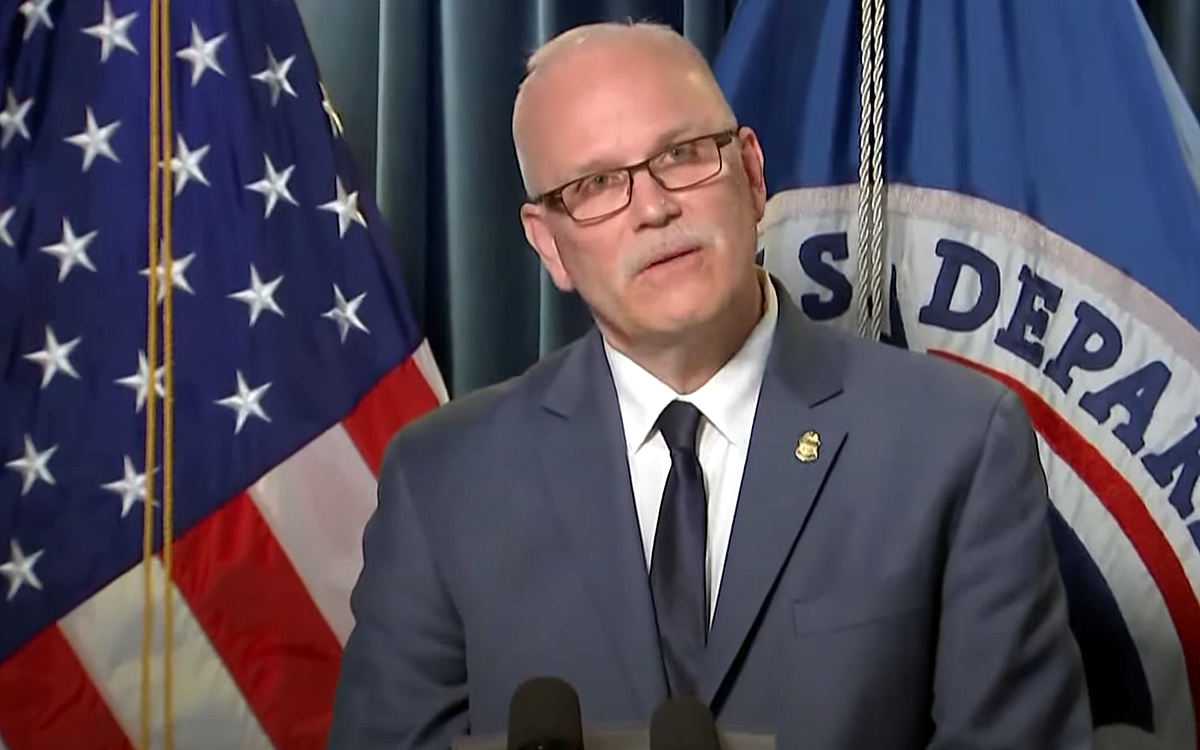 U.S. Customs and Border Protection Commissioner Chris Magnus submitted his resignation to President Joe Biden Saturday evening.
Magnus had reportedly been told earlier in the week by Homeland Security Secretary Alejandro Mayorkas that he should resign or expect to be fired.
Multiple media outlets reported that Magnus said Friday that he had no plans to step down despite being told to resign by Mayorkas.
"I want to make this clear: I have no plans to resign as CBP commissioner," Magnus said in a written statement to The Washington Post. "I didn't take this job as a resume builder. I came to Washington, D.C. — moved my family here — because I care about this agency, its mission and the goals of this administration."
In his letter of resignation released by White House Press Secretary Karine Jean-Pierre, Magnus wrote: "Thank you for the opportunity to serve as your Senate confirmed commissioner of U.S. Customs and Border Protection over the past year. It has been a privilege and honor to be part of your administration.
"I am submitting my resignation effective immediately but wish you and your administration the very best going forward. Thank you again for this tremendous opportunity," Magnus added.
Pressure on the White House to remove the embattled CBP commissioner came from within the administration as well as from House Republicans on Capitol Hill. Last week a group of House Republicans led by Georgia Congressman Jody Hice sent a letter to the president demanding that he remove Magnus after an article in Politico revealed extreme dissatisfaction within the agency.
"According to a recent report by Politico, Commissioner Magnus continually fails to attend high-level meetings regarding the border crisis. Even worse, he was caught sleeping through some of the meetings he actually attended," wrote the lawmakers in the letter first reported by the Daily Caller.
"The report goes on to detail Commissioner Magnus' constant complaining about his fellow senior officials in Department of Homeland Security (DHS) instead of focusing on the CBP mission to secure our border," the lawmakers added.
According to the Los Angeles Times, the CBP chief and Mayorkas argued over Magnus' decision not to continue a retention bonus for U.S. Border Patrol Chief Raul Ortiz. The Times also reported Magnus had butted heads with Ortiz as well over how to reform the Border Patrol.
The day before, Magnus also attended a meeting of Border Patrol chiefs after Mayorkas had told him not to go.
"After me making extensive attempts to reach [Mayorkas] and discuss the matter, I went to the meeting so I could engage with the chiefs on various issues and concerns. I also met with Chief Ortiz to see how we might best work together moving forward," Magnus told the Times.
When the two finally did meet, Mayorkas encouraged him to resign.
"I expressed to him that I felt there was no justification for me to resign when I still cared deeply about the work I was doing and felt that that work was focused on the things I was hired to do in the first place," Magnus told the Times.
The Hill noted that Magnus was chosen by the president in part because he spoke out against the Trump administration's crackdown on immigrants and its negative effect on relations between law enforcement and immigrant communities.
Still, Magnus' background in policing rather than immigration and border enforcement raised some questions about his ability to take on a complex agency amid historically high border crossings, The Hill further pointed out.
Magnus is openly gay and married Terrance Cheung, former chief of staff to the mayor of Richmond. Calif., in 2014.
He was previously chief of police in Tucson, Arz.; Fargo, N.D.; and Richmond, Calif., and is an outspoken advocate of community policing and of immigration sanctuary cities and states.
Vice president at HRC National Dinner commits to fighting 'epidemic of hate'
Kamala Harris spoke a day after Nancy Pelosi's husband attacked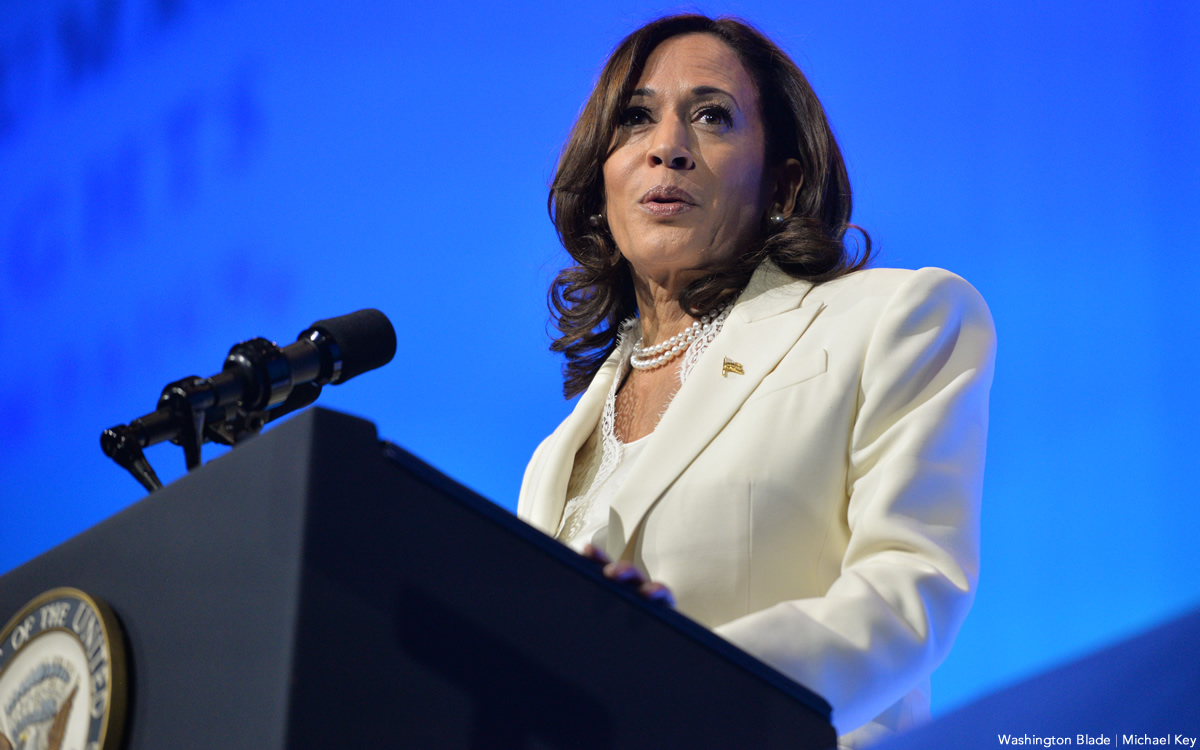 Vice President Kamala Harris committed to fighting the "powerful forces trying to take our country backwards" in prepared remarks Saturday during the Human Rights Campaign's National Dinner in D.C.
"The very existence of LGBTQ+ people is under assault," Harris said from the stage of the Walter E. Washington Convention Center. She decried the "epidemic of hate" that has gripped this country while celebrating the intersectional work that has been undertaken by HRC and the Biden-Harris administration.
"This next chapter of HRC is going to center liberty and equality for all, with no exceptions," incoming HRC President Kelley Robinson said. Speaking just before the vice president's address, she rejected incrementalism and highlighted the importance of strengthening the movement with coalition building and grassroots organizing.
Robison — who after taking the helm on Nov. 28 will be the first Black queer woman to lead America's largest LGBTQ organization — previously served as executive director of Planned Parenthood Action Fund. She was introduced on stage by Planned Parenthood President Alexis McGill Johnson.
Other speakers from HRC rounded out the program along with the evening's honorees, who included Abbi Jacobson, Chanté Adams and George Takei.
House Speaker Nancy Pelosi (D-Calif.) was slated to headline the national dinner together with the vice president, but a spokesperson confirmed to the Washington Blade on Friday that she would not be able to attend.
Early that morning, an intruder violently assaulted Pelosi's husband after breaking into the couple's San Francisco home. Nancy Pelosi was in Washington at the time. Paul Pelosi, 82, was hospitalized with a skull fracture but is expected to make a full recovery.
On Saturday, Nancy Pelosi's office published a "Dear colleague" letter thanking fellow members for their support and expressing gratitude for the "quick response" of law enforcement and emergency services personnel.
Harris began her comments by denouncing the "vicious attack" on Paul Pelosi. It "speaks to what HRC stands for, which is the work that we will still need to do to fight hate" while sending the message that there is no place for political violence in America, she said.
"Our HRC family is thinking of Speaker Pelosi, her husband and her family — and sending love and support their way," HRC Interim President Joni Madison tweeted on Friday. Robinson shared the message on Twitter, adding her own words of encouragement and well-wishes.
The National Dinner is HRC's largest annual fundraiser. The organization has hosted the event each year since 1997, apart from a two-year hiatus from 2020 to 2021 amid the COVID-19 pandemic. Previous speakers have included Presidents Barack Obama and Bill Clinton, Maya Angelou, John Lewis, Rosie O'Donnell and Sally Field.
Madison has led HRC since the termination of former President Alphonso David last year over his alleged involvement in helping to cover up sexual harassment allegations against former New York Gov. Andrew Cuomo during his tenure as Cuomo's chief counsel.
Biden won't meet with Putin until Russia engages in Griner release negotiations
Two presidents to attend next month's G-20 meeting in Bali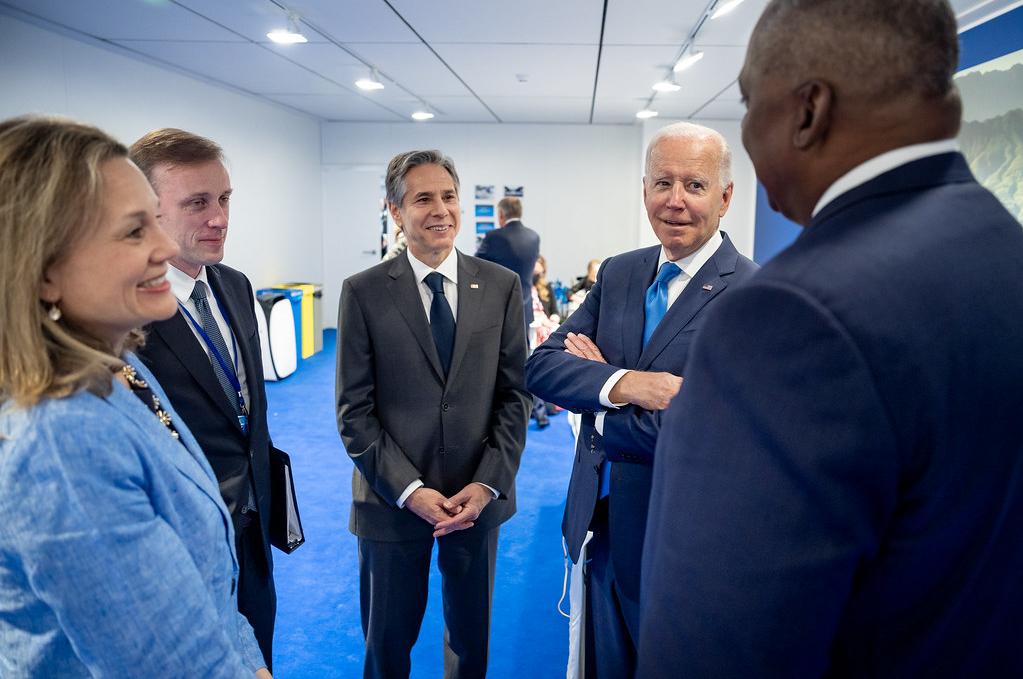 President Joe Biden "has no intention" of meeting with Russian President Vladimir Putin next month, until and unless Russia engages in negotiations for the release of American WNBA basketball star Brittney Griner. 
"The Russians need to take the serious offer that we put forward on the table, or make a serious counter-offer to negotiate, but in good faith," White House Press Secretary Karine Jean-Pierre said during a briefing Wednesday.
Biden told CNN's Jake Tapper, in an interview that aired Tuesday, that he would be open to talking with Putin about Griner's release. According to a White House pool report Wednesday, Biden said progress toward a meeting about Griner's case had not been made with Putin. 
The two are slated to join other world leaders in Bali from Nov. 15-16 for the G-20 Summit.  
Griner has been detained in Moscow since February —"wrongfully," a State Department spokesperson said in May — over vape canisters containing cannabis oil that were allegedly found in her luggage. 
In August, the WNBA player was sentenced to nine years in a Russian prison. A court will hear her appeal on Oct. 25. Her lawyer told the New York Times on Wednesday that she fears she will serve the entirety of her sentence in Russia, despite efforts to arrange a prisoner swap. 
"She has not been in as good condition as I could sometimes find her in," said her lawyer, Alexandr Boykov, who added it has been difficult for Griner to arrange phone calls with her wife Cherelle and other members of her family. Biden and Vice President Kamala Harris have spoken with Cherelle Griner.
Secretary of State Antony Blinken said this summer the U.S. had "put a substantial proposal on the table," an offer that reportedly would free imprisoned Russian arms dealer Viktor Bout in exchange for the release of Griner and Paul Whelan, an American who officials say was wrongfully detained on espionage charges.