Kaiser Permanente opens D.C. LGBTQ medical center
Pride Medical facility is located on Capitol Hill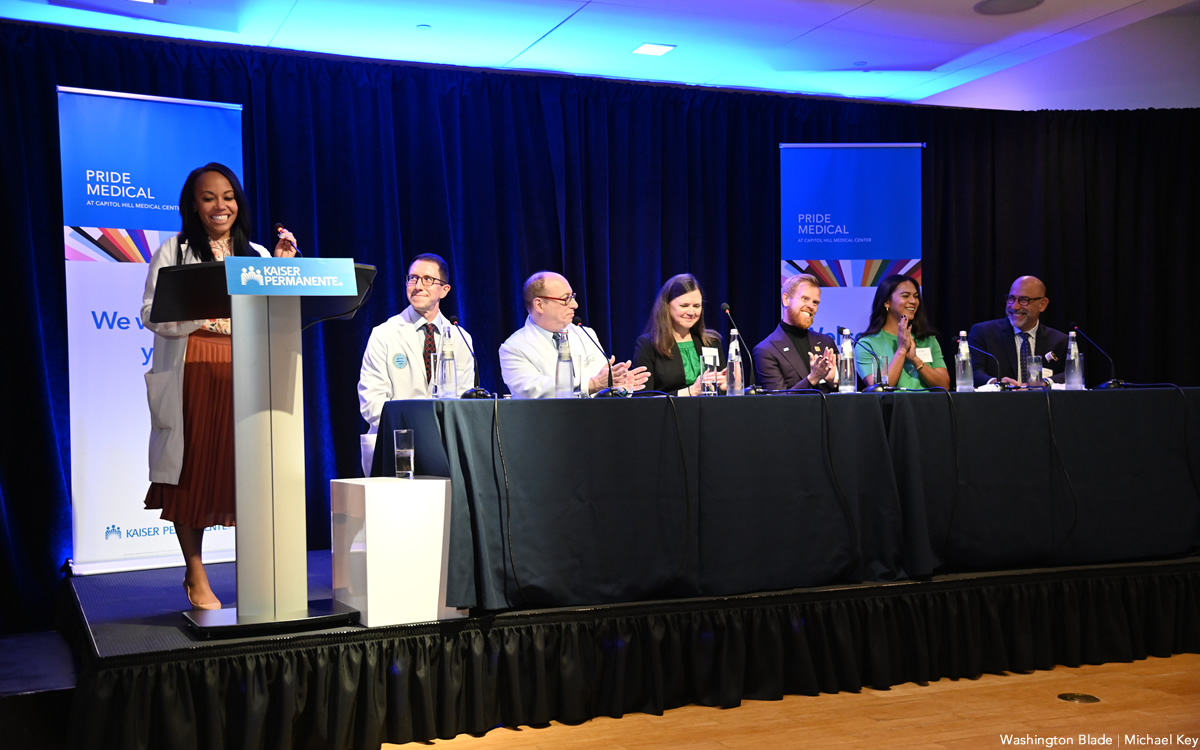 The importance of providing specialized health care services for the LGBTQ community was the lead topic at a reception, panel discussion and ribbon-cutting ceremony on Tuesday at the site of Kaiser Permanente's LGBTQ Pride Medical Center on Capitol Hill.
Officials with the LGBTQ facility, which is referred to as Pride Medical, said they invited guests and supporters to join the facility's physicians, staff, and community members to talk about its importance and celebrate its opening in June 2021 with a ribbon-cutting ceremony that had been postponed due to COVID-related restrictions.
"Research shows that LGBTQ+ patients often have health concerns that they prefer to share with a doctor who has experience treating patients who identify as LGBTQ+," a statement released by the event's organizers says. "That's why Kaiser Permanente launched Pride Medical at Capitol Hill, which offers access to physicians who have extensive expertise in LGBTQ+ care, as well as pharmacy, lab, gynecological and case management services," the statement says.
"Pride Medical is an optional, additional site of care for LGBTQ+ patients," the statement adds.
The Pride Medical offices are located in Kaiser Permanente's Capitol Hill Medical Center at 700 Second St., N.E., near Union Station, which is sometimes referred to as Capitol Hill North.
Among those participating in the panel discussion, called Taking Pride in Your Health: A Conversation about LGBTQ+ Health Care, was Dr. Ashlee Williams, a board-certified Kaiser Permanente adult and family medicine physician practicing at the Capitol Hill Medical Center, who served as the panel moderator.
Also participating on the panel was Dr. Keith Egan, one of the primary care physicians at Pride Medical who also serves as Associate Director of Gender Pathways, a transgender supportive program located at the Kaiser Capitol Hill Medical Center. Another panel speaker was Dr. Michael Horberg, who along with Egan, was one of the founders of Pride Medical.
Horberg serves, among other roles, as Associate Medical Director for Kaiser Permanente's Mid-Atlantic Permanente Medical Group and director of the medical group's HIV/STI (Sexually Transmitted Infections) program.
Both Egan and Horberg self-identified as gay in their panel presentations. They emphasized that LGBTQ physicians and staff as well as allied physicians and staff who are highly trained in LGBTQ medical related issues play an important role in providing support and expert care for Pride Medical's patients.
"I think that trust and comfort are the big benefits of Pride Medical," Egan told the gathering. "But we also have providers with an amazing amount of experience in doing things like providing pre-exposure prophylaxis for HIV, post-exposure prophylaxis, talking about sexual health, and with transgender health," he said.
Egan told the Washington Blade that Pride Medical provides care for patients who are members of the Kaiser Permanente health insurance and healthcare system who live in the Maryland and Virginia suburbs as well as D.C. patients. He said many of the patients living in the suburban areas schedule virtual visits with their physicians through video sessions while also coming in for in-person visits.
Egan said the Pride Medical physicians see LGBTQ patients from all walks of life and ages, starting from age 18 through seniors who are members of Kaiser through their Medicare plans.
Other speakers on the panel included Japer Bowles, director of D.C. Mayor Muriel Bowser's Office of LGBTQ Affairs; Dr. Cabell Jonas, research scientist and Director of Research Programs for Kaiser's Mid-Atlantic Permanente Research Institute; gay health care expert Charles DeSantis, who serves as Chief Benefits Officer and Associate Vice President for Benefits at Georgetown University; and Bianca Rey, a trans woman who provides support for Pride Medical in her role as an Equity Inclusion and Diversity Specialist at Kaiser Permanente's Mid-Atlantic States Region.
Rey told of how she has benefited both as a patient and staff member of Kaiser's longstanding trans, nonbinary and gender expansive supportive programs currently being coordinated at Pride Medical.
"I appreciate the fact that care is individualized," she said. "Trans people and nonbinary people do not transition the same," she continued. "And I appreciated that the conversation with myself and Pride Medical and that the people that are engaging in that conversation really listen and they give you the proper care that you need in order for you to continue to live as your authentic self."
At the conclusion of the panel discussion, Dr. Shital Desai, who serves as Physician-In-Chief for Kaiser Permanente's Mid-Atlantic Region, invited the panelists and other guests to join her in an official ribbon-cutting ceremony to celebrate the opening and continued operation of Pride Medical.
"Our deepest gratitude to this incredible teem who was tireless in creating Pride Medical, which opened its doors to our patients in June of 2021," Desai told the gathering.
"So, at this time, with such a wonderful audience here in place, we wanted to take the opportunity to engage and commemorate Pride Medical with a ribbing-cutting ceremony, which we were not able to do last June related to the pandemic at that time," she said.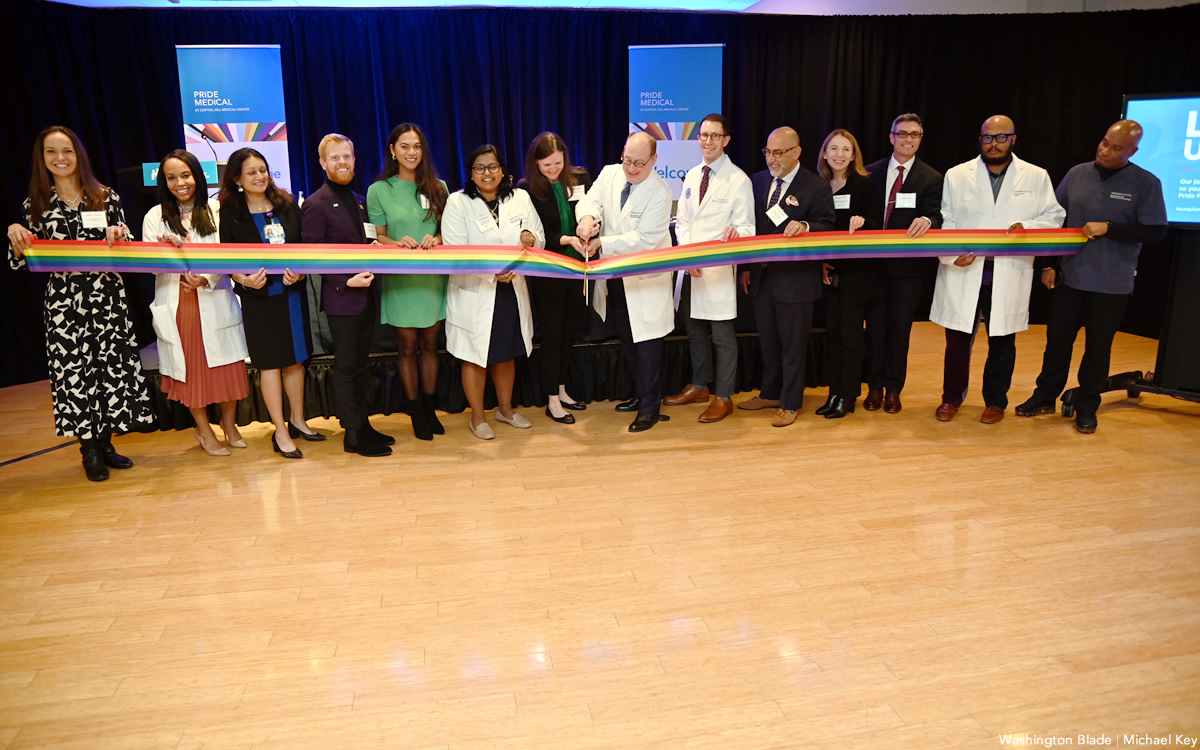 Capital Pride reveals 2023 Pride theme
This year will focus on 'peace, love, revolution'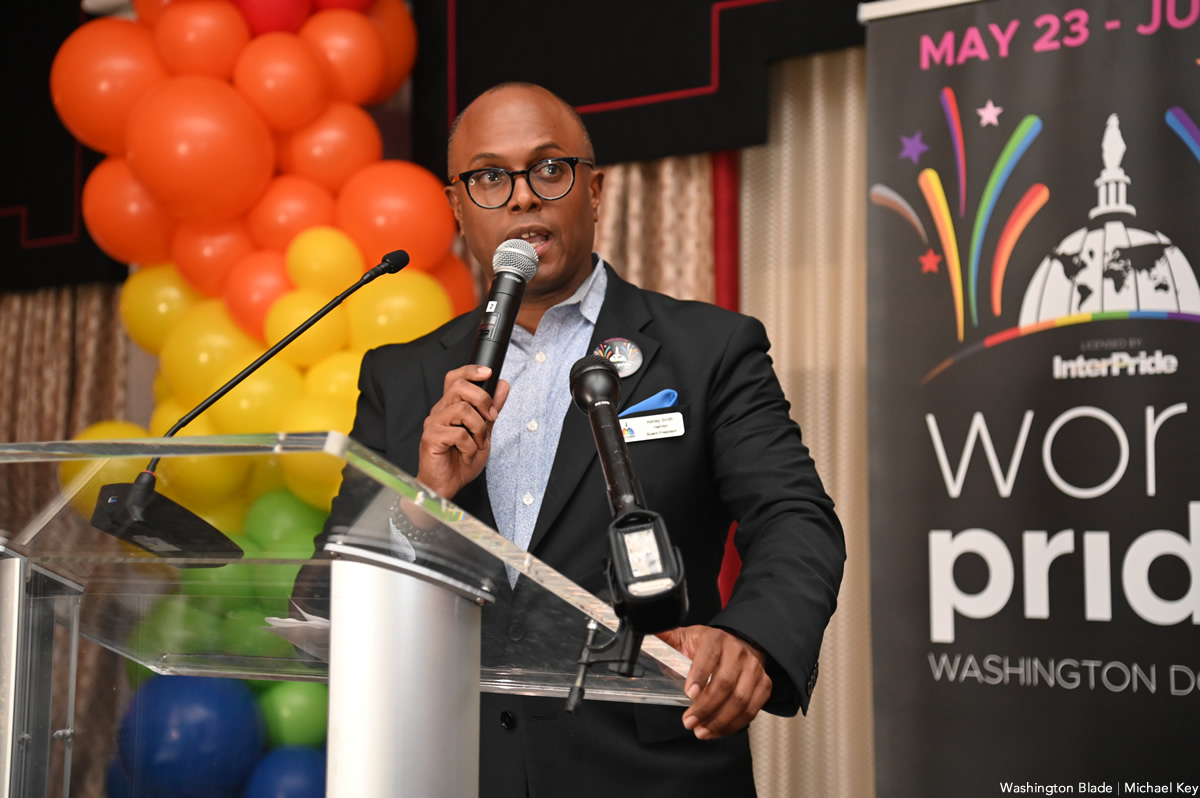 Over 300 people turned out Thursday night, March 16, for the annual D.C. Capital Pride Reveal celebration, which organizers say served as the official kick-off of the LGBTQ Pride events for 2023 in the nation's capital.
Among other plans for the 2023 Pride events, including the annual Pride parade and festival, organizers announced this year's theme for the Pride festivities will be "peace, love, revolution."
The event took place in one of the large ballrooms at D.C.'s Kimpton Hotel Monaco at 700 F St., N.W.
Officials with Capital Pride Alliance, the group that organizes D.C.'s annual Pride events, also announced at the Reveal celebration that the 2023 Pride events will set the stage for 2025, when D.C. will serve as the host city for World Pride 2025.
World Pride is an international LGBTQ event that takes place over a period of several days that usually draws a million or more visitors from countries throughout the world to the host city.
Organizers of the World Pride celebration announced last year that they had accepted D.C.'s bid to host World Pride 2025. The bid was prepared by the Capital Pride Alliance and D.C. government officials, including officials from the office of Mayor Muriel Bowser and the city's convention and visitor's bureau.
"We are thrilled to introduce our theme for Capital Pride 2023 as we gear up to welcome the world to D.C. in 2025, which is also the 50th anniversary of Pride in D.C.," said Capital Pride Alliance Executive Director Ryan Bos in a statement released on Friday. "This year's theme kicks off a three-year campaign leading into the message that we want to share with the world in 2025," Bos said.
In the statement it released on Friday, Capital Pride explained its rationale for selecting its theme, saying it was based in part on the LGBTQ rights movement's history.
"Social justice issues, including those involving the LGBTQ+ community, were shaped by moments that turned into movements beginning in the 1950s and in the years that followed," the statement says. "These movements created a REVOLUTION of change that sparked the beginning of newfound freedoms," it says.
"The fight for these liberties instilled a sense of Pride in members of the LGBTQ+ community in the decades since," the statement continues. "PEACE and LOVE motivated many of these pioneers to be brave and inspired others to fight for human rights for years to come," it says.
The statement points out that "recent challenges" have arisen in state legislatures and in Congress that have once again placed the LGBTQ community "under fire from those who would deny us our basic civil rights." It says these challenges will require a continuation of the fight for freedom "through direct action in the streets and the halls of government."
Among those who spoke at the Reveal event, in addition to Bos, were Capital Pride Board President Ashley Smith, and Capital Pride's public affairs director, Marquia Parnell.
Also speaking was Japer Bowles, director of the D.C. Mayor's Office of LGBTQ Affairs, who told the gathering that the city government, especially Bowser, will be working diligently to provide full city support for WorldPride 2025.
D.C. drag performer Shi-Queeta-Lee drew loud applause from the crowd that filled the hotel ballroom for a drag performance after the speakers addressed the crowd.
"We're going to be focused on peace, love, and revolution over the course of this next year," Smith told the Washington Blade at the conclusion of the Reveal event. "We're super excited about it because this is a part of the movement that adds to the historical pieces as we approach 2025 and World Pride in 2025," he said.
In its statement released on Friday, the Capital Pride Alliance announced the 2023 Capital Pride Parade will take place June 10, and will travel the same route as last year's D.C. Pride Parade. A Pride block party will also take place this year in a two-block section of 17th Street, N.W., near Dupont Circle in the same location as last year, the Capital Pride announcement says.
And it says the annual Capital Pride Festival and concert will take place on June 11, also at the same location as last year — along a stretch of Pennsylvania Ave., N.W., with the U.S. Capitol as a backdrop.
"Through the events of Capital Pride and its many partnerships, last year Capital Pride Alliance was able to raise over $200,000 for the Pride 365 Fund," according to the Capital Pride statement.
"The success of last year allowed CPA to invest and partner with the D.C. Center for the LGBT Community to establish a new LGBTQ+ community center for Washington, D.C., and continue the support of partner organizations that organize events such as DC Black Pride, Trans Pride, Youth Pride, Silver Pride, Latinx Pride and Asian and Pacific Islander Pride," the statement says.
Further details of plans for Capital Pride 2023 can be access at www.CapitalPride.org.
Casa Ruby board members deny responsibility for org's collapse
Civil complaints filed against officials to be discussed at March 17 hearing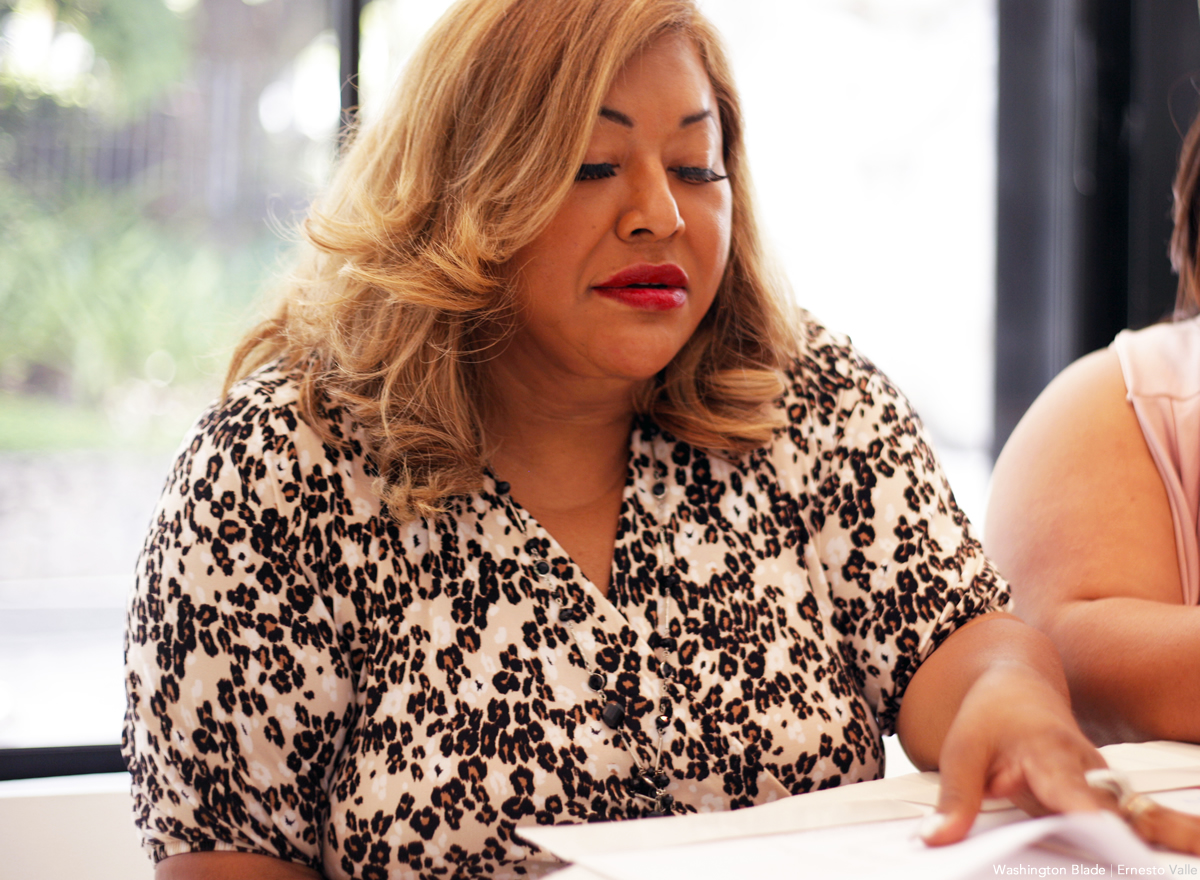 At least five of the eight former members of the Casa Ruby board of directors who are named in a civil complaint charging them with failing to adequately oversee the organization's finances and practices by its former director Ruby Corado have filed court papers disputing the allegations against them.
Details of their response to a third-party civil complaint filed against them by the Wanda Alston Foundation in its role as the court-appointed receiver of the now-defunct Casa Ruby LGBTQ community services center were expected to surface at a March 17 D.C. Superior Court virtual hearing on the Casa Ruby case.
The Alston Foundation's complaint was filed on Dec. 23, several months after the Office of the D.C. Attorney General filed its own civil complaint against Casa Ruby and Ruby Corado. The Attorney General's complaint, among other things, alleges that Corado and the organization violated the city's Nonprofit Corporations Act in connection with its financial dealings. An amended version of the original complaint charges that Corado withdrew more than $400,000 of Casa Ruby's funds for unauthorized use in El Salvador, where Corado currently lives.
The Alston Foundation complaint, which also names Corado as a defendant, identifies each of the eight former board members as defendants and "respectfully requests restitution, compensatory damages, punitive damages, receivership fees and expenses, court costs, attorneys fees and expenses, and any other relief the court deems necessary and proper."
According to the complaint, each of the board members failed to exercise their legally required oversight of Casa Ruby's operations and of practices by Corado that allegedly resulted in the financial collapse of Casa Ruby, forcing it to close its operations.
Miguel Rivera, one of the former board members who is an attorney, states in his response to the complaint that it "fails and/or may be barred, in whole or in part, because a bona fide fiduciary relationship did not exist between Third-Party Plaintiff [Alston Foundation on behalf of Casa Ruby] and Third-Party Defendant Miguel Rivera."
Rivera's response adds that the complaint should be dismissed on a wide range of grounds, including his assertion that he as a board member "has not engaged in (a) willful misconduct; (b) crimes; (c) transactions that resulted in improper personal benefits of money, property, or service; and (d) acts or omissions that are not in good faith and are beyond the scope of authority of the corporation."
The responses filed by the former board members are not included in the current online D.C. Superior Court case docket for the Casa Ruby case. At the request of the Washington Blade, Douglas Buchanan, the court's public information officer, provided the Blade with the responses by Rivera and former board members Meredith Zoltick and Carlos Gonzales.
Similar to Rivera's response, the response filed by Zoltick and Gonzales also disputes the validity of the complaint and asks the judge to dismiss the case against them.
Nick Harrison, the attorney representing the Alston Foundation in its role as Casa Ruby Receiver, said he has learned that another two former Casa Ruby board members have filed some form of a response to the complaint against them.
In a separate motion filed in court on Jan. 21, Harrison states on behalf of the Alston Foundation that it has taken the legally required steps needed to properly serve each of the eight former board members with court papers informing them they have been named as defendants in the complaint. He said he expects Superior Court Judge Danya Dayson, who is presiding over the Casa Ruby case, to rule that the legally required efforts to serve each of the defendants have been met.
Court records show that Corado, who has appeared in previous virtual court hearings through a phone hookup, has yet to retain an attorney to represent her.
Corado has denied engaging in any improper financial actions and has insisted the Casa Ruby board approved her actions, including her decision to open a Casa Ruby operation in El Salvador. In a December interview with the Blade's El Salvador correspondent, Corado said the allegations that D.C. officials have made against her amount to "persecution."
At a Jan. 6 court hearing held virtually, Corado reiterated her earlier claims that the D.C. government was responsible for Casa Ruby's closing in July 2022 by withholding hundreds of thousands of dollars that Corado says the city owed Casa Ruby for services it provided under city grants.
City officials have disputed those claims, saying the funds were withheld or discontinued because Casa Ruby did not provide the required documentation or reports showing that it performed the work associated with the city grants.
The March 17 court hearing is scheduled to begin at 12 p.m. and will be broadcast through the court's Webex system.
Protesters show up at D.C. Gospel Drag Brunch
Monthly event at Capitol Hill restaurant continued uninterrupted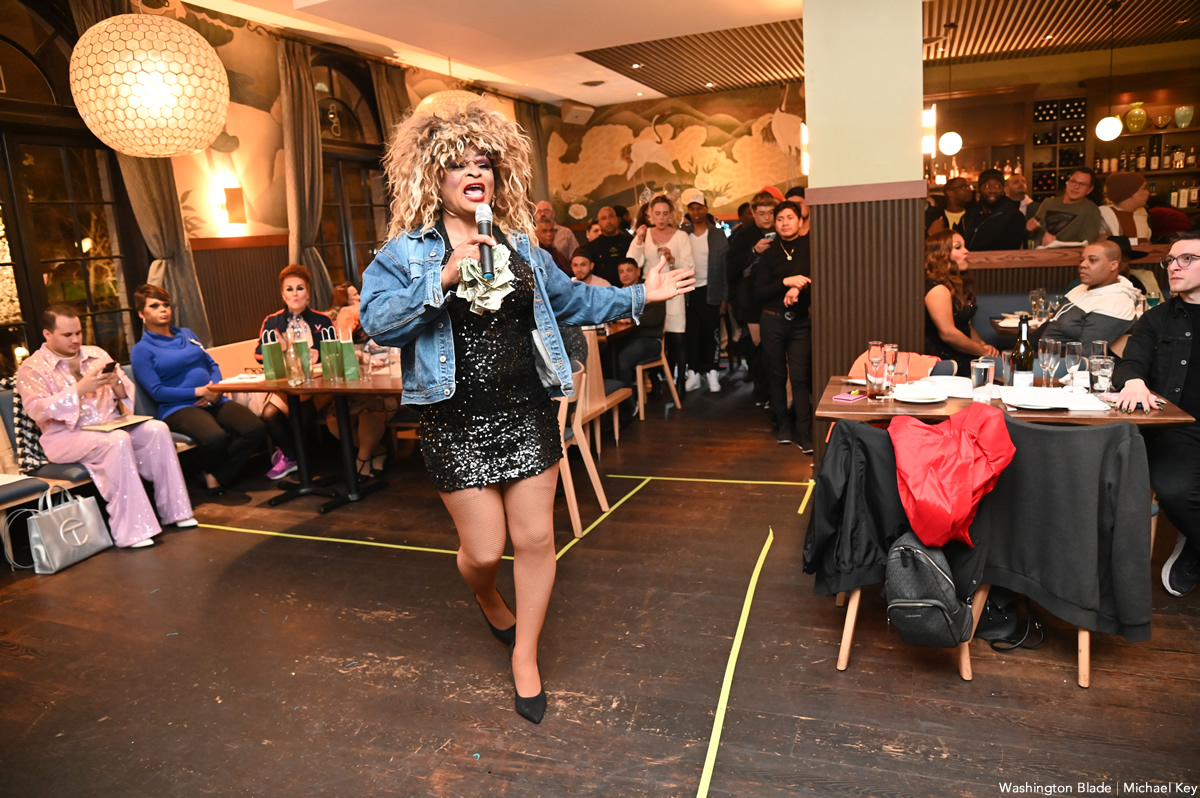 About four or five men showed up Saturday morning, March 11, outside the Crazy Aunt Helen's restaurant in the Barracks Row section of Capitol Hill to protest the restaurant's monthly Gospel Drag Brunch.
According to drag performer Shi-Queeta-Lee, who performs at the event, and the restaurant's owner, Shane Mason, the small group of protesters displayed a large sign saying, "Pride Is of The Devil" and recited biblical passages from a bullhorn.
But Lee and Mason said the Gospel Drag Brunch, which sells out each time it is held, took place uninterrupted by the protesters, who were told by a D.C. police officer not to interfere with customers entering or leaving the restaurant.
The mini protest took place two weeks after D.C. police turned out in full force at the same restaurant after news surfaced that the far-right group Proud Boys planned to stage a potentially violent protest against a Drag Story Hour event scheduled to take place at the restaurant on Feb. 25.
As it happened, the Proud Boys did not show up to protest, according to D.C. police. Instead, dozens of supporters of the drag event turned out along with members of Parasol Patrol, a group of Drag Story Hour supporters that have supported similar events in other parts of the country.
The Drag Story Hour events, held in bookstores, libraries, and other places around the country, consist of drag queens reading children's stories to children accompanied by their parents. Mason said Crazy Aunt Helen's restaurant hosts the Drag Story Hour twice a month.
The March 11 protest outside Crazy Aunt Helen's against the Gospel Drag Brunch appeared to attract far less attention than the cancelled protest by the Proud Boys.
In a video recording of Shi-Queeta-Lee speaking to the protesters before she began her Gospel Drag Brunch performance, which was taken by one of the participants in her show, at least one of the protesters appeared to be surprised when Lee challenged their opposition to the drag event on religious grounds.
"I grew up in the church," Lee told the Washington Blade. "I'm from the South and so I know where these people are coming from," Lee said, adding that her response to the protesters in her brief exchange with them was, "Who are you to judge me and how I live my life or what I choose to do with my life?"
On the video, one of the protesters can be heard saying he is an "ex-transgender" person who followed God's will and chose to leave a life of sin.
Mason said he, too, was raised in a religious family and is the son of a Pentecostal preacher.
"So, I understand how these folks think," he said. He told the Blade he hired Shi-Queeta-Lee to be the host of his restaurant's Gospel Drag Brunch to provide a unique show with a supportive, nonjudgmental religious theme. He said the show includes a gospel piano player who plays gospel music to which Lee sings and three other drag performers lip sync as they join Lee in putting on the show.
"We had people showing up for brunch who weren't even planning on coming to brunch because they heard there was a commotion and they wanted to come over and support us," Mason said in discussing the March 11 protest.
Meanwhile, with the next twice monthly Drag Story Hour scheduled for Saturday, March 18, Mason said he has not heard any reports of yet another protest and was hopeful the children's event will take place in a calm and pleasant way similar to past events.