D.C. queer bar owners oppose ballot initiative to end tip wage system
'I have not met a single server who wants this'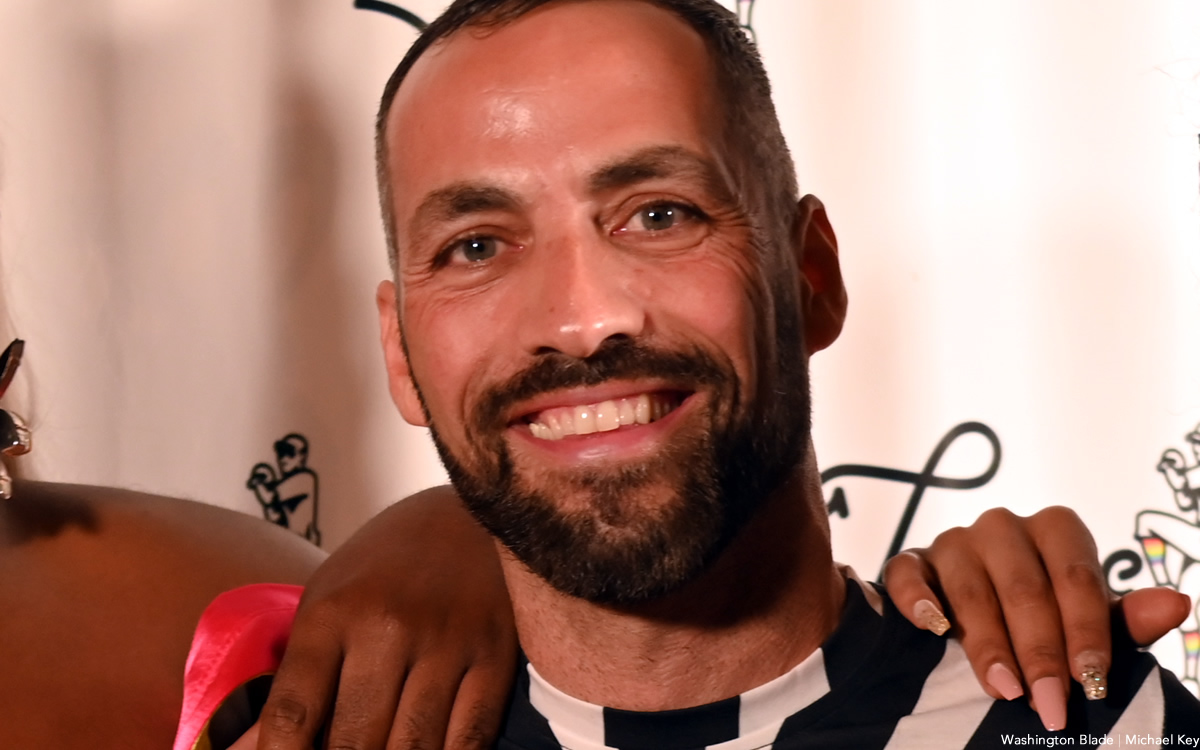 The owners of at least three of D.C.'s gay bars have joined representatives of nearly all the city's restaurants, bars, and nightclubs in speaking out against a measure on the Nov. 8 D.C. election ballot calling for ending the so-called tipped wage system.
The ballot measure, called Initiative 82, calls for ending an exemption to the city's minimum wage law that allows employers of tipped workers to pay them less than the prevailing minimum wage but requires them to make up the difference if the workers don't earn the equivalent of the full minimum wage through their tips combined with the lower "tipped" wage.
D.C. restaurant industry officials argue that ending the tipped wage system, which is in place in all but seven states in the U.S., would create an economic hardship for their mostly small, community-based businesses by dramatically increasing labor costs at a time when they have yet to fully recover from the hardships caused by the COVID-19 pandemic.
They say most tipped workers make significantly more than the city's current $16.10 per hour minimum wage. The current lower "tipped" minimum wage in D.C. is $5.35 per hour.
"I have not met a single server who wants this," said David Perruzza, who owns the Adams Morgan bars Pitchers and A League of Her Own, which share the same building.
"My staff makes $30 or more an hour," he said, noting that all except his small kitchen staff are tipped workers. "I pay my non-tipped workers more than the minimum wage," Perruzza told the Blade. "The people who support this don't know anything about the service industry."
Like other bar and restaurant owners, Perruzza said ending the tipped wage could result in the doubling of his payroll, which could force him to raise prices and possibly lay off employees, most of whom are LGBTQ.
John Guggenmos, co-owner of the Logan Circle area gay bars Number 9 and Trade, and Jo McDaniel, co-owner of the recently opened Capitol Hill gay bar As You Are, said they too believe the approval of Initiative 82 by voters on Nov. 8 would have a negative impact on their businesses.
Guggenmos said the initiative would also have a negative impact on consumers because prices would have to be increased, and a service charge of as much as 20 percent could be put in place to offset the higher labor costs. Opponents of the initiative argue that a service charge of as much as 20 percent added to the customer's bill would prompt at least some to cut back on tipping.
Ryan O'Leary, a gay former service industry employee who serves as chair of the Committee to Build A Better Restaurant Industry, the organization leading the campaign in support of Initiative 82, disputes the claims by restaurant and bar industry representatives that ending the lower tipped wage will seriously harm their businesses.
O'Leary told the Washington Blade that both tipped workers and the restaurants and bars for which they work are doing "very well" in the states that do not have a tipped wage system, including in California, where tipped workers earn $15 per hour minimum wage plus tips.
He said tipped workers in D.C. and other states where the tipped wage is in place have reported that restaurant employers engage in subtle forms of retaliation against workers who request to be paid the difference if they don't earn the equivalent of the full minimum wage through tips.
According to O'Leary, a growing number of D.C. restaurants and bars are already paying their tipped workers the full D.C. minimum wage or just short of the full minimum wage, in part, because of staff shortages brought about by the COVID pandemic.
"Those that did this are doing very well," he said. "Some restaurants are fear mongering about tipped workers losing money or losing their jobs if Initiative 82 passes."
O'Leary also points out that under Initiative 82, the full minimum wage for tipped workers will be phased in over a five-year period from 2023 to 2027. Supporters of the initiative say this will minimize if not eliminate any significant economic impact on restaurants and bars.
Among those who strongly dispute the arguments made by O'Leary and others backing Initiative 82 is Mark Lee, coordinator of the D.C. Nightlife Council, a local organization that advocates for businesses such as restaurants, bars, and nightclubs.
Lee said the decision by restaurant and bar owners to adopt a higher minimum wage is based on market conditions such as staff shortages and that's a "good thing" that should be left to the marketplace. He said Initiative 82 would force businesses to raise tipped employees' minimum wage in circumstances where it is not needed, and which will hurt both the businesses and the employees.
"Federal data indicates that D.C. tipped employees at bars and restaurants earn well above the local minimum wage, currently at $16.10 per hour, and earn more than tipped workers in the handful of states that either never had a tipped-credit or outlawed the tip-credit more than 40 years ago," Lee told the Blade in a statement.
Lee points to data released by the U.S. Department of Labor's Bureau of Labor Statistics showing that the average tipped worker's wages in D.C. are close to $27 per hour. He says the data show that average earnings of D.C. tipped workers under the current system are more than $10 per hour above the earnings of tipped workers in states that don't have a tipped wage system.
"There's a reason that no state has gotten rid of the tip-credit in more than four decades, and that's because elected leaders know that workers are opposed and that worker wages will decline," Lee said.
"Initiative 82 backers falsely claim that so-called 'wage theft' and 'retaliation' is rampant and widespread at local bars and restaurants, while offering no actual evidence," Lee said. "First of all, it's extremely rare that a tipped worker's base wage and tips do not exceed the minimum wage, as the D.C. Office of Wage-Hour Compliance can attest," according to Lee.
"But more than that, no worker would stay at a venue if it did violate the law, as hospitality jobs are plentiful as the second-largest local employment sector," he said.
O'Leary said claims by opponents of Initiative 82 that nearly all tipped workers earn more than the full D.C. minimum wage cannot be verified because the D.C. Office of Employment Services has failed to enforce a law requiring service industry businesses like restaurants and bars to submit to the office wage data for all their employees.
He points to a nearly identical measure calling for ending the tipped wage system that D.C. voters approved in 2018 by a 55 percent vote margin that strongly indicates voters will approve Initiative 82 on Nov. 8.
In a highly controversial development, the D.C. Council overturned the 2018 measure, called Initiative 77, on grounds that most tipped workers did not support it and it would be harmful to restaurants and bars.
But political observers this year note that the makeup of the D.C. Council changed since it overturned Initiative 77 in 2018 and the current Council is expected to allow Initiative 82 to become law if voters approve it this time around.
D.C. Mayor Muriel Bowser and D.C. Council Chair Phil Mendelson, who supported the decision to overturn Initiative 77 in 2018, have each said they will not support an attempt to overturn Initiative 82 if D.C. voters approve it next week.
Bowser's highest-level adviser resigns after sexual harassment allegation
Female staffer accuses John Falcicchio of longstanding abuse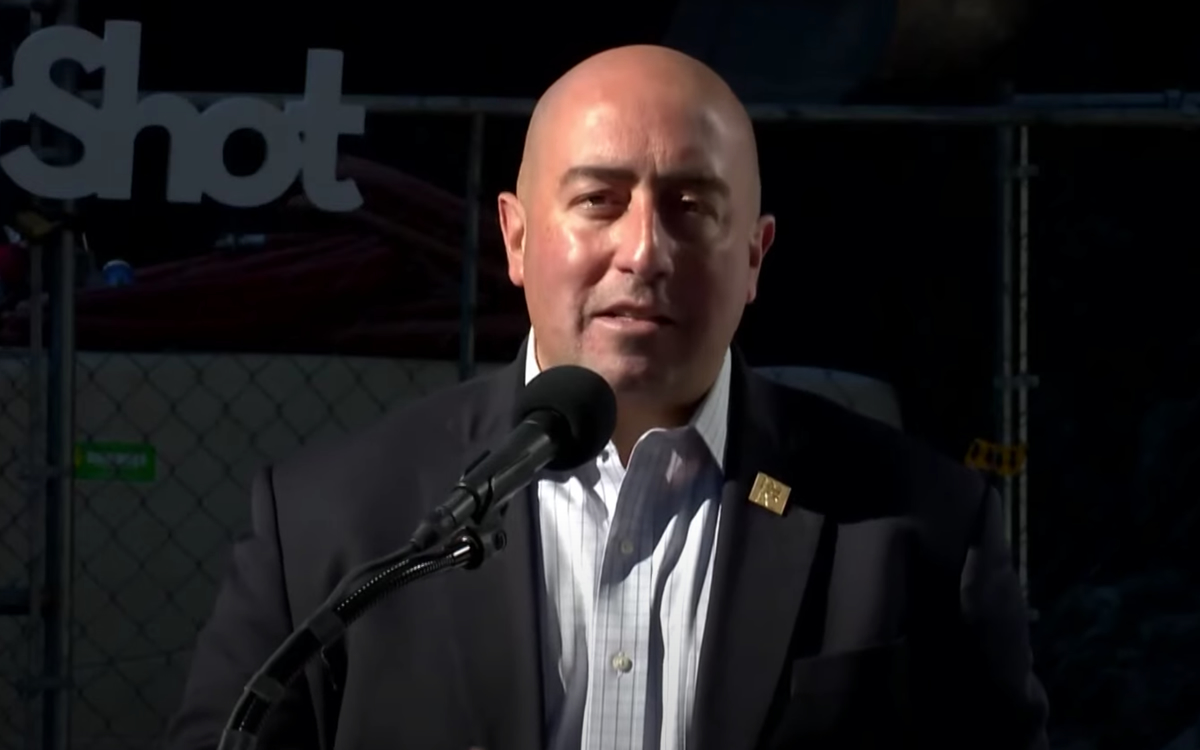 Lawyers representing a D.C. government employee shook up the city's political establishment on Monday when they announced that the employee filed a sexual harassment complaint against John Falcicchio, the now former D.C. Deputy Mayor for Planning and Economic Development and Mayor Muriel Bowser's longtime chief of staff.
The attorneys, Debra Katz and Kayla Morin, did not identify the city employee.
The announcement by Katz and Morin in a press release came shortly after Mayor Bowser issued her own announcement at a news conference on the same day. The mayor confirmed that Falcicchio's sudden resignation last Friday, March 17, followed her decision to launch an investigation into allegations against Falcicchio.
But Bowser said issues surrounding her longtime adviser's departure amounted to "a sensitive matter that includes privacy concerns" that prevented her from disclosing why she initiated the investigation and why Falcicchio abruptly resigned.
She said the investigation was being conducted by the city's Office of Legal Counsel, which is "following established policies and procedures" and that all relevant D.C. government staff members were fully cooperating with the investigation.
"I can also tell you that this investigation does not involve any allegations of improprieties related to business transactions," Bowser told reporters attending the news conference, which was initially called to celebrate the completion of the city's 9th Street, N.W. protected bike lane project and to discuss updates on the Capital Bikeshare program.
"I have every confidence in my new chief of staff, Lindsey Parker, and in our new Interim Deputy Mayor for Planning and Economic Development, Keith Anderson," Bowser said at the news conference. "And I have immense confidence in the 37,000 employees of the D.C. government who will keep us moving forward," she said.
Parker has served as the city's chief technology officer since 2019 and as assistant city administrator since 2022. Anderson has served as director of the D.C. Department of General Services, which oversees the city's buildings and properties.
"We represent an employee of the District of Columbia who came forward to report serious allegations of sexual harassment by former Chief of Staff and Deputy Mayor for Planning and Economic Development John Falcicchio," the statement released by attorneys Katz and Morin says.
"It is our understanding that this behavior is longstanding, and our client is cooperating fully with the investigation, which Mayor Bowser initiated immediately," the statement continues. "Our client is courageous. She came forward to ensure accountability and protect other women," it says. "Given the gravity of our client's allegations – which involve unwelcome advances and sexual contact – we ask the media to respect her privacy," the statement says.
It concludes by encouraging "everyone affected" to contact Maia Ellis, the Associate Director of the Mayor's Office of Legal Counsel, who's leading the investigation, at [email protected].
Katz is a founding partner and Morin is an associate of the D.C. law firm Katz Banks Kumin, which specializes in sexual harassment law, whistleblower law, and employment law, according to a write-up on its website.
Capital Pride reveals 2023 Pride theme
This year will focus on 'peace, love, revolution'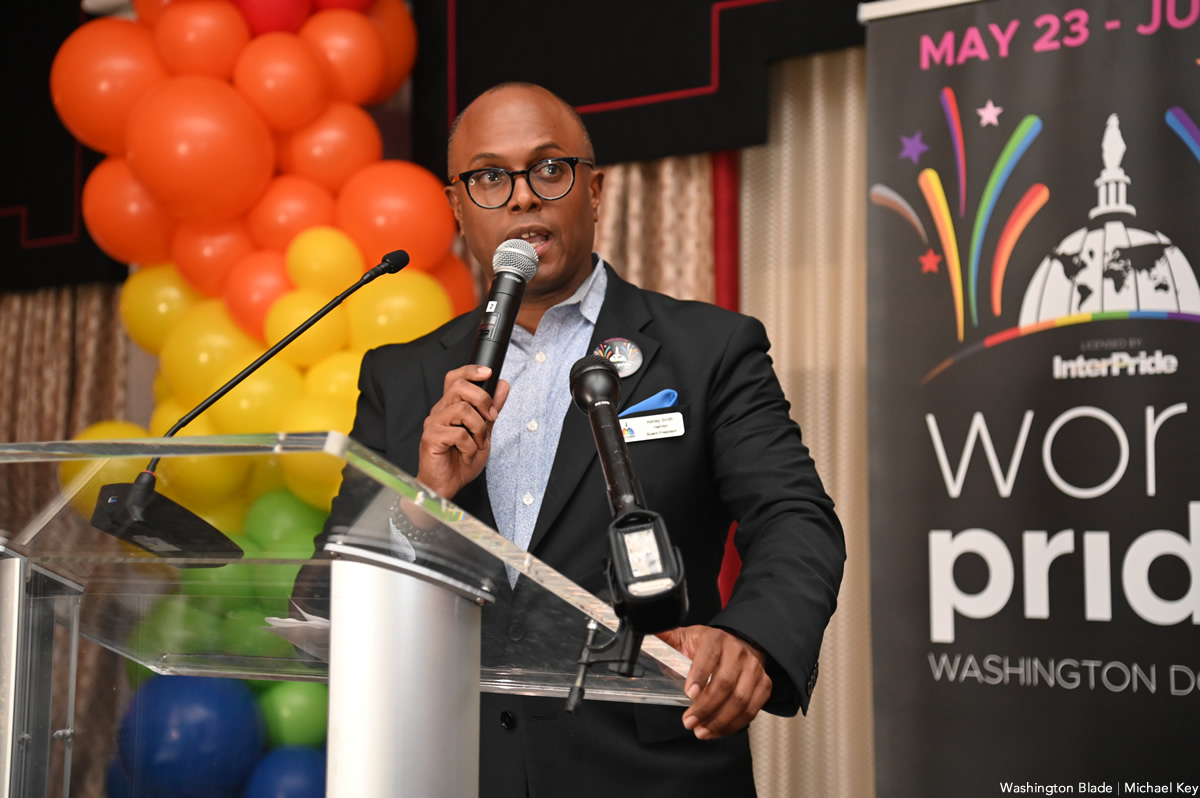 Over 300 people turned out Thursday night, March 16, for the annual D.C. Capital Pride Reveal celebration, which organizers say served as the official kick-off of the LGBTQ Pride events for 2023 in the nation's capital.
Among other plans for the 2023 Pride events, including the annual Pride parade and festival, organizers announced this year's theme for the Pride festivities will be "peace, love, revolution."
The event took place in one of the large ballrooms at D.C.'s Kimpton Hotel Monaco at 700 F St., N.W.
Officials with Capital Pride Alliance, the group that organizes D.C.'s annual Pride events, also announced at the Reveal celebration that the 2023 Pride events will set the stage for 2025, when D.C. will serve as the host city for World Pride 2025.
World Pride is an international LGBTQ event that takes place over a period of several days that usually draws a million or more visitors from countries throughout the world to the host city.
Organizers of the World Pride celebration announced last year that they had accepted D.C.'s bid to host World Pride 2025. The bid was prepared by the Capital Pride Alliance and D.C. government officials, including officials from the office of Mayor Muriel Bowser and the city's convention and visitor's bureau.
"We are thrilled to introduce our theme for Capital Pride 2023 as we gear up to welcome the world to D.C. in 2025, which is also the 50th anniversary of Pride in D.C.," said Capital Pride Alliance Executive Director Ryan Bos in a statement released on Friday. "This year's theme kicks off a three-year campaign leading into the message that we want to share with the world in 2025," Bos said.
In the statement it released on Friday, Capital Pride explained its rationale for selecting its theme, saying it was based in part on the LGBTQ rights movement's history.
"Social justice issues, including those involving the LGBTQ+ community, were shaped by moments that turned into movements beginning in the 1950s and in the years that followed," the statement says. "These movements created a REVOLUTION of change that sparked the beginning of newfound freedoms," it says.
"The fight for these liberties instilled a sense of Pride in members of the LGBTQ+ community in the decades since," the statement continues. "PEACE and LOVE motivated many of these pioneers to be brave and inspired others to fight for human rights for years to come," it says.
The statement points out that "recent challenges" have arisen in state legislatures and in Congress that have once again placed the LGBTQ community "under fire from those who would deny us our basic civil rights." It says these challenges will require a continuation of the fight for freedom "through direct action in the streets and the halls of government."
Among those who spoke at the Reveal event, in addition to Bos, were Capital Pride Board President Ashley Smith, and Capital Pride's public affairs director, Marquia Parnell.
Also speaking was Japer Bowles, director of the D.C. Mayor's Office of LGBTQ Affairs, who told the gathering that the city government, especially Bowser, will be working diligently to provide full city support for WorldPride 2025.
D.C. drag performer Shi-Queeta-Lee drew loud applause from the crowd that filled the hotel ballroom for a drag performance after the speakers addressed the crowd.
"We're going to be focused on peace, love, and revolution over the course of this next year," Smith told the Washington Blade at the conclusion of the Reveal event. "We're super excited about it because this is a part of the movement that adds to the historical pieces as we approach 2025 and World Pride in 2025," he said.
In its statement released on Friday, the Capital Pride Alliance announced the 2023 Capital Pride Parade will take place June 10, and will travel the same route as last year's D.C. Pride Parade. A Pride block party will also take place this year in a two-block section of 17th Street, N.W., near Dupont Circle in the same location as last year, the Capital Pride announcement says.
And it says the annual Capital Pride Festival and concert will take place on June 11, also at the same location as last year — along a stretch of Pennsylvania Ave., N.W., with the U.S. Capitol as a backdrop.
"Through the events of Capital Pride and its many partnerships, last year Capital Pride Alliance was able to raise over $200,000 for the Pride 365 Fund," according to the Capital Pride statement.
"The success of last year allowed CPA to invest and partner with the D.C. Center for the LGBT Community to establish a new LGBTQ+ community center for Washington, D.C., and continue the support of partner organizations that organize events such as DC Black Pride, Trans Pride, Youth Pride, Silver Pride, Latinx Pride and Asian and Pacific Islander Pride," the statement says.
Further details of plans for Capital Pride 2023 can be access at www.CapitalPride.org.
Casa Ruby board members deny responsibility for org's collapse
Civil complaints filed against officials to be discussed at March 17 hearing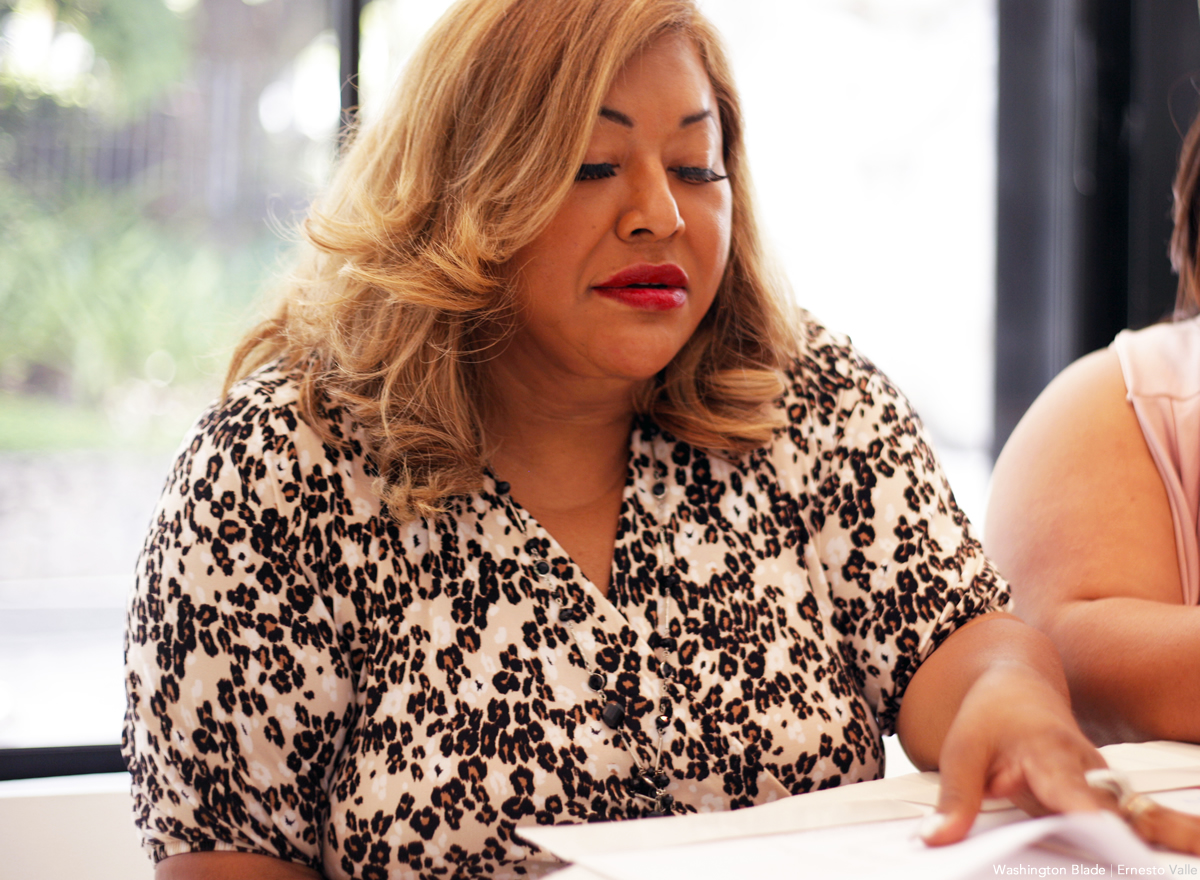 At least five of the eight former members of the Casa Ruby board of directors who are named in a civil complaint charging them with failing to adequately oversee the organization's finances and practices by its former director Ruby Corado have filed court papers disputing the allegations against them.
Details of their response to a third-party civil complaint filed against them by the Wanda Alston Foundation in its role as the court-appointed receiver of the now-defunct Casa Ruby LGBTQ community services center were expected to surface at a March 17 D.C. Superior Court virtual hearing on the Casa Ruby case.
The Alston Foundation's complaint was filed on Dec. 23, several months after the Office of the D.C. Attorney General filed its own civil complaint against Casa Ruby and Ruby Corado. The Attorney General's complaint, among other things, alleges that Corado and the organization violated the city's Nonprofit Corporations Act in connection with its financial dealings. An amended version of the original complaint charges that Corado withdrew more than $400,000 of Casa Ruby's funds for unauthorized use in El Salvador, where Corado currently lives.
The Alston Foundation complaint, which also names Corado as a defendant, identifies each of the eight former board members as defendants and "respectfully requests restitution, compensatory damages, punitive damages, receivership fees and expenses, court costs, attorneys fees and expenses, and any other relief the court deems necessary and proper."
According to the complaint, each of the board members failed to exercise their legally required oversight of Casa Ruby's operations and of practices by Corado that allegedly resulted in the financial collapse of Casa Ruby, forcing it to close its operations.
Miguel Rivera, one of the former board members who is an attorney, states in his response to the complaint that it "fails and/or may be barred, in whole or in part, because a bona fide fiduciary relationship did not exist between Third-Party Plaintiff [Alston Foundation on behalf of Casa Ruby] and Third-Party Defendant Miguel Rivera."
Rivera's response adds that the complaint should be dismissed on a wide range of grounds, including his assertion that he as a board member "has not engaged in (a) willful misconduct; (b) crimes; (c) transactions that resulted in improper personal benefits of money, property, or service; and (d) acts or omissions that are not in good faith and are beyond the scope of authority of the corporation."
The responses filed by the former board members are not included in the current online D.C. Superior Court case docket for the Casa Ruby case. At the request of the Washington Blade, Douglas Buchanan, the court's public information officer, provided the Blade with the responses by Rivera and former board members Meredith Zoltick and Carlos Gonzales.
Similar to Rivera's response, the response filed by Zoltick and Gonzales also disputes the validity of the complaint and asks the judge to dismiss the case against them.
Nick Harrison, the attorney representing the Alston Foundation in its role as Casa Ruby Receiver, said he has learned that another two former Casa Ruby board members have filed some form of a response to the complaint against them.
In a separate motion filed in court on Jan. 21, Harrison states on behalf of the Alston Foundation that it has taken the legally required steps needed to properly serve each of the eight former board members with court papers informing them they have been named as defendants in the complaint. He said he expects Superior Court Judge Danya Dayson, who is presiding over the Casa Ruby case, to rule that the legally required efforts to serve each of the defendants have been met.
Court records show that Corado, who has appeared in previous virtual court hearings through a phone hookup, has yet to retain an attorney to represent her.
Corado has denied engaging in any improper financial actions and has insisted the Casa Ruby board approved her actions, including her decision to open a Casa Ruby operation in El Salvador. In a December interview with the Blade's El Salvador correspondent, Corado said the allegations that D.C. officials have made against her amount to "persecution."
At a Jan. 6 court hearing held virtually, Corado reiterated her earlier claims that the D.C. government was responsible for Casa Ruby's closing in July 2022 by withholding hundreds of thousands of dollars that Corado says the city owed Casa Ruby for services it provided under city grants.
City officials have disputed those claims, saying the funds were withheld or discontinued because Casa Ruby did not provide the required documentation or reports showing that it performed the work associated with the city grants.
The March 17 court hearing is scheduled to begin at 12 p.m. and will be broadcast through the court's Webex system.