Celebrating, honoring and remembering America's LGBTQ veterans
Nov. 11 is Veterans Day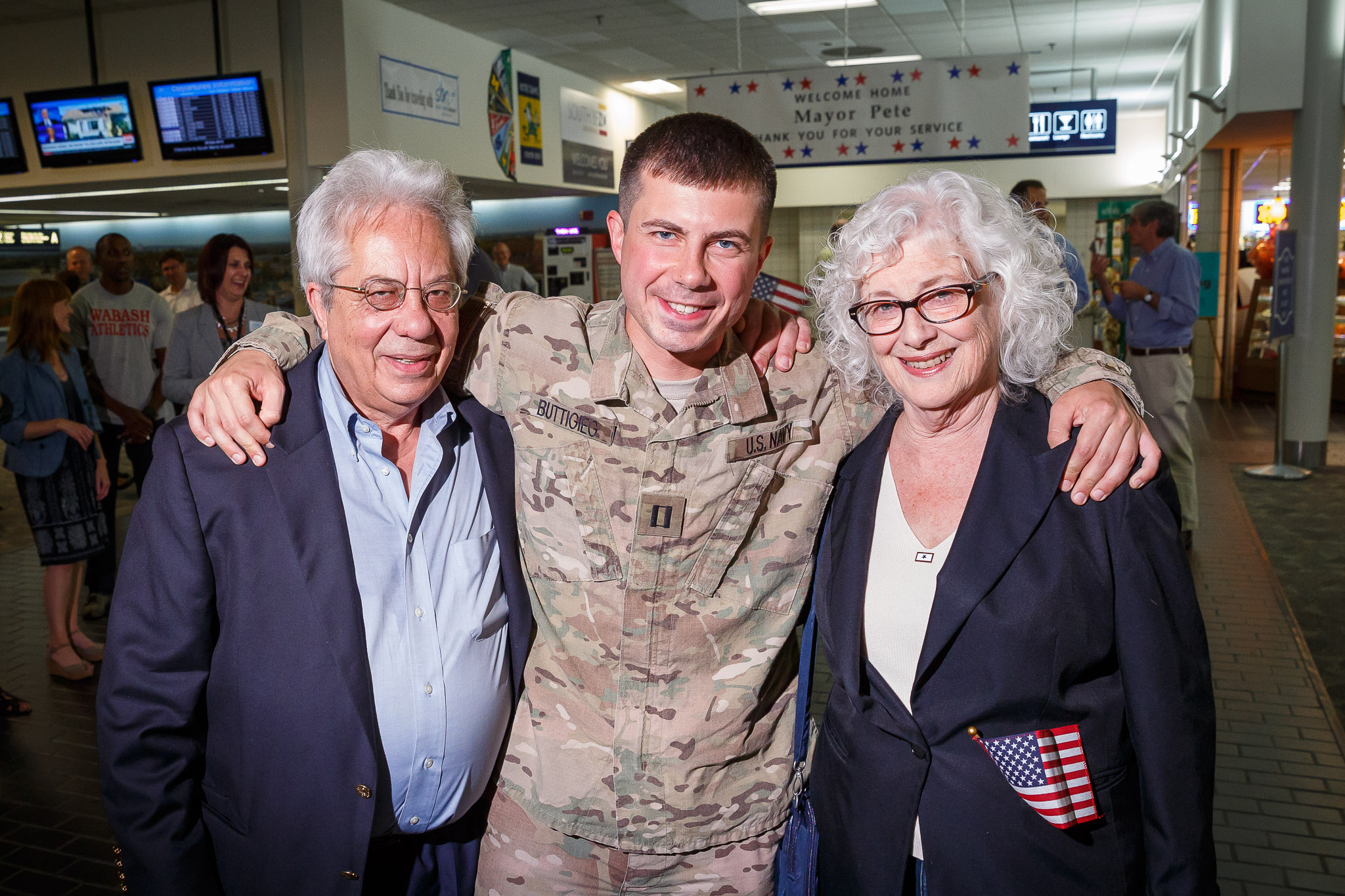 Nov. 11 is Veteran's Day in the U.S. For much of the rest of the world and especially in Europe, it is Armistice Day, the day that marks the end of World War I, which was also referred to as 'the Great War.' On the 11th hour of the 11th day of the 11th month in 1918 when the armistice was signed, over 20 million people had lost their lives.
"On the 11th hour, of the 11th day, of the 11th month, we will remember them," General of the Armies of the United States John Joseph 'Black Jack,' Pershing. (Sept. 13, 1860 – July 15, 1948)
There are an estimated 1 million currently living lesbian, gay, bisexual, transgender and queer veterans in the United States. They have served in the U.S. Army, Air Force, Navy, Marines, Coast Guard and now the U.S. Space Force.
They served their country in conflicts spanning from World War II up through "Operation Enduring Freedom" as well as in peacetime. But for many who served until the end of "Don't Ask Don't Tell" on Sept. 20, 2011, and later President Joe Biden's order ending the ban on transgender service in 2021, they served in silence risking discharge and societal ostracization if their sexual orientation or gender identity was revealed.
Formerly San Francisco-based LGBTQ activist Michael Bedwell tells the story of Sarah Davis, who served during World War II in the U.S. Navy as a member of the WAVES (Women Accepted for Volunteer Emergency Service.) Davis, whose nickname was "Sammi," was from a small town in Iowa in the heartland of America.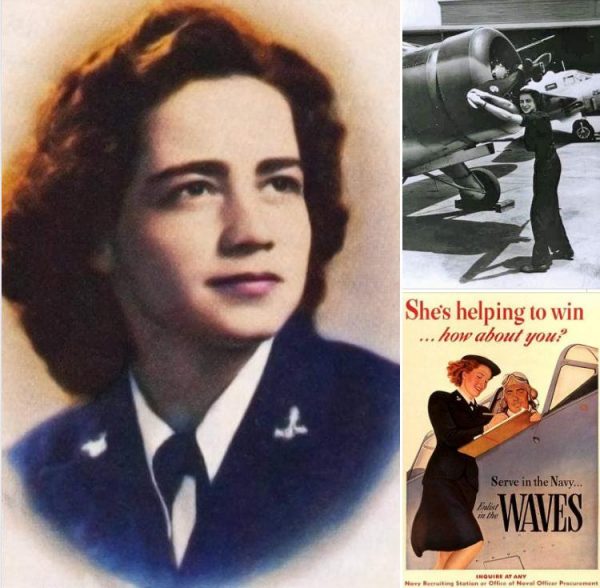 Davis later she said that she joined in 1943 for "the adventure, the excitement. I was going to save the world for democracy. I liked the military life. I liked the discipline. I liked the order. I liked the marching, and the tunes." Though WAVES could not serve aboard combat ships or aircraft, they supported them; Davis was an Aviation Machinist Mate First Class at the Naval Air Station in Vero Beach, Fla., and wrote news stories for the Naval Flight Exhibition Team in Jacksonville, Fla.
Before volunteering, she remembered she hadn't heard "anything about being queer. Didn't even know that word existed when I went into the Navy. We used to go to the bars open to lesbians, and hug and kiss and so on, but we had to keep things under control. And we definitely couldn't acknowledge commanding officers who might be lesbian, because you could get into big trouble. You had to form relationships very discreetly and privately."
After the war, she was interrogated during a witch hunt, a part of the about-face the military did after mostly "looking the other way" during the war once they no longer needed so many troops, and began lecturing new women recruits about the horrors of aggressive lesbians. Davis survived by breaking up with her lover, and denying she knew other gay women, and was ultimately given an honorable discharge. But she told documentary filmmaker Arthur Dong that, "[I]t made me very, very guarded for years and years. It took away what power that I thought I had. It broke my spirit, really, a lot. And that's been hard to recover, very hard."
It took many years, but one of the ways she found healing, and came out publicly, was winning seven gold medals in the seniors category at 1990's Gay Games. In the interim, she attended Stanford University and USC, and graduated in 1952 in occupational therapy and certified in physical therapy in 1956. In 1963, she received a master's degree in photography from San Francisco State College. She also served in the Peace Corps in 1971, serving in Swaziland, worked for San Francisco's Visiting Nurses Association, and became a deacon in San Francisco's All Saints' Episcopal Church. For years she lived with her dog, Rambo, in an 1896 three-story Victorian on Clayton Street in the Haight that she bought in 1960, and ran as a boardinghouse worthy of one of Armistead Maupin's "Tales of the City" characters.
A 2008 New York Times article about it being remodeled by its new owners upon the move by Davis, then 81, to an assisted living facility noted that, "The mural of a naked goddess that once dominated the entrance parlor is gone, [and] the communal shower with its swinging saloon doors. But a few remnants survive, including a wrought-iron peace sign on the back porch and, in a bathroom, a stained-glass portrait of St. Peter that had been salvaged in the 1960s from a demolished church. Tenants and guests [had] painted walls and ceilings with mandalas, Rastafarian basketball players, and a tree root that morphed into a rabbit, horse and wolf."
Upon her death the next year back in Iowa, Davis left a trust from her sale of her colorful house benefiting various groups including Marin County's Canal Alliance that serves low-income immigrant populations with "crisis counseling, a food pantry, classes in English, computers and citizenship, and affordable legal help to keep families together." A niece wrote: "Aunt Sarah was a positive influence in my live. She always encouraged me to reach for the stars. She lived her life to the fullest, and had many exciting experiences. She followed her mother's example and continued fighting for women's rights. She will be missed."
"Gay and Lesbian soldiers faced extraordinary discrimination during World War II. Most found new communities of people and thrived despite the oppression. Discover the film Coming Out Under Fire that shares their story." ~ the National World War II Museum, New Orleans.
One of the most significant figures in the American LGBTQ rights movement was himself also a veteran. Franklin Edward Kameny had been drafted and served in the Army during World War II and later upon discharge he matriculated first at Queens College, City University of New York then attending graduate school at Harvard University earned a doctorate in astronomy.
While working as astronomer in the Army Map Service in D.C., Kameny was outed and fired from his position in 1957 leading to his 54 years long career as a LGBTQ activist and spokesperson for equality, which only ended when Kameny died on National Coming Out Day on Oct.11, 2011.
Kameny had a lengthy list of accomplishments during his career as an activist including his being a co-founder of the D.C., Mattachine Society, and along side the Mattachine membership launched some of the earliest public protests by gays and lesbians with a picket line at the White House on April 17, 1965.
He also worked to remove the classification of homosexuality as a mental disorder from the American Psychiatric Association's Diagnostic and Statistical Manual of Mental Disorders.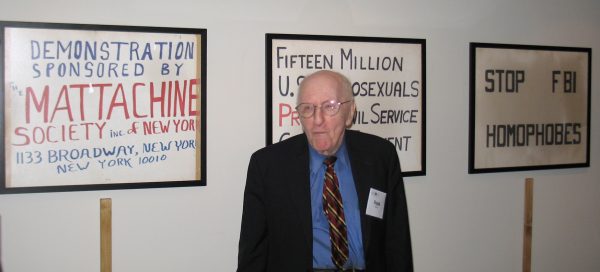 In the early 1970's Kamney became friends and worked with an Air Force Vietnam veteran who soon became the public face of gays in the military.
"When I was in the military they gave me a medal for killing two men and a discharge for loving one." ~ from the headstone on the grave of Technical Sergeant (TSgt) Leonard Matlovich, U.S. Air Force
U.S. Air Force Technical Sergeant (TSgt) Leonard Matlovich, U.S. Air Force had served three tours of duty, earning the Bronze Star for bravery, the Purple Heart and an Air Force commendation during his time in Vietnam.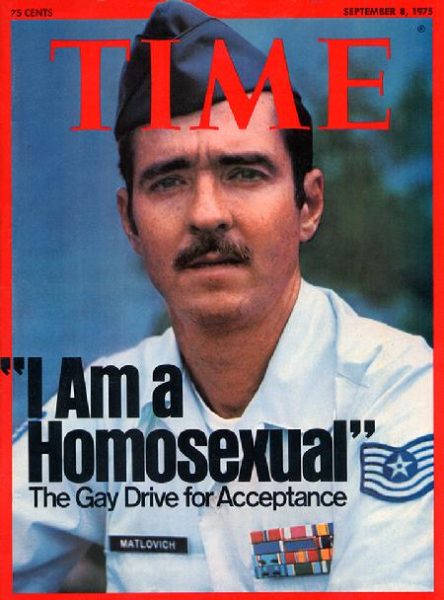 In March 1975 Matlovich became the first uniformed member of the armed forces on active duty to challenge and fight discrimination against gays and lesbians and he became the first openly gay person to be on the cover of "Time Magazine."
Although he was ultimately discharged in 1980 a federal judge ordered the Air Force to reinstate him with back pay. The Air Force negotiated a settlement with Matlovich and the federal court's ruling was vacated when he agreed to drop the case in exchange for a tax-free payment of $160,000.
Matlovich, like Frank Kamney became active in gay rights and AIDS organizations.
In 1986, he was diagnosed with AIDS and when he succumbed to the disease and died in West Hollywood, Calif., in June 1988, his body was returned to D.C. and buried at the Congressional Cemetery in Southeast Washington with full military honors.
The stories of LGBTQ veterans span beyond activism. In August 2021 during the fall of Kabul, Afghanistan, a trans government contractor for the State Department and former U.S. Air Force Sgt. Josie Thomas found herself trapped along with her colleagues at the diplomatic support facility known as Camp Alvarado located on the outskirts of Afghan capital city's airport.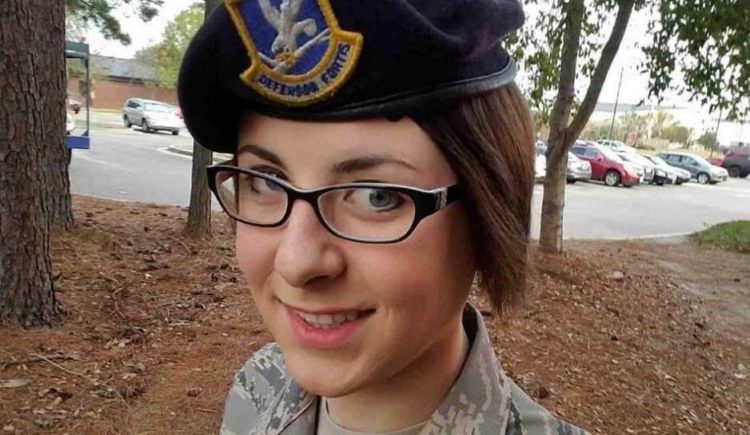 Thomas, in a series of text messages provided to the Washington Blade on background by a colleague of hers, relayed that she and others were aware of the immediate presence of the Taliban insurgents, which was communicated at the time Afghan security forces had abandoned their posts.
One of her colleagues communicating with Thomas received a text from her stating that elements of the U.S. Army's 82nd Airborne Division had arrived at the Camp Alvarado diplomatic support facility;
"Just talked to her again for several minutes. The 82nd has taken control of her compound and there's a clear route from there to the flight line now. That the place is looking like a refugee camp with the amount of displaced coalition personnel and there's no aircraft coming in to evacuate people yet."
On Aug. 17, she was evacuated and flown home.
Likely one of the most high profile contemporary LGBTQ military veterans is the current Transportation Secretary Pete Buttigieg, shown in the featured photograph with his parents. Buttigieg, a graduate of Harvard College and the University of Oxford, served in the U.S. Naval Reserve from 2009 to 2017 and left with the rank of Lieutenant (O-3.)
Buttigieg, the first openly gay man to be confirmed by the U.S. Senate to a presidential cabinet post had previously been elected and served as the 32nd mayor of his hometown of South Bend, Ind.
These are but a very select few stories of the tens of thousands of LGBTQ Americans who have proudly worn the uniform of their country.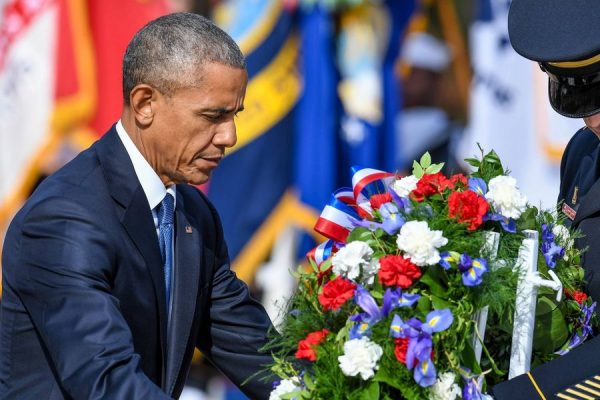 On Memorial Day 2013, this reporter, while working as the Washington Bureau Chief for another LGBTQ publication encountered the story of one of those veterans:
ARLINGTON, Va. — Every year that I have lived and worked in this city [Washington, D.C.] I have always gone to Arlington National Cemetery to observe the Memorial Day ceremonies.
Afterward, I wander through the grounds, just to watch, maybe to listen, but mostly to contemplate on the sacrifices made by those brave souls whose final resting place has become hallowed ground — a literal garden of stones.
Arlington's rolling hills are a place of extraordinary beauty, a fitting repository for the memory of the living history of the United States. Names from the history books leap off the pages as one strolls through the grounds: "Byrd, Taft, Lincoln, Kennedy, Rickover, Marshall, Pershing," followed by the names of the thousands of soldiers, sailors, airmen, and coast guardsman who gave their lives to secure the freedoms promised by the American Constitution.
In his remarks today, President Barack Obama reminded Americans they must honor the sacrifices of their military service members, particularly as U.S. combat roles change and the nation's involvement in Afghanistan is winding down.
Adding that Arlington "has always been home to men and women who are willing to give their all … to preserve and protect the land that we love," the President praised the selflessness that "beats in the hearts" of America's military personnel.
Obama's words stuck with me as I walked along through the ocean of gravestones, pausing occasionally to read the names, the inscriptions, and wonder what each person was like.
Scattered throughout the graves proudly marked with miniature American flags fluttering in the bright noontime sunlight, I observed families, loved ones, and friends who had come to honor their fallen.
Then I happened upon one grey haired older gentleman standing quietly in front of a headstone, obviously lost in his thoughts. As I tried to unobtrusively move around him, he look up at me and smiled.
I greeted him, and he greeted me back. He saw my press credentials hanging from my neck and asked whom I worked for.
I told him, momentarily wondering what type of reception I'd receive as, let's face it, the LGBTQ community still has its detractors, and to my shock, he looked back at me, with tears forming in his eyes.
"You're gay?"
"I am," I answered.
"Lot of changes since I was a, a kid," he trailed off. I pointed at headstone and quietly asked if the person was a friend or a family member.
"He's my, well was my best bud, yeah, I dunno…"
The gentleman looked stricken and it was certainly not my intention to interview him, impromptu or not. But yet I sensed that something was left hanging so I took the plunge and asked him for a few details, if he didn't mind sharing them. As it turns out, that's exactly what he wanted… to share, to have a conversation about the person whose grave we were standing over.
The two men had grown up in eastern Ohio, in a small rural farming community. They played football, went fishing, did farm work, and discovered that after a few failed attempts at pursuing the fairer sex, their real romantic interests laid in each other.
By the time they had graduated from high school, the Vietnam conflict had escalated and, rather than wait to be drafted, they decided to join the U.S. Marines together. They went to boot camp, and not long after graduation, found themselves on troop planes headed for Vietnam.
"We were lucky," he said, "We both got assigned to the 2nd Battalion, 26th regiment."
But good luck turned sour as their battalion found itself in the middle of one of the nastiest battles of the 1968 Tet Offensive in the battle for Khe Sanh.
"I lost him that morning," he told me, pointing at the inscribed date of death on the simple white marker — February 7, 1968. "He was just 19."
The tears came freely and I waited. Then we talked some more.
He told me that after he lost his love, "I went straight and got married." Just a fews years ago, he lost his wife to cancer.
He has grandkids that he says will never know the truth — he just can't be open with them, but at the same time, never does a day go by that he doesn't think about and mourn the loss of his friend, his partner — and the promise of what might have been.
"I was glad to see DADT end," he told me. "At least some other couples won't have to hide like we did."
I thanked him for his service and his time talking with me and walked away reflecting on all of the unknown LGBT military folk buried around me who, like that lost soldier, suffered in silence and hid, yet still believed in a greater good of which they ultimately gave their lives for their country.
***************************************
Across Lafayette Park on Vermont Avenue, N.W., a block from the White House, stands a nondescript government office building that houses the headquarters of the Department of Veterans Affairs. On a pair of metal plaques at its entrance is inscribed the words of the 16th president of the United States, Abraham Lincoln, which define the motto of the agency: "To care for him who shall have borne the battle and for his widow, and his orphan."
The Department of Veterans Affairs is a leading provider for healthcare for LGBTQ vets. While the VA is working to be a national leader in health care for LGBTQ veterans and wants to assure that high-quality care is provided in a sensitive, respectful environment at all VA health care sites nationwide, the fact remains that these LGBTQ veterans can face increased health risks and unique challenges in accessing quality health care.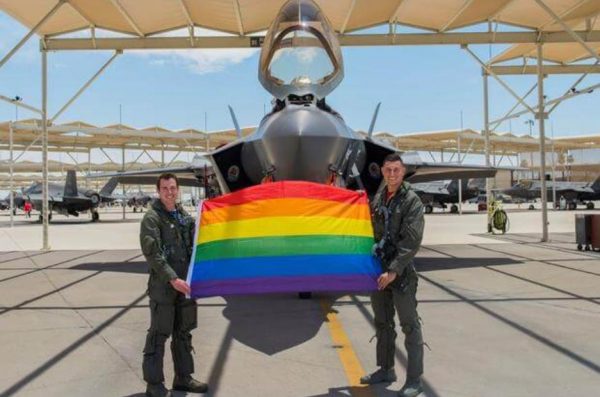 Many of LGBTQ veterans may receive care at the Department of Veterans Affairs, but others may be unaware of what services are available or have concerns about discrimination.
A question poised is simple; What is VA's policy on LGBTQ veterans?
According to the VA, its policy is — all veterans deserve respect and dignity. VA has a nondiscrimination patient care policy that includes sexual orientation and gender identity and expression. Specifically, it is the policy of Veterans Health Administration "… that staff provide clinically appropriate, comprehensive, veteran-centered care with respect and dignity to enrolled or otherwise eligible transgender and intersex veterans, including but not limited to hormonal therapy, mental health care, preoperative evaluation and medically necessary post-operative and long-term care following gender confirming /affirming surgery. It is VHA policy that veterans must be addressed based upon their self-identified gender identity… " (VHA Directive 1341, p. 3)
What services does VA provide for LGBTQ veterans?
Each VA facility is required to have an LGBTQ coordinator who can connect veterans with culturally competent providers, educate staff about where gaps in knowledge/training exist and to help create a more welcoming environment. (VHA Directive 1341, May 23, 2018)
The VA is authorized to provide:
Hormone treatment
Substance use/alcohol treatment
Tobacco cessation treatment
Treatment and information on prevention of sexually transmitted infections/PrEP
Intimate partner violence reduction and treatment of after effects
Heart health
Appropriate cancer screening, prevention and treatment
What can LGBTQ veterans expect when accessing their earned benefits?
It is important for LGBTQ veterans to let providers know about sexual activity and identity so they can appropriately screen them for potential medical issues. Additionally, VA providers may ask about sexual orientation, gender identity, sexual health and social experiences which may involve exposure to violence in the home, or assess for homelessness. This information can help providers guide veterans to resources, services and programs that can address their unique needs.
LGBTQ veterans can be assured their providers will keep any information they reveal confidential. They can ask that their gender identify or sexual orientation not be revealed in their medical record although this may compromise their ability to receive appropriate care.
Where can a veteran learn more?
More information on the VA's LGBTQ veterans policies and programs can be found here. The VA has also made available the following fact sheets to identify health care topics for sexual and gender minorities:
Memphis police release Tyre Nichols arrest, fatal beating video
29-year-old Black man died after traffic stop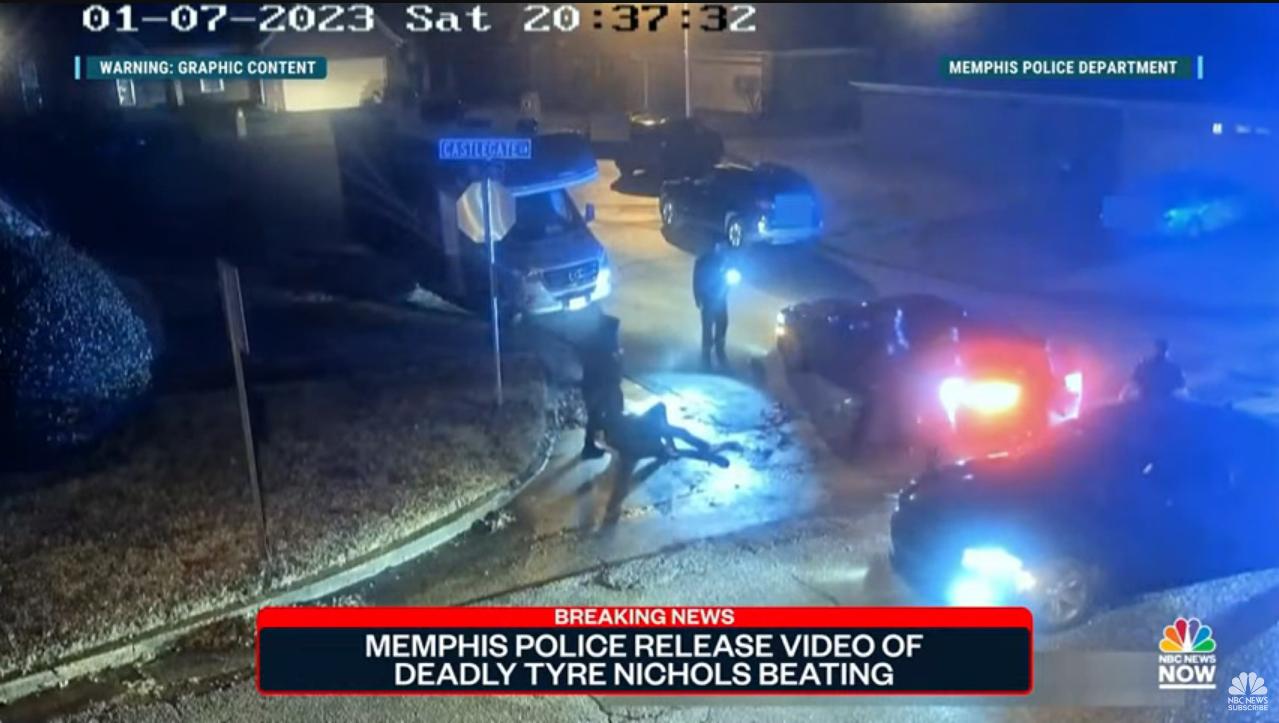 Three videos consisting of both body cam footage and street surveillance footage were made public by the Memphis Police Department Friday evening showing the violent arrest and beating of Memphis resident 29-year-old Tyre Nichols.
Nichols died three days after he was beaten by police in a traffic stop in the Hickory Hill neighborhood around 8:22 p.m. on Jan. 7, in an altercation Memphis Police Chief C.J. Davis described, saying "in my 36 years in law enforcement, I don't think I have witnessed the disregard for a human being displayed in this video." 
Shelby County District Attorney Steve Mulroy announced Thursday that five now-former Memphis police officers — Tadarrius Bean, Demetrius Haley, Emmitt Martin III, Desmond Mills, Jr., and Justin Smith — were fired for misconduct, indicted by a grand jury and taken into custody.
Each is charged with second-degree murder, aggravated assault, two counts of aggravated kidnapping, two counts of official misconduct and official oppression. By Friday morning, they had posted bond.
As news of the beating and death spread beyond Tennessee, officials expressed concern that release of the footage would touch off violent protest in reaction.
The attorneys and family of Nichols asked for justice for their son, and peace in their city, at a press conference in Memphis on Friday, WREG News 3 reported.
Speakers included family members, attorneys Ben Crump, Antonio Romanucci and Van Turner, president of the Memphis branch of the NAACP.
Rodney Wells, Nichols' stepfather, said that he initially wanted first-degree murder charges against the officers, but the family is satisfied with second-degree murder.
He pleaded for peace in Memphis Friday night.
"We want peace. We do not want any type of uproar. We do not want any type of disturbance," Wells said. "Please, please, protest, but protest safely."
Protests took place in Memphis after police released more than an hour of footage in the case with some major highways temporarily shut down.
Other protests were organized in New York, as well as D.C., Sacramento, Los Angeles, Atlanta, Philadelphia and Seattle, with police at the ready for potential violence.
"Tonight, I stand with the millions of Americans sending condolences and love to the family of Tyre Nichols as the navigate this unimaginably difficult tragedy," said D.C. Mayor Muriel Bowser in a statement. "We are a nation traumatized by violence, especially violence against Black Americans. We don't even need to see the video to feel outraged that those five former officers, sworn to protect their community and now arrested and charged with murder, killed Tyre. But tonight, many people will see the video and it will elicit strong feelings — from sadness and anger to confusion and despair. Tonight, we are a city and country united by tragedy, but we are also determined — to deliver justice for Tyre and change for our nation."
The White House held a joint emergency call Friday with the mayors of at least 16 cities before the video's release "to brief them on federal preparations in support of state and local leaders."
"Participating mayors shared their perspectives on how important it is to recognize the pain felt by communities across this country, be prepared in advance with a game plan to provide adequate community support, and to reinforce the importance of peace and calm during these difficult moments," the White House said in a statement about the call, which included cities from New York City, to Atlanta, Los Angeles, D.C., Seattle and Portland.
The Los Angeles Police Department issued a statement condemning the actions of the Memphis officers and calling for demonstrations to remain peaceful.
"The accounts of the circumstances of this heinous crime and the criminal actions of those involved are reprehensible," the LAPD said.
"The department will do all within its power to ensure the lawful expression of the public's anger and frustration is protected and prepared to facilitate those wishing to exercise their First Amendment rights."
The Los Angeles County Sheriff's Department told local media that it is preparing for the possibility of disturbances after the footage is made public. and is coordinating with other state, local and federal agencies.
"Our patrol stations and specialized units remain in a state of readiness to respond to any disturbances that might occur," the LASD said.
"The sheriff's department supports the First Amendment and the people's right to protest."
Speaking with reporters as he prepared to depart for Camp David at the White House Friday evening, President Joe Biden said that he had spoken with Nichols' mother prior to the video footage release for about 10 or 15 minutes.
"I spoke with Tyre's mother and expressed my condolences and told her that I was going to be making the case to the Congress to pass the George Floyd Act. We should get this under control. I can only do so much on the executive order at the federal level," Biden said. "I was really pleased that she called for peaceful protest, no violence," he added.
When asked about the potential for violence Biden said:
"I'm obviously very concerned about it. But I think she has made a very strong plea. She's obviously in enormous pain. I told her I had some idea of what that loss is like and although it is impossible to believe now, a time will come when his memory brings a smile before a tear."
The White House released a statement from the president that said in part:
"Like so many, I was outraged and deeply pained to see the horrific video of the beating that resulted in Tyre Nichols' death. It is yet another painful reminder of the profound fear and trauma, the pain, and the exhaustion that Black and Brown Americans experience every single day.

My heart goes out to Tyre Nichols' family and to Americans in Memphis and across the country who are grieving this tremendously painful loss. The footage that was released this evening will leave people justifiably outraged. Those who seek justice should not to resort to violence or destruction. Violence is never acceptable; it is illegal and destructive. I join Mr. Nichols' family in calling for peaceful protest."
California Gov. Gavin Newsom issued a statement in response to the Memphis Police Department's body camera footage being released, showing the deadly actions that took the life of Nichols, a Sacramento native, and led to the charging of five since fired Memphis law enforcement officers.
"Jennifer and I send our deepest condolences to the family and friends of Tyre Nichols. Tyre Nichols should be alive today. The video released shows abhorrent behavior and these officers must be held accountable for their deadly actions and clear abuse of power," said Newsom. "Today, we are a country in mourning, and must continue our work nationwide to push reforms to prevent excessive use of force and save lives."
"Tonight, we saw ferocious violence from an out-of-control herd," said Los Angeles Mayor Karen Bass.
Late Friday evening Vice President Kamala Harris' office released a statement from the vice president on Nichols:
"Tyre Nichols should have made it home to his family. Yet, once again, America mourns the life of a son and father brutally cut short at the hands of those sworn to protect and serve. The footage and images released tonight will forever be seared in our memories, and they open wounds that will never fully heal.

The persistent issue of police misconduct and use of excessive force in America must end now.
I join President Biden in his call for accountability and transparency. We must build trust—not fear — within our communities."

VIDEO COURTESY OF KTLA:
TYRE NICHOLS VIDEO VIEWER DISCRETION ADVISED, GRAPHIC CONTENT AND LANGUAGE WARNING.
FBI reports 'explosion' of teen boys extorted after sending explicit photos, videos
Gay adults targeted on Grindr, other dating sites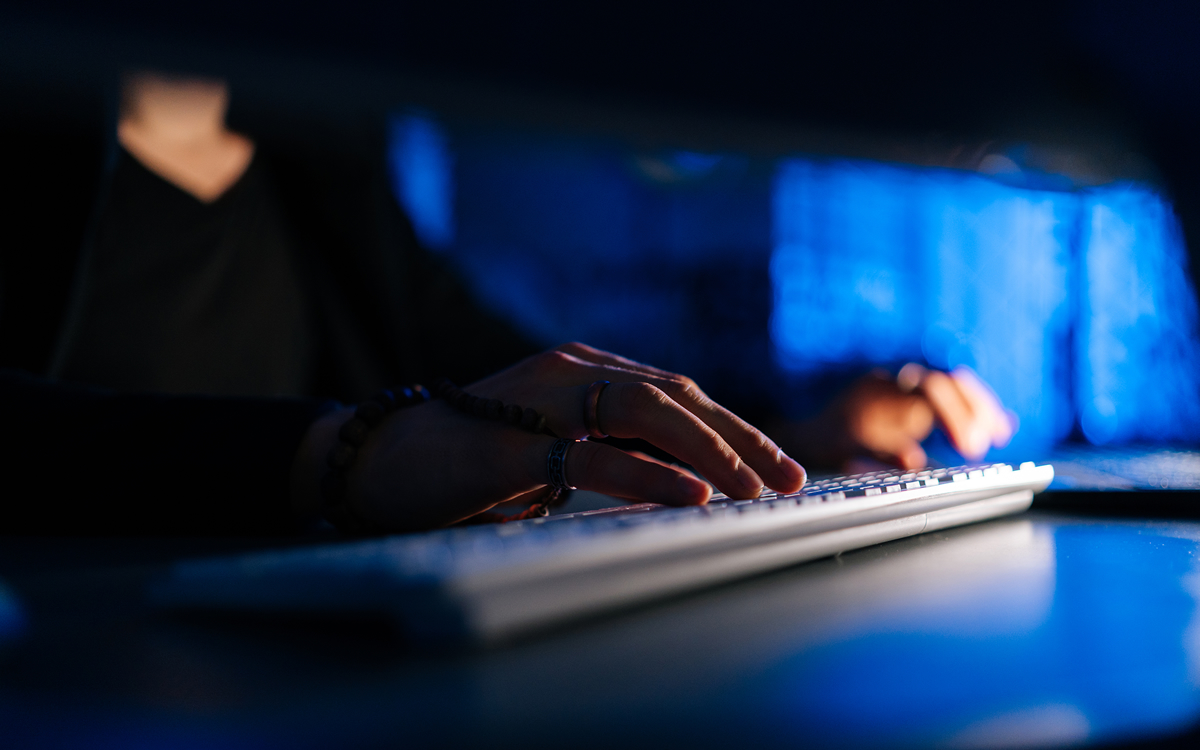 Law enforcement officials led by the FBI and the U.S. Homeland Security Investigations division are reporting an alarming increase in incidents of mostly teenage boys being tricked into sending explicit photos and videos of themselves to online scammers who then attempt to extort money from the young victims.
Spokespersons for the FBI, the Homeland Security Investigations (HSI), which is an arm of the U.S. Department of Homeland Security, and the Office of the U.S. Attorney for the Western District of Pennsylvania, where sextortion cases increased dramatically, have told the Washington Blade they so far are unaware of gay teenage boys being targeted for what authorities are calling financial sextortion.
"We have not seen that," said Catherine Pollicicchio, a spokesperson for the FBI Field Office in Pittsburgh, when asked by the Blade if gay teens were being targeted. "But that doesn't mean it is not happening. We may not know about it," she said.
"Homeland Security Investigations has not observed any sextortion investigations that refer specifically to gay teenagers," said Jason Koontz, a spokesperson for HSI Philadelphia offices.
A spokesperson for the FBI's headquarters in Washington couldn't immediately be reached to confirm whether FBI officials are aware of gay teenagers or gay young adults being targeted for sextortion in other parts of the country.
The D.C.-based LGBTQ youth advocacy group SMYAL is also unaware of any gay male teenagers in the D.C. area being targeted for sextortion, according SMYAL spokesperson Hancie Stokes.
But the popular app Grindr reports on its website that adult gay men using Grindr and other gay hookup apps have been targeted for sextortion in ways similar to how the straight teenage boys have been targeted.
The scammers are persuading the gay adult men to send who they believe is someone interested in a possible sexual hookup or a relationship nude or sexually explicit photos or videos of themselves. The scammer then uses the explicit images to blackmail the victim into sending large sums of money to prevent the scammer from releasing the photos or videos to the victim's family, friends, or employer.
In a Scam Awareness Guide posted on its website, Grindr says that unlike potential straight targets for sextortion, some of the scammers have threatened to out gay men, including bisexual men married to women, by sending their sexually explicit photos or videos to a spouse or other family members.
In yet another means of carrying out sextortion scams, according to Grindr, some of the scammers have set up a fake profile as an underage person. After tricking the victim into sending explicit images the scammer threatens to report the victim to police for soliciting sex with a minor unless a ransom is paid.
The FBI's national office in Washington issued a "public safety alert" about the increasing number of sextortion cases targeting teenage males in a Dec. 19 press release.
"Over the past year, law enforcement has received over 7,000 reports related to the online financial sextortion of minors, resulting in at least 3,000 victims, primarily boys, and more than a dozen suicides," the FBI press statement says.
"The FBI has seen a horrific increase in reports of financial sextortion schemes targeting minor boys—and the fact is that the many victims who are afraid to come forward are not even included in those numbers," said FBI Director Christopher Wray in the FBI statement. "The FBI is here for victims, but we also need parents and caregivers to work with us to prevent this crime before it happens and help children come forward if it does," Wray said.
"Victims may feel like there is no way out – it is up to all of us to reassure them that they are not in trouble, there is hope, and they are not alone," Wray said.
The FBI statement says sextortion schemes occur most often through sites where young people interact with each other such as social media, gaming sites, or video chat applications.
"On these platforms, online predators often use fake female accounts and target minor males between 14 and 17 years old, but the FBI has interviewed victims as young as 10 years old," according to the statement. "Through deception, predators convince the young person to produce an explicit video or photo," it says.
"Once predators acquire the images, they threaten to release the compromising material unless the victim sends money or gift cards," the FBI statement continues. "In many cases, however, predators release the images even if payments are made. The shame, fear, and confusion that victims feel when they are caught in this cycle often prevents them from asking for help or reporting the abuse," the FBI statement says.
"A large percentage of these sextortion schemes originate outside of the United States and primarily in West African countries such as Nigeria and Ivory Coast," according to the FBI statement.
Jane Clementi, co-founder and CEO of the Tyler Clementi Foundation, which advocates for programs to prevent bullying, including cyberbullying, targeting LGBTQ youth, said she and the Clementi Foundation, which is a nationwide group, were unaware of any specific gay youth or young adults being targeted for sextortion.
"The fact that this is on the rise is very disconcerting and means it needs to have more media coverage to inform youth and their parents about the harms and how to deal with the situation," she told the Blade in an email. "My hope would be that we can prevent this situation from happening in the first place."
Jane Clementi, her husband, and other family members founded the Clementi Foundation in 2010 a short time after their son Tyler Clementi, an 18-year-old freshman student at New Jersey's Rutgers University, took his own life after being victimized by cyber bullying.
Tyler's suicide drew international attention when news surfaced that his college roommate secretly pointed his laptop computer camera at Tyler's bed when he learned that Tyler had a date with another young man and the two planned to engage in intimacy in the dorm room. The roommate informed others that he would be broadcasting a live video of Tyler's intimate interaction with his date over the internet and would be rebroadcasting it later, a development Tyler became humiliated and devastated over after he learned what had happened.
Jane Clementi said that type of cyberbullying and other forms of what she called revenge porn or nonconsensual porn, in which someone uses private images shared with them in confidence while in a relationship and then shares the photos or videos publicly after the relationship ends has been an issue of concern for many years.
Although it is not the same as financial sextortion, it often has the same harmful impact on victims, those familiar with the two types of scams have said.
"The best place to start is by raising awareness of the issue and by having healthy conversations starting at the youngest of ages, as soon as youth have a device that is connected to the internet," Clementi said. "And next, parents and youth need to talk through a plan for the inevitable situation they might encounter online, like harassment, intimidation or worse sextortion."
Grindr says on its website that it has protocols in place to detect and remove fake accounts set up by scammers. "While we detect and block a huge amount of these accounts that you will never see as a user, some still get through," Grindr says on its website.
Advice from the Grindr Scam Awareness Guide on how to avoid becoming a victim of sextortion and how best to respond if one is targeted for sextortion can be accessed at grindr.com.
LGBTQ groups commemorate 50th anniversary of Roe v. Wade
Equality Florida staffers attended vice president's speech in Fla.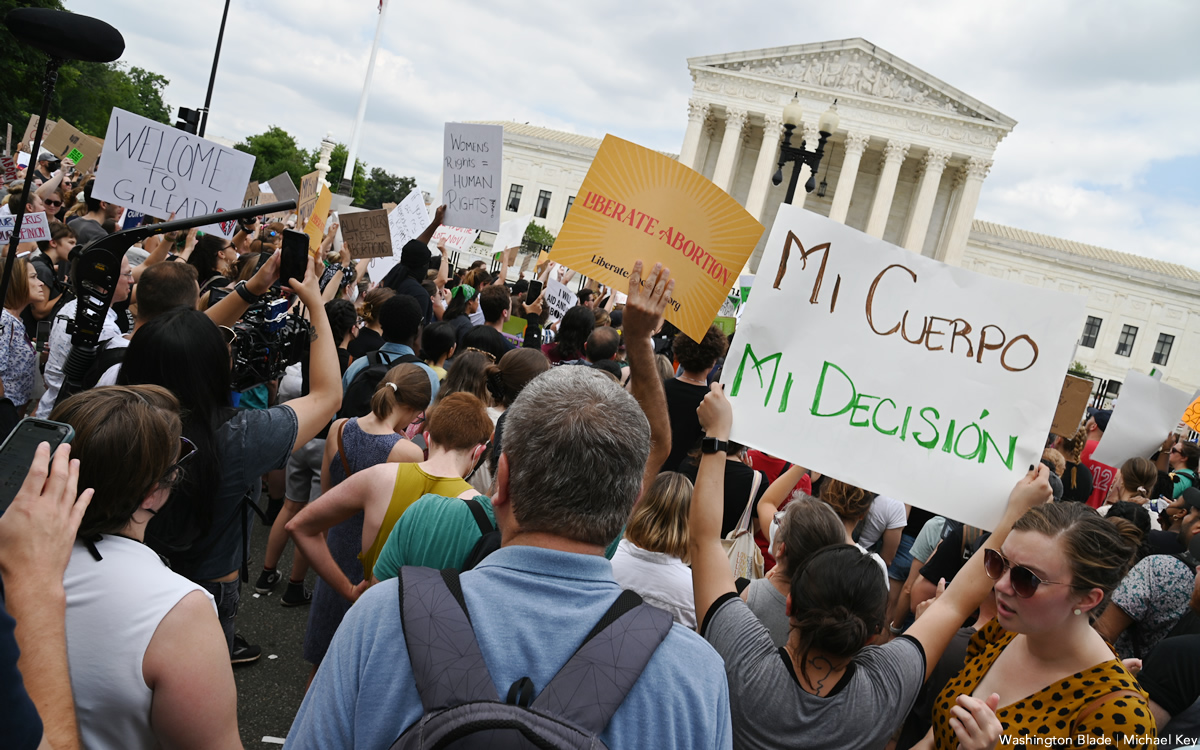 The U.S. Supreme Court on Jan. 22, 1973, issued its Roe v. Wade ruling that ensured the constitutional right to an abortion for all American citizens. The Supreme Court last June overruled this landmark decision.
Fifty years later, LGBTQ activists are among those who have commemorated Roe, despite the fact the Supreme Court has overturned it. The decision, which has since caused tension between liberal and conservative groups, prompted federal and state lawmakers to act upon the sudden revocation of what many consider to be a fundamental right.
Roe's legal premise relied heavily upon the right to privacy that the 14th Amendment provided; however, legal experts argued that it was a vague interpretation of the amendment.
Vice President Kamala Harris on Sunday delivered remarks on Roe's anniversary in Tallahassee, Fla., saying how most "Americans relied on the rights that Roe protected."
"The consequences of the Supreme Court's ruling are not only limited to those who need reproductive care," said Harris. "Other basic healthcare is at risk."
The overruling of Roe put into question the security of other long-held precedents, such as Obergefell v. Hodges, the 2015 case that legalized same-sex marriages, and Loving v. Virginia, the 1967 decision that legalized interracial marriages, because they rely on the same right to privacy that upheld Roe.
In that same speech, Harris announced President Joe Biden would issue a presidential memorandum to direct all government departments to ensure access to abortion pills at pharmacies.
"Members of our Cabinet and our administration are now directed, as of the president's order, to identify barriers to access to prescription medication and to recommend actions to make sure that doctors can legally prescribe, that pharmacies can dispense, and that women can secure safe and effective medication," Harris affirmed.
LGBTQ organizations and other human rights groups continue to work to protect reproductive rights.
Human Rights Campaign President Kelley Robinson said she found it intolerable that "an extremist set of judges" had taken away an important right not only for women, but also nonbinary people, trans men, and the entire LGBTQ+ community.
"Because we know that reproductive rights are LGBTQ+ rights, and that so many in our community rely on access to abortion care and other reproductive health services," said Robinson in regards to Roe's 50th anniversary. "The ripple effects of this decision will impact the most marginalized among us the most, and we cannot stand for that."
"Overturning Roe v. Wade was the first time in history that the Supreme Court has taken away rights, and we know that they will not stop there," added Robinson. "This is a dangerous turning point for our country, and we have to affirmatively defend against this assault."
Robinson said HRC is working with coalition partners to fight the roll-back of abortion rights at the state and federal level.
Christian Fuscarino, executive director of Garden State Equality, a statewide LGBTQ rights group in New Jersey, said his organization is "laser-focused on ensuring that people with trans and nonbinary experiences are experiencing lived equality, which includes bodily autonomy."
Equality Florida showed its support of Roe by standing alongside Harris during her Tallahassee speech with several other lawmakers and activists. They also denounced Republican Gov. Ron DeSantis' antiabortion policies, as well as the Florida legislature.