CBP Commissioner Chris Magnus resigns
The former Tucson, Ariz., police chief is openly gay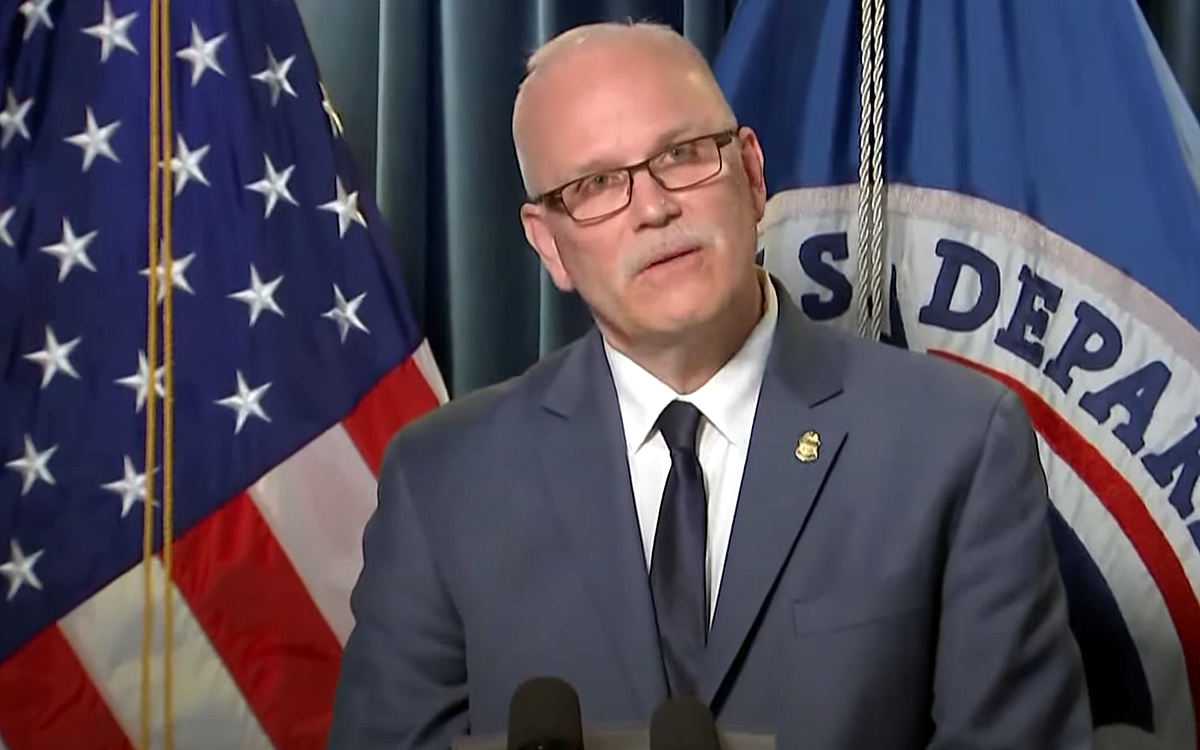 U.S. Customs and Border Protection Commissioner Chris Magnus submitted his resignation to President Joe Biden Saturday evening.
Magnus had reportedly been told earlier in the week by Homeland Security Secretary Alejandro Mayorkas that he should resign or expect to be fired.
Multiple media outlets reported that Magnus said Friday that he had no plans to step down despite being told to resign by Mayorkas.
"I want to make this clear: I have no plans to resign as CBP commissioner," Magnus said in a written statement to The Washington Post. "I didn't take this job as a resume builder. I came to Washington, D.C. — moved my family here — because I care about this agency, its mission and the goals of this administration."
In his letter of resignation released by White House Press Secretary Karine Jean-Pierre, Magnus wrote: "Thank you for the opportunity to serve as your Senate confirmed commissioner of U.S. Customs and Border Protection over the past year. It has been a privilege and honor to be part of your administration.
"I am submitting my resignation effective immediately but wish you and your administration the very best going forward. Thank you again for this tremendous opportunity," Magnus added.
Pressure on the White House to remove the embattled CBP commissioner came from within the administration as well as from House Republicans on Capitol Hill. Last week a group of House Republicans led by Georgia Congressman Jody Hice sent a letter to the president demanding that he remove Magnus after an article in Politico revealed extreme dissatisfaction within the agency.
"According to a recent report by Politico, Commissioner Magnus continually fails to attend high-level meetings regarding the border crisis. Even worse, he was caught sleeping through some of the meetings he actually attended," wrote the lawmakers in the letter first reported by the Daily Caller.
"The report goes on to detail Commissioner Magnus' constant complaining about his fellow senior officials in Department of Homeland Security (DHS) instead of focusing on the CBP mission to secure our border," the lawmakers added.
According to the Los Angeles Times, the CBP chief and Mayorkas argued over Magnus' decision not to continue a retention bonus for U.S. Border Patrol Chief Raul Ortiz. The Times also reported Magnus had butted heads with Ortiz as well over how to reform the Border Patrol.
The day before, Magnus also attended a meeting of Border Patrol chiefs after Mayorkas had told him not to go.
"After me making extensive attempts to reach [Mayorkas] and discuss the matter, I went to the meeting so I could engage with the chiefs on various issues and concerns. I also met with Chief Ortiz to see how we might best work together moving forward," Magnus told the Times.
When the two finally did meet, Mayorkas encouraged him to resign.
"I expressed to him that I felt there was no justification for me to resign when I still cared deeply about the work I was doing and felt that that work was focused on the things I was hired to do in the first place," Magnus told the Times.
The Hill noted that Magnus was chosen by the president in part because he spoke out against the Trump administration's crackdown on immigrants and its negative effect on relations between law enforcement and immigrant communities.
Still, Magnus' background in policing rather than immigration and border enforcement raised some questions about his ability to take on a complex agency amid historically high border crossings, The Hill further pointed out.
Magnus is openly gay and married Terrance Cheung, former chief of staff to the mayor of Richmond. Calif., in 2014.
He was previously chief of police in Tucson, Arz.; Fargo, N.D.; and Richmond, Calif., and is an outspoken advocate of community policing and of immigration sanctuary cities and states.
Advocacy groups criticize new Biden immigration policies
White House to expand humanitarian parole program, 'expedited removal'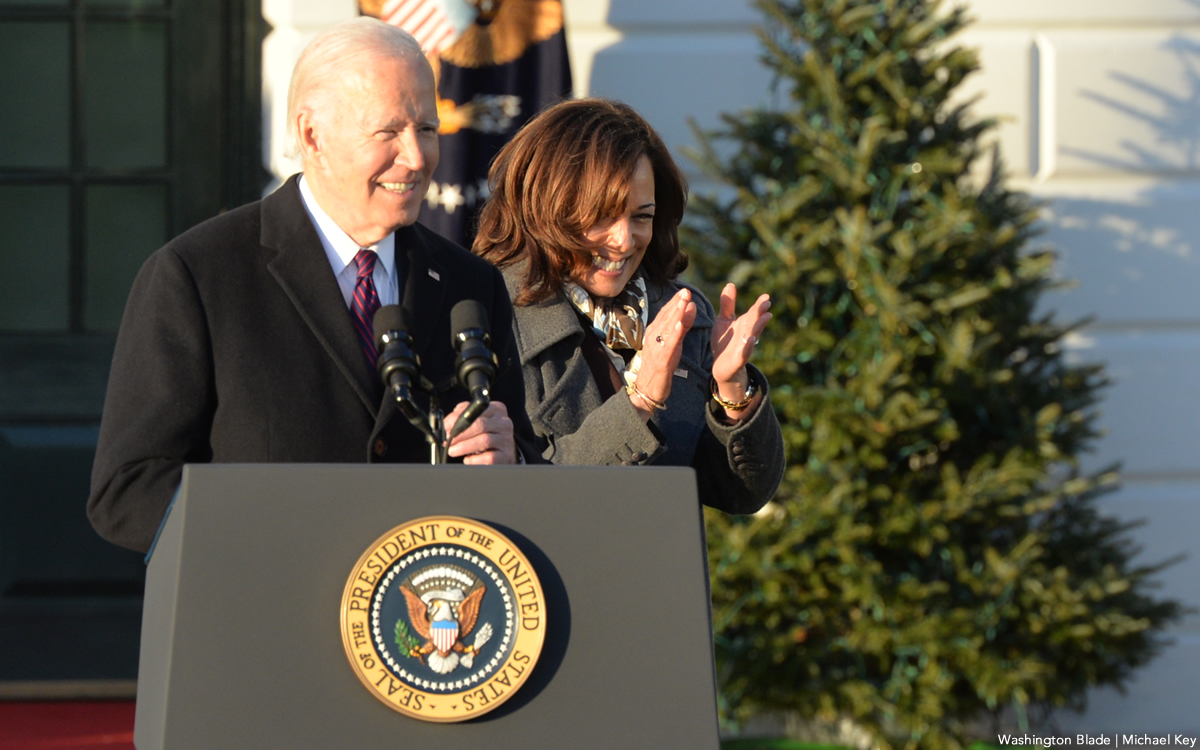 The Biden administration's expansion of the the use of "expedited removal" of Cubans, Nicaraguans, Haitians and Venezuelans who enter the U.S. from Mexico without legal authorization has sparked widespread criticism from advocacy groups that specifically work with LGBTQ and intersex asylum seekers and migrants.
The Department of Homeland Security will create a humanitarian parole program for Cubans, Haitians and Nicaraguans that combines "safe, orderly and lawful pathways to the United States, including authorization to work, with significant consequences for those who fail to use those pathways."
Cubans, Haitians and Nicaraguans through a U.S. Customs and Border Protection app "can seek advance authorization to travel to the United States and be considered, on a case-by-case basis, for a temporary grant of parole for up to two years, including employment authorization, provided that they: Pass righrous biometric and biographic national security and public safety screening and vetting; have a supporter in the United States who commits to providing financial and other support and complete vaccinations and other public health requirements."
"Individuals do not need to be at the border to schedule an appointment; expanded access to the app in Central Mexico is designed to discourage noncitizens from congregating near the border in unsafe conditions," notes DHS. "Initially, this new scheduling function will allow noncitizens to schedule a time and place to come to a port of entry to seek an exception from the Title 42 public health order for humanitarian reasons based on an individualized assessment of vulnerability. This will replace the current process for individuals seeking exceptions from the Title 42 public health order, which requires noncitizens to submit requests through third party organizations located near the border."
President Joe Biden on Thursday said from the White House as Vice President Kamala Harris stood beside him that Cubans, Nicaraguans, Haitians and Venezuelans "account for most of the people traveling into Mexico to start a new life by getting … to the American border and trying to cross."
DHS said U.S. Border Patrol "saw" a 90 percent decrease in the number of Venezuelans "encountered at the border" after a similar humanitarian parole progam began for them last October. Uniting for Ukraine, a humanitarian parole program for Ukrainians who fled after Russia launched its war against their country, started in April 2022.
Up to 30,000 "qualifying nationals" from Cuba, Nicaragua, Haiti and Venezuela will be allowed "to reside legally in the United States for up to two years and to receive permission to work here during that period."
DHS notes Venezuelans, Cubans, Haitians and Nicaraguans "who do not avail themselves of this procress, attempt to enter the United States without authorization, and cannot establish a legal basis to remain will be removed or returned to Mexico, which will accept returns of 30,000 individuals per month who fail to use these new pathways."
"The expansion of the Venezuela process to Cuba, Haiti and Nicaragua is contingent on the government of Mexico's willingness to accept the return or removal of nationals from those countries," said DHS. "It also is responsive to a request from the government of Mexico to provide additional legal pathways for migrants, and it advances both countries' interests in addressing the effects throughout the hemisphere of deteriorated conditions in these countries." 
The administration's announcement also notes "individuals who enter the United States, Mexico or Panama without authorization following today's announcement will generally be ineligible for these (humanitarian parole) processes."
"My message is this: If you're trying to leave Cuba, Nicaragua, or Haiti, you have … or have agreed to begin a journey to America, do not — do not just show up at the border. Stay where you are and apply legally from there," said Biden "Starting today, if you don't apply through the legal process, you will not be eligible for this new parole program. Let me reiterate: You need a lawful sponsor in the United States of America, number one. And you need to undergo a rigorous background check, number two. If your application is approved and you show up at — at a U.S. airport or when and where directed … you have access, but if your application is denied or you attempt to cross into the United States unlawfully, you will not be allowed to enter."
Title 42 is 'the law now'
The U.S. Supreme Court on Dec. 27 ruled Title 42, a Centers for Disease Control and Prevention rule that closed the Southern border to most asylum seekers and migrants because of the pandemic, must remain in place.
The Biden administration has sought to end Title 42 but Arizona and 18 other states that include Texas filed a lawsuit. The Supreme Court is expected to hear oral arguments in the case next month.
Biden is scheduled to travel to El Paso, Texas, which is across the Rio Grande from Ciudad Juárez, Mexico, on Sunday before he travels to Mexico City to attend the North American Leaders' Summit with Mexican President Andrés Manuel López Obrador and Canadian Prime Minister Justin Trudeau.
"I don't like Title 42 at all, but it is the law now," said Biden, who predicted the pandemic-era policy will end this year. "I wanted to make sure there was a rational way to begin this now."
DHS Secretary Alejandro Mayorkas, who was born in Cuba, on Thursday told reporters that Title 42 "increases" the number of attempts to cross the border without legal authorization. Mayorkas, like Biden, stressed the administration is "required, given the different court orders, to employ Title 42."
"We will continue to exercise that authority, consistent with the court orders," said Mayorkas.
Both Mayorkas and Biden said the U.S. will expel foreign nationals who enter the U.S. without legal authorization under Title 8 once Title 42 ends. They also urged Congress to pass a comprehensive immigration reform bill.
"We are here because our immigration system is broken, outdated and in desperate need of reform," said Mayorkas. "The laws we enforce have not been updated in decades."
"Many Republicans agree we should do something, but it's time to stop listening to their inflammatory talk, and it's time to look at their record," stressed Biden. "I'll sit down with anyone who, in good faith, wants to fix our broken immigration system. And it's hard. It's hard on the best of circumstances. But if the most extreme Republicans continue to demagogue this issue and reject solutions, I'm left with only one choice: To act on my own, do as much as I can on my own to try to change the atmosphere. Immigration reform used to be a bipartisan issue. We can make it that way again. It's not only the right thing to do, it's economically a smart thing to do."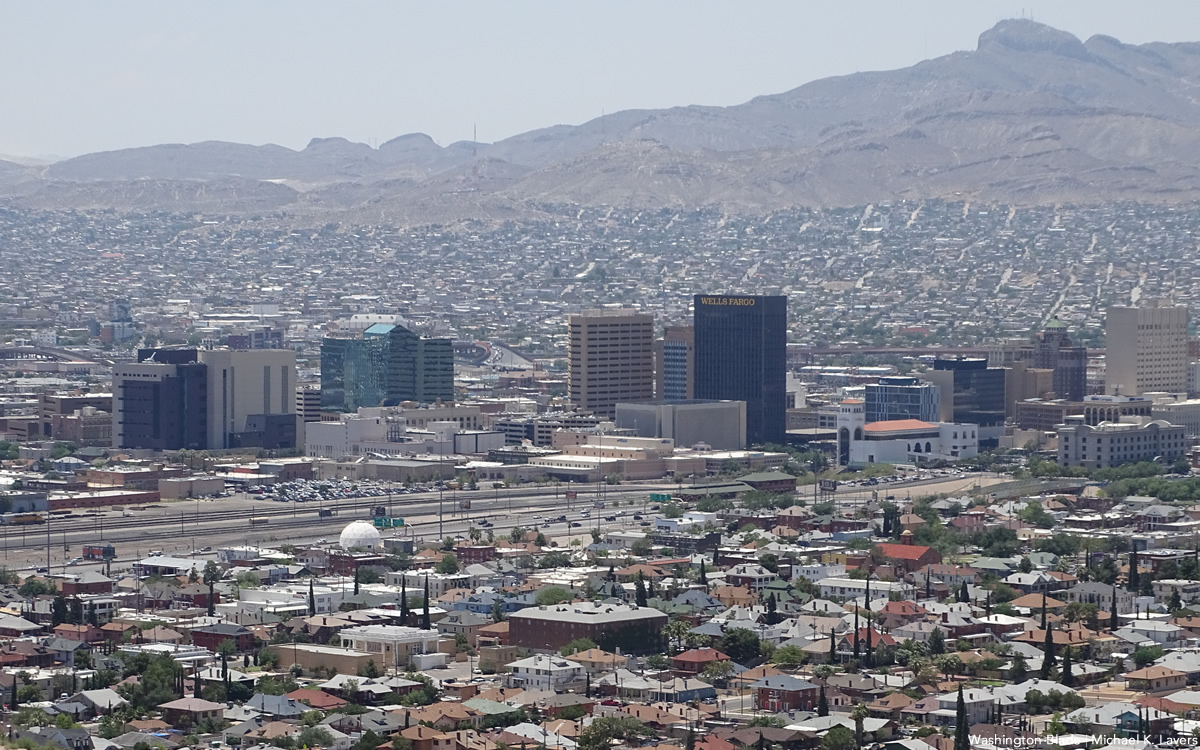 Layla Razavi, interim executive director of Freedom for Immigrants, in a statement said their organization is "deeply disappointed at Biden's shameful expansion of Trump's Title 42 policy, which further cements his predecessor's anti-immigrant legacy."
"The Biden administration should be working to restore and strengthen our asylum system, not eroding what has been a vital lifeline for so many in our communities," said Razavi. "True to Title 42's original motives, this policy will continue to disproportionately harm Black and brown migrants seeking asylum."
Organization of Refuge, Asylum and Migration works with LGBTQ and intersex asylum seekers from Ukraine and other countries around the world. Steve Roth, the group's executive director, last May joined five members of Congress who visited two shelters for LGBTQ and intersex asylum seekers in the Mexican border city of Tijuana.
Roth in a text message to the Blade described the administration's announcement as "sad and frustrating."
"It's unlawful and will limit access to the asylum system for the vast majority of asylum seekers at the border, including LGBTIQ people," he said.
Immigration Equality Executive Director Aaron C. Morris in a press release said "every LGBTQ and HIV-positive refugee has the right to apply for asylum in the United States."
"Requiring our community to file for asylum in unsafe third countries will have mortal consequences for many of us," he said. "Immigration Equality strongly condemns any proposal by the Biden administration to restrict asylum to LGBTQ and HIV-positive refugees. The United States has a great capacity to protect and support asylum seekers and refugees, maybe more than any other nation. President Biden must stop creating barriers to protection, and instead do everything in his power to facilitate the safe relocation of all LGBTQ and HIV-positive people fleeing persecution."
San Diego Pride Executive Director Fernando Z. López, like Morris, said "asylum is a human right and an LGBTQ issue," noting consensual same-sex sexual relations remain criminalized in 68 countries and "people can be put to death simply for being themselves" in 10 of them.
Harris is among the U.S. officials who have publicly acknowledged violence based on sexual orientation and gender identity is one of the "root causes" of migration from Guatemala, El Salvador and Honduras.
"The United States, California and San Diego have been seen as international safe havens for LGBTQ immigrants, refugees, asylum seekers and their families seeking refuge from war, political violence, climate disaster and targeted anti-LGBTQ attacks," López told the Blade. "The longer any administration prevents those seeking refuge from the ability to live safely and freely in this country, as is their internationally recognized right, our LGBTQ community will continue to have to spend time and resources triaging the crisis at our border."
"San Diego Pride, as an organization supporting the LGBTQ community at the U.S.-Mexico border, knows our LGBTQ community needs and deserves real immigration and asylum reform, so we can fully invest in the binational and international capacity-building work we need to truly thrive," added López. "Today's announcement only further delays that life-saving, movement-building work."
Zelenskyy travels to U.S.
Ukrainian president met with American counterpart, addressed Congress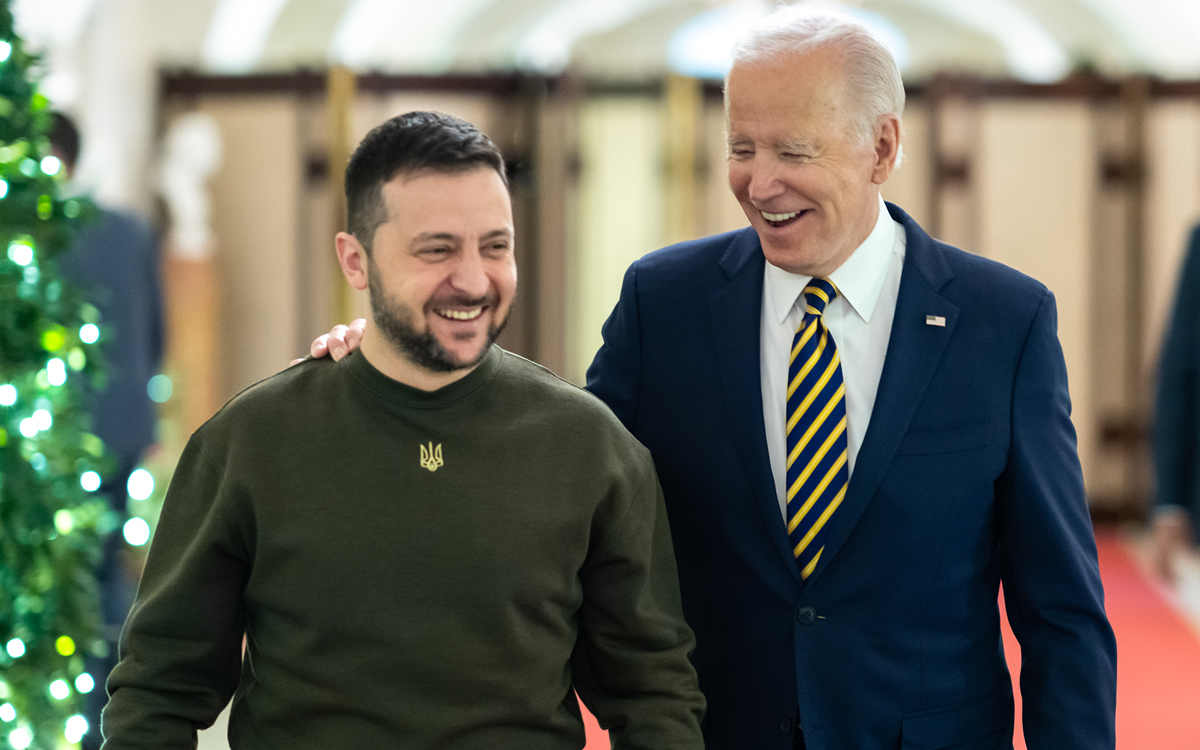 Ukrainian President Volodymyr Zelenskyy on Wednesday met with President Joe Biden at the White House.
Zelenskyy arrived at the White House shortly after 2 p.m. ET. Biden and first lady Jill Biden greeted him.
The Ukrainian president told Biden in the Oval Office that he came to the U.S. to offer "all my appreciations from my heart and from the heart of all Ukrainians." Zelenskyy later spoke to a joint session of Congress.
Russia launched its war against Ukraine on Feb. 24, 2022. Wednesday's trip marks the first time that Zelenskyy has traveled outside his country since the war began.
Zelenskyy in 2021 pledged Ukraine would continue to fight discrimination based on sexual orientation and gender identity after he met with Biden at the White House.
Zelenskyy less than six months after the war began said he supports a civil partnerships law for same-sex couples. Ukrainian lawmakers last week unanimously approved a media regulation bill that will ban hate speech and incitement based on sexual orientation and gender identity.
Biden signs Respect for Marriage Act
Bill received final approval last week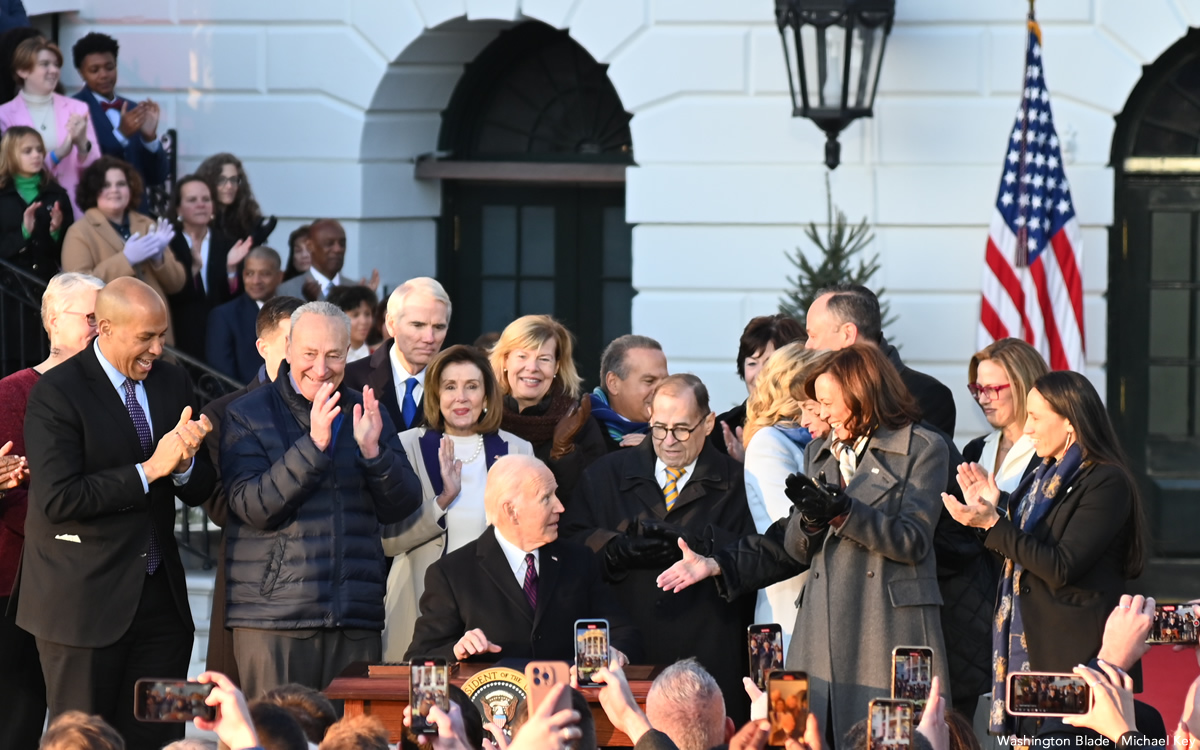 President Joe Biden on Tuesday signed the Respect for Marriage Act into law.
"Today's a good day," said Biden during a signing ceremony that took place on the White House's South Lawn. "Today America takes a big step towards equality."
The ceremony took place five days after the Respect for Marriage Act passed in the U.S. House of Representatives with 39 Republicans voting in favor.
The bill passed in the U.S. Senate on Nov. 29 by a 61-39 vote margin. The Respect for Marriage Act first passed in the House in July.
Biden during the signing ceremony specifically thanked U.S. Sens. Tammy Baldwin (D-Wis.), Susan Collins (R-Maine), Kyrsten Sinema (I-Ariz.) and other lawmakers who helped secure the bill's passage. Biden also reiterated calls for Congress to pass the Equality Act, which would add sexual orientation and gender identity to federal civil rights law, and for an end to anti-LGBTQ violence in the wake of last month's massacre at Club Q in Colorado Springs, Colo., and the proliferation of anti-trans bills across the country.
"When a person can be married in the morning and thrown out of a restaurant in the afternoon, this is still wrong," said Biden. "We must stop the hate and violence."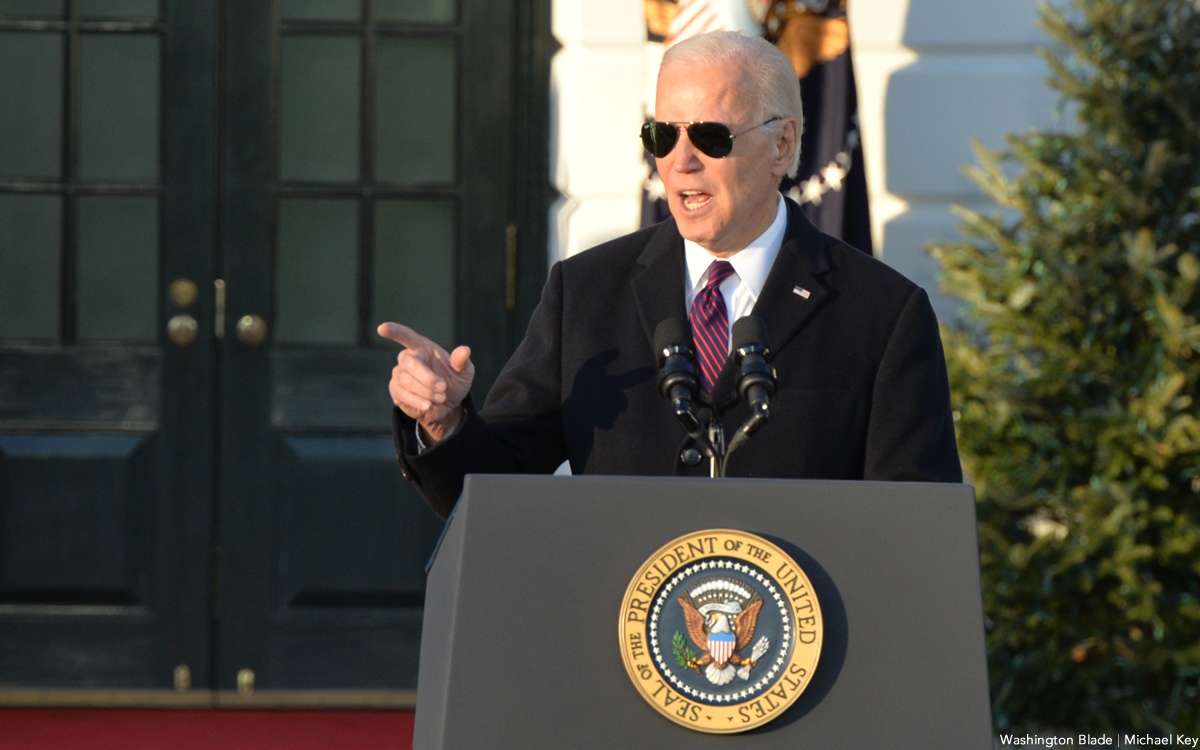 Vice President Kamala Harris was San Francisco's district attorney in 2004 when she became one of the first public officials in the country to officiate a same-sex wedding. Harris was California's attorney general when she successfully challenged the state's Proposition 8 before the U.S. Supreme Court.
The Supreme Court on June 26, 2013, struck down Prop 8 and the Defense of Marriage Act. The Supreme Court on June 25, 2015, issued its landmark Obergefell decision that extended marriage rights to same-sex couples across the country.
Harris noted Tuesday is "a day, when thanks to Democrats and Republicans, we finally protect marriage rights in federal law." Dozens of same-sex couples who sued for marriage rights across the country and their families stood on the steps leading to the Truman Balcony as she and Biden spoke.
"For millions of LGBTQI+ Americans and interracial couples, this is a victory and part of a larger fight," said Harris.
Supreme Court Justice Clarence Thomas in a concurring opinion he wrote in the decision that overturned Roe v. Wade suggested the Supreme Court should also reconsider Obergefell and two other decisions that guaranteed the right to private, consensual sex and the ability of married couples to purchase and use contraception.
The House first passed the Respect for Marriage Act less than a month after the Supreme Court overturned Roe in Dobbs v. Jackson. California Congressman Mark Takano, who is openly gay, earlier this month told the Washington Blade that Congress was "reeling" from the ruling and Thomas' opinion and lawmakers said "we need to protect what we can."
Harris said the Dobbs decision is a reminder that "fundamental rights are interconnected, including the right to marry who you love, the right to access contraception, and the right to make decisions about your own body." Biden noted Congress passed the Respect for Marriage Act "because of an extreme Supreme Court has stripped away the right important to millions of Americans that existed for half a century."
House Majority Leader Nancy Pelosi (D-Calif.); Senate Majority Leader Chuck Schumer (D-N.Y.) and Gina and Heidi Nortonsmith, one of the plaintiff couples in the lawsuit that led Massachusetts to become the first state in the country to extend marriage rights to same-sex couples in 2004, also spoke at the ceremony. Cyndi Lauper, Sam Smith and members of the Gay Men's Chorus of Washington performed.
Transportation Sec. Pete Buttigieg; National LGBTQ Task Force Executive Director Kierra Johnson; Transgender Legal Defense and Education Fund Executive Director Andy Marra; David Mixner; Robyn Ochs; Alabama state Rep. Neil Rafferty; Pennsylvania state Sen. Malcolm Kenyatta; Arizona state Rep. Daniel Hernández; former New York City Council Speaker Corey Johnson; Maryland state Del. Luke Clippinger (D-Baltimore City); GLAAD President Sarah Kate Ellis; Garden State Equality (N.J.) Executive Director Christian Fuscarino; Equality Florida Communications Director Brandon Wolf; Wanda Alston Center Executive Director June Crenshaw and Japer Bowles, director of D.C. Mayor Muriel Bowser's Office of LGBTQ Affairs, are among 5,300 people who attended the ceremony.
Sinema, Baldwin, Collins, U.S. Sens. Rob Portman (R-Ohio), Cory Booker (D-N.J.) and U.S. Reps. Jerrold Nadler (D.N.Y), Sharice Davids (D-Kan.) and David Cicilline (D-R.I.) were also in attendance.
"Today is a historic day and a much-needed victory for our community," said Human Rights Campaign President Kelley Robinson in a press release. "It should be lost on no one that this bill signing comes less than a month after a deadly attack on our community in Colorado Springs, and at a time when the community continues to face ongoing threats of online and offline violence, as well as legislative attacks on our rights. In signing this bill, President Biden has shown that LGBTQ+ peoples' lives and love are valid and supported."
GLBTQ Legal Advocates and Defenders Janson Wu said "millions of couples and their children across the country now have the assurance that their families will continue to be respected by our state and federal governments because President Biden has signed the Respect for Marriage Act into law." Equality California Executive Director Tony Hoang echoed these sentiments.
"This is an historic milestone for our movement and an important victory for hundreds of thousands of loving couples and their children across the nation," said Hoang in a statement. "All Americans deserve the freedom to marry the person they love, and this bill is a reflection of the fact that for the majority of Americans — across all political parties, backgrounds, and in every corner of the country — the debate over marriage equality is settled."