Chuck Schumer files for cloture on Respect for Marriage Act
First vote on bill expected on Wednesday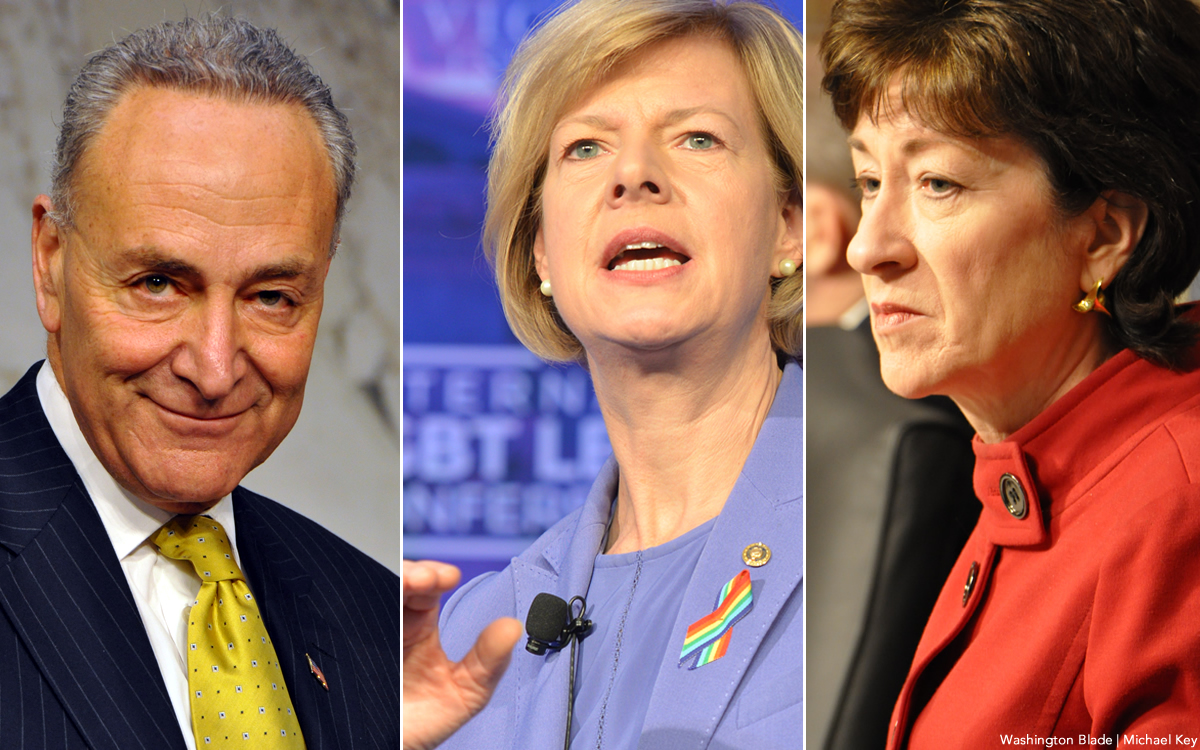 This week, the U.S. Senate is expected to pass the Respect for Marriage Act, which would codify some of the protections for same-sex and interracial couples that were established by the U.S. Supreme Court but could be weakened or overturned by the High Court's conservative supermajority.
Senate Majority Leader Chuck Schumer (D-N.Y.) just filed for cloture on the legislation, an aide to Sen. Tammy Baldwin (D-Wis.) told the Washington Blade.
The "first vote will be on Wednesday," the aide said in an email.
Baldwin is widely credited with driving momentum behind the bill. She, along with U.S. Sens. Susan Collins (R-Maine), Rob Portman (R-Ohio), Thom Tillis (R-N.C.) and Kyrsten Sinema (D-Ariz.) released a statement on Monday urging Senate leadership to put the Respect for Marriage Act on the floor for a vote, explaining they had added protections for "religious liberties."
CNN reported multiple sources said the coalition of senators is confident they have the votes necessary for the bill to pass.
This summer, White House Press Secretary Karine Jean-Pierre said that President Joe Biden is ready to sign the bill into law.
"He is a proud champion of the right for people to marry whom they love and is grateful to see bipartisan support for that right," she said.
The Human Rights Campaign, America's largest LGBTQ organization, celebrated Schumer's announcement earlier today that the upper chamber will "vote on the Respect for Marriage Act in the coming weeks so that no American is discriminated against because of whom they love."
The legislation, HRC said in the press release, will "codify federal marriage equality by guaranteeing the federal rights, benefits and obligations of marriages in the federal code; repeal the discriminatory Defense of Marriage Act (DOMA); and affirm that public acts, records and proceedings should be recognized by all states."
The impetus behind the Respect for Marriage Act came with the Supreme Court's decision earlier this year in Dobbs v. Jackson Women's Health Organization, which overturned the constitutional right to abortion in America.
Justice Clarence Thomas wrote a concurring opinion in which he pledged to revisit precedents governing same-sex marriage and other matters that were decided on the basis of the right to privacy.
Dozen Senate Republicans vote to advance Respect for Marriage Act
Final vote could happen as early as Thursday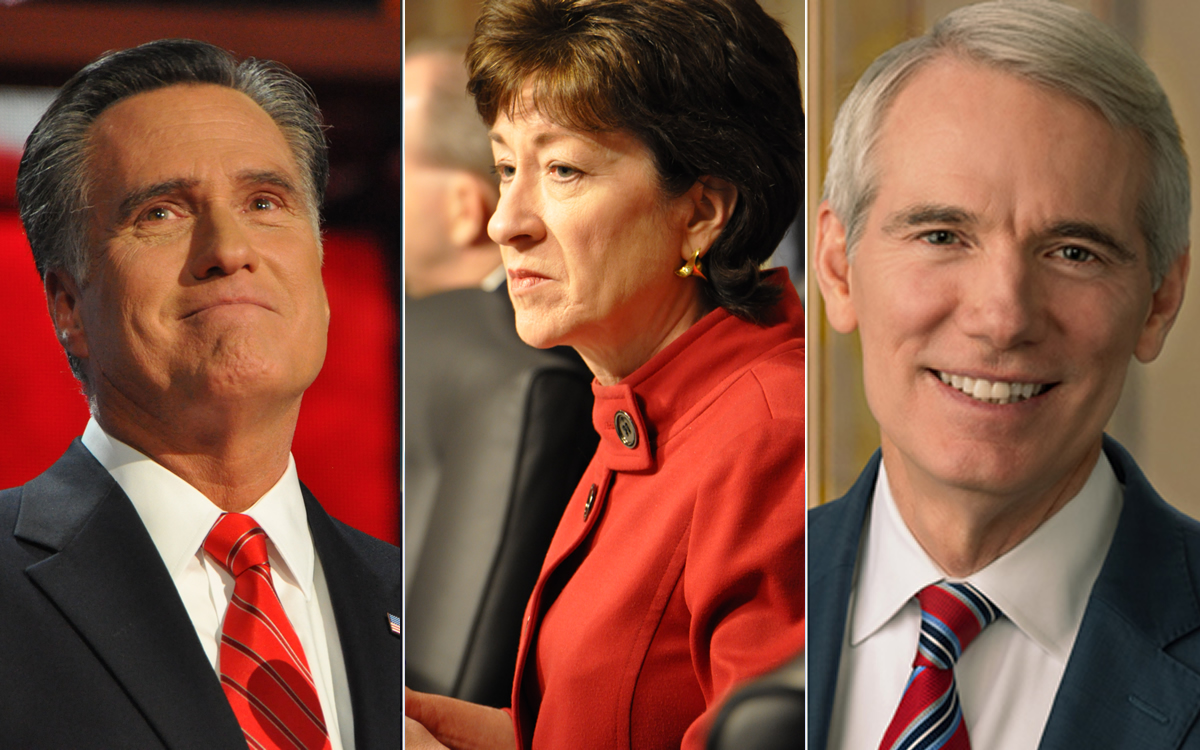 The Respect for Marriage Act is expected to be called for a full Senate vote as early as Thursday after clearing an initial cloture vote Wednesday with 50 Democratic and 12 Republican votes.
The bill is among the highest priority items for Congress to address before the new members are seated in January, and it marks a significant nexus of bipartisan agreement in a sharply divided legislature.
President Joe Biden, members of Congress, LGBTQ, civil rights, and legal advocacy organizations celebrated Wednesday's vote to advance the legislation, which aims to maximize protections for same-sex couples while abiding the legal framework necessary to withstand potential legal challenges.
The Respect for Marriage Act would require states to recognize same-sex marriages performed in places where they are legal, preserving the more than 1,100 federal rights and benefits that are conferred by marriage.
Pledging to "promptly sign it into law," Biden lauded the lawmakers who voted on Wednesday to support the bill.
"The Respect for Marriage Act will ensure that LGBTQI+ couples and interracial couples are respected and protected equally under federal law," the president said in a statement, "and provide more certainty to these families since the Supreme Court's decision in Dobbs."
The high court's ruling earlier this year in Dobbs v. Jackson Women's Health Organization is credited as the impetus behind the Respect for Marriage Act, particularly since Justice Clarence Thomas published a concurring opinion in that case vowing to revisit precedents governing marriage equality, among other matters.
U.S. Sen. Alex Padilla (D-Calif.), a cosponsor of the legislation, said: "Over the last two months, Senate Democrats, led by Sen. Baldwin, have made bipartisan strides towards an agreement on this legislation, and I thank our colleagues who joined us in voting to protect this fundamental right."
"Today 62 U.S. senators voted for cloture on the Respect for Marriage Act, H.R. 8404, a filibuster-proof majority of the U.S. Senate agreeing to move the RMA forward to the Senate floor," the National LGBTQ Task Force Action Fund wrote in a statement. "The importance of this vote cannot be overstated."
Kelley Robinson, incoming president of the Human Rights Campaign, said in a press release, "Today's strong bipartisan vote of 62-37 for cloture is an incredible victory that cannot be taken lightly — this vote was the bill's biggest procedural roadblock, and now we steer our focus forward to the Senate's final vote on this historic legislation."
GLAAD President Sarah Kate Ellis said in a press release, "As extremist politicians push anti-LGBTQ playbooks on the state level and right-wing U.S. Supreme Court justices overturn other legal precedent, the bipartisan Respect for Marriage Act is an opportunity for our leaders to come together to send a message of equal treatment for everyone."
"Equality California applauds the vote today to protect federal marriage equality across the country — one that cannot be easily overturned, regardless of political control," Tony Hoang, the group's executive director, said in a press release.
As votes are tallied, progressive groups celebrate LGBTQ midterm candidates
While final results of the midterm elections were pending as of Tuesday night, several LGBTQ candidates had already made history with their electoral victories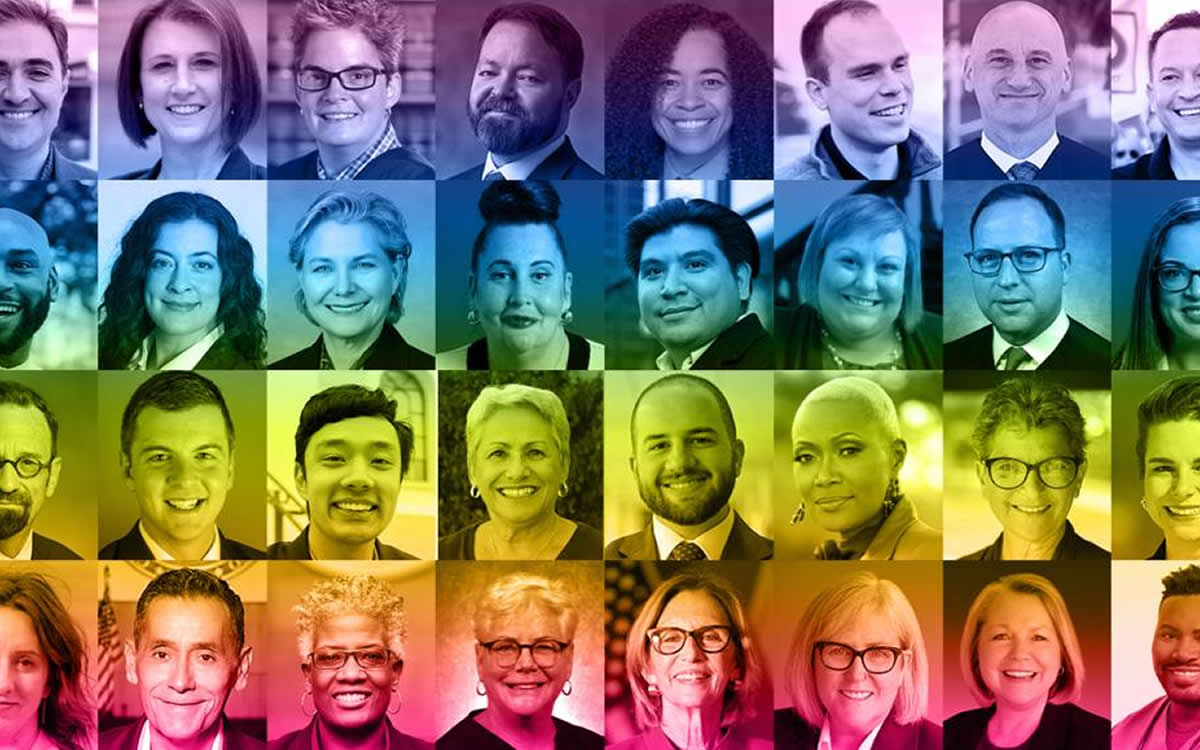 Progressive LGBTQ groups celebrated the pro-equality LGBTQ candidates running in key midterm races across the country on Tuesday, several of whom claimed victory as Election Day stretched into the night.
Becca Balint and Maura Healey were among the first candidates whose races were called, both becoming the first women and the first LGBTQ people elected to, respectively, represent Vermont in Congress and serve as governor of Massachusetts.
The LGBTQ Victory Fund, which supports pro-choice LGBTQ candidates, toasted the candidates' success "shattering lavender and glass ceilings."
"The future of LGBTQ equality and women's rights were on the ballot — and Vermonters delivered tonight," Victory Fund President Mayor Annise Parker said in a press release on Balint's win. "For nearly a decade, Becca led efforts to pass meaningful legislation to increase fairness and equity within Vermont. Now, she is ready to do the same in Congress."
In a press release announcing Healey's victory, Parker said, "In the face of so much hate and intolerance sweeping our nation, her win is a sign — especially to LGBTQ kids in desperate need of hope — that LGBTQ people have a place in American society and can become respected public leaders." 
LPAC, a group that supports women and nonbinary LGBTQ candidates running for public office, also published press releases celebrating Healey and Balint on Tuesday afternoon.
Just before midnight, the Victory Fund called Robert Garcia's victory for California's 42nd Congressional District. Garcia will be the first openly gay immigrant elected to Congress.
"We are confident Robert's deep policy experience and ability to build strong, diverse coalitions will make him an exceptional legislator," Parker said. "His win tonight will inspire countless other LGBTQ and first-generation Americans to pursue careers in public service."
Democrat and LGBTQ ally Wes Moore also made history on Tuesday, becoming Maryland's first Black governor-elect in his race against Donald Trump-backed far-right candidate Dan Cox, while openly gay Colorado Gov. Jared Polis and U.S. Rep. Chris Pappas (D-N.H.) won their reelection bids.
Democrat and LGBTQ ally Maxwell Alejandro Frost, 25, became the first Generation Z candidate to win a Congressional seat, where he will represent Florida's 10th Congressional District in the House. 
Per pool reports, by 11:30 p.m. ET, President Joe Biden made congratulatory calls to Healey; Polis; Senate Majority Leader Chuck Schumer (D-N.Y.); U.S. Sens. Tammy Duckworth (D-Ill.) and Richard Blumenthal (D-Conn.); Democratic Rhode Island Gov. Dan McKee; Democratic Illinois Gov. J.B. Pritzker; Democratic Maine Gov. Janet Mills; U.S. Sens. Michael Bennett (D-Colo.), Maggie Hassan (D-N.H.) and Alex Padilla (D-Calif.); U.S. Reps. Lisa Blunt Rochester (D-Del.), Abigail Spanberger (D-Va.) and Jennifer Wexton (D-Va.), U.S. Sen. Chris Van Hollen (D-Md.), D.C. Mayor Muriel Bowser), U.S. Sen.-elects Peter Welch (D-Vt.) and Seth Magaziner (D-R.I.), and Pennsylvania Gov.-elect Josh Shapiro.
Meanwhile, Tina Kotek is locked in a close race for Oregon's governorship whose outcome may not be clear until later this week. If elected, she would join Healey as the nation's first openly lesbian governor.
And the fates of LGBTQ candidates in closer races for seats in the lower chamber are still unclear. These include U.S. Reps. Sean Patrick Maloney (D-N.Y.) and Sharice Davids (D-Kan.), who are running for reelection, along with Jamie McLeod-Skinner and Will Rollins, who are competing for House seats in Oregon and California, respectively.
Heather Mizeur, who would have been Maryland's first openly lesbian member of Congress, conceded her defeat Tuesday evening to incumbent Republican Maryland Congressman Andy Harris.
A historic number of LGBTQ candidates ran for elected office this year, advocacy groups said. The Victory Fund endorsed 411 people in races in 49 states, D.C., Guam, and the U.S. Virgin Islands.
The Human Rights Campaign, America's largest LGBTQ advocacy group, also touted the diverse pool of candidates in the midterms, citing the record numbers of transgender and gender nonconforming people who ran this year. The organization also noted that the electorate is composed of more LGBTQ voters than ever before.
"We will continue to stand and fight every day alongside our allies and partners across the country, in support of a pro-democracy, pro-equality, and pro-choice future," Interim HRC President Joni Madison said in a press release from the organization.
Focus shifts to lame duck session amid Republicans' likely capture of U.S. House majority
As the results of the midterms are tallied, advocates turn to legislative priorities in Congress's lame duck session while bracing for traction on anti-LGBTQ+ bills that have already been introduced.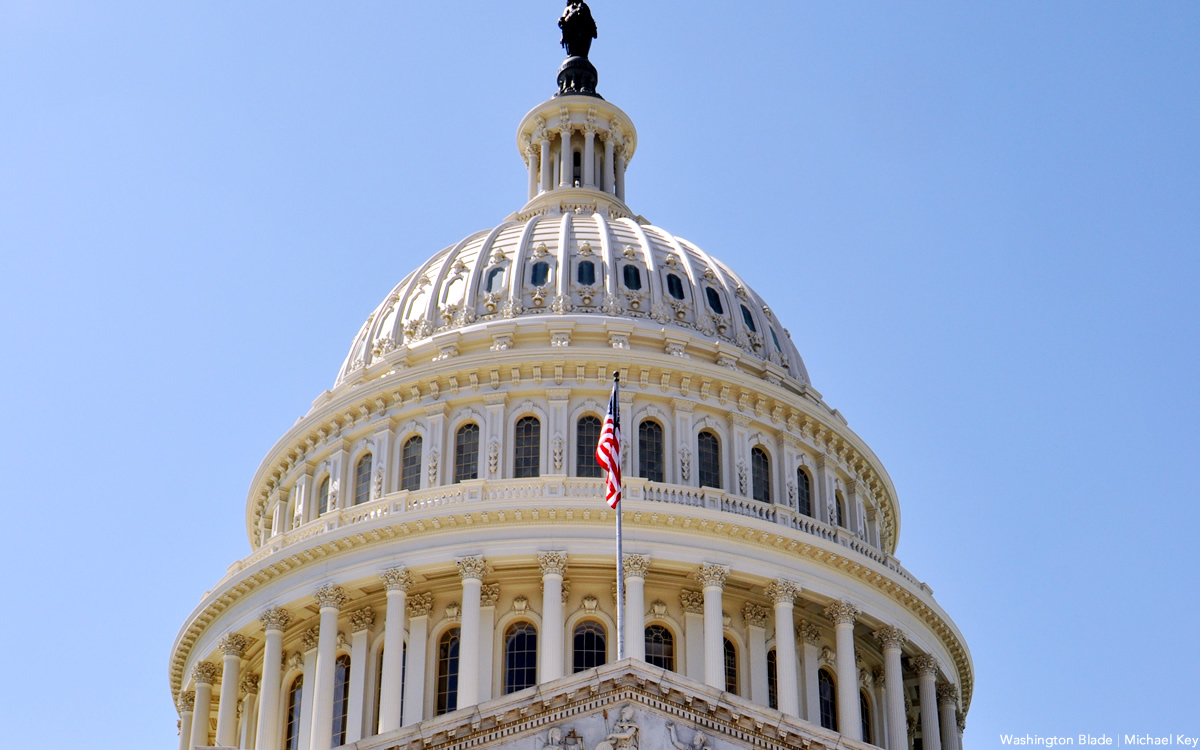 With Republicans expected to wrest control of the U.S. House after the midterms, LGBTQ advocates are turning their focus toward priorities for the lame duck session before the next Congress is seated – while bracing for a hostile legislative environment next year.
In the near term, a Republican majority in the House will put pressure on Senate Democrats to bring a floor vote to codify protections for same-sex marriage before the year's end.
The House passed the Respect for Marriage Act (RFMA) this summer, which would require the federal government to recognize preexisting marriages between same-sex couples – a safeguard to gird against some of the consequences that would result if the conservative U.S. Supreme Court reverses or substantially weakens its landmark marriage equality ruling.
"All eyes are on the RFMA," said Albert Fujii, press secretary for the LGBTQ Victory Fund, which works to elect pro-choice LGBTQ candidates. Clearing the 60-vote threshold in the upper chamber during this legislative session is reasonably likely given that a key number of Republican senators may support the bill because they are slated to retire or lose their reelection bids, Fujii told the Washington Blade on Tuesday.
Should Republicans secure a majority in the House, Minority Leader Rep. Kevin McCarthy (R-Ca.) is expected to become Speaker, a position for which he is backed by former President Donald Trump.
The Bakersfield congressman said that if his party takes the House, they will reinstate extremist anti-LGBTQ Rep. Marjorie Taylor Greene's (R-Ga.) right to serve on committees in the chamber. Greene was stripped of her committee assignments last year following revelations that she spread conspiracy theories and endorsed violence against House Speaker Nancy Pelosi (D-Ca.) on social media.
A Republican majority in the House would also mean greater chances of success for anti-LGBTQ legislation that has already been introduced, such as a federal version of Florida's Parental Rights in Education ("Don't Say Gay") bill and Greene's measure to criminalize healthcare providers who offer medically necessary care for transgender minors, Fujii said.
"With McCarthy as speaker, those bills have a greater chance of moving forward," with members voting them out of committees and calling for floor votes, Fujii said.
Republicans only needed a net gain of five House seats in the midterms to win a majority. FiveThirtyEight, a site that aggregates and analyzes polling data, estimated that 10 Republican candidates faced odds of 90% or greater to pick up new seats.
Some of those represent districts that were redrawn to include more GOP voters, while others – in Colorado, Florida, Montana, and Texas – represent newly created districts that were expected to go red.
According to FiveThirtyEight, there were 19 House seats not currently occupied by Republican members that Republican candidates were favored to win, while Democrats were expected to flip only as many as five red seats.