Dozen Senate Republicans vote to advance Respect for Marriage Act
Final vote could happen as early as Thursday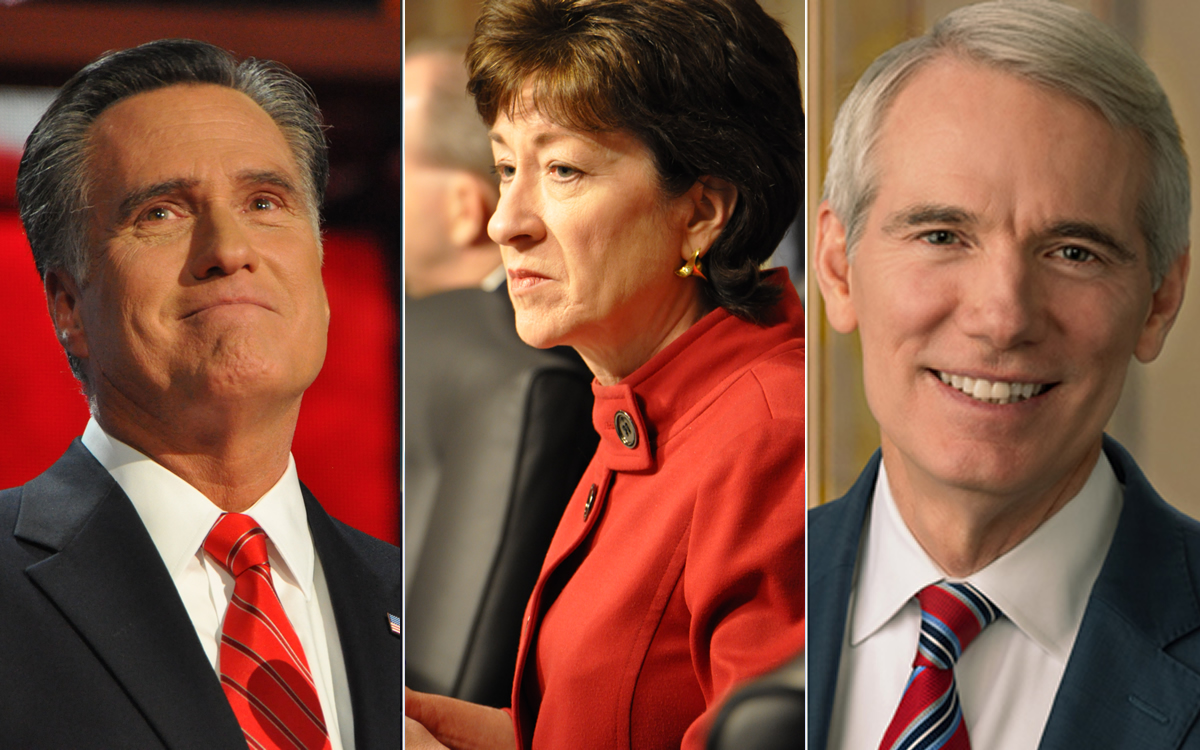 The Respect for Marriage Act is expected to be called for a full Senate vote as early as Thursday after clearing an initial cloture vote Wednesday with 50 Democratic and 12 Republican votes.
The bill is among the highest priority items for Congress to address before the new members are seated in January, and it marks a significant nexus of bipartisan agreement in a sharply divided legislature.
President Joe Biden, members of Congress, LGBTQ, civil rights, and legal advocacy organizations celebrated Wednesday's vote to advance the legislation, which aims to maximize protections for same-sex couples while abiding the legal framework necessary to withstand potential legal challenges.
The Respect for Marriage Act would require states to recognize same-sex marriages performed in places where they are legal, preserving the more than 1,100 federal rights and benefits that are conferred by marriage.
Pledging to "promptly sign it into law," Biden lauded the lawmakers who voted on Wednesday to support the bill.
"The Respect for Marriage Act will ensure that LGBTQI+ couples and interracial couples are respected and protected equally under federal law," the president said in a statement, "and provide more certainty to these families since the Supreme Court's decision in Dobbs."
The high court's ruling earlier this year in Dobbs v. Jackson Women's Health Organization is credited as the impetus behind the Respect for Marriage Act, particularly since Justice Clarence Thomas published a concurring opinion in that case vowing to revisit precedents governing marriage equality, among other matters.
U.S. Sen. Alex Padilla (D-Calif.), a cosponsor of the legislation, said: "Over the last two months, Senate Democrats, led by Sen. Baldwin, have made bipartisan strides towards an agreement on this legislation, and I thank our colleagues who joined us in voting to protect this fundamental right."
"Today 62 U.S. senators voted for cloture on the Respect for Marriage Act, H.R. 8404, a filibuster-proof majority of the U.S. Senate agreeing to move the RMA forward to the Senate floor," the National LGBTQ Task Force Action Fund wrote in a statement. "The importance of this vote cannot be overstated."
Kelley Robinson, incoming president of the Human Rights Campaign, said in a press release, "Today's strong bipartisan vote of 62-37 for cloture is an incredible victory that cannot be taken lightly — this vote was the bill's biggest procedural roadblock, and now we steer our focus forward to the Senate's final vote on this historic legislation."
GLAAD President Sarah Kate Ellis said in a press release, "As extremist politicians push anti-LGBTQ playbooks on the state level and right-wing U.S. Supreme Court justices overturn other legal precedent, the bipartisan Respect for Marriage Act is an opportunity for our leaders to come together to send a message of equal treatment for everyone."
"Equality California applauds the vote today to protect federal marriage equality across the country — one that cannot be easily overturned, regardless of political control," Tony Hoang, the group's executive director, said in a press release.
Jim Kolbe dies at 80
Former Ariz. congressman first openly gay Republican House member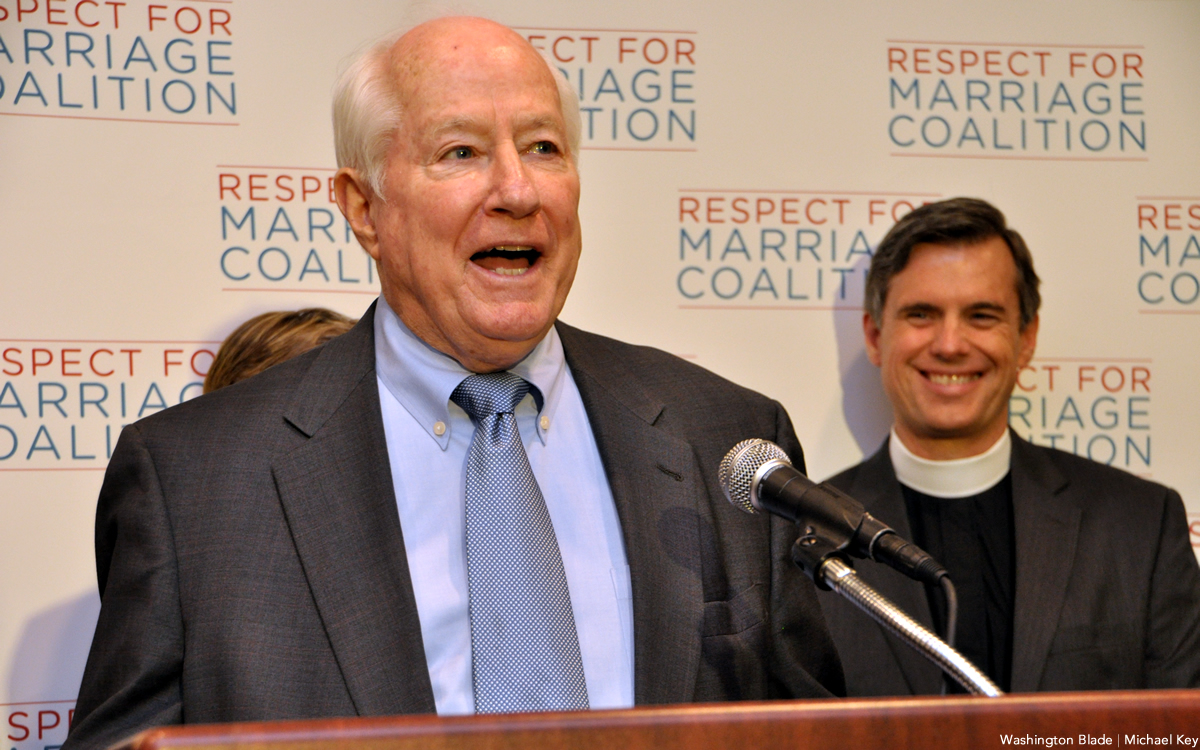 Former Republican Congressman James (Jim) Thomas Kolbe, who represented Southern Arizona in Congress for 22 years, died Saturday of a stroke at the age of 80 his husband Hector Alfonso confirmed to Arizona media outlets.
"He belongs to so many people," his husband said through tears on Saturday. "He gave his life for this city. He loved Tucson, he loved Arizona."
Republican Arizona Gov. Doug Ducey ordered flags at all state buildings be lowered to half-staff until sunset Sunday in honor of the former congressman. In a series of tweets the Arizona governor lauded Kolbe's record of public service.
Congressman Kolbe led a life of remarkable public service. A Navy veteran, 11-term congressman, state legislator — even a congressional page for Sen. Goldwater — his commitment and dedication were boundless. 2/

— Doug Ducey (@DougDucey) December 3, 2022
He was a highly-regarded expert on trade, a champion of the free market and a passionate advocate for the line-item veto. From his community in Tucson, to those in need around the world, Congressman Kolbe had a profound and lasting impact. 3/

— Doug Ducey (@DougDucey) December 3, 2022
We've ordered flags at state buildings will be flown at half staff until sunset Sunday in Congressman Kolbe's memory. 5/5

— Doug Ducey (@DougDucey) December 3, 2022
Kolbe was the first openly serving gay Republican in the U.S. House of Representatives having served from 1985 to 2007. During his 22-year tenure he served as chair of the Subcommittee on Foreign Operations, Export Financing and Related Programs of the House Appropriations Committee.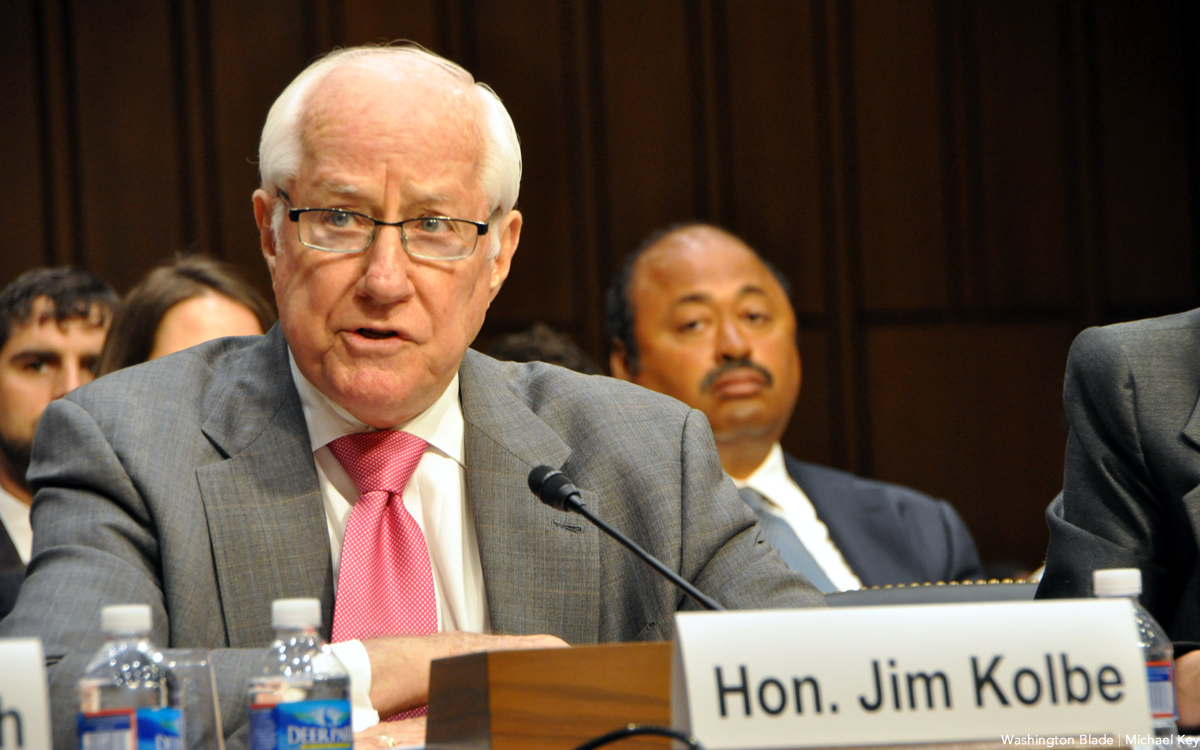 In 1996, Kolbe held a press conference and outed himself after his vote for the Defense of Marriage Act. This, according to political journalist Jake Tapper, was owed to the fact that Kolbe was under the impression he was about to be outed by a gay publication.
Addressing a gathering of Log Cabin Republicans and other gay Republicans in 1997, he said he didn't want to be a poster child for the gay movement.
"Being gay was not — and is not today — my defining persona," Kolbe said during his first speech as an openly gay GOP lawmaker. He also sat on the national advisory board of the Log Cabin Republicans.
In 2013, however, Kolbe was a signatory to an amicus brief in support of overturning California's Proposition 8.
In a private ceremony in 2013, after being together for eight years, Kolbe and Alfonso were married.
Alfonso, a Panamanian native who came to the U.S. on a Fulbright scholarship to pursue studies in special education, had been a teacher for two decades. The couple's nuptials were held at a private event at the Cosmos Club on Massachusetts Avenue.
"Two decades ago, I could not have imagined such an event as this would be possible," Kolbe told the Washington Blade in an interview in May 2013. "A decade ago I could not imagine that I would find someone I could be so compatible with that I would want to spend the rest of my life with that person. So, this is a very joyous day for both of us."
The couple had to endure a year-long separation when Alfonso returned to Panama while immigration issues were being sorted out, although he was granted U.S. residency, also known as a green card.
Kolbe also battled his friend and fellow Republican, U.S. Sen. John McCain (R-Ariz.), who opposed the repeal of the Clinton-era "Don't Ask, Don't Tell" policy, which barred military service by gay and lesbian Americans. He repeatedly co-sponsored a bill to scrap the military's "Don't Ask, Don't Tell" policy at odds with others in his party over the issue.
After he left Congress he continued to be active in Republican politics in 2012 endorsing former Massachusetts Gov. Mitt Romney in his race for the presidency against then incumbent President Barack Obama.
In an interview with the Blade at the time, Kolbe responded to the anti-gay language in the draft version of the Republican Party platform. In addition to endorsing a Federal Marriage Amendment, the platform criticized the Obama administration for dropping defense of DOMA in court and judges for "re-defining marriage" in favor of gay couples.
Kolbe predicted the 2012 Republican platform will be the last one to include such language.
"That'll be the last time that will be in the Republican Party platform," Kolbe said. "It won't be there four years from now. It's got its last gasp. I don't believe it'll be there four years from now; I wish it weren't there now, but I don't believe it will be four years from now."
The issue over the rights of same-sex couples to marry ended with Obergefell v. Hodges, 576 U.S. 644, the landmark civil rights case in which the U.S. Supreme Court ruled that the fundamental right to marry is guaranteed to same-sex couples by both the Due Process Clause and the Equal Protection Clause of the 14th Amendment to the Constitution.
Just this week prior to his death, the Respect for Marriage Act passed the Senate by a vote of 61-36.
That legislation requires the federal government to recognize a marriage between two individuals if the marriage was valid in the state where it was performed and guarantee that valid marriages between two individuals are given full faith and credit, regardless of the couple's sex, race, ethnicity or national origin. It is expected to pass the House again this week after which it heads to President Joe Biden for his signature.
Early in his career, Kolbe in 1976 ran for a seat in the Arizona Senate in the Tucson-Pima County district and defeated a one-term Democrat. In mid-1982, he resigned from the state Senate to run in the newly created Arizona's 5th U.S. congressional district, but lost to Democrat Jim McNulty.
He ran again in 1984 winning the seat that he went to hold for over two decades.
According to his biography Kolbe was born in Evanston, Ill., a suburb of Chicago, but when he was five, his family moved to a ranch in rural Santa Cruz County, Arizona. It was there he attended Patagonia Elementary School and Patagonia Union High School, but graduated from the U.S. Capitol Page School in 1960 after serving for three years as a Senate Page for Arizona Republican U.S. Sen. Barry Goldwater.
He matriculated first at Northwestern University and then at Stanford University earning a master's degree in economics. During the Vietnam era from 1965 to 1969, he served in the U.S. Navy, including a tour in Vietnam as a member of the Navy's "Swift Boat" force.
After military service Kolbe served as a special assistant to Republican Illinois Gov. Richard B. Ogilvie. He then moved back to Arizona settling in Tucson where he worked in business.
Accolades for the former congressman included many from Arizona political and business fields of endeavor.
"Pima County and southern Arizona could always count on Jim Kolbe," Pima County Board of Supervisors Chair Sharon Bronson said in a statement.
Matt Gress, who was recently elected to the Arizona Legislature, called Kolbe a political pioneer.
"Today, because of Jim Kolbe, being a member of the LGBT community and serving in elected office has become irrelevant," he said in a statement.
Hakeem Jeffries makes history with appointment to lead House Democrats
Democratic Rep. Hakeem Jeffries of New York, an LGBTQ ally, will become the first Black lawmaker of either party to serve in the top spot of either of the two chambers of Congress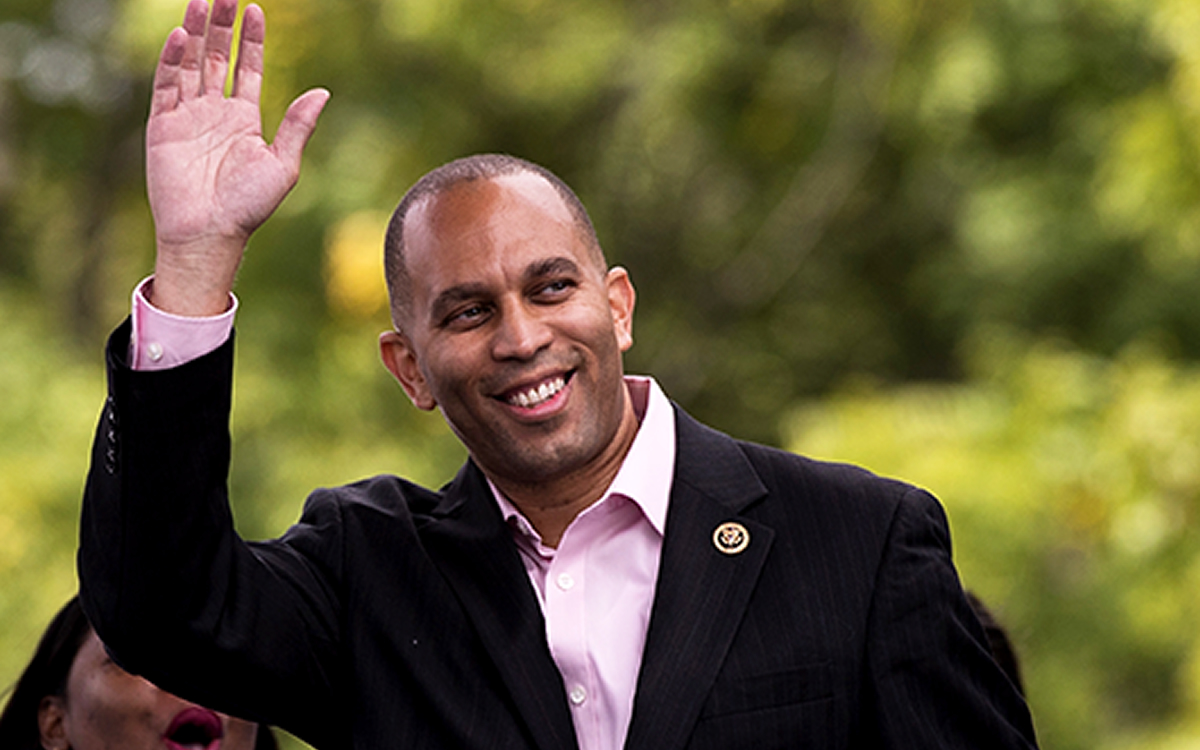 With his election on Wednesday to take over as House Democratic minority leader next year, Rep. Hakeem Jeffries (D-N.Y.) became the first-ever Black lawmaker from either party who will serve in that role in either of the two chambers of Congress.
House Democrats also chose, for the second and third-highest ranking positions, Reps. Katherine Clark (Mass.) and Pete Aguilar (Caif.). All ran unopposed and rather than by formal ballots were elected by voice vote for unanimous consent.
The moves signaled broad consensus among House Democrats in their decision to send the new slate of lawmakers, young and diverse with some progressive bona fides, to serve in the party's senior leadership positions.
The three lawmakers are all members of the Congressional LGBTQ+ Equality Caucus and longtime allies of the community. Jeffries, as chair of the House Democratic Caucus, introduced the Respect for Marriage Act in the House this summer.
The Caucus declined to comment on the House Democratic leadership elections.
When Aguilar succeeds Jeffries in that role next year, it will be the highest-ranking position in House leadership ever held by a Latino member. Clark, meanwhile, will become the second woman to serve as Democratic House Whip after Rep. Nancy Pelosi (D-Calif.), the current House Speaker.
Pelosi announced on Nov. 18 her plans to step down from House Democratic leadership after the next Congress is seated. She made history in 2001 as the first woman elected to the second highest-ranking position in the chamber, and then again in 2007 when she took the top slot, becoming the first woman Speaker of the House.
Following her announcement, Pelosi was celebrated for her many legislative accomplishments at the top of her party's caucus, where she served for two decades under four presidents. A Washington Post column called Pelosi the "best speaker in U.S. history."
Considering that Pelosi also presided over some of the biggest legislative milestones in the modern LGBTQ rights movement, such as the 2011 repeal of "Don't Ask, Don't Tell," Jeffries has a high bar to clear when he's handed the torch in January.
In addition to his leadership on the Respect for Marriage Act, Jeffries has been a major advocate in Congress for other pro-LGBTQ pieces of legislation like the Equality Act and, in 2014, the Hate Crime Reporting Act.
Jeffries has been a vocal champion of measures to make the U.S. Capitol more welcoming for transgender and gender nonconforming people – such as by calling for single-occupancy gender-neutral restrooms on the Hill and rules that would adopt gender-neutral language in the House.
He has also spoken out forcefully against anti-LGBTQ hate from some members of the House Republican caucus, such as the dangerous rhetoric from Rep. Marjorie Taylor Greene (Ga.), who has repeatedly tried to link queer people to child sexual abuse.
Chuck Schumer files for cloture on Respect for Marriage Act
First vote on bill expected on Wednesday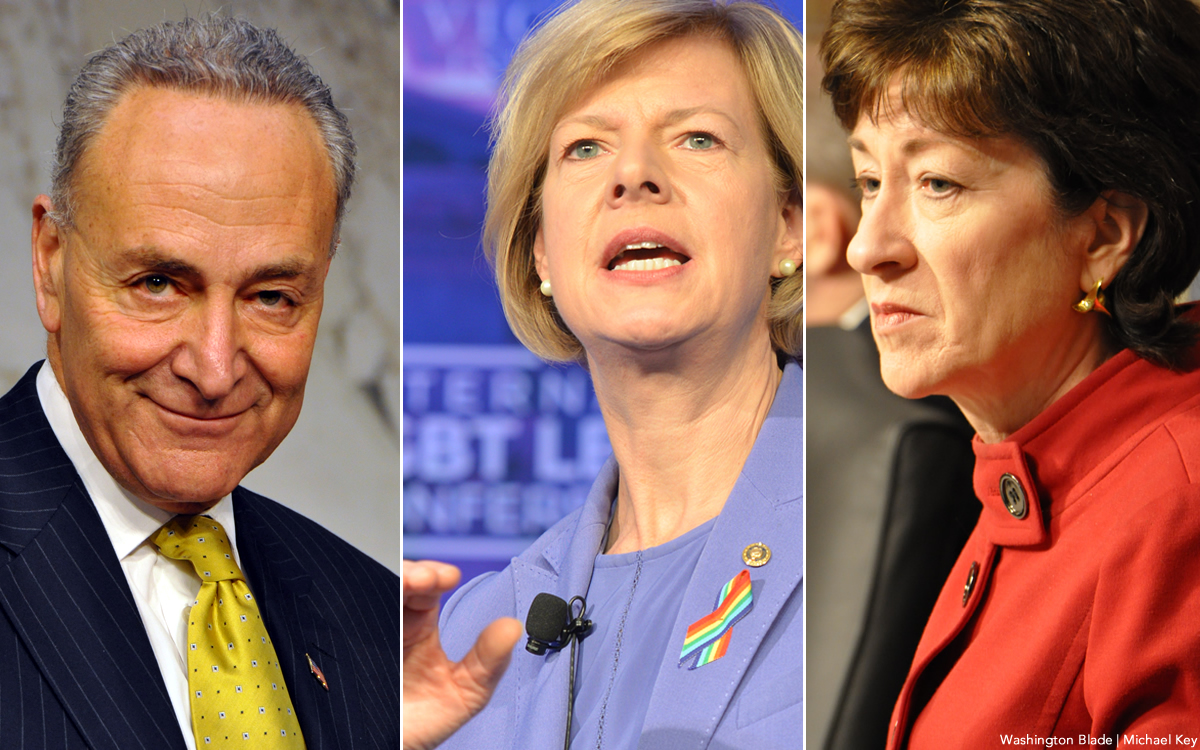 This week, the U.S. Senate is expected to pass the Respect for Marriage Act, which would codify some of the protections for same-sex and interracial couples that were established by the U.S. Supreme Court but could be weakened or overturned by the High Court's conservative supermajority.
Senate Majority Leader Chuck Schumer (D-N.Y.) just filed for cloture on the legislation, an aide to Sen. Tammy Baldwin (D-Wis.) told the Washington Blade.
The "first vote will be on Wednesday," the aide said in an email.
Baldwin is widely credited with driving momentum behind the bill. She, along with U.S. Sens. Susan Collins (R-Maine), Rob Portman (R-Ohio), Thom Tillis (R-N.C.) and Kyrsten Sinema (D-Ariz.) released a statement on Monday urging Senate leadership to put the Respect for Marriage Act on the floor for a vote, explaining they had added protections for "religious liberties."
CNN reported multiple sources said the coalition of senators is confident they have the votes necessary for the bill to pass.
This summer, White House Press Secretary Karine Jean-Pierre said that President Joe Biden is ready to sign the bill into law.
"He is a proud champion of the right for people to marry whom they love and is grateful to see bipartisan support for that right," she said.
The Human Rights Campaign, America's largest LGBTQ organization, celebrated Schumer's announcement earlier today that the upper chamber will "vote on the Respect for Marriage Act in the coming weeks so that no American is discriminated against because of whom they love."
The legislation, HRC said in the press release, will "codify federal marriage equality by guaranteeing the federal rights, benefits and obligations of marriages in the federal code; repeal the discriminatory Defense of Marriage Act (DOMA); and affirm that public acts, records and proceedings should be recognized by all states."
The impetus behind the Respect for Marriage Act came with the Supreme Court's decision earlier this year in Dobbs v. Jackson Women's Health Organization, which overturned the constitutional right to abortion in America.
Justice Clarence Thomas wrote a concurring opinion in which he pledged to revisit precedents governing same-sex marriage and other matters that were decided on the basis of the right to privacy.