Trans Day of Remembrance vigil held at Freedom Plaza
Activists and community members gathered to memorialize trans lives lost to violence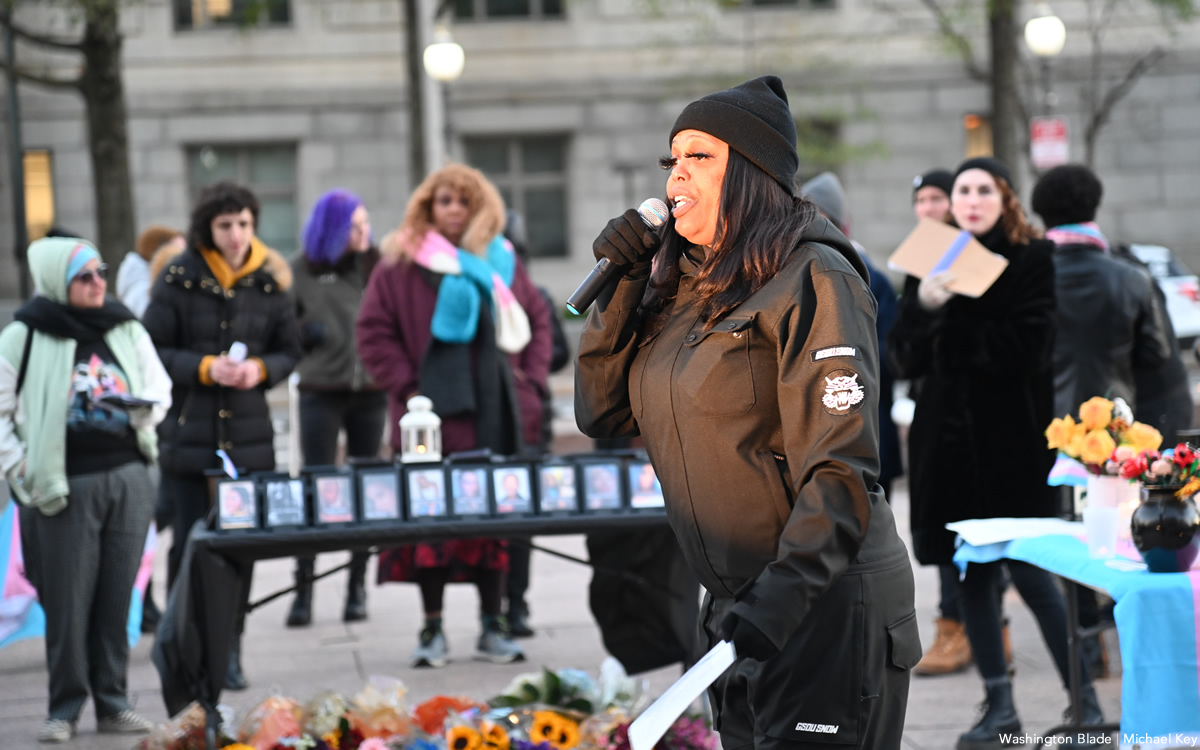 Activists and community members gathered at Freedom Plaza on Sunday for an observance of Trans Day of Remembrance. Despite temperatures in the 30s, about 100 people stood together at the vigil to reflect on those lost to violence, suicide, and transphobic hatred.
The vigil was organized by DC Area Trans Picnics, HIPS and Cake Society Co. with the support of other community activists and groups.
Shareese Mone of the harm reduction and advocacy organization HIPS addressed the crowd, "I am here! I will not be erased! I will embrace that word 'trans' just because I need to save someone. I not only need to save myself, but I need to save someone else."
Mone continued, "I see a lot of these trans murders. A lot of these beautiful victims lost by gun violence. When are we going to stop? When is enough going to be enough?"
A table was set up with photos of trans people lost to violence since November of 2021. Community members placed flowers and other tributes below.
An activist with DC Area Trans Picnics said, "If you are like me, you get tired of being called brave just for trying to survive in a world that is often so unwelcoming to us, but it is a kind of bravery to show up for each other in moments like this."
"This is a very hard time to be trans," the activist continued.
"I wept this morning at the news of what happened in Colorado last night," the activist said, referring to the mass shooting at Club Q in Colorado Springs, Colo. on Saturday. "You might hear some people refer to this as senseless violence, but it was not senseless: it was a calculated attempt to drive us underground and to make us too afraid to show our faces in public. But I have another message: We are not going anywhere! We are at war and we are not going down without a fight. I believe that we will win."
Following speeches, attendees read aloud the names of slain trans community members. Some also added names of those who had not been previously identified. Those memorialized included Ace Scott of Kansas City, Mo.; Acey D. Morrison of Rapid City, S.D.; Amariey Lej (Myara) of Pittsburgh; Angel Naira of Aliquippa, Pa.; Aryanna Mitchell of Hampton, Va.; Brazil Johnson of Milwaukee; Brent Wood of Seattle; Chanelika Y'Ella Dior Hemingway ("Sid") of Albany, N.Y.; Cherry Bush of Los Angeles; Cypress Ramos of Lubbock, Texas; Danyale Johnson of Memphis, Tenn.; Dede Ricks of Detroit; DeeDee Hall of Dallas; Duval Princess of Jacksonville, Fla.; Fern Feather of Morristown, Vt.; Hayden Nevah Davis of Detroit; Jasper Aaron Lynch of McLean, Va.; Jenny DeLeon of Sulphur Springs, Fla.; Kandii "Dee Dee" Redd (Kamila Marie Swann) of Kansas City, Mo.; Kathryn "Katie" Newhouse of Canton, Ga.; Kesha Webster of Jackson, Miss.; Keshia Chanel Geter of Augusta, Ga.; Ke'Yahonna Stone of Indianapolis; Kitty Monroe of Cordova, Tenn.; Maddie Hofmann of Malvern, Pa.; Marisela Castro of Houston; Marquiisha Lawrence of Greenville, S.C.; Martasia Richmond of Chicago; Martina Caldera of Channelview, Texas; Matthew Angelo Spampinato of New Castle, Del.; Miia Love Parker of Chester, Pa.; Naomie Skinner of Highland Park, Mich.; Nedra Sequence Morris of Opa-Locka, Fla.; Nikai David of Oakland, Calif.; Nikki Turietta of Albuquerque, N.M.; Paloma Vazquez of Houston; Paris Rich of San Diego; Princess of Houston; Ray Muscat of Independence Township, Mich.; Regina Mya Allen of Milwaukee; Sasha Mason of Zebullon, N.C.; Semaj Billingslea of Jacksonville, Fla.; Shawmaynè Giselle Marie McClam of Gulfport, Miss.; Tatiana "Tee Tee" Labelle of Chicago; Tiffany Banks of Miami; Toi Davis of Milwaukee; and Za'niyah Williams of Houston.
LGBTQ contingent to join National Vigil for gun violence victims in D.C.
Gays Against Guns plans Capitol Hill procession to honor those lost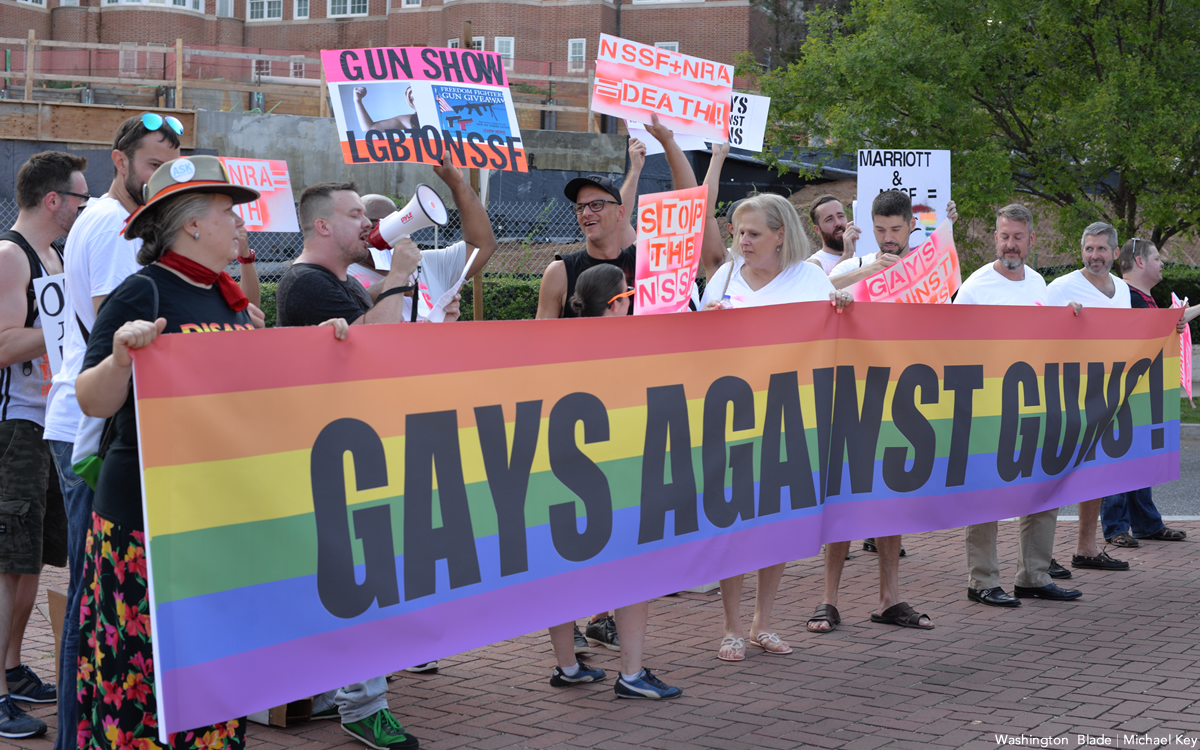 As many as several dozen LGBTQ activists wearing white robes and carrying photos of victims of gun violence were planning a procession along city streets from the As You Are LGBTQ bar on Capitol Hill on Wednesday afternoon, Dec. 7, to the nearby St. Mark's Episcopal Church.
The church, located at 301 A St., S.E., was scheduled to host the 10th annual National Vigil for All Victims of Gun Violence beginning at 7 p.m. on Wednesday.
The New York City-based group Gays Against Guns, which is organizing the LGBTQ contingent, released a statement saying its members would be meeting at As You Are at 500 8th St., S.E. with LGBTQ "political, community based, nightlife, and gun violence prevention allies" to finalize plans for the procession a few hours before the start of the vigil.
Jay Walker, one of the Gays Against Guns leaders, told the Washington Blade the group and its supporters have scheduled a press conference at As You Are on Wednesday at 3 p.m. to draw attention, among other things, to threats and anti-LGBTQ protests against drag shows over the past two weeks in cities across the country.
Walker pointed to news reports of hostile protesters, some armed with guns, assembling outside bars or clubs holding drag shows in Columbus, Ohio; Lakeland and Ft. Lauderdale, Fla.; Aurora, Ill.; and Manhattan, Staten Island, and Oceanside, N.Y. within the past two weeks.
Most of these reported attempts to intimidate people patronizing or participating in drag performances took place after the Nov. 19 shooting at the Club Q gay bar in Colorado Springs, Colo., in which a gunman shot and killed five people and injured at least 17 more.
That shooting took place shortly before a drag show was scheduled to take place at the Club Q.
The National Vigil for All Victims of Gun Violence, set for 7 p.m. Wednesday at St. Mark's Episcopal Church, was to take place shortly after speculation has surfaced that opposition to a drag show was the motive that prompted one or more as yet unidentified suspects to fire multiple gunshots at electrical power substations in Moore County, N.C., causing a blackout affecting 45,000 residents.  
Law enforcement officials investigating what they have said was a targeted attack aimed at knocking out the electric power substations also said they have no evidence yet as to what the motive was for the crime.
But in its statement released this week, Gays Against Guns said the attack on the power substations took place shortly after a drag event was held in the town of Southern Pines in Moore County that drew opposition and protests from far-right activists and anti-LGBTQ community members.
"Enough is enough!" the Gays Against Guns statement says. "Our communities must take a stand and issue demands of our elected leaders, law enforcement, and the greater polity to take action on this threat to all Americans."
The latest incidents targeting drag shows have taken place after D.C. police announced shortly after the Club Q shooting in Colorado Springs that they were stepping up police patrols around D.C. LGBTQ establishments, including gay bars.
"At this time, there are no known threats to any events or locations in the District," a Nov. 23 police statement says. "MPD will continue to monitor the developments in Colorado Springs and share information with our local, regional and federal law enforcement partners," the statement says.
But a short time later, on Nov. 30, the U.S. Department of Homeland Security issued a terrorism threat bulletin warning that domestic extremists have posted online praise for the Club Q shooting suspect and have called for copycat attacks.
"Targets of potential violence include public gatherings, faith-based institutions, the LGBTQI+ community, schools, racial and religious minorities, government facilities and personnel, U.S. critical infrastructure, the media, and perceived ideological opponents," the bulletin states.
"Some domestic violent extremists who have conducted attacks have cited previous attacks and attackers as inspiration," the DHS bulletin continues. "Following the late November shooting at an LGBTQI+ bar in Colorado Springs, Colorado — which remains under investigation — we have observed actors on forums known to post racially or ethnically motivated violent extremist content praising the alleged attacker," the bulletin says.
Mark Lee, coordinator of the D.C. Nightlife Council, a group representing bars, restaurants, nightclubs, and entertainment establishments, said the community nightlife businesses welcome the increased police patrols of these establishments.
"The local nightlife association has offered periodic security and active shooter training sessions for venue operators, managers, and staff for a number of years, most recently on Nov. 1 in conjunction with the restaurant association," Lee said. "These specialized trainings feature presentations by both a nationally recognized training firm and DCNC affiliate member nightlife security consultants and the D.C. Metropolitan Police Department," Lee told the Blade.
"Nightlife hospitality establishments understand the importance of being constantly vigilant about, and prepared for, any and all incidents that could occur whenever people are gathered," he said.
Walker of Gays Against Guns said participants in the planned LGBTQ procession from As You Are bar to St. Mark's Church would be carrying photos or signs commemorating the LGBTQ victims of gun violence, including victims of the Pulse LGBTQ nightclub shooting in Orlando, Fla. in June 2016 in which 49 mostly LGBTQ patrons of the club were shot to death by lone gunman.
The Wednesday night vigil at St. Mark's Episcopal Church, among other things, will commemorate the 10th anniversary of the Sandy Hook, Conn., school shooting incident in which 26 people were shot to death, 20 of whom were children, according to a statement released by organizers.
"By this December, over one million Americans will be killed or injured by guns since the Sandy Hook shooting tragedy," the statement says. "We urge you to join the gun violence prevention community in our collective effort to continue to shine a light on the devastating epidemic of gun violence in our nation until these gun deaths and injuries are reduced."
Matthew Shepard portrait dedicated at National Cathedral
Gay Wyoming student killed in 1998 hate crime honored in daylong ceremony
Matthew Shepard, the gay University of Wyoming student who was murdered in a 1998 anti-gay hate crime while tied to a fence outside Laramie, Wyo., was honored at a ceremony on Thursday, Dec. 1, at Washington National Cathedral dedicating a newly commissioned portrait of Shepard.
Officials at the cathedral said the portrait by artist Kelly Latimore and commissioned by LGBTQ members of the Cathedral staff, is the only artistic image of Matthew Shepard created in collaboration with Shepard's parents, Dennis and Judy Shepard, who were present during the ceremony.
Matthew Shepard's ashes were interred at the Washington National Cathedral in 2018, 20 years after his death. The Cathedral announced in a statement this week that the Dec. 1 dedication of the Shepard portrait would also take place on what would have been Shepard's 46th birthday.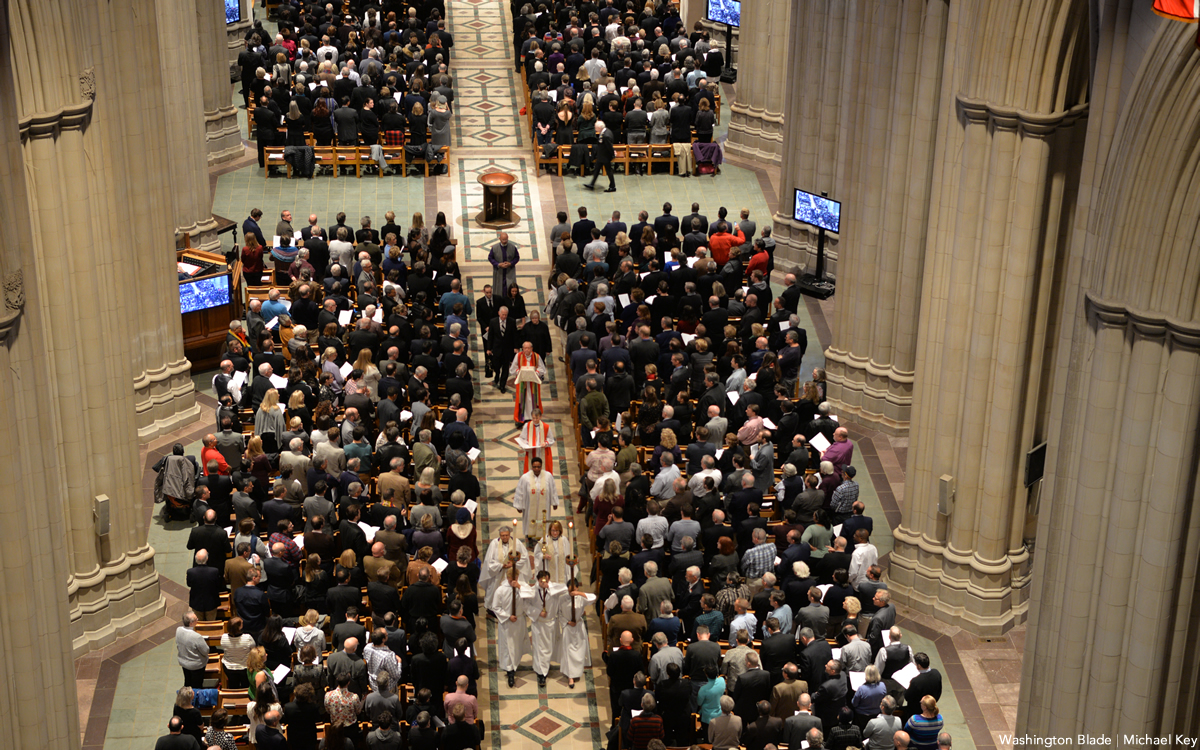 "The horrific murders at Club Q in Colorado Springs are a tragic reminder that our LGBTQ friends and family continue to be targeted for who they love, and Matthew Shepard's legacy reminds us of the urgency to confront bigotry and embrace people of all backgrounds, gender identities and sexual orientations," said The Very Rev. Randolph Marshall Hollerith, dean of Washington National Cathedral, in a statement.
Events surrounding the portrait dedication began with a 7 a.m. online prayer service "to celebrate and recall Matthew Shepard's life," the statement released by the Cathedral says. The service was led by Right Rev. V. Gene Robinson, the first openly gay priest to be consecrated as a bishop in the Episcopal Church.
The Cathedral next hosted a preview of the portrait for the news media at 10:30 a.m., where Dennis and Judy Shepard talked about the portrait and their son's life and the impact his death had on the nation's understanding of hate crimes.
"It's amazing how similar and what a great job that Kelly [Latimore] has done to make it look like Matt and showing the essence of Matt," Dennis Shepard told the Washington Blade while viewing the portrait in the Cathedral's St. Joseph's Chapel, where the portrait was on display.
Artist Latimore, who also spoke to reporters during the morning briefing at the chapel, said he was moved in his discussions with Judy and Dennis Shepard while getting ready to begin work on the painting by copies of dozens of letters they sent him that had been sent to the Shepards by people across the country after their son's death.
Latimore included written excerpts from dozens of those letters as the background to his portrait of Matthew Shepard, which can be seen and read when standing close to the portrait.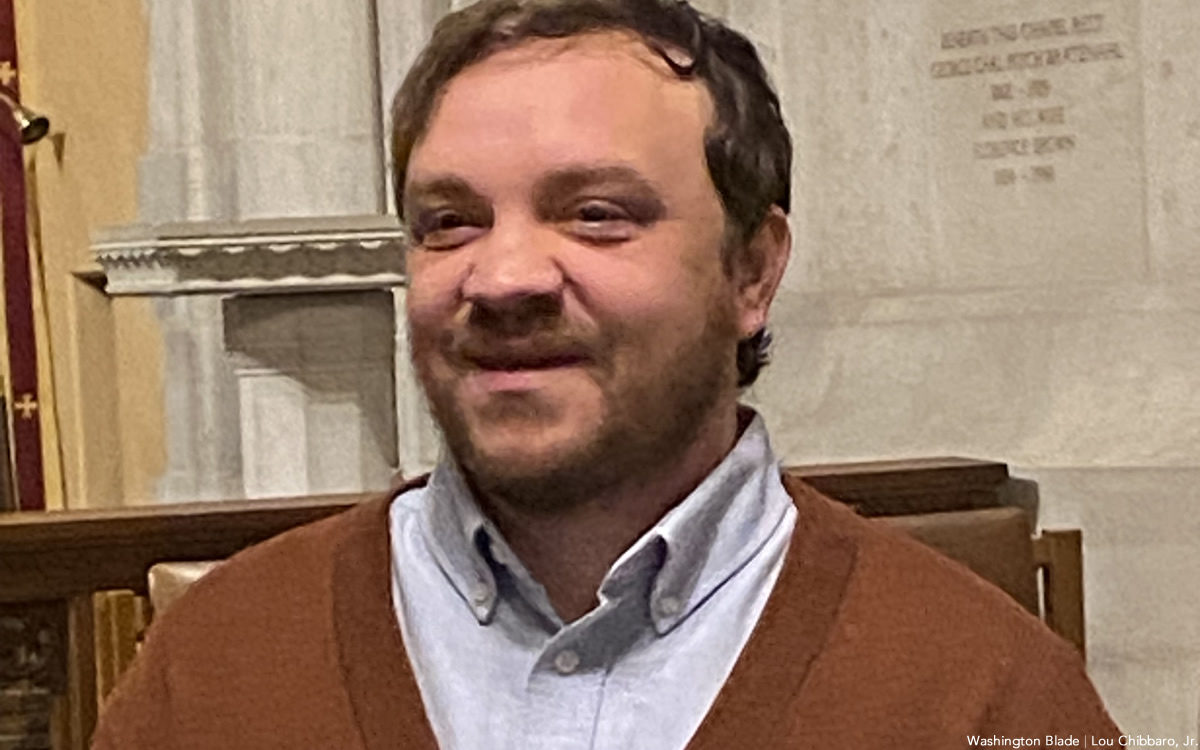 "Matthew will not be forgotten," an excerpt from one of the letters on the portrait says.
Dennis and Judy Shepard created the Matthew Shepard Foundation shortly after Matthew's death, which has been credited with playing a lead role in advocating for the passage by Congress in 2009 of the Matthew Shepard and James Byrd Jr. Hate Crimes Prevention Act. The measure was the first federal hate crime statute that expanded the coverage of the federal hate crimes law to include a victim's sexual orientation and gender identity as a protected class.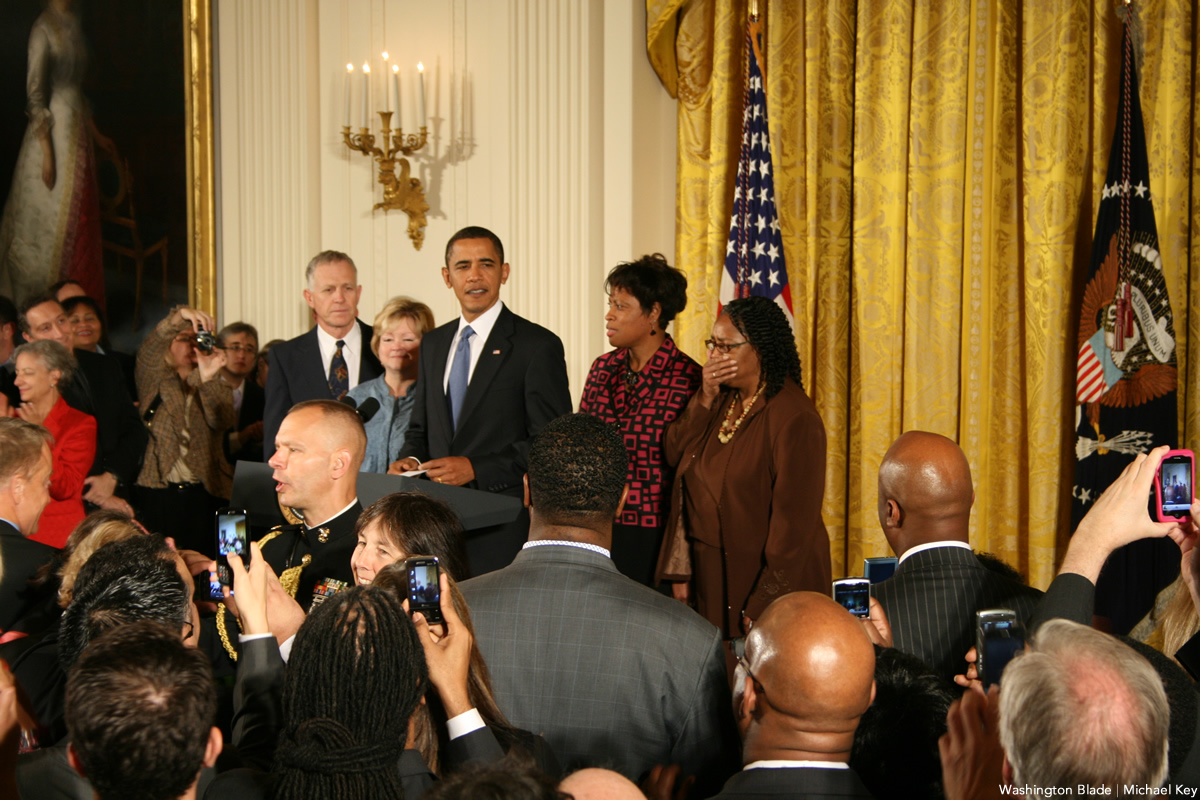 The Cathedral was to open its St. Joseph's Chapel from 2-5 p.m. on Thursday to visitors where the Matthew Shepard portrait was on display. Dennis and Judy Shepard were scheduled to be present to greet visitors.
According to the statement released by the Cathedral, later in the evening at 7 p.m., the portrait was to be officially dedicated in a private service in the Cathedral's crypt near the site where Shepard's ashes were interred.
"A longtime supporter of the full inclusion of lesbian, gay, bisexual and transgender people in the life of the church, the Cathedral considers LGBTQ equality one of the great civil rights issues of the 21st century," the statement released by the Cathedral says.
One of the two men charged with Matthew Shepard's murder, Russell Henderson, pleaded guilty to a murder charge in exchange for an agreement by prosecutors not to seek a death sentence. He was sentenced to life in prison.
The other man charged in the murder, Aaron McKinney, pleaded not guilty and went to trial, where he was convicted of murder by a jury. In a dramatic statement before the judge at the conclusion of the trial, Dennis Shepard announced he and his wife had asked prosecutors and the judge to spare McKinney from being sentenced to death, something he said McKinney did not do while fatally striking his son in the head multiple times with the barrel of a gun after the two men tied him to a fence post in a remote field outside Laramie.
The judge sentenced McKinney to two consecutive life terms in prison without the possibility of parole.
Three more LGBTQ ANC candidates declared winners
At least 38 LGBTQ hopefuls elected; outcome for two more uncertain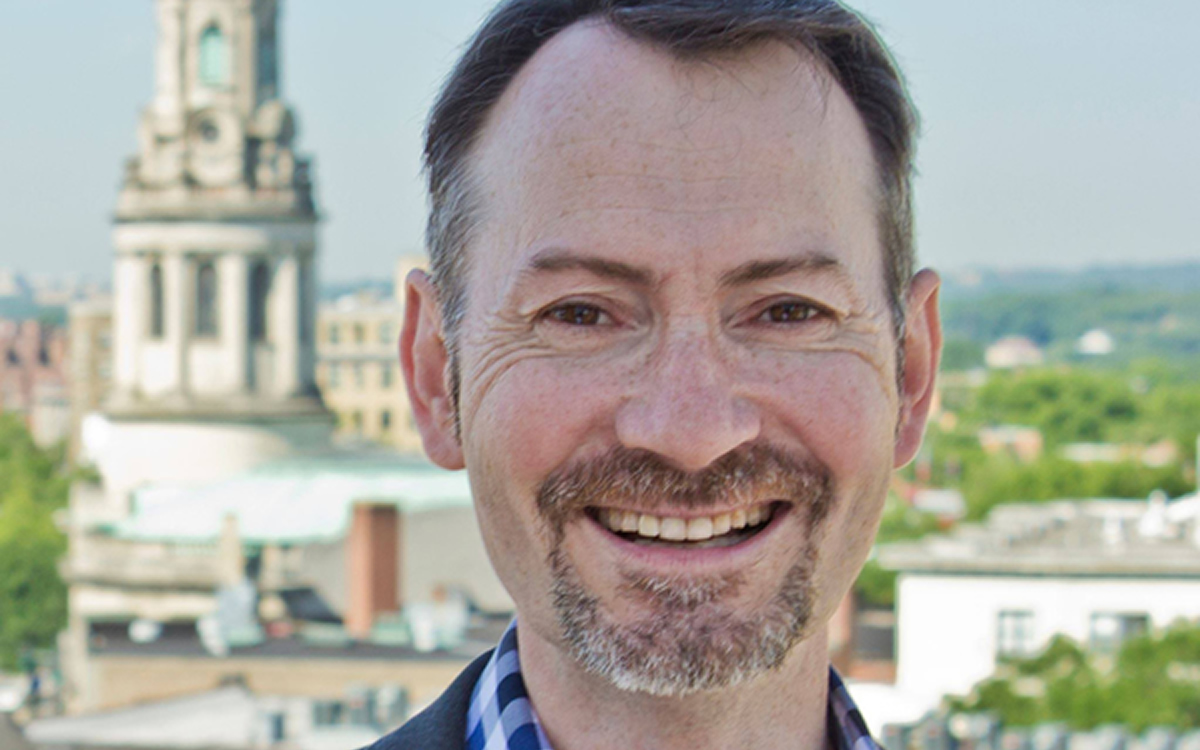 The number of known LGBTQ candidates who won election to Advisory Neighborhood Commission seats rose from 35 to 38 as the D.C. Board of Elections this week released its final, certified vote count for the Nov. 8 D.C. election.
The 38 winners were among 44 known LGBTQ candidates who ran for ANC seats this year. One of the candidates who emerged as a winner, incumbent James Tandaric of ANC 3F05 in the city's Van Ness neighborhood, was trailing opponent Andrew Koval by just eight votes when the early vote count was released in the days following the election.
The final vote count that emerged this week shows Tandaric beat Koval by a vote of 258 to 250.
When the early vote count was released in the week after the election, the outcome of four LGBTQ ANC write-in candidates along with all write-in candidates could not be determined until the Board of Elections received a required affidavit of candidacy from the write-in candidates, which was due by Nov. 15.
When the final write-in candidate results were released earlier this week along with the names of the write-in candidates, two of the four LGBTQ write-in candidates emerged as winners, both from the Logan Circle ANC. The two are Christopher Dyer of ANC 2F05 and Matt Fouracre of ANC 2F06.
Another one of the LGBTQ write-in candidates, Charles Panfil of ANC 6E02 in the Mount Vernon Square neighborhood, finished in a tie with another write-in candidate. A spokesperson for the Board of Elections said tie votes in ANC elections are resolved by the drawing of lots. The spokesperson, Nicholas Jacobs, said he couldn't immediately say when a drawing of the lot would take place.
The race for the fourth LGBTQ write-in candidate, Bradley Gallagher of ANC 1E01 in the city's Park View neighborhood, could not be determined and a special election for that seat will have to be held, according to the Board of Election. The reason, the elections board said, is longtime gay ANC member Kent Boese, who withdrew his candidacy after it was too late to remove his name from the ballot, received the most votes. "As such, there is no winner for this contest" under the city's election law, the Board of Elections said.
Elections board spokesperson Jacobs said a special election for that ANC seat will be called, with Gallagher and others who obtain the required number of ballot petition signatures will be allowed to run in the special election.
Boese withdrew his candidacy after he was nominated and subsequently approved by the D.C. Council to become director of the D.C. Office of Advisory Neighborhood Commissions.
If Gallagher were to win in the special election and should Panfil win the drawing of the lot following the tie vote in his race, the total number of known LGBTQ candidates elected to ANC seats would rise to 40, a record number compared to past ANC elections.
There were 33 known LGBTQ ANC candidates who won election in 2020, which was the first year the Washington Blade kept track of the known LGBTQ ANC candidates who ran and won.
A list of the 35 winning LGBTQ ANC candidates known during the week following the Nov. 8 election can be seen here.