Trump addresses Log Cabin Republicans at Mar-a-Lago gala
LGBTQ GOP group doubles down on support of former president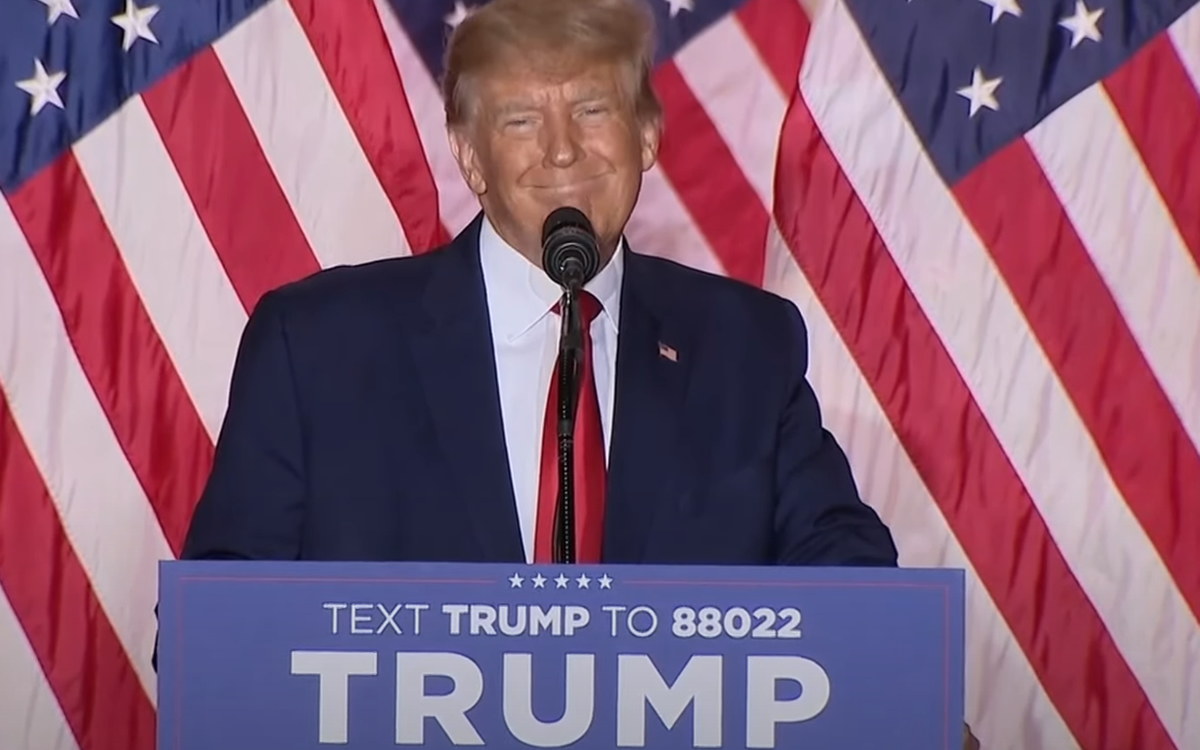 Former President Donald Trump addressed an audience gathered at his Mar-a-Lago club and estate in Palm Beach, Fla., Thursday night for the Log Cabin Republicans' Spirit of Lincoln gala, the conservative LGBTQ group's flagship event.
"We are fighting for the gay community, and we are fighting and fighting hard," Trump said.
"Last night, we had over 450 LGBT conservatives and our straight allies join us for another amazing Spirit of Lincoln gala," Log Cabin Republicans President Charles Moran told the Washington Blade.
"While the speakers and award honorees spanned the conservative spectrum, all of them, including President Trump, articulated a deep appreciation for our community and committed to our broader inclusion and support for gay rights," Moran said, adding, "This is the bar we'll be holding all GOP candidates to in 2023 and 2024."
Last year, the Log Cabin Republicans honored Melania Trump with its Spirit of Lincoln award, citing her work combatting bullying in her role as first lady.
However, the group's support of the former president, his family and his administration has not come without controversy — even among members of its own leadership, prompting Jerri Ann Henry to resign from her position as executive director in 2019.
Log Cabin Republicans' embrace of Trump also comes amid fractures that have perhaps reemerged or deepened between LGBTQ conservatives and other factions within the GOP.
This summer, the group's Texas-based chapters were rebuffed by the state's Republican Party, which denied their requests for space for a booth during the party's annual convention and called homosexuality "an abnormal lifestyle choice" in its official platform.
The move recalled incidents in the late 1990s when the Log Cabin Republicans were labeled pedophiles and compared to the Ku Klux Klan by Texas GOP leaders who denied the group's requests to host booths at their conventions.
The dangerous smear linking LGBTQ people to child sexual abuse and exploitation is once again ascendant on the right, propagated by many of Trump's political allies.
Members of Log Cabin Republicans' San Antonio chapter joined a protest of a family-friendly drag performance Tuesday night in which patrons and organizers of the event were accused of "grooming" children for abuse.
"I don't know anything about the drag protest or any involvement our chapter had in it," Moran told the Blade.
Moran sought to draw a contrast between the Trump administration's positions on LGBTQ issues and the treatment of his group this summer by GOP officials in Texas, writing in a USA Today op-ed that the former president is "a leader of LGBT inclusion."
"It's difficult to understand just how game-changing Trump's presidential campaigns and presidency were for LGBT conservatives, who were suddenly included as welcome members of the party after decades of being sidelined," wrote Moran.
The positions held by Moran and the Log Cabin Republicans differ sharply from those held by LGBTQ organizations and LGBTQ Americans more broadly — at least, as evidenced by the percentage of LGBTQ voters who supported Trump in the 2016 and 2020 presidential elections.
One of the first actions President Joe Biden took after taking office last year was to repeal the Trump administration's ban that prohibited thousands of transgender Americans from enlisting and serving in the armed forces.
Following Trump's announcement of his plans to run again in 2024, GLAAD released a statement arguing that the former president's record was "defined by anti-LGBTQ actions and rhetoric and policy that empowered white supremacists and fueled racism, xenophobia, antisemitism and misogyny."
The group pointed to its "Trump Accountability Project," which, it wrote, "tracked the Trump administration's attacks against the LGBTQ community, documenting more than 200 negative policies and dangerous rhetoric against LGBTQ Americans during his presidency."
The Human Rights Campaign, meanwhile, has listed the Trump administration's harmful policies and positions concerning LGBTQ people in categories ranging from healthcare and education to representation and foreign affairs.
Mark Milley defends cancellation of drag show at Nevada Air Force base
Move followed pressure from anti-LGBTQ Rep. Gaetz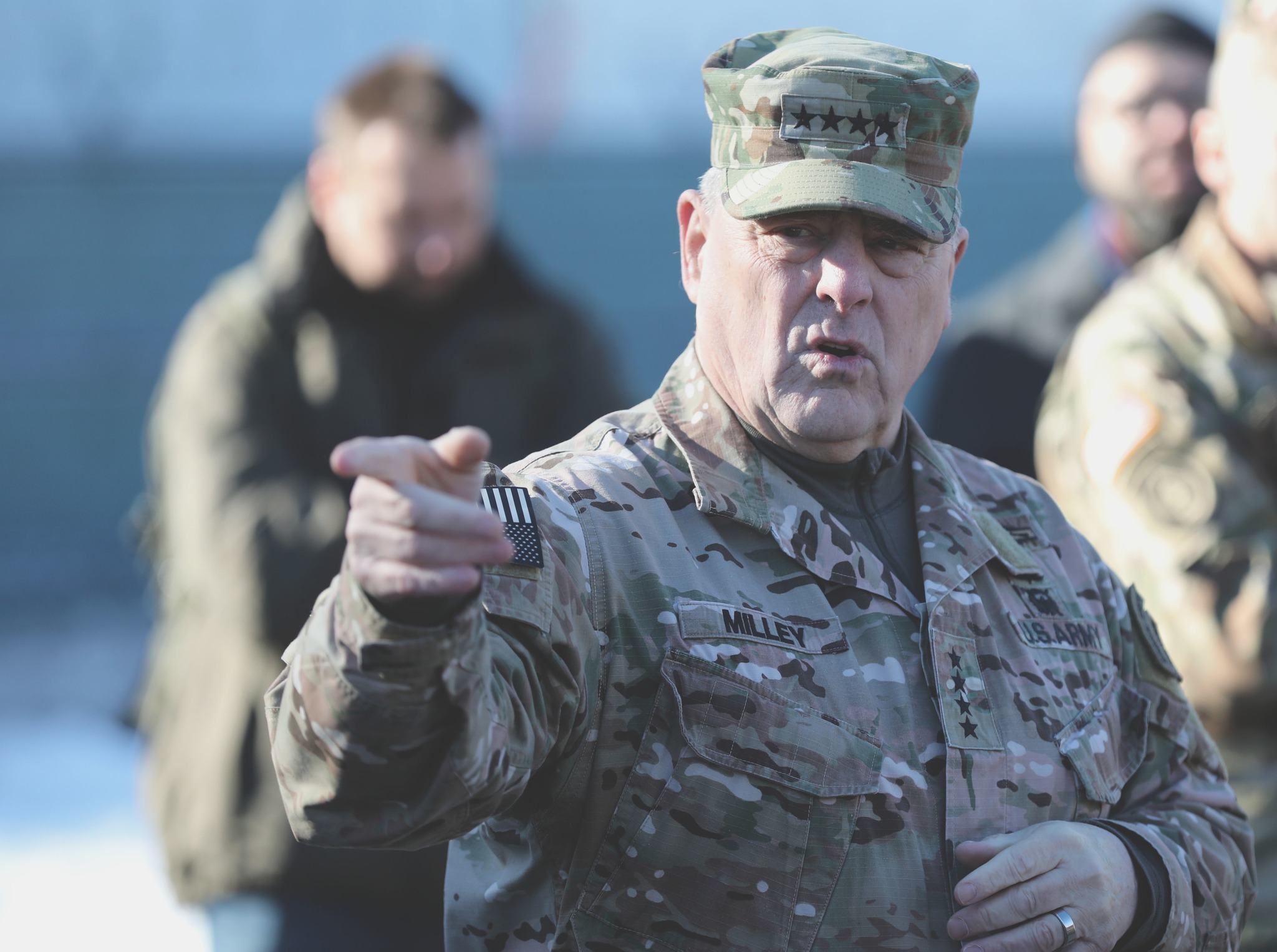 U.S. Army General Mark Milley, chair of the U.S. Joint Chiefs of Staff, told CNN's Oren Liebermann during an interview Monday that last week's cancellation of a drag show at Nellis Air Force base in Nevada was "the absolute right thing to do."
The top U.S. military officer said the decision came from U.S. Secretary of Defense Lloyd Austin, but added that he agreed with the move.
A Pentagon source familiar with the matter told the Washington Blade on Thursday that Milley informed Air Force Chief of Staff Gen. Charles Q. Brown, Jr. that it is not Pentagon policy to fund drag shows on bases and the show needed to be canceled or moved off base.
He echoed those comments during Monday's interview, asserting that the performances "were never part of [Department of Defense] policy to begin with, and they're certainly not funded by federal funds."
"DoD resources should be used for mission-essential operations, not diverted toward initiatives that create cultural fissures within our service ranks," anti-LGBTQ U.S. Rep. Matt Gaetz (R-Fla.) said in a May 23 letter to Milley and Austin.
"I find it completely unacceptable that DoD is using taxpayer dollars to fund DEI programs that are divisive in nature," said Gaetz, referring to diversity, equity, and inclusion – programs typically administered by corporations that have increasingly become targets of conservative outrage.
Milley pushed back on accusations that the military had "gone woke" during the interview, which took place in Normandy, France, marking the 79th anniversary of the D-Day invasion into Nazi-occupied Europe on June 6, 1944.
Chris Christie, Mike Pence officially enter 2024 presidential race
Former vice president has long anti-LGBTQ record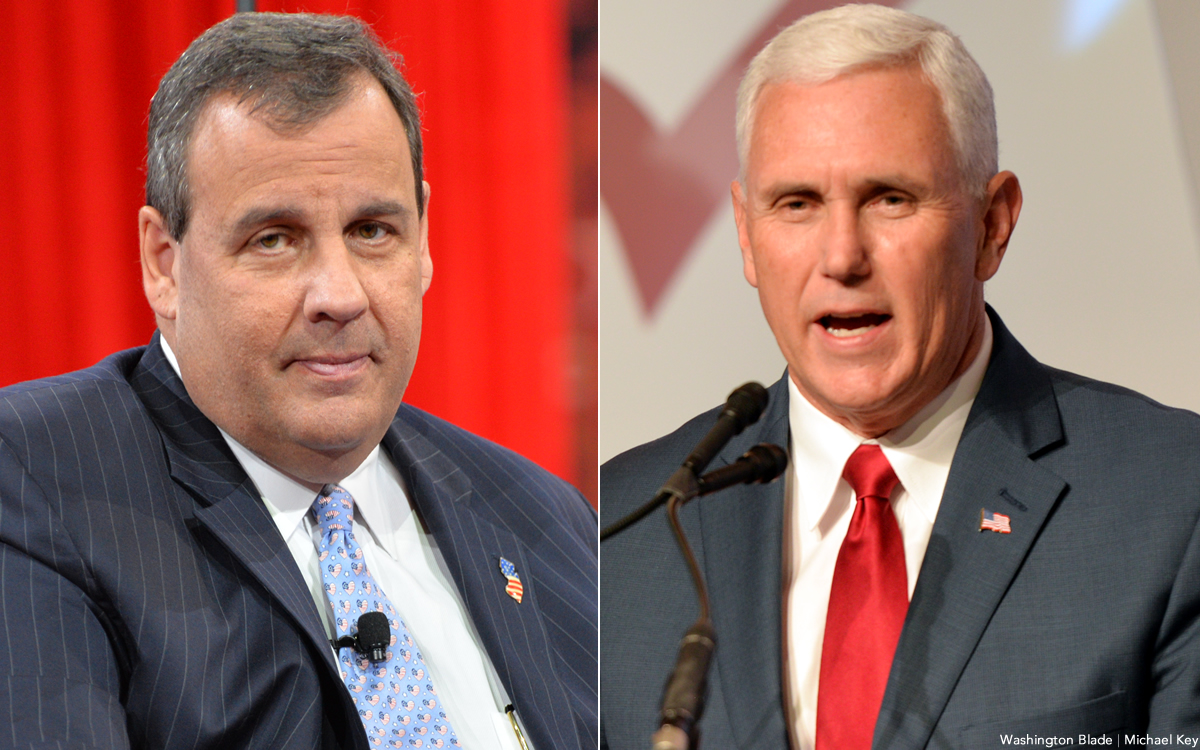 During a town hall event Tuesday in New Hampshire and in a launch video released Wednesday morning, former New Jersey Gov. Chris Christie (R) and former Vice President Mike Pence (R) entered the 2024 presidential race.
For years, both were staunch allies of the current Republican frontrunner, former President Donald Trump, breaking with him only after the Jan. 6 attack on the U.S. Capitol, which came after Pence's refusal to overturn the 2020 election results and prompted Christie to declare Trump unfit for a second term.
Echoing other critical comments he has made in recent months, the former governor's announcement Tuesday directly took aim at Trump, "a lonely, self-consumed, self-serving mirror hog" who "is not a leader."
For his part, Pence neither mentioned Trump by name nor included any photos or video footage of the former president in his announcement video, acknowledging him only indirectly by asserting that "different times call for different leadership."
Christie, Pence, and Trump will also be squaring off against several other Republican candidates in the GOP presidential primary: former South Carolina Gov. Nikki Haley, who also served in the Trump administration, U.S. Sen. Tim Scott (S.C.), former Arkansas Gov. Asa Hutchinson, entrepreneur Vivek Ramaswamy, talk radio host Larry Elder, and Florida Gov. Ron DeSantis.
An evangelical born-again Christian, Pence has opposed LGBTQ rights stridently and consistently throughout his career in politics as a member of the U.S. House of Representatives, as governor of Indiana, and then as vice president.
Declaring him the "Worst Vice President for LGBTQ People In Modern History," the Human Rights Campaign chronicled a list of Pence's anti-LGBTQ actions and statements over the years, including his endorsement of conversion therapy and opposition to hate crime laws for their inclusion of violence motivated by animus toward the victim's sexual orientation or gender identity.
In February, a group formed by Pence and financed by his supporters ran ads in Iowa to rally conservative opposition to pro-trans policies in schools.
By contrast, Christie has a far more moderate record with respect to LGBTQ matters. "If someone is born that way, it's very difficult to say then that that's a sin," he said in 2013, while signing New Jersey's ban on conversion therapy.
The GLAAD Accountability Project, however, notes Christie's veto of a bill in 2014 that would have allowed trans people in the state to change the gender designation listed on their birth certificates. The group also highlighted his veto of a marriage equality bill in 2012.
Unprecedented times for companies facing anti-LGBTQ backlash
Experts weigh in on how firms should respond during Pride month and beyond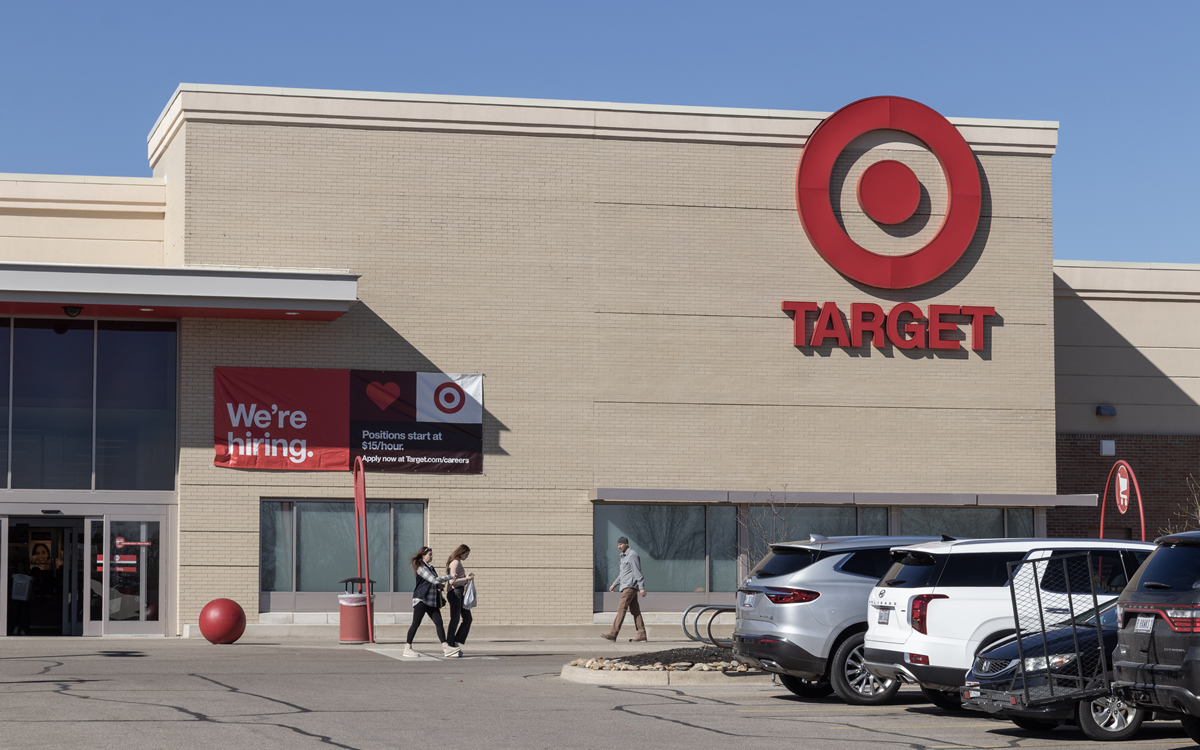 The precipitous rise of anti-LGBTQ sentiment in America has increasingly put corporate allies in the crosshairs of fraught culture war battles, creating unprecedented challenges for firms as they navigate business decisions during Pride month.
Concerns follow recent cases in which Target Corp. and Anheuser-Busch InBev suffered financial and reputational damage – first, when their outreach to LGBTQ customers provoked backlash, and again when the companies backed down in response to their anti-LGBTQ critics.
How should firms approach Pride month promotions in a climate where even the most minor or anodyne move can inspire right-wing calls for boycotts, or even threats of violence? What obligations do companies have to their LGBTQ customers, many of whom have long objected to brands' tendency to offer performative demonstrations of support for the community to boost their sales in June?
Three experts spoke to the Washington Blade to address these and other questions.
Andrew Isen is founder and president of WinMark Concepts, a firm that provides marketing services targeting LGBTQ audiences and customers, primarily for large publicly traded companies. Todd Evans is president and CEO of Rivendell Media, a firm that coordinates and manages advertising and marketing campaigns that are run in LGBTQ media. And Jack Mackinnon is senior director of cultural insights at Collage Group, a consumer research firm whose customers include many of the world's biggest and best-known brands.
Anti-LGBTQ backlash is real and difficult to predict
False claims on social media that an item in Target's seasonal Pride collection – a "tuck-friendly" swimsuit – was offered in children's sizes led to in-store confrontations that prompted the retailer to respond by moving merchandise to the back of stores and off the floor in some rural southern locations.
The controversy illustrates the unpredictability and arbitrariness of online flare-ups targeting individual companies, often driven partially or entirely by misinformation, the sources agreed.
"We are literally jumping from crisis to crisis to crisis," Isen said, adding "we are in uncharted territory" where companies are "unable to foretell on an hourly basis what will blow up on social media," and responding effectively is made more difficult when the claims at issue are "patently untrue."
As a result, "there is a real reticence to move forward" on outreach to the LGBTQ community "until things work themselves out," Isen said. Companies are now struggling with balancing their obligations to LGBTQ customers and their corporate shareholders, he said.
Evans said part of the problem is proportionality. Pressures from a small and vocal contingent of anti-LGBTQ consumers are amplified by unregulated social media platforms, he noted.
For example, he said, "One Million Moms," a division of the American Family Association that is known for demanding boycotts against companies that have embraced the LGBTQ community, only has a few thousand Twitter followers.
Isen and Evans said that while brands have long been attacked for publicly embracing the LGBTQ community, the controversy over Bud Light's social media spot featuring transgender influencer Dylan Mulvaney marked a tipping point because of the resulting harm to parent company Anheuser-Busch's bottom line.
Negative ramifications would have been thwarted, Isen said, had the company not reacted with a defensive posture by issuing a statement that "we never intended to be part of a discussion that divides people."
"There's no PR professional that would have recommended" Anheuser-Busch respond in the way that it did, agreed Evans.
To the extent that firms can anticipate when they may encounter anti-LGBTQ backlash, the sources agreed it is generally directed at the transgender community and anything involving minors – as seen in the rise in attacks against all-ages drag performances, for instance, and legislation targeting the rights of trans Americans, especially youth.
Evans said transphobia is part of a broader reactionary moment in American politics that presents a threat to the entire LGBTQ community and "anybody else who is different." Isen noted the political climate has been defined by a right-wing crusade against "wokeness" led by the likes of Florida's Republican Gov. and 2024 presidential contender Ron DeSantis.
Mackinnon, however, said the anti-trans backlash is distinct. "Other LGBTQ+ issues like gay marriage are not very controversial" from a marketing and advertising perspective, but there has been a shift in recent years as "people starting to think about transgender issues on a higher level," he said.
Misinformation can be weaponized and exploited to a greater extent when it concerns gender issues about which many Americans are still unfamiliar, Mackinnon said.
Brands can mitigate risks by engaging thoughtfully with their LGBTQ customers
As they approach any business decision concerning advertising or outreach to the LGBTQ community, the sources agreed the Bud Light dustup may offer important lessons for companies moving forward into Pride month and beyond.
When the beermaker approached Mulvaney, "the decision to engage her was done for business reasons," Isen said, as the company saw a valuable opportunity to tap into a broader market of young potential customers. The influencer "has a demographic following that fit perfectly into a market expansion opportunity for the brand that was in double digit decline."
The company's response, he said, was a problem because Anheuser-Busch seemed to characterize its work with Mulvaney as, instead, a cultural outreach effort – which rang insincere and "alienated the entire LGBTQ community, bar owners in the trade, and consumers."
"Had they stood firm and said, 'we made a calculated business decision to engage this social influencer as we have thousands of other social influencers,' it would have been a different story," Isen said.
Anheuser-Busch's major miscalculation was failing to build a relationship with its LGBTQ customers who might otherwise be inclined to forgive the company's decision to back down to pressure from anti-trans extremists "with its delayed response and then a really unthoughtful response," Evans said. Engendering goodwill with the community is crucial, he said.
"This is a brand that was not necessarily known for [LGBTQ] outreach in their marketing," Mackinnon said, "so when they partnered – in a very small way, by the way – and dabbled in a partnership with [Mulvaney], that caught some people by surprise, potentially, and they put themselves in an awkward position to explain what it was that they were doing."
As a result, he said, for many people Anheuser-Busch's business decision to work with Mulvaney seemed insincere or opportunistic.
Mackinnon said consumer research indicates that young people, especially, are inclined to research individual companies to assess the extent to which their support for inclusivity is sincere and baked into their corporate governance, rather than performative and motivated entirely by profit chasing.
As an example, Mackinnon pointed to cases where, following the murder of George Floyd, firms expressed their support for the Black Lives Matter movement, only to face criticism when customers discovered the lack of diversity in their boards of directors.
"Brands should be thinking about not [just] what should my campaign be for this June, but where do we want to be in terms of building trust six months from now, a year from now, five years from now," Mackinnon said.
"Most of that work is quiet and under the surface and behind the scenes, and it is essential for building a platform and a framework and a foundation to have any other effective types of campaigns," he said.
Part of this strategy should also include clear and consistent messaging on online platforms, which Mackinnon said can act as an effective bulwark against the spread of misinformation targeting companies.
"A brand that is investing in transgender, LGBTQ+ consumers," he said, must "be ready to know how to explain [those investments] and how to combat that misinformation" with quick, simple responses provided in real time.
Used properly, Mackinnon said, social media can be an effective tool for firms to build trust – allowing for opportunities to engage in discussions and storytelling in a conversational fashion not afforded by other forms of corporate communication.
The ascendency of transphobia and anti-LGBTQ sentiment comes as Americans' faith in institutions – politics, traditional media, scientific and medical expertise – continues to plummet.
These conditions have primed consumers to "look to brands to speak to these issues," Mackinnon said, "not to, like, heal the world, but to operate as influencers on the issues that are front-of-mind for people."
Companies might, then, see not just a set of challenges but also valuable opportunities for LGBTQ outreach during Pride month. Acting thoughtfully, these firms might maximize their market caps for the month of June without alienating their LGBTQ customers while also, potentially, helping to facilitate a world in which more Americans might be down to have a beer with a trans neighbor or bring their kids to a drag performance.