Pope Francis: Gender ideology is 'one of the most dangerous colonizations' in the world
Argentina newspaper published interview with pontiff on March 10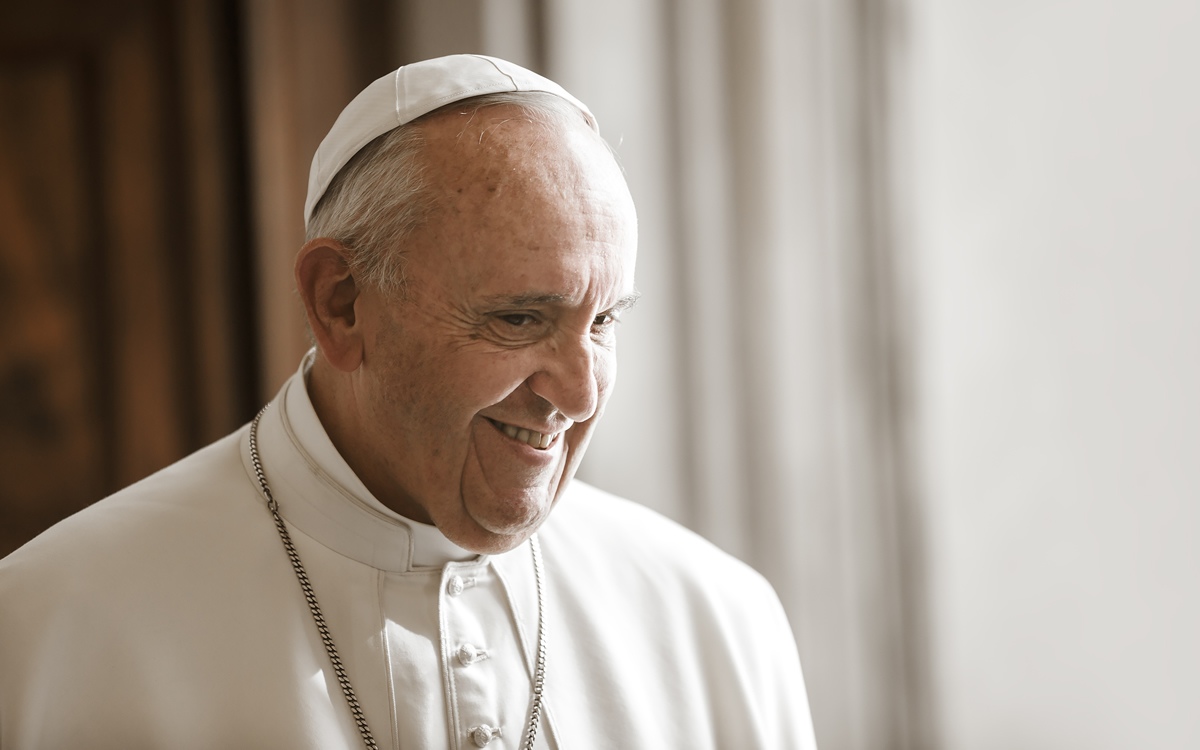 Pope Francis earlier this month said gender ideology is "one of the most dangerous ideological colonizations" in the world today.
"Gender ideology, today, is one of the most dangerous ideological colonizations," Francis told La Nación, an Argentine newspaper, in an interview that was published on March 10. "Why is it dangerous? Because it blurs differences and the value of men and women."
"All humanity is the tension of differences," added the pontiff. "It is to grow through the tension of differences. The question of gender is diluting the differences and making the world the same, all dull, all alike, and that is contrary to the human vocation."
The Vatican's tone towards LGBTQ and intersex issues has softened since since Francis assumed the papacy in 2013.
Francis publicly backs civil unions for same-sex couples, and has described laws that criminalize homosexuality are "unjust." Church teachings on homosexuality and gender identity have nevertheless not changed since Francis became pope.
Francis told La Nación that he talks about gender ideology "because some people are a bit naive and believe that it is the way to progress." The Catholic News Agency further notes Francis also said these people "do not distinguish what is respect for sexual diversity or diverse sexual preferences from what is already an anthropology of gender, which is extremely dangerous because it eliminates differences, and that erases humanity, the richness of humanity, both personal, cultural, and social, the diversities and the tensions between differences."
Intersex Kenyans see significant gains since landmark law took effect
MPs approved statute last year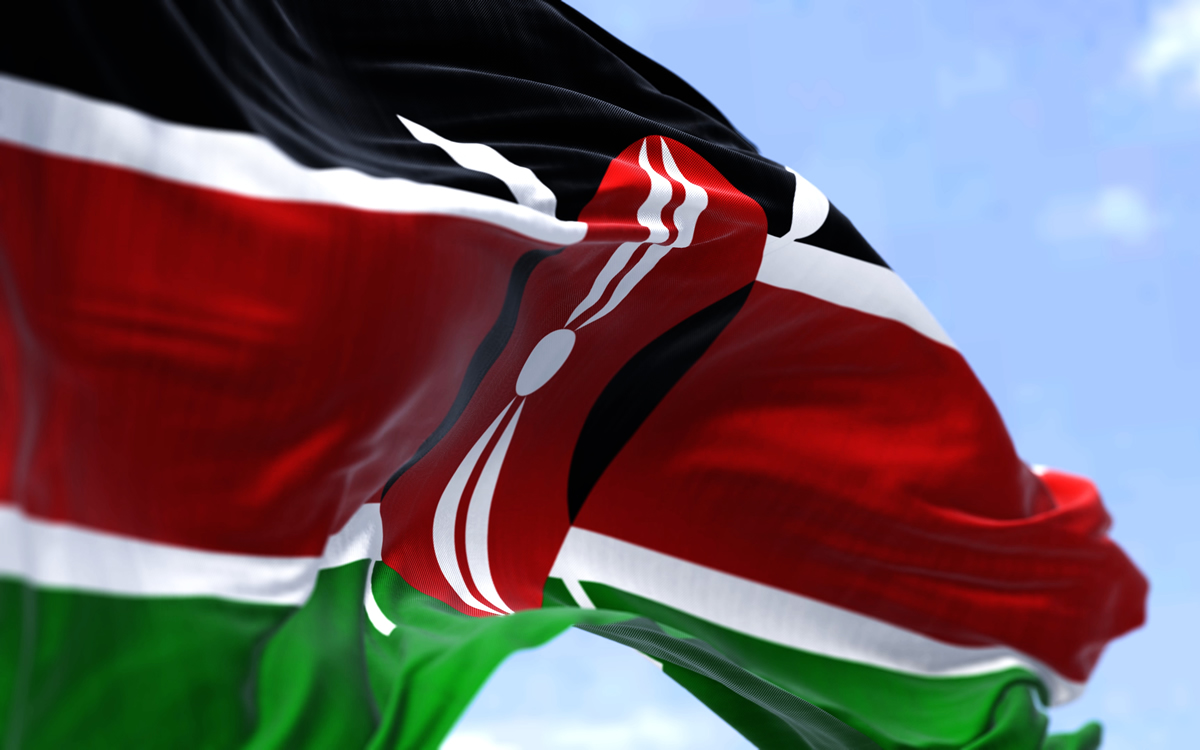 The push for intersex people to enjoy equal rights as Kenya's third sex has recorded significant gains since a landmark law took effect last July.
Intersex people arrested for breaking the law can now be presented in court as intersex, since prosecutors have adopted the special 'I' sex marker for the group in charging documents.
This addresses the problem of authorities identifying intersex people for trial that became public in 2006 when police officers could not tell the sex of a detainee they perceived as a man who had been accused of a violent robbery. They had strip-searched him.
The gains noted in the latest report by the country's Intersex Persons Implementation Coordination Committee also note the inclusion of intersex concepts in Kenya's new education curriculum for awareness.
The IPICC falls under the purview of Kenya's National Commission on Human Rights.
Intersex awareness in schools for recognition and capacity building in the future targets adolescents at the junior secondary level where they are educated on the reproductive system.
Veronica Mwangi, the IPICC's head of secretariat who spoke to Washington Blade, commended the Office of the Director of Public Prosecutions for introducing the 'I' sex marker for intersex people in charging documents.
"We have made gains in the criminal justice but we should not go back to the tendencies where intersex persons only require a lot of attention when it comes to crime. It is a misconception that misses the map," she said.
Citing a proposed Intersex Persons Bill 2023 currently undergoing public comment before being presented for debate in Parliament, Mwangi believes it envisages more benefits to intersex people.
For instance, the bill proposes access to more comprehensive medical attention for intersex people during surgeries and expensive medical examinations like Karyotype, a DNA and hormonal composition test that costs between $900-$1,000.
The bill would also require medical insurance providers to come up with an affordable, unique package that addresses the needs of intersex people by taking into account the reality of their lived experiences.
"The reality of the matter is you may give birth to an intersex child as a girl but later it turns out to be a boy. Hence the medical package that was given to the girl may not apply to the boy," Mwangi said.
She added the medical insurance policy should be capable of responding to such changes, since intersex people will always have medical needs that keep shifting.
The bill would also allow intersex people to change their sex marker at any time to reflect their new status after undergoing a comprehensive medical examination and a medical certificate to prove it. The measure would also demand the government to recognize intersex people as a vulnerable group, such as those living with disabilities, women, young people and orphans, in order to more easily access social protection programs.
It would further require employers to consider intersex people for employment and the Kenya Examination Council to support the registration of intersex people's' academic documents that indicate their name has changed because of a legal sex change.
The Civil Registration Services, a government agency that documenting all births and deaths, has already been working closely with IPICC to change names on the birth certificates of intersex people to reflect their correct sex for easier access to public services.
Kenya became the first African country to grant equal rights and recognition to intersex people in 2022. It is also the first nation on the continent and the second in the world after Australia to count intersex people in a Census in 2019.
The survey showed 1,524 Kenyans were intersex.
After many years of marginalization and discrimination, the IPICC progress report states that several intersex people for the first time were involved in monitoring Kenya's August 2022 general election as observers. Other intersex people subjected themselves to the electoral process to be nominated or elected as county assembly representatives, the lowest electoral position, including one in the Kenyan capital of Nairobi.
"This was a bold move and a big achievement because, for the first time in Kenya, intersex persons came out and tested the waters in politics," Mwangi said.
She cited stigma and fear among intersex people in presenting conflicting documents about their sex to the electoral commission for clearance as the cause of staying away from politics before the enactment of the law that recognizes them. Mwangi urged intersex people to come out and take advance of available opportunities and assistance, since most of them don't and it becomes hard to reach them.
Since the landmark law came into force in July last year; several psychosocial support groups for intersex persons, their parents and caregivers have been established in the country to offer any necessary assistance that includes counselling. The IPICC has also created a database of intersex people, a text message service and a toll-free number to report cases of discrimination and to advocate on their behalf.
Oct. 26, 2022, also marked the first official event that commemorated Intersex Awareness Day in Kenya.
Transgender journalist who enlisted in Ukrainian military returns to D.C.
Sarah Ashton-Cirillo wounded on battlefield in February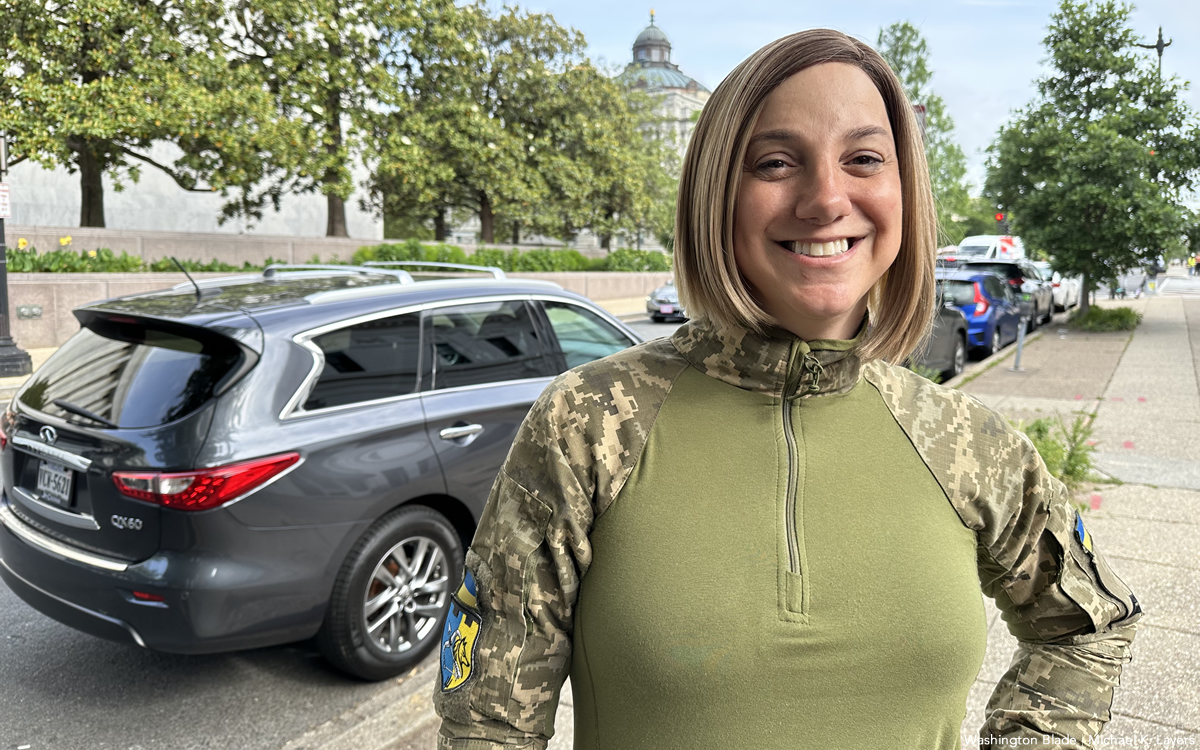 Sarah Ashton-Cirillo was a journalist when she began to cover the Armed Forces of Ukraine's Kharkiv Defense Forces at the beginning of Russia's war against the country. She eventually enlisted, and a commander from the Ukrainian Defense Ministry on Jan. 31 facilitated her transfer to the unit's 209th Batallion of the 113th Brigade.
Ashton-Cirillo, a transgender woman who was born in New York, was working as a senior combat medic in a trench near Kreminna, a Russian-occupied city in eastern Ukraine, on Feb. 23 when shrapnel from an enemy artillery shell wounded her. Ashton-Cirillo suffered injuries to her right hand and to her face, and her fellow soldiers had to wait seven hours to evacuate her. Ashton-Cirillo eventually received treatment for her injuries in Kharkiv, Ukraine's second-largest city that is roughly 130 miles northwest of Kreminna.
"The big key there was I wasn't able to take any painkiller by staying in the trench because I was still technically in battle," she recalled to the Washington Blade on May 19 during an interview that took place at a coffee shop near the U.S. Capitol.
Ashton-Cirillo noted her unit won the battle during which she had been wounded.
"Seven hours after my injury, I finally got to a hospital," she said. "By that point I hadn't taken any antibiotics (because) we didn't have any antibiotics and infection had set in. They took me to a hospital in Kharkiv and they had to clean the wound. They had to wait to make certain that it was healing before they could do surgery."
"I was living with this open wound for eight days," added Ashton-Cirillo, who was in uniform when she spoke with the Blade. "They were able to close my face up on the second day."
Two small scars on her face are visible. She said she has limited mobility in her right hand, and has no feeling from her wrist to her fingers.
"For the most part, I'm so blessed and very lucky," said Ashton-Cirillo.
Ashton-Cirillo now a junior sergeant
The Blade first spoke with Ashton-Cirillo last December while she was in D.C. to speak with lawmakers on behalf of the Ukrainian Defense Ministry about the Armed Forces of Ukraine's medical needs.
Ukrainian President Volodymyr Zelenskyy met with President Joe Biden and spoke to a joint session of Congress less than three weeks after the interview.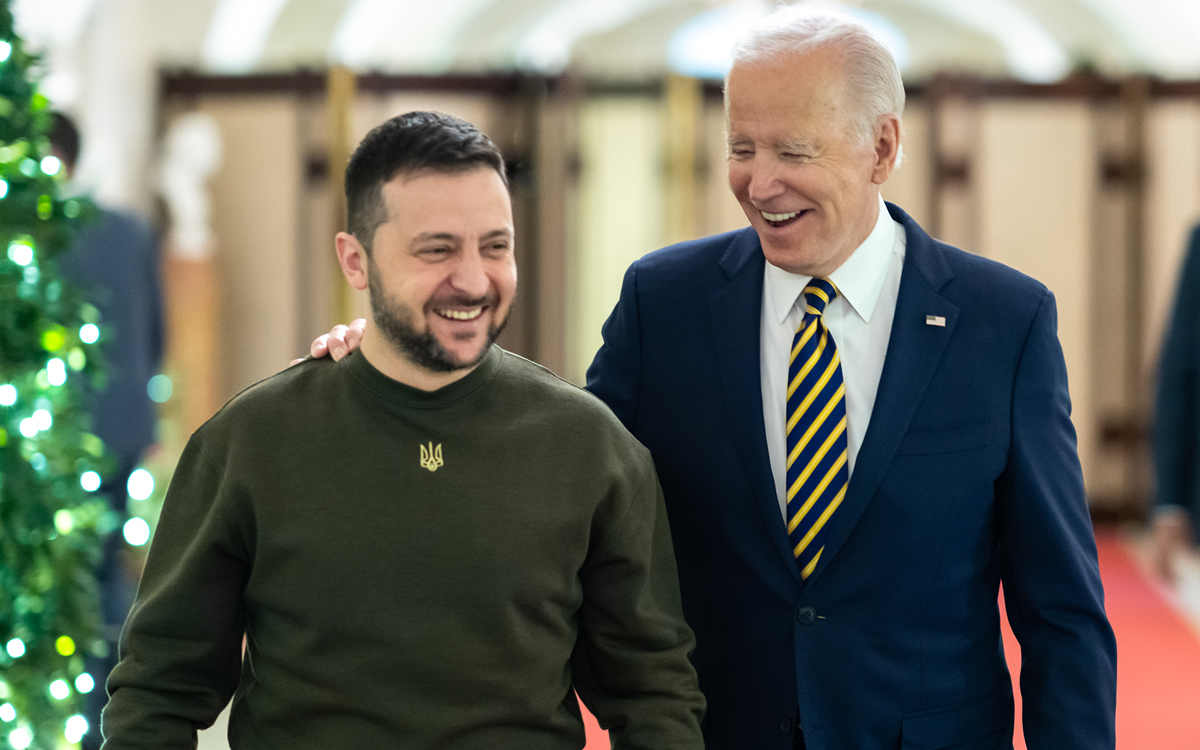 Ashton-Cirillo early last month became a junior sergeant. She returned to D.C. on May 15.
Ashton-Cirillo met with U.S. Reps. Eric Swalwell (D-Calif.), Mike Quigley (D-Ill.) and Steven Horsford (D-Nev.) and aides for U.S. Rep. Michael McCaul (R-Texas) and U.S. Sens. Marco Rubio (R-Fla.) and Jacky Rosen (D-Nev.) before she left the nation's capital on May 19. Ashton-Cirillo also spoke to journalists from the Global South at the National Press Club and met with José Andrés, whose World Central Kitchen continues to operate in Ukraine, and Amnesty International representatives.
"We had some successes on my trip in December," she said. "Members of Congress … in the House and Senate were interested in my experiences regarding my service."
Ashton-Cirillo specifically praised Andrés for his work in Ukraine.
"There is nobody that's done more for our cause," said Ashton-Cirillo. "Nobody has done more to save the Ukrainian people as a foreign civilian than World Central Kitchen and Chef José Andrés."
No timeframe for spring offensive
Ashton-Cirillo sat down with the Blade two days before Zelenskyy met with Biden and other world leaders at the G7 summit in Japan. (Biden met with Zelenskyy in Kyiv, the Ukrainian capital, on Feb. 20.)
Ukrainian officials this week denied Russia's claims that it had captured Bakhmut, a city in Donetsk Oblast. (Ashton-Cirillo last December told the Blade she had previously worked to counter Russian propaganda that claimed Russian troops had captured the city.) The Associated Press reported a group of anti-Kremlin Russian partisans — the Russian government described them as Ukrainian "military sabeteurs" — attacked an area near Belgorod, a Russian city that is roughly 25 miles from the country's border with Ukraine.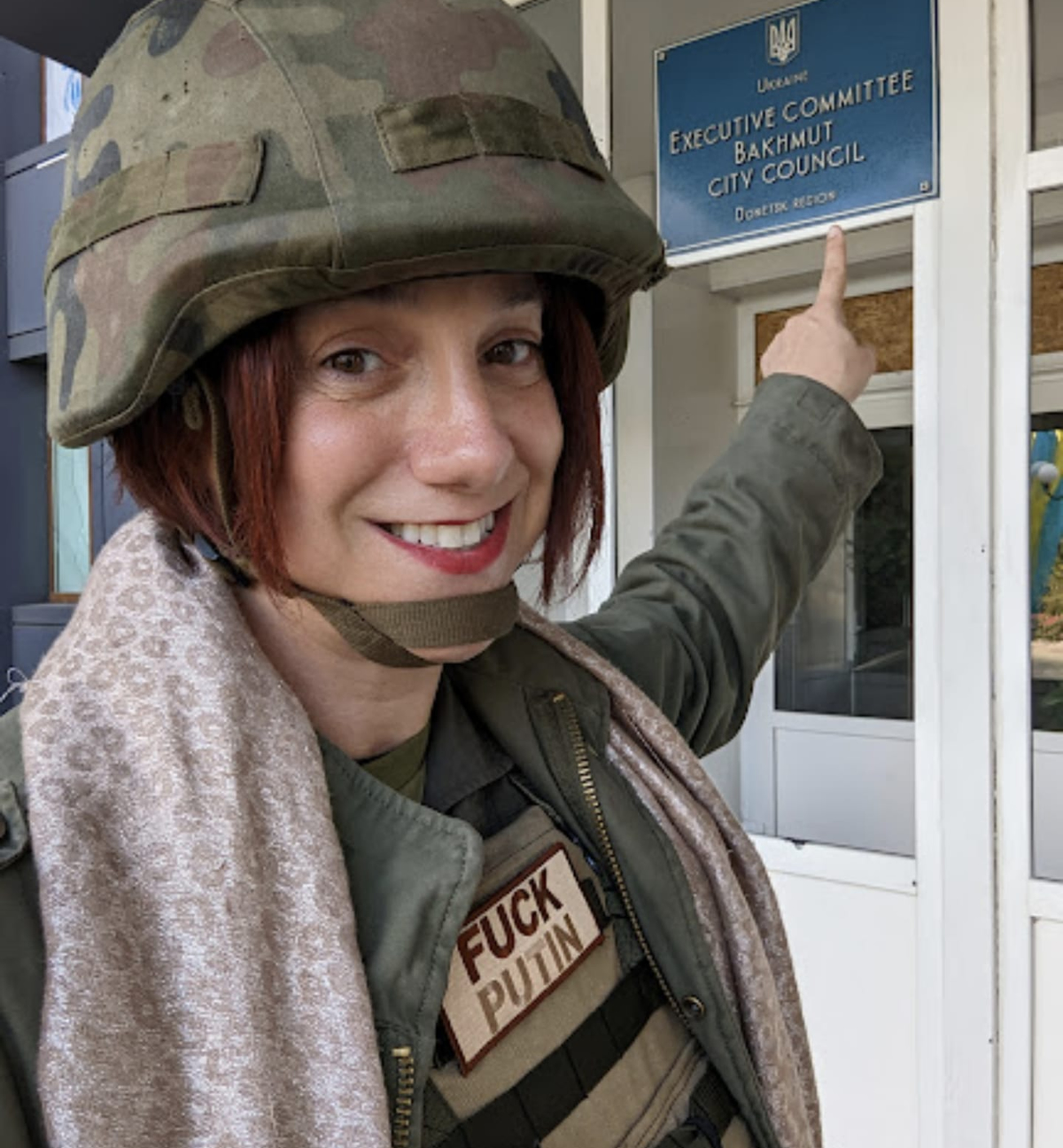 The International Criminal Court in March issued arrest warrants for Russian President Vladimir Putin and Russian Children's Rights Commissioner Maria Lvova-Belova over the abduction of children from Ukraine. Zelenskyy earlier this month visited the ICC while he was in the Netherlands.
Ukraine continues to ask the U.S. and other countries for more weapons as it prepares to launch its long anticipated "spring" offensive.
Patriot missiles on May 16 shot down 29 of the 30 missiles that Russia launched at Kyiv. Ashton-Cirillo said Ukraine specifically needs DPICMs (dual-purpose improved conventional munition), a type of smart munition, "so we can soften up the Russian trench lines."
"I know what these trenches are," she said. "They are going to be absolutely fortified as we attempt our counter attacks and any potential counter offensive."
Ashton-Cirillo said she does not have a "timeframe" for when the offensive to begin.
"We want all the weapons we can get now before launching," she said. "We will beat the Russians under any circumstances and we are we have the history to prove it."
"We're trying to make certain that we're not losing unnecessary Ukrainian lives," added Ashton-Cirillo. "We're not wasting U.S. taxpayer dollars and the best way to do that is have an efficient, effective attack method, and that's why we need some of these more technologically advanced weapons. We can fight with RPGs and our assault rifles, and we'll win, but at high cost, high cost to us, high cost to the American taxpayer. We understand as stewards of the Americans' trust that we have to do everything in a proper way to bring victory as soon as possible."
Gender identity 'less of a spectacle among the international press'
Zelenskyy last summer said he supports a civil partnerships law for same-sex couples. Ukrainian lawmakers later approved a media regulation bill that will ban hate speech and incitement based on sexual orientation and gender identity.
Zelenskyy, a former actor and comedian, in made a broad reference to LGBTQ and intersex rights in a virtual appearance at this year's Golden Globes. Ukrainian Ambassador to the U.S. Oksana Markarova during a Jan. 26 event in D.C. that highlighted Ukrainian LGBTQ servicemembers applauded Kyiv Pride and other LGBTQ and intersex rights groups in her country.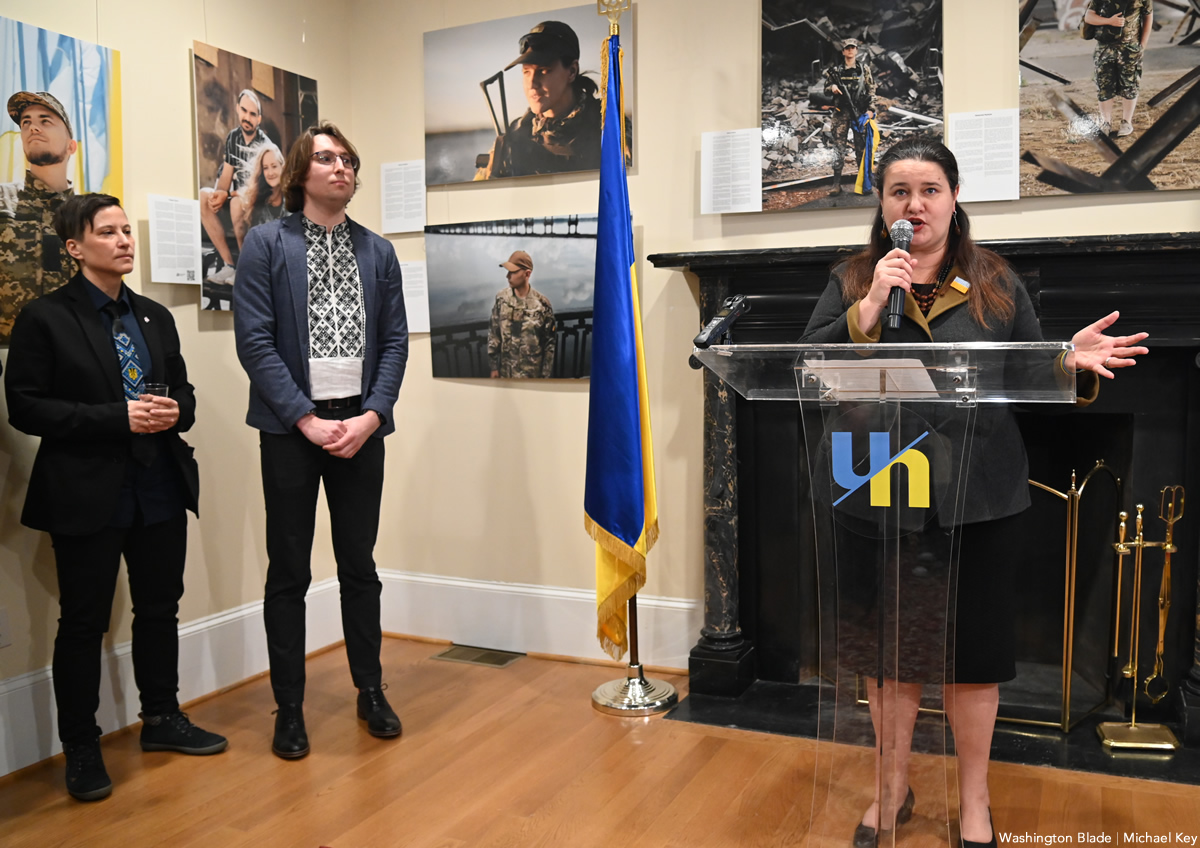 Ashton-Cirillo pointed out the Ukrainian military is creating a group that will work directly with journalists in the country and from around the world. She said the initiative's goals are "to guarantee free speech during war time, to guarantee a clear message based on truth and facts from the journalist standpoint during wartime and also to ensure that we have free speech, and free thought among the press post victory in Ukraine." Ashton-Cirillo also told the Blade that her gender identity is "becoming less of a spectacle among the international press, and that's important to me, too, as well."
"There's no denying I'm trans. I don't hide it," she said. "I'm very proud to be a member of the LGBT community. My work and my focus is on this war, this liberation for Ukrainians and liberty for everyone who cares about freedom, and that includes trans people. That includes Crimean Tatars, that includes any immigrants from the Global South that live in Ukraine."
"This victory will help strengthen the LGBT community around the world because there's going to be one less country that will be able to persecute Ukrainians, LGBTQ members," added Ashton-Cirillo. "We are going to inflict a transformative defeat upon the Russian invaders such that Russia themselves will have to look inward as to the mistakes they've made with human rights … and understand the price that they're paying is very high for things like taking (Wall Street Journal reporter) Evan Gershkovich hostage."
She also said she and her comrades "understand the cascading effect of a Ukrainian a clear transformative Ukrainian victory over Russia will have for human rights around the globe."
Activist harassed during European development bank meeting in Uzbekistan
Authorities confiscated Nezir Sinani's Pride tote bags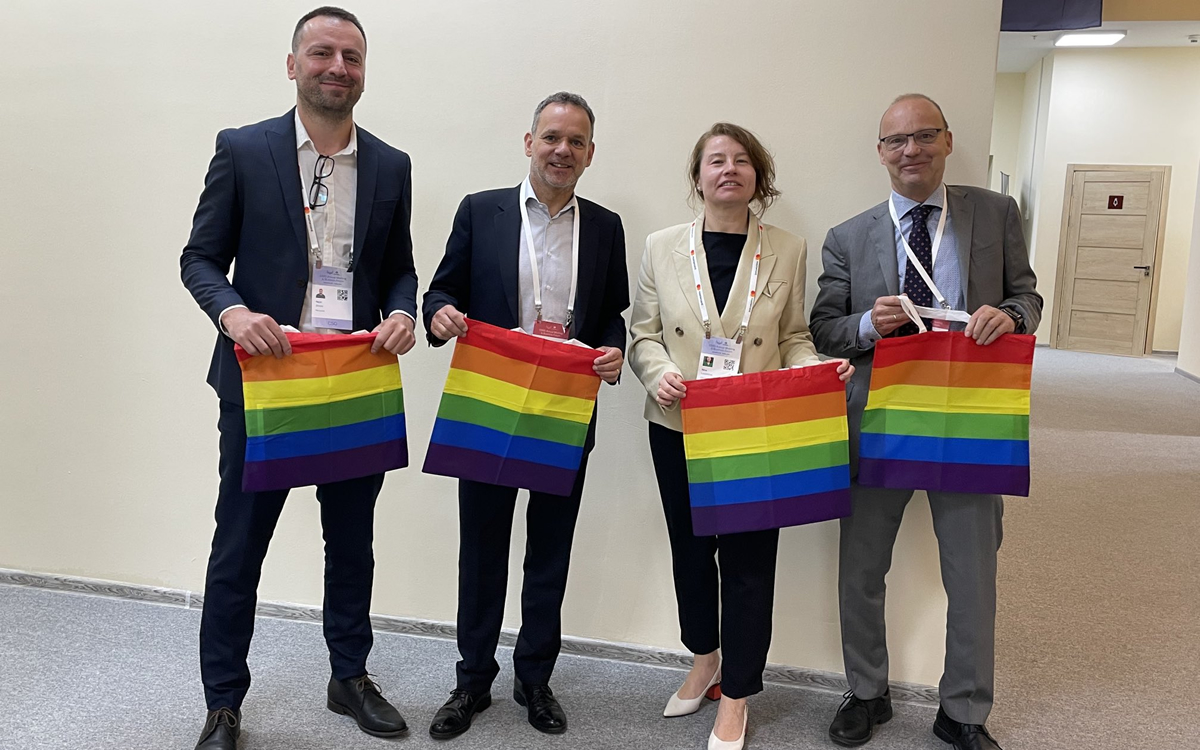 Uzbek authorities last week harassed an LGBTQ and intersex rights activist while he was attending a European Bank for Reconstruction and Development meeting that took place in the Central Asian country.
Nezir Sinani, who is from Kosovo, is the co-director of Re-course, which is based in the Netherlands.
He said Uzbek police on May 17 "started harassing and intimidating me, stopping me from entering the meeting venue (in Samarkand) and confiscating meeting materials."
"This included the Uzbek police calling the (European Bank for Reconstruction and Development) security officer asking for my info details," said Sinani in a tweet.
May 17 was the International Day Against Homophobia, Biphobia and Transphobia, which marks the World Health Organization's declassification of homosexuality as a mental disorder in 1990. Uzbekistan is among the more than 60 countries in which consensual same-sex sexual relations remain criminalized.
Caspar Veldkamp, an EBRD board member from the Netherlands, on May 17 posted a picture of him with Sinani and two other activists holding Pride tote bags.
Sinani once he left Uzbekistan sent the Washington Blade a series of pictures that show security officials interrogating him outside the meeting.
He is holding Pride-themed tote bags in two of the pictures. Sinani said he and the other activists used them "to keep meeting files to distribute to EBRD counterparts we met."
"Tote bags were not forbidden in the venue, but were still confiscated only because they were Pride-themed," he told the Blade.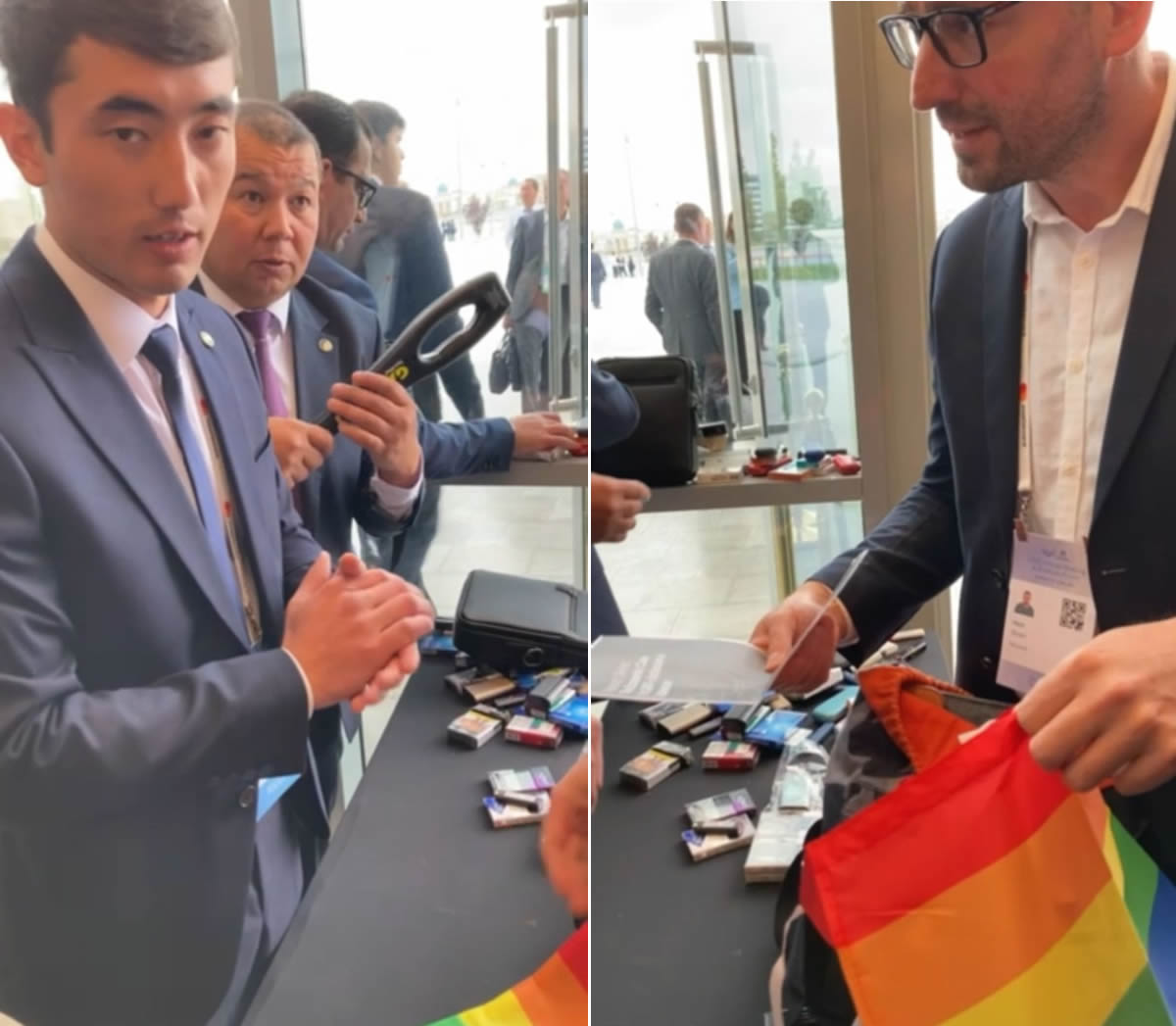 Veldkamp in an email to the Blade said he has "been in touch with" Sinani and "shared his information with the EBRD's office of the secretary general, which gathers information regarding several incidents, including a similar one regarding my own staff."
"They will follow up with the Uzbek authorities," said Veldkamp.
Veldkamp told the Blade that Uzbek authorities have yet to respond.
The EBRD's 32nd annual Meeting and Business Forum took place in Samarkand from May 16-19.
The State Department's 2022 human rights report notes "at least four cases" of authorities forcing men to undergo so-called anal exams between 2017-2020. Anvar Latipov, a gay man from Uzbekistan who the U.S. has granted asylum, last month told the Blade during an exclusive interview in D.C. that a group of vigilantes broadcast online a video of a man they forced to sit on a bottle.
'Criminalization and discrimination is completely unacceptable'
The State Department report cites other activists who said "members of the LGBTQI+ community in Tashkent (the Uzbek capital) were being harassed by both local authorities and private citizens and were on 'red alert,' and were seeking to avoid going out in public" after a group of men attacked blogger Miraziz Bazarov in 2022. Latipov told the Blade that transgender Uzbeks and people with HIV/AIDS face additional discrimination and persecution.
The Uzbek government previously kicked the EBRD kicked out of Uzbekistan after it criticized the country's human rights record. Latipov noted to the Blade the EBRD now has $2.4 billion in 69 active projects in the country.
Latipov spoke with the Blade while he was in D.C. to lobby the World Bank Group and other multilateral development banks to pressure the Uzbek government to stop its persecution of LGBTQ and intersex people. Sinani and two other activists — Irena Cvetkovic, executive director of Coalitions Margins in North Macedonia, and Amarildo Fecanji, the Albania-based executive director of ERA – LGBTI Equal Rights Association for Western Balkans — were with Latipov.
"In Samarkand I attended the annual meetings of the EBRD with the aim of raising awareness on the brutal policies of Uzbekistan toward the LGBTI community," Sinani told the Blade in a lengthy statement. "EBRD has a role to play to include the LGBTI community in its development projects to be able to fully deliver on its mandate."
Sinani said he met with EBRD President Odile Renaud-Basso, EBRD board members and management "as part of my engagement there."
"The Uzbek police stopped me from entering the meeting venue following a speech I held at the main meeting of EBRD board of directors with the civil society representatives," Sinani told the Blade. "The police confiscated tote bags we used to handout reading marerials to the counterparts we met. Materials raised awareness on the brutal crackdown of Uzbek government on the LGBTI community in the country."
"The behavior of the Uzbek police is a reflection of the situation in the country toward the LGBTI community. In this case they harrased and intimated me for the sole reason of raising awareness on the situation on the ground. With the LGBTI community in the country they go harsh, way harsh. They imprison them after doctors establish their sexual orientation via anal examinations, which WHO regards as a form of torture," he said. "Such criminalization and discrimination is completely unacceptable and EBRD, alone the other international finance institutions, need to condemn and demand from the Uzbek government to repeal the law that enables them to hunt down the LGBTI community."