Congress in the weeds as members hash it out over cannabis reform
The Blade is a sponsor of the National Cannabis Festival, which organized the event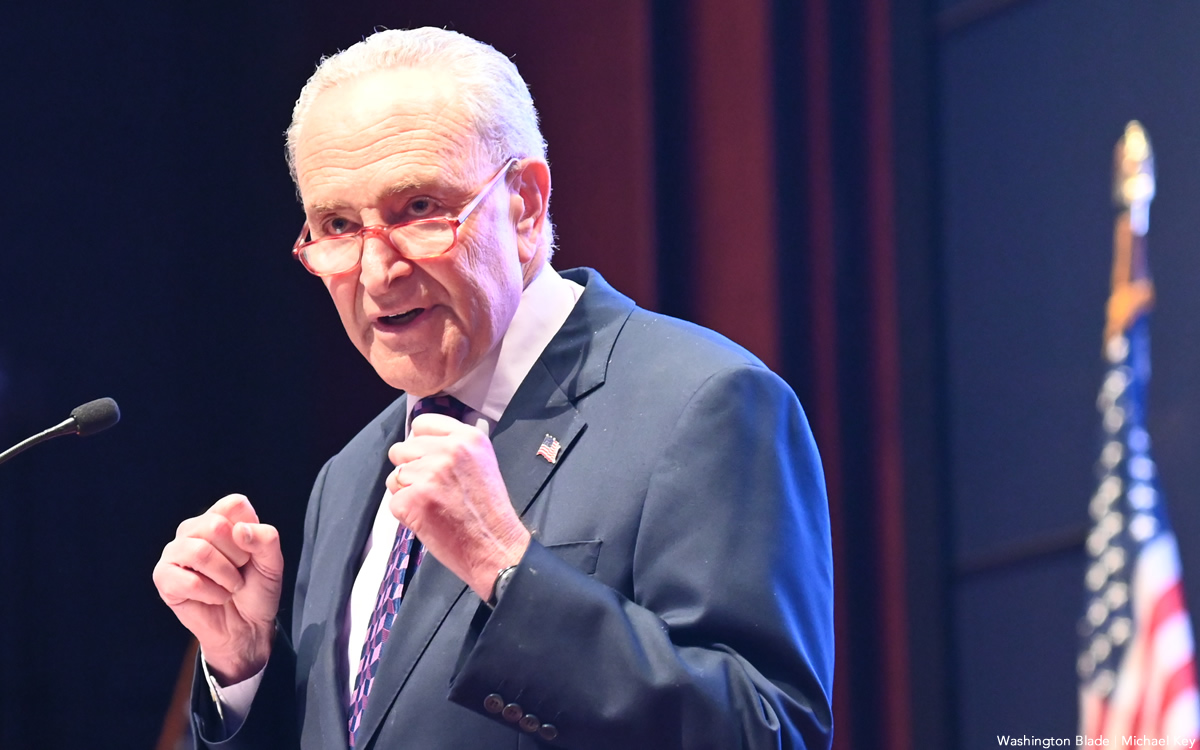 Members of Congress from both parties outlined paths to successful marijuana regulatory reform during Thursday's National Cannabis Policy Summit Congressional Forum in the Congressional Auditorium of the U.S. Capitol Visitors Center.
Sen. Chuck Schumer (N.Y.), the Senate's top Democrat, earned a round of applause after proclaiming himself "proud to be the first Majority Leader ever to say it is time to end the federal prohibition on cannabis."
"Until federal cannabis reform is the law of the land, I believe in my bones that we will get there one day soon," Schumer said.
He and the other members present were hopeful that these goals are within reach for this Congress.
U.S. Sen. Jeff Merkley (D-Ore.) told the audience he was hopeful about passage of the Safe Banking Act, which would prohibit federal banking regulators from punishing financial institutions that provide services to legitimate cannabis related businesses.
Merkley noted the bill was supported by nearly all of the Senate Democratic caucus and nine Republicans when it was last introduced in 2021. "I think there's a real path to getting it done," he said.
As more states have begun to pass legislation legalizing cannabis for medicinal use, in tandem with the dramatic shift toward a more favorable public opinion of cannabis use, legislators have learned they will not suffer political consequences for backing these proposals, Merkley said.
"No senator has seen this [political position] be a negative" electorally, he said. "It's been a positive in race after race."
Republican U.S. Rep. David Joyce (Ohio), a co-chair of the Congressional Cannabis Caucus, recounted how attitudes about cannabis among federal lawmakers have evolved quickly in the past few years.
In 2015, Joyce said he got blowback from then-Republican House Speaker John Boehner for his support of the Veterans Equal Access Act, a measure that would have allowed the Department of Veterans Affairs to facilitate patients' access to cannabis in accordance with the corresponding state laws governing its use.
"And look at him now," Joyce said of Boehner, who just four years later had become a lobbyist for the cannabis industry.
Joyce was joined on stage by Democratic U.S. Sen John Hickenlooper (Colo.), a member of the Senate's Commerce, Science & Transportation Committee and chair of the Senate's Health, Education, Labor, and Pensions (HELP) Committee, both among the most powerful in Congress.
The two lawmakers detailed their support for the Preparing Regulators Effectively for a Post-Prohibition Adult-Use Regulated Environment (PREPARE) Act, which was introduced last week by Joyce and Democratic House Minority Leader Rep. Hakeem Jeffries of New York.
The legislation would direct U.S. Attorney General Merrick Garland to create and manage a commission responsible for issuing recommendations on a regulatory framework for cannabis modeled after that which is in place for alcohol.
Joyce took a swipe at President Joe Biden, characterizing his support for cannabis regulatory reform as tepid and suggesting the president's stance on the issues might be a factor of age.
The congressman added that the PREPARE Act would benefit the administration by getting "all the agencies to the table to hash out" matters like "what their agreements will be," and "what their redlines are."
Otherwise, "the government would have no idea how to deal with" legalization, Joyce said.
As with alcohol, Hickenlooper said it will be important to ensure the federal government is "not trying to market marijuana to get more revenue from taxes," though both he and Joyce touted the potential for windfall tax revenues that could be reinvested for the benefit of communities across the country.
"I think the more and more states that legalize marijuana, that see people working in the industry, see how it's contributing to the economy…that changes public opinion, which makes it easier for us as lawmakers," said U.S. Sen. Jackie Rosen.
"So, I think as more and more states legalize cannabis we will have the opportunity to have these conversations in a different way to move the ball forward," said the congresswoman, who is a member of the Senate's Commerce and Small Business & Entrepreneurship Committees.
Rosen and Merkley (D-Ore.) discussed the inequities perpetuated on the American public by the federal cannabis regulatory regime.
Merkley thanked Biden for "stepping forward" to pardon inmates who were incarcerated for federal cannabis crimes, while Rosen discussed the importance of facilitating safe access to banking services for legitimate cannabis businesses, noting the Small Business Committee's work connecting minority owned firms to key support services. "It matters," she said. "It's about equity and inclusion."
Remarks delivered by U.S. Rep. Barbara Lee (D-Calif.) via a prerecorded video touched on similar themes. The federal government's goal, she said, must be "not only end the War on Drugs but also invest in the communities affected by it."
"Federal cannabis prohibition has disproportionately impacted people of color," Lee said, noting the data indicating that while Black and white Americans use marijuana at roughly the same rates, Black people are four times more likely to be arrested for possession.
"There are so many barriers preventing people of color from opening their own businesses," Lee said. "We need to fully de-schedule cannabis, reinvest in communities of color, and ensure small and minority-owned businesses have the opportunity to participate in this market."
The Washington Blade is a sponsor of the National Cannabis Festival, the organizer behind Thursday's Congressional Forum. Tickets are still available for the Festival, which will feature an all-day concert along with "exhibitors, education pavilions, munchies zone, sponsored lounges and more."
House to vote on resolution to expel Santos
Embattled N.Y. congressman indicted last week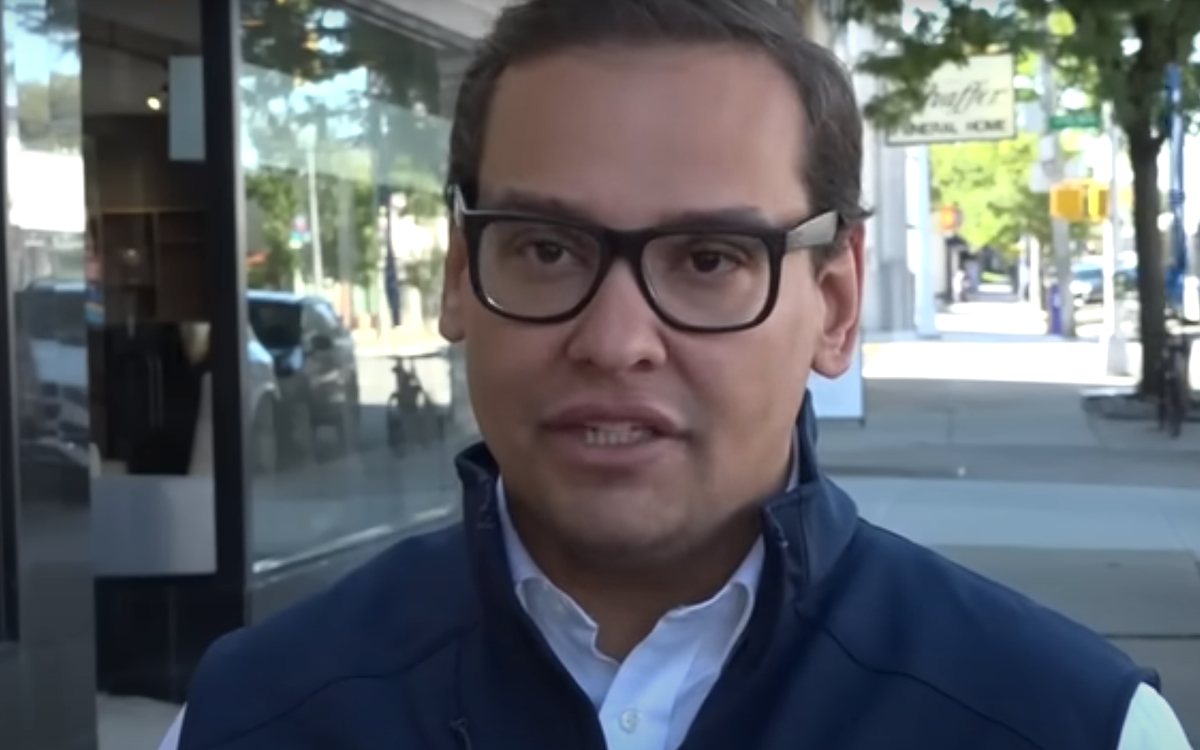 The U.S. House of Representatives is expected to hold a vote within the next couple of days over whether to expel U.S. Rep. George Santos (R-N.Y.) from the chamber, a largely symbolic move that will put Republicans on the record as the embattled congressman faces criminal charges.
U.S. Rep. Robert Garcia (D-Calif.) introduced the resolution in January, reportedly with support from House Democratic leadership, but it would need a two-thirds majority to pass.
The Republican caucus could vote to table the motion, but only five defections would force a final ballot over Santos' expulsion.
Calls for the congressman's resignation began shortly after he took office, as reports began to surface that he had fabricated major claims about his life and biography and multiple law enforcement agencies started probing allegations of financial malfeasance.
Pressures intensified last week when the U.S. District Court for the Eastern District of New York arraigned Santos on 13 criminal counts of fraud, money laundering, theft of public funds and making false statements.
Some Republican members have publicly urged Santos to step down, but GOP leadership so far has declined to take a hard stance pending the conclusion of investigations and law enforcement actions.
Santos represents New York's 3rd Congressional District, serving in the seat that former Democratic U.S. Rep. Tom Suozzi vacated. His electoral victory in 2022 provided a crucial vote for Republicans, who only narrowly won control of the House.
Tuberville, 21 GOP senators call for White House to withdraw rule change for trans athletes
Senators specifically addressed Education Secretary Miguel Cardona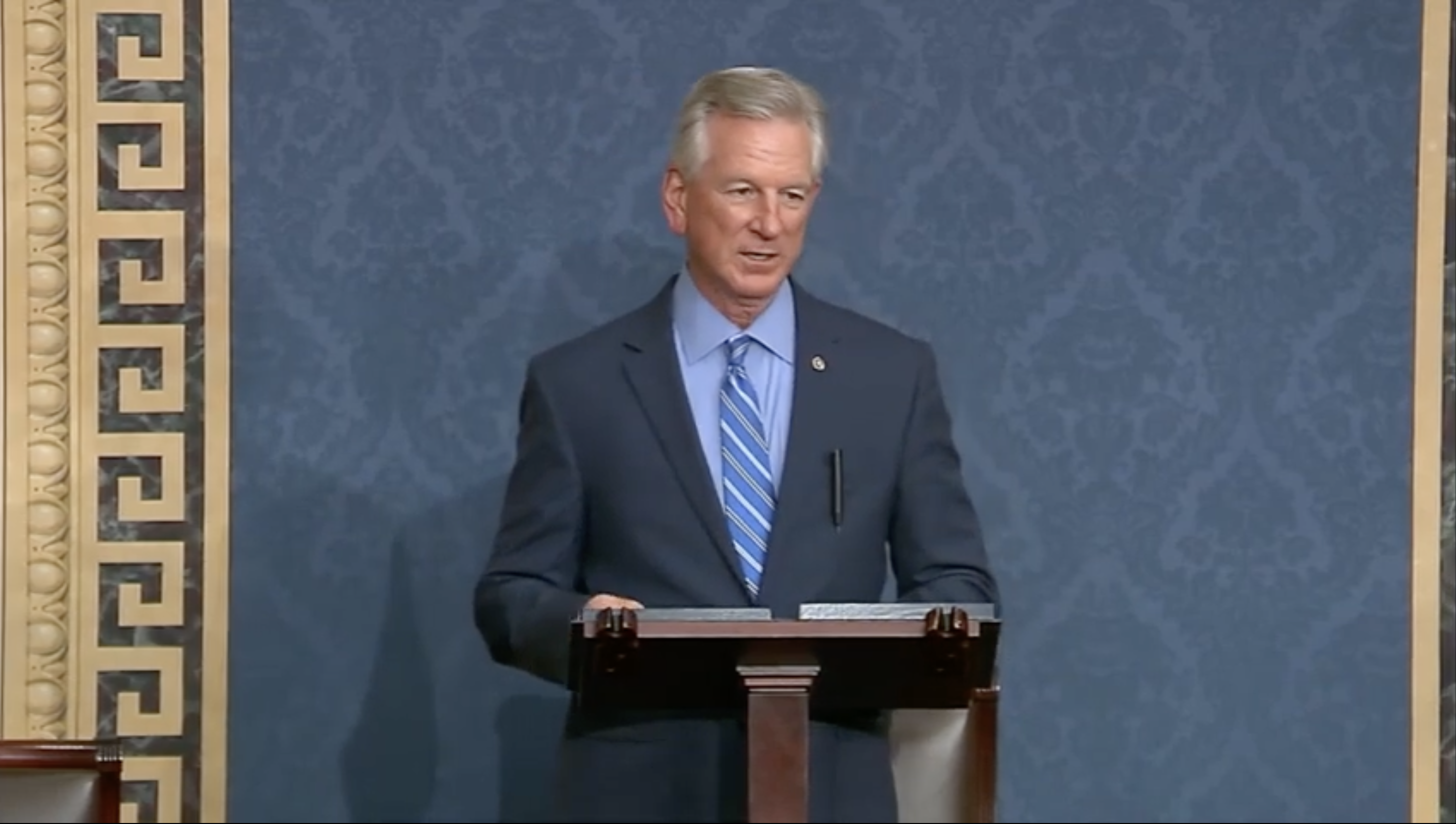 U.S. Sen. Tommy Tuberville (R-Ala.) on Monday led a group of 21 other Republican senators in calling for Education Secretary Miguel Cardona to withdraw the administration's proposed rule change that would prohibit blanket bans of transgender student athletes.
"Our comment sent to Secretary Cardona echoes what most Americans already know to be true: Forcing schools to allow biological males to compete against young women is unfair, unsafe and wrong," Tuberville said in a statement.
If adopted as written, the draft policy unveiled by the U.S. Department of Education last month would affirm "that policies violate Title IX when they categorically ban transgender students" from participating on teams that align with their gender identity.
At the same time, the guidelines allow for exceptions that would bar trans student athletes in certain circumstances and provided various conditions are met.
Separately, Tuberville drew ire over his comments during an interview last week in which he said the Pentagon was wrong to root out white nationalists serving in the U.S. military.
"They call them that," Tuberville replied, referring to the Biden administration's criticism of white nationalists. "I call them Americans."
George Santos indicted on 13 counts
Embattled N.Y. congressman arraigned in federal court on Wednesday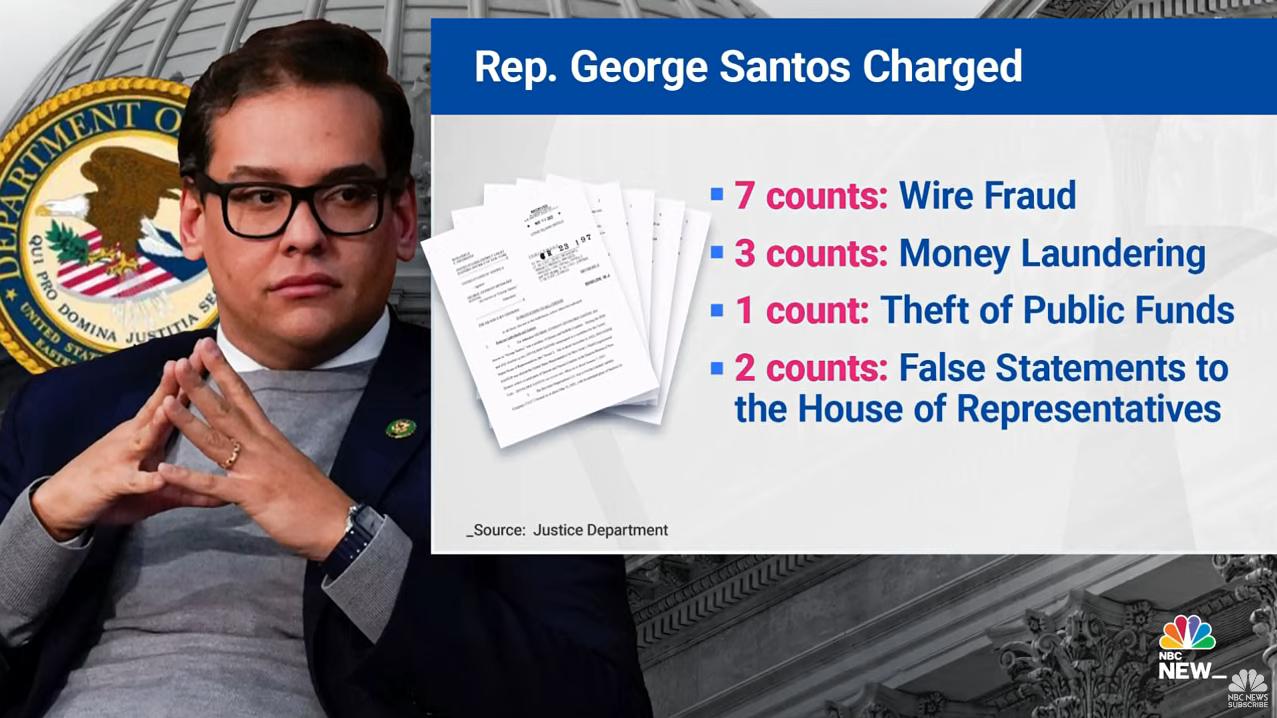 U.S. Rep. George Santos (R-N.Y.) was indicted Wednesday by the U.S. Attorney's Office for the Eastern District of New York on 13 criminal counts of fraud, money laundering, theft of public funds and making false statements.
The congressman is expected to be arraigned later today. For several months, investigators from multiple law enforcement agencies have been looking into allegations that he violated campaign finance laws and committed other financial crimes.
Beginning shortly after Santos took office, news reports revealed that he had lied about vast swaths of his life and career, fabricated stories — claiming, for example, to have survived an assassination attempt — and engaged in various schemes.
Wednesday's indictment alleges that Santos and an unnamed "political consultant" illegally redirected donations that were supposed to support his Congressional race to instead cover personal expenses like "luxury designer clothing and credit card payments."
The charging documents also accuse Santos of falsely claiming to be unemployed to pocket $20,304 in unemployment insurance benefits from the state of New York and $24,744 from the federal Coronavirus Aid Relief and Economic Security Act while he was actually working for a Florida investment firm, earning an annual $120,000 salary.
Additionally, prosecutors say Santos lied on federal disclosure documents that are mandatory for every member of Congress.
Calls for Santos' expulsion from Congress were renewed with the news of Wednesday's indictment.
"That's something for the House conference to decide on," White House Press Secretary Karine Jean-Pierre told reporters during Wednesday's briefing. "They want to show the American people what their conference looks like; that's up to them."
House Democratic Caucus Chair Pete Aguilar (D-Calif.) said, "there is one person who can make this change: Speaker McCarthy."
"It's just an unfortunate thing that that we're all colleagues together, and this level of fraud that's been perpetrated on the people of New York," Aguilar added.
For his part, McCarthy told CNN Santos "will go through his time in trial, and let's find out how the outcome is," while U.S. Rep. Steve Scalise (R-La.), the House majority leader, made similar comments during a press conference, telling reporters: "In America, there's a presumption of innocence, but they're serious charges. He's going to have to go through the legal process."
UPDATED:
Facing reporters in a press conference after the afternoon hearing on the steps of the courthouse at 100 Federal Plaza in Central Islip on Long Island, Santos said: "It's a witch hunt because it makes no sense that in four months, four months — five months, I'm indicted." The embattled congressman then tried to deflect by comparing his legal difficulties to the Hunter Biden investigation which prompted onlookers to boo him.
Media Matters senior researcher Jason S. Campbell captured a portion of the video and tweeted it:
George Santos: "It's a witch hunt because it makes no sense that in four months, four months — five months, I'm indicted" [boos follow] pic.twitter.com/rzqBgrVT3s

— Jason S. Campbell (@JasonSCampbell) May 10, 2023