Unprecedented times for companies facing anti-LGBTQ backlash
Experts weigh in on how firms should respond during Pride month and beyond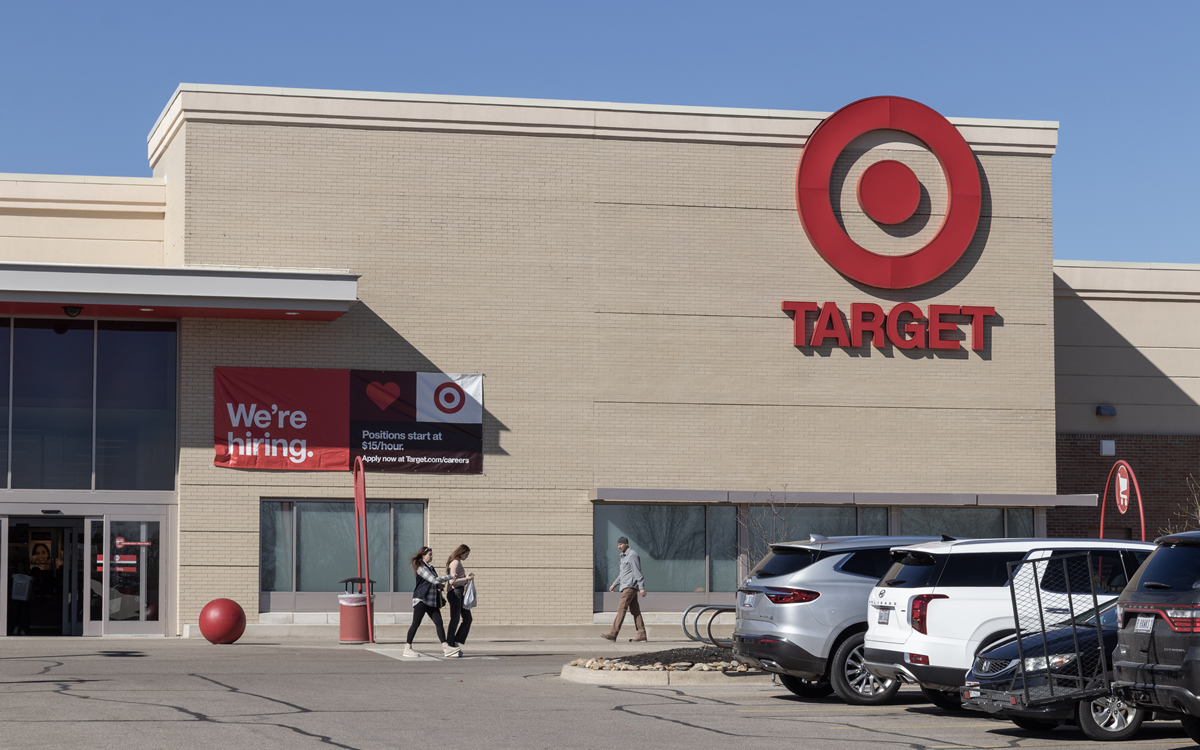 The precipitous rise of anti-LGBTQ sentiment in America has increasingly put corporate allies in the crosshairs of fraught culture war battles, creating unprecedented challenges for firms as they navigate business decisions during Pride month.
Concerns follow recent cases in which Target Corp. and Anheuser-Busch InBev suffered financial and reputational damage – first, when their outreach to LGBTQ customers provoked backlash, and again when the companies backed down in response to their anti-LGBTQ critics.
How should firms approach Pride month promotions in a climate where even the most minor or anodyne move can inspire right-wing calls for boycotts, or even threats of violence? What obligations do companies have to their LGBTQ customers, many of whom have long objected to brands' tendency to offer performative demonstrations of support for the community to boost their sales in June?
Three experts spoke to the Washington Blade to address these and other questions.
Andrew Isen is founder and president of WinMark Concepts, a firm that provides marketing services targeting LGBTQ audiences and customers, primarily for large publicly traded companies. Todd Evans is president and CEO of Rivendell Media, a firm that coordinates and manages advertising and marketing campaigns that are run in LGBTQ media. And Jack Mackinnon is senior director of cultural insights at Collage Group, a consumer research firm whose customers include many of the world's biggest and best-known brands.
Anti-LGBTQ backlash is real and difficult to predict
False claims on social media that an item in Target's seasonal Pride collection – a "tuck-friendly" swimsuit – was offered in children's sizes led to in-store confrontations that prompted the retailer to respond by moving merchandise to the back of stores and off the floor in some rural southern locations.
The controversy illustrates the unpredictability and arbitrariness of online flare-ups targeting individual companies, often driven partially or entirely by misinformation, the sources agreed.
"We are literally jumping from crisis to crisis to crisis," Isen said, adding "we are in uncharted territory" where companies are "unable to foretell on an hourly basis what will blow up on social media," and responding effectively is made more difficult when the claims at issue are "patently untrue."
As a result, "there is a real reticence to move forward" on outreach to the LGBTQ community "until things work themselves out," Isen said. Companies are now struggling with balancing their obligations to LGBTQ customers and their corporate shareholders, he said.
Evans said part of the problem is proportionality. Pressures from a small and vocal contingent of anti-LGBTQ consumers are amplified by unregulated social media platforms, he noted.
For example, he said, "One Million Moms," a division of the American Family Association that is known for demanding boycotts against companies that have embraced the LGBTQ community, only has a few thousand Twitter followers.
Isen and Evans said that while brands have long been attacked for publicly embracing the LGBTQ community, the controversy over Bud Light's social media spot featuring transgender influencer Dylan Mulvaney marked a tipping point because of the resulting harm to parent company Anheuser-Busch's bottom line.
Negative ramifications would have been thwarted, Isen said, had the company not reacted with a defensive posture by issuing a statement that "we never intended to be part of a discussion that divides people."
"There's no PR professional that would have recommended" Anheuser-Busch respond in the way that it did, agreed Evans.
To the extent that firms can anticipate when they may encounter anti-LGBTQ backlash, the sources agreed it is generally directed at the transgender community and anything involving minors – as seen in the rise in attacks against all-ages drag performances, for instance, and legislation targeting the rights of trans Americans, especially youth.
Evans said transphobia is part of a broader reactionary moment in American politics that presents a threat to the entire LGBTQ community and "anybody else who is different." Isen noted the political climate has been defined by a right-wing crusade against "wokeness" led by the likes of Florida's Republican Gov. and 2024 presidential contender Ron DeSantis.
Mackinnon, however, said the anti-trans backlash is distinct. "Other LGBTQ+ issues like gay marriage are not very controversial" from a marketing and advertising perspective, but there has been a shift in recent years as "people starting to think about transgender issues on a higher level," he said.
Misinformation can be weaponized and exploited to a greater extent when it concerns gender issues about which many Americans are still unfamiliar, Mackinnon said.
Brands can mitigate risks by engaging thoughtfully with their LGBTQ customers
As they approach any business decision concerning advertising or outreach to the LGBTQ community, the sources agreed the Bud Light dustup may offer important lessons for companies moving forward into Pride month and beyond.
When the beermaker approached Mulvaney, "the decision to engage her was done for business reasons," Isen said, as the company saw a valuable opportunity to tap into a broader market of young potential customers. The influencer "has a demographic following that fit perfectly into a market expansion opportunity for the brand that was in double digit decline."
The company's response, he said, was a problem because Anheuser-Busch seemed to characterize its work with Mulvaney as, instead, a cultural outreach effort – which rang insincere and "alienated the entire LGBTQ community, bar owners in the trade, and consumers."
"Had they stood firm and said, 'we made a calculated business decision to engage this social influencer as we have thousands of other social influencers,' it would have been a different story," Isen said.
Anheuser-Busch's major miscalculation was failing to build a relationship with its LGBTQ customers who might otherwise be inclined to forgive the company's decision to back down to pressure from anti-trans extremists "with its delayed response and then a really unthoughtful response," Evans said. Engendering goodwill with the community is crucial, he said.
"This is a brand that was not necessarily known for [LGBTQ] outreach in their marketing," Mackinnon said, "so when they partnered – in a very small way, by the way – and dabbled in a partnership with [Mulvaney], that caught some people by surprise, potentially, and they put themselves in an awkward position to explain what it was that they were doing."
As a result, he said, for many people Anheuser-Busch's business decision to work with Mulvaney seemed insincere or opportunistic.
Mackinnon said consumer research indicates that young people, especially, are inclined to research individual companies to assess the extent to which their support for inclusivity is sincere and baked into their corporate governance, rather than performative and motivated entirely by profit chasing.
As an example, Mackinnon pointed to cases where, following the murder of George Floyd, firms expressed their support for the Black Lives Matter movement, only to face criticism when customers discovered the lack of diversity in their boards of directors.
"Brands should be thinking about not [just] what should my campaign be for this June, but where do we want to be in terms of building trust six months from now, a year from now, five years from now," Mackinnon said.
"Most of that work is quiet and under the surface and behind the scenes, and it is essential for building a platform and a framework and a foundation to have any other effective types of campaigns," he said.
Part of this strategy should also include clear and consistent messaging on online platforms, which Mackinnon said can act as an effective bulwark against the spread of misinformation targeting companies.
"A brand that is investing in transgender, LGBTQ+ consumers," he said, must "be ready to know how to explain [those investments] and how to combat that misinformation" with quick, simple responses provided in real time.
Used properly, Mackinnon said, social media can be an effective tool for firms to build trust – allowing for opportunities to engage in discussions and storytelling in a conversational fashion not afforded by other forms of corporate communication.
The ascendency of transphobia and anti-LGBTQ sentiment comes as Americans' faith in institutions – politics, traditional media, scientific and medical expertise – continues to plummet.
These conditions have primed consumers to "look to brands to speak to these issues," Mackinnon said, "not to, like, heal the world, but to operate as influencers on the issues that are front-of-mind for people."
Companies might, then, see not just a set of challenges but also valuable opportunities for LGBTQ outreach during Pride month. Acting thoughtfully, these firms might maximize their market caps for the month of June without alienating their LGBTQ customers while also, potentially, helping to facilitate a world in which more Americans might be down to have a beer with a trans neighbor or bring their kids to a drag performance.
Kevin McCarthy ousted as House speaker
Matt Gaetz led effort against Calif. Republican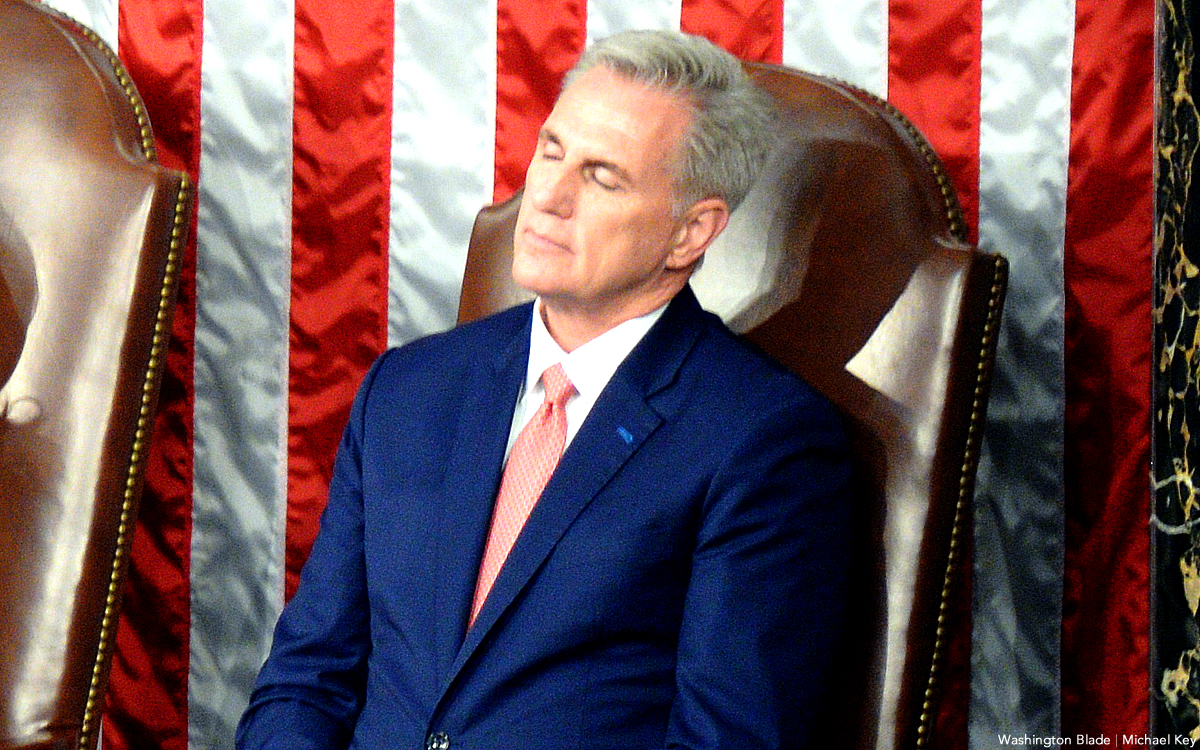 A motion to declare the chair vacant submitted by U.S. Rep. Matt Gaetz (R-Fla.) to oust House Speaker Kevin McCarthy (R-Calif.) succeeded on a 216-210 vote Tuesday after an at times contentious debate between House Republicans on the floor.
The last to vote in the full order of the roll call was McCarthy, who voted against the motion to remove him from his post. U.S. Rep. Steve Womack (R-Ark.), who chaired the proceedings, declared the speaker vacant after the House chamber went silent, after it had asked if anyone wishes to change their vote, then read off the tally submitted by the clerk.
U.S. Rep. Patrick McHenry (R-N.C.), a close McCarthy ally, will serve as speaker pro tem, or as temporary acting speaker.
With a sharp bang of the gavel, he declared the chamber in recess.
This is a historic action by the House as never before has a House speaker successfully been voted out of the chair. The last time the House had a vote to oust the speaker was in 1910.
The vote that year stemmed from angst among progressive Republicans that the speaker at the time, Joseph Cannon, a conservative known as "Uncle Joe," refused to bring progressive legislation to the floor for a vote.
The House Cannon Office Building, which was completed in 1908 and is the oldest congressional office building — a significant example of the Beaux Arts style of architecture is named for Cannon, who had served as House speaker. 
Earlier Tuesday afternoon the chamber voted 208-218 with Democrats supporting a motion to table Gaetz's resolution to oust McCarthy, setting the stage for a vote on whether McCarthy should remain in the top spot. Democratic leadership had told reporters earlier that their conference would be united in an effort to remove the House speaker.
Laphonza Butler sworn in as California's newest senator
Former vice president advisor will succeed Dianne Feinstein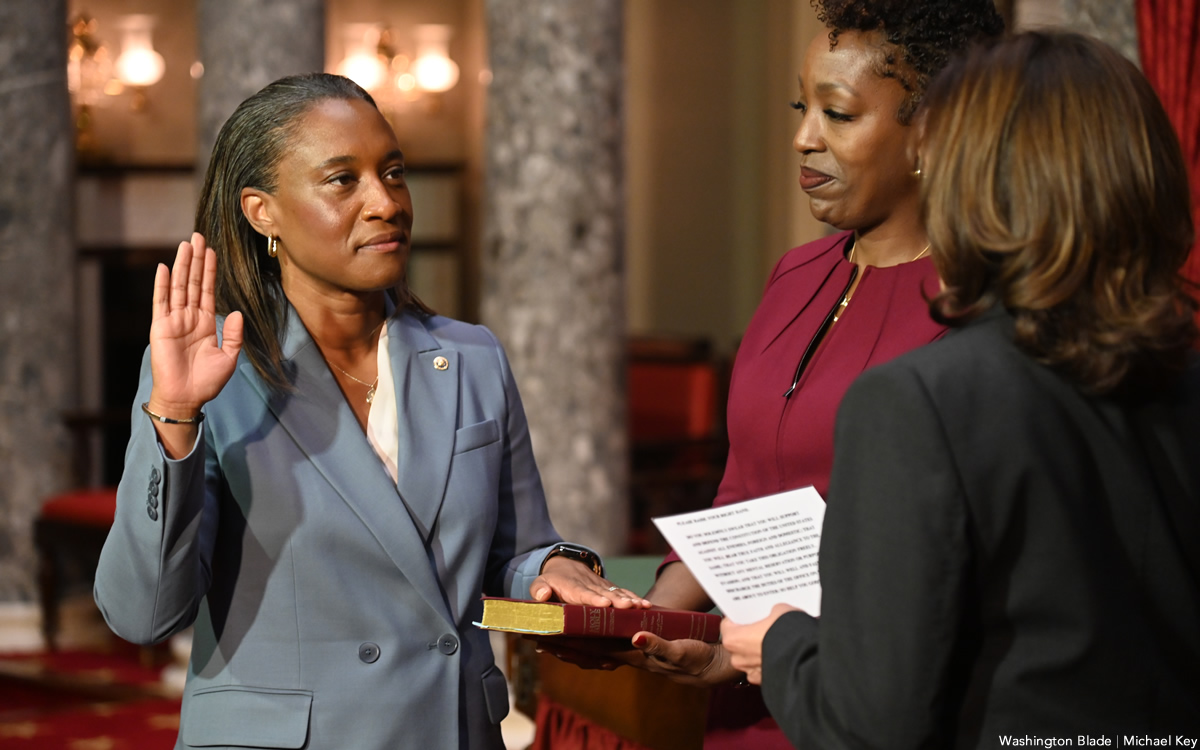 Vice President Kamala Harris on Tuesday swore in Democrat Laphonza Butler as California's newest U.S. senator during a ceremony at the U.S. Capitol.
The first Black lesbian to serve in the Senate, Butler was president of the nation's largest organization dedicated to electing women to public office, EMILY's List, and previously was a senior advisor to the vice president during her 2020 bid for the Oval Office.
Harris, the country's first woman vice president as well as the first Black and South Asian person to serve in that role, also made history with her tenure as attorney general and then senator for California.
Democratic California Gov. Gavin Newsom appointed Butler to fill the vacancy caused by the death, on Friday, of U.S. Sen. Dianne Feinstein, who had represented the state in the upper chamber since 1992.
Per the terms of her appointment, Butler will be eligible to run for the seat during next year's elections, in which case she would face competition from three high profile Democrats now representing California in the House: U.S. Reps. Barbara Lee, Katie Porter and Adam Schiff.
Newsom in 2021 pledged that he would appoint a Black woman to Feinstein's seat. Lee, so far the only Black woman among the declared candidates, congratulated Butler in a statement in which the congresswoman said she is "singularly focused on winning" her Senate campaign.
California "deserves an experienced senator who will deliver on progressive priorities," she said. "That's exactly what I'm running to do."
Consistent with her work in progressive politics, Butler was previously a labor leader with Service Employees International Union, SEIU, the powerful union where her wife, Neneki Lee, serves as director of the Public Services division.
Human Rights Campaign President Kelley Robinson and Claire Lucas and Judy Dlugacz were among those who attended the swearing in alongside Butler's wife.
Senate Majority Leader Chuck Schumer (D-N.Y.) and U.S. Sen. Alex Padilla (D-Calif.) escorted Butler into the chamber. Lee and Schiff were among those who attended the ceremony.
"It's a good day," Lucas told the Washington Blade as she left the chamber.
Michael K. Lavers contributed to this story.
Laphonza Butler appointed as California's first openly LGBTQ U.S. senator
Dianne Feinstein died in D.C. on Sept. 28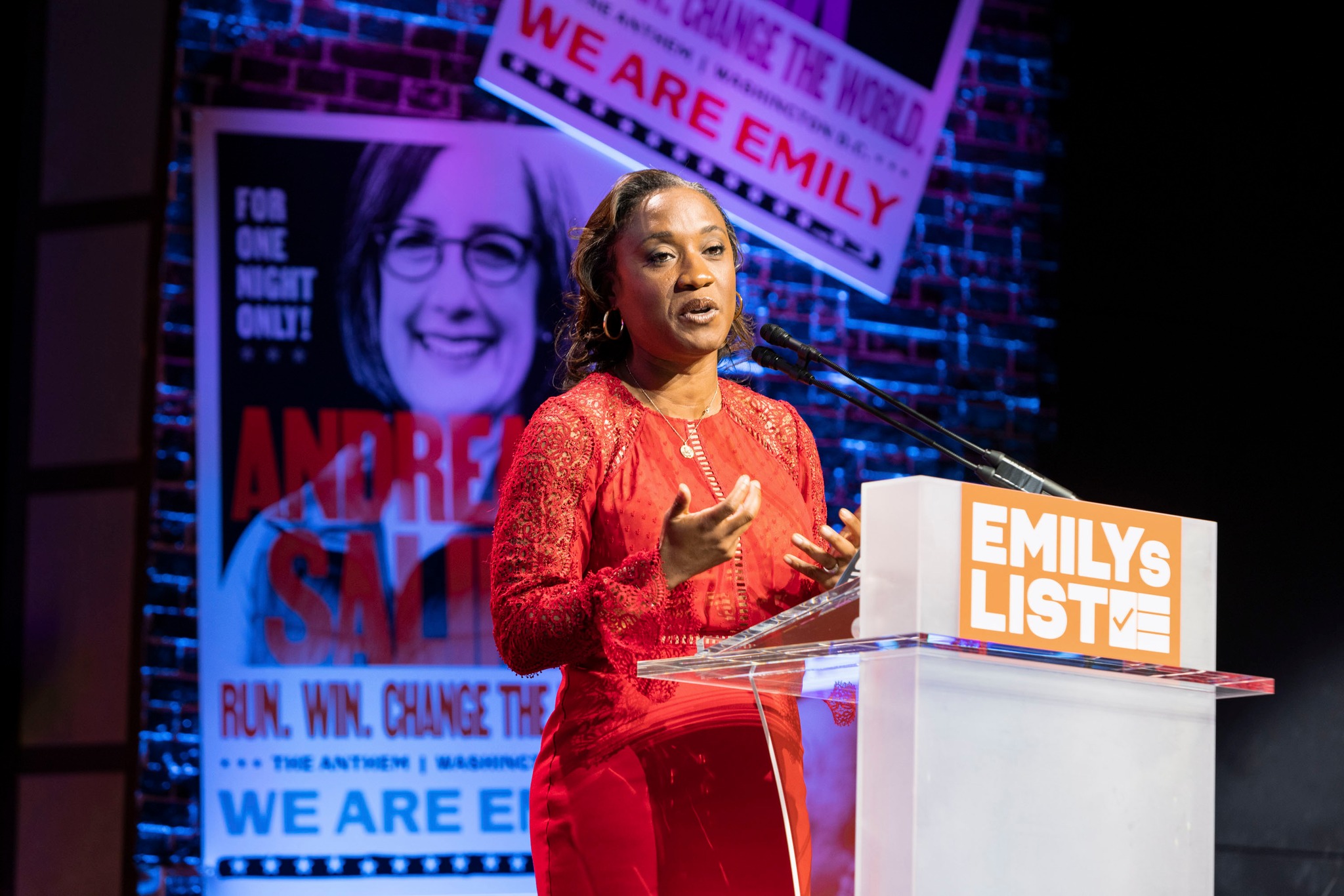 On Sunday evening, California Gov. Gavin Newsom announced he is appointing Black openly lesbian EMILY's List President, Laphonza Butler, to the vacant seat of the late U.S. Sen. Dianne Feinstein who died Friday at age 90.
Butler's wife is Neneki Lee, the D.C.-based director for labor union SEIU's Public Services Division.
News of Butler's selection by Newsom was first reported by Politico's California Bureau Chief Christopher Cadelago. A source knowledgeable on the governor's team told Politico there were no preconditions about whether she could run in 2024.
Newsom's office confirmed that he has picked Butler, a Democratic strategist who rose to prominence in the labor movement, to fill Feinstein's seat.
In an emailed statement, Newsom said:
"An advocate for women and girls, a second-generation fighter for working people, and a trusted adviser to Vice President Harris, Laphonza Butler represents the best of California, and she'll represent us proudly in the U.S. Senate. As we mourn the enormous loss of Senator Feinstein, the very freedoms she fought for — reproductive freedom, equal protection, and safety from gun violence — have never been under greater assault. Laphonza will carry the baton left by Senator Feinstein, continue to break glass ceilings, and fight for all Californians in Washington D.C."
SCOOP: Gavin Newsom will appoint EMILY's List President Laphonza Butler to fill the seat of the late Sen. Dianne Feinstein, elevating the head of a fundraising juggernaut that works to elect Dem women who support abortion rights, per a person familiar.https://t.co/FtOv4fneAk

— Christopher Cadelago (@ccadelago) October 2, 2023
Equality California tweeted a statement praising Newsom's action:
Executive Director @TonyHoang on Governor @GavinNewsom's selection of @LaphonzaB to serve as the next U.S. Senator from California: pic.twitter.com/6RYB1SUyEr

— Equality California (@eqca) October 2, 2023
Democrat Alex Padilla, now serving as California's senior U.S. senator, released the following statement after Newsom appointed Butler to fill the vacancy created by the late Senator Feinstein:
"Throughout her career, Laphonza Butler has been a strong voice for working families, LGBTQ rights, and a champion for increasing women's representation in politics. I'm honored to welcome her to the United States Senate.
"Governor Newsom's swift action ensures that Californians maintain full representation in the Senate as we navigate a narrow Democratic majority. I look forward to working together to deliver for the people of California."
Butler is a longtime leader in Democratic politics in California and beyond. She has been involved in campaign strategy, and the labor movement for two decades, and according to her official biography she has dedicated her life to empowering women and supporting them in finding their voice, and using it to make meaningful change.
Newsom's office noted in its statement:
"Butler, a longtime senior adviser to Vice President Kamala Harris, labor leader and advocate for women and working people, will be the first openly LGBTQ person to represent California in the Senate. She will also be the first Black lesbian to openly serve in Congress in American history and the second Black woman to represent California in the Senate following Vice President Kamala Harris."
Prior to joining EMILYs List, Butler served as Director of Public Policy and Campaigns in North America for Airbnb. She also was a partner at SCRB Strategies, a political consulting firm where she was a strategist for candidates running up and down the ballot and a senior advisor to Vice President Kamala Harris' presidential campaign.
With nearly 20 years in the labor movement, Butler has served as the president of the biggest union in California, and the nation's largest home care workers union, SEIU Local 2015. She was elected to this position at just 30 years old, one of the youngest to take on this role. As president, Butler was the leading voice, strategist, and architect of efforts to address pay inequity for women in California and a top advocate for raising the state's minimum wage to $15 an hour — the first state in the nation to do so, benefiting millions of working women in low wage jobs. That effort also gave hundreds of thousands of home workers access to paid time off. She also served as an SEIU International Vice President and President of the SEIU California State Council.
Throughout her career, Butler has been highly regarded as a strategist working to elect Democratic women candidates in political offices across California and nationally. A long-time supporter of Kamala Harris in her California runs, Butler was a key leader in Vice President Harris' presidential campaign. She served as a senior advisor to Hillary Clinton's presidential campaign in California during the primary and general elections. Most recently, Butler was a campaign operative behind the campaign to make the Los Angeles Board of Supervisors all-women for the first time in its history with the election of Supervisor Holly Mitchell.
She has been a member of the University of California Board of Regents and a member of the board of directors for the Children's Defense Fund and BLACK PAC.
Laphonza grew up in Magnolia, Miss., and attended one of the country's premier HBCUs, Jackson State University. She lives in Maryland with her wife, Neneki, and together they have a daughter, Nylah.
EMILY's List is an American political action committee that aims to help elect Democratic female candidates in favor of abortion rights to office. It was founded by Ellen Malcolm in 1985. The group's name is an acronym for "Early Money Is Like Yeast." Malcolm commented that "it makes the dough rise."
Related:
Newsom appoints Laphonza Butler to the U.S. Senate: