Dina Titus introduces bill to require U.S. to promote LGBTQ, intersex rights abroad
White House reconsidering aid to Uganda over Anti-Homosexuality Act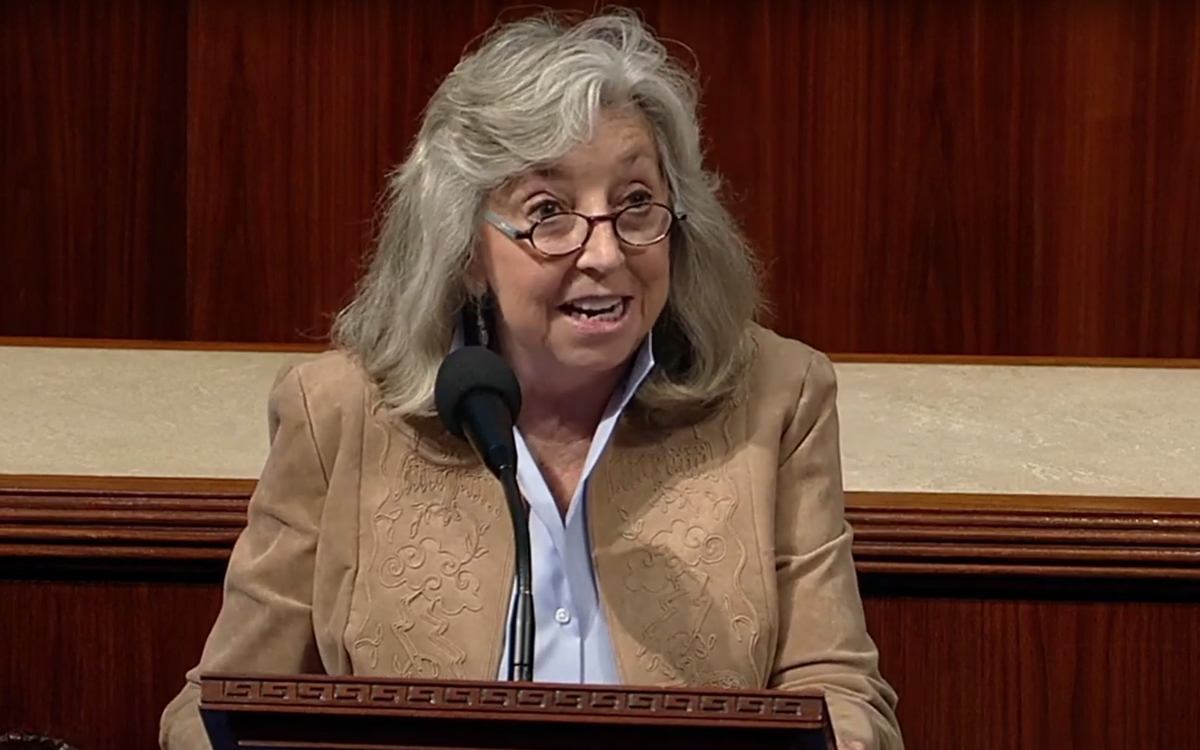 U.S. Rep. Dina Titus (D-Nev.) on Thursday introduced a bill that would require the U.S. to promote LGBTQ and intersex rights abroad through its foreign policy.
The Human Rights Campaign, the Council for Global Equality, the National Center for Transgender Equality, ORAM (Organization for Refuge, Asylum and Migration), Outright International, Rainbow Railroad and the Trevor Project are among the organizations that support the Greater Leadership Overseas for the Benefit of Equality (GLOBE) Act. U.S. Sen. Edward Markey (D-Mass.) will introduce the bill in the U.S. Senate.
Titus on Tuesday told the Washington Blade during an exclusive interview the bill, among other things, would endorse the selective use of existing sanctions to punish those responsible for murders and other human rights abuses against LGBTQ and intersex people. She also said the measure would require the State Department to allow LGBTQ and intersex people to choose their gender marker on passports and other travel documents.
"It's a way of putting into action our attempts to be a leader in the area of LGBTQ+ rights and to be a leader, not just at home, but around the world," said Titus.
President Joe Biden in 2021 signed a memorandum that committed the U.S. to promoting LGBTQ and intersex rights abroad as part of the Biden-Harris administration's overall foreign policy.
Jessica Stern has been the special U.S. envoy for the promotion of LGBTQ and intersex rights since 2021. She told the Blade in a previous interview the White House's continued support of LGBTQ and intersex rights includes marriage equality in countries where activists say such a thing is possible through legislation or the judicial process.
The State Department last year began to offer passports with an "X" gender marker. The U.S. Agency for International Development and the President's Emergency Plan for AIDS Relief has delivered millions of doses of antiretroviral drugs for Ukrainians with HIV/AIDS.
U.S. Ambassador to the U.N. Linda Thomas-Greenfield in March chaired a U.N. meeting that focused on the integration of LGBTQ and intersex rights into the U.N. Security Council's work.
Biden, along with U.S. Sen. Ted Cruz (R-Texas) others, have condemned the signing of Uganda's Anti-Homosexuality Act that contains a death penalty provision for "aggravated homosexuality." The National Security Council has said it will "evaluate" the law's implications in terms of U.S. aid to the country.
Titus is among the lawmakers who have previously introduced bills that are similar to the GLOBE Act.
She noted the Anti-Homosexuality Act when she spoke with the Blade. Titus also discussed Republican-led efforts to curtail LGBTQ rights in Florida and other states.
"It's harder, certainly, to get Republicans on board, but I'm optimistic," she said when asked if she expects any Republicans will co-sponsor his bill. "The more they hear from their constituents and the more they see the backlash to what some state legislatures are doing and the more they hear from members of their own families, I think that we may get some to join us in this."
McCarthy dealt another blow by far-right members seeking to replace him
Rep. Emmer denies he's interested in becoming next Speaker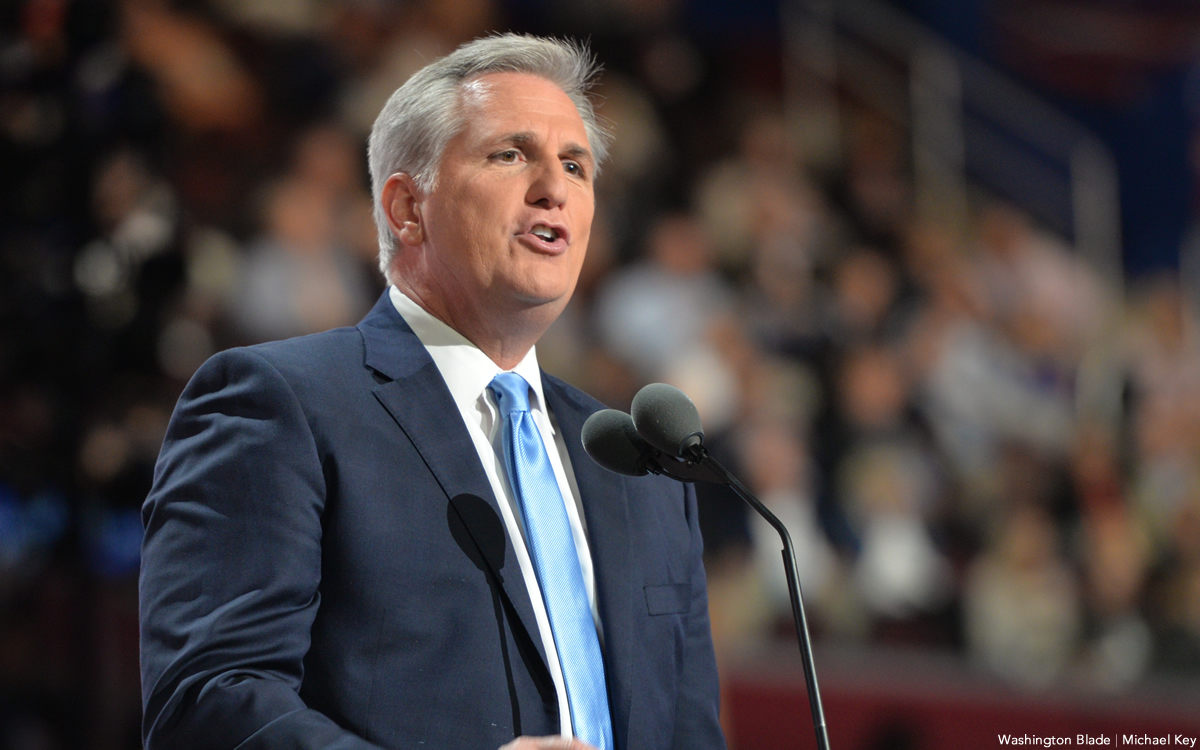 After joining with the Democrats on Friday to sabotage House Speaker Kevin McCarthy's (Calif.) plan to forestall a government shutdown with a last-ditch spending package, a group of far-right members are now focused on replacing him.
The stop-gap funding bill was defeated 232-198 with more than 20 Republicans voting against the measure.
House GOP sources tell the Washington Blade that removing McCarthy from the speaker's chair is now a top priority, along with resisting pressure from Senate Republicans seeking to broker a deal to avoid allowing funding to lapse.
These sources confirmed reporting in the Washington Post about discussions of tapping U.S. Rep. Tom Emmer (Minn.) to become the chamber's top Republican, though the congressman told CBS Minnesota/WCCO News, "I fully support Speaker McCarthy. He knows that and I know that. I have zero interest in palace intrigue. End of discussion."
While Emmer was among the 39 House Republicans who voted with the Democrats in support of the Respect for Marriage Act, which protects the rights of couples in same-sex marriages, in April he was among the more vocal members pushing for a federal ban to prohibit transgender women and girls from competing on sports teams consistent with their gender identity.
In January, McCarthy narrowly secured his bid for the speakership after an unprecedented 15 votes from his caucus. Many of the same members now calling for his replacement demanded concessions, including conditioning their votes on McCarthy's agreement to allow any member to call for a motion to vacate the chair at any time.
During the votes, which were held over a period of five days, other members like U.S. Rep. Byron Donalds (R-Fla.) were nominated for the position.
House passes Boebert's amendment targeting LGBTQ workers at USDA
Democrats call measure 'blatantly homophobic'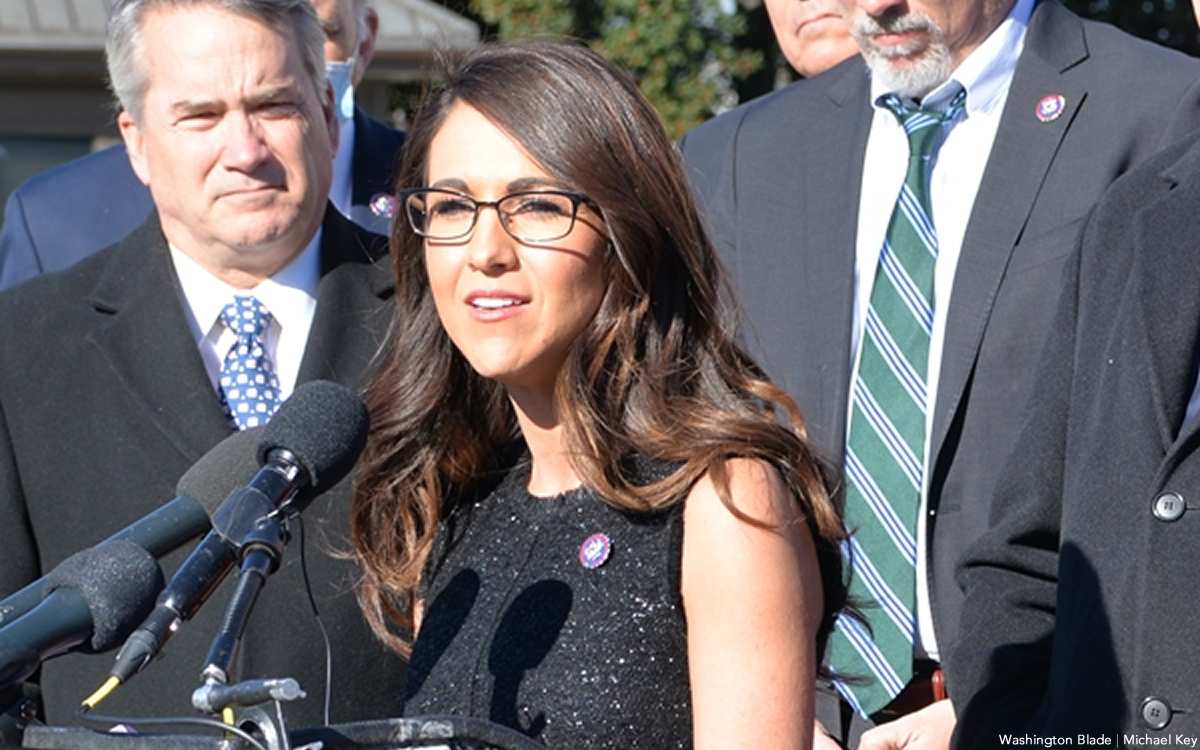 House Republicans on Wednesday pushed through a proposal by U.S. Rep. Lauren Boebert (R-Colo.) that would prohibit the U.S. Department of Agriculture from using federally appropriated funds for materials supporting the agency's LGBTQ employees.
Passing by just three votes in the face of unified opposition from Democrats, along with one GOP member, U.S. Rep. Brian Fitzpatrick (Pa.), the measure will never be signed into law amid Democratic control of the Senate and White House.
For weeks, Boebert and her ideological allies in the lower chamber have dashed hopes of forestalling a government shutdown by insisting on ladening must-pass spending bills with far-right demands, often targeting the LGBTQ community and initiatives promoting diversity, equity, and inclusion.
Even so, the aim and scope of the Colorado congresswoman's amendment to the agriculture appropriations bill was striking.
Among the 17 types of "courses, books, or study guides" circumscribed in the measure are those concerning "approaching LGBT issues in the workplace," "understanding and supporting LGBTQ+ employees," "becoming an ally to all," "conversations with LGBTQ+ leaders on the power of identity," and "creating an inclusive work community" for transgender employees.
Democratic Congressional Campaign Committee Spokesperson Viet Shelton condemned House Republicans' passage of the amendment in a statement shared with the Washington Blade:
"In a clear indication that so-called moderate Republicans are now completely controlled by their extreme fringes, they are now passing such blatantly homophobic legislation that mandates federal employees be discriminated against in the workplace," he said. "Their focus on these hateful policies while ignoring middle class families struggling with rising costs is why they will lose their majority in Congress next year."
The USDA did not immediately respond to a request for comment.
Boebert denigrates, misgenders trans Pentagon official
Comments targeted Assistant Secretary of Defense Shawn Skelly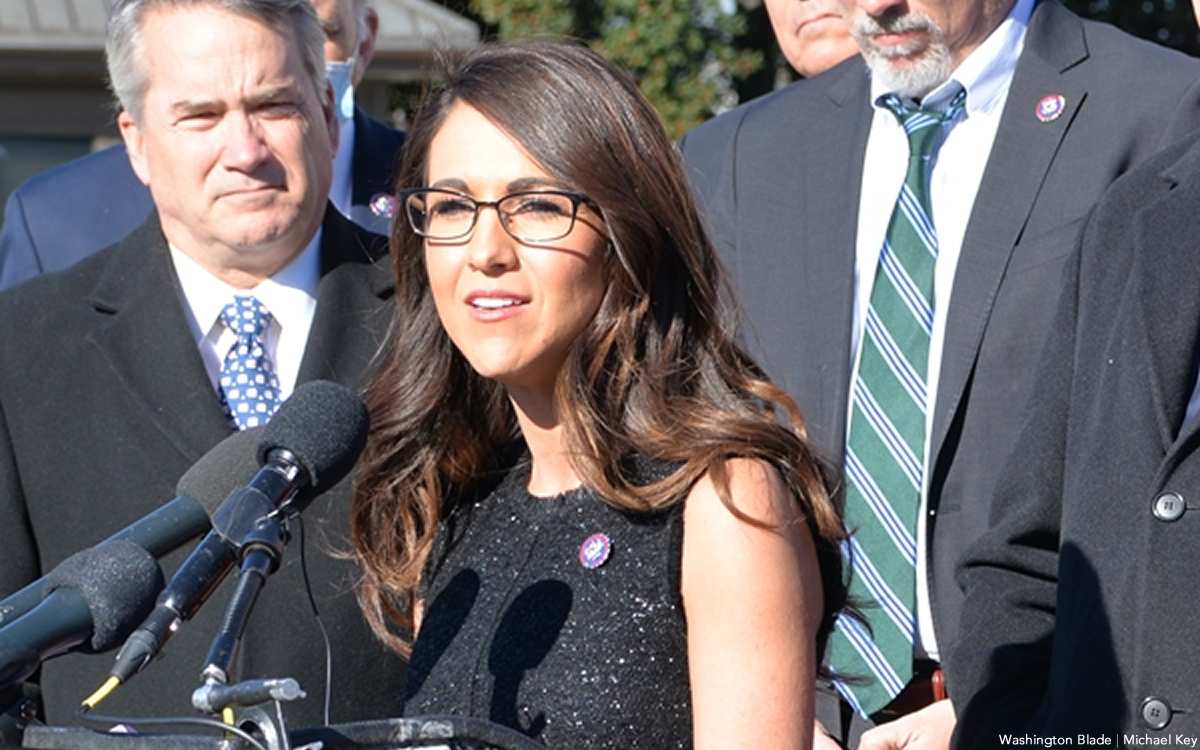 U.S. Rep. Lauren Boebert (R-Colo.) denigrated and deliberately misgendered Assistant Secretary of Defense for Readiness Shawn Skelly, the Pentagon's highest ranked transgender official, during a debate Wednesday over amendments to a defense appropriations bill.
In remarks that stirred outrage from her Democratic colleagues, the congresswoman called Skelly a "delusional man thinking he is a woman" and the embodiment of "woke-ism" before proposing an amendment that would reduce her salary to a dollar.
Skelly served on active duty in the U.S. Navy for 20 years as a naval flight officer before retiring with the rank of commander. Her record of service includes senior positions with the Defense and Transportation Departments during the Obama administration.
"Assistant Secretary Skelly has served in her role admirably, as she has done as her time as a naval officer," responded U.S. Rep. Betty McCollum (D-Minn.), stressing each of the feminine pronouns as she spoke.
The second-term Colorado representative countered with more transphobic comments: "if you want to call Mr. Skelly a her, his chromosomes are still XY, and we trust the science over here rather than delusion and playing dress up and imaginary games with our military readiness."
Boebert is among the more vocal members of an ultraconservative cohort of House Republicans who, in recent weeks, have sabotaged efforts to clear must-pass appropriations spending packages before Oct. 1 to forestall a government shutdown.
Members of the far-right faction have attached to these bills controversial, partisan, and often anti-LGBTQ amendments — effectively dooming their chances of passage by the U.S. Senate amid Democratic control of the chamber.
With respect to the Defense Department spending bill, for example, GOP members have advanced proposals that would defund healthcare services for transgender service members and ban Pride flags from military bases.
On X, U.S. Rep. Mark Pocan (D-Wis.), chair of the Congressional Equality Caucus, wrote that "Republicans claim to support the military but Rep. Boebert, just spent five minutes misgendering and attacking our Assistant Secretary of Defense for Readiness — just because she's trans. Ms. Skelly serves our country with honor. I can't say the same for Boebert."
The caucus added, "It's disgusting that a Member of Congress would use their platform on the House Floor to misgender and attack a top-ranking @DeptofDefense official and veteran just because she's a trans woman."
It's disgusting that a Member of Congress would use their platform on the House Floor to misgender & attack a top-ranking @DeptofDefense official and veteran just because she's a trans woman.

We stand with Ms. Skelly & thank her for her service and commitment to this country. https://t.co/J6wId22rGC

— Congressional Equality Caucus (@EqualityCaucus) September 27, 2023