Balint discusses LGBTQ and women's history education bill
Congresswoman condemned GOP's 'push to erase us'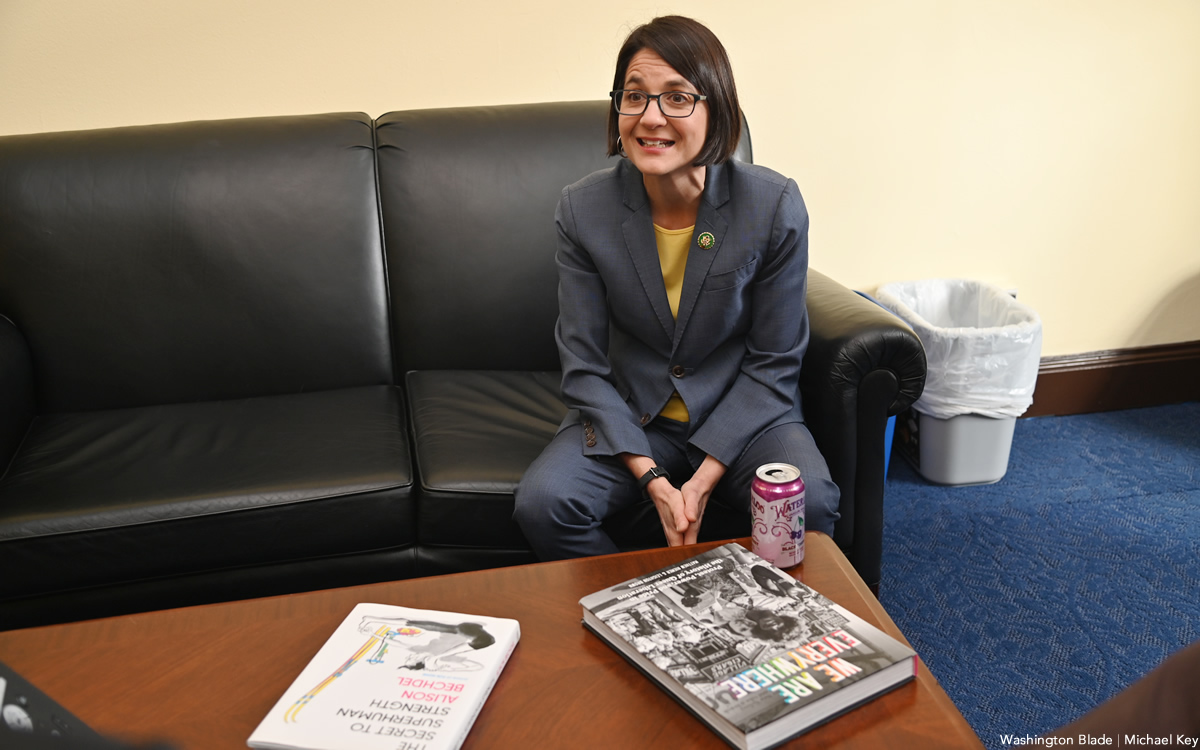 U.S. Rep. Becca Balint (D-Vt.) talked with the Washington Blade on Saturday about the LGBTQ and women's history education bill that she and U.S. Rep. Ritchie Torres (D-N.Y.) reintroduced last week.
The legislation, just like actions recently announced by the White House, responds to book bans and curriculum restrictions that have increasingly cropped up in conservative states and school districts, which disproportionately target educational materials inclusive of LGBTQ subjects and histories.
Balint and Torres's LGBTQI+ and Women's History Education Act of 2023 would authorize the director of the Smithsonian Institution's National Museum of American History to develop and distribute resources for educators to "teach LGBTQI+ and women's history education in a more inclusive and intersectional manner."
On June 8, meanwhile, the White House debuted plans to address attacks on the safety and rights of LGBTQ Americans. Among these were instructions to the U.S. Department of Education to appoint a coordinator who will "address the growing threat that book bans pose for the civil rights of students," such as by providing "new trainings for schools nationwide on how book bans that target specific communities and create a hostile school environment may violate federal civil rights laws."
Balint told the Blade the education bill and these moves by the White House "complement each other," but her efforts with Torres were "not coordinated as much" with the Biden-Harris administration as they were a product of the lawmakers' shared understanding of "this moment that we're in — as we're both queer Americans trying to live our lives and not have our histories erased."
"And I also come to this," Balint said, "as a longtime social studies teacher in junior high" who also taught history as the community college level. "This push from the GOP to erase us from not just society but from history," she said, is "so dangerous."
"It's important for us to make sure that our histories and our stories are preserved, not just for posterity sake, but also because students across this country need to be able to see themselves in their history that we're taught," Balint said.
Battles over the inclusion of Black, LGBTQ and women's history have roiled school districts across the country, leading to legislative restrictions that were passed in conservative states and even flaring up in areas traditionally known as liberal strongholds, like Southern California.
Last week saw protests over the inclusion of curricula that included the late gay rights activist and politician Harvey Milk in Temecula in Riverside County.
"We can't write off any area of the country," Balint said. "There are movements from from the right coming in more traditionally blue states, as well, and they're trying to make parents and community members feel afraid of their neighbors."
As the right has sought to deliberately scapegoat queer and transgender kids, fear mongering to rile up the conservative base, the congresswoman said "it's really important that those of us in a position to shore up those those teachers in those schools who are trying to do the right thing, [because] they need help, they're under siege right now."
Balint said that her wife is from Wyoming, a solidly conservative state where she also has experience teaching.
"I understand the struggles that teachers have in those schools, when they want to bring in a more inclusive history, a more true history, of the complexity of life in this country," she said.
"So, I think it's a really important message for us to send, both from the White House and from Congress, and in this case, also, from the Smithsonian Institution, to say this is real history. It's important that you expose your students to it. And I think that gives those teachers more courage to be able to teach a curriculum that is more inclusive and true."
The LGBTQI+ and Women's History Education Act of 2023, Balint said, can also help educators in a more direct sense. "Whether you're trying to teach the history of people of color in this country, or of women, or of queer and trans people," she said, it is a "huge undertaking to try to do that research on your own."
Unfortunately, however, the congressman acknowledged the political roadblocks to its passage with Republicans controlling the U.S. House of Representatives.
Just before flying home to her district, Balint said she had to sit through a speech on the House floor in which a GOP member railed against "how disgusting it was that there any kind of federal building or State Department building would fly, you know, a Pride flag," telling his colleagues "that's not the kind of thing that we in this country want to be known for."
The congresswoman characterized the language this member used as hurtful and cruel, intended to demonize LGBTQ people.
"There are good people in the Republican conference," Balint said. "But when it comes to these issues, we have not seen any of them. In this congressional session, they are all falling in line. I welcome any partners across the aisle. To stand up to this kind of scapegoating."
For this reason, when it comes to her and Torres' legislation, she said, "I am not hopeful in this Congress. But we have to lay the groundwork for what will come when we hopefully are able to recapture the majority and really make movement on these things."
Balint told the Blade some of her Republican colleagues have assured her and other Democrats "well, you know I don't believe this stuff that the extremists are pushing."
GOP members will admit that they have to take extreme anti-LGBTQ positions that they do not actually believe in for fear of losing a primary race to someone further to the right, she said.
"And one of the things that I've been talking about with my friends within my caucus is if, in the end, you're gonna vote just like your extremist colleagues, then frankly, you're not better! If you're not gonna use your position to stand up when you know [your colleagues in the GOP caucus] are shamelessly and cruelly scapegoating a group of people, then what will it take?"
Balint said she nevertheless remains optimistic that the tides will eventually turn, but in the meantime "we have to hold them accountable. And we have to stand with them when they are courageous, which is why I always try to point out that you've got a few bright spots — one being the [Republican] governor of Utah, Gov. [Spencer] Cox, who made a very powerful statement about these anti-trans bills."
When legislation that would have prohibited trans students from playing on girls' sports teams reached his desk in March, Cox vetoed it. "When in doubt," he wrote, "I always try to err on the side of kindness, mercy and compassion."
"I can't overstate what it has meant for young queer and trans kids in Vermont and across the country, to be able to come and talk with me," Balint said, or any of her colleagues who are openly gay. "We also are working so hard right now to make sure that we will be able to elect our first trans American to Congress," she said, "we are so committed to that — we have to have true representation."
Avoiding a shutdown looks likely as House clears bipartisan spending bill
45-day continuing resolution passed 335-91.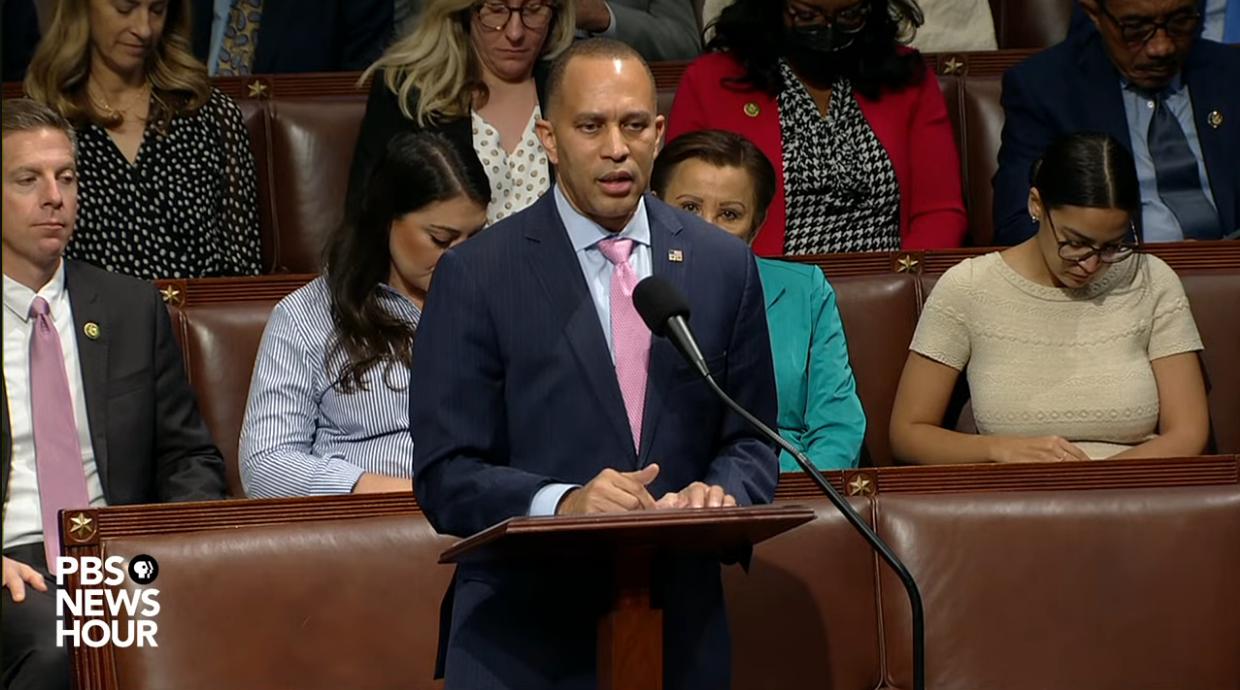 The U.S. House on Saturday approved a 45-day continuing resolution that, should the Senate approve the stopgap measure, as expected, will avert a government shutdown.
In a stunning turn of events, a coalition of Republicans and Democrats backed the proposal, H.R. 5860 advanced by House Speaker Kevin McCarthy (R-Calif.), which was passed with a vote of 335-91.
Ninety Republicans and one Democrat voted against the continuing resolution which, in addition to funding U.S. government agencies through mid-November, will provide billions in disaster relief .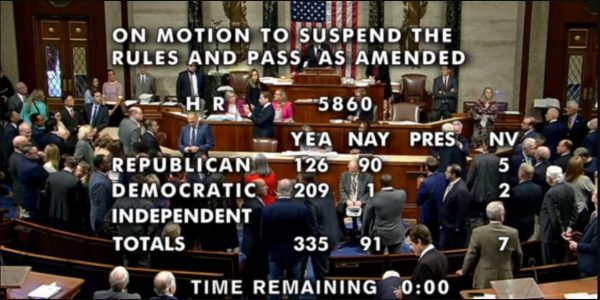 Democrats agreed to the bill even though it did not contain U.S. aid to Ukraine. Still, the most conservative members of McCarthy's caucus have warned they would replace their speaker if he cooperated with Democrats on a deal to avoid a shutdown.
In recent weeks, these members advanced far-right anti-LGBTQ amendments to spending packages that stood no chance of becoming law.
McCarthy dealt another blow by far-right members seeking to replace him
Rep. Emmer denies he's interested in becoming next Speaker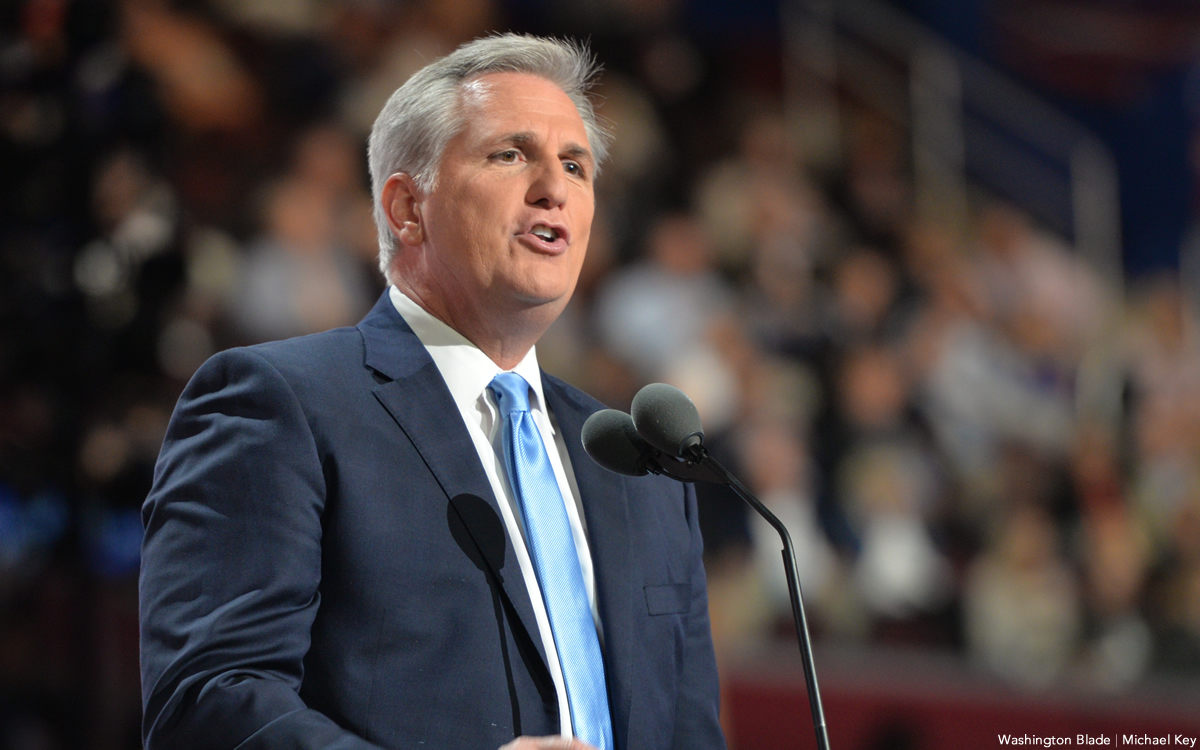 After joining with the Democrats on Friday to sabotage House Speaker Kevin McCarthy's (Calif.) plan to forestall a government shutdown with a last-ditch spending package, a group of far-right members are now focused on replacing him.
The stop-gap funding bill was defeated 232-198 with more than 20 Republicans voting against the measure.
House GOP sources tell the Washington Blade that removing McCarthy from the speaker's chair is now a top priority, along with resisting pressure from Senate Republicans seeking to broker a deal to avoid allowing funding to lapse.
These sources confirmed reporting in the Washington Post about discussions of tapping U.S. Rep. Tom Emmer (Minn.) to become the chamber's top Republican, though the congressman told CBS Minnesota/WCCO News, "I fully support Speaker McCarthy. He knows that and I know that. I have zero interest in palace intrigue. End of discussion."
While Emmer was among the 39 House Republicans who voted with the Democrats in support of the Respect for Marriage Act, which protects the rights of couples in same-sex marriages, in April he was among the more vocal members pushing for a federal ban to prohibit transgender women and girls from competing on sports teams consistent with their gender identity.
In January, McCarthy narrowly secured his bid for the speakership after an unprecedented 15 votes from his caucus. Many of the same members now calling for his replacement demanded concessions, including conditioning their votes on McCarthy's agreement to allow any member to call for a motion to vacate the chair at any time.
During the votes, which were held over a period of five days, other members like U.S. Rep. Byron Donalds (R-Fla.) were nominated for the position.
House passes Boebert's amendment targeting LGBTQ workers at USDA
Democrats call measure 'blatantly homophobic'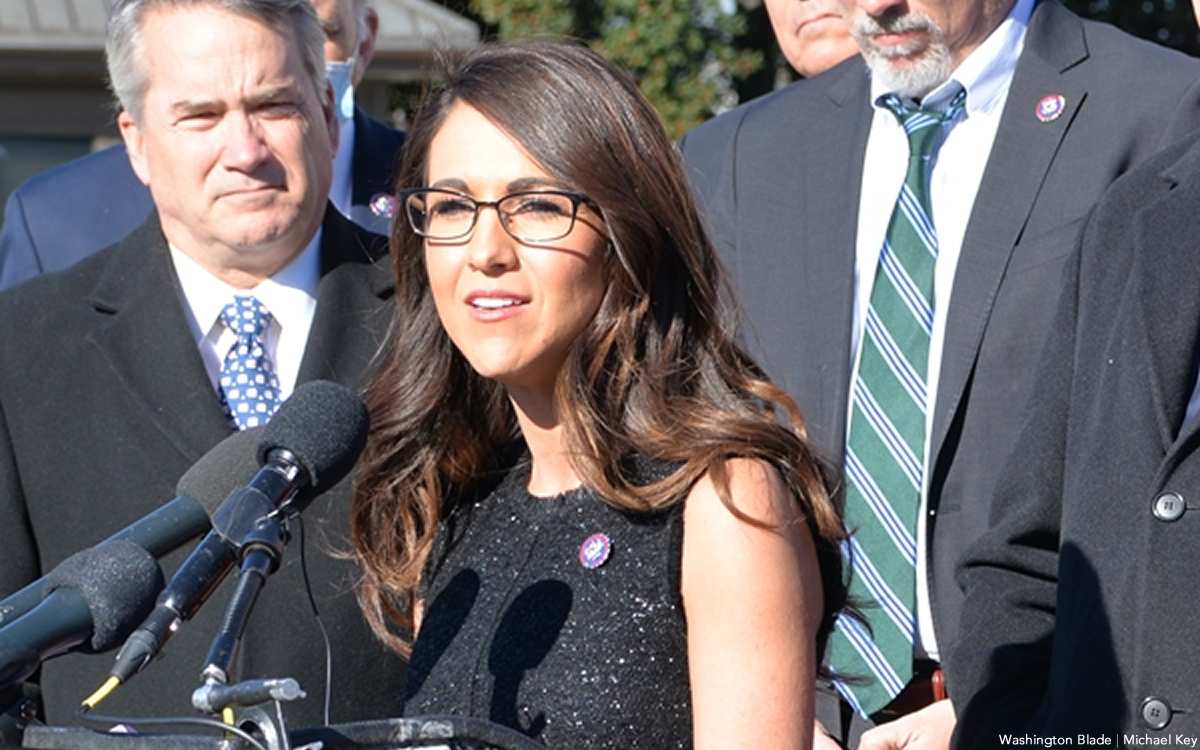 House Republicans on Wednesday pushed through a proposal by U.S. Rep. Lauren Boebert (R-Colo.) that would prohibit the U.S. Department of Agriculture from using federally appropriated funds for materials supporting the agency's LGBTQ employees.
Passing by just three votes in the face of unified opposition from Democrats, along with one GOP member, U.S. Rep. Brian Fitzpatrick (Pa.), the measure will never be signed into law amid Democratic control of the Senate and White House.
For weeks, Boebert and her ideological allies in the lower chamber have dashed hopes of forestalling a government shutdown by insisting on ladening must-pass spending bills with far-right demands, often targeting the LGBTQ community and initiatives promoting diversity, equity, and inclusion.
Even so, the aim and scope of the Colorado congresswoman's amendment to the agriculture appropriations bill was striking.
Among the 17 types of "courses, books, or study guides" circumscribed in the measure are those concerning "approaching LGBT issues in the workplace," "understanding and supporting LGBTQ+ employees," "becoming an ally to all," "conversations with LGBTQ+ leaders on the power of identity," and "creating an inclusive work community" for transgender employees.
Democratic Congressional Campaign Committee Spokesperson Viet Shelton condemned House Republicans' passage of the amendment in a statement shared with the Washington Blade:
"In a clear indication that so-called moderate Republicans are now completely controlled by their extreme fringes, they are now passing such blatantly homophobic legislation that mandates federal employees be discriminated against in the workplace," he said. "Their focus on these hateful policies while ignoring middle class families struggling with rising costs is why they will lose their majority in Congress next year."
The USDA did not immediately respond to a request for comment.