As Calvert joins House GOP attacks on LGBT centers, Will Rollins is ready to take his seat
He tells the Blade CA-41 deserves better representation in Congress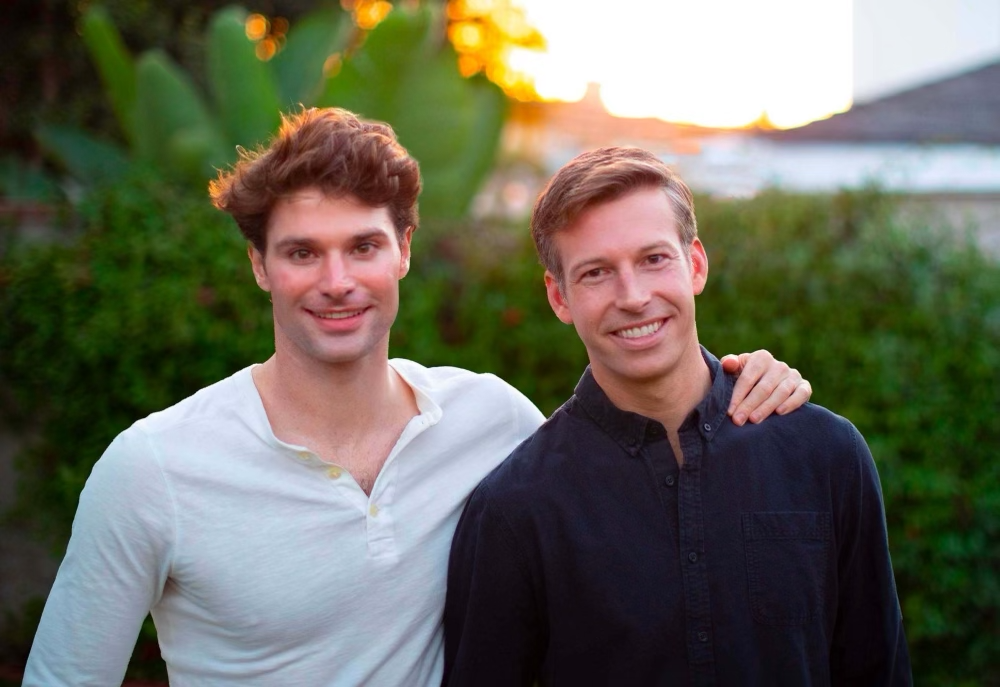 Will Rollins, the gay Democrat vying for a second chance to unseat Republican U.S. Rep. Ken Calvert (Calif.), spoke with the Washington Blade by phone on Thursday following the uproar over his opponent's support for an anti-LGBTQ amendment to a spending bill that was advanced by conservative members of the House Appropriations Committee.
The Transportation, Housing and Urban Development (THUD) Subcommittee's package contained a total of 2,680 Community Project Funding earmarks, all previously cleared by members from both parties, but just before its passage on Tuesday Calvert joined his Republican colleagues who removed funding for two LGBTQ centers in Pennsylvania and one in Massachusetts.
The decision to go after three CPF initiatives that provide housing and other support for LGBTQ people in need, none located in his district or state, was "pretty consistent" with Calvert's "pattern of bigoted behavior towards the LGBTQ community," Rollins said.
A former federal prosecutor who worked in counterterrorism and counterintelligence and was involved in the Justice Department's pursuit of charges against participants in the deadly January 6 2021 insurrection on the U.S. Capitol, Rollins is set to square off against two other candidates in his party's primary ahead of the November 2024 elections. According to Cook Political Report, new data shows Calvert's seat has moved from red-leaning to a tossup.
Calvert has served in the House since 1993, representing California's 41st Congressional District for less than a year since it was redrawn in 2022 to include more Democratic and LGBTQ constituents, many residing in the Palm Springs area. Rollins challenged him in last year's midterm elections, decisively beating primary opponents but ultimately falling short in his gambit for Calvert's seat by about 11,000 votes.
Reflecting on the 2022 race, Rollins noted that while "the turnout was relatively low, I was the only Democratic challenger in California to win independent voters and had the best performance of any Democratic challenger" in California as measured against the share of votes in the state for President Joe Biden in 2020.
As a first-time candidate with only five months between his Democratic primary and the general elections, Rollins added, he had nearly unseated a member of the House who enjoyed the advantages of the name recognition that comes with being California's longest serving Republican member in that chamber.
In 2024, "we have enough support to flip the seat," Rollins said — noting that the campaign now has 17 months to build awareness about his candidacy before voters cast their ballots, including by tapping into media markets that were prohibitively expensive in 2022.
Rollins told the Blade Calvert has a "fundamental misunderstanding of LGBTQ Americans" and is uninterested in learning about their lived experiences as sexual and gender minorities, as evidenced by his allyship with the GOP members whose move during Tuesday's THUD markup provoked accusations by Democrats of rank anti-LGBTQ bigotry, igniting exchanges between lawmakers that became so heated the Committee was forced to recess three times.
At one point, out Democratic U.S. Rep. Mark Pocan (Wis.), who chairs the Congressional Equality Caucus and serves on the Appropriations Committee, advised Calvert that he would be wise to vote against his party's anti-LGBTQ amendment lest he be looking for a path to retirement courtesy of the more diverse constituents he now represents.
Last month, Calvert, who chairs the Defense Appropriations Subcommittee, was criticized after passing an amendment to a military spending bill that, among other provisions, proscribes "any discriminatory action against a person, wholly or partially, on the basis that such person speaks, or acts, in accordance with a sincerely held religious belief, or moral conviction, that marriage is, or should be recognized as, a union of one man and one woman."
In practice, Democrats on the Committee argued, this could provide a pathway for someone who is responsible for the disbursement of survivor benefits to deny them to gay and lesbian beneficiaries.
Showing voters the contrast between Calvert's extreme positions on matters like LGBTQ rights proved successful in courting more support for his campaign last year, Rollins said, but these issues are galvanizing not just for LGBTQ communities and their straight allies in bluer areas like Palm Springs.
"Study after study has shown that where you discriminate against the LGBTQ community, whether it's anti-gay laws in Georgia or anti-LGBT rules overseas, economic output decreases," stunting small business growth and depressing wages, he said.
So, Rollins said, while it is difficult to conceive of an alternative explanation, let alone a benign one, for the actions this week by Calvert and his fellow ultraconservative Subcommittee members, "we also have to be making the argument that the attacks on us really are an attack collectively on our economic growth and on opportunity and equality."
"When you've got a Party that is prioritizing making sure that gay seniors can't get food when they need it, versus a Party that wants to make our streets safer, or a candidate who wants to raise wages in Riverside County," Rollins said, regardless of their political affiliation "voters understand that those priorities are misdirected from the far right."
Additionally, he said, "part of the job, too, has to be changing the terms of the debate because a lot of the premises that these Republicans are operating from are complete lies." And while elected Republicans "definitely have some serious problems with the truth," Rollins said "the good news for me in a purple district is that regular Republican voters," many of whom are actually moderate, will stand up against extremism.
The Democratic Congressional Campaign Committee, which works to elect Democrats to the House, echoed some of these arguments in a statement to the Blade: "Ken Calvert is determined to turn back the clock on LGTBQ+ rights."
"Calvert's bigoted pattern of anti-LGBTQ+ extremism is disqualifying, disgusting, and wildly out of step with the values and beliefs of everyday southern Californians," the group said.
Critics question motivations for Calvert's support of the Respect for Marriage Act
Rollins said that contrary to Calvert's claims last year that his thinking on LGBTQ rights had evolved, the congressman is "willing to take calculated votes to keep himself in power, which he did before the [2022] midterms" by voting for the Respect for Marriage Act — a move Rollins characterized as "a pretty transparent attempt to wash away an anti LGBTQ career that's lasted three decades."
Speaking to the Blade by phone on Thursday, gay U.S. Rep. Mark Takano (D-Calif.), who serves as ranking member of the U.S. House Veterans' Affairs Committee and a co-chair of the Equality Caucus, said Calvert's tendency to vacillate between whichever positions are most politically expedient has been on display throughout his 30-year tenure in the House.
The two ran against each other in 1992 and 1994, with Calvert winning both races, and they have served together in California's Congressional Delegation since Takano first took office in 2013.
Takano said that when Calvert faced off against six opponents in 1992 and ultimately beat him in the general election by fewer than 600 votes, the Republican candidate had "assured key women in the community that he would moderate on social issues like abortion."
By contrast, Takano said, today "the reality is he cannot survive a Republican primary" without embracing far-right positions, particularly on social issues. Because the GOP has become more extreme since 1992, Takano said, "for [Calvert] to stay in politics, he has to be representative of that extremism."
The California Democrat contrasted the act of political bravery, and by an elected Republican with unambiguously conservative bona fides, with Calvert — a politician who made a "Faustian bargain" selling his soul to stay in Congress.
"Mark Sanford and I disagreed on a lot of stuff," Takano said, referring to the Republican former politician who served as Governor of South Carolina and represented the state's 1st Congressional District in the U.S. House from 2013 to 2019.
Takano recalled how Sanford came to the defense of "Hamilton" creator Lin Manuel Miranda when then-President Donald Trump attacked the Broadway star — "punching down at a citizen" — because Miranda had "made this appeal to Mike Pence to remember that he was Vice President for all of America."
"From that moment on, Mark Sanford was on the pathway to lose his primary," Takano said.
Calvert and conservative LGBT group defend his vote for the appropriations amendment
On Friday, Calvert shared a statement with the Blade about Tuesday's appropriations markup: "I voted along with every Republican colleague on the Appropriations Committee to remove funding for three facilities in the FY2024 THUD appropriations bill due to objections over political activism by some facilities that include pro-communism propaganda, gender affirming care with no age specification, and sexually explicit material for children," the congressman said.
"I believe most of my constituents, regardless of sexual orientation, do not believe that U.S. taxpayer dollars should be used on activities that undermine the foundations of our country. I do not condone discrimination of any kind and I will always vote my conscience," he said.
Calvert did not answer questions about why he deserves the support of LGBTQ voters and their allies in his district or whether he encountered blowback from any LGBTQ conservative constituents over his vote on Tuesday.
Responding to the statement, Rollins said "Actions speak louder than Ken's empty words. He's voted to ban LGBTQ+ Americans from serving openly in the military, to prohibit us from adopting children, and to allow employers to fire people simply for being LGBTQ+.
Rollins noted that Calvert also voted against the 2009 Matthew Shepard and James Byrd Jr. Hate Crimes Prevention Act, adding that "The silver lining of these votes – and his latest vote this week – is that they will seal his loss in 2024 because LGBTQ+ Americans are just as foundational to our country as the belief that all of us must be free to control our own lives and destinies."
Speaking with the Blade on Thursday, Log Cabin Republicans President Charles Moran disputed the allegations against Calvert along with the characterizations of his behavior and motivations that were provided by Rollins and Congressional Democrats.
Last year, Moran said, Calvert focused on strengthening relationships with his LGBTQ constituents, including through meetings with individuals and groups like Log Cabin, in a deliberate and sincere effort to better understand the community and its needs.
"I had drinks with him immediately following the vote" on the Respect for Marriage Act, Moran said. "And he presented to me a card [on which] he [had written] down the final vote total, and he handed it to me when we sat down because he was proud" to join his 46 House GOP colleagues who also backed the bill.
Moran noted that in 2020, Philadelphia's William Way LGBT Center, one of the three CPFs whose funding was removed from Tuesday's appropriations package, had welcomed participation from the city's Log Cabin Republicans chapter in a forum about public health responses to the COVID-19 pandemic before reversing course and disinviting the group in response to pushback.
While he had not yet discussed the THUD amendment with the GOP members behind it or with their Congressional offices, Moran said that they likely had legitimate reasons for removing the earmarks — objections over issues like the practice by at least one of these organizations of discriminating against conservatives.
A choice between the status quo and the promise and potential of new leadership
At the same time, Calvert has arguably sought to police political speech by, for example, restricting the ability of institutions like the U.S. Armed Forces to administer programs centered around diversity, equity, and inclusion — provisions that were a major component of the amendment he passed along with the House's Defense spending bill in June.
Takano, who has served as the Veterans' Affairs Committee's top Democrat since 2019, noted that the need for "affirmatively cultured" diversity in the military has been shown through, for instance, the "conflicts that arose during the Vietnam War era between an un-diverse white officers' corps and Black and Brown grunts."
Maintaining the status quo, therefore, runs contrary to the national interest, he added.
Today's Congressional Republicans "don't want to see LGBTQ service members [being] made to feel welcome, and they don't want the officers to be trained in order to be sensitive to the backgrounds of service members of color and service members who are LGBTQ or service members who are women," Takano said.
When it comes to next year's race for California's 41st District, Takano praised Rollins — a candidate whose reasons for running are "so admirable," the congressman said, "because at its root, his efforts flow from a very high-minded devotion to our democracy, and in my mind, democracy includes space and protection for all people – LGBTQ people included."
Rollins told the Blade that while he is appalled by Calvert and other Congressional Republicans' "blatant targeting of a very small minority," he is confident that it will add fuel to voters's desire for change, including through new leadership in the Congress.
McCarthy dealt another blow by far-right members seeking to replace him
Rep. Emmer denies he's interested in becoming next Speaker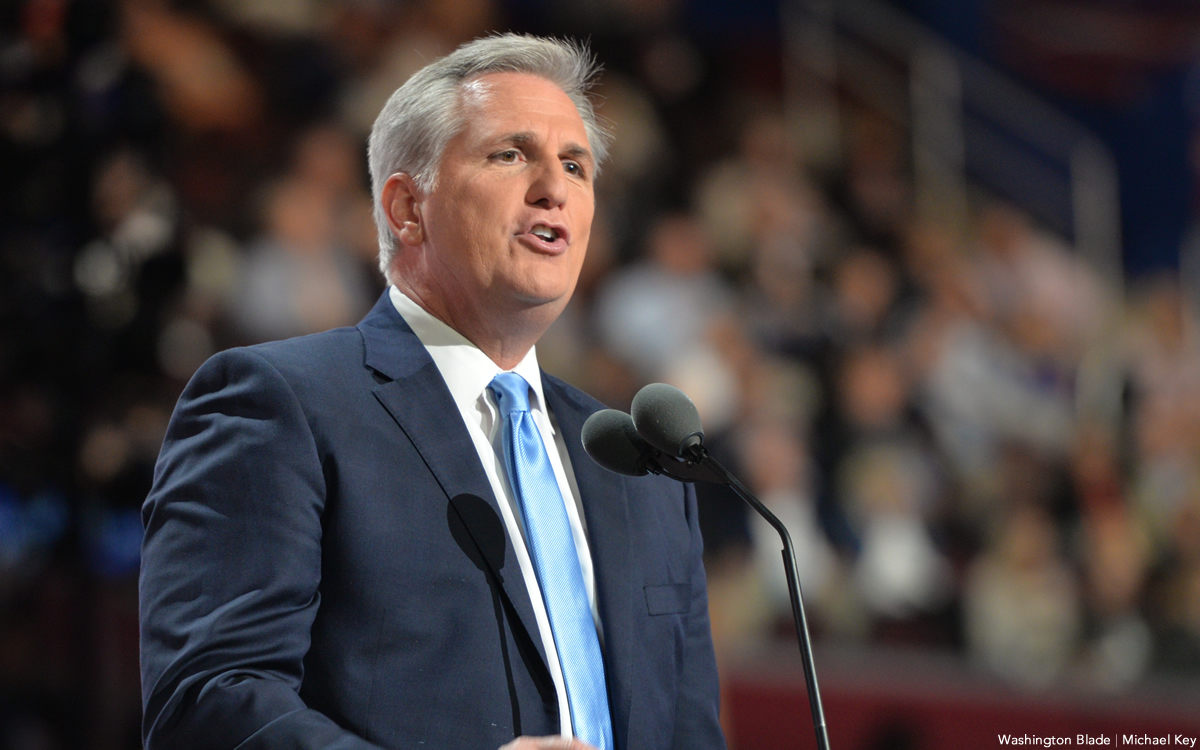 After joining with the Democrats on Friday to sabotage House Speaker Kevin McCarthy's (Calif.) plan to forestall a government shutdown with a last-ditch spending package, a group of far-right members are now focused on replacing him.
The stop-gap funding bill was defeated 232-198 with more than 20 Republicans voting against the measure.
House GOP sources tell the Washington Blade that removing McCarthy from the speaker's chair is now a top priority, along with resisting pressure from Senate Republicans seeking to broker a deal to avoid allowing funding to lapse.
These sources confirmed reporting in the Washington Post about discussions of tapping U.S. Rep. Tom Emmer (Minn.) to become the chamber's top Republican, though the congressman told CBS Minnesota/WCCO News, "I fully support Speaker McCarthy. He knows that and I know that. I have zero interest in palace intrigue. End of discussion."
While Emmer was among the 39 House Republicans who voted with the Democrats in support of the Respect for Marriage Act, which protects the rights of couples in same-sex marriages, in April he was among the more vocal members pushing for a federal ban to prohibit transgender women and girls from competing on sports teams consistent with their gender identity.
In January, McCarthy narrowly secured his bid for the speakership after an unprecedented 15 votes from his caucus. Many of the same members now calling for his replacement demanded concessions, including conditioning their votes on McCarthy's agreement to allow any member to call for a motion to vacate the chair at any time.
During the votes, which were held over a period of five days, other members like U.S. Rep. Byron Donalds (R-Fla.) were nominated for the position.
House passes Boebert's amendment targeting LGBTQ workers at USDA
Democrats call measure 'blatantly homophobic'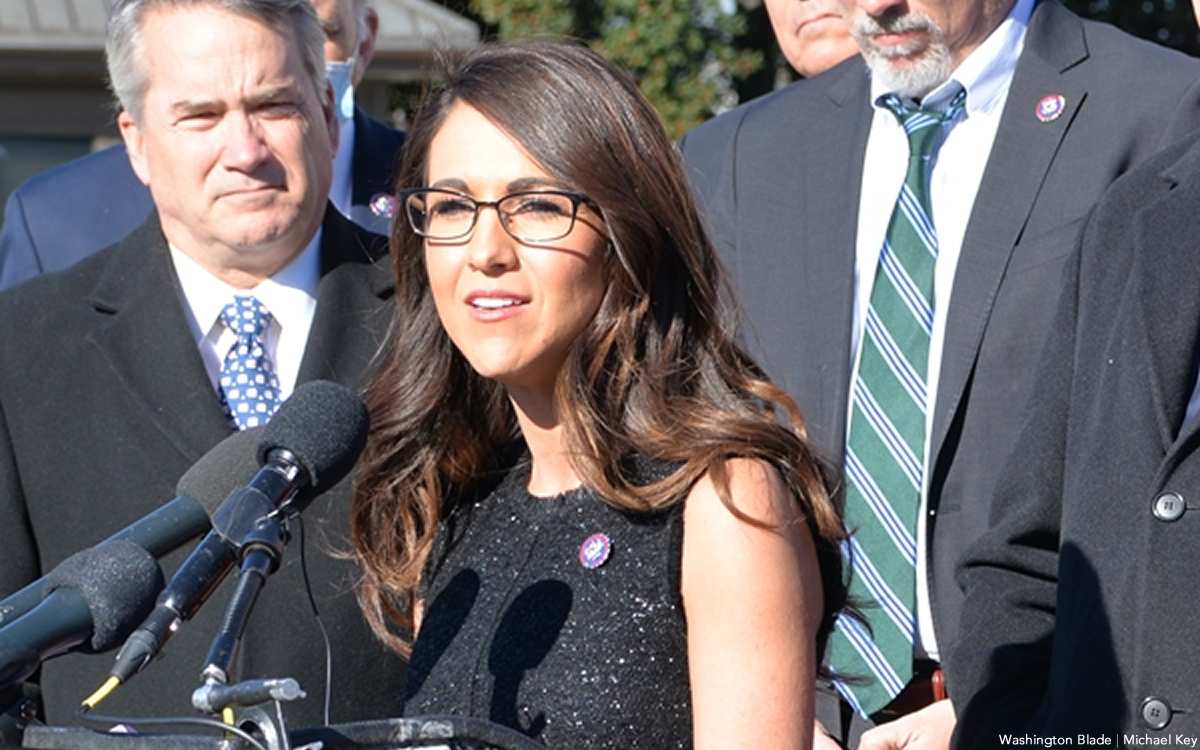 House Republicans on Wednesday pushed through a proposal by U.S. Rep. Lauren Boebert (R-Colo.) that would prohibit the U.S. Department of Agriculture from using federally appropriated funds for materials supporting the agency's LGBTQ employees.
Passing by just three votes in the face of unified opposition from Democrats, along with one GOP member, U.S. Rep. Brian Fitzpatrick (Pa.), the measure will never be signed into law amid Democratic control of the Senate and White House.
For weeks, Boebert and her ideological allies in the lower chamber have dashed hopes of forestalling a government shutdown by insisting on ladening must-pass spending bills with far-right demands, often targeting the LGBTQ community and initiatives promoting diversity, equity, and inclusion.
Even so, the aim and scope of the Colorado congresswoman's amendment to the agriculture appropriations bill was striking.
Among the 17 types of "courses, books, or study guides" circumscribed in the measure are those concerning "approaching LGBT issues in the workplace," "understanding and supporting LGBTQ+ employees," "becoming an ally to all," "conversations with LGBTQ+ leaders on the power of identity," and "creating an inclusive work community" for transgender employees.
Democratic Congressional Campaign Committee Spokesperson Viet Shelton condemned House Republicans' passage of the amendment in a statement shared with the Washington Blade:
"In a clear indication that so-called moderate Republicans are now completely controlled by their extreme fringes, they are now passing such blatantly homophobic legislation that mandates federal employees be discriminated against in the workplace," he said. "Their focus on these hateful policies while ignoring middle class families struggling with rising costs is why they will lose their majority in Congress next year."
The USDA did not immediately respond to a request for comment.
Boebert denigrates, misgenders trans Pentagon official
Comments targeted Assistant Secretary of Defense Shawn Skelly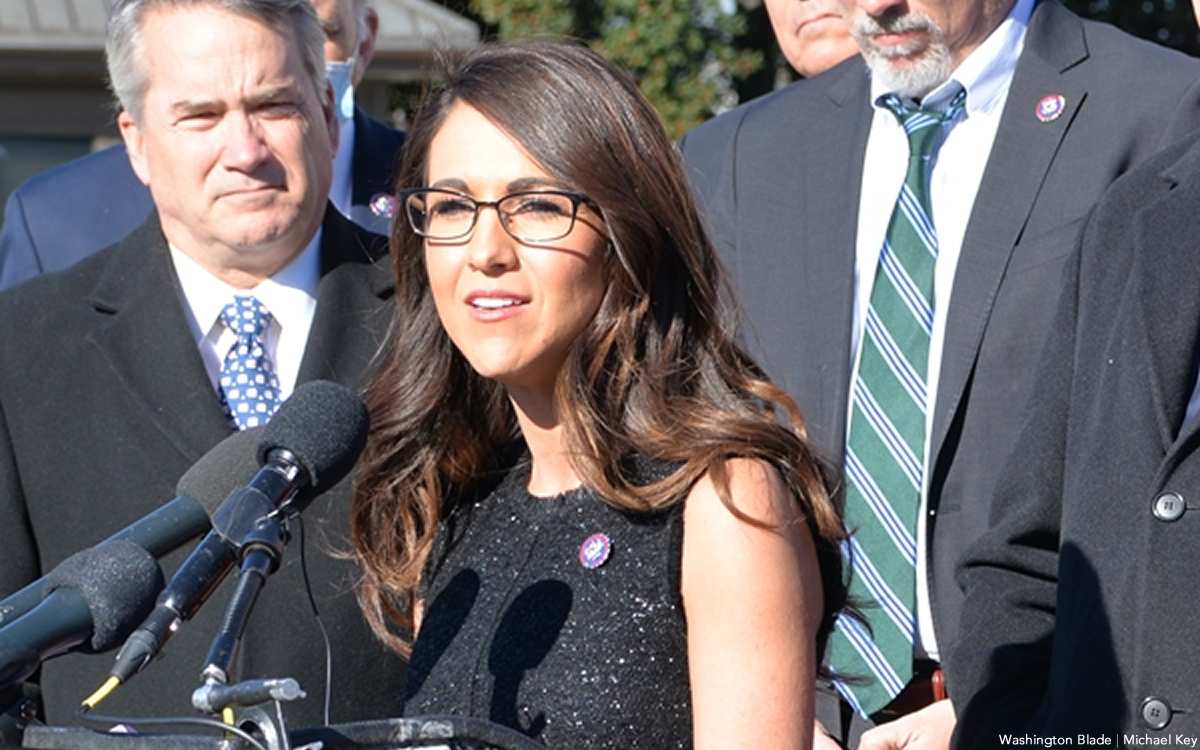 U.S. Rep. Lauren Boebert (R-Colo.) denigrated and deliberately misgendered Assistant Secretary of Defense for Readiness Shawn Skelly, the Pentagon's highest ranked transgender official, during a debate Wednesday over amendments to a defense appropriations bill.
In remarks that stirred outrage from her Democratic colleagues, the congresswoman called Skelly a "delusional man thinking he is a woman" and the embodiment of "woke-ism" before proposing an amendment that would reduce her salary to a dollar.
Skelly served on active duty in the U.S. Navy for 20 years as a naval flight officer before retiring with the rank of commander. Her record of service includes senior positions with the Defense and Transportation Departments during the Obama administration.
"Assistant Secretary Skelly has served in her role admirably, as she has done as her time as a naval officer," responded U.S. Rep. Betty McCollum (D-Minn.), stressing each of the feminine pronouns as she spoke.
The second-term Colorado representative countered with more transphobic comments: "if you want to call Mr. Skelly a her, his chromosomes are still XY, and we trust the science over here rather than delusion and playing dress up and imaginary games with our military readiness."
Boebert is among the more vocal members of an ultraconservative cohort of House Republicans who, in recent weeks, have sabotaged efforts to clear must-pass appropriations spending packages before Oct. 1 to forestall a government shutdown.
Members of the far-right faction have attached to these bills controversial, partisan, and often anti-LGBTQ amendments — effectively dooming their chances of passage by the U.S. Senate amid Democratic control of the chamber.
With respect to the Defense Department spending bill, for example, GOP members have advanced proposals that would defund healthcare services for transgender service members and ban Pride flags from military bases.
On X, U.S. Rep. Mark Pocan (D-Wis.), chair of the Congressional Equality Caucus, wrote that "Republicans claim to support the military but Rep. Boebert, just spent five minutes misgendering and attacking our Assistant Secretary of Defense for Readiness — just because she's trans. Ms. Skelly serves our country with honor. I can't say the same for Boebert."
The caucus added, "It's disgusting that a Member of Congress would use their platform on the House Floor to misgender and attack a top-ranking @DeptofDefense official and veteran just because she's a trans woman."
It's disgusting that a Member of Congress would use their platform on the House Floor to misgender & attack a top-ranking @DeptofDefense official and veteran just because she's a trans woman.

We stand with Ms. Skelly & thank her for her service and commitment to this country. https://t.co/J6wId22rGC

— Congressional Equality Caucus (@EqualityCaucus) September 27, 2023