Romney to retire from the Senate
Utah Republican has mixed LGBTQ rights record
U.S. Sen. Mitt Romney (R-Utah) announced on Wednesday that he will not seek reelection next year, telling the Washington Post now is the time for a new generation to "step up" and "shape the world they're going to live in."
The announcement means Romney's first term in the Senate will likely bookend his 20-year political career, which included a four-year term as governor of Massachusetts and two presidential campaigns, the latter as the Republican nominee.
During his time in Congress, the 76-year-old often clashed with members of his own party because he rarely shied away from publicly criticizing former President Donald Trump as other members of the GOP conference aired their grievances only privately.
Romney said he had decided a second term would be less productive and "less satisfying" — citing, according to the Post, "the disarray he sees among House Republicans" along with "his own lack of confidence in the leadership of President Biden and Trump."
The lower chamber is in turmoil now as House Speaker Kevin McCarthy (R-Calif.) seeks to unite his caucus while far-right members demand that the party move forward with an impeachment inquiry into President Joe Biden and advance anti-abortion and anti-LGBTQ amendments to appropriations spending bills that would almost certainly languish in the Senate.
Romney's independent streak extended to LGBTQ rights
In 1994, Romney ran unsuccessfully for the Senate seat occupied by the late Democratic U.S. Sen. Ted Kennedy, who was vying for a sixth term. At the time, the Boy Scouts of America was embroiled in controversy over its policy of excluding gay scouts from participating.
During a televised debate against Kennedy, Romney, who was serving on the organization's National Executive Board, said, "I feel that all people should be able to participate in the Boy Scouts regardless of their sexual orientation."
"His campaign distributed at the gay Pride parade pink flyers that asserted that he would be a better and a stronger advocate than Ted Kennedy," lobbyist Arlene Isaacson told NPR in 2012.
A decade later, Romney reaffirmed his position on the Boy Scouts issue.
More ambiguous, however, were his positions on marriage equality.
Massachusetts recognized same-sex marriage pursuant to a decision by its Supreme Judicial Court in 2003. Though he had previously said he believes the issue should be left up to each state to decide and opposed a constitutional amendment banning same-sex marriage, Romney would subsequently advocate for Congress to back an amendment defining marriage as unions between one man and one woman.
And then last year, Romney was one of only 12 Senate Republicans to vote for the Respect for Marriage Act, which codified protections for married same-sex couples into law.
During a confirmation hearing for Education Secretary Miguel Cardona, Romney spoke out against allowing transgender woman and girls to compete on sports teams consistent with their gender identity.
Senate confirms federal judge who fought for marriage equality as a lawyer
Three Republicans voted for Rita Lin's nomination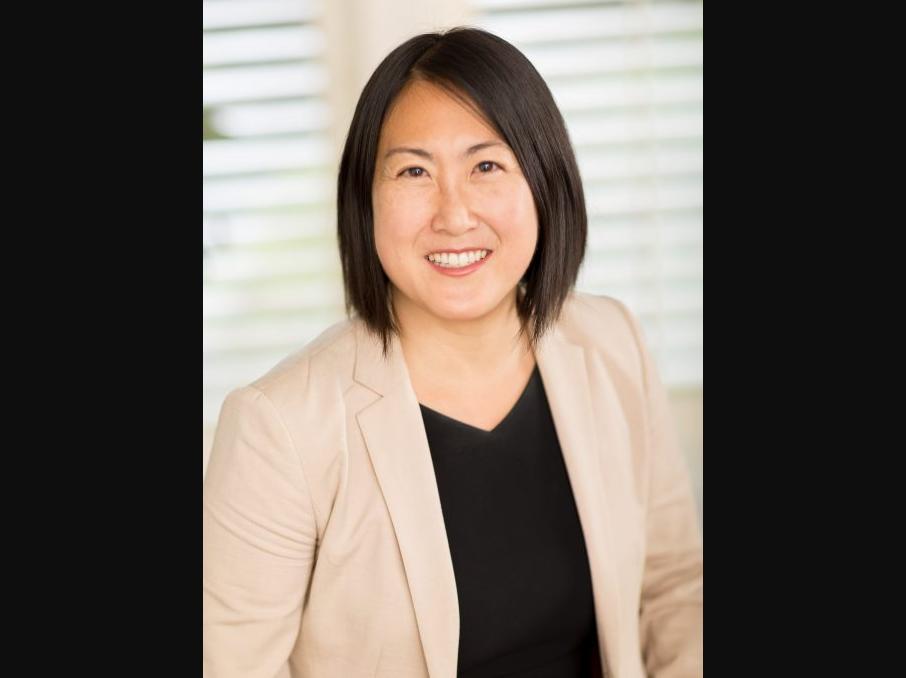 The U.S. Senate on Tuesday voted 52-45 to confirm Rita Lin's nomination by President Joe Biden to serve as a judge on the U.S. District Court for the Northern District of California.
The first Chinese American woman to serve in the role, Lin previously fought for marriage equality as an attorney in private practice with the multinational firm Morrison and Foerster.
As co-counsel in a 2012 case challenging the Defense of Marriage Act in federal court, she secured the first ruling striking down the law, which proscribed marriage as exclusively heterosexual unions, since President Obama announced his administration would no longer defend it.
The Senate's vote to confirm Lin was supported by all present Democratic members and three Republicans: U.S. Sens. Susan Collins (Maine), Lindsey Graham (S.C.) and Lisa Murkowski (Alaska).
Last year, during hearings for her nomination in the U.S. Senate Judiciary Committee, Sen. John Kennedy (R-La.) objected to an article she wrote in 1998 while a junior at Harvard University calling members of the Christian Coalition "bigots."
The Christian Coalition was founded by the late Christian media mogul Pat Robertson, who attracted controversy throughout his life and career for making sexist, homophobic and racist remarks.
Lin was appointed as a judge in the San Francisco Superior Court in 2018, and she currently presides over felony and misdemeanor criminal trials. She previously served as an Assistant United States Attorney in San Francisco.
EXCLUSIVE: Sen. Blumenthal defends Kids Online Safety Act
Blackburn comment on 'trans influence' raises alarms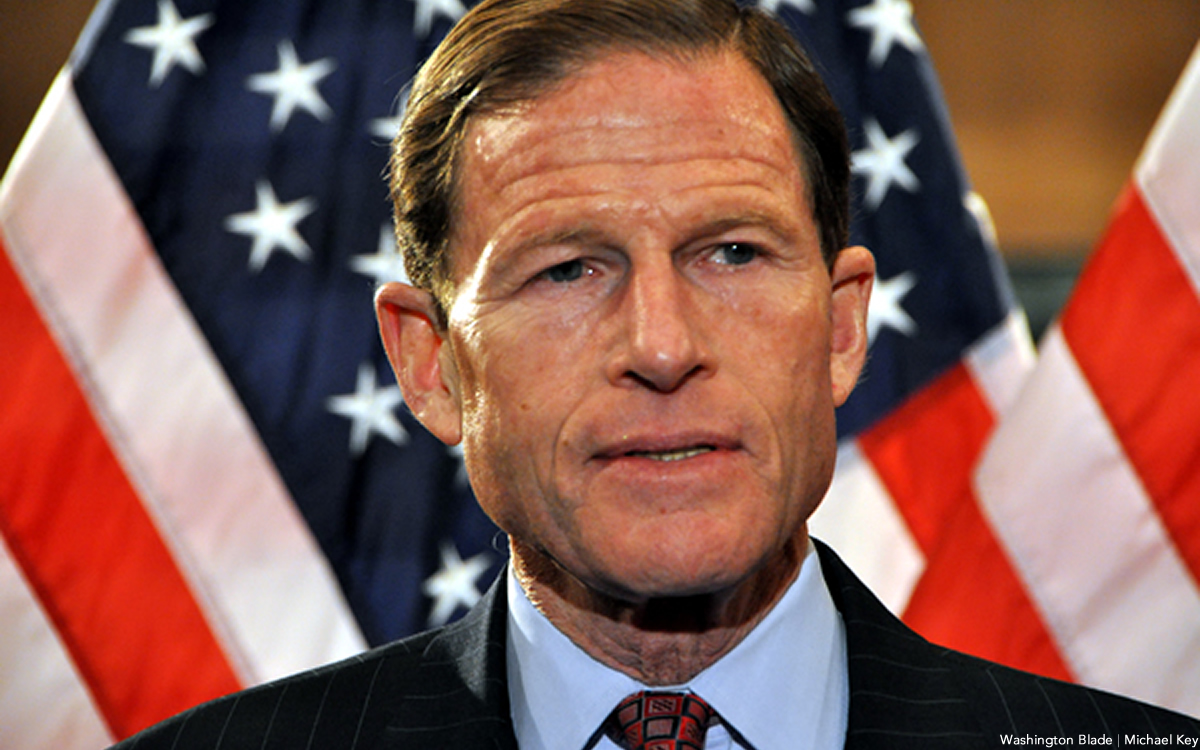 Responding to criticism from some in the LGBTQ community about the Kids Online Safety Act, U.S. Sen. Richard Blumenthal (D-Conn.) defended the legislation and reiterated his strong support for queer youth.
"I would never put my name on any bill that targets or disparages or harms the trans or LGBTQ community," Blumenthal told the Washington Blade on Friday.
"There have been a lot of eyes" on the Kids Online Safety Act, he said. "A lot of very smart and careful people have reviewed its language, and they and I have worked to make it as rigorous and tight as possible."
The proposed legislation, introduced by Blumenthal and Republican U.S. Sen. Marsha Blackburn (Tenn.), would address harms experienced by children and their families at the hands of dominant social media and tech platform companies. It enjoys broad bipartisan support in the Senate.
Critics took issue with previous iterations of the bill, however, raising alarms that conservative state attorneys general tasked with enforcing its provisions might treat positive or tonally neutral LGBTQ content as harmful to children under the statute.
A coalition of organizations issued a letter last year warning Congress that "online services would face substantial pressure to over-moderate," at a time in which "books with LGBTQ+ themes are being banned" and "people providing healthcare to trans children are being falsely accused of 'grooming.'"
Blumenthal told the Blade changes to the 2023 version in areas including the duty of care, which were made in consultation with a bevy of LGBTQ groups and individual advocates, have changed these organizations' positions on the legislation.
"We have tightened the statute – tightened and clarified the statute – as much as we can to try to make it as rigorous as possible to avoid both the misuse and potential chilling effect," the senator said.
He also highlighted some reasons for the urgent need for passage.
"The real devastating harms done to children by the bullying," along with toxic content promoting eating disorders and suicide, "largely as a result of black-box algorithms, is the kind of evil that I have fought throughout my career," he said.
The senator has fought for accountability from these companies for decades, combatting child predation on Myspace and Facebook as attorney general of Connecticut in the early aughts and, in Congress, championing antitrust reforms targeting Big Tech that have come to the fore in recent years.
He has also been a staunch pro-equality ally for the LGBTQ community, earning a perfect 100 on the Congressional Scorecard from the Human Rights Campaign, America's largest LGBTQ advocacy group.
"I care deeply about that community as is evidenced by a lifetime of work in this area, as attorney general and now as the U.S. senator," he said.
"The Kids Online Safety Act is designed to give children and their parents tools to protect themselves," Blumenthal said, "and also to impose accountability on those companies that are profiteering; achieve more transparency about those algorithms; and give parents reporting mechanisms and other means, in effect, to take back control and [also for] children to take back control."
The proposed bill would require covered platforms to "take reasonable measures" to "prevent and mitigate" harms to youth such as "anxiety, depression, eating disorders, substance use disorders, and suicidal behaviors," along with "patterns of use that indicate or encourage addiction-like behaviors" and "physical violence, online bullying, and harassment of the minor."
LGBTQ youth are affected by these challenges and harms, too, and in many cases, disproportionately.
"Take bullying, for example," Blumenthal told the Blade. No longer relegated to the school yard, this behavior follows victims home, he said, adding, "the addictive quality of social media is so powerful that it can be all consuming."
During an interview Thursday on the Rated LGBT Radio program, attorney Laura Marquez-Garrett noted how LGBTQ youth will turn to social media platforms searching for affirmation about their sexual orientation or gender identity only to find "this really harmful experience that is causing, in many cases, depression, anxiety, suicidal thoughts."
Marquez-Garrett, a litigator who left her law practice in 2020 to join the Social Media Law Center, explained the Kids Online Safety Act includes a carve-out, "added in the last couple months, which says that a covered platform has no duty to prevent or preclude any minor under 17 from deliberately and independently searching for or specifically requesting content."
Still, concerns persisted after Blackburn noted, in March, efforts toward "protecting minor children from the transgender [sic] in this culture and that influence" before talking about the Kids Online Safety Act.
Her legislative director later clarified that, "KOSA will not — nor was it designed to — target or censor any individual or community."
Addressing these matters, Blumenthal told the Blade, "whatever anyone including Senator Blackburn may say about their personal beliefs, I know what the bill does and that's what's important here."
"My goal," he said, is to remedy the problems caused by social media and online platforms, problems that in too many cases are fatal for young people, while avoiding "any of the unintended consequences" because "it's not enough to have good motives."
Blumenthal said that while "my colleagues on the Republican side and I may differ in certain beliefs about a wide variety of issues" and "Senator Blackburn and I vote together a small minority of times, where we're united, we try to work together."
"And we're united on preventing the harms that are so egregiously crippling and killing," he added.
So, Blumenthal said, "looking at it substantively, putting aside who's for it and who's against it, I think on the merits, it holds up. The merits and the substance and the actual words of the proposed statute really refute those arguments that the tech companies have sought to make."
Asked whether he believes the dominant tech platforms and social media companies might be behind efforts to sow doubt and distrust with respect to the Kids Online Safety Act among LGBTQ and other communities, the senator noted, "they have no compunction about distorting or misrepresenting the facts and trying to twist and deceive about specific provisions of legislation."
"They resort to any and every means," he said, "And they will try to exploit communities that may be susceptible to their misrepresentation."
Additionally, Blumenthal said, the "tech and social media companies have – I don't know how to put it politely – but they've essentially tried to ignore the important changes that we have made" including "the narrowing of the duty of care provisions" and "the broadening of support services."

Nancy Pelosi announces she will seek re-election
California Democrat was House speaker twice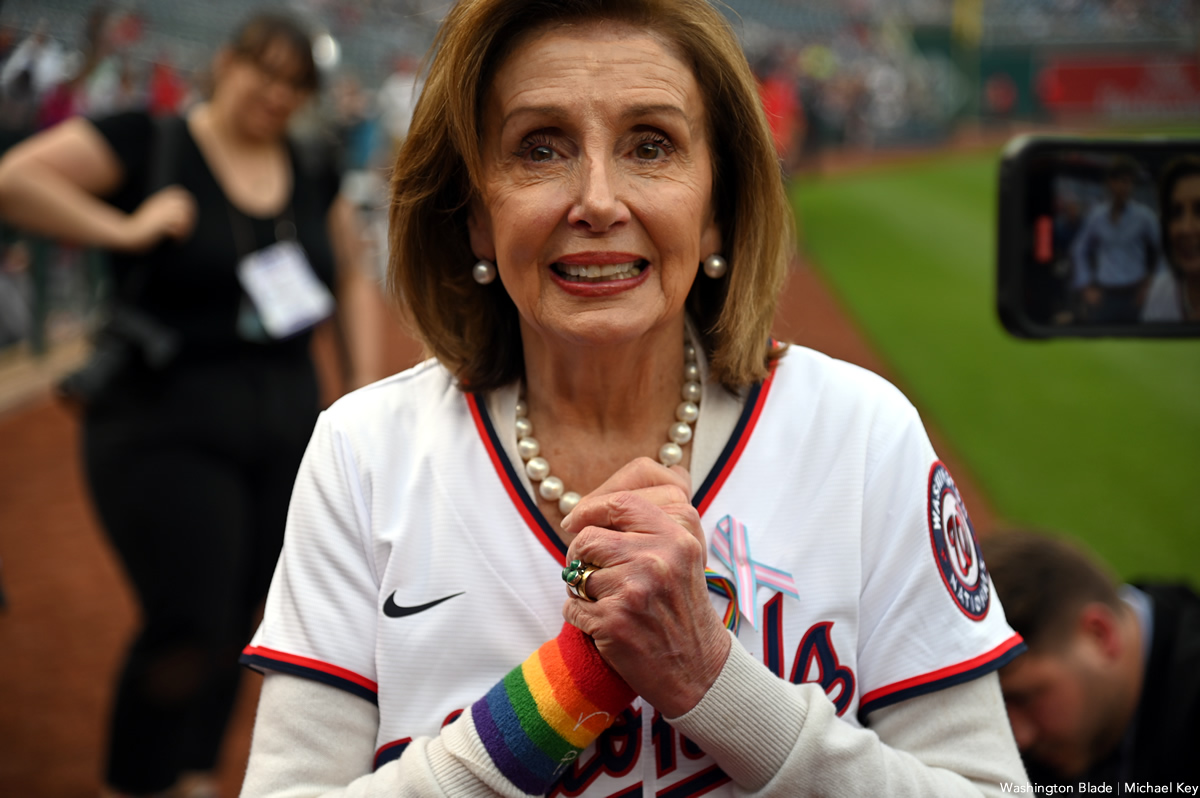 House Speaker Emerita Nancy Pelosi (D-Calif.) announced Friday at a meeting of campaign volunteers that she will seek reelection to her seat in the U.S. House of Representatives in 2024.
The 83-year-old San Francisco Democrat's congressional career spans three decades, including most notably as speaker of the House.
Pelosi made history as the first female House speaker and has served in Congress since 1987.
The former speaker also posted to X/Twitter: "Now more than ever our city needs us to advance San Francisco values and further our recovery. Our country needs America to show the world that our flag is still there, with liberty and justice for all. That is why I am running for reelection — and respectfully ask for your vote."
Her announcement put the plans of openly gay state Sen. Scott Wiener, (D-San Francisco) who had made preliminary plans to run for Pelosi's seat had the congress member decided to retire. In a text message to the Bay Area Reporter after Pelosi announced her run, Wiener wrote:
"Speaker Emerita Pelosi is one of the most talented and transformational leaders of our lifetime, and it's a good thing for San Francisco and the nation that she will continue to serve our community," adding "Right now, I'm focused like a laser on the end of our legislative session in Sacramento. Yesterday, the Assembly passed two major housing bills I'm authoring, and the day before it passed our psychedelics decriminalization bill."
He noted that he's "locked in a battle with climate deniers to pass our corporate carbon transparency bill."
Politico noted Pelosi's daughter Christine is seen as a contender who could tap into her mother's network of supporters and donors. Christine Pelosi has not said whether she'd follow in her mother's path. A Wiener run could trigger multiple races to represent San Francisco in the State Assembly.
Bay Area Reporter Editor-In-Chief Cynthia Laird reported Friday that at the Alice B. Toklas LGBTQ Democratic Club's annual Pride breakfast in San Francisco on June 25, Pelosi and Wiener both complemented each other.
Wiener thanked her for helping to turn around the fight for federal funds for AIDS when she went to Congress. During her remarks later, Pelosi acknowledged Wiener's comment thanking straight Democratic state legislators who support LGBTQ-related bills even though they come from more conservative parts of California. She made a similar comment about House members who come from more conservative districts and states.
At the breakfast, Pelosi also offered a list of accomplishments during her two stints as House speaker (2007-2011 and 2019-2023.) Those included passing the Affordable Care Act, the Matthew Shepard and James Byrd Jr. Hate Crimes Act, the repeal of the military's "Don't Ask, Don't Tell" policy, and passing the Respect for Marriage Act.
In 1996, legislation by Pelosi was signed into law by then-President Bill Clinton, elevating "the Grove" as the nation's sole federally-designated National AIDS Memorial.
She also told attendees at the breakfast that President Joe Biden was the first "at his level" to come out in support of same-sex marriage when he served as then-President Barack Obama's vice president in 2012. Last December, Biden signed the Respect for Marriage Act during a ceremony on the South Lawn of the White House.
The Respect for Marriage Act repealed the Defense of Marriage Act that was passed in 1996 but had key provisions struck down by the U.S. Supreme Court in 2013 (Section 3, U.S. v. Windsor) and 2015 (Section 2, Obergefell v. Hodges.) Not only does it require federal recognition of same-sex and interracial marriages nationwide but also mandates states must recognize such unions performed in other states. The act includes protections for religious liberty.
Wiener was targeted with online harassment by QAnon conspiracy theorists and anti-Semites over Senate Bill 145, as the BAR previously reported. The bill, which was signed into law by Gov. Gavin Newsom, changed who qualifies for the California Sex Offender Registry. He has received death threats in recent years.
Wiener recently told the BAR that the city's LGBTQ political strength has ebbed and flowed over the years.
"Our community has had a lot of ups and downs politically in San Francisco," he said in a recent brief phone interview earlier this summer. For example, from the time Rafael Mandelman joined the Board of Supervisors in July 2018 until last May, he was the only out member of it. He was then joined by gay District 6 Supervisor Matt Dorsey, whom Breed appointed to fill the seat of former supervisor Matt Haney, a straight ally who won election to the state Assembly. Dorsey went on to win a full four-year term last November, as did gay District 4 Supervisor Joel Engardio, who defeated former supervisor Gordon Mar, a straight ally.
Wiener said the LGBTQ community, like others in the city, has been divided at times over the years.
"When we are united, or at least less divided, we are very, very strong," Wiener added
Additional reporting from Bay Area Reporter's Editor-In-Chief Cynthia Laird