November 18, 2010 at 4:38 pm EDT | by Joe Phillips
Gifts for the auto-phile in your life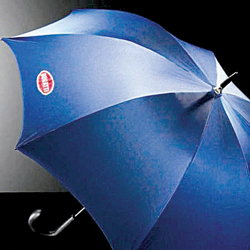 Finally, after two terrible years in the auto industry (remember all those closed dealerships and the GM and Chrysler bailouts?) car sales are up again — even as prices remain oh-so-low. But if you still can't swing a stylish new ride for those gay and lesbian auto-philes in your life, here are some auto-related gifts that are just as fun.
Bugatti Bling
A Bugatti Veyron supercar costs around $2 million, which makes these Bugatti accessories a real bargain: polo shirts ($183), jackets ($540 to $615) and a sleek royal-blue umbrella ($430) that looks like the perfect accessory for Curt on a Glee-inspired remake of "Singin' in the Rain."
Cobra Baseball Cap
Here's a butch stocking stuffer for muscle-car lovers: Ford's faux snakeskin cap ($12). It has a brushed-metal medallion with a sinister, swirling cobra ready to strike—the logo for Mustang's high-performance model, the Shelby Cobra. First built from 1965 through 1970, the Cobra was revived in 2007 after Ford came out with its fifth-generation Stang. The new 2011 Mustang Shelby GT500 Cobra is the best one yet, scooting from 0 to 60 mph in just 4.4 seconds.
Tricked-Out Watches
Each year, carmakers try to outdo each other with auto-oriented timepieces. Here are four worth, er, watching: Renault Formula One — $325 to $875 — with high-end stainless-steel casing and tachymeter dials (from watchmaker TW Steel). IndyCar Limited Edition — $3,000 — features titanium casing and '70s groovy styling, but only 50 will be produced (from Ritmo). Royal Oak Offshore Grand Prix Collection—$35,000 to $95,000 — comes in forged carbon, rose gold, or platinum; water-resistant to 330 feet; and self-winding with 60-hour reserve (from Audemars Piguet). Scuderia Ferrari One — $300,000 — yikes, these are so exclusive they're available only to current Ferrari owners (from Cabestan)
BMW's Key-like USB Stick
BMW's new USB memory stick ($45) may not be an actual car key, but it sure looks like one. Press on the trunk button, and the USB plug slides out to fit in a computer or audio/music port for USB-capable vehicles.
Toy Cars for Kids—and Grown-Ups
Before there were Hot Wheels, there were "slot cars." These miniature model cars were motorized and ran on slotted tracks, similar to model railroads. Today's slot cars are now digital, so they can change lanes. And while only two cars could race in the past, now up to six cars can compete for the checkered flag. Here are three of the best: Carrera Digital Motor Monsters, $270, with two cars and 18 feet of track (additional cars are $50 extra); SCX NASCAR Tri-Oval Superspeedway, $370, with three cars and 19 feet of track; and Scaalextric Digital PRO GT, $500, with four cars and 22 feet of track.
Cool Driving Schools
Here's a gift you may just want to keep for yourself. These one-day programs help channel your inner James Bond to safely out-maneuver bad drivers, errant pedestrians and potholes:
Skip Barber Racing School, $1,800
Bondurant Racing School, $1,700
Jim Russell Racing Drivers School, $800
For Jeff Gordon wannabes, there are three-day programs in high-test Formula One racers:
Skip Barber Racing School, $4,000
Bondurant Racing School, $4,300
Jim Russell Racing Drivers School, $4.800