America's Leading Gay News Source
Queer Cup Classic results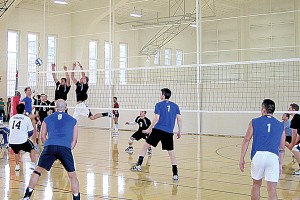 Last weekend the Capital Punishment Volleyball Club (CPVC) hosted the President's Queer Cup Classic at the Reckord Armory in College Park, Md. It was a North American Gay Volleyball Association (NAGVA) sanctioned event and featured 39 teams from across the United States.  The tournament offered three NAGVA dictated divisions — BB, B and A. The teams consisting of advanced ability players were placed in the A division.
Pool play began on Saturday with each team playing four matches of two games to 25 with a 45-minute time limit and a score cap at 27.
The pool play records were then used to determine seeding for tournament play on Sunday.  Washington, D.C. was well represented in the A division with four teams on the roster.
Results were as follows:
B Division
First: NY Whitney and the Crack Cocaine Dancers
Second: Baltimore Hawaii 5.3
Third: NY Fight to Win
BB Division
First: NY Pisco Sour
Second: Atlanta Mojo
Third: USA We Like It
A Division
First: NY Bicha Sucia 2.0
Second: Baltimore B-More Boys
Third: NY Misfits
We welcome your thoughtful, respectful comments. Please read our 'Terms of Service' page for more information about community expectations.
Comments from new visitors, flagged users, or those containing questionable language are automatically held for moderation and may not appear immediately.
© Copyright Brown, Naff, Pitts Omnimedia, Inc. 2014. All rights reserved.