December 16, 2010 at 2:58 pm EDT | by David J. Hoffman
Think affordable, shop local
Editor's note: This is the final installment of a five-part series. Several previous installments are online: entertainment options (books, movies and CDs), techie gifts and home decor. (All photos by Michael Key for the Blade)
Tightwad Ebenezer Scrooge — before his conversion to generosity — never believed in holiday gifts at any price, high or low. So you're no skinflint Scrooge, just thrifty and shrewd if you simply want to buy low but also give high satisfaction.
And since it's also good to buy things local whenever possible, focus your stocking-filling spree on neighborhood low-price goodies like these found in shops on Capitol Hill — near Eastern Market and on Barracks Row, or with your own nearby merchants.
Our price goal during an excursion last weekend was no more than $25 per item. Here's a selection from five fun shops that caught our eye:
HOMEBODY: Outfitters for Contemporary Living
715 8th St., S.E.
Lesbian proprietors Erin Mara and Henriette Fourcade have found unusual items like these: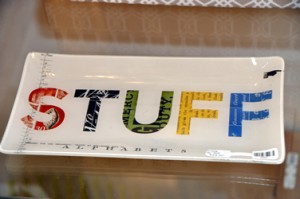 A glass "stuff" tray they call "unisex" just big enough for keys, cell phone and maybe a wallet — a place to put them so you can always find them later. $24.50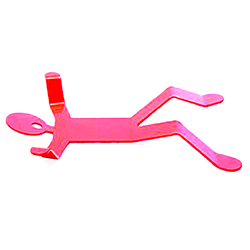 "Hot Man" holder, high-design in red metal, to cradle your hot pot — hang it on the wall as decor, then use it when the heat of the moment calls. $22.95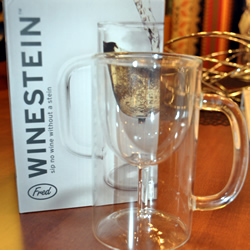 "Winestein" — have it both ways, with this double-walled glass, on the inside an elegant wine stem, on the outside a manly beer stein. Serve no wine before its time but sip no wine without a stein. $24.95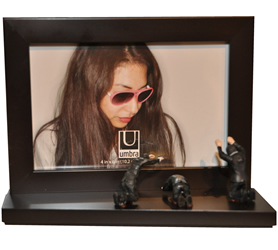 "Starstruck" celebrity picture frame, a 4×6 in black, lets your fans bow down before your awe-inspiring image. $20.75
BACKSTAGE INC.: The Performing Arts Store
545 8th St., S.E.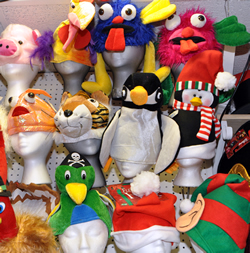 Headgear with a thespian flair, your choice of more than 20 hat and cap designs from $4.95 to $25. Try the elves cap for $12.95 for when you feel like Santa's little helper.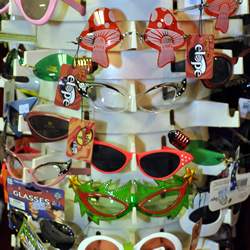 Sunglasses have been "dramatique" at least since Gloria Swanson descended the staircase as Norma Desmond in "Sunset Boulevard." Get ready for your own close-up with one styled for Lady Gaga at $14.95 or for that neon look of the '80s at $9.95.
425 8th St., S.E.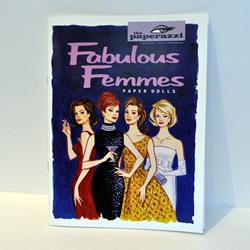 Locally crafted by Arline Brex, "The Paperazzi" — cut a fine figure with scissors and these paper dolls. Choose from "Fabulous Femmes," those four fantastic dames from TV's "Mad Men" — the editor, the artist, the wife and the secretary — perfect for a fashion buff. More political types can pick "Sarah Palin" — just go rogue cutting the half-governor up and then dressing her down. Or choose "The Obama Family," $15 each.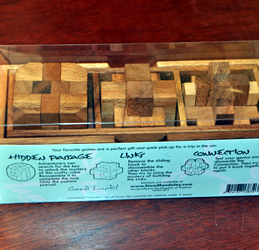 "Hidden Passage" is a teakwood puzzle crafted in the Kingdom Of Thailand. Unlock the mystery of this crafty cube. First disassemble, then rebuild the links — if you can. It's a test of your genius if you succeed, a test of your patience if you don't. $25
HILL'S KITCHEN: Everything for the Cook
713 D St., S.E.
Unisex Butcher's Aprons — a wide selection, including "Chillies" — red peppers and green stems, in holiday colors but designed for year round when things heat up in the kitchen, at $18.95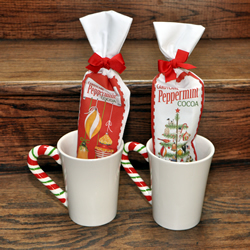 Candycane Peppermint Cocoa lets you sweeten Santa's surprise when you leave it in this matching Candycane Mug. $9.95
Slate Coasters — a set of four, crafted from slate quarried in Vermont's Green Mountains, from 400 million-year old ocean sediments. Each coaster is as individual as a snowflake. $24.95
Petite Cheese Knives, a set of four. Just say "cheese," but be ready for any kind, with a knife for soft and crumbly, also knives for un-ripened and hard cheeses. $24.95
LABYRINTH: Games, Puzzles, Mazes, More
645 Pennsylvania Ave., S.E.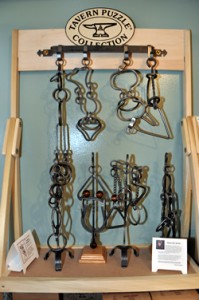 "Tavern Puzzle Collection," new designs for 2010 by museum-trained blacksmith Dennis Sucilsky, who began specializing in 18th and 19th century building hardware and came across brain-teaser iron puzzles. He reproduced some and also designed his own, marketing them with degrees of challenge ranging from "Group 1" (basic) to "Group 4" (difficult). Shown here is the handcuff-style "Self-Restraint," from "Group 2." All are $22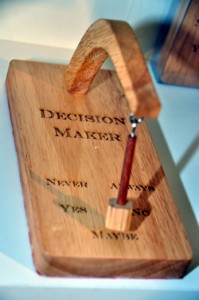 "Decision Maker," wooden wisdom: ask it a question, then swing the pendulum. The basic model provides options for never, always, yes, no or maybe. Mom's model offers choices to hug kids, manicure, shop, exercise or housework. The Executive version replicates the real life office with "Are you kidding me?" "No way!" "Not gonna happen," "Forget it," and just one lukewarm hope — "Maybe." All are $19.95.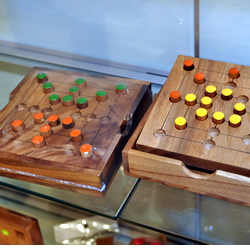 "The Land Before Nintendo" — a selection of 50 brain-teasing wooden puzzles and games. Examples include a 12-piece set of Pentominoes, a math puzzler from the 1950s that can make thousands of shapes, for $16.95 — and a pyramid puzzle of just two pieces: can you make a perfect 3-sided pyramid from them? It looks easy but actually not so much, for $4.50.
Silly and fun card games, mostly for adults, where you change the rules as you go. Try the Edward Gorey-esque game of "Gloom" — the goal is to make your opponents happy and glad but yourself gloomy and then you die. When you're dead, you win! $24.95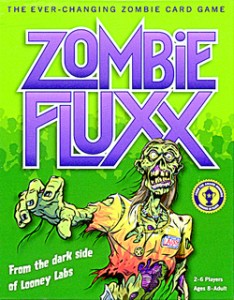 Or "Zombie Fluxx" — where the dead are returning to life (like when the relatives show up for the holidays). The object is to kill the zombies before they stop you from winning. What to do? Grab a chainsaw? Barricade the windows? You decide! $16