February 24, 2011 at 12:48 pm EDT | by Kevin M. Norris
Protein pros and cons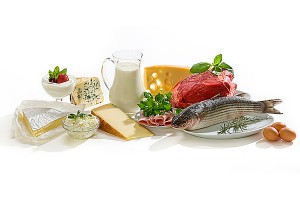 It's amazing how much information is out there on protein consumption. And how much of it is contradictory.
Dieticians and doctors are the best sources for this topic, but there's also lots of good information that can be helpful from other places.
Protein is one of three essential macro-nutrients crucial to proper health. The other two are carbohydrates and fat, which I will cover in subsequent columns. And until the craze of high-protein diets a few years ago, protein was often not as focused upon and was wholly misunderstood.
The traditional wisdom is that in order to gain weight (lean muscle mass) you need to consume higher amounts of protein than the norm. To lose weight some experts state that you would also need to increase protein consumption in substitution for decreasing your carbohydrate consumption. But how much is required and are there health risks that compromise the benefits?
First, let's point out that adequate protein consumption is crucial to several bodily functions and overall health. Protein is necessary in maintaining the body's normal growth and its muscle mass, the immune system, the heart and respiratory functions.
And protein consumption tends to satiate you, so you feel full and may help maintain a healthy weight. A 2005 study published in the American Journal of Clinical Nutrition found that increasing protein and reducing fat resulted in sustained weight loss.
So just how much protein do we need for optimal health? Madelyn Fernstrom, director of the Weight Management Center at The University of Pittsburgh Medical Center offers some basic protein consumption calculations for general health. According to Fernstrom, as a rule we need between 10-15 percent of our total calories in protein.
For a 2,000-calorie diet, the recommended dietary allowance is 50 grams of protein or 10 percent of total calories. One calorie is equal to 3 grams of protein. The other well-regarded method of protein calculation is consuming 1 gram of protein per kilogram of body weight or around .4 grams per pound. Also note that some registered dietitian's and nutritionists recommend as much as 1 gram per pound of body weight for lean mass stimulation, i.e. healthy weight gain; where healthy weight gain referring to lean muscle mass.
Now you have methods to calculate protein intake; next you should place strong consideration into the types of protein you should consume because all proteins are not created equal.
Protein comes from a variety of sources from meat, fish and dairy to nuts, legumes, eggs and vegetables. But what makes a healthy protein-rich source? Typically, this depends on what other macro nutrient is contained with the protein and it can often be fat, particularly saturated fat — a known enemy. And while fat is also a crucial macro-nutrient, too much fat consumption, particularly saturated fat, wreaks havoc and can lead to a litany of health concerns. Animal protein tends to be the slippery slope. One must be extra prudent when consuming this type of protein making sure the animal protein does not contain too much fat.
Can we consume too much protein? Absolutely. Any macro-nutrient consumed in excess in which the body does not utilize for energy will be stored and converted to fat. Also, protein consumption in excess puts bodily systems under stress. And eating more protein and increasing total caloric intake without additional exercise "will build an equal amount of additional fat and muscle mass," according to a study published in 1992 in the Journal of American Geriatrics Society.
Overconsumption of protein places stress on the kidneys, which then flush excess protein and can lead to significant water loss, which puts you at risk of dehydration.
It's important for lean weight gain that protein helps convert the additional calories into muscle rather than fat and this will also stimulate your appetite and help fuel muscle growth, which in turn will increase your appetite leading to greater caloric consumption.
Another important factor to consider about protein is how it is used as an energy source and what neuro-transmitters are stimulated and their effect on energy levels. Carbohydrates are our first and preferred source for energy and carbohydrate consumption stimulates serotonin, a neuro-transmitter that provokes a calming effect.  Protein, on the contrary, stimulates neuro-epinephrine an alertness chemical.
Thus, the almost immediate response to lean protein consumption is to provide energy. The immediate response to carbohydrate consumption is a relaxed state.
Miriam Nelson a WebMD journalist, says, "Whether you are an avid strength trainer, a marathon runner or just an average exerciser, a balanced diet that is rich in fruits vegetables, whole grains, lean meats, fish and complex carbohydrates is what nutritionists recommend."
Moderation, balance and awareness of protein consumption will greatly contribute to a healthy state of being.