Learning the hard way
Local out black poz men band together to spread testing message

The statistics are grim. The task is daunting.
In the D.C. area, of the estimated 16,500 people living with HIV/AIDS, 40 percent — or more than 6,700 people — who were infected with the virus were men having sex with men. The majority of these men — 60 percent, or nearly 4,100 — are black. Data, from 2010 suggests that of those, 40 percent were unaware of their HIV status before being tested.
Those scary statistics are constantly on the mind of Venton Jones, 27, who recently came to the nation's capital from Texas where he was born and educated, earning a degree in community health and a master's in health care administration.
But Jones' real credentials about AIDS are different, giving him the "street cred" about HIV, credibility he wishes he never earned. In June 2007, Jones was diagnosed as HIV positive when he was going through a standard set of medical tests as he was seeking enlistment in the U.S. Army.
"It happened with someone I was sleeping with" that spring, says Jones, "at a time in my youth when I was wild, to say the least."
He thought, "How could this happen to me?" He reviewed all he had going in his life: "I am educated; I have a degree in health; I should have known better."
But Jones says, "there was a lot going on" in his life then, adding that he was dealing with "issues like coming out, and also what to do next" with his life, with what he calls "finding a purpose." He says he "wasn't necessarily on the 'down-low,'" a term often used among black men to describe themselves as living life on the surface as "straight" but actually secretly having sex with men. He says a few of his friends already knew he was gay.
"If you asked me, I would tell you, but not too many people asked."
In the spring of 2007 he came out to his parents.
Jones says he had regularly been tested and had always seen the results come back as negative for the virus. So he got cocky about it, basically feeling so-far-so-good. So he had unprotected sex. Now he knows better.
As a result, filling the giant vacuum of the "absence of strategies to reach young people, specially young black gay men, like the people I grew up with," Jones says is his top priority today, as he gets ready to hit the streets to spread the message that testing for HIV is a crucial step to checkmate the renewed AIDS epidemic in the D.C. area.
On antiretroviral medication today, the virus in his body is, Jones says, "now undetectable," and he says proudly that "now I am in the best physical and mental health I have been in my entire life." But of course he knows the virus still lurks, waiting to pounce and begin to spread again, high-jacking other cells, especially white blood cells, eventually dooming his body's immune system, if given the chance.
However Jones is doing more than fight HIV in his own body. He is now one of eight gay black men, all diagnosed as HIV positive, who are "HIV testing advocates" now finishing training under the auspices of the Bayard Rustin Mobilization Project, an outreach program aimed at raising HIV awareness among gay black males in D.C., funded by a grant from the federal government and directed by the national nonprofit advocacy group, the National Association of People With AIDS (NAPWA), in partnership with local groups like The D.C. Center for the LGBT Community.
Jones, who also works as a senior program associate in communications for the D.C.-based National Black Gay Men's Advocacy Coalition, will tackle the role of being an advocate on his own time, away from his day job. And for that task, he says, "a big focus has been on reaching youth.
Jones has a lot in common with his fellow advocates. Like Samuel Hairston, a 44-year-old preacher with a passion for spreading the "good news," ordained in 1996 as a full-time Pentecostal minister, currently living in D.C. but pastoring on weekends in Baltimore at the Church of the Everlasting Kingdom, with a congregation of about 50, he says, most of whom are not LGBT, and who all know that he is both gay and HIV positive.
Then a full-time Montgomery County firefighter, in 2005 Hairston learned he was positive when, he says, after years living life on the "down-low," a "routine medical exam in his blood work prompted an HIV test, and I came up positive."
He was "devastated," he admits, not only for himself, but also because he had to go home and tell his "faithful and loving" wife that he had contracted HIV "and that I could possibly have infected her." He says that "thankfully, that was not the case," and she remains negative today. "The marriage was already on the rocks," he says, and it did not survive. His children, then a 9-year-old son and a 6-year-old daughter, took their parents' divorce hard, though they survived it, and they did not learn until later that their father was infected.
"As I child," he says, "I always felt an attraction to men and other boys, but there was no one I could trust to talk to." His introduction to sex came when he was molested at age 5. He learned "at an early age," he confides, "to keep secrets and hide my feelings."
Later he convinced himself that through his early ordination in the ministry, at first when he was 14, he "would change my homosexuality," but by age 15, he says he was "jumping in and out of cars and finding ways to feed my sexual appetite," which felt "insatiable" to him. He calls himself a recovering sex addict. And though he preached a Christian message, he says, "I never believed (God) really loved me because I was gay."
As the marriage was cracking apart and with the diagnosis of AIDS, his world was falling in on him. "I went into a spiral of serious depression" and he says he wound up meeting a man, "the first man to give me some attention" of the type he sought. They had sex and did cocaine.
"Drugs became my outlet," Hairston says, as he sought "some release from the guilt and shame of living in the closet and the 'down-low' lifestyle,  and the pain it caused my family."
"Today I live life out in the open," he says. "I've left the 'down-low' behind, because it's so dishonest. The truth is liberating, and even as Jesus said, 'The truth shall set you free.'" Today, Hairston says, thanks to regular devotion to a 12-step program, he's "clean" of drugs and "celebrating two-and-a-half years of sobriety."
One of his biggest life missions now "is to reach out to African-American men, who are on the down low, and to say that there's a better life, to help them to embrace honesty," the same transparency he has come to himself. As for himself, he says he has "reconciled" his sexuality with his spirituality. His target audience will be among those attending the black church, which traditionally has fostered homophobia rather than acceptance.
Meanwhile, another advocate, Tyranny "Tori" Smith, 30, will focus his outreach efforts differently — to those who inhabit what he calls the "vogue-fem" subculture: gay and transgender men and women who stylize their lives with makeup, hairdos, costumes and dancing. This is the "sweet" world of "ballroom" culture, and the "houses of families formed by choice, not birth that grow up within the world of urban, predominantly black "ballroom," or fashion runway, competitions.
Raised in Oxon Hill, Md., Smith came out at age 14 and soon was a regular at the clubs like Tracks.
"I told my mother," he says, that he was gay, "and once I told her, there was no one else to hide it from." Now a resident of NE D.C., Smith is a member of the "House of Herrera," named for famed Venezuelan-born American fashion designer Carolina Herrera. It's his second "house." He joined his first when 16 but five years ago switched to Herrera, which currently has about six members in D.C. and around 300 nationwide, five years ago. "In my house," he says, "they're my family."
Smith discovered he was positive in June 2010, when he came down with summer pneumonia and was tested positive when given an HIV exam.
"I was surprised," he says, "because I had been with someone for three years, and we had both tested negative at the beginning." But with the benefit of hindsight, it was his partner (who later died, though not of AIDS) who infected him.
Now as an advocate for regular testing, Smith says that "my whole purpose is to reach people, like in the 'ballroom' culture, that the Health Department is not reaching — that's my audience. Basically, we're trying to put a face to HIV, our face, that's our whole mission. And when I talk to people, my motto is this: 'knowing is to live, not knowing is to die.' So basically I tell them, 'get tested.'"
Two other Rustin Mobilization Project testing advocates are Paul Gordon, 40, born in Portsmouth, Va., and Rodney McCoy, Jr., 43, born in Brooklyn, N.Y. Both men now live in the D.C. area.
Gordon, who felt he was gay from age 5 on, was molested at age 14, raped at gunpoint and "with a knife at my neck" by someone he calls his father's "best friend." The assailant was eventually arrested and convicted and served eight years of a 20 year prison sentence. Gordon, who then began to have sex with boys his own age, came out when he was about 18. His HIV status was diagnosed positive in 1989, contracted from a partner, a decade older, with whom he moved to Atlanta at age 20 after graduating from Hampton University in coastal Virginia. Gordon never knew his partner, who eventually died after their three-eyar relationship, was positive
"I was just trusting," he says.
When he learned he was infected, Gordon remembers that "I went to a place of denial. Regardless of what the doctor said, I didn't believe it."
McCoy, in the field of HIV prevention for 16 years and now an outreach advocate as well as a manager of the Mobilization Project program, was diagnosed HIV positive in 2002, when he was so weak with the flu that someone urged him to get tested.
"I really didn't expect to be positive," he says. "I had risky behaviors before but I had always tested negative. I felt I was just managing my risks well enough." When dating one person, for only a month, the man insisted he was negative, and looking back, McCoy says, "To this day, I'm sure now that he didn't tell me the truth."
For McCoy, it comes down to this: "We often say 'use condoms every time,' but often we simply don't acknowledge that love, trust and pleasure trump knowledge and information every time. And you can say this, I found out the hard way."
"Self-determination" is the watchword of the Bayard Rustin project and its sponsoring organization, NAPWA, whose president Frank Oldham, Jr. says that "While the epidemic impacts us directly, we also impact the epidemic by identifying ways to reduce its new infections, mitigate its stigma and alleviate its suffering."
It was NAPWA, which advocates for 1.3 million Americans living with AIDS, that created the annual event of National HIV Testing Day.
The Rustin project is simply one more step in the proverbial journey of a thousand miles, until the disease can be cured and even prevented. In the meantime, Oldham says, "we help individuals living with HIV learn how to tell their stories. We're taking the fight to the streets," with advocates who are HIV positive, one man reaching out to another man, one step at a time.
Office of National AIDS Policy Director Phillips: Congress must increase funding
'Without congressional funding we can't get there'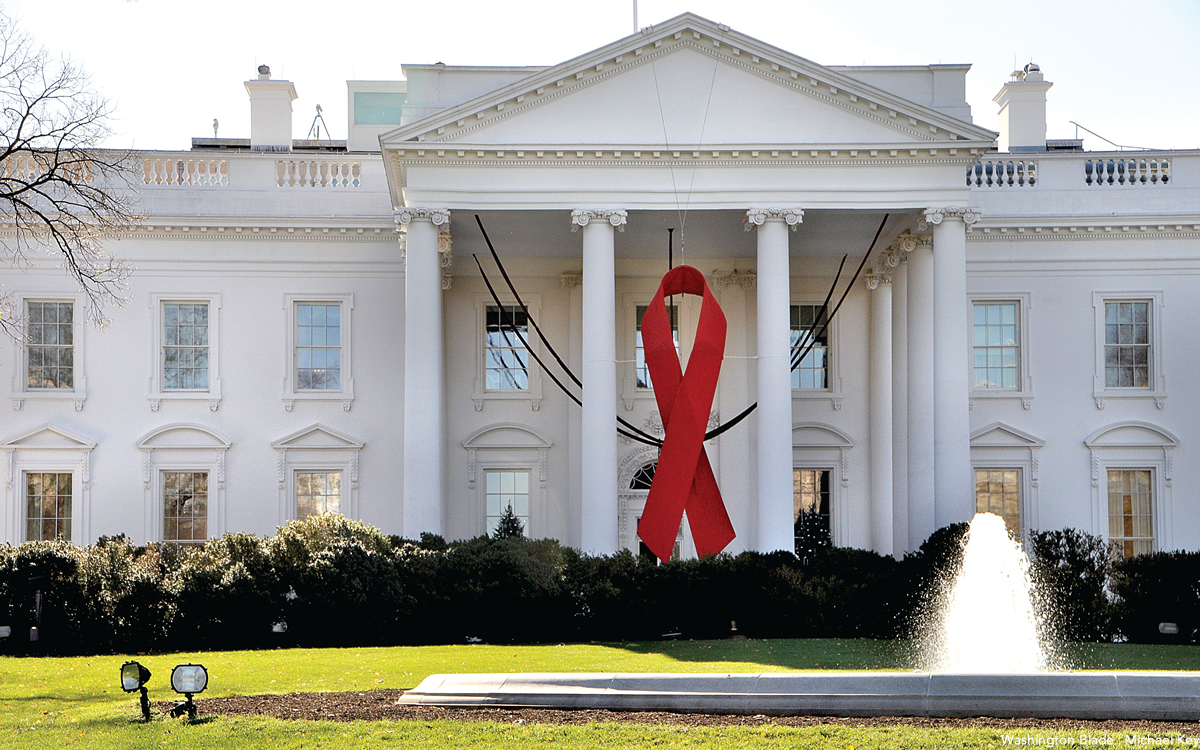 Harold Phillips, director of the White House Office of National AIDS Policy (ONAP), said Monday that Congress must increase funding to end the HIV/AIDS epidemic, including for programs designed around the lives and needs of Americans who are living with the disease.
"We have the support of the Biden-Harris administration, and we have the support at HHS, but without congressional funding we can't get there," said Phillips, who delivered his remarks during the AIDS United annual AIDSWatch conference in Washington, D.C.
Phillips echoed remarks by other speakers in calling for Congress to increase appropriations funding for the U.S. Department of Health and Human Services (HHS) Ryan White HIV/AIDS Program, but he also emphasized the importance of "making space for people living with HIV in other aspects of the budget."
Consistent with the Biden-Harris administration's focus on employing a whole-of-government approach, Phillips said stakeholders must understand that while "HIV is, yes, a public health threat," the disease is also "the result of systemic and structural racism," an intersectional problem requiring more than narrowly focused biomedical or public health responses.
Therefore, he said, these conversations about matters like HIV's impact on Black lives, or considerations for aging folks who are living with the disease, must be held at places like the White House Gender Policy Council, the National Economic Council, and the U.S. Department of Labor.
"When we talk about ending HIV as a public health threat," Phillips said, "we also want to end HIV such that it's not the defining characteristic for people living with HIV and that they can have access to housing, access to employment, good mental health and substance abuse treatment."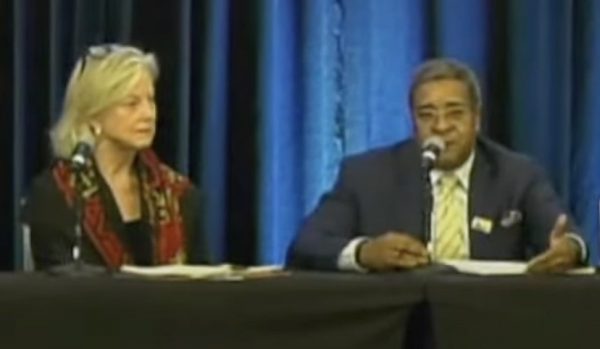 Under Phillips's leadership, data on these considerations for those living with HIV/AIDS will be measured for the first time with ONAP's rollout of new quality of life indicators in the National HIV/AIDS Strategy Federal Implementation Plan.
"There's an indicator in there that's self-reported quality of life," Phillips said, which asks respondents to consider, "how do I feel?" This is important, he added, because people living with HIV may have positive lab results but still feel poorly.
Phillips advised those AIDSWatch participants who are slated to meet with members of Congress and their staffs after hosting a rally on the grounds of the U.S. Capitol Tuesday morning to "build a common bond" with lawmakers by emphasizing the human impact of the appropriations funding for which they are advocating.
An AIDS United spokesperson told the Washington Blade by email Monday that 187 congressional meetings have been scheduled for Tuesday.
Phillips also noted that while "conversations need to happen in Washington, there's also conversations that need to happen on the state and local level," where "we're finding a level of hate and stigma and discrimination that's on course to try to either stop our progress or take us backwards."
Speaking before Phillips, Equality Federation Public Health Policy Strategist Mike Webb stressed the importance of policies under consideration by state and local lawmakers. "Our access to PrEP shouldn't be based on a patchwork of laws by the states," they said, and HIV-related legislative proposals in many cases would "add criminalizing aspects."
Laws already on the books that "criminalize the transmission of, or perceived exposure to, HIV and other infectious diseases," the Movement Advancement Project writes, "create a strong disincentive for being tested for HIV, and result in adverse public health outcomes."
Phillips and the Biden administration have made modernizing or repealing those laws a top priority.
Biden budget earmarks funds for HIV along with new programs for PrEP, hepatitis C
Budget seen as preview of Biden's reelection campaign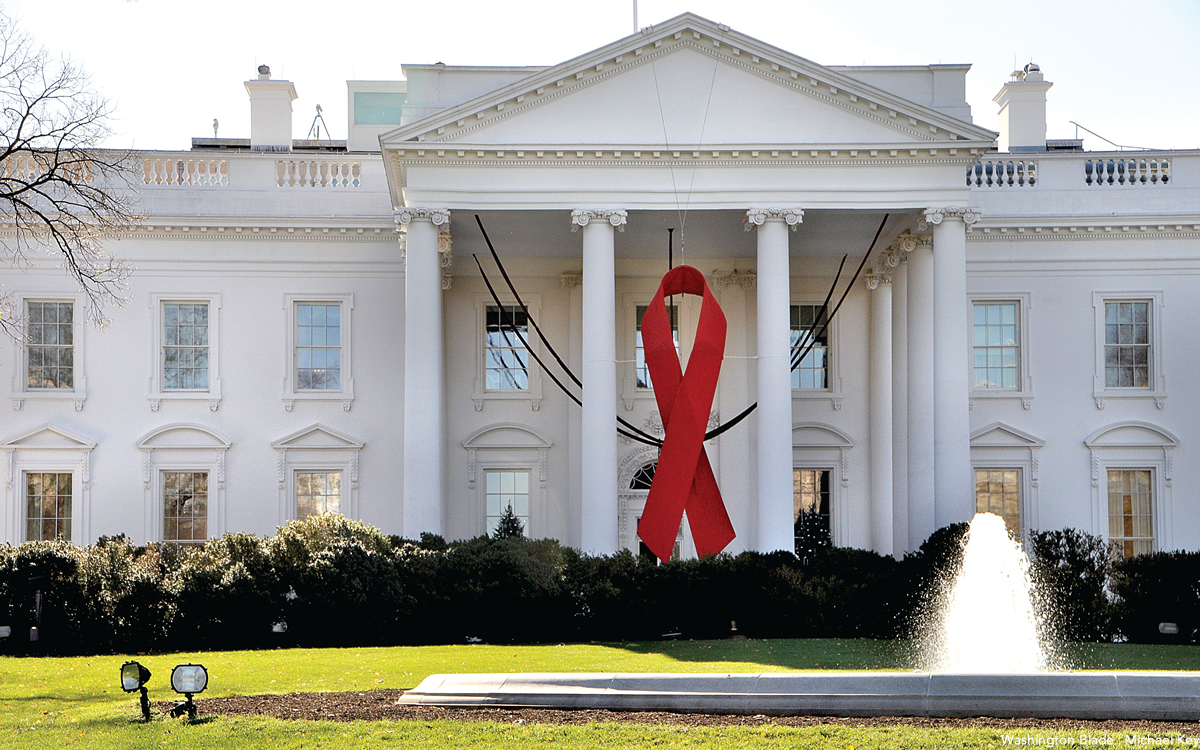 The $6.8 trillion budget unveiled by President Joe Biden on Thursday includes increased investment in existing programs to fight HIV/AIDS, along with new initiatives to expand access to HIV prevention medications and eliminate hepatitis C.
U.S. House Republicans are expected to kill the proposal, which is nevertheless seen as a possible blueprint for the major themes to come in Biden's expected reelection campaign.
Major focus areas of the plan include deficit reduction, increased taxes for the wealthy, and increased spending on the military and other endeavors to compete with China.
The HIV + Hepatitis Policy Institute praised the budget in a press release Thursday, writing that it will "significantly increase the federal resources necessary to end both HIV and hepatitis C."
The group's president, Carl Schmid, said Biden "recognizes the historic role the federal government must play, and the investments needed to end infectious diseases."
First, the plan would bolster funding for the Trump-era Ending the HIV Epidemic in the United States initiative by $313 million, bringing the total to $850 million. Second, it would debut a "ten-year $9.7 billion nationwide PrEP delivery program" and a "historic initiative to eliminate hepatitis C."
PrEP, or preexposure prophylaxis, is a medication regimen that reduces the risk of contracting HIV. According to the HIV + Hepatitis Policy Institute, only 30 percent of patients who could benefit from the drug are taking it.
The new hepatitis C program "seeks to provide outreach, testing, and curative medications to the estimated 2.4 million people living with hepatitis C, many of whom are unaware of their infection."
Gov. Newsom: Calif. will not do business with Walgreens after decision to not distribute abortion pill
20 Republican state attorneys general threatened to sue Walgreens for offering mifepristone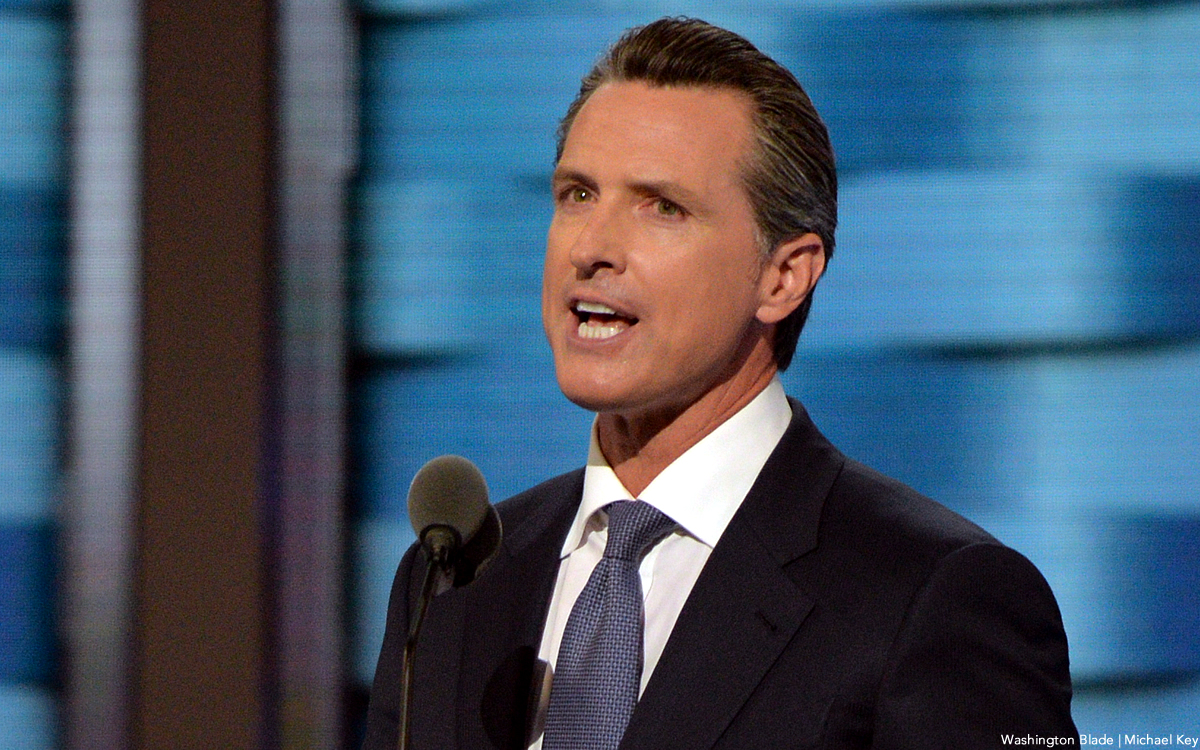 Gov. Gavin Newsom (D-Calif.) announced on Monday that California will not do business with Walgreens following the company's announcement of its decision on Friday to not distribute the abortion pill mifepristone in 20 states.
The move comes amid pressure from conservative lawmakers and threats of legal action against Walgreens and CVS from 20 Republican state attorneys general, who claimed in a Feb. 1 press release that selling mifepristone is "unsafe and illegal."
Mifepristone is still legal in several of the states where Walgreens has decided to stop providing it in response to the specter of lawsuits from state attorneys general: Alaska, Iowa, Kansas and Montana.
Newsom's office told NPR that California will review "all relationships between Walgreens and the state," but declined to provide more specifics.
"California won't be doing business with @walgreens – or any company that cowers to the extremists and puts women's lives at risk," Newsom wrote in the tweet. "We're done."
California won't be doing business with @walgreens — or any company that cowers to the extremists and puts women's lives at risk.

We're done.https://t.co/OB10cYfm8H

— Gavin Newsom (@GavinNewsom) March 6, 2023
"Elected officials targeting pharmacies and their ability to provide women with access to safe, effective, and FDA-approved medication is dangerous and just unacceptable," White House Press Secretary Karine Jean-Pierre said during a briefing on March 3.
"The administration will continue to stand by the FDA's expert judgment in approving and regulating medications. And in the face of barriers to access and concerns about safety of patients, healthcare providers, and pharmacists, we will continue to support access to this critical medication within the limits of the law," Jean-Pierre said.
Meanwhile, Judge Matthew Kacsmaryk of the U.S. District Court for the Northern District of Texas is expected to soon rule on a case challenging the safety of mifepristone that advocates for reproductive justice fear could lead to a nationwide injunction prohibiting the sale and distribution of the abortion drug.
Medical experts have slammed the Texas plaintiffs' lawsuit, arguing that mifepristone's safety and efficacy have been well demonstrated for years. Kacsmaryk, who was appointed by former President Donald Trump, is nevertheless expected to rule in their favor.
"The plaintiffs who have no legitimate standing have hand-picked him to hear this case that has no merit because they know what they're getting with Judge Kacsmaryk," Sen. Ron Wyden (D-Ore.) said last month.
Jean-Pierre addressed the case during a press briefing on March 1: "The decision would be unprecedented, as you know, and devastating to women's health. And we may find ourselves in uncharted territory," she said.
"And so, we're closely — closely working with the Justice Department and DHS — HHS on this, on how to be prepared for any range of outcome or potential outcomes," Jean-Pierre added.