May 5, 2011 at 5:09 pm EDT | by WBadmin
Once a cheater, always a cheater?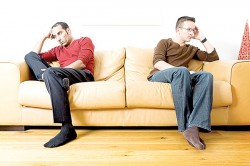 By MEGHANN NOVINSKIE & KIM ROSENBERG
How many times have you been cheated on? Or perhaps a better question to ask is: How many times have you cheated on your partner?
Maybe we should question first what actually "counts" as cheating? We think that actions speak louder than words here. Harmless flirting won't put you in the cheaters anonymous group, generally speaking. But just because you had a couple too many martinis last night when you sloppily kissed someone else, doesn't mean it "doesn't count." This, our friends, qualifies as cheating. OK, so most of us have indulged in the undeniable-chemistry- hookup situation. So is the cliché be true that "once a cheater, always a cheater?"
Working through infidelity is definitely common — many have experienced this, especially in our early years of dating. As we mature, we become more aware of what is important to us in a relationship and are more able to discern whom we choose to date. A word of advice: Don't stay in a relationship where you are considering cheating on your partner.
Unfortunately, many of us have cheated on a partner at one time. It's important to clarify and put these big bad cheaters into two categories — chronic cheaters who give in to that insatiable (or drunken) lust and those of us who "did it once."
The "Did It Once" people probably cheated because of issues within their relationship. Whether there was a lack of sex, intimacy or attention, clearly something was missing. Sure, there is an exception to every rule. However, if the issues behind the cheating are addressed by both parties,
overcoming this unfortunate event could bring the couple closer together. Do we condone cheating as a means to bring hard issues to the table? Absolutely not. But if this situation arises and proactive steps are taken, it's possible a new appreciation for each other could be found.
"Chronic" cheaters typically do it for the thrill, the experience, or the guilty pleasure, almost like an addiction. These people can't keep their focus on one person (or can't keep their zipper zipped). They secretly weren't interested in being in a relationship in the first place and certainly didn't consider that they were hurting anyone when they cheated. This doesn't mean that chronic cheaters are doomed for a life of lying and singledom; they can turn around their old ways. But many times this means working through issues with a therapist, a relationship coach, or just good old fashioned maturing. For some, they just need to put their cheating habits to rest, slow down and embrace the ups and downs of their relationship.
What about open relationships? The idea that open relationships are generally viewed as acceptable changes one's perception about cheating. If an open relationship is truly "open," the word "cheating" probably doesn't exist. However, just because you've been in an open relationship before, don't assume all your relationships will be the same way.
For those of you born yesterday, here are common signs of infidelity: Seeming distant, strange phone calls at strange times, unexplained expenses, abnormal amount of texting, not coming home at a normal time, and acting overly defensive.
The moral of the column this week is not to let people tell you "once a cheater, always a cheater."
QUESTIONS?
E-mail us at advice@washblade.com.