America's Leading Gay News Source
Obama endorses Orlando as host for 2018 Gay Games
President Obama sent a letter last weak endorsing a bid by the City of Orlando to host the 2018 Gay Games, the quadrennial international LGBT athletic competition that draws as many as 200,000 athletes and spectators.
"I am pleased to voice my support for the City of Orlando's bid to host the Gay Games 2018," the president said in a letter to Orlando 2018, the organization working on the bid.
"As President of the United States, I am committed to advancing equality for the Lesbian, Gay, Bisexual, and Transgender (LGBT) community, both in America and around the world," he said.
Mikael Audebert, project director for Orlando 2018, said Obama's endorsement letter is believed to mark the first time a U.S. president has expressed support for the Gay Games or any LGBT event of that size.
Obama's endorsement for Orlando comes at a time when many Gay Games observers believe – incorrectly, in Audebert's view – that Gay Games organizers are unlikely to choose a U.S. city two times in a row.
Following a hotly contested bidding process, the Federation of Gay Games in 2009 selected Cleveland over Washington, D.C. and Boston to host the 2014 Gay Games.
Audebert noted that Orlando is now the only remaining bidder for the 2018 Gay Games from any place in the world other than Europe. The remaining cities competing for the 2018 games are London, Paris, Amsterdam, and Limerick, Ireland.
"Thanks to its geographical positioning and its relationships with the Americas, Orlando is poised to bring more LGBT Athletes from Central and South America, currently under-represented at the Gay Games," he told the Blade.
Audebert, who also serves as executive director of Converge Orlando, an LGBT oriented travel and business bureau, said Orlando offers "world class theme parks, hotels and venues making our region one of the best suited to host 14,00 athletes competing in over 30 different sports."
In his letter endorsing Orlando for the Gay Games, Obama joined the city's leaders in touting its ability to accommodate a large event.
"Orlando's vibrant tourism industry makes it ideally suited to host a record-breaking number of more than 200,000 attendees – including over 14,000 athletes – and the city would be honored to provide the guests and athletes a wonderful, unique experience," he said. "I strongly support Orlando's bid, and I urge the Federation of Gay Games to approve it."
The Federation of Gay Games is expected to announce its selection in the fall.
Records provided on the Gay Games website show that a U.S. city has not hosted two consecutive Gay Games competitions since 1982 and 1986, when the first two competitions were held in San Francisco.
According to Audebert, public officials in Orlando and surrounding Orange County, Fla., are supportive of LGBT equality and are working with LGBT leaders to push for Orlando's selection as host city for the Gay Games.
Read the letter bellow: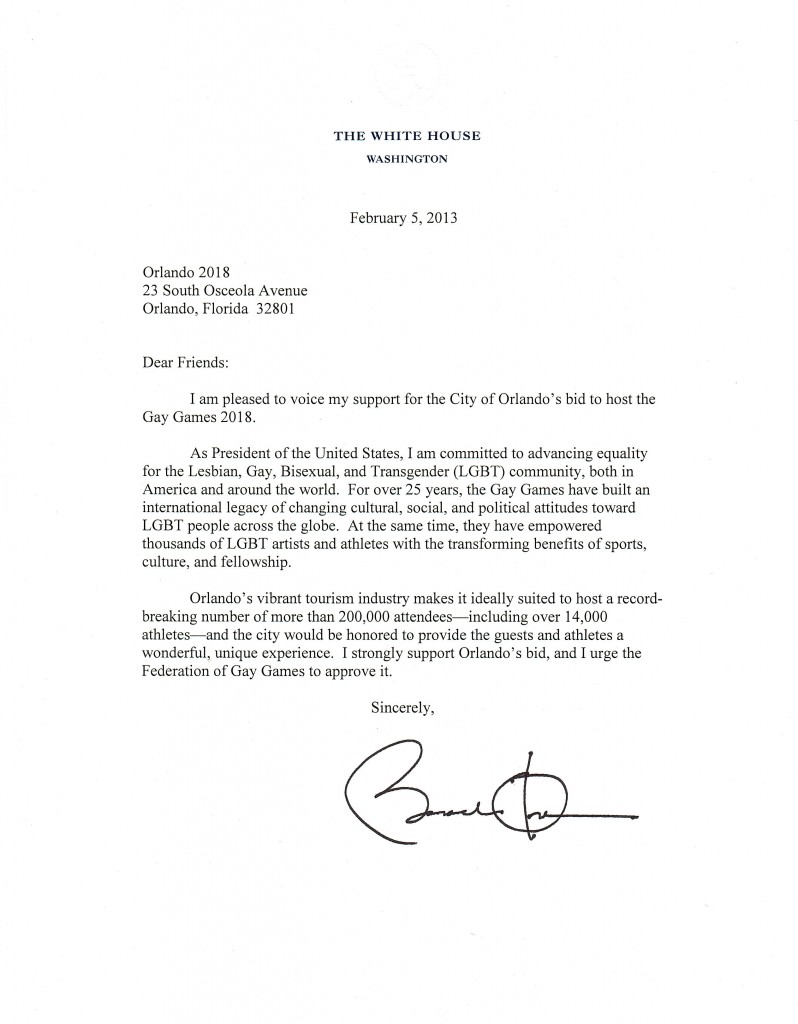 Filed under
national news
,
news
. You can follow any responses to this entry through the
RSS 2.0
.
Tagged with
Amsterdam
,
Barack Obama
,
Boston
,
Cleveland
,
Converge Orlando
,
District of Columbia
,
England
,
Federation of Gay Games
,
Florida
,
France
,
Gay Games
,
Homepage Headlines
,
Ireland
,
Limerick
,
London
,
Massachusetts
,
Mikael Audebert
,
Ohio
,
Orange County
,
Orlando
,
Orlando 2018
,
Paris
,
sports
,
United Kingdom
,
Washington DC
We welcome your thoughtful, respectful comments. Please read our 'Terms of Service' page for more information about community expectations.
Comments from new visitors, flagged users, or those containing questionable language are automatically held for moderation and may not appear immediately.
© Copyright Brown, Naff, Pitts Omnimedia, Inc. 2014. All rights reserved.