America's Leading Gay News Source
Cleve Jones

Will be on the National Mall from July 21-25
June 6, 2012 |
8 Comments

How will the trailblazer be remembered? And what is his rightful place in the pantheon of gay rights legends?
October 20, 2011 |
2 Comments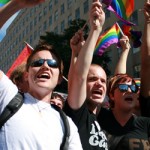 Spinoff group Equality Across America dissolved one year later
March 3, 2011 |
5 Comments
© Copyright Brown, Naff, Pitts Omnimedia, Inc. 2013. All rights reserved.