Stonewall wasn't the only LGBT riot
Lesser-known protests erupted in San Francisco
With the 50th anniversary of the June 1969 Stonewall riots in New York's Greenwich Village taking place this weekend, the compelling story of how LGBT people fought back following the police raid on the Stonewall Inn gay bar will likely capture the attention this week of the LGBT community and its allies.
But those familiar with LGBT history point out that there were three other riots besides Stonewall in which LGBT people fought back against injustices by police, government officials, and society in general. All of them took place in San Francisco.
Compton's Cafeteria Riot
One of them, known as the Compton's Cafeteria Riot, took place in San Francisco's Tenderloin neighborhood in August 1966, three years before Stonewall. Those familiar with it say it was led by LGBT people known then as drag queens and "cross dressers" but who today would be known to be transgender women.
Many of them hung out at the late night cafeteria, which operated as a restaurant.
According to an account by transgender historian Susan Stryker in her 2008 book "Transgender History," the cafeteria's trans customers and their gay male friends were frequently harassed by the cafeteria's management and by police in the early and mid-1960s.
At the time, so-called "cross-dressing" was illegal in San Francisco, and police and local regulatory agencies often threatened to close bars or eateries like Compton's for allowing such people to patronize their establishments.
Stryker reports in her book that the Compton's Cafeteria riot was triggered when a police officer attempted to arrest a trans woman inside the cafeteria and she responded by throwing the coffee she was drinking in the officer's face.
That act of defiance, coming on the heels of years of harassment by the police, prompted other trans people and their friends to "erupt," Stryker wrote. People began to throw dishes and furniture and the cafeteria's plate glass windows were smashed. When police reinforcements rushed to the scene the fighting spilled into the street, where people smashed the windows of a police car and set a sidewalk newsstand on fire.
Stryker, who also co-produced a documentary film on the riot called "Screaming Queens: The Riot at Compton's Cafeteria," reports that more than a dozen people were taken away by police in paddy wagons that night.
She reported that on the next night more transgender people, sex workers, Tenderloin neighborhood "street people," and LGBT people in general returned to the scene to picket Compton's Cafeteria after learning the management had banned transgender people from going back to the establishment.
In what observers consider an important pre-Stonewall development for LGBT rights, trans and LGBT youth under the guidance of the progressive Glide Memorial Church in San Francisco formed a group that staged protests over the next year or two against police harassment of trans and gay youth in the Tenderloin area.
White Night Riots
What has become known as the White Night Riots erupted in San Francisco on May 21, 1979 hours after news broke that a jury had rejected prosecutors' call for a first-degree murder conviction for the man who assassinated gay rights icon and San Francisco Supervisor Harvey Milk and the city's pro-LGBT mayor George Moscone.
To the shock and horror of San Francisco's large LGBT community and its allies, the jury instead convicted ex-police officer and former supervisor Dan White of voluntary manslaughter for the two killings, prompting a judge to sentence him to seven years and eight months in prison. With good behavior, he would be eligible for release after serving just five years.
Legal observers said the jury appeared to have been persuaded by the defense attorneys' argument that White suffered from an impaired mental state due to depression and the excessive consumption of fast food, which later became known as the "Twinkie defense."
Police and prosecutors said White shot Milk and Moscone on Nov. 27, 1978 multiple times in the head and body execution style with a handgun inside their offices at City Hall, which White entered through an unguarded door he knew about as a former supervisor.
According to accounts by the media and by longtime LGBT and AIDS activist Cleve Jones, who worked on Milk's staff and who was present during the riots, the LGBT community responded to the news about White's verdict by organizing a peaceful protest in the city's largely gay Castro neighborhood.
What started with about 500 people quickly grew to 1,500 as the protesters marched through the streets and swelled to more than 5,000 as the crowed reached City Hall in what observers described as an angry mood that took on the air of a mob.
Media accounts say some in the crowd began to smash the windows and glass front doors of the City Hall building as several of Milk's friends and longtime supporters attempted to hold the crowd back. Although police officials said later that the large number of police officers dispatched to the scene were directed to hold back the crowd, many officers waded into the crowd and attacked the protesters with nightsticks, inflaming what was already a volatile situation.
The police action prompted angry protesters to begin smashing the windows of police cars and setting them and other cars on fire by tossing lit matchbooks into the cars, causing the gas tanks to explode. At least a dozen police cars and eight other cars were destroyed that way before the rioting ended later in the evening.
Media reports said at least 61 police officers and an estimated 100 or more protesters or members of the public were hospitalized as a result of the rioting. Additional people were injured, media reports said, when a group of police officers disobeyed orders from the chief of police not to retaliate and raided a gay bar in the Castro neighborhood later in the evening.
Witnesses said the renegade officers, who placed tape over their nametags and badges, smashed the Elephant Walk bar's windows and attacked its patrons for about 15 minutes. They then went out on the street and attacked others they believed to be gays who participated in the rioting.
Further LGBT organized protests took place in the following days that did not trigger violence. One of the later protests drew more than 20,000 people who assembled peacefully at Castro and Market Streets. The city's then mayor, Dianne Feinstein, and gay Supervisor Harry Britt, who replaced Milk on the Board of Supervisors, vowed to take steps to protect the rights of LGBT people and curtail anti-LGBT violence.
AB 101 Veto Riot
The last of the three known other LGBT riots took place in San Francisco on Sept. 30, 1991. Similar to the White Night Riots, it was triggered by breaking news earlier that day.
Then-California Gov. Pete Wilson (R) vetoed a major gay rights bill approved by the state legislature known as Assembly Bill 101, which called for banning employment discrimination based on someone's sexual orientation. Wilson initially suggested he would sign the legislation, but political observers said he changed his mind at the behest of his party's religious right faction and other conservatives whose support he needed for his re-election bid.
Several thousand outraged LGBT activists and their supporters marched from the Castro district to a downtown state office building to protest Wilson's veto. The crowd far outnumbered startled police officers, who were not expecting such a large turnout. According to media reports, a small number of protesters smashed the building's first floor windows and door, entered the building and started a fire that was quickly extinguished by firefighters but which resulted in more than $150,000 in damages.
That same week about 2,000 angry LGBT protesters in Los Angeles marched from West Hollywood to the Los Angeles Museum of Art, where Wilson was attending an opening of an exhibition of Mexican art, according to the L.A. Times. The protesters stopped short of rioting but set a California state flag on fire and burned Wilson in effigy, the Times reported.
IOC: 'Trans Women Are Women' Laurel Hubbard set to make sports history
Laurel Hubbard is set to make sports history on Monday and the International Olympic Committee clearly has her back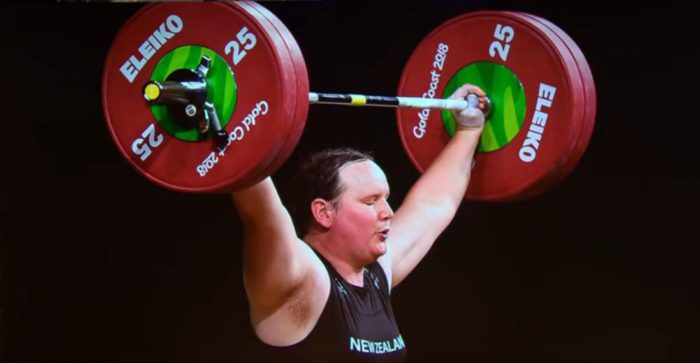 TOKYO – The director of medicine and science for the International Olympic Committee praised weightlifter Laurel Hubbard's "courage and tenacity" as she prepares for her upcoming competition as the world's first out transgender woman Olympian.
In speaking to reporters in Tokyo Thursday, Dr. Richard Budgett directly addressed those who have attacked and mocked the 43-year-old New Zealander and claimed she shouldn't be competing with cisgender women, saying "everyone agrees that trans women are women."
"To put it in a nutshell," he said, "the IOC had a scientific consensus back in 2015. There are no IOC rules or regulations around transgender participation. That depends on each international federation. So Laurel Hubbard is a woman, is competing under the rules of her federation and we have to pay tribute to her courage and tenacity in actually competing and qualifying for the Games."
Hubbard herself has not made any public comments except for a statement following her qualifying for the Summer Games, saying she was "humbled" by the support which had helped her "through the darkness" following a near career-ending injury in Australia in 2018.
Reports around the world have claimed Hubbard is the first trans Olympic athlete, which is actually not the case. As the Los Angeles Blade has reported, Quinn, a trans nonbinary soccer midfielder for Team Canada, last Wednesday became the first out trans athlete ever to complete in the Olympic Games. They posted about it on Instagram, saying, "I feel proud seeing 'Quinn' up on the lineup and on my accreditation. I feel sad knowing there were Olympians before me unable to live their truth because of the world."
The IOC is expected to review and likely revise its policies on transgender participation following Tokyo. Trans athlete and researcher Joanna Harper, who has advised the organization and other sports policy groups, told the Los Angeles Blade her recommendation will be for the IOC to continue to regulate trans athletes sport-by-sport. "There shouldn't be a one-size fits all policy," said Harper.
She also noted how the mainstream cisgender media is consumed with coverage of Hubbard and missing out on the bigger picture, and what it will mean for the next generation watching on TV and online.
"The lack of attention paid to Quinn and to Chelsea Wolfe has been interesting," said Harper.
"A few news outlets have commented on their presence in Tokyo and in Quinn's case the comments have been mostly favorable. On the other hand, the storm of mostly negative press heaped on Laurel Hubbard has been disappointing, although predictable. I hope that the negative press that Laurel has gotten won't dissuade young trans athletes from following their dreams. I think that the next trans woman to compete in the games will get less negative press, and eventually (although probably not in my life) there will come a time when trans women in sport generate little or no controversy."
Hubbard issued a statement Friday via the New Zealand Olympic Committee in which she said: "The Olympic Games are a global celebration of our hopes, our ideals and our values. I commend the IOC for its commitment to making sport inclusive and accessible."
According to a French news outlet, NZOC spokesperson Ashley Abbott told reporters the committee had seen a "particularly high level of interest" in Hubbard's Olympic debut, and much of it has been negative.
"Certainly we have seen a groundswell of comment about it and a lot of it is inappropriate," Abbott said. "Our view is that we've got a culture of manaaki (inclusion) and it's our role to support all eligible athletes on our team. In terms of social media, we won't be engaging in any kind of negative debate."
Abbott reminded the media that the NZOC's job was to support its athletes, including Hubbard. "We all need to remember that there's a person behind all these technical questions," she said. "As an organization we would look to shield our athlete, or any athlete, from anything negative in the social media space. We don't condone cyberbullying in any way."
RELATED: CBS This Morning from 22 Jun 2021
LGBTQ+ ally Jamie Lee Curtis reveals her 25-year-old child is Trans
Curtis and her husband Christopher Guest, British screenwriter, composer, musician, director, and actor have two daughters.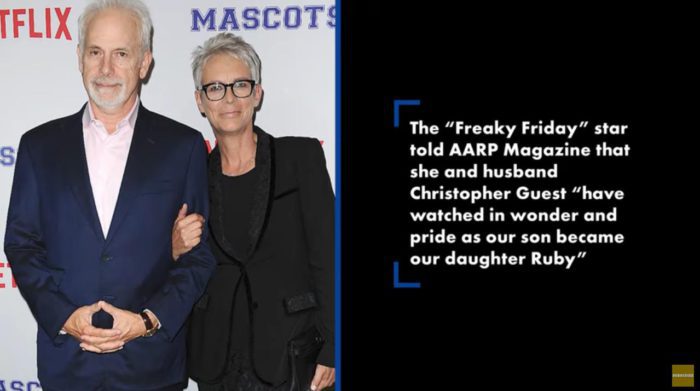 LOS ANGELES – In a new interview with the American Association of Retired Persons' magazine, Golden Globe and BAFTA winning actress Jamie Lee Curtis disclosed that her youngest child is transgender. In the interview Curtis reflected that she has "watched in wonder and pride as our son became our daughter Ruby."
Curtis and her husband Christopher Guest, British screenwriter, composer, musician, director, and actor have two daughters. Ruby, 25, works as a computer gaming editor while Curtis and Guest's 34-year-old daughter, Annie, is married and works as a dance instructor. Curtis also noted that Ruby and her fiancé are getting married next year in a wedding that Curtis will officiate.
The longtime Hollywood couple have been married for more than 36 years but have no grandchildren, "but I do hope to," she told the magazine.
Non-binary Olympian leaves games without a medal but still a winner
For the first time in my entire life, I'm proud of the person I've worked to become. I chose my happiness over medaling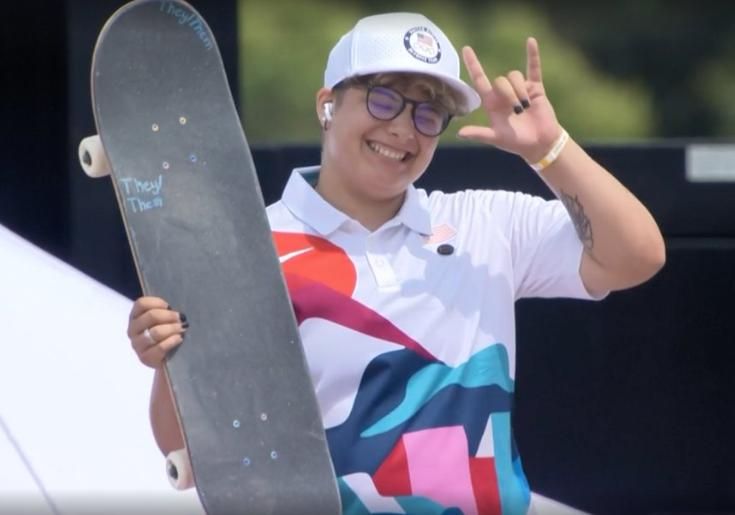 TOKYO – In a series of firsts for the Summer Olympic Games, Alana Smith left the Tokyo games with a sense of accomplishment and a couple of firsts. The 20-year-old non-binary skateboarder competing in the debut of their sport noted on their Instagram account, "My goal coming into this was to be happy and be a visual representation for humans like me."
Smith wrote: 'What a wild f***ing ride…My goal coming into this was to be happy and be a visual representation for humans like me. For the first time in my entire life, Im proud of the person I've worked to become. I chose my happiness over medaling. Out of everything I've done, I wanted to walk out of this knowing I UNAPOLOGETICALLY was myself and was genuinely smiling.
The feeling in my heart says I did that. Last night I had a moment on the balcony, I'm not religious or have anyone/anything I talk to. Last night I thanked whoever it was out there that gave me the chance to not leave this world the night I laid in the middle of the road. I feel happy to be alive and feel like I'm meant to be here for possibly the first time in a extremely long time. On or off day, I walked out of this happy and alive… Thats all I have ever asked for.
Thank you to all the incredible humans that have supported me through so many waves of life. I can't wait to skate for the love of it again, not only for a contest. Which is wild considering a contest helped me find my love for it again. 💛🤍💜🖤"
Smith's Olympic debut was slightly marred by their being misgendered during news coverage of their events by BBC commentators misgendering Smith discussing their performance, which led to protests from LGBTQ+ groups and allies including British LGBTQ+ advocacy group Stonewall UK.
Alana Smith (they/them), American pro-skater in the #Tokyo2020 Olympics has been repeatedly misgendered by journalists. We hope there will be swift corrections. All athletes deserve to be respected & celebrated as part of the games.#OlympicsForAll https://t.co/EO1JiHZOgT 💛🤍💜🖤

— Stonewall (@stonewalluk) July 27, 2021
During the competition, Smith proudly held up their skateboard, which featured their pronouns they/them written across the top. The misgendering was addressed by NBC Sports which issued an apology Tuesday for streaming coverage that misgendered Smith.
"NBC Sports is committed to—and understands the importance of—using correct pronouns for everyone across our platforms," the network said. "While our commentators used the correct pronouns in our coverage, we streamed an international feed that was not produced by NBCUniversal which misgendered Olympian Alana Smith. We regret this error and apologize to Alana and our viewers."
Alana Smith slaps, and I gotta say it was so incredibly cool to see someone so much like me thriving and expressing so much joy at the Olympics. pic.twitter.com/tA9bWWDcj4

— Mel Woods 🌾🌈 (@intothemelwoods) July 26, 2021
NBC also reported that this is the first Olympics in history that has featured skateboarding, with 16 athletes traveling to Tokyo to represent the United States. Smith qualified for the third Olympic spot in the women's street category after competing at the World Skate World Championships in 2019, according to Dew Tour, which hosts international skateboarding competitions.
According to Outsports, the online LGBTQ+ Sports magazine and NBC Sports, Smith is one of more than 160 openly LGBTQ athletes competing at this year's Tokyo Olympics and one of at least three openly nonbinary or Trans athletes.
Quinn, a midfielder for the Canadian women's soccer team who goes by only their first name, is the first openly Trans athlete and nonbinary athlete to compete in the games. Laurel Hubbard, a Trans woman from New Zealand will compete in the super heavyweight 87 kilogram-plus (192 pound-plus) weightlifting category on August 2.