Stonewall wasn't the only LGBT riot
Lesser-known protests erupted in San Francisco
With the 50th anniversary of the June 1969 Stonewall riots in New York's Greenwich Village taking place this weekend, the compelling story of how LGBT people fought back following the police raid on the Stonewall Inn gay bar will likely capture the attention this week of the LGBT community and its allies.
But those familiar with LGBT history point out that there were three other riots besides Stonewall in which LGBT people fought back against injustices by police, government officials, and society in general. All of them took place in San Francisco.
Compton's Cafeteria Riot
One of them, known as the Compton's Cafeteria Riot, took place in San Francisco's Tenderloin neighborhood in August 1966, three years before Stonewall. Those familiar with it say it was led by LGBT people known then as drag queens and "cross dressers" but who today would be known to be transgender women.
Many of them hung out at the late night cafeteria, which operated as a restaurant.
According to an account by transgender historian Susan Stryker in her 2008 book "Transgender History," the cafeteria's trans customers and their gay male friends were frequently harassed by the cafeteria's management and by police in the early and mid-1960s.
At the time, so-called "cross-dressing" was illegal in San Francisco, and police and local regulatory agencies often threatened to close bars or eateries like Compton's for allowing such people to patronize their establishments.
Stryker reports in her book that the Compton's Cafeteria riot was triggered when a police officer attempted to arrest a trans woman inside the cafeteria and she responded by throwing the coffee she was drinking in the officer's face.
That act of defiance, coming on the heels of years of harassment by the police, prompted other trans people and their friends to "erupt," Stryker wrote. People began to throw dishes and furniture and the cafeteria's plate glass windows were smashed. When police reinforcements rushed to the scene the fighting spilled into the street, where people smashed the windows of a police car and set a sidewalk newsstand on fire.
Stryker, who also co-produced a documentary film on the riot called "Screaming Queens: The Riot at Compton's Cafeteria," reports that more than a dozen people were taken away by police in paddy wagons that night.
She reported that on the next night more transgender people, sex workers, Tenderloin neighborhood "street people," and LGBT people in general returned to the scene to picket Compton's Cafeteria after learning the management had banned transgender people from going back to the establishment.
In what observers consider an important pre-Stonewall development for LGBT rights, trans and LGBT youth under the guidance of the progressive Glide Memorial Church in San Francisco formed a group that staged protests over the next year or two against police harassment of trans and gay youth in the Tenderloin area.
White Night Riots
What has become known as the White Night Riots erupted in San Francisco on May 21, 1979 hours after news broke that a jury had rejected prosecutors' call for a first-degree murder conviction for the man who assassinated gay rights icon and San Francisco Supervisor Harvey Milk and the city's pro-LGBT mayor George Moscone.
To the shock and horror of San Francisco's large LGBT community and its allies, the jury instead convicted ex-police officer and former supervisor Dan White of voluntary manslaughter for the two killings, prompting a judge to sentence him to seven years and eight months in prison. With good behavior, he would be eligible for release after serving just five years.
Legal observers said the jury appeared to have been persuaded by the defense attorneys' argument that White suffered from an impaired mental state due to depression and the excessive consumption of fast food, which later became known as the "Twinkie defense."
Police and prosecutors said White shot Milk and Moscone on Nov. 27, 1978 multiple times in the head and body execution style with a handgun inside their offices at City Hall, which White entered through an unguarded door he knew about as a former supervisor.
According to accounts by the media and by longtime LGBT and AIDS activist Cleve Jones, who worked on Milk's staff and who was present during the riots, the LGBT community responded to the news about White's verdict by organizing a peaceful protest in the city's largely gay Castro neighborhood.
What started with about 500 people quickly grew to 1,500 as the protesters marched through the streets and swelled to more than 5,000 as the crowed reached City Hall in what observers described as an angry mood that took on the air of a mob.
Media accounts say some in the crowd began to smash the windows and glass front doors of the City Hall building as several of Milk's friends and longtime supporters attempted to hold the crowd back. Although police officials said later that the large number of police officers dispatched to the scene were directed to hold back the crowd, many officers waded into the crowd and attacked the protesters with nightsticks, inflaming what was already a volatile situation.
The police action prompted angry protesters to begin smashing the windows of police cars and setting them and other cars on fire by tossing lit matchbooks into the cars, causing the gas tanks to explode. At least a dozen police cars and eight other cars were destroyed that way before the rioting ended later in the evening.
Media reports said at least 61 police officers and an estimated 100 or more protesters or members of the public were hospitalized as a result of the rioting. Additional people were injured, media reports said, when a group of police officers disobeyed orders from the chief of police not to retaliate and raided a gay bar in the Castro neighborhood later in the evening.
Witnesses said the renegade officers, who placed tape over their nametags and badges, smashed the Elephant Walk bar's windows and attacked its patrons for about 15 minutes. They then went out on the street and attacked others they believed to be gays who participated in the rioting.
Further LGBT organized protests took place in the following days that did not trigger violence. One of the later protests drew more than 20,000 people who assembled peacefully at Castro and Market Streets. The city's then mayor, Dianne Feinstein, and gay Supervisor Harry Britt, who replaced Milk on the Board of Supervisors, vowed to take steps to protect the rights of LGBT people and curtail anti-LGBT violence.
AB 101 Veto Riot
The last of the three known other LGBT riots took place in San Francisco on Sept. 30, 1991. Similar to the White Night Riots, it was triggered by breaking news earlier that day.
Then-California Gov. Pete Wilson (R) vetoed a major gay rights bill approved by the state legislature known as Assembly Bill 101, which called for banning employment discrimination based on someone's sexual orientation. Wilson initially suggested he would sign the legislation, but political observers said he changed his mind at the behest of his party's religious right faction and other conservatives whose support he needed for his re-election bid.
Several thousand outraged LGBT activists and their supporters marched from the Castro district to a downtown state office building to protest Wilson's veto. The crowd far outnumbered startled police officers, who were not expecting such a large turnout. According to media reports, a small number of protesters smashed the building's first floor windows and door, entered the building and started a fire that was quickly extinguished by firefighters but which resulted in more than $150,000 in damages.
That same week about 2,000 angry LGBT protesters in Los Angeles marched from West Hollywood to the Los Angeles Museum of Art, where Wilson was attending an opening of an exhibition of Mexican art, according to the L.A. Times. The protesters stopped short of rioting but set a California state flag on fire and burned Wilson in effigy, the Times reported.
Forget Santa Claus – Ginger Minj is comin' to town
'Drag Race' alum's Winter Wonderland Tour stops in D.C. Nov. 29 and 30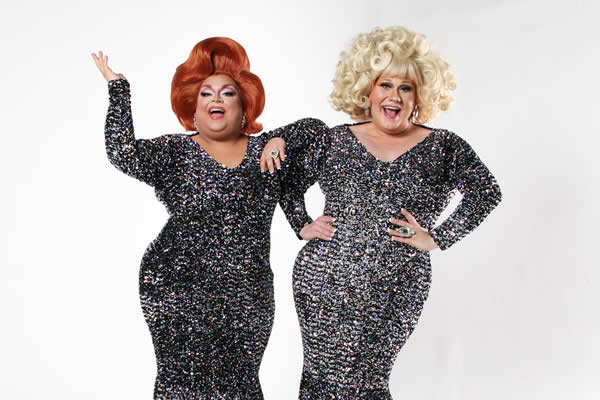 Ginger Minj is a busy little elf.
From her new country album "Double Wide Diva" to sporadic stints in TV and movies to her upcoming book, "Southern Fried Sass" (which reportedly scored her a six-figure deal), the "Drag Race" diva is everywhere these days, including a venue near you. On Nov. 29 and 30, the new queen of Christmas will perform her holiday spectacular Winter Wonderland Tour at Miracle Theatre.
We recently caught up with the multitalented actress/comedian/singer to discuss her continued success, including making friends with Jennifer Aniston while filming Netflix's "Dumplin,'" her take on the latest Dave Chappelle backlash, the best Christmas gift she's ever received, and what exactly makes her the "nicest bitch" this side of the North Pole – but first, let's take a sleigh ride back to the beginning.
BLADE: Tell me a bit about how you got started in drag and the genesis of Ginger Minj.
GINGER MINJ: Like most good show-tune-loving queers, I stumbled into drag through musical theater. I auditioned for a show that required either full-frontal nudity or drag, and I figured I would fare better in a wig and heels than nothing at all. I got the role and really took to it quickly. I felt more free and honest as a performer than I ever had before, and I realized I could make a livable income doing something that I was wholly responsible for creating.
BLADE: How has your appearance on "Drag Race" helped your career, and what are your top takeaways from your time on the show?
GM: It's an international platform that allows us to introduce ourselves to the entire world. It got me a seat at the table with people and places that refused to even open the door for me in the past. I think there was – and maybe still is sometimes – this initial assumption that drag artists are limited in their talents, but we have been able to show the world that we are just as talented and capable as any other entertainer. I don't wear a wig as a gimmick. I wear it as an accessory, and it doesn't mean I shouldn't be taken as seriously as any other actor, singer, etc. "Drag Race" is doing a great job of showing the world that – and I'll forever be grateful.
BLADE: If folks didn't catch you on "Drag Race," they might recognize you from the 2018 Netflix movie "Dumplin'" starring Jennifer Aniston and Dove Cameron. What was your experience like on set, and do you have any other TV/film projects in the works?
GM: "Dumplin'" was the single best experience of my life! Jennifer Aniston brought me coffee every morning, and Kathy Najimy had my trailer moved next to hers so we could listen to Beyoncé and play with makeup. That entire cast and crew treated all of us queens with unbelievable respect. It really gave me a passion for filmmaking and, yes, I'm happy to say there are a few more projects – big screen and small – coming your way soon.
BLADE: What makes you the "nicest bitch you'll ever meet?"
GM: It's like those good ole' southern church ladies who will give you the shirts off their backs but read you to filth for not bringing one of your own. The only thing bigger than my mouth is my heart and the "shady" things I say should never be taken seriously.
BLADE: As a comedian yourself, what are your thoughts on the latest Dave Chappelle/Netflix controversy?
GM: I've always felt like comedy and drag go hand in hand: It's an outrageous way to start a conversation and make people confront their own feelings about anything and everything. That being said, I think there's a way to do that without disparaging and discrediting an entire group of human beings. I think it's shameful that someone with that great of a platform would choose to punch down.
BLADE: Your new single "Walk Tall" is about growing up gay in the South – and it's a very good song. Radio worthy even, but a hard sell, given its content, to a country-music audience. How do you think that changes? Will LGBTQ+ country artists ever enjoy the kind of success their straight counterparts do?
GM: I think so. To be completely honest with you, I've gotten much more support for that album from the country community than I have from the drag world. The message is so universal, and we were very careful to do it in an authentic, simple way. When we stop focusing on our differences and start embracing our similarities, the world can change. I just do the things that make me happy and hope it finds the people who need to hear it.
BLADE: Christmas is just around the corner – do you prefer giving or receiving? What's your most prized Christmas present from the past?
GM: I'm definitely a giver! I drive myself crazy for months researching and planning and looking for the perfect gifts for everyone. It's my way of showing the people I care most about that while I may be busy, I'm listening. I hear them, I see them, and I appreciate them. The best Christmas present I ever got was a cheap plastic pair of ruby slippers from my mama when I was a kid. I still have them. That moment changed my life forever. It's what actually inspired "Walk Tall."
BLADE: Like Santa Claus himself, the Ginger Minj Winter Wonderland Tour 2021 is coming to town. What do you have in store for audiences this holiday season?
GM: What don't we have in store?! There are 20 costume changes, instructional videos gone terribly wrong, singing, dancing, magic tricks, fog machines, comedy, and it even snows over the audience! This is the biggest, prettiest, most ambitious show we have ever put together.
BLADE: Looking forward to 2022, what's in the works? What are a few of your New Year's resolutions?
GM: So many great things — more music, some movies, some TV, a stage production of "La Cage aux Folles" in Chicago, and my book "Southern Fried Sass" will hit the shelves. It's a great time to be the "Glamour Toad," and I am grateful every single day.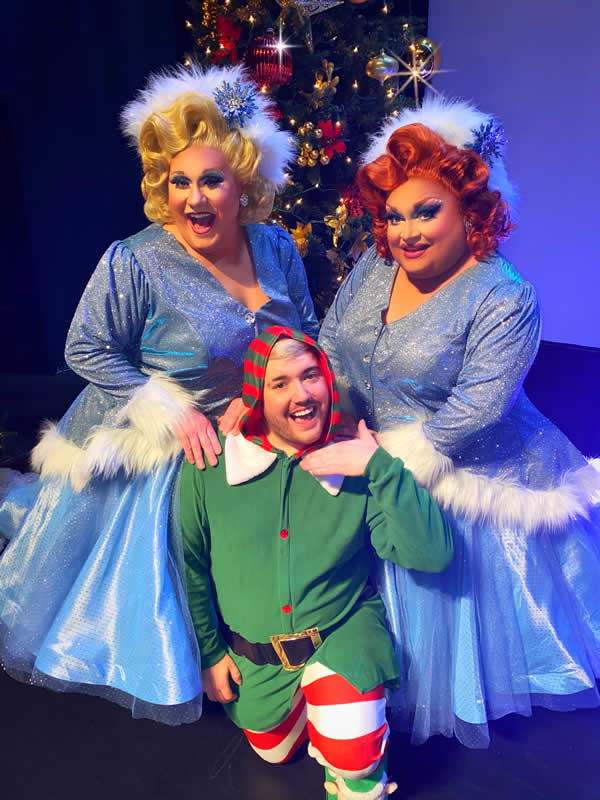 Mikey Rox is an award-winning journalist and LGBT lifestyle expert whose work has been published in more than 100 outlets across the world. Connect with Mikey on Instagram @mikeyroxtravels.
Forget streaming, the holiday classics return to area stages
Bring your proof of vaccination and check out a local production this season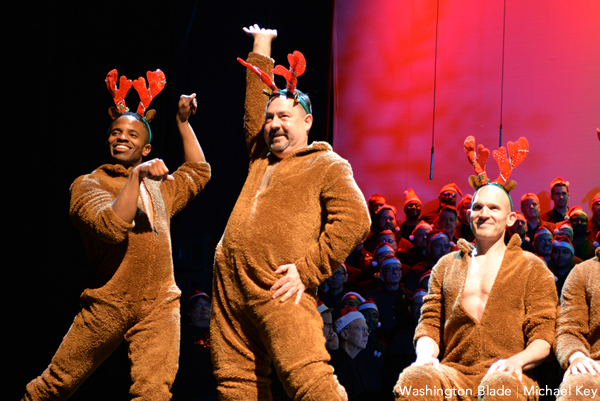 A year ago, the holiday season was streamed. But now, thanks to various protocols including masks and proof of vaccination, DMV theatergoers can come together and experience – live and in-person — both beloved classics and some promising new works. Here's a smattering of what's out there.
At Olney Theatre, Paul Morello is thrilled to bring back "A Christmas Carol 2021" (through Dec. 26), his solo adaptation of Dickens' ghost story. Concerning returning to a live audience, Morello says, "While this is technically a one-person show, it's really about the connection and collaboration with an audience, being in the same room, breathing in unison. I can't do this without an audience and for a story that thrives on redemption, mortality, isolation, the need for community and connection, and the things that matter most, the timing couldn't be better."
Olney also presents "Disney's Beauty and the Beast" through Jan. 2. This musical "tale as old as time" stars out actor Jade Jones as Belle and Evan Ruggiero plays the Beast. olneytheatre.org
For the holidays, Synetic Theater at Crystal City is reworking "Cinderella" (Nov. 27-Dec. 26). Led by an all-female team of creators, this festive take on the classic fairytale is inspired by Afro-Latino music and dance. Directed and adapted by Maria Simpkins who also plays the title role. synetictheater.org
Last year, because of COVID-19, Ford's Theatre presented "A Christmas Carol" as a radio broadcast, but now the fully produced play returns to the venue's historic stage through Dec. 27. A popular Washington tradition for more than 30 years, the thoroughly enjoyable and topnotch take on the Dickens' classic features Craig Wallace reprising the part of Scrooge, the miser who after a night of ghostly visits, rediscovers Christmas joy. fords.org
Another D.C. tradition guaranteed to put audiences in a holiday mood is the Washington Ballet's "Nutcracker," playing at the Warner Theatre through Dec. 26. Set to Tchaikovsky's enchanted score, this charming and superbly executed offering takes place in Georgetown circa 1882 and features a retinue of historic figures along with children, rats, fairies and a mysterious godfather. Choreography is by Septime Webre. washingtonballet.org
The Folger Consort, the superb early music ensemble in residence at the Folger, will be performing seven concerts of "A Medieval Christmas" (Dec. 10-18) at St. Mark's Church on Capitol Hill. A streaming version of the concert will also be available to view on-demand. folger.edu
At Lincoln Theatre, the Gay Men's Chorus of Washington, D.C. presents "The Holiday Show" (Dec. 4, 11, and 12) replete with tap-dancing elves, a dancing Christmas tree, snow, and a lot more. The fun and festive program's song list includes "Let It Snow! Let It Snow! Let It Snow!", "The 12 Rockin' Days of Christmas," and "Boogie Woogie Frosty." Featured performances range from the full Chorus, soloists, all GMCW ensembles, and the GenOUT Youth Chorus. gmcw.org
Arena Stage is marking the season with August Wilson's "Seven Guitars" (through Dec. 26), a drama about a small group of friends who gather following the untimely death of their friend, a blues guitarist on the edge of stardom. Directed by Tazewell Thompson, the production features an exciting cast that includes local actors Dane Figueroa Edidi and Roz White. arenastage.org
Creative Cauldron is serving up some holiday magic with "The Christmas Angel" (Dec. 9-19). Based on a little-known 1910 novel by Abbey Farwell Brown, it's the story of a lonely and bitter spinster who returns to happiness through a box of old toys. The commissioned new holiday musical is a collaboration of longtime musical collaborators and married couple Matt Conner and Stephen Gregory Smith (lyrics and book). creativecauldron.org
In keeping with the Yuletide spirit, the National Theatre presents two feel-good national tour musicals. First, it's "How the Grinch Stole Christmas!" (through Dec. 5), a musical take on Dr. Seuss' classic holiday tale featuring the hit songs "You're A Mean One, Mr. Grinch" and "Welcome Christmas."
Next up is "Tootsie" (Dec. 7-12), the hit musical based on the 1982 gender-bending film starring Dustin Hoffman as an out-of-work actor who disguises himself as a woman to land a role on a popular soap opera. The show boasts a Tony-winning book by Robert Horn and a score by Tony winner David Yazbek (The Band's Visit). thenationaldc.com
Keegan Theatre presents its annual holiday offering, "An Irish Carol" (Dec. 10-31). Set in a modern Dublin pub, the funny yet poignant original work (a nod to Dickens) tracks the changes in the life of a rich but miserable publican over the course of one Christmas Eve. keegantheatre.org
At Theater J, it's the Kinsey Sicks' "Oy Vey in a Manger" (Dec. 17-25). Blending drag, four-part harmony, and political humor, the "dragapella beautyshop quartet" brings its own hilariously irreverent view on the holidays. theaterj.org
And through Jan. 2, Signature Theatre continues to brighten the season with its production of Jonathan Larson's "Rent" directed by the company's out artistic director Matthew Gardiner and featuring out actor David Merino as Angel, a preternaturally energetic drag queen and percussionist. sigtheare.org
The Music Center at Strathmore, also in Bethesda, is presenting a wide range of musical holiday offerings including "Manheim Steamroller Christmas" (Dec. 3 and 4), a multimedia holiday tradition; Sarah Brightman in "A Christmas Symphony" (Dec. 6 and 7); "A Celtic Christmas with Séan Heely Celtic Band" (Dec. 11); Washington Bach Consort's "Bach's Epic Christmas Oratorio" (Dec. 11); the beloved "The Washington Chorus: A Candlelight Christmas" (Dec. 16 and 17); and last but not least "The Hip Hop Nutcracker" (Dec. 20), Tchaikovsky's classic reimagined with MC Kurtis Blow ("White Lines"). strathmore.org
And finally, something strictly for the kids: Imagination Stage presents "Corduroy" (Dec. 11-Jan. 24). Based on the beloved children's books by Don Freeman, it's the heartwarming story of a girl and her perfectly imperfect Teddy Bear. Best for ages 3-9. imaginationstage.org
Disco Funk Brunch at Crazy Aunt Helen's
Tara Hoot and DJ Phil Reese perform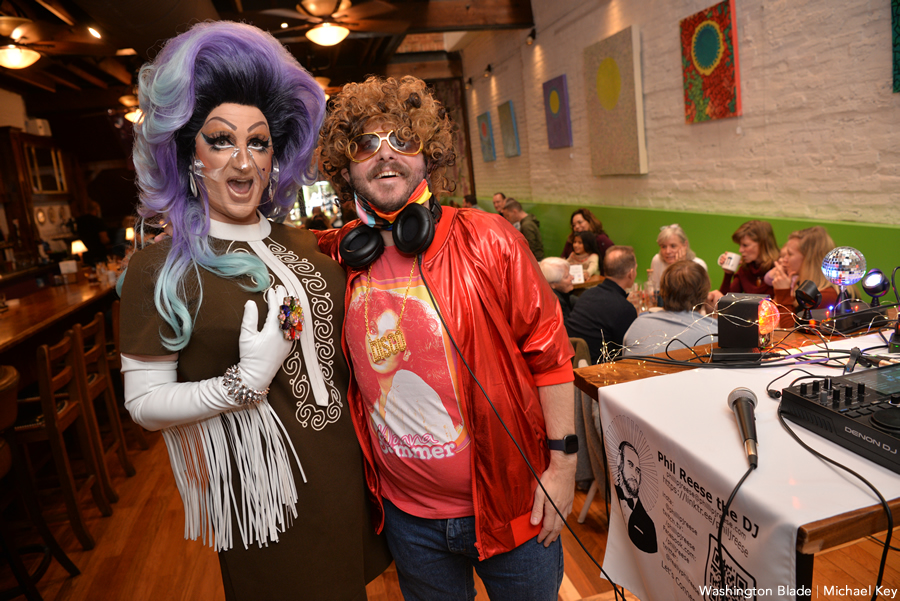 Drag queen Tara Hoot and DJ Phil Reese perform at the biweekly Disco Funk Brunch at the LGBT-owned Crazy Aunt Helen's on Sunday. For future showtimes, go to crazyaunthelens.com. (Blade photo by Michael Key)