'Stonewall 50' expected to draw millions to NYC
Marches, rallies, celebrities to commemorate 50th anniversary of riots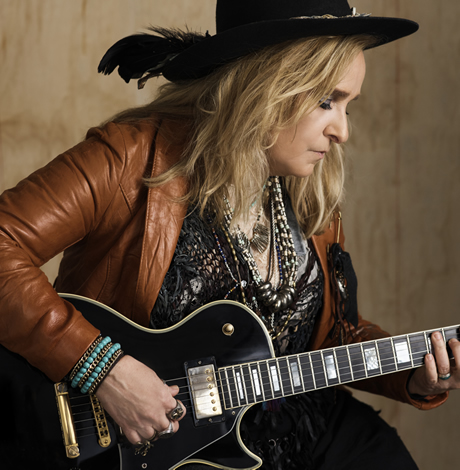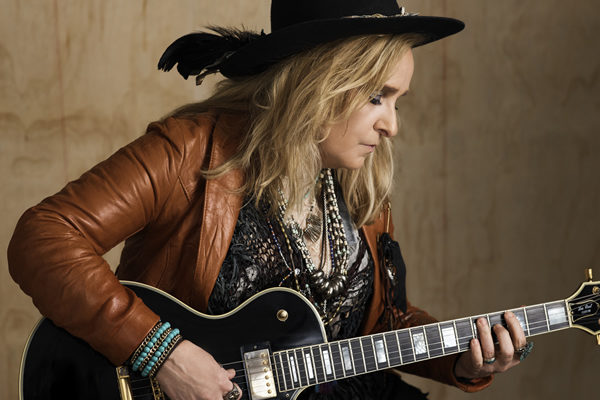 Organizers of the many events this weekend in New York City to commemorate the 50th anniversary of the 1969 Stonewall riots, credited with launching the modern LGBT rights movement, say an expected turnout of 4.5 million people will make it the world's largest ever LGBT Pride celebration.
In addition to the larger turnout expected from people from throughout the U.S., New York City Pride this year is the official host of World Pride, an international LGBT Pride event originally started in Europe that will take place for the first time this year in the United States.
Heritage of Pride, the group that has organized New York City's LGBT Pride events for more than 20 years, has said more than 4 million people were expected to turn out for the official New York Pride March on Sunday, June 30. The group says about 115,000 people were expected to march in over 100 contingents and the remainder of the crowds would be lining the streets as spectators.
A spokesperson for Heritage of Pride said a large number of march contingents would be comprised of LGBT people and their supporters from other countries who were coming to New York to participate in World Pride events that began earlier this week.
Among the Heritage of Pride, or HOP, events planned for June 30 is the official World Pride Closing Ceremony beginning at 7 p.m. in New York's Times Square, which will include "a slate of influential speakers" and big name entertainers. Among the entertainers scheduled to perform are Melissa Etheridge, Deborah Cox, Jake Shears, MNEK, and The Prom Musical. Lesbian comedian Margaret Cho will host the event.
The official New York City Pride March, organized by Heritage of Pride, is scheduled to kick off on Sunday at noon at 26th Street and 5th Avenue. It will travel past the Stonewall Inn gay bar in Greenwich Village, the site of the Stonewall riots, which has been designated a U.S. Historic Landmark.
The march will end in Manhattan's Chelsea neighborhood. Organizers and longtime activists in New York say in recent past years the march has lasted as long as eight hours or more and this year's march could last even longer.
For the first time this year a dissident group in New York City, the Reclaim Pride Coalition, has organized a separate Queer Liberation March set to take place the same day as the official New York City Pride March on June 30.
But the Queer Liberation March is scheduled to begin at 9:30 a.m., at the site of the Stonewall Inn bar in Greenwich Village. It will travel from its starting point at Sheridan Square in front of the Stonewall along 7th Avenue to 10th Street where it will turn onto 6th Avenue and travel to Central Park, where a rally will take place.
"The Queer Liberation March is a people's political march – there will be no corporate floats, and no police in our march," according to a statement released by the Reclaim Pride Coalition. "Our march is a truly grassroots action that will mobilize the community to address the many social and political battles that continue to be fought locally, nationally, and globally," the statement says.
Although not as large as the World Pride closing ceremony in Times Square organized by Heritage of Pride, the Queer Liberation March Rally, set to take place on Central Park's Great Lawn, will include speakers and performers. Among them will be nationally acclaimed playwright and co-founder of the AIDS protest group ACT UP, Larry Kramer.
Among those scheduled to perform at the rally are Kevin Aviance and the lesbian singing group Betty.
Activists in New York who have been following the plans for the two marches say many plan to participate in both since the Queer Liberation March will likely end before the New York Pride March begins at noon.
James Fallarino, a spokesperson for Heritage of Pride, has said that while corporate floats will take part in the New York City Pride March in their role as corporate sponsors, such floats will be far outnumbered by contingents made up of nonprofit LGBT or LGBT supportive organizations.
However, the New York City Pride website says that due to the large number of participants in the march, individuals interested in marching must be part of a group or contingent that has registered in advance to join the march. An individual that shows up on the day of the march won't be allowed to join the march if he or she isn't part of a preregistered contingent, although they will be allowed to watch the march on the sidelines, which will be fenced off from the street by security barriers set up by the New York City Police Department.
Ann Northrop, one of the lead organizers of the Queer Liberation March, said that march will allow anyone to join its ranks at any location along its route.
Northrop said for people unable to come to New York for the weekend events, organizers will be livestreaming the Queer Liberation March and rally on its website, reclaimpridenyc.org.
The New York City Pride March will be broadcast live from noon to 4 p.m. on WABC TV Channel 7, the ABC Television Network's New York City affiliate station. It couldn't immediately be determined whether out of town viewers could see the ABC7 broadcast through a livestreaming on the station's website.
The following are some of the main events scheduled for this weekend by New York City Pride and the Reclaim Pride Coalition:
• Stonewall 50 Commemoration Rally—Friday, June 28, 6 p.m. at Christopher Street and Waverly Place in Greenwich Village
• Youth Pride—Saturday, June 29, 12 p.m. at Summer Stage in Central Park
• Pride Island Celebration—Saturday, June 29, 2 p.m.; Hudson River Park's Pier 97. The event will feature big name entertainers, including legendary singer Grace Jones, Teyana Taylor, Kim Petras, Pabllo Vittar, and Amara La Negra.
• PrideFest street fair—Sunday, June 30; 11 a.m.; 4th Avenue between Union Square and Astor Place. The event includes exhibitors, entertainers and fun activities.
• Queer Liberation March—Sunday, June 30, 9:30 a.m., begins at Sheridan Square in Greenwich Village outside the Stonewall Inn. The march ends in Central Park, where a rally will be held.
• New York City Pride March—Sunday, June 30; 12 p.m.; begins at 26th Street and 5th Avenue. Grand marshals include the cast of "Pose," Phyll Opoku-Gyimah, Gay Liberation Front members, the Trevor Project, and Monica Helms.
• World Pride Closing Ceremony—Sunday, June 30; 7 p.m. in Times Square; Melissa Etheridge is among the entertainers scheduled to perform.
The ultimate guide to queer gift giving 2021
These handpicked presents will leave recipients jumping for joy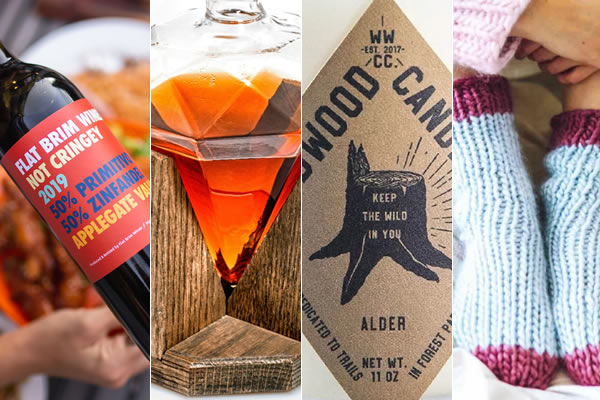 Stumped over what gifts to give your family, friends, and neighbors this year? Check this list then check it twice, because while you've been naughty, they've been nice.
YuJet Surfer Electric Jetboard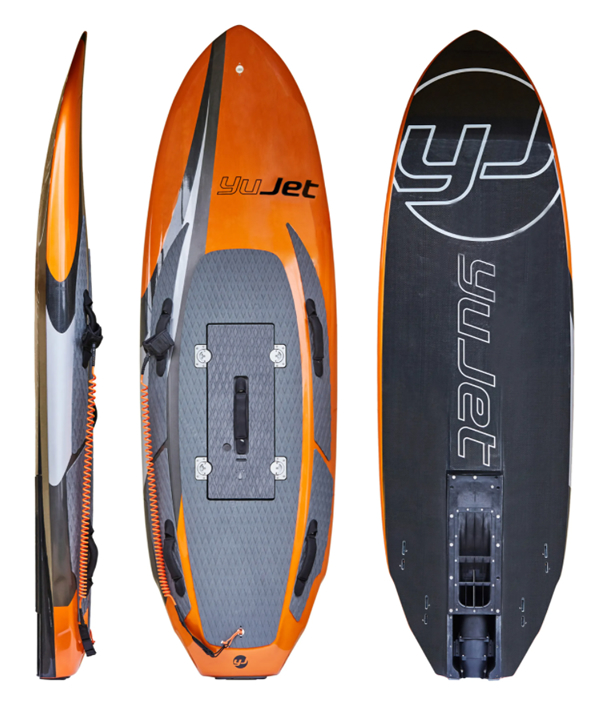 If ocean-based watersports scare the bejesus out of you – because sharks! – the YuJet Surfer Electronic Jetboard offers a compromise to satisfy your thrill seeking, all limbs intact. With a top speed of 24 mph, range of 16 miles, and a 40-minute ride time, users can sit or stand on the battery-powered, remote-operated board that quietly glides across lakes, rivers, canals, and other bodies of water devoid of man-eating monsters. $10,000,  YuJetUSA.com
Mind-Pop Casserole Pans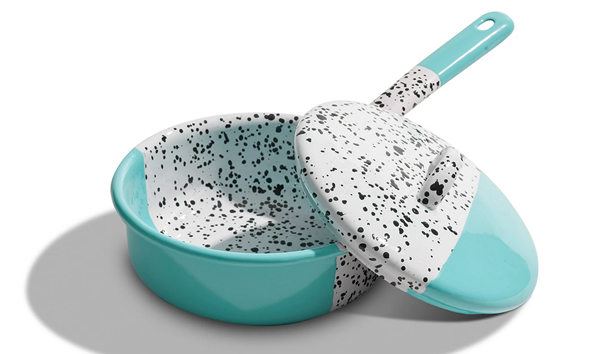 Perfect for campground cooking or gourmet meals made at home, Darling Spring's ultra-pretty Mind-Pop enamel casserole pans by Kapka add a Pollock-splashed joie de vivre to the meal-making experience, which seamlessly moves from stovetop to serving table without dirtying another dish. $45,  DarlingSpring.com
Oclean Water Flosser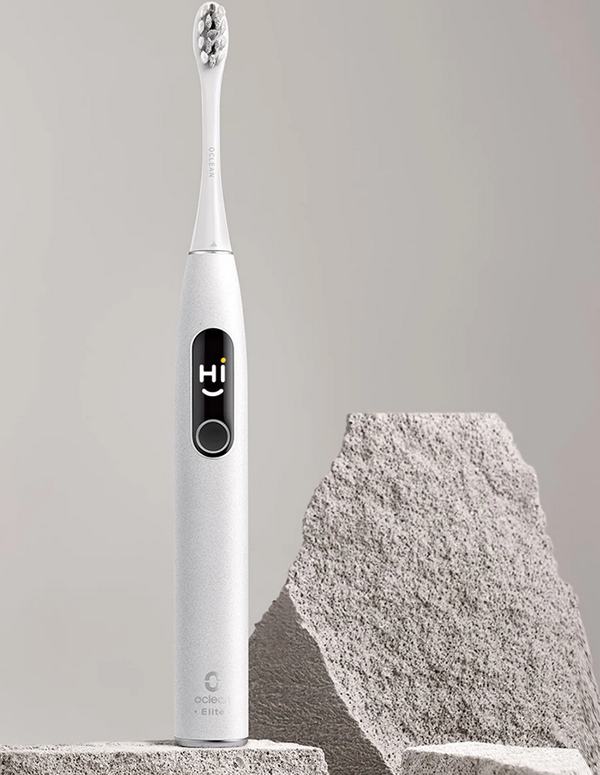 Traditional floss isn't exactly a budget buster, but the Oclean W10 Water Flosser is a sleek, no-waste and, yes, cheaper-in-the-long-run alternative with five distinctive modes and four high-performance nozzles to keeps the crevices between those pearly whites crud- and cavity-free. $60, Oclean.com
Flat Brim Wines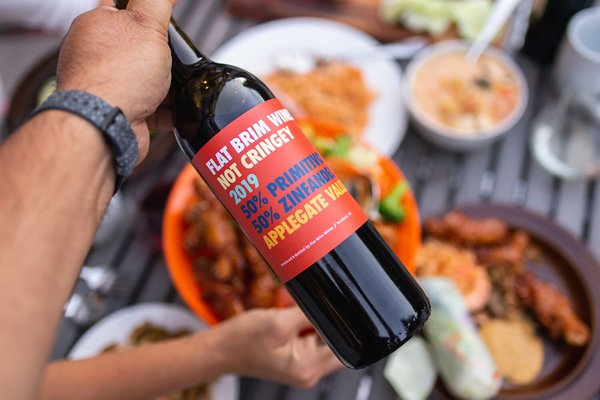 Bring a trio of varietals to the holiday table with Flat Brim Wines' Not Series, including the 2020 "Not Tragic" Pinot Noir, 2020 "Not Basic" Picpoul/Roussanne, and 2020 "Not Extra," which, if it were Opposite Day, two out of three would describe you to a T. flatbrimwines.com
Playcraft Shuffleboard Table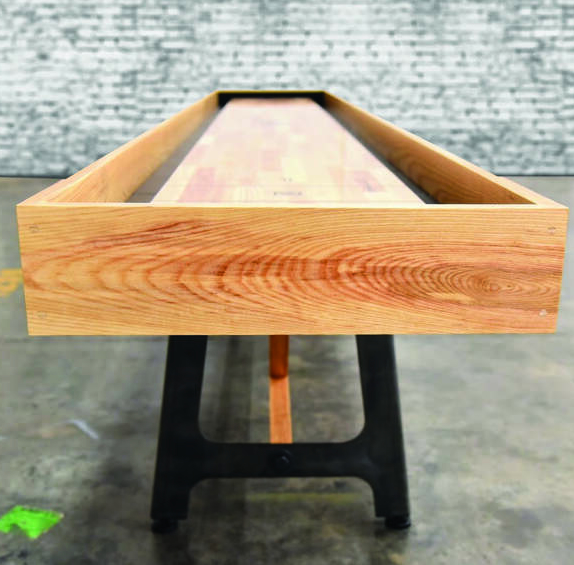 Playcraft edges out its at-home gaming competition with the Georgetown Espresso Shuffleboard featuring solid wood construction, richly stained accent features, and furniture-grade finishes that are a far cry from the warped, frat boy-abused tables dying slow deaths in dive bars everywhere. $1,595,  SawyerTwain.com
ChefWave Milkmade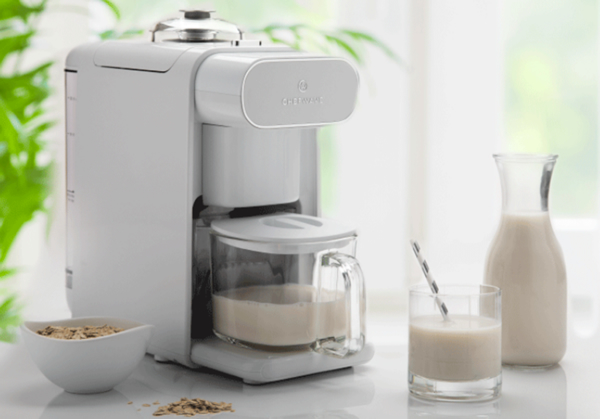 Round up your favorite rice, soybeans, nuts and oats for homemade vegan milk alternatives that cost pennies on the dollar compared to pre-packaged versions of the same at your local supermarket. Just add water and a handful of your desired ingredient to churn out 20 ounces of liquid health in about 15 minutes. $200, MyChefWave.com
Cambridge Audio Evo 75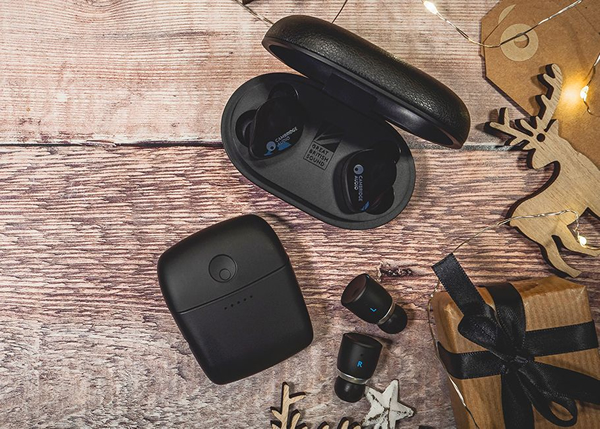 You may not regard London as synonymous with audio innovation, but you'll change that tune after listening to your favorite artists streaming through Cambridge Audio's Evo 75, the sleek, cutting-edge, all-in-one system pumping out crystal-clear sound quality fit for a queen. $2,250, CambridgeAudio.com
Wild Roots Spirits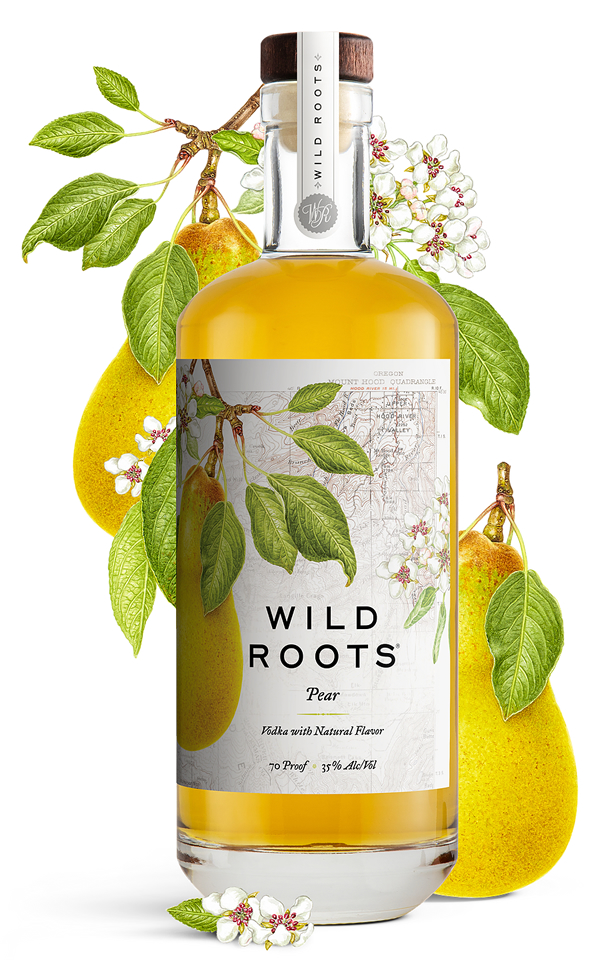 Wild Roots Spirits' five-times filtered, five-times distilled corn-based vodkas – in seasonal flavors like pear, cranberry, and apple-cinnamon – will spice up your soft and hard holiday seltzers and sodas for a little added zip on your lips. $30, WildRootsSpirits.com
Takumi by Yokai Express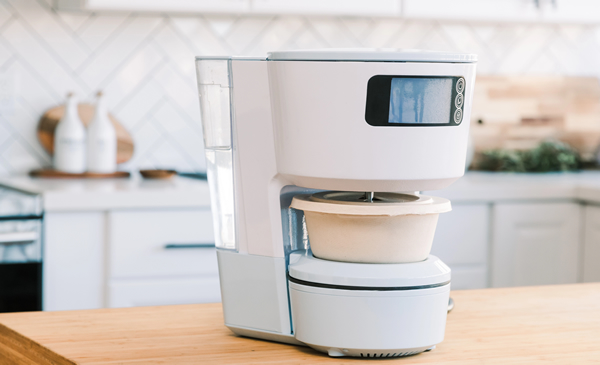 Not only can the Takumi machine cook ramen, dim sum, rice, dumplings, pasta and more, but it also has the dubious distinction of being the choice ramen-making machine of Tesla's offices – because of course it is: Elon Musk wouldn't be caught dead microwaving Oodles of Noodles like the rest of us. $400, YokaiExpress.com
Oliver Charles Sweater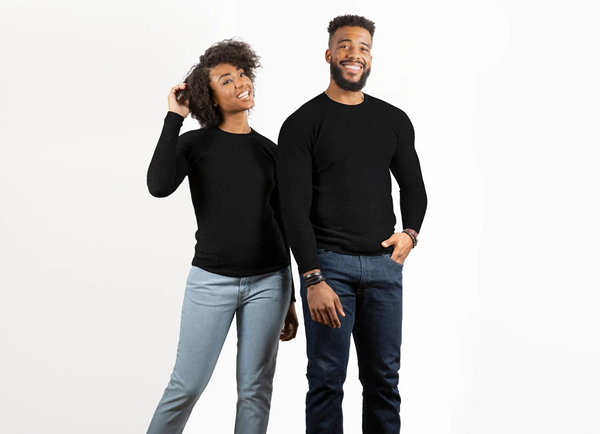 What do you get when Tibetan yak wool meets the world's most advanced 3D-knitting machines? An antimicrobial, soft-as-cashmere, day-to-night sweater that instantly becomes one of the most versatile and comfortable pieces in your closet that rarely needs washing. $220, Oliver-Charles.com
Knitting Knowledge Starter Kits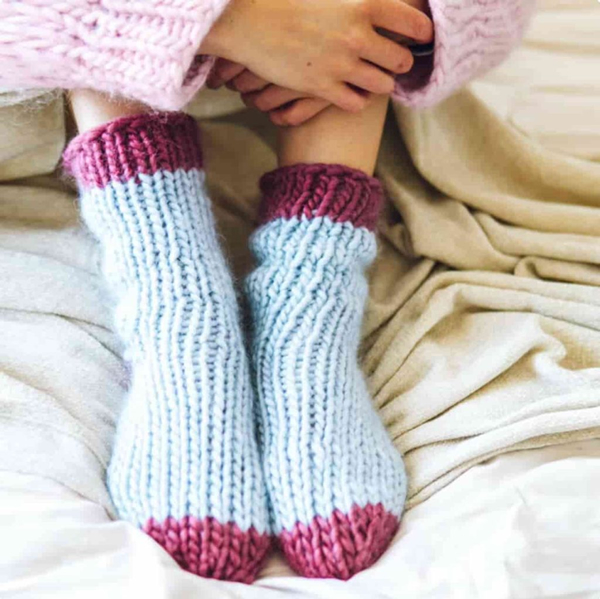 If the summer Olympics taught us anything it's that Tom Daley is a multitalented athlete poised to take knitting gold someday, and you can train for your spot on the team with Knitting Knowledge starter kits, including beginner socks, baby blankets, and beanies that include everything you'll need – from yarn to needles to patterns – to complete the project with a perfect score. $18-$80, KnittingKnowledge.com
Electronic Bidet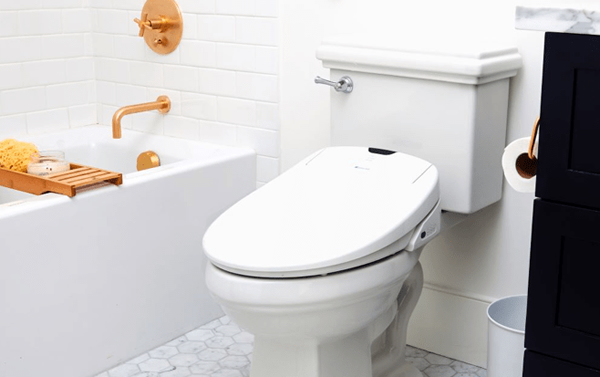 If you've been on the fence about installing a backside-cleansing bidet in your bathroom, consider this: Toilet paper isn't getting any cheaper, and it only takes a moderate COVID-induced run on the supermarkets before you're forced to hunt it down on the black markets – again. $140-$650, Brondell.com
Stark Custom Kitchen Knives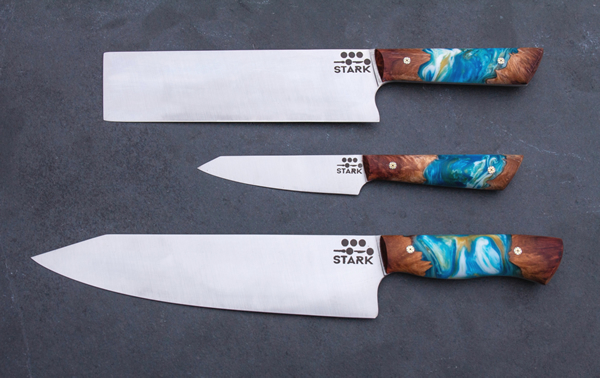 Upgrade your store-bought block knives to a set of Stark Creations chef's, paring, and nakiri custom knives, forged from scratch to complement your personality or overall kitchen aesthetic. $265-$515,  StarkCreationsUS.com
American Blossom Organic Blanket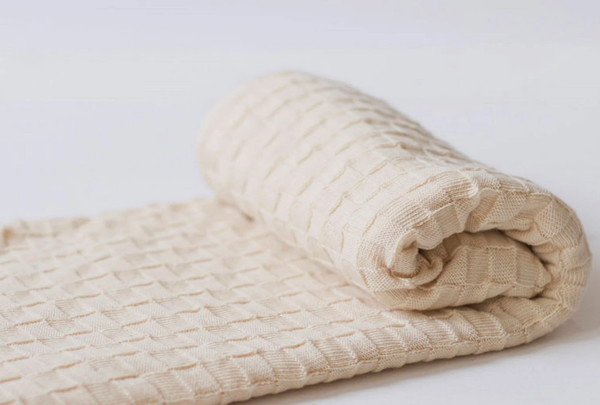 Roast your nuts by an open fire during an in-the-buff cuddle sesh featuring your fave holiday flicks in American Blossom's herringbone weave blanket made from West Texas Organic Cotton. $195,  AmericanBlossomLinens.com
Erica's Tea Room Scones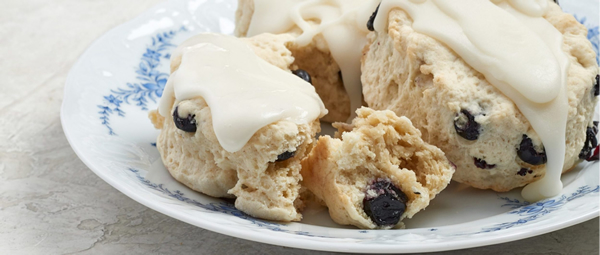 Gild the proverbial lilies of your holiday breakfast spread with a selection of Erika's Tea Room "Florida Famous" scones in comfort-food flavors like orange-cranberry, white chocolate-apricot, rum raisin, caramel-walnut, and piña colada, among other classic mashups. $36-$42/dozen, ErikasTeaRoom.com
RadRover 6 Plus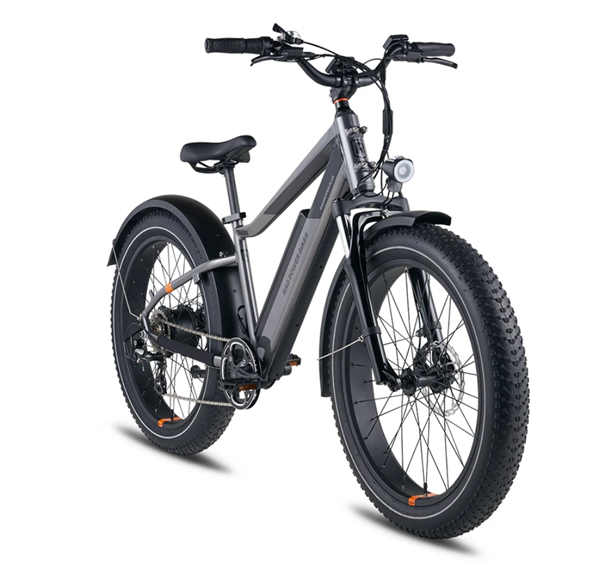 From a custom geared-hub motor that climbs hills 25 percent faster with more torque and extended range to all-new hydraulic brakes that provide superior stopping power, the best-in-class RadRover 6 Plus is basically the Range Rover of e-bikes – with far less depreciation per dollar. $2,000, RadPowerBikes.com
Hoppy Hanukkah Experience + Santa Clausthaler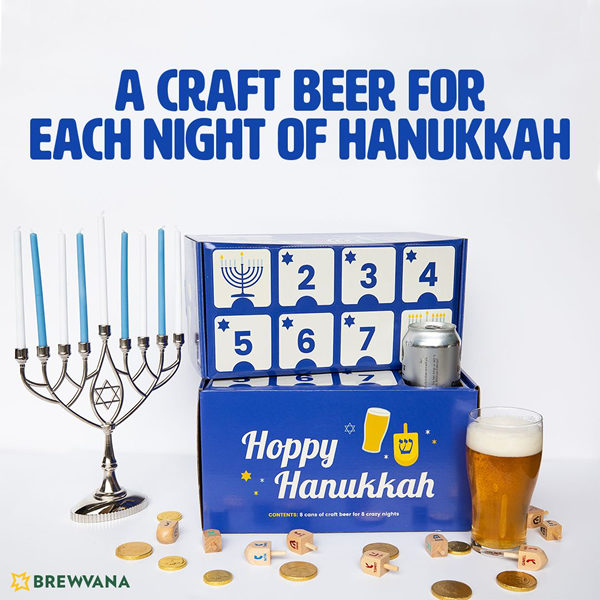 Celebrate a "Hoppy Hanukkah" with Brewvana's nontraditional advent calendar that conceals eight beers, one for the first night of the Festival of Lights and a full week after. If you're laying off the hooch this holiday season but still want to participate in the spirit of it all, throw back a few non-alcoholic Santa Clausthalers, infused with cinnamon and cranberry for a cider-like refresher. $75, Brewvana.com; $10, Schofferhofer.us
Wildwood Candle Co.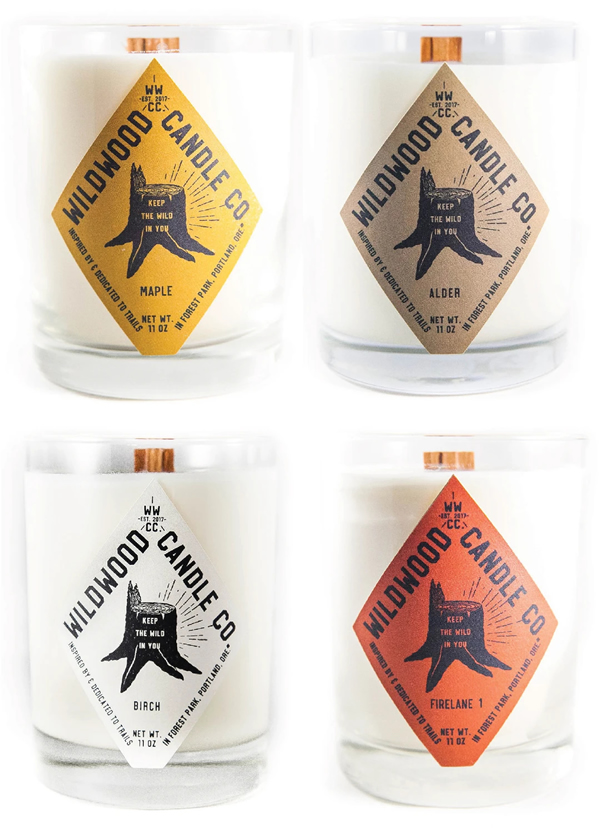 Sick of pumpkin spice stinkin' up the joint? Fill your rooms with more nuanced fall scents – like maple, sandalwood, cypress, and birch – available in a bundled seasonal foursome from eco-friendly Wildwood Candle Co. and inspired by the enchanting, well-traveled trails of Portland, Ore.'s Forest Park.  $88, WildwoodCandleCo.com
PrestigeHaus Decanter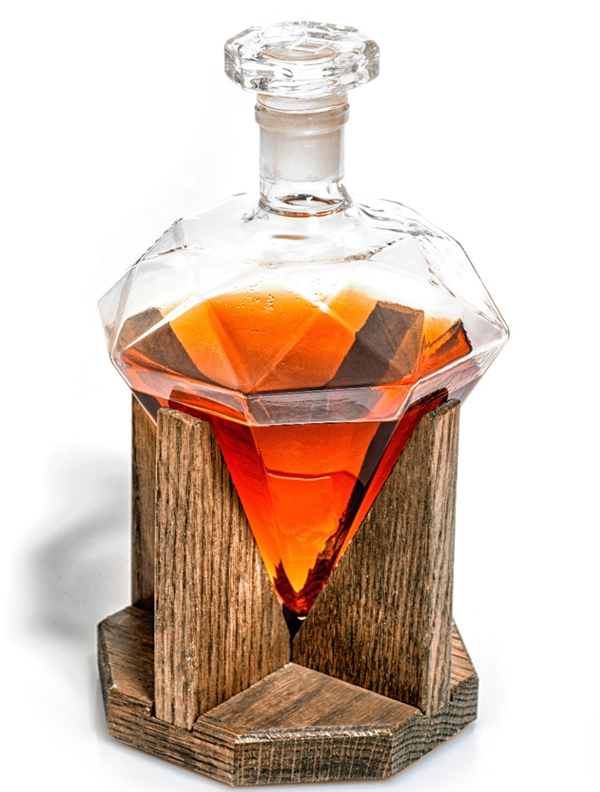 Whiskey lovers who grab life by the horns will count this hand-blown, lead-free bull decanter among their prized possessions this Christmas while you enjoy the holly-jolly feeling of knowing that each purchase plants a tree. $80, PresitgeHaus.com
 

Mikey Rox is an award-winning journalist and LGBTQ lifestyle expert whose work has been published in more than 100 outlets. Connect with Mikey on Instagram @mikeyroxtravels.
Verhoeven returns with subversive tale of lesbian nun in 'Benedetta'
Period drama delivers sex, violence, and horrors of the Black Death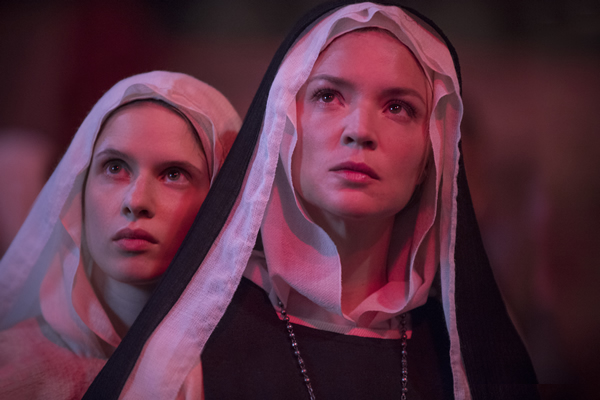 There was a time when Paul Verhoeven was a big deal in Hollywood.
The Dutch filmmaker first attracted international attention during an early career in his homeland, with critically acclaimed movies like "Turkish Delight" and "Soldier of Orange," which found an audience outside of the Netherlands and brought him greater opportunities in America, Once here, he adapted his style to fit a more commercial mold and forged a niche for himself with violent, action-packed sci-fi blockbusters, scoring major hits with "Robocop" and "Total Recall" before reaching a pinnacle with "Basic Instinct" – arguably still his most influential and iconic film.
Then came "Showgirls." Although the Joe Eszterhas-scripted stripper drama is now revered as a "so-bad-it's-great" cult classic, it was a box office bomb on its initial release, and its failure, coupled with the less-spectacular but equally definitive flopping of his next film, "Starship Troopers," effectively put an end to his climb up the Hollywood ladder.
That was not, however, the end of his story. Verhoeven moved back to his native country (where he was hailed as a returning hero) and rebounded with the critically lauded "Black Book" before spending the next two decades developing and producing new projects with other filmmakers. In 2016, he assumed the director's seat again, this time in France, and the resulting work ("Elle") put him once more into the international spotlight.
Now, he's back with another French film, and fans of his signature style – a blend of social satire, psycho-sexual themes, graphic violence, and near-exploitation-level erotic imagery that has prompted some commentators to label him as a provocateur – have every reason to be excited.
"Benedetta," which receives its long-delayed (due to COVID) release in the U.S. on Dec. 3, is the real-life story of a Renaissance-era Italian nun (Virginie Efira), whose passionate devotion to her faith – and especially to Jesus – sparks disturbing and dramatic visions. When young novice Bartolomea (Daphne Patakia) enters the convent and is assigned to her as a companion, it awakens a different kind of passion, and as their secret relationship escalates, so too do her miraculous episodes, which expand to include the physical manifestation of stigmata. Soon, despite the skepticism of the Mother Abbess (Charlotte Rampling), she finds herself heralded as a prophet by the other sisters and the local community, leading to controversy, investigation, and a power struggle that threatens the authority of the church itself.
Inspired by "Immodest Acts: The Life of a Lesbian Nun in Renaissance Italy," Judith C. Brown's biography of the real Sister Benedetta, Verhoeven's latest work is perhaps his most quintessential to date. In his screenplay (co-written with "Elle" collaborator David Birke), the Dutch auteur – who is also a widely recognized, if controversial, religious scholar – gives free reign to his now-familiar obsessions, weaving them all together into a sumptuously realized period drama that delivers copious amounts of nudity and sex, bloody violence, and the horrors of the Black Death while exploring the phenomenon of faith itself. Is Benedetta a saint or a harlot? Is she chosen by God or mentally ill? Are her visions real or is she a fraud, cynically exploiting the beliefs of those around her in a bold-faced grab for power and glory? And if she's lying, in the larger context of a world held firmly in the grip of a church that treats salvation as transactional and levies its presumed moral authority to unlimited financial and political gain, which is greater evil? Though the film strongly implies the answers lie somewhere between the "either/or" of absolutes, it shrewdly leaves the viewer to contemplate such questions for themselves.
What concerns "Benedetta" more than any esoteric debate is a sly-yet-candid commentary on the various levels of societal hierarchy and the ways in which the flow of power perpetuates itself through their devotion to maintaining the status quo. As Benedetta's perceived holiness carries her upward through the strata, from unwanted daughter of the merchant class to Mother Superior and beyond, more important than the veracity of her claims of divinity are the shifting and carefully calculated responses of those she encounters along the way. Fearing the loss of their own power, they ally and oppose themselves in whichever direction will help them maintain it. It's a Machiavellian game of "keep-away" in which those at the top will not hesitate to use economic class, gender, sexuality, and – if all else fails – torture and execution as weapons to repress those they deem unworthy.
Inevitably, the above scenario provides plenty of fodder for Verhoeven's movie to make points about religious hypocrisy, systemic oppression, and the way white heterosexual cisgender men keep the deck eternally stacked in their own favor – all of which invites us to recognize how little things have changed in the five centuries since Sister Benedetta's time. That, too, is right in line with the director's usual agenda.
Ultimately though, the signature touch that makes the movie unmistakably his is the way it revels in the lurid and sensational. Verhoeven delights in presenting imagery designed to shock us, and key elements of the film – from hyper-eroticized religious visions and explicit lesbian sex, to the prominent inclusion of a blasphemous wooden dildo as an important plot point – feel deliberately transgressive. This should be no surprise when one remembers that this is the director who brought us not only "Basic Instinct" and "Showgirls" but also "The Fourth Man," a homoerotic psychological thriller from 1983 still capable of making audiences squirm uncomfortably today; and while all this titillation may trigger the most prudish of viewers, it makes "Benedetta" into a deliciously subversive, wild-and-wooly ride for the rest of us. More to the point, it underscores the film's ultimate observation about the empowering nature of sexual liberation.
Helping Verhoeven make maximum impact with this obscure historical narrative is a cast that clearly relishes the material as much as he does. In the title role, the statuesque Efira successfully creates a compelling and charismatic figure while remaining an enigma, someone we can believe in equal measure might be sincere or corrupt and with whom we can empathize either way; likewise, Patakia exudes savvy and self-possession, transcending moral judgment as the object of her affection, and the two performers have a palpable chemistry, which is made all the more compelling by their thrillingly contemporary approach to the characters. Rounding out the triad of principal roles is Rampling, a cinematic icon who brings prestige and sophistication to the table in a masterful performance as the Abbess; more than just a grounding presence for her younger co-stars, she provides an important counterbalance with a subtle and layered performance as a woman who has devoted her life to a belief in which she has no faith, only to find herself overshadowed by a charlatan.
"Benedetta" is not exactly the kind of film that's likely to put Verhoeven back on the Hollywood fast track – it's far too radical in its underpinnings for that. Nevertheless, it's a welcome return to form from a unique and flamboyant filmmaker we've missed for far too long, and his fans – along with anybody with a taste for provocative cinema – should consider it a must-see.
Olympian Tom Daley launches knitting line
A journey for me that started when I first picked up my knitting needles- fast forward 18 months & I'm so proud to introduce these kits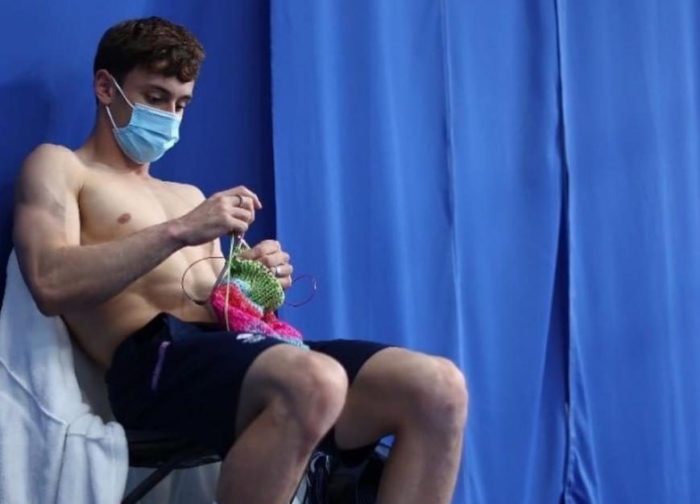 LONDON – During the entire course of the Olympic games in Tokyo 2020 this past summer, audiences following the diving competitions were certain to see British Olympian Tom Daley quietly and intently focused in-between matches- on his knitting.
The Gold medalist diving champion only picked up his first set of knitting needles in March of 2020 as the coronavirus pandemic first spread across the globe, strangling normal daily routines in its deadly grip.
Now, the 27-year-old British athlete has launched a company to encourage others to take up the hobby.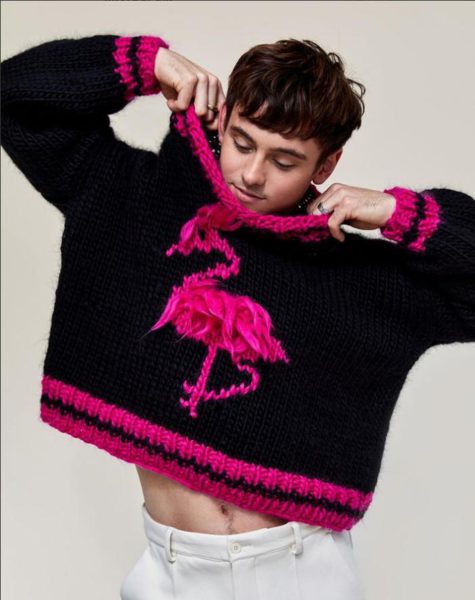 "It's been a journey for me that started when I first picked up my knitting needles in March 2020. Fast forward 18 months and I'm so proud to introduce these kits to you all so that you can experience the joy I found learning to knit," Daley said on his newly launched website.
"I designed these knit kits to help encourage you to pick up those needles, learn the basics, and fall in love with knitting at the same time – all whilst creating something to show off or pass on.
Ready? Pick up your needles, learn the basics and let's have some fun!"
The website offers various kits for beginners, intermediate and experienced knitting and crocheting enthusiasts. One of the kits, a winter warmer hat already sold out but the collection ncludes a vest, scarves, cardigans, jumpers, stockings, and a blanket.
Kits include needles, biodegradable yarn made of Merino wool, and knitting patterns.