America's Leading Gay News Source
costume contest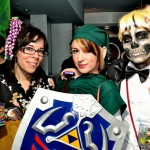 The Ladies of LURe and Cobalt held a costume contest on Oct. 27.
November 6, 2012 |
Comments Off

Cobalt held a Halloween party on Oct 31, complete with a costume contest, karaoke and dancing on the top floor
November 3, 2010 |
Comments Off

Town Danceboutique was packed with costumed revelers on Oct 30
November 1, 2010 |
Comments Off
© Copyright Brown, Naff, Pitts Omnimedia, Inc. 2014. All rights reserved.