Watching the Prop 8 trial, part 1
Special to DC Agenda
For more on the Prop 8 trial, visit lgbtpov.com
The court is on a one hour lunch break — back into court at 1:30 p.m. Pacific time. Here's a quick note about what's happened so far with big story tonight:
Everyone was surprised about the U.S. Supreme Court ruling on posting the proceedings onto YouTube. Judge Vaughn Walker explained that it was really posting video on the Ninth Circuit website using Google/You Tube, much as the White House does. We were also surprised about the ruling limiting it to only the closed-circuit within this federal courthouse.
The Justices are supposed to take up the matter again Wednesday. Meanwhile, Walker OK'd a request by the plaintiffs side to record the trial with arguments over what should happen with the tape recording to occur later.
Walker interrupted Ted Olson's opening statements several times, showing he's going to be an engaged judge. San Francisco Deputy City Attorney Therese Stewart, who is part of the case, told me she thinks he may even ask questions of the witnesses.
Olson laid out their case very well, I thought — though Walker did ask some hard, pertinent questions — more on this tonight.
Charles Cooper for the defense seemed all over the place — arguing what we've heard often before — that marriage is historically and culturally been defined as between a man and a woman for the purposes of procreation and a stable society. Walker asked how same sex marriages effected heterosexual marriages — and he says it does because it "de-institutionalizes" the institution. Again, more on this later. I don't think Cooper did well — and it turns out that three more of their witnesses dropped out this morning, per Stewart.
This morning's testimony was basically by the gay male plaintiffs: Paul Katami and Jeff Zarrillo. Zarrillo went first and was emotional at several points, talking about the difficulty coming out and being categorized as a second class citizen. No questions from Cooper.
Katami is on the stand now. He, too, has been emotional at times. David Boies is leading this part of the examination. There have been several technical objections — including one that Walker agreed to — regarding not showing the National Organization for Marriage ad "The Gathering Storm" because the link to Protect Marriage is "tenuous." Olson told me that "it's not over" regarding admitting the NOM ad as evidence.
That's it so far. More details tonight.
National Gay & Lesbian Chamber of Commerce Certifies Brown, Naff, Pitts Omnimedia, Inc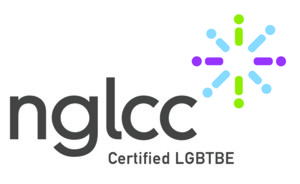 Washington, D.C. — Brown, Naff, Pitts Omnimedia, Inc, the parent company of the Washington Blade and Azer Creative, announced today it has been certified by the National Gay and Lesbian Chamber of Commerce (NGLCC) as an LGBT Business Enterprise. The NGLCC supports and advocates for diversity and inclusion for LGBT-owned businesses. With this certification the Blade's parent company joins more than 510 business and 134 corporate partners of the NGLCC.
Brown, Naff, Pitts Omnimedia, Inc. owns and operates the Washington Blade, the oldest and most acclaimed LGBT newspaper in the country. In 2012, the company launched Azer Creative, a full-service design firm. The company employs more than a dozen full-time LGBT staff.
"We are excited to become one of the 500 LGBT businesses across the country certified by NGLCC," said Lynne Brown, the Blade's publisher and a co-owner of the company. "The LGBT community has been part of our company from the beginning and we look forward to continue that for many years to come."
The Washington Blade was founded in 1969 and is known as the "newspaper of record" for the LGBT community both locally and nationally. Visit washingtonblade.com for more information. Azer Creative is a full-service graphic design firm based in Washington, D.C. Visit azercreative.com for more information. 
Vote now for the 2013 Best of Gay DC!
Choose in dozens of categories among hundreds of nominees, and make your voice heard!
Nominate the 'Best of Gay D.C.' now!
Dozens of categories cover all the best for LGBT Washington. Who deserves the prize this year?