Watching the Prop 8 trial, part 2
Special to DC Agenda
For more on the Prop 8 trial, visit lgbtpov.com
It seemed that everyone's nerves were on edge on the first day of the historic federal challenge to California's Proposition 8 in the San Francisco district courthouse, just a block or so away from where all those thousands of jubilant couples married illegally in 2004 at City Hall.
All this amid a compliment from the San Francisco mayor who helped make the marriage issue matter: @GavinNewsom Hats off to David Boies & Ted Olson for their effort to overturn Prop 8.
Many Twitter users are following the trial as it happens, including
You can follow these Tweeters live during the trial, per Eden James from the Courage Campaign: Ilona Turner of National Center for Lesbian Right at @ilona, American Foundation for Equal Rights at @AmerEqualRights, the American Civil Liberties Union of Northern California at @ACLU_NorCal and the Courage Campaign at @CourageCampaign.
There has been a lot of good reporting on today's trial — especially from Associated Press reporter Lisa Leff and Courage Campaign founder and blogger Rick Jacobs, whose work I discuss in more detail below.
So I'm going to write about some of the aspects of today's trial that haven't really been written about.
At 6:30 a.m. Monday, Molly McKay and Marriage Equality USA lead a rally in the freezing darkness outside the courthouse, as if to say that the marriage equality movement is ushering in a new dawn.
There was only one sign saying marriage is between one man and one woman, notably held by two men.
Leff, on her cell phone, broke the big news of the morning to journalists and bloggers hanging outside the courtroom on the 17th floor: the U.S. Supreme Court denied a request to broadcast the trial. The Court also prohibited the transmission outside the San Francisco federal court. A number of us worried about the many people that were on their way to district courts that had been designated as viewing areas.
I asked Chad Griffin, president of the board of the American Foundation for Equal Rights, which is sponsoring the lawsuit, if they would post the trial transcripts on their web site. He said: "Anything we are allowed to do, we will do." With Adam Umhoefer and Yusef Robb on top of their communications, I think they will post as much as they are legally able to. And the AFER team has been very strong in their support for public access to the hearing.
That's also been the Courage Campaign's most recent push and to illustrate the point, Jacobs brought more than 140,000 comments from people seeking access to the hearing. Jacobs, for his part, stepped up and live-blogged the first day of the trial after it became apparent there were virtually no transmissions out of the hearing room. In fact, they created a logo parodying Yes on 8 for a new blog titled Prop8TrialTracker.com.
After the introduction of all the lawyers, Judge Vaughn Walker took note of the Supreme Court ruling by Justice Anthony Kennedy, which specified the high court would make further comment Wednesday. But the issue of broadcasting the trial "was resolved for the moment."
Walker went on to "clarify" a couple of points: First of all, the content would be posted on the Northern District web site, not Google/YouTube. Google/YouTube is just the conduit for posting, just like on the White House web site. "That service would be used here in exactly the same manner." It seemed like he might have been sending a signal to the Supreme Court about opening up government to its citizens.
Walker then said that he received "a substantial number of comments by 5 p.m. Friday — 138,574," with the overwhelming majority in favor of the rule change; 32 comments were opposed. People laughed. He said the uproar, however, was "very helpful," noting that it is "highly unfortunate" that the courts have not dealt with the issue of public access in the past. "Finally, after some 20 years, we'll get some sensible movement forward," Walker said.
I noted the disparity in numbers between those announced by Jacobs and Walker — but it might only matter if the open government advocates need to rally to yell at the U.S. Supreme Court if they ban cameras altogether.
Theodore Boutrous Jr., a partner in Gibson Dunn, the law firm representing the plaintiffs, asked if the transmission fed within the courtroom could be recorded and preserved so that if the high court ruled that it was allowable to broadcast or post the opening remarks of lead plaintiff's counsel, Olson, and lead defense counsel, Charles Cooper, as well as the first couple of days of the trial, that recording would be available. After some legal hemming and hawing, Walker said the hearing would be recorded.
I was suddenly struck by how sad and demoralized the Prop 8 side looked. Olson, David Boise and their team of lawyers, as well as San Francisco City Attorney Dennis Herrera and Deputy City Attorney Therese Stewart, who argued the marriage case with Shannon Minter before the California Supreme Court, sat on the right side facing the judge with two long rows of thick binders behind them. There were also rows filled with other counsels; plaintiffs Kris Perry and Sandy Stier and two of their children, and Paul Katami and Jeff Zarrillo; AFER board members Chad Griffin; Hollywood producer Bruce Cohen and his husband Gabe Catone; LGBT activist Cleve Jones; screenwriter Dustin Lance Black; actor and director Rob Reiner; and other AFER supporters. Behind them sat "members of the public" who had lined up to get an open seat. There was also a public "overflow room" two floors up.
On the left side facing the judge sat the legal defense team, with Cooper as lead attorney for ProtectMarriage.com and two attorneys for the Alliance Defense Fund. Behind them were not rows of thick folders but a row of attorneys for California Attorney General Jerry Brown and Gov. Arnold Schwarzenegger, and other attorneys for the defense. They had a table with two women on computers and one row of possible supporters. They appeared as though they were making motions to look busy rather than actually doing anything. At the break, Stewart told me that two or three of their witnesses had dropped out that morning. That might explain the pall that hung over that table. And throughout the day, Cooper and the other lawyer for the Alliance Defense Fund kept promising that their expert, David Blankenhorn, would explain everything to the judge, who kept asking for evidence about how each side would prove their contentions.
Blankenhorn, you might remember, is the "liberal Democrat" president of the Institute for American Values, who shared a New York Times op-ed on gay marriage with the openly gay Jonathan Rauch, a guest scholar at the Brookings Institute. In a Sept. 19, 2008, Los Angeles Times op-ed, he said:
"Marriage is society's most pro-child institution, recognized through history and a myriad of cultures."
That was Cooper's mantra: marriage equals protection of children.
There were surprising moments from him and his Republican colleague, Olson. After going on about how gays and lesbians have all this political power — referring to the legislature, the unions, the newspapers, Hollywood — Cooper acknowledged that public attitudes have changed from the days of Proposition 22 to Proposition 8, but no one can predict what will happen in the future, so we shouldn't rush ahead. It was another twist on the effective yes on Prop 8 "consequences" argument that since marriage is so new, we don't know what might happen as marriage is "de-institutionalized."
Cooper also made the "activists judges" argument, noting that the Constitution's 14th Amendment doesn't take the definition of marriage out of the hands of the people. Besides, he said, Californians have been "very generous with gays." And even President Barack Obama has said marriage should be between a man and a woman.
But then, as if to painfully underscore how scattered, repetitious and at times inadvertently amusing Cooper's opening statement was, Walker reminded him that just moments earlier in his opening statement, Olson noted that Obama's parents couldn't get married in Virginia because of bans on interracial unions.
Cooper replied that "race has never been a restriction" enshrined in marriage. Some of us were dumbfounded.
He went on to explain that race is not a restriction to the definition of marriage — that a man and a woman get married to procreate. And echoing Blankenhorn, Cooper said marriage is a pro-child institution, which is far more important than love, emotional support and companionship.
To finalize his point, Cooper asserted that the landmark civil rights case that ended race-based discrimination in marriage based on the 14th Amendment, Loving v. Virginia, was only about race and not marriage. Therefore, the 14th Amendment's Equal Protection Clause does not apply to same-sex marriage.
As the trial ended Monday, the witness on the stand, Harvard University professor and history scholar Nancy Cott, whose opening statement was "what a capacious institution [marriage] is," really zinged Cooper.
In his opening remarks, Cooper said the limitation of marriage to the unions of one man and one woman is something that is universal throughout history and different cultures. Cott, in her very professorial way, said she was "amused" when she heard Cooper say that because "the Bible is a situation in which characters practice polygamy." She said his statement was "inaccurate."
In an interesting juxtaposition to Cooper's analysis of race and marriage, Cott also talked about the Scott v. Sandford decision and how for slaves, the ability to get married was the mark of a free man.
Boutrous said he had another hour of questions, and then she'd undergo cross-examination, which was expected to get nasty.
But the highlight of the trial Monday was the powerful and moving testimony of the four plaintiffs under the gentle questioning of Boies, each describing their willing-to-die-for love of their partner, the "harm" done to them individually and as a couple by the discrimination caused by their relationship's different status, and how domestic partnerships was humiliating and just not good enough. At times, they each choked up and paused, causing some people in the gallery to choke up, too. But perhaps most moving was how the two teenage sons of Kris and Sandy cried openly as Kris testified about her love for Sandy and for them.
Olson's opening remarks were powerful and so on point, it was just breathtaking to hear these words spoken by the former solicitor general for President George W. Bush. Olson was repeatedly interrupted and questioned by Judge Walker — so much so one that observer wondered if Walker had already written his decision and was trying to steer both plaintiff and defense counsels toward answering questions he needed to address. But if nothing else, we certainly learned that Walker would be a very engaged judge, which, with his deep clear voice and mischievous sense of humor, should make the trial very interesting.
AFER has posted Olson's opening comments for all to read. Before you read them in their entirety, though, consider the closing portion of his remarks:
At the end of the day, whatever the motives of its proponents, Proposition 8 enacted an utterly irrational regime to govern entitlement to the fundamental right to marry, consisting now of at least four separate and distinct classes of citizens: (1) heterosexuals, including convicted criminals, substance abusers and sex offenders, who are permitted to marry; (2) 18,000 same-sex couples married between June and November of 2008, who are allowed to remain married but may not remarry if they divorce or are widowed; (3) thousands of same-sex couples who were married in certain other states prior to November of 2008, whose marriages are now valid and recognized in California; and, finally (4) all other same-sex couples in California who, like the plaintiffs, are prohibited from marrying by Proposition 8.

There is no rational justification for this unique pattern of discrimination. Proposition 8, and the irrational pattern of California's regulation of marriage which it promulgates, advances no legitimate state interest. All it does is label gay and lesbian persons as different, inferior, unequal, and disfavored. And it brands their relationships as not the same, and less-approved than those enjoyed by opposite sex couples. It stigmatizes gays and lesbians, classifies them as outcasts, and causes needless pain, isolation and humiliation.
National Gay & Lesbian Chamber of Commerce Certifies Brown, Naff, Pitts Omnimedia, Inc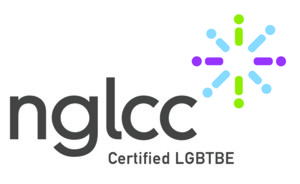 Washington, D.C. — Brown, Naff, Pitts Omnimedia, Inc, the parent company of the Washington Blade and Azer Creative, announced today it has been certified by the National Gay and Lesbian Chamber of Commerce (NGLCC) as an LGBT Business Enterprise. The NGLCC supports and advocates for diversity and inclusion for LGBT-owned businesses. With this certification the Blade's parent company joins more than 510 business and 134 corporate partners of the NGLCC.
Brown, Naff, Pitts Omnimedia, Inc. owns and operates the Washington Blade, the oldest and most acclaimed LGBT newspaper in the country. In 2012, the company launched Azer Creative, a full-service design firm. The company employs more than a dozen full-time LGBT staff.
"We are excited to become one of the 500 LGBT businesses across the country certified by NGLCC," said Lynne Brown, the Blade's publisher and a co-owner of the company. "The LGBT community has been part of our company from the beginning and we look forward to continue that for many years to come."
The Washington Blade was founded in 1969 and is known as the "newspaper of record" for the LGBT community both locally and nationally. Visit washingtonblade.com for more information. Azer Creative is a full-service graphic design firm based in Washington, D.C. Visit azercreative.com for more information. 
Vote now for the 2013 Best of Gay DC!
Choose in dozens of categories among hundreds of nominees, and make your voice heard!
Nominate the 'Best of Gay D.C.' now!
Dozens of categories cover all the best for LGBT Washington. Who deserves the prize this year?