Lambda sues OPM for denying spousal benefits to lesbian court worker
An LGBT advocacy group is suing a U.S. government agency headed by a gay official for refusing to give spousal benefits to a lesbian court employee.
On Wednesday, Lambda Legal filed its lawsuit against the U.S. Office of Personnel Management on behalf of Karen Golinski, a lesbian Ninth Circuit court attorney in California who's seeking health benefits for her spouse, Amy Cunninghis.
The director of OPM is John Berry, the highest-ranking openly gay official in the Obama administration. The agency didn't immediately respond to DC Agenda's request to comment on the lawsuit.
The path leading to the lawsuit filed on Wednesday has been a back-and-forth between Ninth Circuit U.S. Court of Appeals Chief Judge Alex Kozinski and OPM for the past year.
In January 2009, Kozinski determined that denying Golinski health insurance for her spouse was discriminatory. The judge ordered the Administrative Office of the U.S. Courts to submit Golinski's health benefits election form to her insurer, Blue Cross/Blue Shield, so her spouse could receive benefits.
But OPM disagreed with Kozinski's order and told Blue Cross not to comply.
Then in November, Kozinksi further ruled he has the authority to interpret laws governing the rights of judicial employees. He gave OPM 30 days to comply or appeal.
OPM responded to this action by issuing another statement saying the order was not binding and the Justice Department advised the agency not to comply. OPM said the Defense of Marriage Act, which prohibits federal recognition of same-sex marriage, prohibited the agency from giving Golinski the benefits.
After OPM didn't appeal Kozinksi's decision by his deadline, the judge held his prior orders had become conclusive and binding against the agency.
Jennifer Pizer, national marriage project director for Lambda Legal, said in a statement OPM's refusal to give its analysis for not complying with Kozinksi's order is "most telling."
"If they are confident Judge Kozinski is wrong, why didn't they tell us, and him, why they think so?" she said. "Simply defying his orders is a slap in the face to Karen and the entire LGBT community and bizarrely disrespects the judiciary."
Lambda's lawsuit, known as Golinski v. Office of Personnel Management, is pending in the U.S. District Court for Northern District of California. The lawsuit asks the court to order OPM to rescind its instruction to Blue Cross/Blue Shield not to enroll Golinski's spouse in Golinski's family health insurance plan.
Download a copy of Lambda's complaint against OPM here.
National Gay & Lesbian Chamber of Commerce Certifies Brown, Naff, Pitts Omnimedia, Inc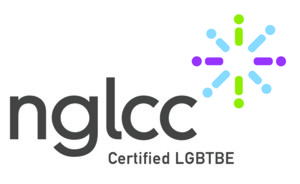 Washington, D.C. — Brown, Naff, Pitts Omnimedia, Inc, the parent company of the Washington Blade and Azer Creative, announced today it has been certified by the National Gay and Lesbian Chamber of Commerce (NGLCC) as an LGBT Business Enterprise. The NGLCC supports and advocates for diversity and inclusion for LGBT-owned businesses. With this certification the Blade's parent company joins more than 510 business and 134 corporate partners of the NGLCC.
Brown, Naff, Pitts Omnimedia, Inc. owns and operates the Washington Blade, the oldest and most acclaimed LGBT newspaper in the country. In 2012, the company launched Azer Creative, a full-service design firm. The company employs more than a dozen full-time LGBT staff.
"We are excited to become one of the 500 LGBT businesses across the country certified by NGLCC," said Lynne Brown, the Blade's publisher and a co-owner of the company. "The LGBT community has been part of our company from the beginning and we look forward to continue that for many years to come."
The Washington Blade was founded in 1969 and is known as the "newspaper of record" for the LGBT community both locally and nationally. Visit washingtonblade.com for more information. Azer Creative is a full-service graphic design firm based in Washington, D.C. Visit azercreative.com for more information. 
Vote now for the 2013 Best of Gay DC!
Choose in dozens of categories among hundreds of nominees, and make your voice heard!
Nominate the 'Best of Gay D.C.' now!
Dozens of categories cover all the best for LGBT Washington. Who deserves the prize this year?