Phillips plans Feb. 4 Valentine's event
The Phillips Collection opened its doors in 1921, eight years before the debut of the Museum of Modern Art in New York. The intimate setting of this distinct Georgian Revival house, located in Dupont Circle, is filled with paintings and modern works by Renoir, Rothko, Bonnard and O'Keefe, van Gogh and Diebenkorn to name a few. And there's no better time to experience the museum than at its monthly Phillips After 5 events, held the first Thursday of the month.
On Feb. 4 from 5-8 p.m., Phillips After 5 has a special Valentine's Day-themed event planned. Sip Champagne with your valentine or maybe meet one while sampling Brazilian tapas with capirinhas from chef Andrew Holden of FoodArts. Indulge your sweet tooth with chocolate fondue and Godiva chocolate liqueur. The Music Room offers poet Shani Jamila for a recitation of Georgia O'Keeffe's letters to her husband Alfred Stieglitz, to the accompaniment of violinist Matthew Hemerlein and music spun by DJ Adrian Loving.
The exhibits will include "Object as Subject: Photographs of the Czech Avant-Garde," which closes Feb. 7. Attendees can also share in the love story of Duncan and Marjorie Phillips with gallery talks about their personal and professional partnership.
The Phillips Collection will have a special Art & Romance video diary booth set up for attendees to stop by and share how art has inspired love in their life. There will also be a series of early 20th-century short Czech films rarely seen in the U.S., introduced by associate curator Elsa Smithgall. In addition, the DC Agenda staff will be special guests at the event, so come and rub elbows with us over cocktails and chocolate. The Phillips Collection is located at 1600 21st St., N.W.
Disco Funk Brunch at Crazy Aunt Helen's
Tara Hoot and DJ Phil Reese perform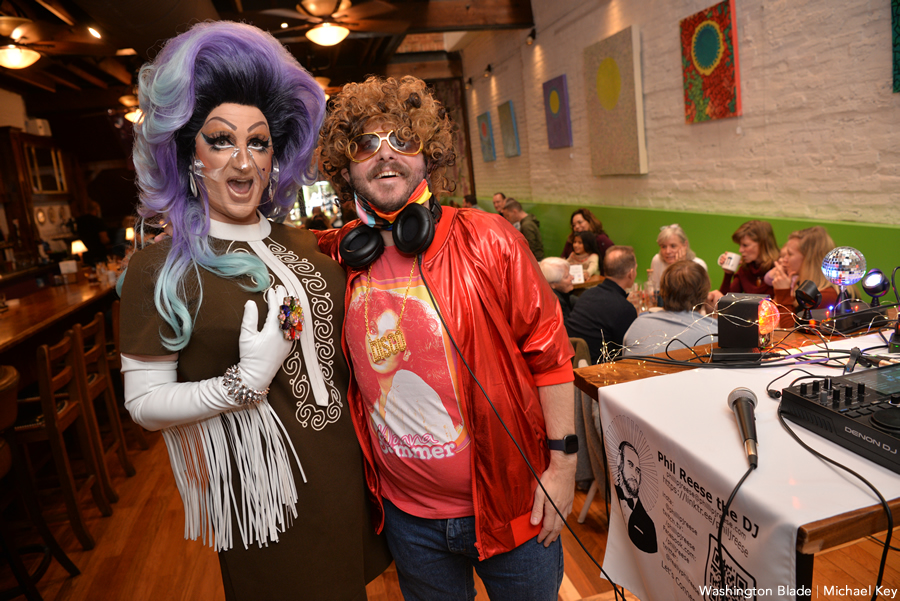 Drag queen Tara Hoot and DJ Phil Reese perform at the biweekly Disco Funk Brunch at the LGBT-owned Crazy Aunt Helen's on Sunday. For future showtimes, go to crazyaunthelens.com. (Blade photo by Michael Key)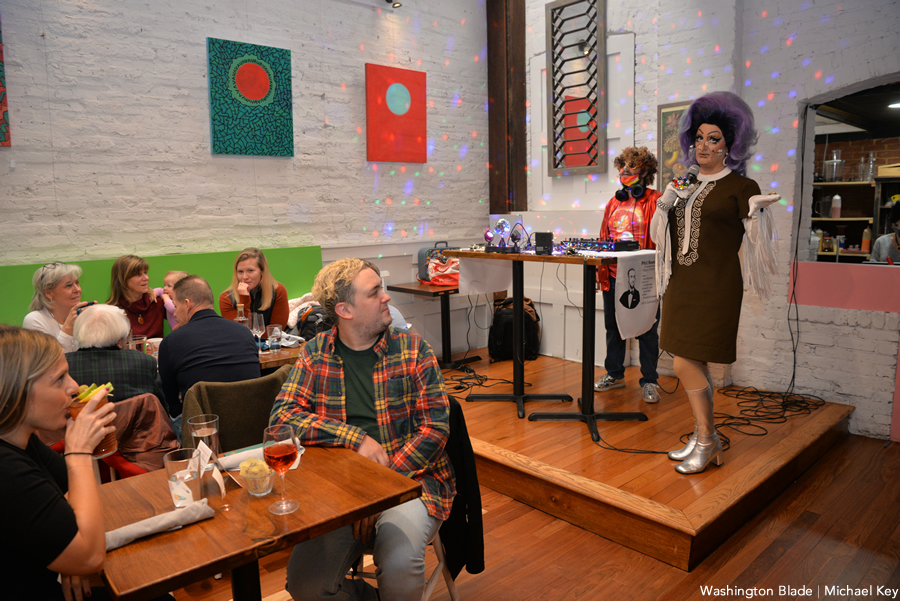 Blade's summer closing party set for Sept. 17 in Rehoboth
Benefits journalism scholarship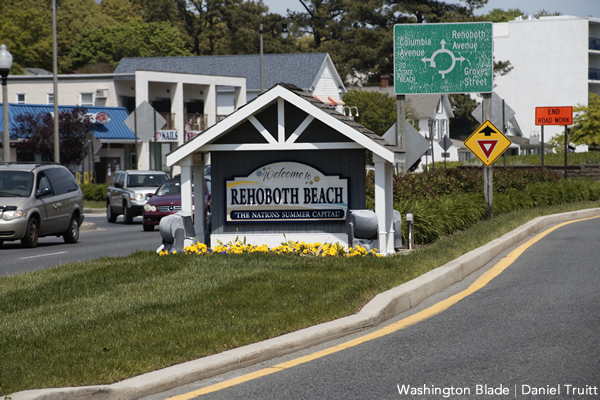 The Washington Blade's 15-year tradition of hosting a summer kickoff party in Rehoboth Beach was disrupted due to COVID restrictions. In lieu of that May event, the Blade is hosting a summer closing party on Friday, Sept. 17 at 6 p.m. at The Pines (56 Baltimore Ave., Rehoboth Beach, Del.).
Tickets are $20, which includes two drinks and appetizers. The event benefits the Blade Foundation's Steve Elkins Memorial Journalism Fellowship, a 12-week program in which an LGBTQ student journalist covers stories of interest to Delaware's queer community each summer.
All COVID safety protocols will be followed, including a requirement that attendees furnish proof of vaccination to gain entry.
If you are unable to attend you can make a donation to the Blade Foundation at BladeFoundation.org. Sponsors of the event include Delmarva Power and The Pines.
Rehoboth to close out summer with SunFest
Series of events to replace long-running Sundance due to pandemic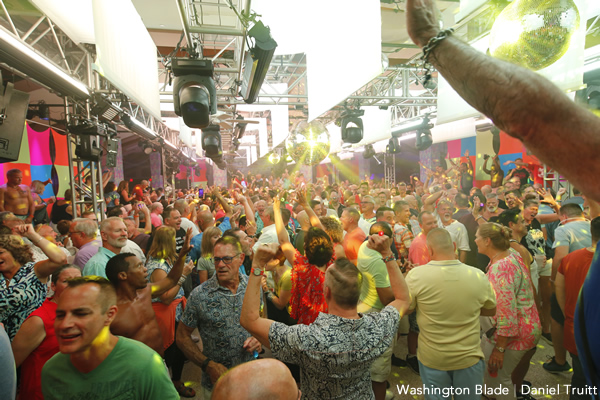 SunFest will feature a week of live performances, dances, and a live auction, sponsored by non-profit LGBTQ+ center CAMP Rehoboth.
The weeklong festival runs from Aug. 29 to Sept. 5 and is a change from the annual SunDance that CAMP Rehoboth has sponsored since 1988. This transformation began last year when the event was forced to go digital due to the coronavirus and the in-person events scheduled this year are important, according to development director and co-coordinator of SunFest Anita Broccolino.
"We love that community feel and the in-person makes all the difference in the world for us. Not being able to do it last year just reminded everyone how important we all are to one another," Broccolino said. "I think that bringing back these events this year is just huge for us and it will be extra celebratory as a result."
The festival begins with a 5k race and online auction opening on Sunday. Monday night features a give-back event at Iron Hill Brewery while Tuesday's agenda is still to be determined, said Broccolino. Diego's will host a Studio 54 give-back dance party on Wednesday and Thursday is the Port 251 women's give-back.
Live performances featuring the Skivvies, Randy Harrison and Diane Huey are scheduled for Friday night and Jennifer Holiday will follow with a performance on Saturday night, both at the Rehoboth Beach Convention Center. The festival closes out Sunday with auction pick-ups and Fun in the Sand and Sun, according to the CAMP Rehoboth website.
This event is also important to the organization's contributions to the community, said Broccolino.
"The essential services we provide for free to the community, which is a huge amount of health and wellness activities, as well as arts programming, a lot of youth programming and the community counts on us for those things. We never stopped during COVID, we made as much as we could virtual, but we took quite a hit not being able to raise those funds and awareness of the programs," Broccolino said. "We invite the entire community to come celebrate with us and make it to Rehoboth Beach, and let's make it joyful, and wonderful and make sure we're living up to the standards of all the people who helped found CAMP Rehoboth and live up to their legacy and beyond."