SPRING ARTS 2017 — galleries: The art of the matter
Paintings, sculptures, woodcuts and more part of spring exhibits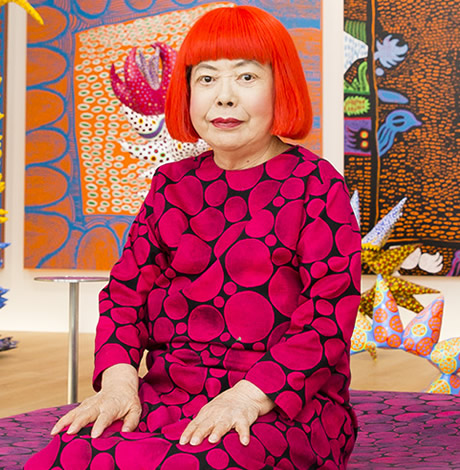 Artists & Makers Studios (11810 Parklawn Dr., Rockville, Md.) presents "at 2(two)," a gallery featuring artwork from more than 120 resident artists, opening Friday, March 3. There will be an opening reception with champagne celebrating the organization's second anniversary from 6-9 p.m. Also on display will be mini-solo exhibits in the New Masters Gallery from Ken Bachman, Sara Bardin, Mary Morris and Lis Zadravec. The Montgomery County Camera Club will also display its exhibit "Visualizations" at Artists & Makers Studios. All exhibits run through March 29.
Touchstone Gallery (901 New York Ave., N.W.) presents the Touchstone Gallery Member Show in Gallery A from March 3-April 2. "Common Threads" by April Rimpo, featuring acrylics and watercolors exploring repeated images from around the world, will be in Gallery B. "Scribbles: an Urban Art Series" by Lisa Tureson, a series of mixed media paintings, will be in Gallery C.
Exposed D.C. celebrates its 11th annual photography exhibit with an opening night reception at Ajax (1011 4th St., N.W.) on Thursday, March 9 from 6-10 p.m. Forty-three images exploring D.C. as a city people live, work and love will be on display and available for purchase. There will be complimentary wine, beer, soda and snacks. Tickets are $20.
The National Museum of Women's Art (1250 New York Ave., N.W.) presents "Chromatic Scale: Prints by Polly Apfelbaum" on March 10-July 2. Apfelbaum incorporates bright colors and abstract designs on her large-scale print installations.
The Kreeger Museum presents "RE-VISION" from March 10-July 29 in honor of its 50th anniversary. The exhibit will examine the art of  architect Philip Johnson and the design of the Kreeger Museum. On Thursday, March 23 there will be "Through the Artist's Lens," a panel discussion, from 6-8 p.m. On Thursday, April 13 there be be another panel discussion, "State of the Art: Modern Architecture in Washington D.C." from 6-8 p.m. Panel discussions are $15 for non-members and $12 for members. Admission to the exhibit is free.
National Gallery of Art (6th and Constitution Ave., N.W.) showcases "East of the Mississippi: Nineteenth-Century American Landscape Photography" and "The Woodner Collection: Master Drawings from Seven Centuries" from March 12-July 16. "East of the Mississippi" features 175 photographs of eastern American landscapes during the 1800s. "The Woodner Collections" includes 100 works ranging from the 14th to the 20th century from Dian and Andrea Woodner's personal collection.
CulturalDC features "Developing an Argument" by Maryland sculptor Christian Benefiel at Flashpoint Gallery (916 G St., N.W.) from March 18-April 8. Benefiel's sculptures focus on how a social construct works with balance and tension both physically and visually. On Sunday, March 26 at 1:30 p.m. Benefil will appear at the Luce Foundation Center Artist Talk to explain his work.
Long View Gallery (1234 9th St., N.W.) presents "ReFresh VII," with new work from Mike Weber, Ryan McCoy, Cheryl Wassenaar, Lori Katz, Colin Winterbottom and J. Jodran Bruns. Baltimore artists Jessie and Katey will also premier their new works in the exhibit. It runs through March 19.
Gallery B (7700 Wisconsin Ave., Bethesda, Md.) displays its March exhibit "Beyond That" running through March 25. The exhibit features work from eight artists including Alfredo Palmero, Nihal Kececi, Nadia Arditti, Steffen Faisst, Bryan Grose, Noel Aquino and more.
"Pathfinders" by Michael Platt is open at Honfleur Gallery (1241 Good Hope Rd., S.E.) through April 9. The D.C. native's work highlights people Platt finds revolutionary on canvas using photography, digital imagery and printmaking. There will be an artist talk on Saturday, March 25 from 2-4 p.m.
The National Building Museum (401 F St., N.W.) showcases "Around the World in 80 Paper Models" on April 16-17. The paper models recreate various buildings from all over the world such as castles, cathedrals and gardens. Some of the micro-models can be seen flat while others can be experienced in 3-D. After the tour, visitors can build their own models. General adult admission is $10 and general youth admission is $7.
The Phillips Collection (1600 21st St., N.W.) presents "Toulouse-Lautrec Illustrates the Belle Époque" through April 30. Prints and posters from French artist Henri de Toulouse-Lautrec's will be on display spanning his career. Tickets are $12 for adults and $10 for students and visitors over 62. Members and visitors under 18 are free.
Hirschhorn Museum (Independence Ave., S.W.) presents "Yayoi Kusama: Infinity Mirrors" through May 14. The exhibit showcases six of the Japanese artist's work including her recent series "My Eternal Soul," her 1960s work "Happenings" and her recent Infinity Mirror Room. Admission is free but timed passes are required. Passes are released on a weekly basis online. Same-day, walk-up timed passes are also available at the museum.
"Peacock Room REMIX: Darren Waterson's Filthy Lucre" is on display at the Freer and Sackler Galleries (1050 Independence Ave., S.W.) through June. Out artist Waterson recreated James McNeill Whistler's iconic piece "Peacock Room" to depict the room as a collapsed ruin.
Artists examine gender identity in D.C. exhibition
Event sponsored by the Blade, Dupont Underground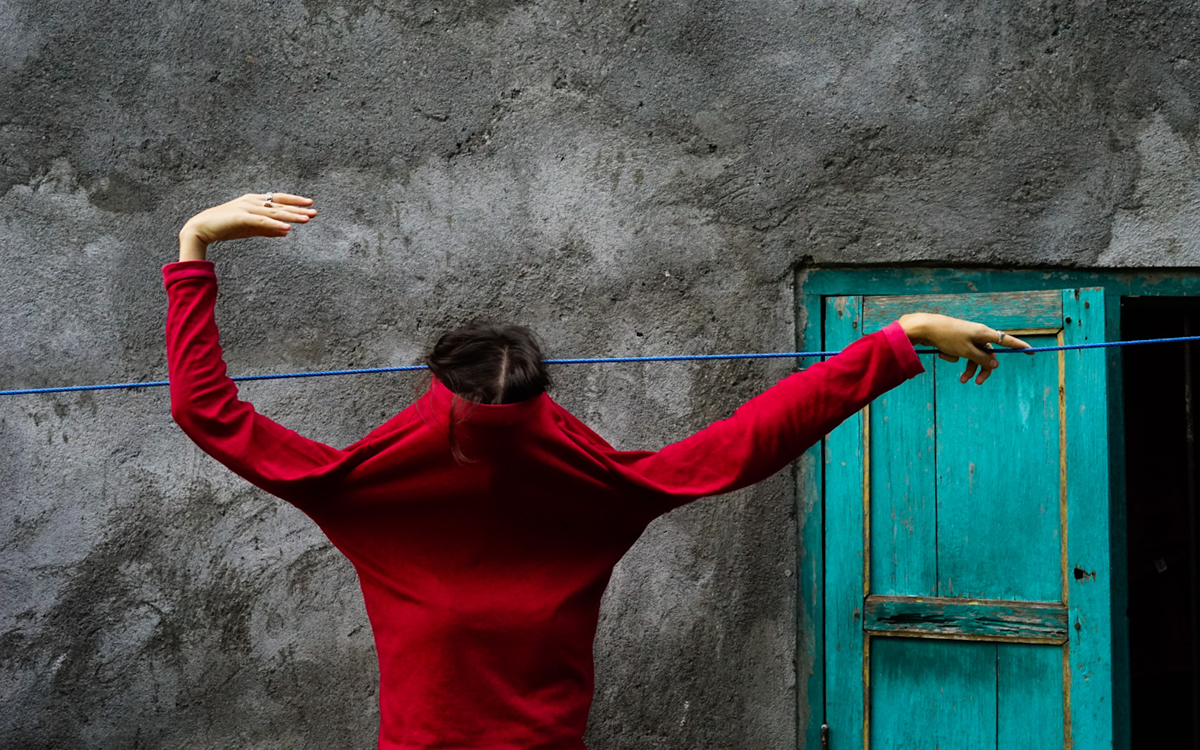 Each weekend this June, visitors to Dupont Underground — an arts space built into an abandoned trolley station under Dupont Circle — will find walls lined with artwork ranging from embroidery to watercolors. Together, the pieces make up the Underground's latest exhibition, "The Gender Within: The Art of Identity," which unites more than 35 local artists in a conversation on gender identity and the dynamic ways that gendered labels are experienced.
Sianna Joslin, a web developer by day and one of the artists participating in the exhibition, is including a piece entitled "The Inherent Agony of Having A Body" — an embroidery hoop that depicts an anatomical model of a transmasculine individual bearing top surgery scars and patterned red boxers.
The piece juxtaposes "the old ideals of the human body, the male form, with top surgery scars (and) these funny pennant boxers," they said. "It's kind of a play on what society has traditionally considered masculine versus these new symbols of masculinity that transmasculine folks are embracing."
Another artist, Rashad Ali Muhammad, brings to the exhibition a compilation of videos in which colorful, moving backgrounds are transplanted onto the faces of different people — pieces that originally began as NFTs.
This project, entitled "A World Within," was inspired by the realities of existing in a period of social volatility like the pandemic, and aims to show the "worlds" that exist within each person, Ali Muhammad said.
Left to face the challenges of the pandemic and broader social inequities, "you need to take the time inwardly to think about and process everything that's going on," they explained. "You have to go within to understand who you are sometimes."
Nikki Brooks, whose painting "Blaq Jesus" portrays a Black and androgynous Jesus smoking a cigarette with a nondescript expression, rooted her creative exploration in her experience with societal gender norms.
"For a long time I struggled with my gender expression. I had to live up to how people framed me … putting this femininity on me," she said. The painting challenges "pressures from people saying that one person has to be one way, or express themselves one way," and encourages others to "let them live how they feel on the inside."
Brooks also noted the use of religious imagery was key to her piece. In historical depictions of Jesus, he is often assigned certain racial and gender identity markers according to societal demands, she said. "This Black Jesus in a way defies all those stigmas" tied to the identities depicted by connecting them to a revered religious icon.
The artists all noted that they are excited by the diversity of experiences the Underground's exhibition has brought together.
"We're going to see — from all of these different artists — interpretations of what gender means to them, and I just think that's wonderful," Joslin said. "I really hope that it expands on that notion of gender for a lot of people."
Ali Muhammad found the exhibition especially meaningful for openly creating space for queer artists.
"In the history of art, a lot of artists tend to be queer … but people don't talk about that," they said. "Focusing specifically on queer art and queer artists (says) we are here, we are represented."
The exhibition, cosponsored by the Washington Blade and Dupont Underground, can be accessed at 19 Dupont Circle, N.W., each Friday, Saturday and Sunday in June from 11 a.m. to 5 p.m. Entry costs $10 per person, or $7 for students, seniors and members of the military.
Not-to-miss exhibits at Baltimore's Gallery Blue Door 
Works by Brooks, Halvorsen now on display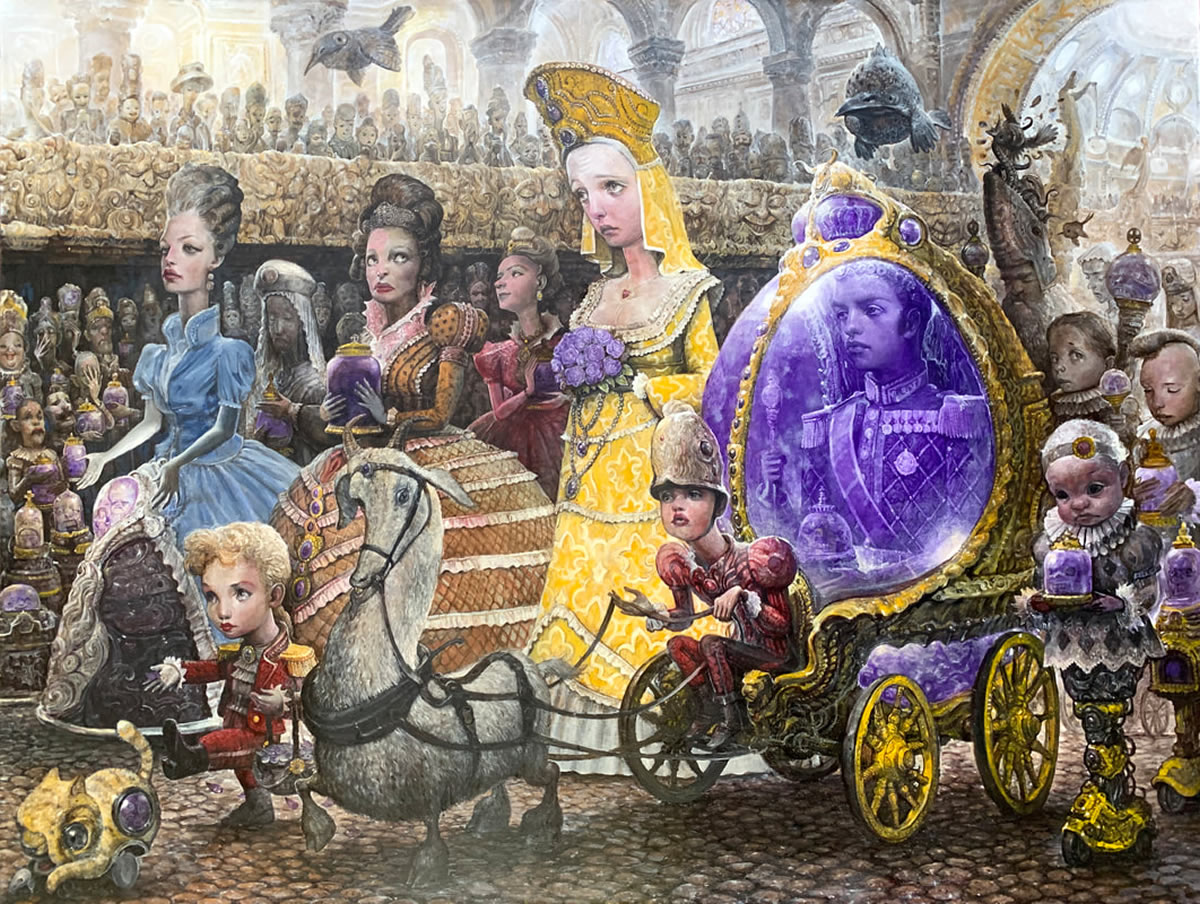 Baltimore's bustling art scene includes several current exhibits at the gay-owned Gallery Blue Door.
Striking works by acclaimed artist Scott Brooks are on display now through July 9 in an exhibit titled "Self Contained — Pandemic Era Works."
"The Work in 'Self Contained' was created over the last two years," Brooks said in a statement. "It has been a challenging time for the world, and for myself personally. As an artist, being in lockdown gave me the gift of time."
Brooks, a former D.C. resident who is gay, is a figurative artist who has been living and working in Baltimore since 2016. His art borders on the surreal and ranges from portraiture to complex narratives, according to the gallery.
Also currently on display is an exhibit titled "Becoming" by out artist Tracey Halvorsen, which runs until May 14.
"This latest body of work reflects a composite of subject and abstraction through continued exploration of landscapes, still life, and narrative themes," according to a statement from the gallery.
Gallery Blue Door should be on your list of places to visit in Charm City. It's located in a historic row home in Mount Vernon, long the epicenter of LGBTQ life in Baltimore.
Have to pee? Check out new John Waters Restrooms
BMA introduces gender-neutral facilities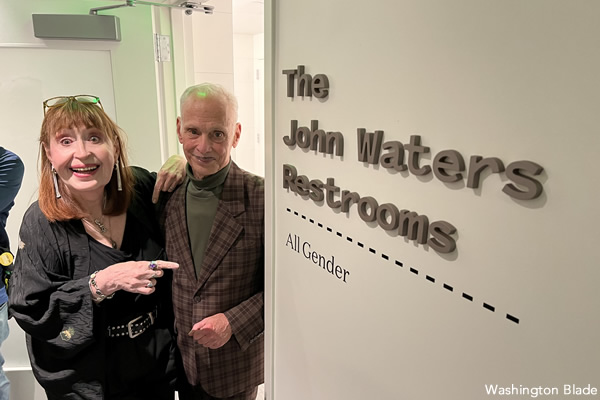 The Baltimore Museum of Art unveiled its latest addition on Wednesday: the John Waters Restrooms, named for the iconic filmmaker who is a trustee of the museum.
There were plenty of snickers and jokes about who would be the No. 1 and No. 2 patrons of the new facilities, but beneath the potty humor was an important message about access to the most fundamental spaces in society.
Joining Waters at a BMA event Wednesday to officially dedicate the gender-neutral restrooms was Elizabeth Coffey, a transgender actress and longtime friend and collaborator of Waters'. Coffey noted the importance of access to public spaces to the trans community. Preceding her at the lectern was Christopher Bedford, the Dorothy Wagner Wallis director of the BMA, who noted that adding the gender-neutral restrooms was the right thing to do.
After brief remarks, Coffey and Waters led a group of museum supporters and reporters downstairs to see the new space and Coffey cheekily took the inaugural trip into one of four private stalls. The stalls and adjoining communal washroom were designed by Quinn Evans Architects and feature white tile with bright red tile in the stalls. The idea for naming the restrooms came from Waters when he bequeathed his fine art collection to the BMA, according to a museum statement. 
The John Waters Restrooms will open to the public on Sunday, Dec. 12, in conjunction with the adjacent Nancy Dorman and Stanley Mazaroff Center for the Study of Prints, Drawings and Photographs and Ruth R. Marder Center for Matisse Studies. Waters is about to embark on a national tour of spoken-word performances.