FALL ARTS 2016: 'Trans/Formation' experience
Voguing, lesbian self portraiture, Art All Night and more among fall exhibits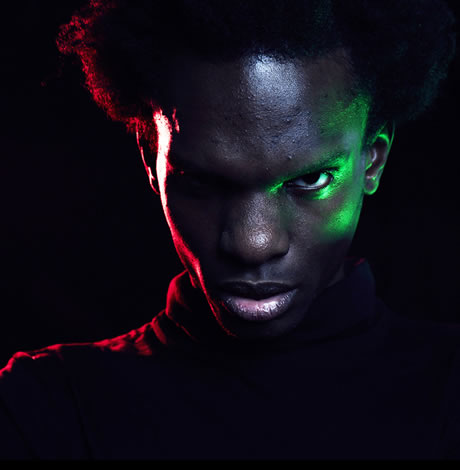 (901 New York Ave., N.W.) presents exhibits "Beyond Face Value" by Touchstone member artists in Gallery A, "Tutto sui Fiori" by Judy Giuliani in Gallery B and "The Thermal Zone" by Peter McCutchen in Gallery C through Sunday, Oct. 2. "Beyond Face Value"  explores the literal and figurative face of things. "Tutto sui Fiori" is a series of abstract flower paintings and "The Thermal Zone" focuses on Yellowstone's Thermal Zone. McCutchen and Giuliani will give an artist talk on Sunday, Sept. 25 at 2 p.m.
Art All Night, an overnight arts festival, is Saturday, Sept. 24 from 7 p.m.-3 a.m. at various locations in the neighborhoods of Congress Heights, Dupont Circle, H Street, North Capitol, Shaw, Van Ness and Tenleytown. Artwork on display will be a mixture of painting, photography, sculpture, crafts, fashion, film, poetry, music, dance, theater and more. A complete list of artists and a schedule of exhibits and performances are to be announced. Admission is free.
Out artist Gordon Binder presents his exhibit "Skylines and Treelines," a city-themed, oil-based artwork, at Studio Gallery (2108 R St., N.W.) from Wednesday, Sept. 28 through Saturday, Oct. 22.
Artists & Makers Studios (11810 Parklawn Dr., Rockville, Md.) presents "Trans/Form.ation" through Wednesday, Sept. 28. The three-gallery exhibit challenges the concepts of form based on a generic dress form. Artists involved include Meaghan Busch, Amelia Hankin Cashin, Minji Kim, Jun Lee and more.
VisArts Emerging Curator Program presents "Noise, Body, Music," an exhibition that features work from queer and gender non-conforming artists in the disciplines of visual art, dance, punk and experimental electronic music, at VisArts at Rockville (155 Gibbs St., Rockville, Md.). There will be an opening party on Friday, Sept. 16 from 7-11 p.m. Local queercore/transcore punk band Homosuperior will perform. Cyber-noise artist Fire-Toolz, trans-disciplinary dance group Antibody Corporation and nihilist queer revolt music artist Luwayne Glass, known as dreamcrusher, will also perform. The exhibition is on display through Sunday, Oct. 16. Admission to the opening party and exhibition is free.
The Center for Black Equity hosts "Our Lives, Our History, Our Museum," an LGBT celebration of the opening of the National Museum of African American History and Culture, at Human Rights Campaign (1640 Rhode Island Ave., N.W.) on Wednesday, Sept. 21 from 7-9 p.m. Singer and LGBT activist Frenchie Davis will perform. Refreshments will be provided. The National Museum of African American History and Culture opens on Saturday, Sept. 24.
The Zenith Gallery presents "Humor Heals," a comedic take on classic artworks, at 1429 Iris St., N.W. from Sept. 23-Oct. 29. Artists included in the showcase will be Caroline Benchetrit, Elissa Farrow-Savos, Stephen Hansen, among others. There will be a "meet-the-artists" receptions on Friday, Sept. 23 from 5-9 p.m. and Saturday, Sept. 24 from 2-6 p.m.
The National Museum of Women in the Arts (1250 New York Ave., N.W.) hosts Smithsonian magazine's 12th annual Museum Day Live on Saturday, Sept. 24.from 10 a.m.-5 p.m. A special exhibition Alison Saar in Print will be on display for the day, which showcases Saar's prints from throughout her career. The promotion is free of charge and includes tickets for two for free admission to a number of museums.
D.C. Design House holds its ninth annual showcase from Oct. 1-30 at 2509 Foxhall Rd., N.W. Local decorators will transform 21 spaces inside and outside the home. Designers included this year are Charles Almonte, Kimberly Asner, Barbara Brown, Rachel Dougan, Blake Dunlevy & Gina Palmer, Eve Fay, among others. Preview day is on Saturday, Oct. 1 from 1-4 p.m. Tickets are $60. The showcase will be open Saturday and Sunday from noon-5 p.m., Tuesday-Friday from 10 a.m.-3 p.m. and closed on Monday. Tickets are $35.
The Kreeger Museum (2401 Foxhall Rd., N.W.) opens its exhibit "Smith | Paley," a collaboration between artists Clarice Smith and Albert Paley, on Monday, Oct. 7. The exhibit features a group of Smith's paintings, including "Gallop," and a selection of Paley's sculptures, including "Albert Paley on Park Avenue." The exhibit runs through Friday, Dec. 30. Admission is $10. Admission for seniors and students is $7.
The Smithsonian's National Museum of African Art holds its inaugural African Art Awards Dinner at the Smithsonian's Arts and Industries Building (900 Jefferson Dr., S.W.) on Friday, Oct. 28 from 6:30-9:30 p.m. Nigerian artist Yinka Shonibare will be honored along with contemporary artist and LGBT advocate Ato Malinda and CEO of Kenya's Safaricom and philanthropist Bob Collymore. CNN news anchor Isha Sesay will host the event. Food will be provided by celebrity chef Marcus Samuelsson. Tickets are $500.
On Oct. 15 from 6-9 p.m., the museum will present Keith Holt and the House of Ebony in "Voguing Showcase: Un Ballo in Maschera." After a screening of the film "Un Ballo In Maschera," Holt and his company will perform as part of an outreach event to the local LGBT community.
Newseum (555 Pennsylvania Ave., N.W.) presents "Refugee," a photography exhibit that explores the journeys of refugees from across five continents, from Nov. 18-March 12. Photographers Lynsey Addario, Omar Victor Diop, Graciela Iturbide, Martin Schoeller and Tom Stoddart are featured in the exhibit. Adult tickets are $22.95, senior tickets for individuals 65 and older are $18.95 and youth ages 7-18 are $13.95. Children are free.
"The Art of Romaine Brooks," featuring androgynous works by the legendary out painter, is nearing the end of its run. It opened in June at the Smithsonian American Art Museum and continues through Oct. 2.
Artists examine gender identity in D.C. exhibition
Event sponsored by the Blade, Dupont Underground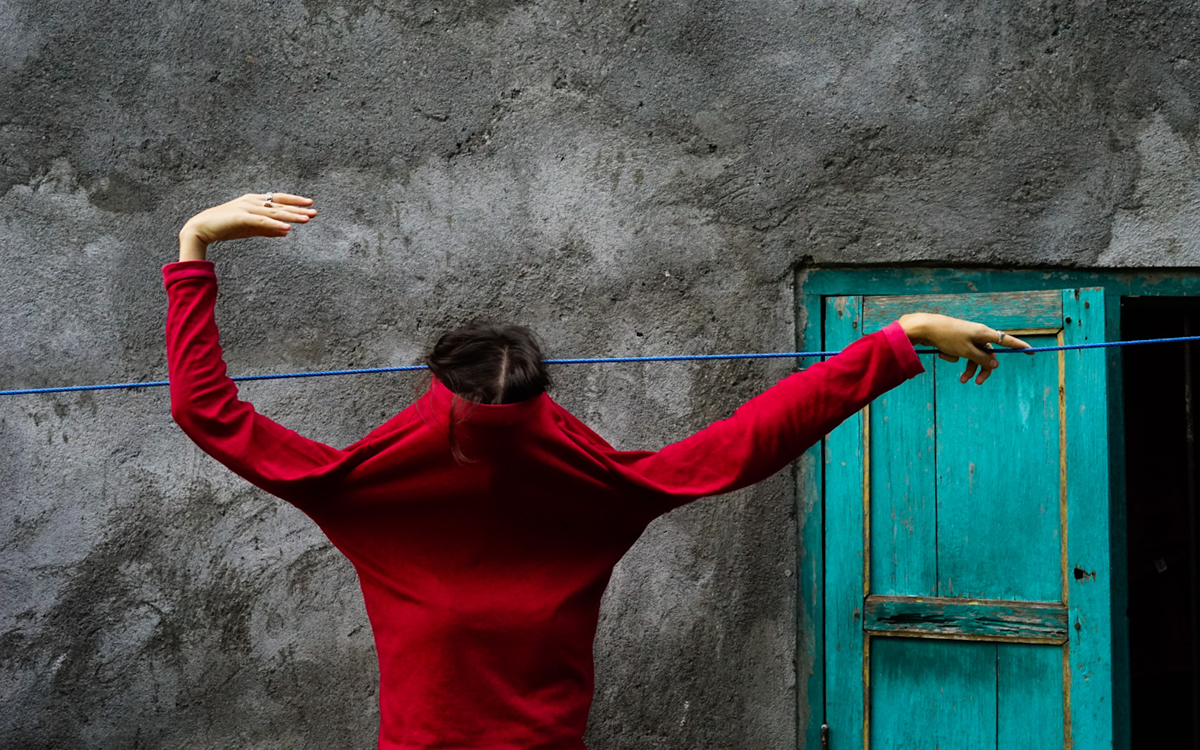 Each weekend this June, visitors to Dupont Underground — an arts space built into an abandoned trolley station under Dupont Circle — will find walls lined with artwork ranging from embroidery to watercolors. Together, the pieces make up the Underground's latest exhibition, "The Gender Within: The Art of Identity," which unites more than 35 local artists in a conversation on gender identity and the dynamic ways that gendered labels are experienced.
Sianna Joslin, a web developer by day and one of the artists participating in the exhibition, is including a piece entitled "The Inherent Agony of Having A Body" — an embroidery hoop that depicts an anatomical model of a transmasculine individual bearing top surgery scars and patterned red boxers.
The piece juxtaposes "the old ideals of the human body, the male form, with top surgery scars (and) these funny pennant boxers," they said. "It's kind of a play on what society has traditionally considered masculine versus these new symbols of masculinity that transmasculine folks are embracing."
Another artist, Rashad Ali Muhammad, brings to the exhibition a compilation of videos in which colorful, moving backgrounds are transplanted onto the faces of different people — pieces that originally began as NFTs.
This project, entitled "A World Within," was inspired by the realities of existing in a period of social volatility like the pandemic, and aims to show the "worlds" that exist within each person, Ali Muhammad said.
Left to face the challenges of the pandemic and broader social inequities, "you need to take the time inwardly to think about and process everything that's going on," they explained. "You have to go within to understand who you are sometimes."
Nikki Brooks, whose painting "Blaq Jesus" portrays a Black and androgynous Jesus smoking a cigarette with a nondescript expression, rooted her creative exploration in her experience with societal gender norms.
"For a long time I struggled with my gender expression. I had to live up to how people framed me … putting this femininity on me," she said. The painting challenges "pressures from people saying that one person has to be one way, or express themselves one way," and encourages others to "let them live how they feel on the inside."
Brooks also noted the use of religious imagery was key to her piece. In historical depictions of Jesus, he is often assigned certain racial and gender identity markers according to societal demands, she said. "This Black Jesus in a way defies all those stigmas" tied to the identities depicted by connecting them to a revered religious icon.
The artists all noted that they are excited by the diversity of experiences the Underground's exhibition has brought together.
"We're going to see — from all of these different artists — interpretations of what gender means to them, and I just think that's wonderful," Joslin said. "I really hope that it expands on that notion of gender for a lot of people."
Ali Muhammad found the exhibition especially meaningful for openly creating space for queer artists.
"In the history of art, a lot of artists tend to be queer … but people don't talk about that," they said. "Focusing specifically on queer art and queer artists (says) we are here, we are represented."
The exhibition, cosponsored by the Washington Blade and Dupont Underground, can be accessed at 19 Dupont Circle, N.W., each Friday, Saturday and Sunday in June from 11 a.m. to 5 p.m. Entry costs $10 per person, or $7 for students, seniors and members of the military.
Not-to-miss exhibits at Baltimore's Gallery Blue Door 
Works by Brooks, Halvorsen now on display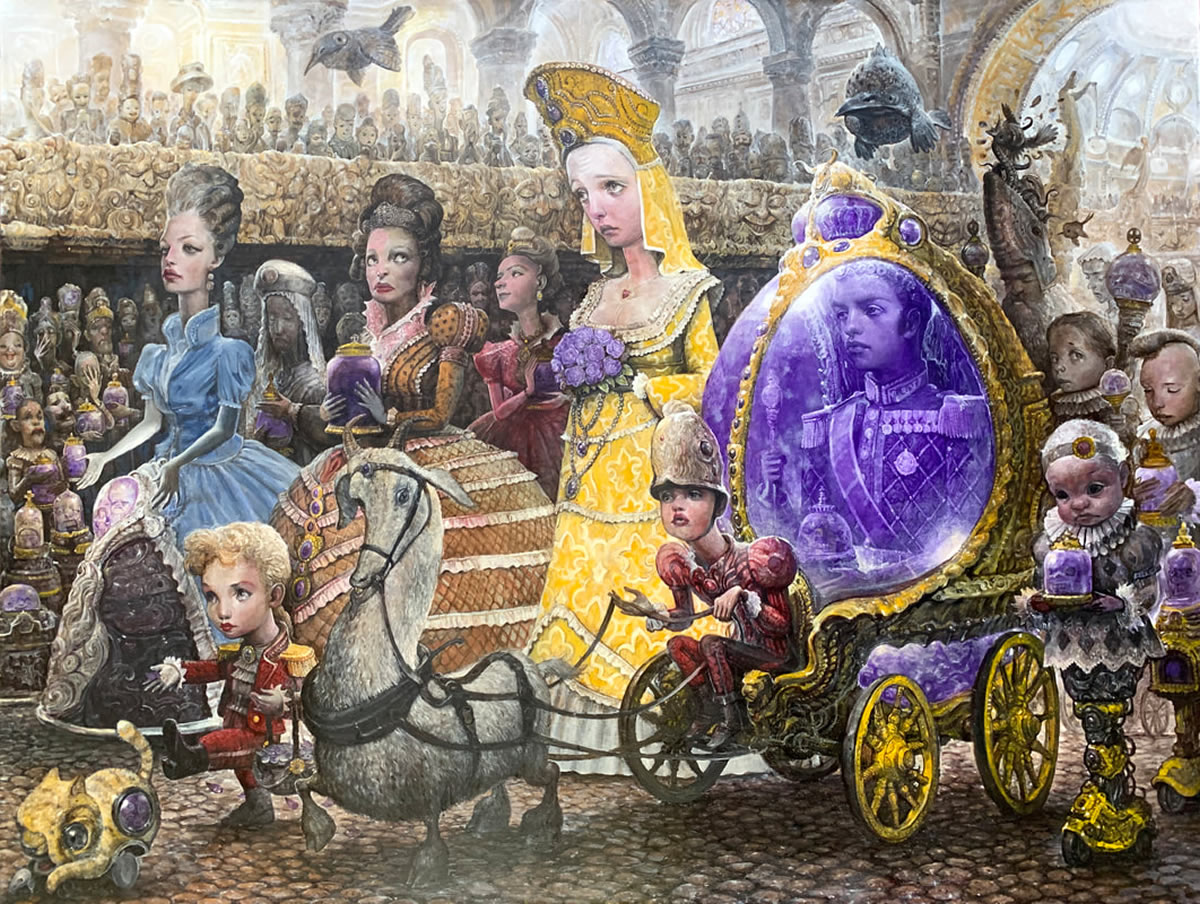 Baltimore's bustling art scene includes several current exhibits at the gay-owned Gallery Blue Door.
Striking works by acclaimed artist Scott Brooks are on display now through July 9 in an exhibit titled "Self Contained — Pandemic Era Works."
"The Work in 'Self Contained' was created over the last two years," Brooks said in a statement. "It has been a challenging time for the world, and for myself personally. As an artist, being in lockdown gave me the gift of time."
Brooks, a former D.C. resident who is gay, is a figurative artist who has been living and working in Baltimore since 2016. His art borders on the surreal and ranges from portraiture to complex narratives, according to the gallery.
Also currently on display is an exhibit titled "Becoming" by out artist Tracey Halvorsen, which runs until May 14.
"This latest body of work reflects a composite of subject and abstraction through continued exploration of landscapes, still life, and narrative themes," according to a statement from the gallery.
Gallery Blue Door should be on your list of places to visit in Charm City. It's located in a historic row home in Mount Vernon, long the epicenter of LGBTQ life in Baltimore.
Have to pee? Check out new John Waters Restrooms
BMA introduces gender-neutral facilities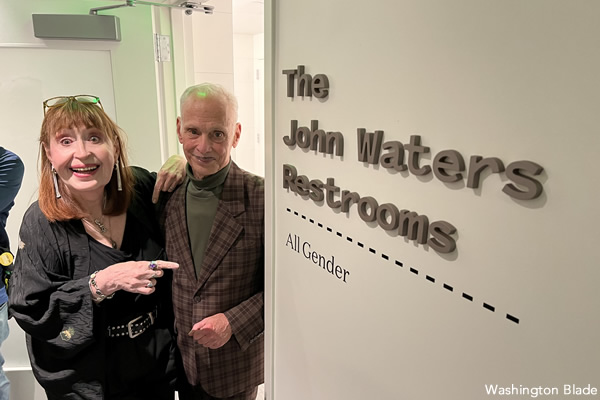 The Baltimore Museum of Art unveiled its latest addition on Wednesday: the John Waters Restrooms, named for the iconic filmmaker who is a trustee of the museum.
There were plenty of snickers and jokes about who would be the No. 1 and No. 2 patrons of the new facilities, but beneath the potty humor was an important message about access to the most fundamental spaces in society.
Joining Waters at a BMA event Wednesday to officially dedicate the gender-neutral restrooms was Elizabeth Coffey, a transgender actress and longtime friend and collaborator of Waters'. Coffey noted the importance of access to public spaces to the trans community. Preceding her at the lectern was Christopher Bedford, the Dorothy Wagner Wallis director of the BMA, who noted that adding the gender-neutral restrooms was the right thing to do.
After brief remarks, Coffey and Waters led a group of museum supporters and reporters downstairs to see the new space and Coffey cheekily took the inaugural trip into one of four private stalls. The stalls and adjoining communal washroom were designed by Quinn Evans Architects and feature white tile with bright red tile in the stalls. The idea for naming the restrooms came from Waters when he bequeathed his fine art collection to the BMA, according to a museum statement. 
The John Waters Restrooms will open to the public on Sunday, Dec. 12, in conjunction with the adjacent Nancy Dorman and Stanley Mazaroff Center for the Study of Prints, Drawings and Photographs and Ruth R. Marder Center for Matisse Studies. Waters is about to embark on a national tour of spoken-word performances.